This is Part #5 of my write-up about the hope, hype, and disappointment that has followed MOTHER 3 for over 20 years. For more details, see Part #1. Also note that I still need to do some final touches to this section, so it might look a little bare at first.
In early 2016, a rumor quickly spread that MOTHER 3 would finally get a translated release in the same year to commemorate the game's 10th anniversary: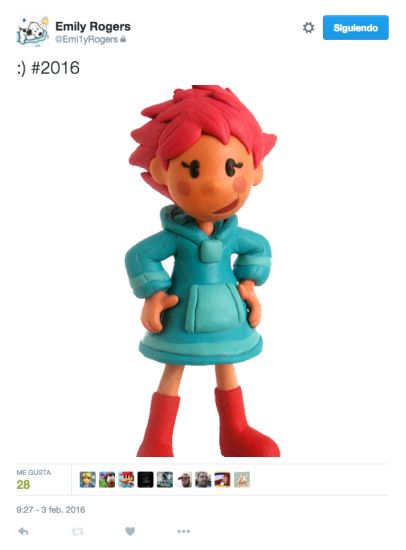 I knew it I knew it! We got Earthbound on eshop then last year Earthbound Beginnings. I called it this year we would FINALLY get Mother 3.

[…]

Also she had said this
"One last thing before I vanish: Don't be surprised if Nintendo celebrates a game's 10th anniversary this year… Just some food for thought."

It's the 10th anniversary for Mother 3. I'm guessing at E3 it will be unveiled. Man I've been wanting an official release for this game from Nintendo forever.
Emily Rogers' MOTHER 3 rumor hit every gaming news site and blew up on social media. It was even a top trending topic on Twitter that day: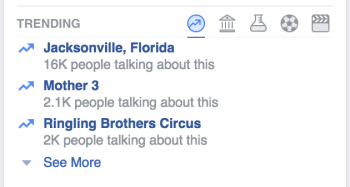 Hype for an official MOTHER 3 translation was incredibly high – higher than it had ever been. Hope had turned to widespread certainty across the Internet. For many gamers, this rumor was as good as an official announcement.
4/20. Mother 3's 10th anniversary.
Mark your calendars folks (assuming this is real)
I think mother 3 is coming, but i feel this girl is just guessing like the rest of us. She claims she has "sources" just like rodgers base, and we saw how that happened.
Breaking news: MOTHER 3 rumored for Western release, just as it has been every day for the last ten years or more.
Plenty of folk here saying "Ah, just more rumors, just like all the other rumors." Those rumors were before the game was put on the VC in Japan. It appears that all but one of the "rumors" have turned out to be true. America's got M1, and M2. Japan has all three. Considering we didn't have any of the Mother games before 2013, I'd say that's progress. Just more more to go in the West. If history repeats itself, the Mother 3 "rumor" will turn out to be true.
I kept hoping every single E3 that it would get announced for a Western release.

Now, it sounds like it's finally happening and I still can't believe it. I won't believe it until Nintendo officially shows it off.
Im just pushing hope over jaded rejection. I am right there with most of you on the skeptical train of "fool-me-once"-ness, believe me, but this time just FEELS different. The vibe in all the digital talk and communities just seems nice and positive and hopefuly, and I'd rather roll with that, than the hurt puppy feelings we starmendotnet peeps garner from history
After the rumor spread, expectations were high for Nintendo to announce MOTHER 3 during the next Nintendo Direct event:
Three insider sources have confirmed it, it's spread all over the internet, and it's the 10th anniversary… Really, I am completely convinced that Mother 3 is happening. Which is crazy! That Nintendo direct can not get here fast enough!!
If it isn't announced in the next Direct (whenever that is), then I think we can assume it was somehow a hoax.
The next Nintendo Direct came and went with no mention of MOTHER 3. Even so, MOTHER 3 again hit the top trending topics on Twitter: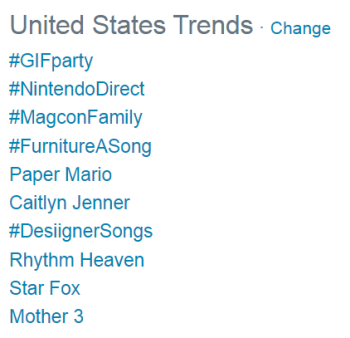 After MOTHER 3 was a no-show in the Nintendo Direct presentation, some fans moved their hopes to March 3rd, because the date was 3/3:
You know Nintendo announcing Mother 3 coming tomorrow would make sense with it being 3/3. Hope the rumors are true.
As disappointment grew, Emily responded by re-asserting her claim:

Still, hopes were tremendously high. Fans moved their expectations to April 20th, which would mark MOTHER 3's 10th anniversary in Japan:
There are people who really think the game is coming out tomorrow? Unless Nintendo decides to do a surprise announcement during their Star Fox stream I'm not expecting anything until E3.
E3, guys. I guess Nintendo thinks we haven't waiting long enough yet. Ugh, 2 more months, though… that hurts…

Though I'd like to remind everyone that Emily Rogers, whose words began this thread, said on Twitter that she thinks E3 is when we'll see MOTHER 3 much like EarthBound Beginnings. So I have little worries in that regard.
Most of us are just waiting till April 20th to see if it was true or not.
At least I am.
Nope, nothing. But it's almost April 20th (blaze it), 2016, MOTHER 3's 10th anniversary. And there was that Twitter leak from last month, so we had better see what happens then.
If it doesn't come out on the 20th (which doesn't seem likely by this point), E3 is the last hope. Any point after that is still possible, but the hype may not be as high, which could mean less profits for Nintendo.
hey i'm guessing people are already sending you messages about this, but eurogamer has backed up a rumor claiming that mother 3 is going to release in the U.S. on virtual console on april 20th to celebrate the 10th anniversary of it releasing in Japan. I'm really interested to see if you think it is true or not. And has nintendo ever gotten in contact with you about your translation?
Well, if Nintendo is going to announce it's coming over they're either going to do it tomorrow or at E3. Still, not too far off either way. I just hope it pans out.
Hopes were high for April 20th, but nothing happened when the day arrived. Some still-hopeful fans moved their expectations forward to Mother's Day, while others turned their hopes to E3:
Meh, I'll keep my hopes till E3.
Also, just as I figured — they're saving the Mother 3 announcement for E3.
I think the deadline for a Mother 3 localization would be at E3. The massive amount of hype it would garner then would be perfect for them.
Why do people seem to think that Nintendo would release / announce the game on its Japanese anniversary? That makes no sense whatsoever. Its far more likely to be announced at E3 or in an upcoming direct for the NX VC.
RIP the dream. There's still hope though! Wait for E3!
BECAUSE NOW IT'S PRACTICALLY CONFIRMED THAT THEY'RE ANNOUNCING A LOCALIZED MOTHER 3 TOMORROW IN A MINIDIRECT
in the year 3000

nintendo: *declares bankruptcy*
mother 3 fan: finally,,,mother 3's gonna get an official english release. i can feel it
Silly images, memes, and parody images began to become commonplace. That's when it was clear the MOTHER 3 hype had reached a new level: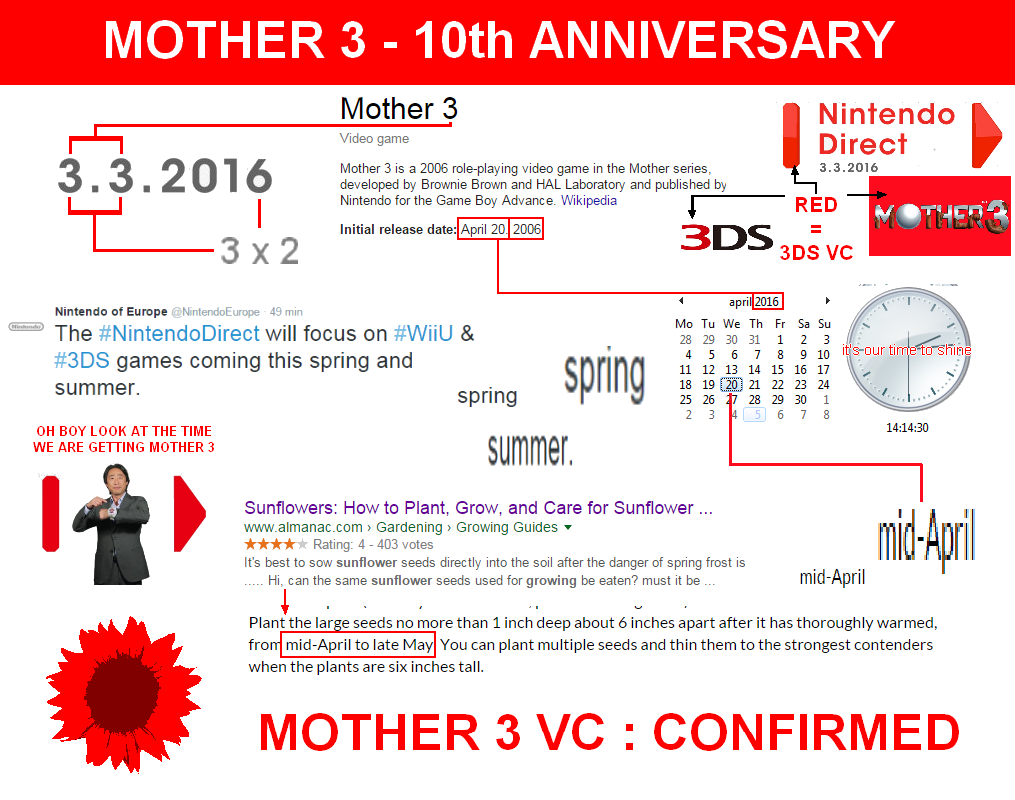 With the extra attention came more fake information, made-up rumors, and the like:
Then came the famous MOTHER 3 localization wrestling sign: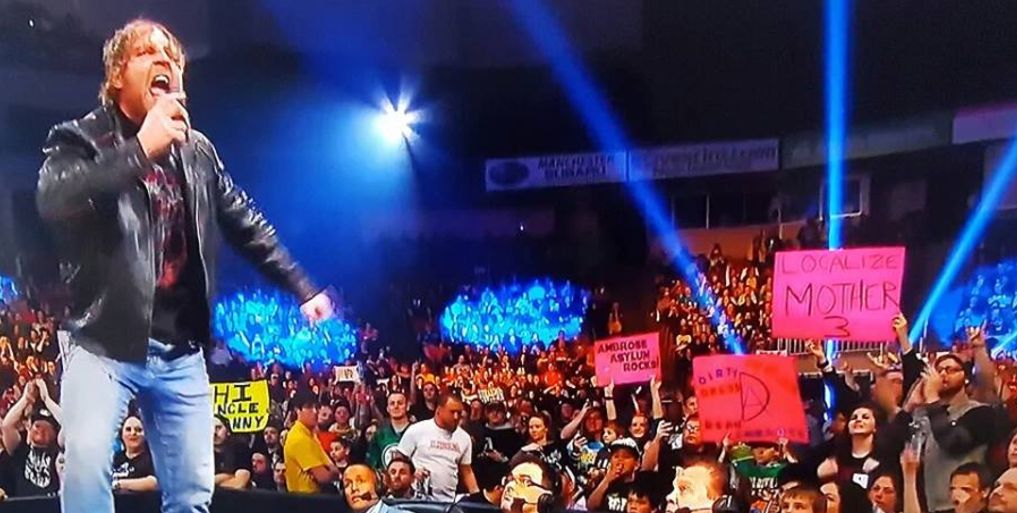 MOTHER 3 was absent from Nintendo's E3 events. Some fans moved their hopes to future Nintendo Directs, some fans lost all hope, and others believed that a MOTHER 3 release was being delayed to coincide with the release of Nintendo's upcoming game console:
Possibilities on why we haven't seen it yet if the rumor is actually true:

• They plan on releasing it later this year once there's not much on the wii u and they need SOMETHING to release other than color splash.
• They're delaying it to put it in a physical trilogy for 3DS or Wii U or both.
• They're delaying it for NX (either VC or as a physical game). Could help w/ good will toward NX, possibly.
Lost all hope. Considering this was the game's 10th anniversary and considering the rumors, this year had the biggest chance of that kind of announcement, but Nintendo still didn't give us anything. Their E3 showing as a whole disappointed me, but that's another story. As pessimistic as it sounds, I wouldn't expect a localization for a hell of a long time, if ever.
I thought there was a much better chance at a Mother 3 VC release than a Crash Bandicoot comeback.
I'm glad I thought wrong, as I love Crash, but man. I really wanted a VC release. I guess I'll just emulate it. I'm normally against emulators, but at this point I have no other options.
Mother 3 remake/release coming to 3ds on thursday. Been calling it for 3 years and im calling it now lol
I still believe that we will get some sort of Mother 3 announcement by the end of this year
nx news with a mother 3 announcement on the side please #wishfulthinking #brokendreams
I was so certain they were gong to announce Mother 3 this year what with the Earthbound Zero eShop release. NX launch surprise?
As the year came to a close, Emily, the source of the original rumor that set 2016 on hype-fire, wasn't as certain as before:
Still, during all of this, there were other rays of hope from other directions too. For example, when EarthBound was released for the New 3DS Virtual Console, fans hoped it might signal a MOTHER 3 translation in the near future:
Maybe this is a sign Mother 3 will be localized for the 3DS. Either way this is wonderful news, and really made my day.
2016 ended with great disappointment.
Details about Nintendo's new system, the Nintendo Switch, were released in early January. Fans held on to hope that MOTHER 3 would be announced for the upcoming system.
A new rumor about a MOTHER 3 release hit all the sites and social media outlets in early January as well: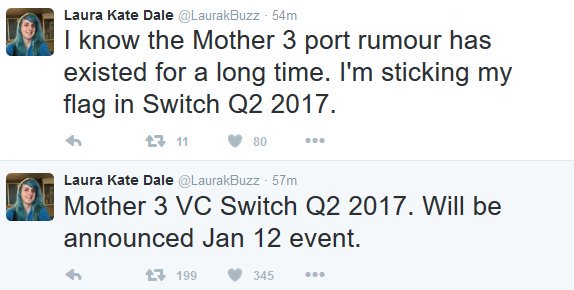 Nintendo's big reveal of the Switch was planned for the middle of January. Fans had high hopes for a MOTHER 3 announcement:
Being extremely excited for the Nintendo Switch and also hoping an official localization of Mother 3 is announced tomorrow
i believe mother 3 wiiu was real but they held onto the news for switch presentation/ported to switch.
1-Up Studio, formerly Brownie Brown, posted a photo of an invitation to the Nintendo Switch presentation that they had received. Brownie Brown was the company that developed MOTHER 3 back between 2003 and 2006. This connection raised hopes for a MOTHER 3 announcement even further.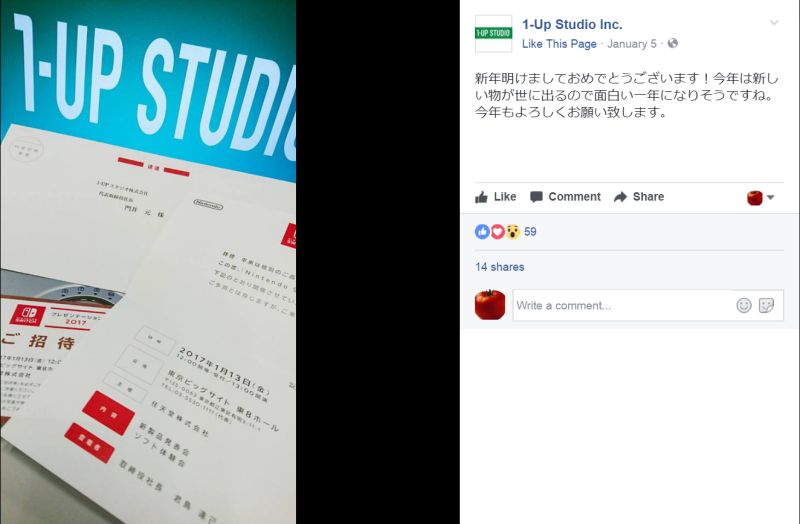 All that said, I'm hopeful/think Mother 3 will show up on Switch this year. I just don't think 1-Up Studio being at the event guarantees it.
The big Nintendo Switch presentation took place, but MOTHER 3 wasn't mentioned at all. Fans were disappointed and responded with mixed emotions:
Looking back at the Switch event, why was I expecting Mother 3? Why would a 10 yr old game interest Japanese press?
I want to believe Mother 3 will come to the Switch. 🙁 I still haven't played the fan localization completely. I need the official thang.
I know it's 4 in the morning, but Mother 3 for Switch could still happen. Treehouse Live will go on for like 16 hours.
Zelda, Mario, and OCTOPATH TRAVELER (lmao) are enough to sell me on the Switch tbh. Still bummed about the Mother 3 rumor not being true tho
hey…. why the FUCK would mother 3 have been shown off as a fuckin switch exclusive
If Nintendo is going to announce Mother 3 for the Switch, it'll be when they talk about Virtual Console stuff, for which they did nothing.
You know what would be cool? Mother 3 for Switch on 3/3/17
why would they announce mother 3 at the switch event anyways that wouldn't make sense anyways imo sorry guess I'm a real rube
Shortly after the event, Reggie responded to a question about MOTHER 3 with a vague answer:
"Oh, so earlier today I got asked about Mother 3; maybe you can ask me about Metroid," he said jovially. "Look, again, I am proud as an executive with Nintendo to say that we look at all of the boards and all of the comments and we really have a good understanding of what our consumers want. And believe me, we take that to heart as we work to create content.

"So I have nothing to announce–here. But we are aware that there are some key IP that consumers just can't wait for the next true installment in the franchise's legacy. Suffice it to say, we're aware of it, and talk to me in a year and let's look back and see what's happened."
This comment rekindled hope for a MOTHER 3 release in the near future:
Reggie: "Talk to me in a eyar and let's look back and see what's happened [in regard to Metroid, Mother 3]."
Mother 3 def coming to Switch.
Reggie hinted at Mother 3 and Metroid on the Switch!! Hang in there!!!!!!!!!!!!!!!!!!!!
Even Arby's, the roast beef sandwich fast food restaurant, started talking about MOTHER 3: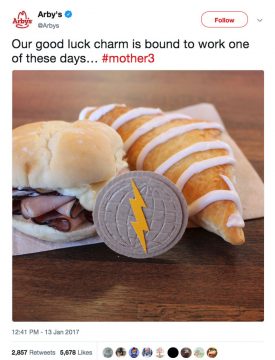 Seriously Arby's, bring back 5 for $5 please!
This wasn't too crazy – Arby's has been inserting pop culture references into most of their tweets for years. Still, this seemed to trigger other corporate Tweets mentioning MOTHER 3.
The source of the 2017 rumor made a number of comments about MOTHER 3's no-show and hopes for an E3 announcement:
I still believe Mother 3 Q2 2017 and 1 year Switch exclusive BGE2 will be announced at E3.
Renting a nuclear bunker in case the western release of Mother 3 doesn't get announced at this year's E3
Some fans refocused their hope on an announcement at E3 2017. Others were completely disillusioned after all of the recent rumors:
I have a feeling that it will never happen, alongside the feeling that it will definitely happen this year. These feelings are the same every year.

Not as interested in playing it as I was four years ago, but will definitely Day One if it does ever happen again.
Nah. If it were going to happen, it would have happened by now. And I've completely 100% lost interested regardless at this point. Too many rumors that went nowhere and memes and jokes at this point just poking fun at the whole thing. Can't remain hyped or excited for something after all that and all this time, no matter how good it is. It would just be a hard pass at this point for me, no matter what they do with it. The combination of the fans, Nintendo themselves, and gaming "insiders" continuing to make noise about it time after time after time have just completely drained whatever magic there might have been out of it at this point, and I'm just tired of thing song and dance every single E3.

Either it happens, or it doesn't. I just don't give a fuck about goddamn Mother 3 at this point, and that's despite loving the game. I'm just tired of hearing about it.
A reminder: What makes this year different from other years, is it's the first year where Reggie, when asked about Mother 3, said, "Talk to me in a year and let's see where we're at."

If not E3, sometime within 2017 seems plausible. Otherwise he wouldn't picked his PR spin more carefully.
yeah we say this every year but I feel like we'll finally get Mother 3 at E3, especially this time after Reggie's comment about it & metroid
This E3, I swear Mother 3 is gonna be there. I'll eat a hat if it isn't.
My next prediction will be no MOTHER 3 this E3.
If Mother 3 isn't at this E3, I am assuming it will come in 2026, and will give up expecting it for now.
mother 3 fans: this has to be the year guys (nintendo announces they practically have no e3)

mother 3 fans: this has to be the year guys
I expect Mother 3 to be out whenever Virtual Console comes out. I won't be bummed if not but it's possible. E3 maybe.
I had started doing research for this project by this time, so I decided to do an informal Twitter poll to see what fan expectations were like before E3: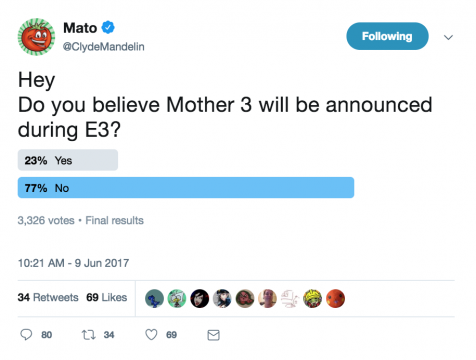 And some of the responses were:
I am one hundred percent positive they won't.
Due to prior rumors and the Switch being established now, I think it will. If not at E3, I definitely believe it's on the way.
It would be a huge bombshell if they did but I really don't have much confidence in Nintendo to do that.
I love M3, yet I wish people would stop beggin NoA for it. Its not happening but nothing is really stopping anyone from playing the game now
Hope? Hell yes. Believe? Hell no.
Never stop believing.
Then, after MOTHER 3 failed to appear at E3, I posted another poll: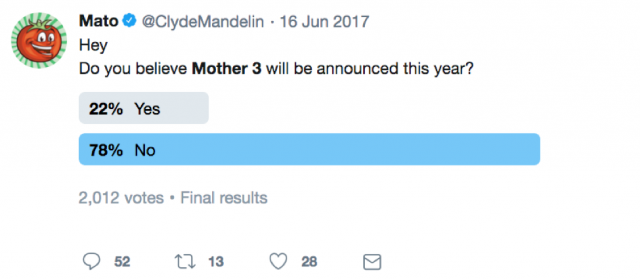 Rule #1 of official Mother 3 localization is "do not expect official Mother 3 localization".
Mother 1 wasn't released in the West until 26 years after Japan. Please look forward to Mother 3 in 2032.
No because the switch vc won't launch until 2018 I think it will come out at some point on the switch vc along with mother 1 and 2 (not gba)
I'll hold on to hope, no matter how long it takes.
I voted yes but more so out of blind/desperate optimism more than anything. Last year would've been the perfect time to release/announce it.
I only say yes because I want to believe but I know our dreams will be crushed
Never stop believing.
A few days after E3, another "Localize MOTHER 3" sign was spotted at a WWE event: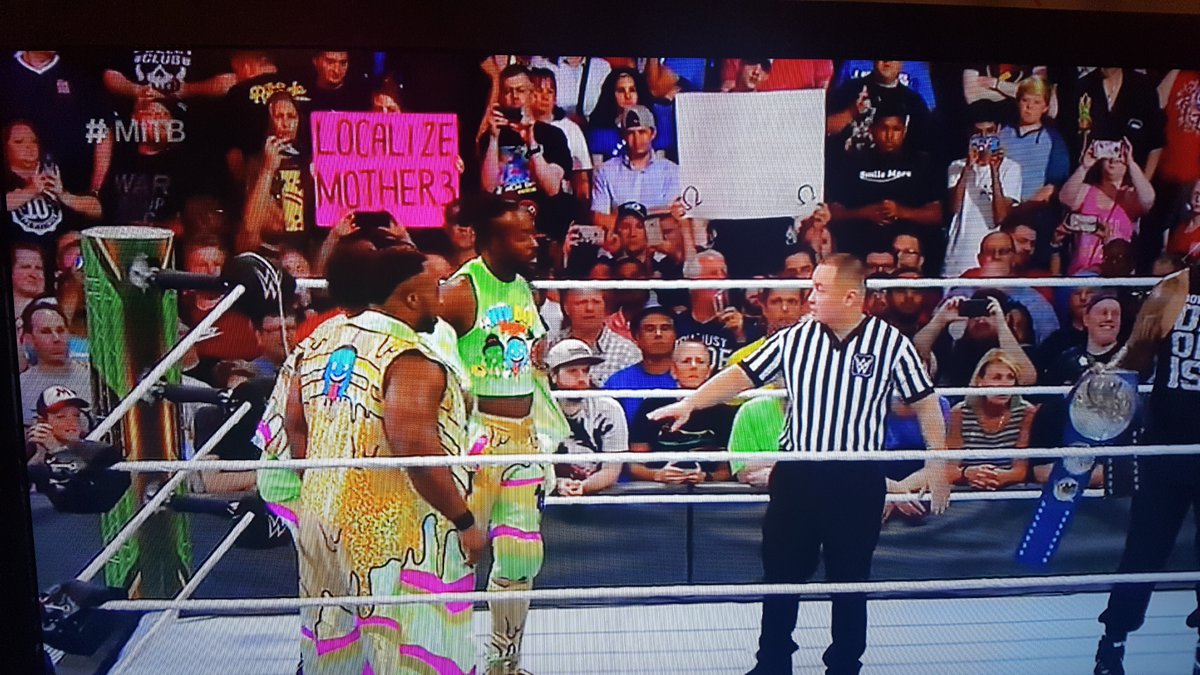 Shortly after that, Adult Swim aired a bump referencing the sign and demanding an official MOTHER 3 translation:
This led Kotaku editor, Chris Kohler, to write an article explaining why 2017 is the perfect time to release MOTHER 3:

Even Disney's new "XP" twitter account jumped on the MOTHER 3 hype train during EVO 2017: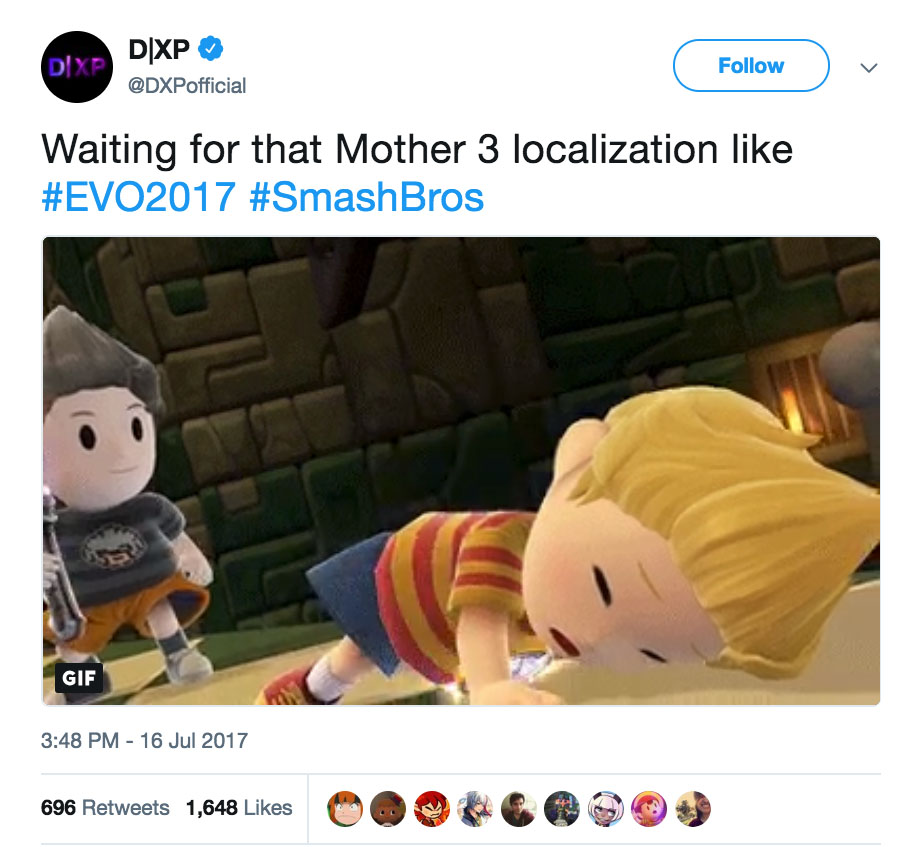 Before the next big Nintendo Direct presentation, I held another Twitter poll: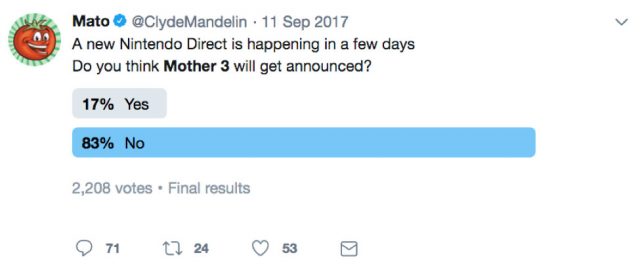 Some of the responses:
I don't think it will but I continuously pray and wish for it.
They're doing a Secret of Mana remake– anything is possible!! I will always vote yes to these polls out of pure stubbornness/resilience
Always yes. Always.
No, I've given up.
lol no
From what I recall, nothing much happened for the rest of the year. Fans remained hopeful, but you could feel disappointment was heavy in the air.
January saw another "Localize MOTHER 3" sign appearing at WWE Royal Rumble. For some reason, this was becoming a thing:
Beyond that, things were mostly quiet until E3 in June. It had been a year and a half since Reggie's infamous "talk to me in a year" quote, and the usual mix had reappeared: hopeful fans, jaded fans, and exhausted fans:
Well, he was asked about Metroid too and we got Metroid so….
Mother 3 in English isn't happening. I got my hopes up once; never again!
For me, it's just become this mystique, legendary thing. I remember seeing screenshots for Earthbound 64 as a kid and being really excited.

I can definitely see it happening one of these days.
I've analyzed this interview and you can clearly see that he pivots the discussion from Mother 3 to Metroid and THEN says that.

It was pretty sneaky and I'm pretty sure he was only referring to SR and Prime 4
I like to imagine Reggie has nightmares about fans asking him for Mother 3. It's been over a decade and mother fans are still hounding him.
After that came the annual MOTHER 3 E3 predictions. There wasn't quite as much hope as the previous two years, though:
So, E3 is coming up. Will there be no mother 3 vc? yes
So E3's in a week… Your regular reminder that an official Mother 3 localization will never, ever happen in any form. Not in a Virtual Console/EShop release. Not in an EarthBound HD Collection. Not even in a non-HD collection. It will never, ever, EVER happen.
I have a funny feeling that this E3 will be when Nintendo finally brings Mother 3 overseas. It's been so highly requested for so long, and with the hype surrounding smash 5, I think announcing it now would be smart. Of course, I'm probably wrong and just a stupid earthbound fan.
Can't wait for that localized version of Mother 3 to be announced at E3 this year! *nervous laughter*
Mark my words: Mother 3 will be announced at E3.
"Fellow Mother 3 fans!

This year…

…is our year!*

#E3

*probably not our year "
My dumbass brain before every Nintendo e3, knowing I'll be wrong: oh boy I wonder if we'll actually see mother 3 this year
During the E3 Nintendo Direct, it was revealed that Paula and Poo would be joining Ness for his Final Smash attack Super Smash Bros. Ultimate. In addition, the MOTHER 3 characters Kumatora and Boney were added to Lucas' Final Smash:
The fans were surprised and excited to see even more MOTHER 3 representation:
"LUCAS!!! AND KUMATORA~! 💕💕💕 Gotta have that Mother 3 love~!

#SmashBrosUltimate #Hype
#E32018 #E3 #Nintendo #NintendoSwitch"
Just saying. We've got official English names for Mother 3 characters now. #SmashBros #Mother3 #Nintendo #E3
Seeing Poo, Paula, Boney, and Kumatora represented in Ness / Lucas Final Smash attacks shows that clearly someone within wants to give us more Mother / EarthBound ❤ #E3 #NintendoE3
maybe the real mother 3 was the smash bros we got along the way
After years of asking the community finally has Ridley in Smash! Now where's MOTHER3?!
But, as usual, there was no mention of a MOTHER 3 translation. Reactions:
The real crime of E3: STILL NO MOTHER 3.
Kinda sad there wasn't any big new game reveals, Smash looks amazing and I definitely want it. Still held out hope for Mario Maker and Mother 3. Solid showing, not the best at E3 this year, but left me satisfied. #NintendoE3 #NintendoSwitch #E32018 #FireEmblem #SuperSmashBros
You know the Nintendo e3 was pretty good. If I got battletoads and mother 3 in the same year I probably would have gotten overexcited and hurt myself.
also I have no idea what's happening in e3 except smash bros and TUNIC and also since I'm into earthbound now I can complain how they still haven't announced mother 3.
BTW, somewhere in my deeply deluded mind, I'm still waiting for "okay, fine, here's Mother 3" during Nintendo's Treehouse presentations. #E3
nintendo e3 more like another year without a mother 3 localization 🌻😩
But the future refused to change.
We're now caught up to the present day. For reference, I'm posting this article on October 17, 2018 – exactly 10 years after the release of the MOTHER 3 fan translation patch. I'm sure many more things will come after this, but for now this is the end of MOTHER 3's timeline of hope.
I think it would be tiring to keep this timeline updated every time something little happens, but maybe I'll add to it from time to time whenever anything really noteworthy happens.
I first started this timeline project as a way to show others why longtime fans are so tired of rumors and why they say they've seen all this stuff before. I realized I was in a unique position to document all these things, so I got to it. But now I realize it's also an interesting look at how Internet fanbases work over long periods of time, among other things. I think it'd be an interesting topic for a researcher to study.
Looking back now, there are a couple other main points that come to mind, but I'd prefer to cover those topics in a separate section after I've had the time to polish up everything in this article and fix any errors.
Speaking of which, these are just raw notes that I put together almost two years ago so I'm sure I've overlooked some things, mixed things up chronologically, and so on. So if you notice anything that needs fixing, let me know in the comments.
On a side note, when I announced I was working on a big article about MOTHER 3 yesterday, it accidentally got a bunch of people excited and hopeful that I would have some sort of announcement about an official translation. It sounds like the cycle of MOTHER 3 hope, hype, and disappointment is still as strong as ever. Let's break that cycle someday!