I write a lot about how Japanese games are translated into English and how they change during the localization process, but there's a lot more to look at than just games and Japanese-to-English changes. That's why I've started this new series that focuses on English-language movies, how they've been translated into Japanese, and why they were changed.
We actually amassed quite a collection of movies last year, but I've only gone through two or three so far. Here are some of what we can look forward to:
We actually got the movies for a future book project. The plan was that we'd go through them one by one over time and then release a book about the translation changes whenever we analyzed enough of them. That's far in the future though, so for now I plan to post some of my movie findings as site articles from time to time.
When foreign movies are released in Japan, they sometimes receive multiple different subtitle translations and multiple dubs over time. This is mostly the case for 80s and 90s movies: there'd be the original subtitled theatrical translation, a theatrical dub, a new subtitle track for TV broadcasts, a new dub for TV broadcasts, and sometimes even more versions for later broadcasts and home video re-releases.
For simplicity's sake, we'll only focus on one translation per movie, usually a home video subtitled version. When possible, we'll take a peek at alternate translations too, though.
This time we'll be looking at a subtitled VHS version of The Wizard, which was known as Sweet Road in Japan.
While the movie is often considered a 100-minute Nintendo commercial among gamers like us, it feels a little different when looking at it from the outside in. It's touted more as a fun road adventure/coming-of-age movie in Japanese, hence the "Sweet Road" title. Even if you can't read any of the Japanese text, you can see this change in focus from the art on the back of the box. It's described as a "lighthearted and touching American road movie" and the tagline at the top says:
Heroes don't cry. We headed to California in pursuit of the rest of our dream.
The presentation and title give it a strong "we're going for a Stand by Me" vibe, which we've previously seen is a big deal in Japan.
I also came across some other Japanese materials during my research:
Anyway, let's get this show on the road!
The movie title changed for its Japanese release, but the new title appears before the actual movie begins. Then, when the original title pops up in English, nothing is displayed in its place. It's probably assumed that the audience understands that the title was changed for Japanese audiences. The back of the Japanese box randomly includes the original "The Wizard" logo too, so that connection probably helps explain the situation too.
On a different note, an 80s song plays during this intro scene. It's left untranslated and unsubtitled though. It's pretty normal to see songs untranslated in English-to-Japanese movie translations unless the lyrics hold some meaningful connection to the story or to what's happening on screen at the same time. Basically, if a song is used as a decoration for setting the mood, it's pretty normal to see it untranslated.
Also, from personal experience, Japanese companies are weird about lyrics and their songs having separate licenses, which means that even if you have permission to use a song in a video, you don't necessarily have permission to translate the song. Those rights have to be negotiated separately. This is why anime songs don't always get translated right away. I don't think that's what's going on here, though – I feel like it's just the standard "it's only audio decoration" approach.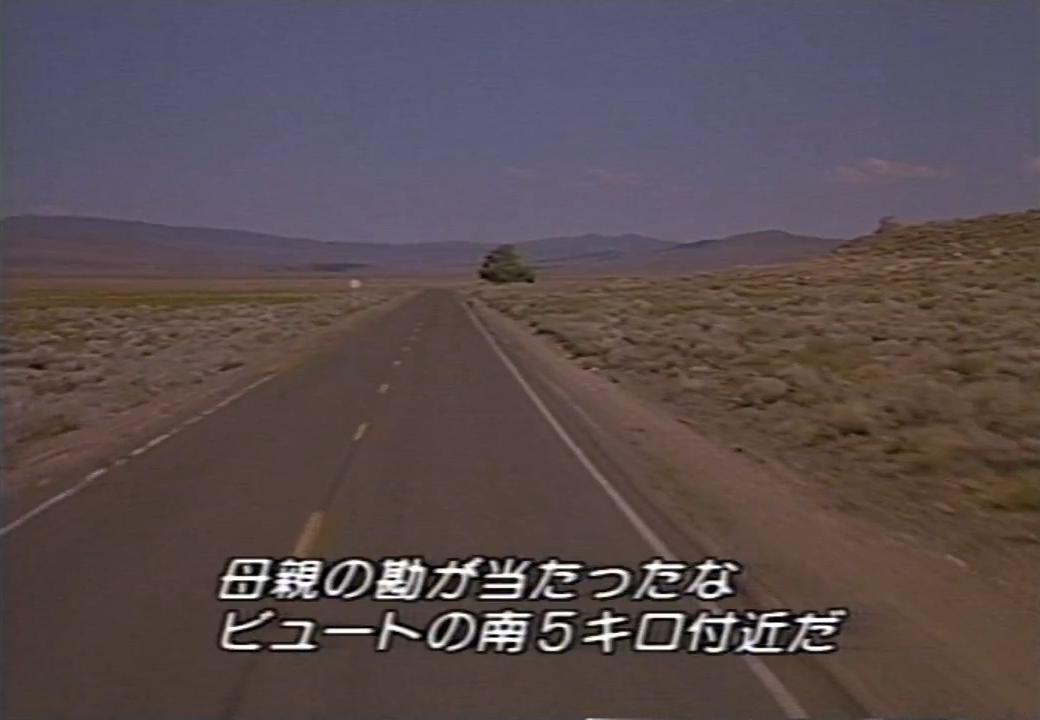 Right off the bat, there's a line that was probably a nightmare for the translator. The audio is unclear and it sounds like a guy on the radio says "His mother was right" or "His father was right" depending on what you're listening for. The Japanese translator went with "mother" here.
The English DVD subtitler went with something different that's totally wrong though: "Putnam".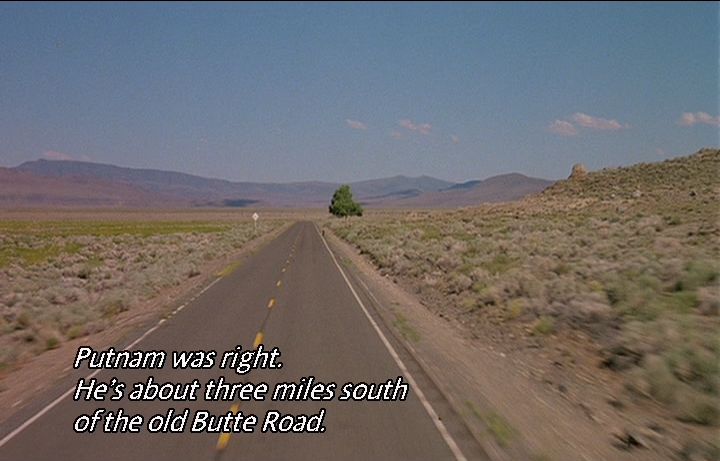 I bring this up because when translating movies, shows, or whatever else, it's never a guarantee that you'll get access to the original script or anything like it. Instead, you have to rely entirely on your ears, which is always a recipe for mistakes and headaches. In this case, we see that the Japanese translator did a better job than a presumably native English speaker.
Incidentally, Japanese subtitle translators tend to follow a strict set of guidelines regarding text length, kanji usage, and timing. The result is that many lines in Japanese subtitled movies are more of a bare-bones summary of what's being said than a full translation. The translators also have to make certain judgment calls on a case-by-case basis about unexpected things.
In this instance, we see that the translator decided to convert miles into kilometers, even though the United States uses miles. Conversions like this don't happen in every movie though – it usually depends on who the target audience is and how important it is to keep the original number.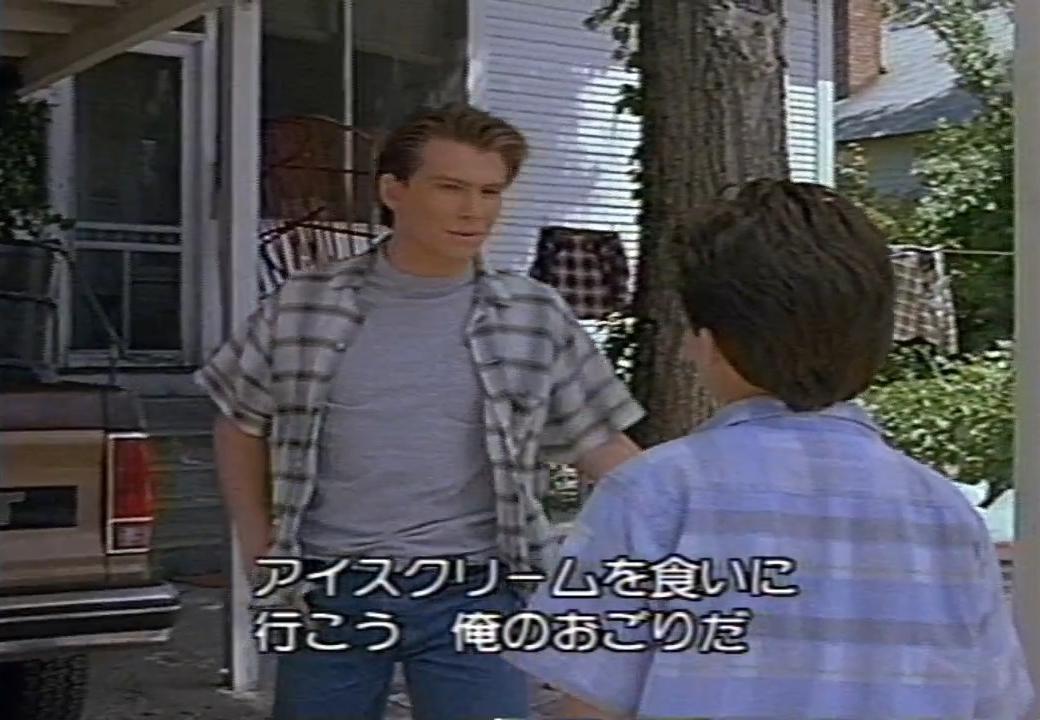 Corey (played by Fred Savage) is the main character in the movie. Here, Corey's big brother says:
Why don't you and I just go to the Dairy Queen and kick back a couple.
The Dairy Queen chain doesn't exist in Japan, so to convey the intended meaning, the translator changed the line to:
Let's go eat ice cream.
Besides dropping the restaurant reference, the translation also shows how Japanese subtitles generally look when translated. They're a condensed version of what's being said. Just that one part alone takes up 1.5 lines of text, so there wouldn't be much room to say more anyway.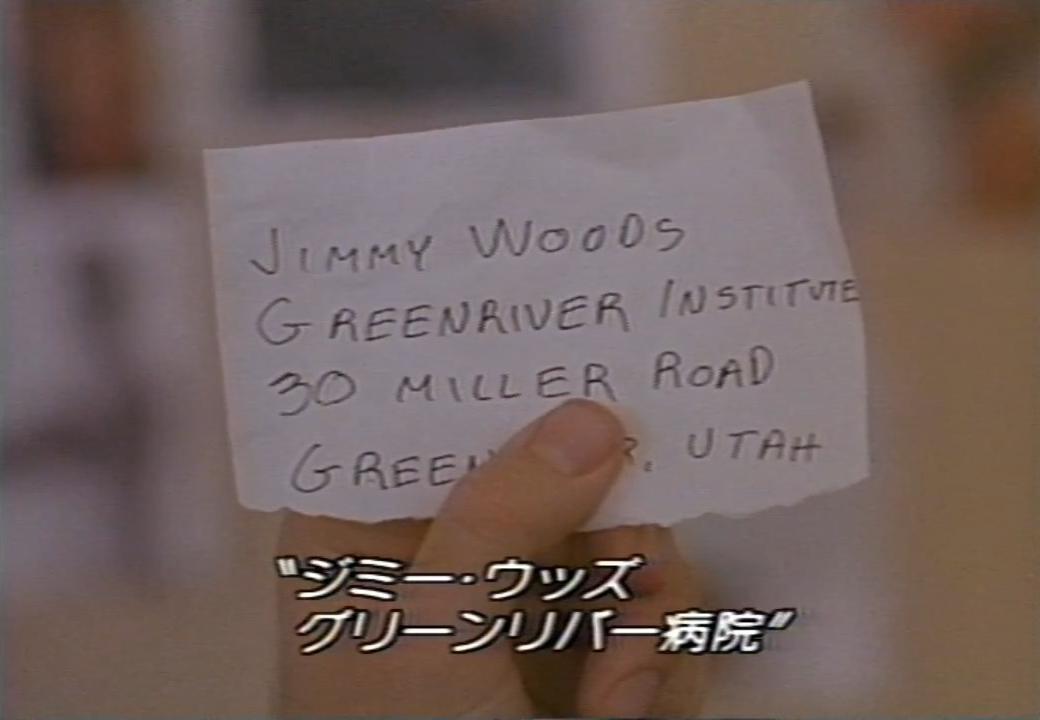 Here we can see another example of how Japanese movie subtitles don't subtitle everything – instead, only the most important things get attention. In this case it's partly because the paper note isn't shown for very long, and also because the address details don't matter too much to the audience. The fact that the movie takes place in Utah has already been established elsewhere I believe, or it will be soon.
Corey's big brother Nick insults his mother's second husband. In English, he says:
You know, Bateman, I, uhh- I always knew that you were a jerk. I just, until now, thought it was guilt by association.
In effect, he's insulting his mother and her second husband at the same time. It's the sort of roundabout insult you wouldn't expect from a plain old children's movie. This whole beginning part of the movie has a lot of tense and complicated family situations that would fly over most kids' heads, now that I think about it.
Anyway, in Japanese, this became:
Everyone has their flaws, but you're beyond help.
This means he's only insulting the second husband. The extra jab at his mom for leaving his dad is dropped.
Corey and his little brother Jimmy sneak into a Hostess Cupcake truck. If you live in North America you probably know what kind of foods to expect inside it. Elsewhere in the Japanese script it's referred to as a "cake shop truck".
The boys secretly ride in the truck. Once they manage to sneak out, Corey asks his little brother:
How about that cupcake? You got plenty of Twinkies. Personally, I'm a Ho Ho man myself.
Twinkies weren't particularly well known in Japan at the time, and Ho Hos were definitely unknown then. As a result, the translator changed this line to:
How many cakes did you eat? They sure were good, huh? I feel re-energized. How about you?
Undoubtedly, part of the reason for the change is that the audio is very quiet because they're walking in the distance. So it appears the translator misunderstood what was being said but could at least tell it was about the snacks.
Corey jokes about how they're stuck in "Goblin Valley" for the night. In Japanese, the "Goblin" part was translated as 鬼 (oni).
A few lines later, Corey jokes again and says:
Why not Axe Murderers Valley?
This part was translated as 殺人鬼 (sastujinki, "bloodthirsty killer"). But what's neat is that this word also uses the 鬼 character, which is a connection that doesn't exist in the original text. So the translator was able to do a neat joke swap based on it:
Wait, it's not 鬼 as in 殺人鬼, is it?
It's hard to explain, but there's an actual funny joke here in the Japanese version, despite length restrictions and time restrictions and all that.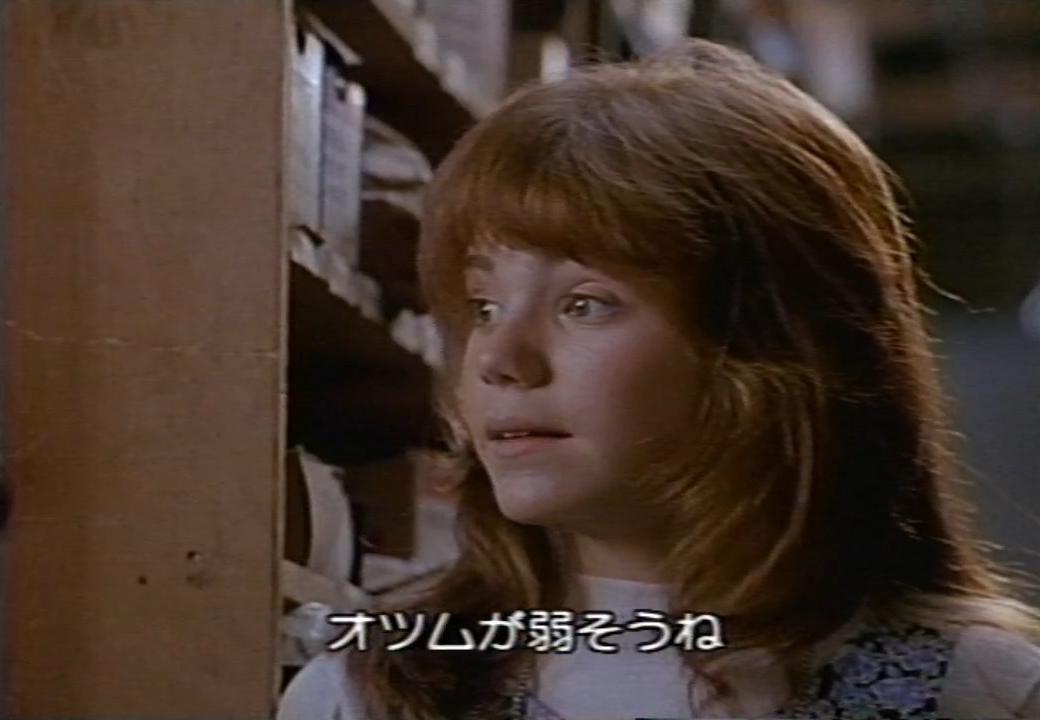 A girl named Haley shows up and harasses Corey and Jimmy. Jimmy has some mental trauma and has trouble dealing with people. At one point, Haley throws an insult his way:
Haley: What's his problem?

Corey: He's… just shy.

Haley: Shy a few bricks, I'd say.
This sort of sarcasm is common in Western entertainment but doesn't translate well into Japanese. But we can tell that the translator at least tried:
Haley: What's with this kid?

Corey: Nothing. Why?

Haley: I'd say he looks like weak in the head.
She actually uses the baby word for "head", which by itself suggests that Jimmy isn't very mentally developed. She also says it looks weak. The turnaround joke on "shy" is missing in the translation though, so Haley's final response seems less of a joking jab and more of a straight-up jerk thing to say.
Anyway, whenever sarcasm ever pops up in a movie line, it'll usually get translated into Japanese as something more straightforward like this, if it gets translated at all.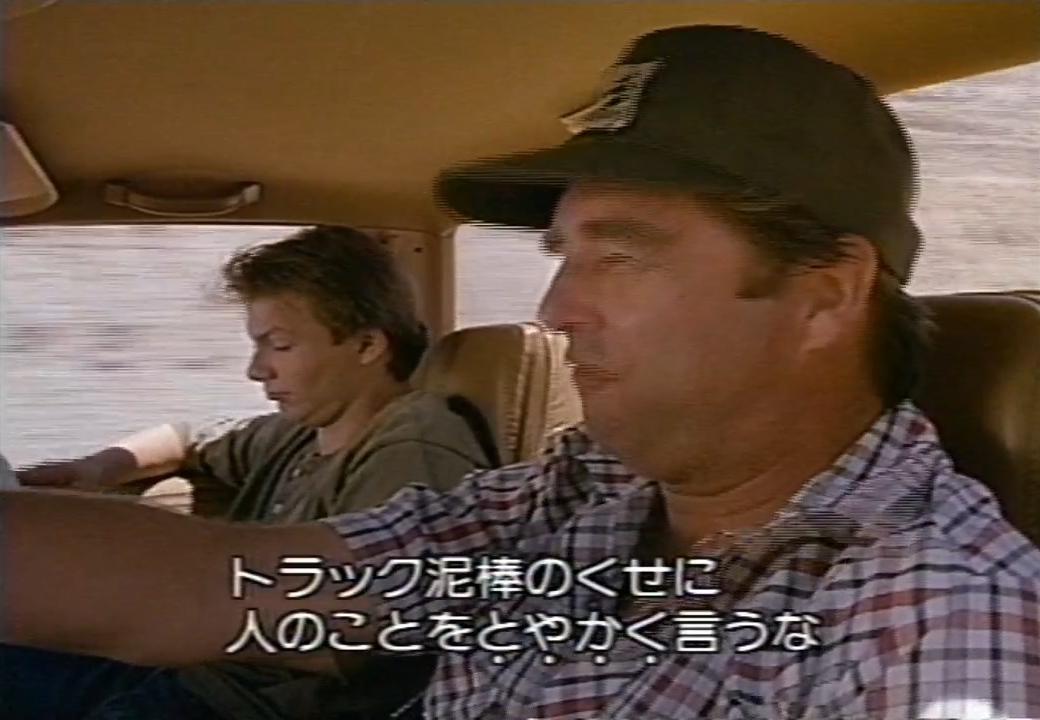 Japanese subtitles often put dots above or below certain characters like we see here. They're used to emphasize words – sometimes to point out puns, but sometimes to put a focus on intonation or intent. It's sort of like how we use italics in English, combined with how we sometimes use quotation marks around certain phrases.
In this case, part of the phrase "you're in no position to criticize" is being emphasized.
Haley sees that Jimmy is really good at video games and calls him "a wizard". This is clearly where the movie title comes from, and the "Wizard" nickname gets repeated a few more times throughout the movie.
In Japanese, Haley calls him a 天才 (tensai), which refers to being a genius, a gifted person, or a natural at something. In short, the translation fits the original line. But the very act of translation – plus the fact that the movie has a new name – means the connection between the nickname and the title could no longer exist.
Incidentally, whenever the jerk game rival uses the "Wizard" nickname in jest, he says tensai-kun rather than just tensai. It provides an extra layer of mockery that's not found in the English script but can be heard from the English intonation.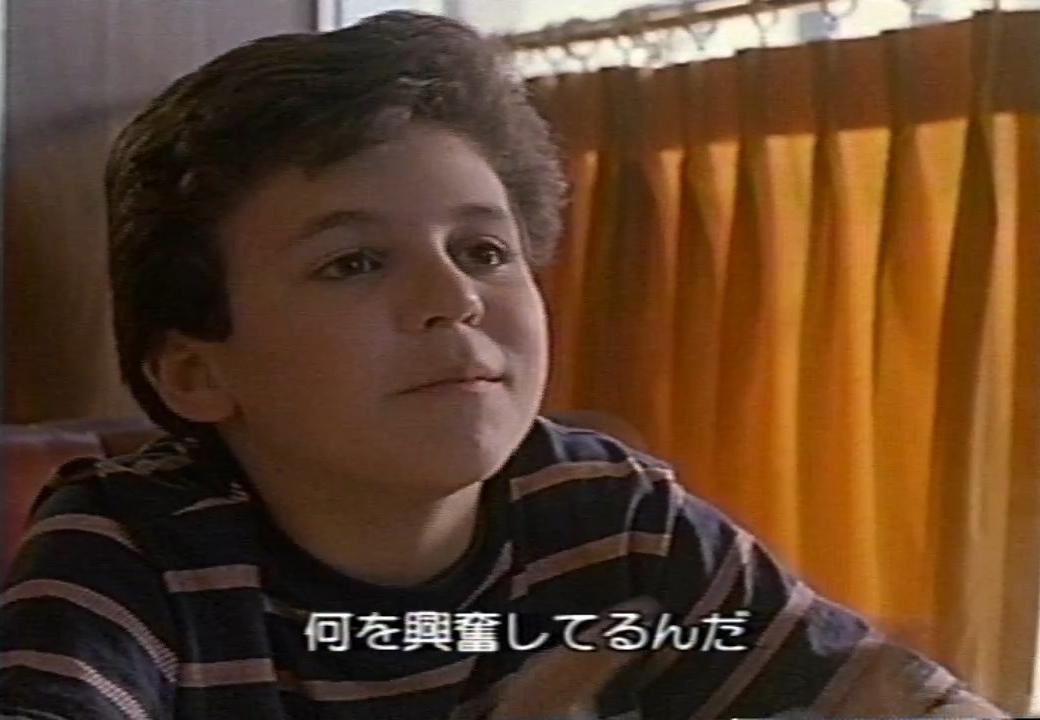 Haley realizes that Jimmy is a game playing wizard. In response, Corey says:
So he can play Ninja Gaiden. So what?
The name was dropped in the translation here, and the line was flattened into:
What are you so excited about?
On a side note, it's strange that Haley says "Look at him! He's making the jump. It's his second time through and he hasn't even taken a hit yet." But meanwhile we see on the screen that it's the start of Level 1 of Ninja Gaiden and he has taken a hit already. Two, in fact!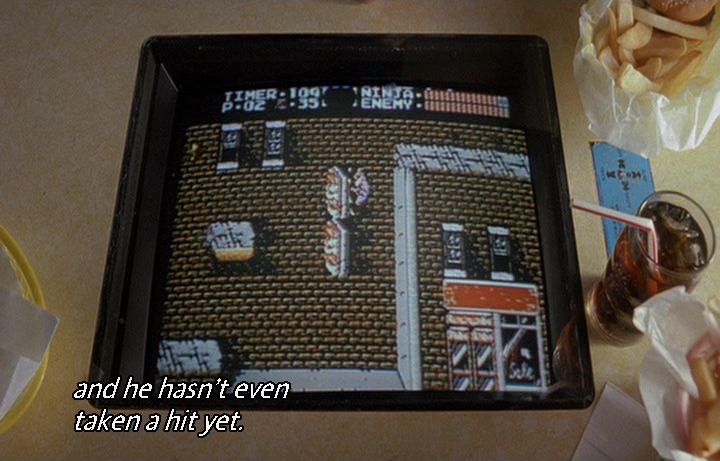 The whole movie is filled with so many obvious mistakes that it makes me wonder how feasible it'd be for a fan to insert new, proper footage in place of all these mistakes 😛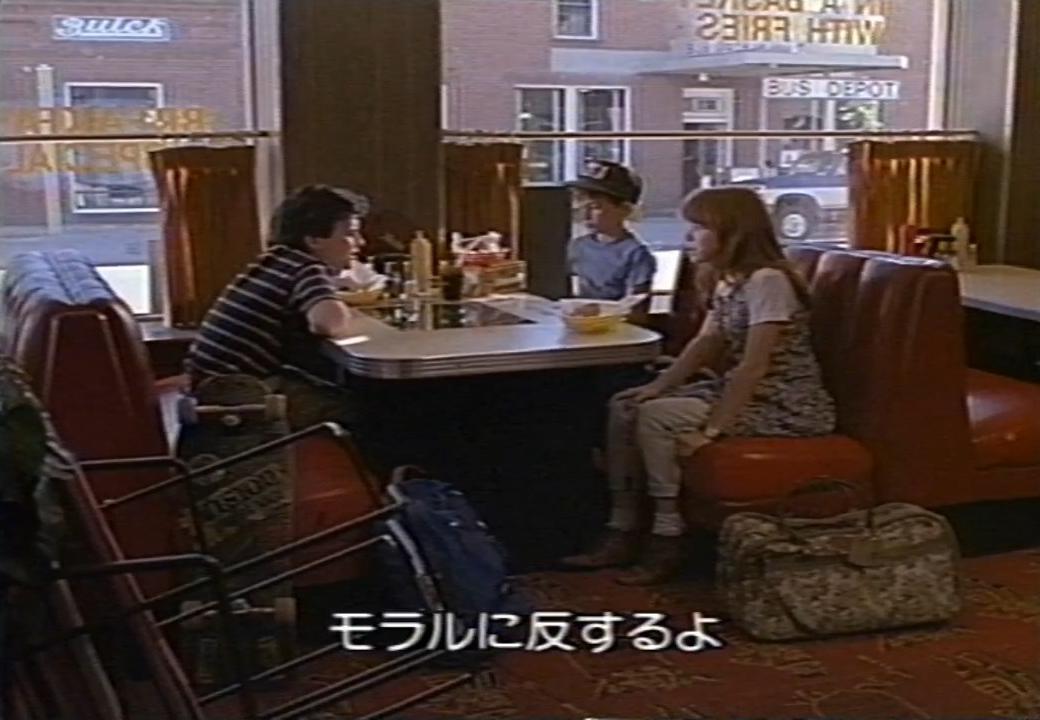 Corey says, "Are you kidding me? That's warped." in response to Haley's suggestion that Jimmy compete in a video game tournament for money. In Japanese, this became "That's against my morals.".
The big video game tournament in the movie is called "Video Armageddon" in English. In the Japanese subtitles, the name is usually either dropped or just called a "video game tournament". Although there is one part during the tournament when the robotic announcer lady in the background calls it the TVゲーム世紀の大決戦, which translates as something like "Video Game Showdown of the Century".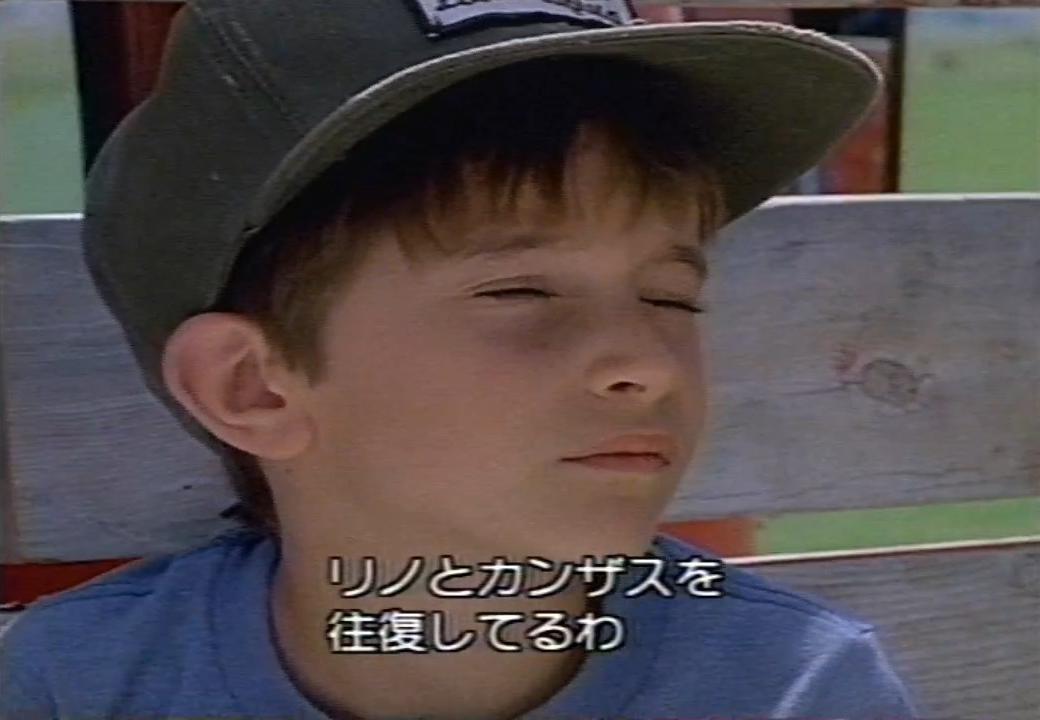 Haley mentions that her father is a trucker who travels all over the place. In English, she says:
He makes a weekly run between Reno and Kansas City.
In Japanese, this became:
He makes runs between Reno and Kansas.
Basically, the translator heard "Kansas" in the original line and put "Kansas" in the translation. But it's actually Kansas City, which isn't necessarily the same thing. Besides translating a city name as a state name, there are actually two Kansas Cities, one in Kansas and one in Missouri.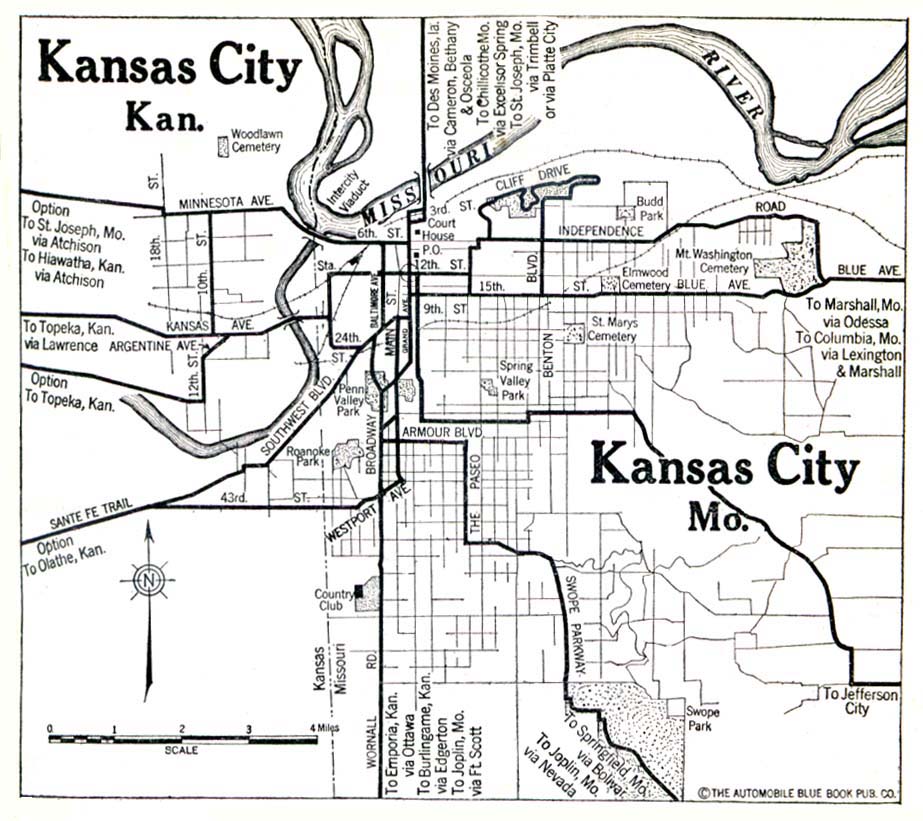 Granted, both Kansas Cities lie along the border between Kansas and Missouri, but the Missouri one is the big one everyone tends to think about and is almost definitely the one being referred to here. Which would make the "Kansas" translation incorrect here.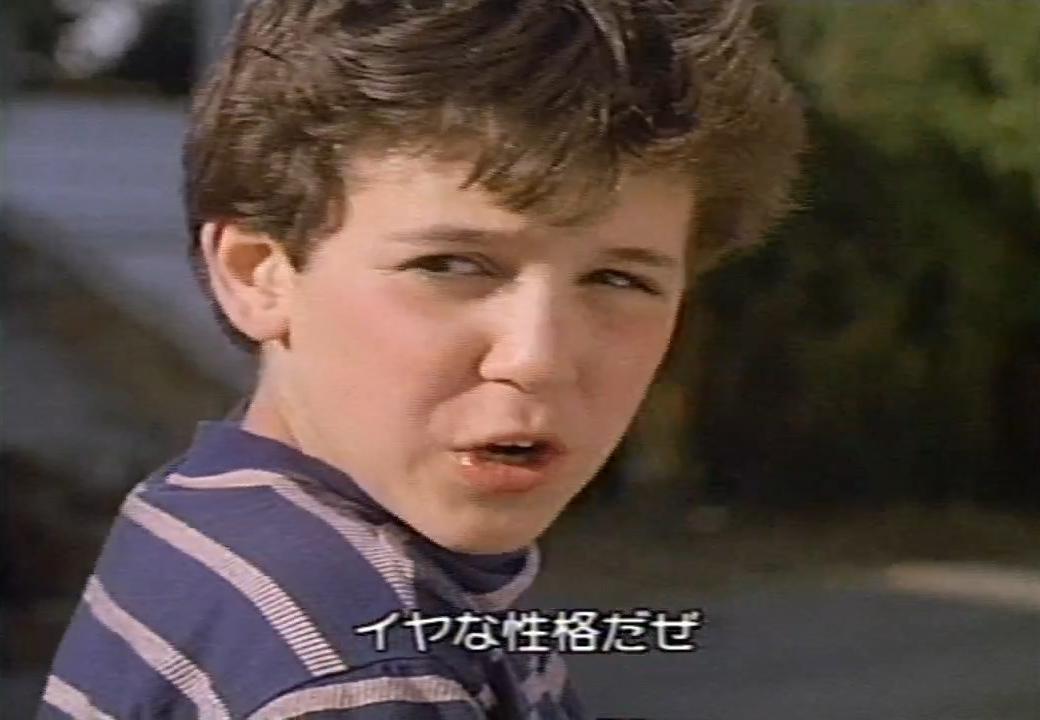 The kids have all of their money stolen, but Haley knows that Corey has some stashed away in his underwear. She demands that he hand over the money, which requires Corey to dig into his underwear for a second.
In response to this demand, Corey says in English:
You're gettin' awful personal, you know.
He says this as he's reaching into his shorts, hence the slightly naughty quip about Haley "getting personal".
In Japanese, this joke was either missed or was translated literally:
You've got a bad personality.
This makes me wonder if the translator misheard "personal" as "personality", or if the translator didn't get the joke in the first place.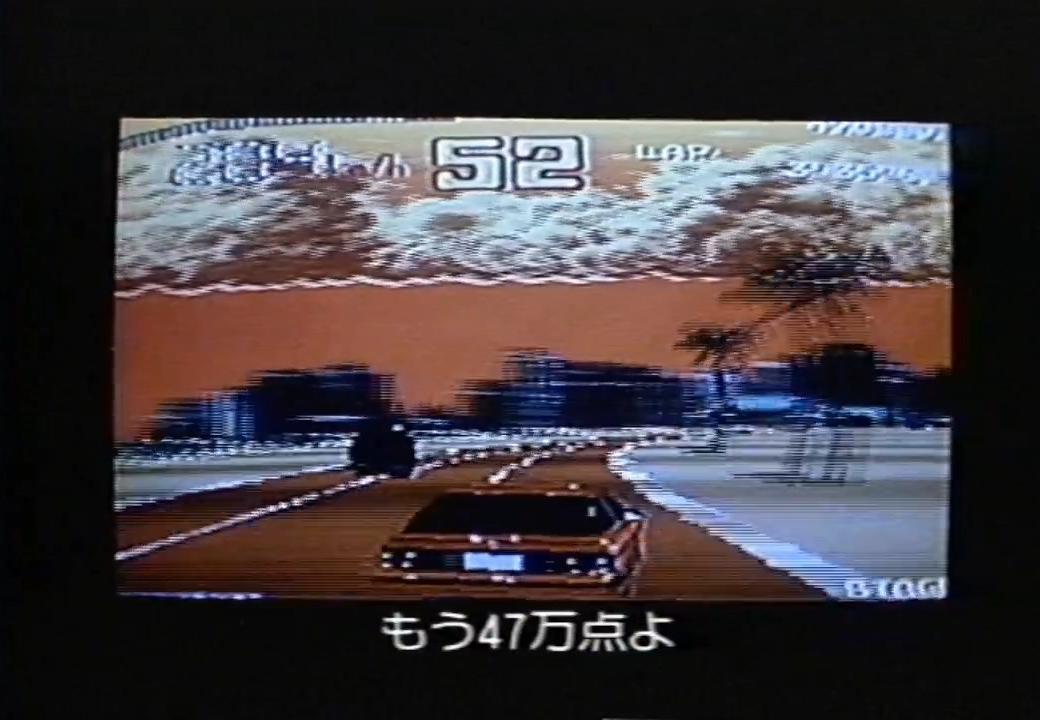 Lots of games get their names removed from the Japanese subtitles. In this instance, Haley says:
470,000 and climbing on F1 Dream.
In Japanese, this turned into:
He's already at 470,000 points.
I don't think I've ever heard of F1 Dream outside of this movie, so I nearly missed this removal when watching the movie for this article. The name is written right on the arcade cabinet though.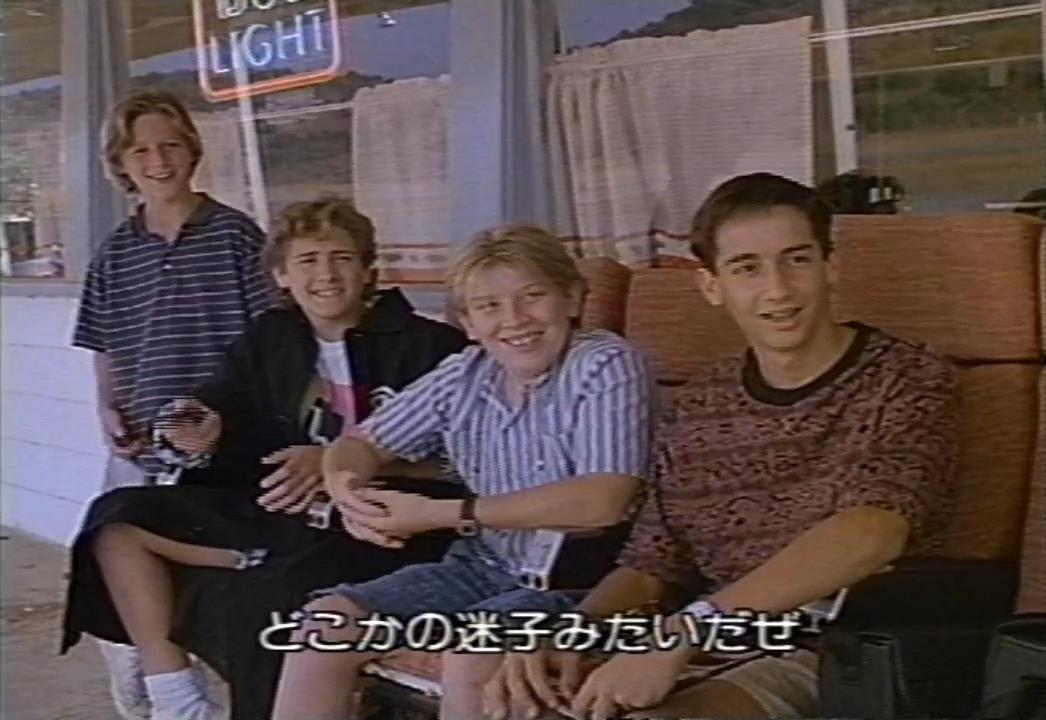 The movie's big video game rival, Lucas, insults Jimmy. In English, he says:
This guy? I don't get it, is he like a poster child for someone?
This "poster child" insult is a jerk way of saying that Jimmy looks mentally handicapped in some way.
In Japanese, the line changed to:
This runt? He looks like some lost kid or something.
The end result is that Lucas still insults Jimmy, but it's much weaker and doesn't seem to have the same insinuation.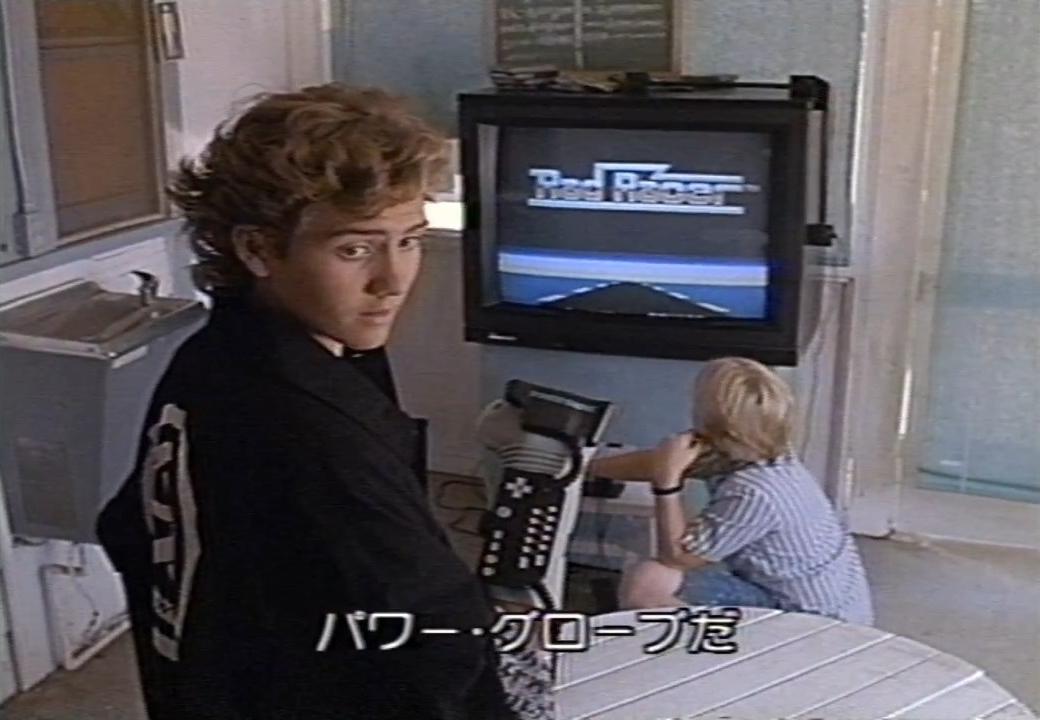 Jimmy's rival, Lucas, shows off by revealing his secret weapon: the Power Glove. In truth, we all know this was part of the "Nintendo commercial" aspect of the movie, meant to trick kids or parents into buying the Power Glove for themselves.
I was impressed to see that "Power Glove" remained "Power Glove" in the Japanese subtitles. And it makes sense – the Power Glove got released in Japan too, although with much less hoopla.
You know, I should do an article about "what do Japanese gamers think about the Power Glove" sometime. I never considered how it was released there, advertised there, viewed there, and everything else. My hunch says it was barely noticed and quickly turned obsolete due to the Super Famicom's release around the same time.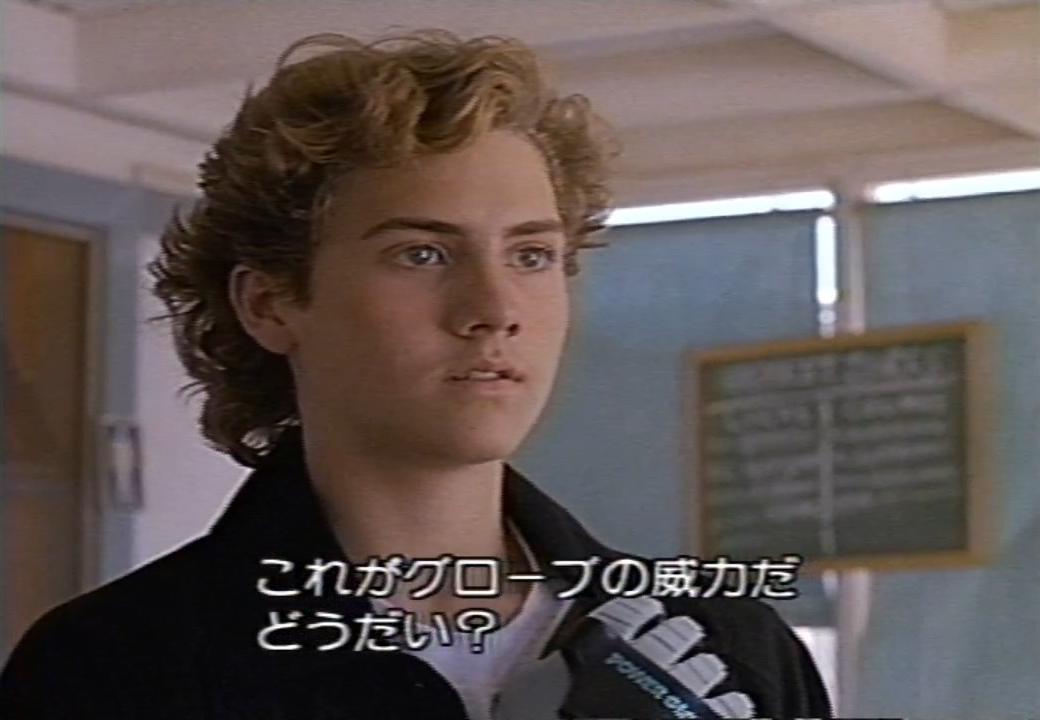 At last, we reach the famous line in the movie. After Lucas shows off his skills using the Power Glove, he turns to the main characters and says:
I love the Power Glove. It's so bad.
So how was this notorious quote handled in translation? Like this:
This is the might of the Glove. What do you think?
…Oww, that's weak and unmemorable.
But, as I mentioned earlier, The Wizard has had more than one translation over the years, and I've managed to find a screenshot of this line from an alternate subtitle translation: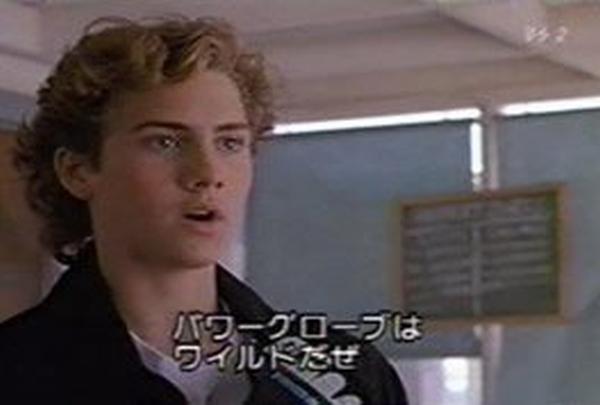 The Power Glove is wild, man.
Now that's definitely better. It almost makes it sound more appealing than the English line… Almost. Although to be honest, if I were to buy a Power Glove right now, today, it'd be a Japanese one anyway. I'd love to see how its manual looks and how it's different in little ways from NES Power Gloves.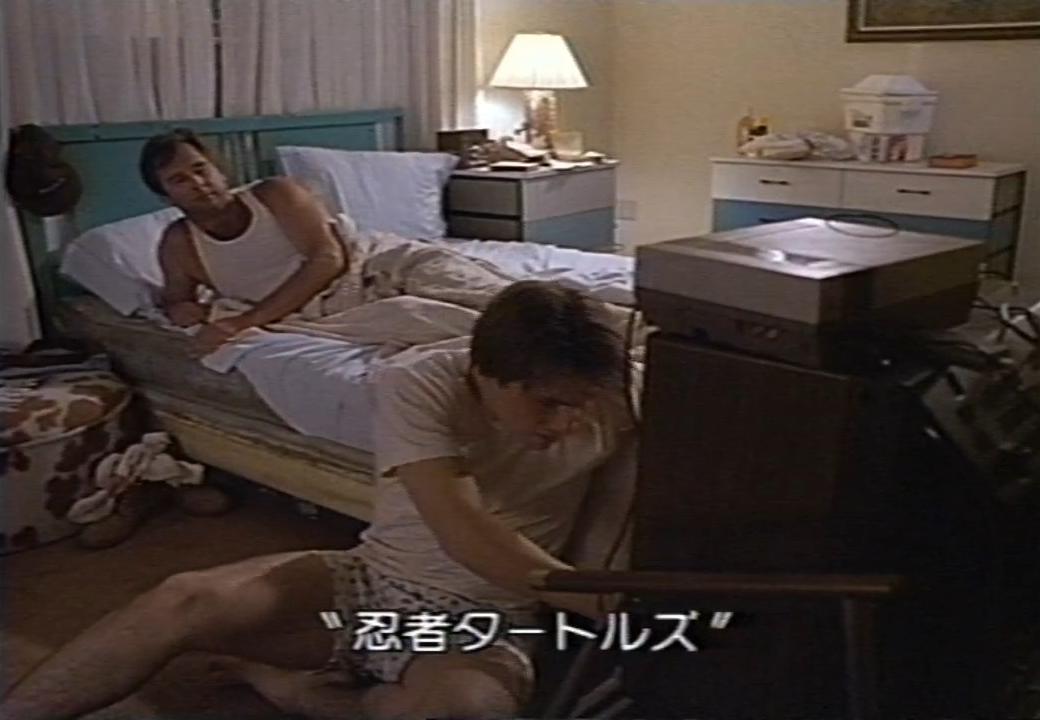 At one point, we see Corey's big brother playing Corey's old NES. He replies with "Teenage Mutant Ninja Turtles" when asked what game he's playing. In Japanese, this was translated as "Ninja Turtles".
The thing is, the game wasn't an NES-only release – it got released on the Japanese Famicom too. But it wasn't called "Ninja Turtles" in Japan. Instead, it was renamed "Gekikame Ninjaden", which translates as something like "Intense Turtle Ninja Tale".
This makes me wonder if later translations of The Wizard took the time to match game titles with their Japanese counterparts. My gut feeling says no, but I still have hope!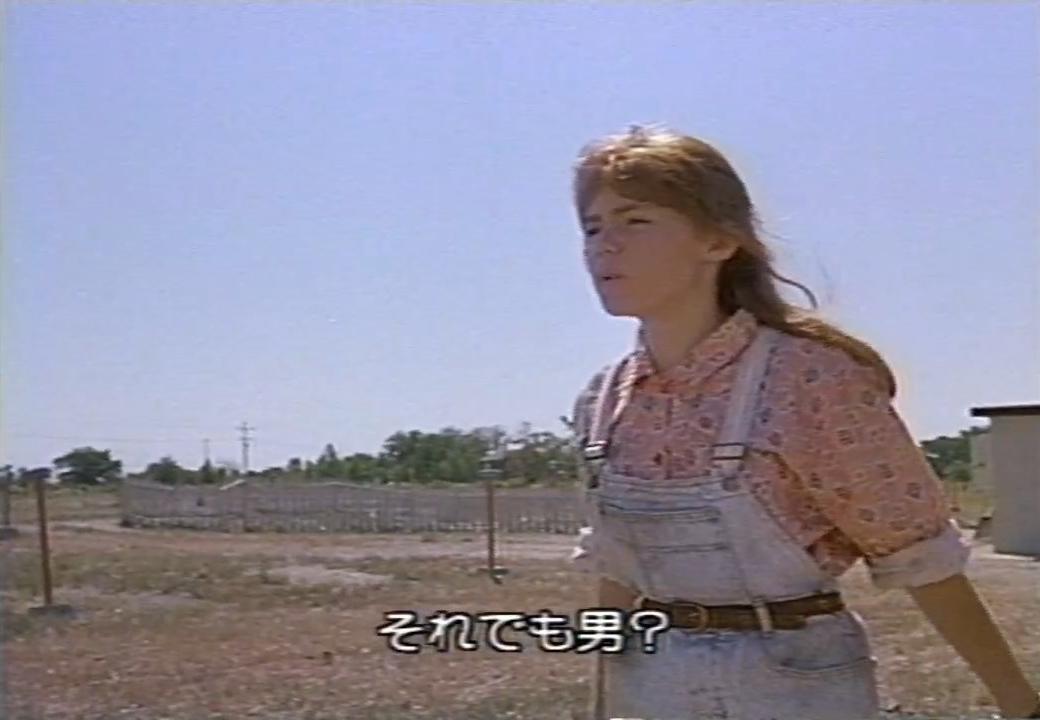 Haley gets angry at Corey for giving up on the game tournament plan. In English she yells, "You're a quitter, Corey!". In Japanese, this became "And you call yourself a man?".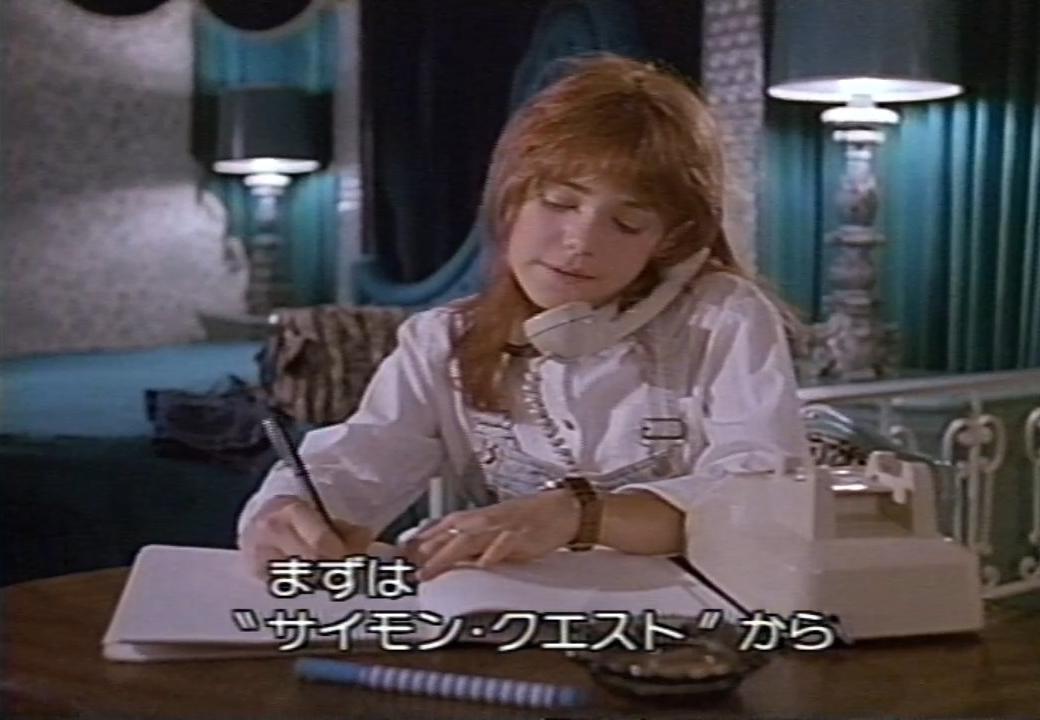 Haley calls up the Nintendo game tips hotline and asks for a bunch of help with a bunch of games so that Jimmy can master every game before the big tournament.
During part of this video game training montage/Nintendo game library advertisement, Haley mentions Simon's Quest, which is the short name for Castlevania II: Simon's Quest. In Japanese, this was translated as "Simon Quest"… but this choice would leave Japanese gamers in the dark, because the game was never called anything like that in Japan. Instead, it was known as "Dracula II: Sealing of the Curse".
Again, it'd be crazy to expect the translator back in the early 1990s would've been able to research all this game info. But I also had a lot of fun keeping an eye out for these name oversights while watching the movie for this article. It does make for some good trivia too!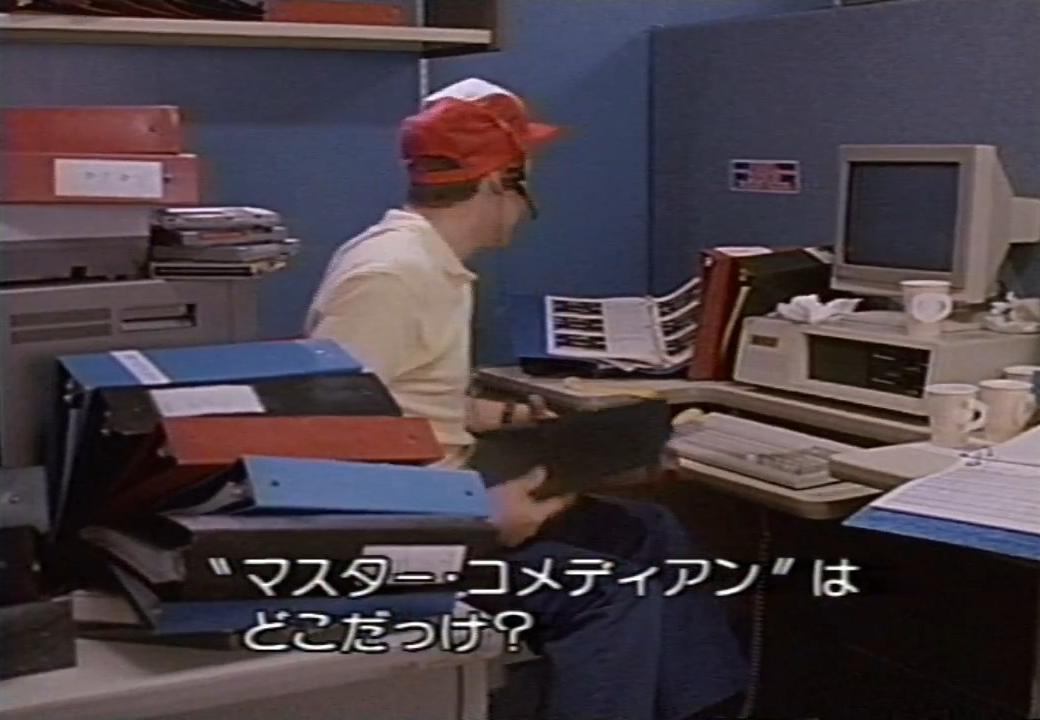 The Nintendo hotline guy answers a bunch of questions about different games during the training montage. There's one line in particular that's hard to hear, though, mostly because he's facing away from the camera and because of the loud music playing on top of his dialogue:
As we've already seen, the translator clearly didn't have access to a script and had to do everything by ear. So the Japanese subtitle has him say "Master Comedian" here… but that doesn't strike me as an actual game title or the name of an enemy. So what is it supposed to be?
I checked the English DVD subtitle track, and it says "Elastic Maniac" here instead. But when I play back the audio, it seems like a real stretch for that to be correct. On top of that, we've already seen that the English subtitler didn't have access to the movie's script either, and we've also seen at least one instance in which the Japanese subtitler heard a line better than the English subtitler. What a weird mess!
In my opinion, the line definitely sounds closer to "Master Comedian" than "Elastic Maniac", but I don't think it's either. Almost every game mentioned in the movie is an actual NES game, so I feel like it's gotta be an NES title or an enemy or stage name from an NES game. I'm not sure what it would be though. Hopefully someone can shed light on this mystery someday!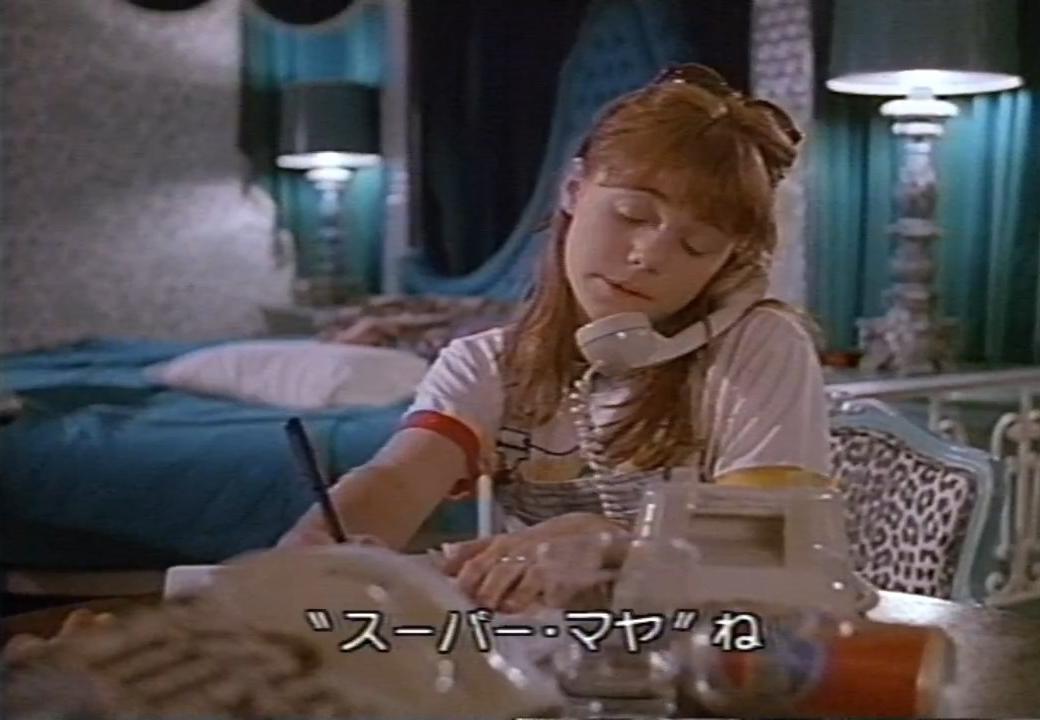 Haley mentions another game during the training montage: Super Mario Bros. 2. She says it kind of quickly, which caused the subtitler to mishear the line. As a result, the game is now known as "Super Maya".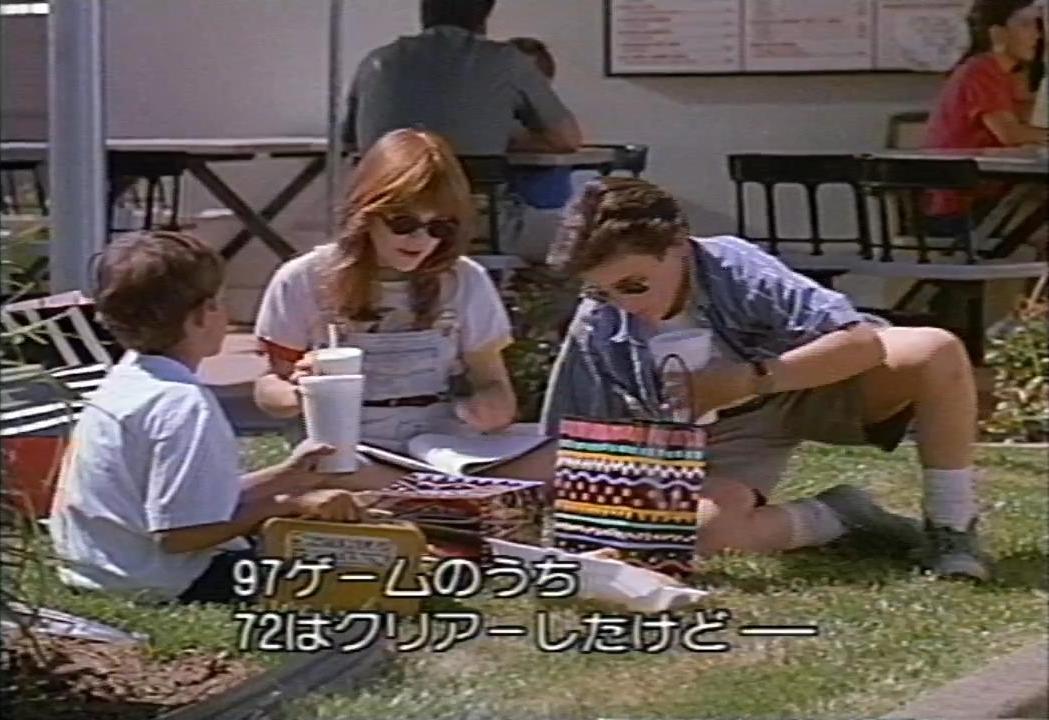 After the training montage ends, Haley mentions that there are some games that Jimmy still needs to study before the tournament. She mentions two games specifically here: Rampage and Dr. Chaos. The Japanese subtitles remove these due to length limits and because they're not important details.
Still, this got me thinking about how they could've been handled in translation had they been left in. Given the NES-centric library we've seen throughout the movie, I'm assuming the Rampage mentioned here is the NES version. It seems it was never given a Japanese Famicom release, so I guess it'd make sense to leave it as "Rampage".
Dr. Chaos, on the other hand, did get a Japanese release as "Dr. Chaos: The Gates of Hell":
I assume the Japanese version was released first too. I've actually never played this game or even really heard of it until now. It almost sounded like a fake name until I looked into it just now!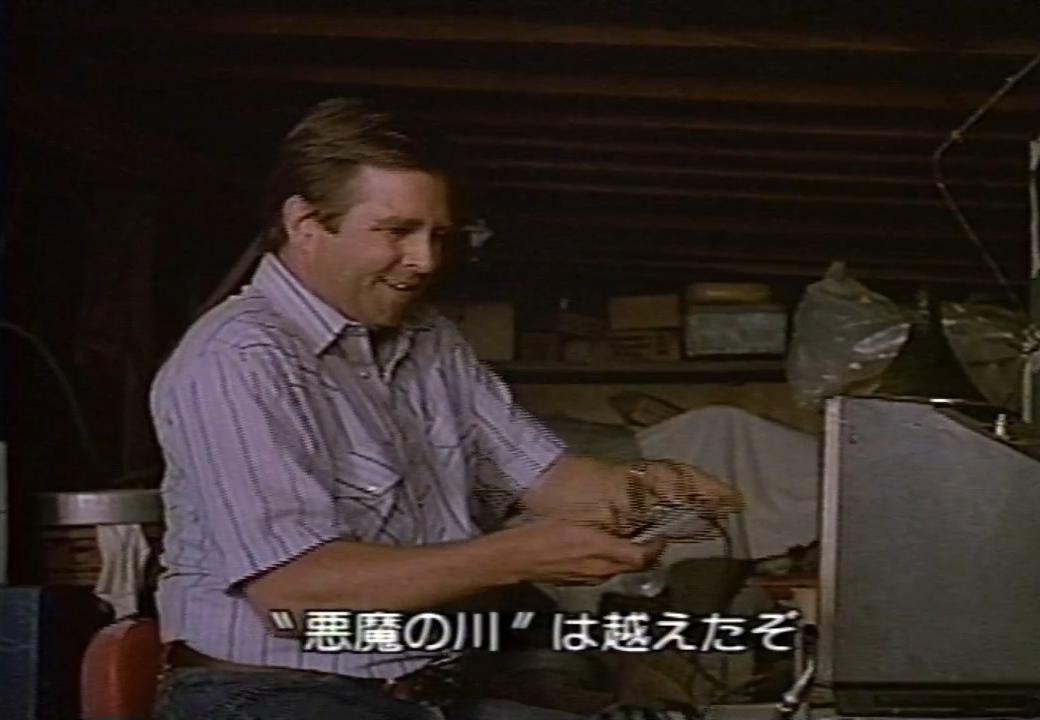 At some point, the dad get addicted to playing games after calling them junk previously in the movie. In one scene, he excitedly says, "I got past the River Devil!" while playing Zelda II.
In Japanese, this was translated backwards as "I got past the Devil River!" instead. I guess it's not a big difference since it implies you've gotten past the river in question either way. Still, given that the translator clearly wasn't big into games or game lingo, my gut feeling is that the translator mistook the phrase "River Devil" for the actual name of the river, similar to how we sometimes put the word "River" first with things like the "River Thames" and the "River Styx".
Incidentally, the River Devil in question was changed during the game's localization process. Originally it was a Japanese-style oni that looked similar to our ogres, but for the NES version it was replaced with a spider-looking thing.
| | |
| --- | --- |
| | |
| Famicom Disk System version | NES version |
In a weird way, I think "River Devil" better describes the Japanese creature than the English one.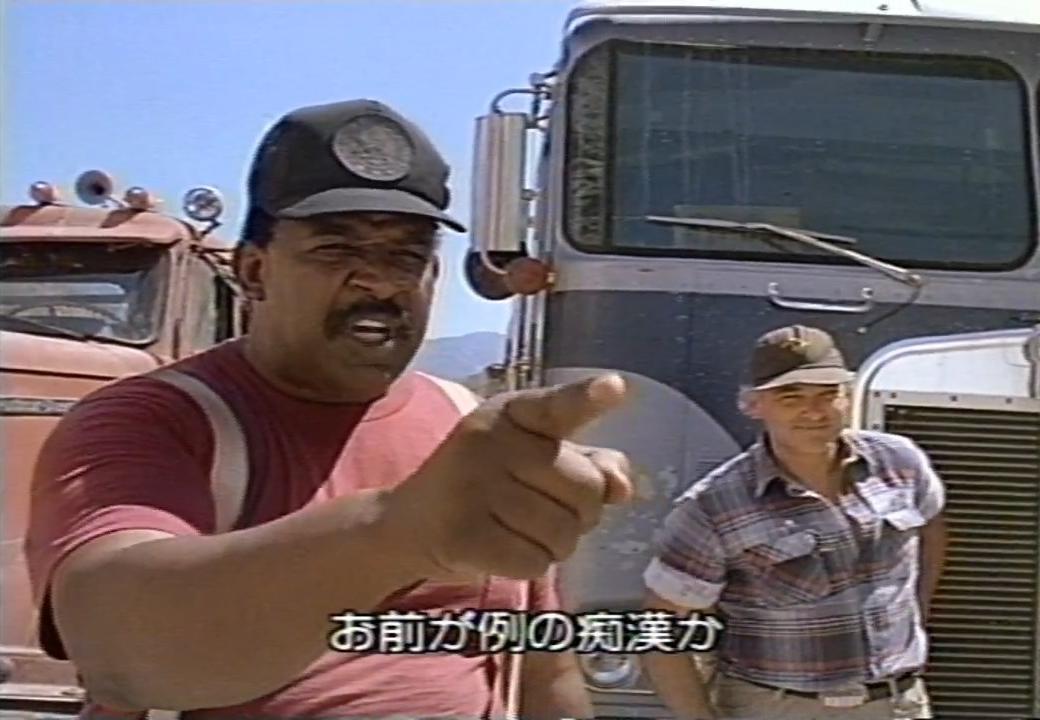 A private detective has been chasing the kids the entire move. Haley tells her trucker friends that the detective touched her breasts, which is a lie, but she needs to slow the detective down.
As the detective is driving along the highway, a bunch of big trucks suddenly surround him. Out step a bunch of big burly truckers, and the first thing this one says, "So, you touched her breasts?". In Japanese, this became, "Are you the pervert in question?" or "So, you're the groper?".
While taking the screenshots from this scene, I really liked how the above one turned out. My secret hope is that someday it might get used on Japanese message boards using character art as a type of reaction image. But I don't think I'd ever be able to make it trendy enough for that to happen, so the best I can do is make an ugly ASCII art mockup and share it here instead.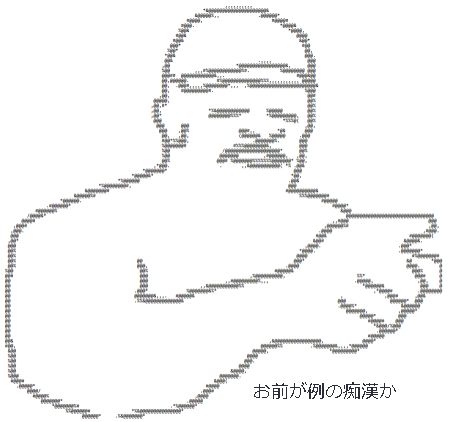 …I'm amazed that turned out as okay as it did.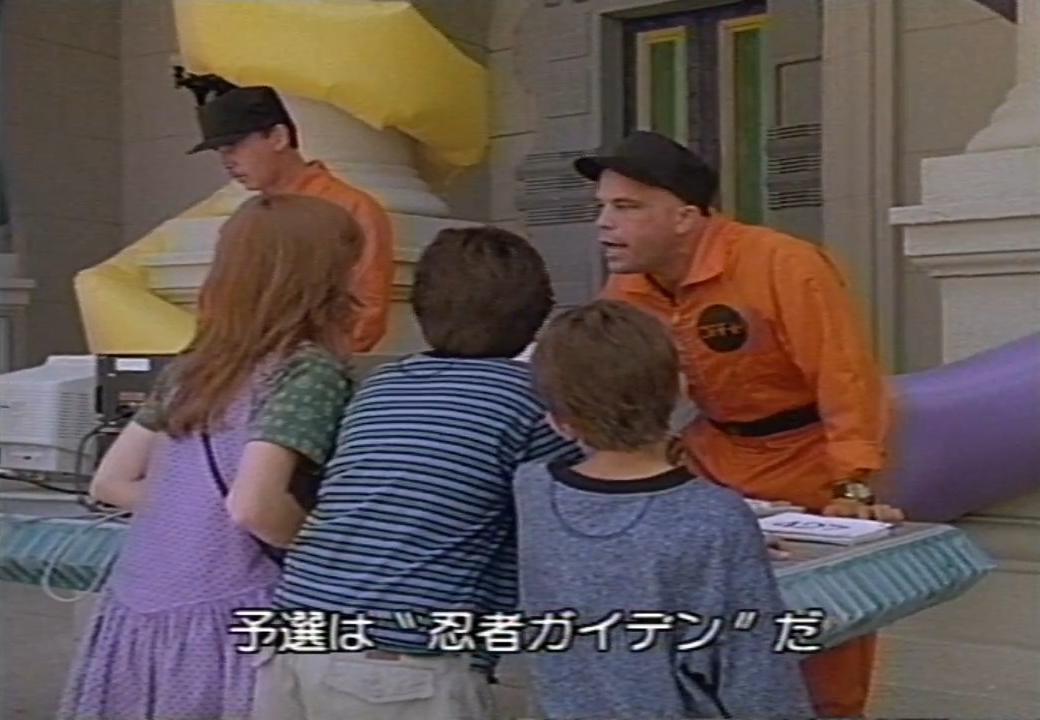 The kids finally reach the big video game tournament. They ask what game is being played for the qualifying rounds, and the guy at the table says "Ninja Gaiden" in a really excited way. In Japanese, this was left as "Ninja Gaiden"… but this game and the entire series at the time was instead known as 忍者龍剣伝 (Ninja Ryūkenden, "Tale of the Ninja Dragon Sword") in Japan.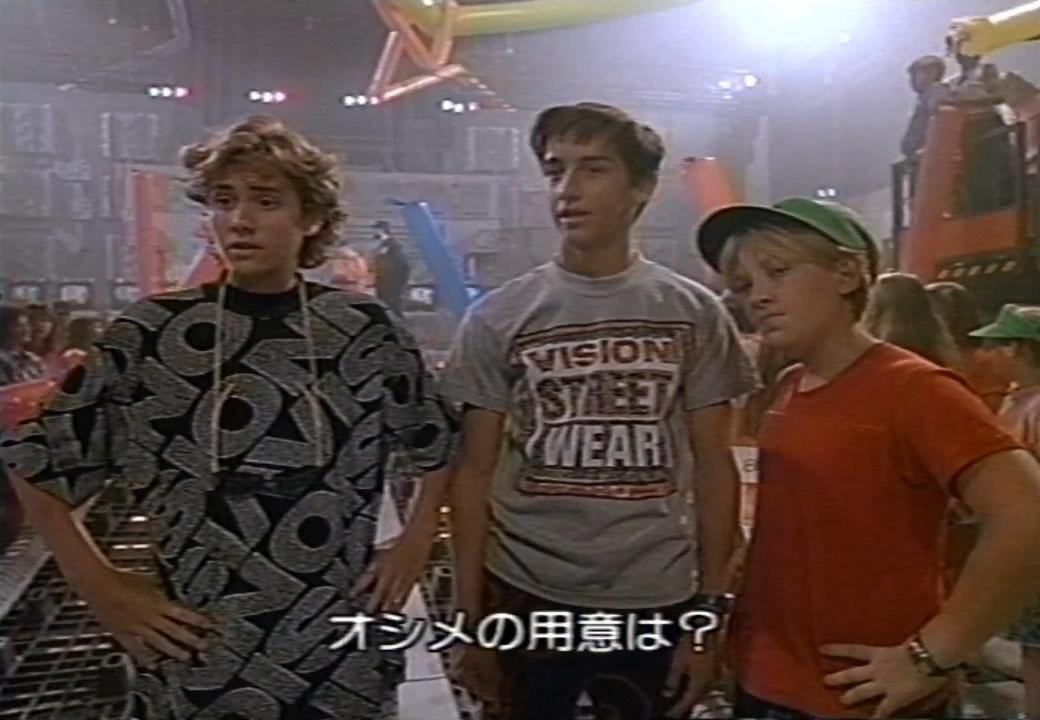 At the tournament, Lucas insults Jimmy by mockingly calling him "the Wizard". He then adds:
I hope you don't get nervous like last time. We wouldn't want you to "whiz" on someone.
The joke here is pretty obvious and simple for us to understand, but jokes are rarely obvious and simple for translators to translate. Similar to other lines we've looked at, this line was handled in a straightforward way:
Don't get nervous and wet yourself. Did you get your diaper ready?
The wordplay on "wizard" and "whiz" was lost in translation, and nothing was really put in its place. Instead, it's now just a random, urine-related insult.
Corey offers Jimmy encouragement and advice just before Jimmy participates in his qualifying round. What he says is kind of hard to make out though:
Can you tell what it says? I hear a couple different possibilities, but the main one I keep going back to is "remember where to warp on the bort". This doesn't make much sense, especially given that the game in question is Ninja Gaiden and there are no warps.
Based on what happens later in the movie though, I wonder if it's supposed to be "remember where to warp on the fort" and was a line originally meant for Super Mario Bros. 3 but got moved to an earlier spot in the movie during the editing process.
Whatever the case, it's a mumbled mess that doesn't make much sense and is probably something that no viewer caught anyway. Even the English DVD subtitler had trouble with the line: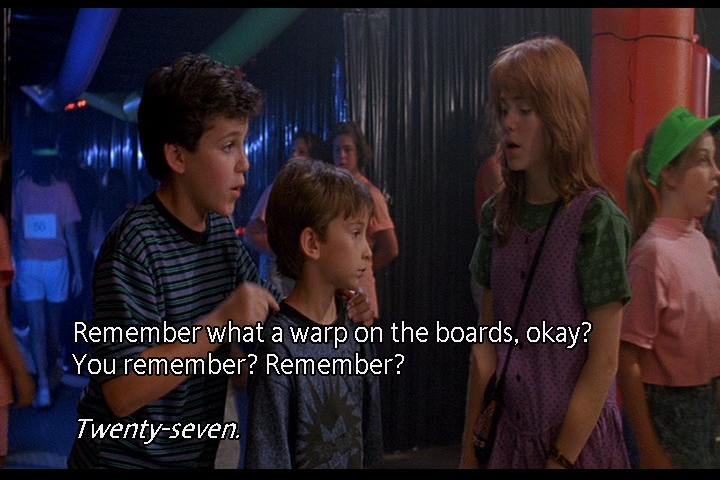 Remember what a warp on the boards, okay?
What? That doesn't even make grammatical sense, unless it's a mnemonic phrase or something.
I have no doubt that the Japanese translator struggled with this line and probably listened to it over and over 50 times. The end result: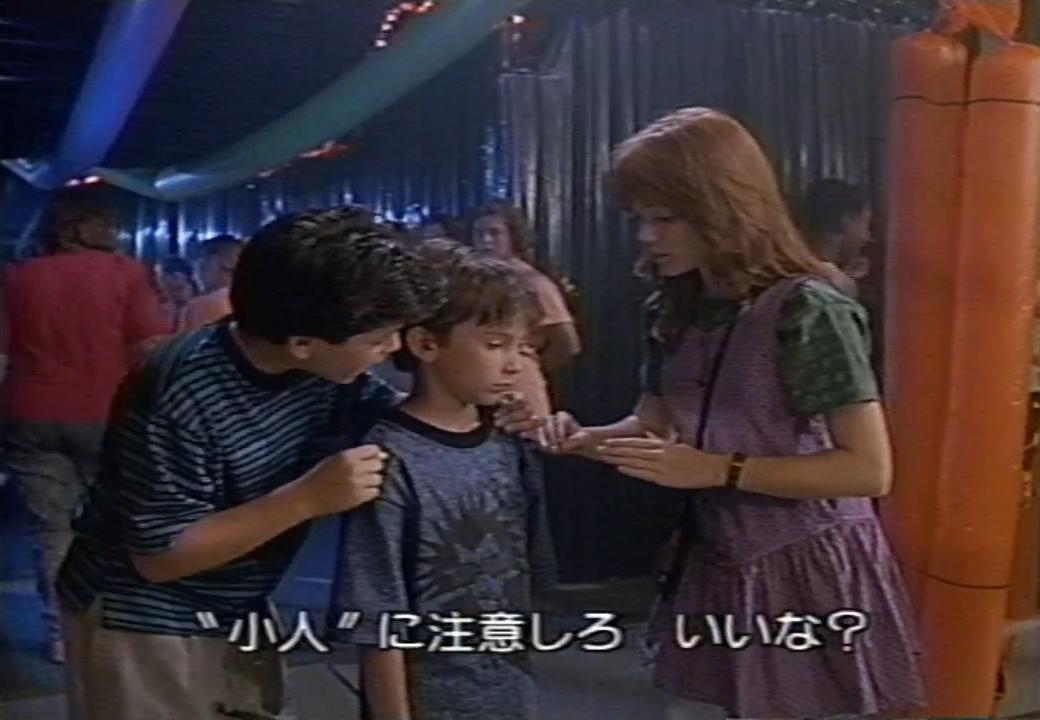 Watch out for the "dwarf". Okay?
I don't really hear that "dwarf" when I listen to the clip, but it's an amusing translation and unintentionally fits Ninja Gaiden better than the line English DVD version.
Anyway, this is one of those lines that it seems nobody can figure out. Someone call up Fred Savage and ask him what he said 30 years ago!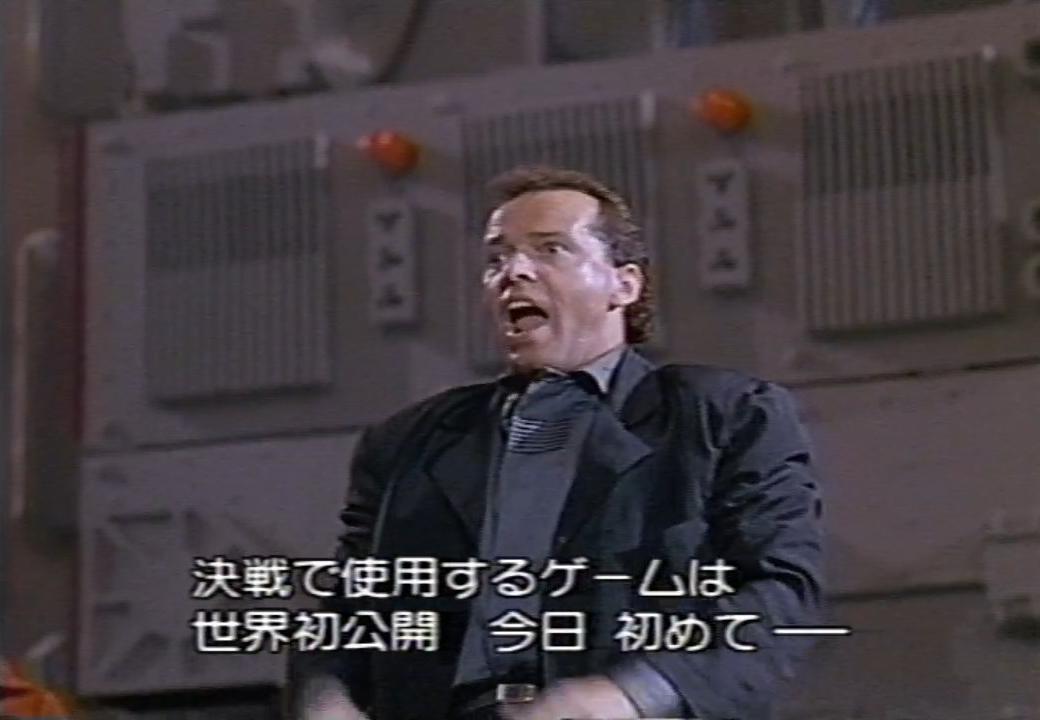 The way overly intense tournament host announces that the final showdown will feature a brand new game: Super Mario Bros. 3. In English, he says:
They are gonna have to play a game that they have never, ever, ever played before.
In the Japanese subtitles, this changed slightly to something that's roughly like:
The game they'll play will be getting its worldwide reveal today and will be the first time it's playable.
The translation doesn't seem too different at first and is fine as-is for the sake of the movie. But on a technical, factual level, the translation is incorrect: Super Mario Bros. 3 had already been released in Japan well before the date this movie likely took place.
Then again, the original script is also technically wrong too, as there were plenty of people who imported Famicom games from Japan during the NES era and played them using Famicom-to-NES adapters. I can imagine a guy like Lucas doing something like that. At the very least, it would've been possible for any of the contestants at the tournament to have had those import connections.
Of course, Nintendo was always trying to crack down on that sort of thing, so it makes sense that that wouldn't even factor into the equation. Plus this is a movie in which simply watching the intro to Double Dragon makes you a video game wizard, after all.
Again, looking at The Wizard in a new light and from a different audience's perspective has given me a new opinion of the movie. It's undeniably a vehicle for advertising Nintendo products, Universal Studios, and other such things. But when I put myself in the shoes of a random Japanese guy randomly tuning into the movie on late-night Japanese TV, the movie takes on a new tone. It becomes a nice little road adventure movie that starts with complicated family issues and has kids who go on an adventure full of ups and downs, but by the end they've all grown up and the broken families come together again.
Similarly, if you were to take out out the video game stuff and replace it with something else like yo-yos, sports, karate, or singing or whatever, the movie would still be the same thing. All the stuff outside the video games – which I've learned is the main part of the movie – is solidly built and would still work just as well. All the characters would fight, argue, worry, learn about each other, grow, and reconcile. It was the journey that brought everyone together in the end. The specific "wizard" skill involved didn't really matter.
Anyway, all of this is to say that looking at The Wizard from a different angle has really changed how I see it in general now. I think viewing other movies from this same international standpoint will help me see them in entirely new ways too, so I look forward to doing more!
If you liked what I've covered here and know someone else who'd enjoy it, let them know about it. I appreciate it!