From time to time I'll post questions that people send me here on the site to share for all. Here's one I got today about what the Toad characters are called in the New Super Mario Bros. series:
I know that the Toads are called Kinos in Japan, and that Kinopio is the name of the character with red dots on his cap that we call "Toad". But my question is, what are the Blue Toad and Yellow Toad from the New Super Mario Bros. games called in Japan? Are their names just "japanese color word + kino", or do they do they have more personalized names like Kinopio and Kinojii (Toadsworth) do?

I specifically am looking for Blue Toad's name because, as a Mario fan since the NES days, it really annoys me that they're putting some random Blue Toad in the upcoming Super Mario 3D World instead of THE Toad, who was always one of my favorite characters growing up. They seem to be just calling him Toad, too, which annoys me even more. I know he's not the same Toad and that Red Toad wasn't some random character that Nintendo of America happened to give a name. On Nintendo's E3 site there is a video of the game's producer talking about the game at http://www.nintendo.co.jp/software_lineup/developer/ and he at about 1:50 he starts to talk about Toad…thing is, I can't tell if he's actually calling him "Kinopio" (which would confirm that Nintendo sees this as the same character) or "Kinochio".
Quick side note: In case you haven't seen it, I covered the topic of the "Kinopio" name here in my Super Mario Bros. localization comparison.
Anyway, I checked out the video and the guy definitely says "Kinopio". I then looked around on the official Japanese website and found this: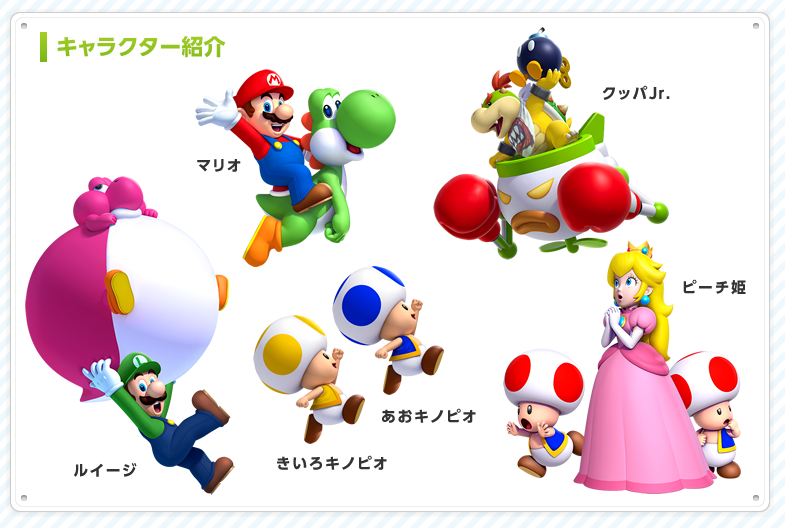 So yep, they're called "Blue Kinopio" and "Yellow Kinopio". No special new names or anything, just a color naming scheme. Kind of reminds me of a family I know where every kid is named after a different type of gemstone 😛
Anyway, hopefully that answers that question!
If you have any questions like this about Japanese game stuff that you've always wanted to ask about, contact me and I'll see what I can do!
Follow @ClydeMandelin