A reader by the name of Yannick recently sent me a pretty big e-mail that covers a lot of stuff. A lot of it has to do with how critical I am of the J2E Final Fantasy IV fan translation, which I wasn't associated with although I was doing fan translations of other games for J2E at the same time.
Anyway, every once in a while I receive messages like this – sometimes they're sticking up for the PlayStation translation or sometimes they're sticking up for something else. This one is about the fan translation:
I have read your Legends Of Localisation website and I'm happy and thankful that finally someone has done this.

I am a bit sceptical however over you unnecessary bashing of the J2E fan-translation in your final fantasy 4 comparison. You seem to show only the (in your opinion) worst translated parts and have very weird commentary about it for example you said that they only translated the game partially and copied the rest of the official snes translation, but the parts that were `copied` were in itself well translated parts.
It's true that I've tended to only show stuff in the fan translation that has issues, but that's generally the case for each version of the game, actually. If I had the time I'd take an even closer look at the alternate translations too, like the fan translation, the PlayStation translation, etc. Still, I don't think my criticism of the fan translation is unwarranted – it has its good points but it also has its bad points (as outlined here) and I think it's fair to point out those specific flaws. Even one of the translators on the project agrees that the fan translation isn't so great after looking back all these years: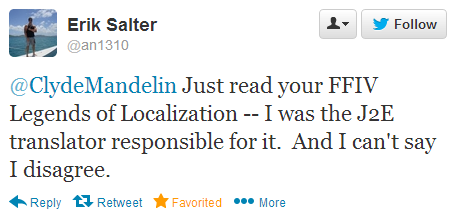 If I seem harsh on the fan translation it's partly because it was touted – and has been touted for well over a decade – as the definitive translation of the game. But it's not, and I want to point out why. Most fans have to take it on faith that a translation is accurate. In fact, without playing the original version and knowing Japanese yourself, there's no way to know if a translation is accurate or not.
One of the problems the fan translation has is that it often didn't translate at all, it just rephrased what the official translation said. First, that's not what I would consider a definitive translation, and second, whenever I notice this happening it's because the fan translation is including lines that weren't in the original Japanese text at all!
In other words, the parts the fan translation copied were not "well-translated" as suggested, but were made up out of thin air. The first time I noticed this was Mt. Ordeals because I decided to take a look at that scene on a lark, but since then I've noticed this is a pattern in the fan translation.
It is also logical that if 2 translators separately translate the same text some part would be the same.
Two translators translating the same line might come up with similar phrasing, but there's no way they'd come up with the same made-up lines that weren't in the original text. So I think it's completely fair to point out and criticize this line-copying issue.
You call the translation poor and error prone, said it uses swearing inappropriately and call the presentation poor and very unprofessional yet you can provide very few good actual examples.
Sure I do. Here's some unwarranted swearing, unnecessary character re-writing, and more:
I also point out actual, genuine translation mistakes and explain how they likely came about.
By "poor presentation", I generally mean that the mixing and matching of different fonts is poorly done, the expansion of windows in battle leaves a lot to be desired, there are typos, and other similar things.
Another thing I can think of off the top of my head is that dialog boxes were expanded to the very edges of the screen to fit in more text and accommodate the big font – except this puts the main text outside the "safe area" of the screen and the game would've immediately failed the official Nintendo lot check. That's why I say it's poorly presented and unprofessional.
There are also instances when the J2E fan-translation make some parts better then a literal translation (for example the part were Cecil battles the water fiend) and you use that as a chance to unfairly criticise them. In my opinion games should be translated in meaning, but if a translator sees a option to use something that is the same but better, that should be used instead.
I agree that literal translations aren't always the best, but retranslating the game to make the definitive version was the purpose of the fan translation, so when it doesn't live up to that I point it out. The fan translation often makes things up, and when it does I'll say so. When it gets something wrong I'll say so. But I also point out where the fan translation shines too – the amount of research put into some terms, the correctly-translated references to the Divine Comedy, the nicely-done handling of Cid's speech… That and a bunch of other things is all stuff that the fan translation did better than the official translation, and I made sure to share all that as well.
It is also funny how you make the bar/cafe look like a disaster but praise the ds translation when they incorrectly chanced legend sword to Mythgraven Blade which is a sign of a bad translation.
The fan translation is supposed to be the go-to translation, but it sometimes mistakenly calls the pubs and bars cafes. I think that's like one of the first things any re-translator would go and fix, so the idea that this fan translation is the "fully uncensored and as it was meant to be" version seems silly.
I'm not sure why you think I'm okay with "Mythgraven Blade", though. I actually think that's a goofy name and I'm not really a fan of the "flower-y" tone of the DS translation. Actually, a lot of Square Enix translations use this style lately when it doesn't seem appropriate and it sort of irks me. I've touched on that topic briefly but I don't have it in me to play through the entire DS version too, so I only bring up the DS translation from time to time.
Do you even realise that you make it look like the official snes translation is better than the J2E fan-translation?
Absolutely. Even with all its shortcomings, I feel the official translation has more discipline and consistency. Aside from the fact that it has all the original items and gameplay elements, the fan translation is a big mess that sorely needed the supervision of someone with experience. Fan translators usually are amateurs though, so I can understand why this translation turned out the way it did.
Again, I was actually friends with and worked with some folks on J2E, and one of the translators even agrees that the fan translation wasn't all it was cracked up to be. So it's not that I have an agenda against these guys or something, I'm just trying to call everything like I see it.
I have played and completed the J2E translation and I also noticed that it is sometimes different then what you tell. I am not accusing you however and saw a rumour on FF wiki that could explain it(see screen shot). I can also tell from personal experience that it was a high quality translation.
Yeah, this is something I noticed recently too. They did have earlier versions of the translation patch, and I've been using the latest, most commonly found version. It took a lot of work but I found some earlier patches and checked them out. They seem to have the same translation mistakes as the final patch, but don't have the pop references. I think the earlier patches didn't have as many copied lines too, I don't know what's up with that. But most of all I know some of the earlier patches have some event bugs that break the game, so I don't really think it's worth delving too deep into these early, hard-to-find, buggy versions.
Anyway, all that stuff said, I do always worry that my criticism of the various translations might come across as unwarranted or that my criticism of stuff might seem too harsh, so if it ever seems that way it's probably not intentional. I also worry that some people might visit a random page on my FFIV comparison section and get the wrong idea that I think everything is a terrible travesty of a translation or that I think everything must be translated a certain way or else it's garbage.
In actuality, analyzing translations at this deep of a level is a big part of my professional work, so this is just an instance of sharing that analysis process for everyone to see. In the end, I just hope this comparison stuff will be interesting for fans of the game and that it might help people understand the inner workings of game translations.
I would also suggest that you add examples for better censored translations(for example the death bringer sword could also be translated as XXXX sword)
I'm not sure what this means… Is that from an alternate release? An online search didn't really turn up anything.
If it isn`t a problem I have also a small thing that I would have liked find out/translated I was playing rune factory frontier on the Wii and I saw an item which has a weird use if you look at the item name. It was called energy drink so you would expect it restores RP, but instead it restores HP. Is that the same in the Japanese original? I have included some pictures of the English version.
I looked online and it appears to be called a 回復ドリンク, which is something like "Restorative Drink". I can see why they'd call it an "Energy Drink" in translation. I don't know much about Rune Factory stuff, so I don't know if calling it one way or the other is better.
I would appreciate it very much if you would do a full comparison of phantasy star 1. It is a RPG-game on the Sega master system which was very poorly officially translated. It has 2 fan – translations(one done by smspower) as far as I know on http://www.pscave.com/psg1/ that are fairly unknown (they don`t even know it at the phantasy star wiki), a ps2 remake known as phantasy star generation 1 which was never officially translated and had a better known fan-translation done by Kyence. I am interested in playing the game and am curious about the changes.
I've always wanted to get into early Phantasy Star stuff, so this might be a good chance. I want to try to stray from RPGs for a while though, they burn me out and take a long time to not only play through, but to document, take screenshots, write up pages for, etc. But it sounds interesting and seems to be an often-requested game, so who knows!
I watch the anime the one piece online and was wondering whether it was your translation or some one else's and if it was done by some else if it is a good translation.
Umm… thanks…? I can't tell if this is an insult or praise 😯
Ah, now I understand. The run-on sentence had me confused. Basically, if you're watching the official subtitles online then there's maybe a 1/3 chance it was my translation. I worked primarily on episodes 1-215 or so, and even then only about half of those. After that I moved on to Fairy Tail, so I don't do much One Piece stuff anymore. My coworker did a lot of the other One Piece translations and she's a great translator, so I'm sure her stuff is good too. There's one other official translator who works on the simulcast but I haven't watched their work so I can't say anything about their translations.
Finally I wanted to know if you still need final fantasy or other screen shots( I have final fantasy origins,final fantasy dawn of souls,final fantasy 3 fan-translation from Alex W. Jackson Neill Corlett SoM2freak,final fantasy 4 J2E-fantranslation, final fantasy 5 fan-translation (I think from RPGe but not 100% sure),final fantasy 6 RPG one translation) Do you intend to implement the option of comment on your comparisons? I think it would be a great idea. Note that despite my complains regarding J2E I am grateful for your work and time to do this I only wrote that to make sure people who read it will get a true and unbiased idea of what the best translation is and which version they should play.

I which you good luck with you future projects.
Actually, what I could really use are screenshots from the DS FFIV and the PSP FFIV… Some kind readers have sent me DS pics up to Kaipo and PSP pics up to Yang, but because of my slow update pace I think I scared people away :X
Earlier this year I asked readers if they'd like me to allow comments on individual LoL pages and it was really strange – people seemed all for it on my blog, but on Twitter a lot of people were iffy about it. So I decided to leave them off for now. I was thinking of possibly starting a message board or something for each individual game though. That might help keep the clutter off the main pages.
Again, I hope my critiques of each translation of Final Fantasy IV or other games don't come off as antagonistic – I don't mean them to be. I might show actual surprise or be a little blunt sometimes, but I don't mean to be negative – I know how much work it takes to translate a game and it's clear that fan translators and professional translators generally do these projects out of genuine enthusiasm for the medium. It's just, pointing out little flaws and mistakes sort of comes with a natural negative vibe, you know? In any case, I'll keep working on trying to explain things in a better way.
Follow @ClydeMandelin