Let's start by taking a very quick look at the history of the game in Japan and North America.
The Japanese version, known as Zelda no Densetsu (ゼルダの伝説, "Legend of Zelda"), was released on February 21, 1986 as a launch title for the Famicom Disk System. It cost 2,600 yen at the time, but more frugal players could download the game onto disks at special in-store kiosks for only 500 yen.
In North America, the English-language version, called The Legend of Zelda, was released for the NES on August 22, 1987. Because the Famicom Disk System didn't exist in North America, the game was altered slightly and released in cartridge form.
In 1994, a cartridge version of the game was released in Japan. This was essentially the NES version with Japanese text and a few alterations to make it a little closer to the Famicom Disk System version.
Later on, the game was rereleased a few more times and ported to a number of different Nintendo systems and services. Some of these ports are based on the FDS version, others are based on the cartridge versions.
For simplicity's sake, I'm going to focus mainly on the original Famicom Disk System release and the original North American NES cartridge release. Think of it as comparing what Japanese early-adopters experienced with what North American early-adopters experienced. We'll still take a peek at some of the interesting variations, though, so don't worry!
Personal History

The Legend of Zelda has been analyzed to death after all these years, so a lot of people might ask, "What's the point of looking at the game now? It's all been done before." A big reason is that the game was a major part of my childhood. That and being able to go back to the game now with my grownup perspective and Japanese knowledge is too intriguing to pass up 😛
My first experience with Zelda was when my school brought in a bus full of NESes (more details here). We all got to play Super Mario Bros. and Duck Hunt for hours a day every day during summer, it was great. SMB and Duck Hunt were the only games available to us, but a few kids who were clearly rich sometimes brought games from home.
I remember one kid well – his name was Ryan and he was a year or two ahead of me. And he always brought a huge load of games to school. The fact that he was in a higher grade than most of us automatically gave him that "big kid aura", but adding in all the Nintendo stuff he owned, he was more like a holy child deity from the heavens.
Many of my first game encounters were through games he brought to school – a few I remember are Kid Icarus, Karate Kid (I clearly remember the lame fly-catching mini-game), Gradius, and Goonies II… but what made the biggest impressions on me were Contra and The Legend of Zelda.
When I first saw Zelda, I actually had no idea what game it was or what was going on. Ryan was in one of the dungeons and just stabbing stuff with a sword. But it was a game unlike anything else I'd ever seen. Super Mario Bros. had blown me away by showing me how games had reached a new level, but seeing Zelda was like getting punched in the face by a fist of undreamed-of wonders. I knew instantly that I had to play it, but Ryan tended to be a bit of a game hog so I only ever got to watch.
My parents bought me an NES later on, either that same year or next. I loved Super Mario Bros. and Duck Hunt like crazy, but I still yearned for Contra and Zelda. At my new school, not wanting to seem "uncool", I told friends I'd beaten Zelda when they asked me. "Oh, yeah, it was easy," I probably said.
My birthday eventually rolled around and somehow my parents knew exactly what I wanted – I got a copy of Contra AND Zelda! And some other Nintendo-themed school stuff too, but man oh man, getting not one Nintendo game but two must've made my decade. And they were good games, too! Not like that smelly Ghosts 'n Goblins, which maybe I'll talk about another day…
So I started playing both games. I hadn't seen much of Zelda, so I eventually put my focus into that one. I fought monsters and wandered to and fro, eventually stumbling upon Level 1. It was nerve-wracking fighting my way through each room, trying to find my way to the goal. I was especially excited when I won the boomerang – it was like a huge victory for me.
Then I moved to the next room, where I was greeted by some bizarre sounds I'd never heard before – something that sounded like a dead body trying to breathe (or so my imagination suggested). What's more, the room was completely empty. I was confused, but there was a key next to a wall, so I walked over to pick it up.
That's when it happened. As the creepy sounds echoed in the emptiness, a giant blue hand suddenly melted out of the wall… and grabbed me. I didn't know what to do. I was scared stiff. And before I could get my wits together, the hand pulled me back into the wall! What?!
Filled with terror, I could only gape at what I saw next: after all my struggles against creepy skeletons and tricky traps, I was taken all the way back to the beginning of the dungeon! Argh!
That weird sound, the weird hands, and the unexpectedness of it all creeped me out so much that I immediately turned off the game and didn't come back to it for weeks. Instead, I played the heck out of Contra. Yes, somehow this:
…was more horrifying than this:
Eventually, I picked the game back up and over the course of many weeks made my way through some of the dungeons. I got stuck at trying to find Level 4, so I asked my friends at school again. Either they knew I had been BSing before about finishing the game or they had forgotten, but whatever the case I clearly remember them telling me to take the raft up to a new screen.
Then came Level 5. Terrible, terrible Level 5. Those Darknut rooms before the whistle/recorder/flute were absolutely evil. To this day they give me a little trouble, but back then it was like I had hit a brick wall in the game. After probably weeks of effort, I finally defeated them and got the item. I was so ecstatic that I wrote in my little makeshift diary (some pieces of construction paper stapled together) that I had gotten the Magic Shield, the Magic Flute, the Magic Sword, and a bunch of other magic stuff all on the same exact day. Kind of like how people will pad their resumes with not-entirely-accurate info, now that I think about it 😛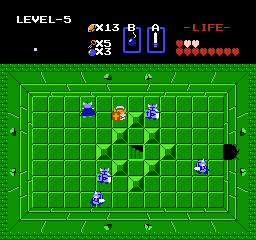 Anyway, I could go on forever. The main thing is that I can associate different parts of my childhood with different parts of the game – I remember discovering secret rooms while at a sleepover at my friend Justin's house, I remember discovering the graveyard but having to visit my relatives right after so the whole time I was excited to go back home and explore the graves, and I remember making lame McDonalds jokes about the mummies in Level 5 with my friend Sam, I guess based on this.
Basically, playing this game really WAS an adventure – it spanned a huge amount of time and was fraught with setbacks, but I was eventually able to get through it with determination and friends. So it's always held a special place in my heart, not even as a game, but as a time, if that makes sense. And now this localization page is dedicated to those friends and those times.
Anyway, that's my simple Zelda story. I'd love to hear how all you readers out there first experienced The Legend of Zelda too – share your own experiences with fellow fans here!