Hey! I wrote a 432-page book on EarthBound's localization that puts this old site to shame! Check it out
here
!
I was a big fan of EarthBound when it was released in 1995. It's silly to admit, but even though it's just a game it's been a big part of my life. In fact, comparing EarthBound with its original Japanese counterpart, MOTHER 2, was one of my earliest EarthBound projects and eventually led to the creation of Legends of Localization!
Naturally, in this sub-section of Legends of Localization we'll be exploring how MOTHER 2 was localized into EarthBound. It's more than just comparing simple graphical changes – we actually dig deep into the text to see what was changed, why it might have been changed, and how it was an improvement (or the opposite) over the original version.
For what it's worth, I'm a professional translator and translating games, anime, movies, etc. is what I do for a living (see my list of my translations here), which also gives me a unique and detailed view of how EarthBound's translation was handled. Some of the stuff I point out might seem super-picky or uninteresting, but don't pay it too much mind, that's just how translation analyzing tends to be 😛
If you'd like a quick taste of the kinds of differences between the two games, here are just a handful of interesting changes that Nintendo of America made:
Violence Issues
Acts of violence were altered wherever possible, including simple sound effects!
Graphical Changes
Some graphics were altered to avoid possible lawsuit problems.
The Runaway Five
The Runaway Five were originally the Tonzura Brothers. They also had their outfits completely redone to avoid looking like the Blues Brothers.
Religious References, etc.
Things relating to religion were altered, and anything else that might upset parents was removed.
Localization Changes
Things were changed in the localization process, like an octopus statue becoming the pencil statue.
Good Translations and Bad Translations
The game wasn't without its translation problems, and we take a detailed look at these. Conversely, sometimes lines were translated spectacularly, and I point those out too.
---
And that's just a tiny fraction of the changes I've dug up. There's a whole lot more to see too, so you can start here:
UPDATE! Legends of Localization Book 2: EarthBound is now available!This 432-page, full-color book is filled with my 20 years of obscure knowledge about the game, my 15 years of professional industry experience, and insight from the game's head localizer, head marketer, and even the creator himself. I wrote and researched everything from scratch, and nearly every page is brimming with info not found on this site!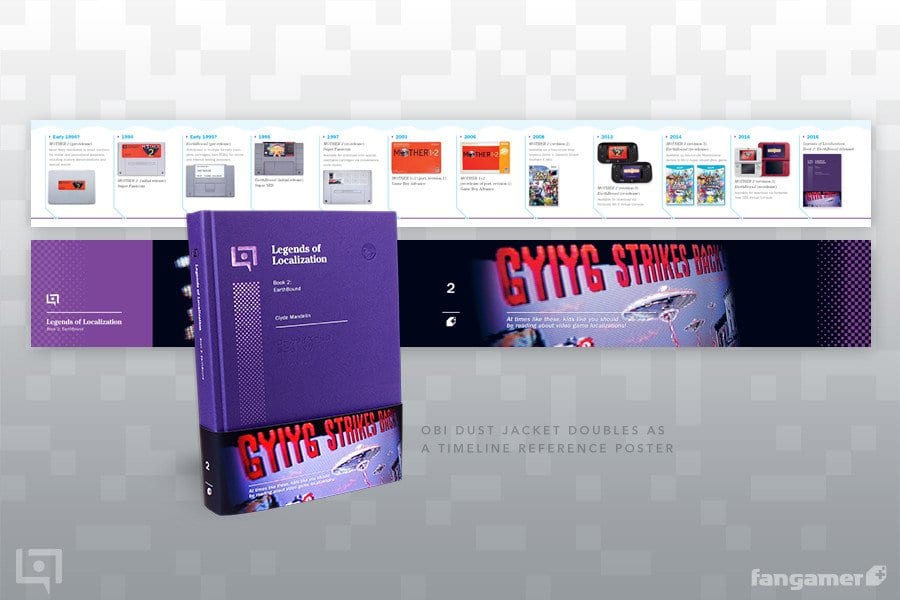 In addition to all the new info, corrections, interviews, and more, the book features:
Forewords from EarthBound's localization director, as well as other industry alumni
A look at the legacy of EarthBound and its localization
A chapter that explains game localization, its fundamentals, and the process
A chapter about the technical side of game localization, especially in relation to text presentation, fonts, programming, and limitations
A chapter on: APE's history, EarthBound's history, MOTHER 2's history, both games' marketing, how both games were received and reviewed, the different merchandise available to fans upon release, and more
A biography of Shigesato Itoi
84 special features on topics like Japanese culture, game history, and little-known info
~100 pages about topics that I had always wanted to examine, but never got around to before
A 15-minute companion video
All 1st edition books come with bookplates signed by me and the rest of the team
A scratch-n-sniff history card that explains EarthBound's connection with smells, the marketing decisions behind the concept, and modern re-creations of six iconic smells EarthBound was shipped with in 1995
Get the books here:
Buy it on Fangamer.com! – ask in the order form and I'll even sign the book directly for you! (it'll take a little extra time to ship, of course)
Check out 28+ pages of the book for free here!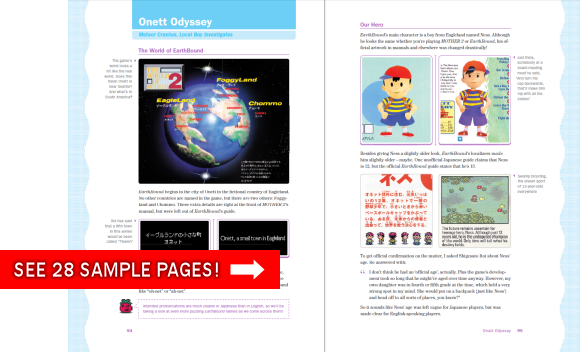 Although the book focuses on EarthBound and MOTHER 2, it also touches on 90+ other games – you can see the full list
here
. No prior knowledge of EarthBound is needed to enjoy this book, so if you're not an EarthBound expert or even a fan, you'll have no problem diving into this material. Whether you're a Nintendo fan, a retro gamer, or an aspiring translator/localizer yourself, this is the book for you!
UPDATE 2! Passport to MOTHER 2
For fans who'd like to try experiencing the original Japanese version of EarthBound, I also put together a separate booklet called the "Passport to MOTHER 2". The Passport features:
This handy booklet features:
Lessons on how to read two Japanese writing systems (hiragana & katakana)
Character charts
Basic Japanese grammar rules
Dictionary of important words and phrases in MOTHER 2
Map and walkthrough of the Monkey Caves
Unusual tips and tricks for MOTHER 2
Tips on how to search for MOTHER 2 merchandise and info on Japanese websites
"Skill checks" – by the end of the Passport to MOTHER 2, you'll be reading, pronouncing, and translating actual phrases from the game!
I designed the Passport to MOTHER 2 as a guide to help ease beginners into the Japanese language, provide useful information to students already studying Japanese, and to give EarthBound fans a new way to experience the game. I also wrote it with myself in mind – I remember knowing almost no Japanese back in 1995, yet wanting to check out the Japanese version of EarthBound for some reason. I didn't have the resources then to do so, though, but now you do!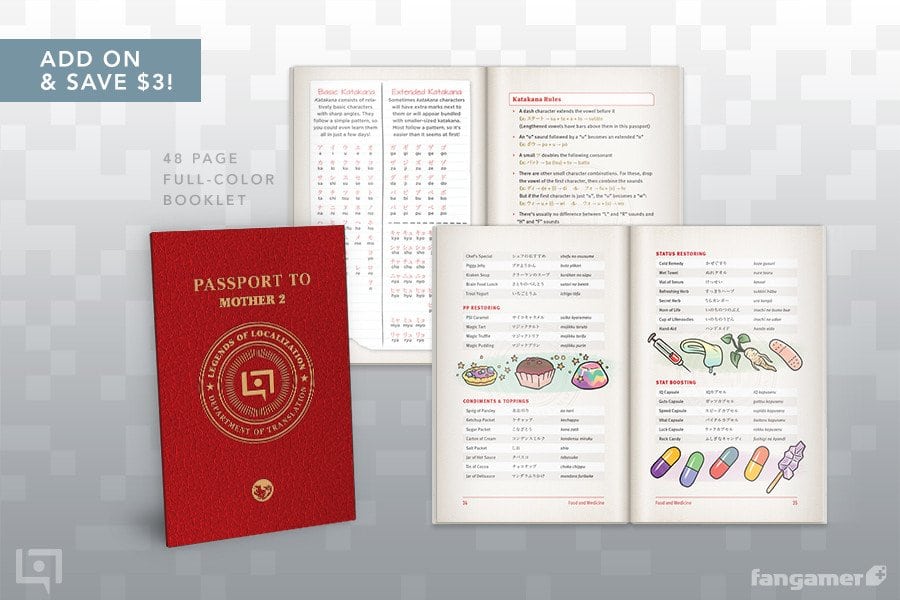 The booklet assumes no prior knowledge of Japanese and is a great first step into the language.
You can get the Passport separately here, or you can get it and the main book together for a discount here!
Thanks for supporting Legends of Localization – it means I'll be able to write even more in-depth articles and books in the future!