Mr. Saturns Are Wacky

In EarthBound, all the Mr. Saturns talk using a very odd-looking font.
As you can see, they speak using a very strange font in Japanese, too. What's more, the Japanese Mr. Saturn font was created by Shigesato Itoi himself. In an interview around the time of MOTHER 1+2's release, he mentions that he based the font on his daughter's handwriting at the time.
Boingy Boingy

EarthBound fans know that Mr. Saturn says "boing", "zoom", and all sorts of wacky things. But the Japanese version doesn't use the same words.
Instead, there are things like "po~en", "pu", and other nonsense. None of it really has any meaning either, although I guess the "pu" could possibly be considered a fart sound. Maybe that's why they make those weird sounds in the Smash Bros. games…
Anyway, I should also point out that the English phrases aren't 1:1 exchangeable with the Japanese phrases. In other words, there isn't one "boing" phrase in Japanese – the English localization just sort of does its own thing with the nonsense words, regardless of what nonsense words were used in the original Japanese text.
Meaning Not Mean Same

In EarthBound, this Mr. Saturn says, "WE LOOK LIKE SAME!"
It would seem he's referring to the fact that all the Mr. Saturns look exactly identical, but in fact, in MOTHER 2, what he says is more like, "YOU ME LOOK A LITTLE THE SAME." So in other words, this was a translation/editing thing that made something clear into something vague.
Admittedly, this isn't a big deal, but the game is filled with stuff like this, so I thought I'd at least highlight some cases of it. When translating and editing, it's always vital to remember to think from the player's/viewer's viewpoint, too. This is a situation where they didn't do that, for whatever reason.
Saturn ATMs

Here's something I can't believe I missed earlier!
In MOTHER 2, the Mr. Saturn ATM says "CD" on it. In Japan, "CD" stands for "Cash Dispenser". Obviously, we don't call them CDs here in North America (or at least in the States) so the localizers changed it. There probably wasn't enough room to write "ATM" and make it look nice, so they just said screw it and put some eye-looking things there.
Belch Time

(While this isn't in Saturn Valley exactly, let's just combine the Belch Factory stuff with it for convenience's sake)
This is often overlooked to begin with, but at the entrance of Belch's factory, there's a sign you can read. This is pretty picky, but I'm choosing to include it as trivia and as another example of vague translation/editing.
In EarthBound, the sign says, "'Safety First' Don't get injured! Burp!"
That's actually a pretty decent and direct translation. The only thing is that "burp" by itself makes it sound like the person who wrote it might've just burped or something. In actuality, a slightly-better translated version of the Japanese line would be like, "'Safety First' Don't get injured! Burp instead!" In other words, the "burp" part is meant to be a command, not a sound effect.
Honest Saturn

You can talk to these Mr. Saturns in Belch's factory when there's not Fly Honey in front of them. I had never realized it until now that what these guys say in English doesn't make too much sense. After looking closer at the Japanese text, I can see why. The translators didn't remember (or know) the context when translating these lines, and they were probably translated in a hurry to begin with.
In EarthBound, he says, "AH! SOOOO… HONEST! SMILE. BOING!"
A somewhat better translation of what he should say is something like this: "UGH! GEEZ! THIS REALLY… SMILEY!" In other words, it sounds at first like he's disgusted by what he's doing, but then he's all smiley and happy.
The "really" is where the "soooo honest!" thing comes from, but it's such a vague line outside of context that the translators must've been like, "Uhhh… hopefully somebody'll see this in context later and fix it…" but nobody did. I know that feeling all too well 😛
Gi

Being picky with translation again, but this slimy little pile in MOTHER 2 doesn't know Giygas' full name, just the first part of his name. In EarthBound, he blurts out the name in full. No big deal, but I'm sure EarthBound theorists can add that to their pile of stuff to someday write articles about 😛
Belch Speech

Some slight differences introduced here. As we saw before, the localizers seemed to love Belch, so they really had fun with his dialogue. Luckily, they kept everything pretty much intact, but made one little slip and then did some censoring.
First, the mistake. At this point in EarthBound, Master Belch says, "There's a prophecy that a boy will destroy Master Giygas." In MOTHER 2, the prophecy is apparently a little more specific (or Belch or Giygas have made some assumptions), as he says, "Supposedly there was a prophecy in which you defeat Master Gyiyg."
The next part of this speech that's changed is when Belch laughs at the idea of Giygas fearing anyone. In EarthBound, he says about said person, "…he would have to be worse than the greatest evil…"
This is actually a decent localization, as the original version wouldn't make much sense in English literally. A literal translation of what he says in MOTHER 2 goes something like, "…then there must not be any demons and devils in the world!" Luckily, since they don't need to translate literally to begin with, they could avoid the demon and devil talk altogether. I'm sure that was seen as a neat little bonus. This is also a case where an absolutely literal translation to the word is clearly inferior to a translation that instead relays the intention without going too far off course with the new words.
Think Harder

After you defeat Master Belch in EarthBound, this Mr. Saturn says, "I THINK NEW THINGS… DIFFICULT THINGS… FROM NOW…"
Whenever I played EarthBound as a kid, and even up until now, I always thought this Mr. Saturn was trying to say that things were only going to get harder for Ness and his group from here on out.
But apparently, in MOTHER 2, what he says translates to something like, "I THINK I'LL THINK ABOUT COMPLEX THINGS NOW." In other words, it sounds like he's going to start focusing on complicated stuff now that he doesn't have to worry about his formerly-captured comrades. This fact actually winds up being the first step toward Giygas' ultimate defeat – it allows Mr. Saturn, Dr. Andonuts, and Apple Kid to work together at the end of the game to create the Phase Distorter.
Anyway, it sounds like this slip-up was a result of either a vague first draft translation, or the editor not knowing what was going on, possibly because of odd English wording. Probably a combination of both, as I believe the translators themselves were native Japanese speakers who lived in Japan at the time.
Also note that there's no mention of "new" in the Japanese version.
Coffee Time

After you defeat Master Belch, you can have coffee with a Mr. Saturn. When you do, some strange narration text scrolls while some soothing music plays.
There are a couple things of note to this. First, in MOTHER 2, this narration text includes kanji. This is notable because besides these narration scenes, all other text in MOTHER 2 is written in kana. The reason Itoi chose to write all the MOTHER games using kana only wasn't because of technical issues, but because kana is closest to how people actually speak, and when he wrote the scripts for the games, he would say each line out loud over and over until it sounded just right, then he (or an assistant) would type in the polished line. This attention to detail gives the text to all the MOTHER games something a little extra, but it's hard to pin a single word on it.
Of course, none of this is conveyed when translated into English, since we don't use those writing systems.
The above trivia aside, the English translation of this text is actually nicely done. The only thing that's noteworthy is that at the end of the Japanese version, whoever's talking says, "May the goddess of good fortune smile upon you always." As we've seen before, Nintendo of America didn't allow certain religious vocabulary in their games, so this line was changed to the bland, "I wish you luck…" in EarthBound.
Actually, getting back to the kana/kanji thing, the reason he used kanji for these narration scenes, was because this ISN'T someone talking, at least not someone normal. This is some sort of strange narration, MAYBE with someone doing the speaking, given the content of what's said, and the use of "kimi". But, by having the text say, "I wish you luck…" the English translation suddenly 100%, undoubtedbly personifies the whole thing by giving direct evidence that there is a speaker. In MOTHER 2, there is no self-reference like this in this scene.
Oh, and the English version takes about a minute longer than the Japanese version, as it's easier to say more in less space in Japanese, especially if kanji is used.
I Feel Old

It probably took me years to realize this, but the name "Trillionage Sprout" is trying to say that it's a trillion years old. Or something like that.
In MOTHER 2, it's a little more clear, as the name translates into something like, "Trillion Year Tree Sprout". Since the name is written in kana, I bet you could also maybe fit some other wordplay or extra possible meanings or something in its name, but for the most part they'd probably mean the same thing. Or maybe that's just me trying to look too deeply into names. In any case, the name is more clear in Japanese, and helped make it more clear for me in EarthBound. And who knows, maybe it enlightened you too?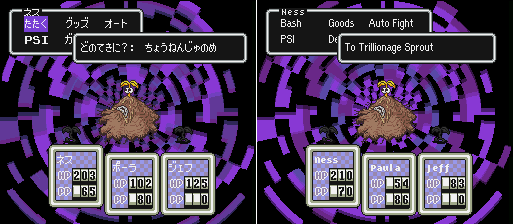 This section of the EarthBound Legends of Localization book also includes:
Itoi discusses whether Mr. Saturns are aliens or not
Several pages dedicated to the Japanese Mr. Saturn speech pattern, and how it compares with the EarthBound counterpart
The inspiration behind the "boing" and "zoom" words the Mr. Saturns use in EarthBound
A side of the Mr. Saturns that EarthBound fans weren't aware of initially, and how this connects with the Super Smash Bros. series
Info on a Japanese Mr. Saturn translation contest that Itoi held in 2003
The Dr. Saturn name, its Japanese counterpart, and how it has appeared on official merchandise
A small example of how EarthBound's localizers surpassed EarthBound Beginnings' localizers
The three-minute wait at the waterfall, and its significance among Japanese fans that isn't shared by fans elsewhere
Details on Master Belch's name
A chart with details on the various sound/audio clips found in the game, where the clips are heard, who performed them, and extra info about the clips/people in question
The official Apple of Enlightenment prophecy, translated into English for the first time ever!
More on the coffee break scene, Itoi's intention for the scene, and the idea of drawing a line between player and game