Headline History

One thing many EarthBound fans overlook is the sheer number of newspaper headlines in the game. There's a lot of stuff some fans never even see!
I never realized it until I started working on these headline comparisons, but I think the rough translation script might have been REALLY rough. I'm talking THIS rough: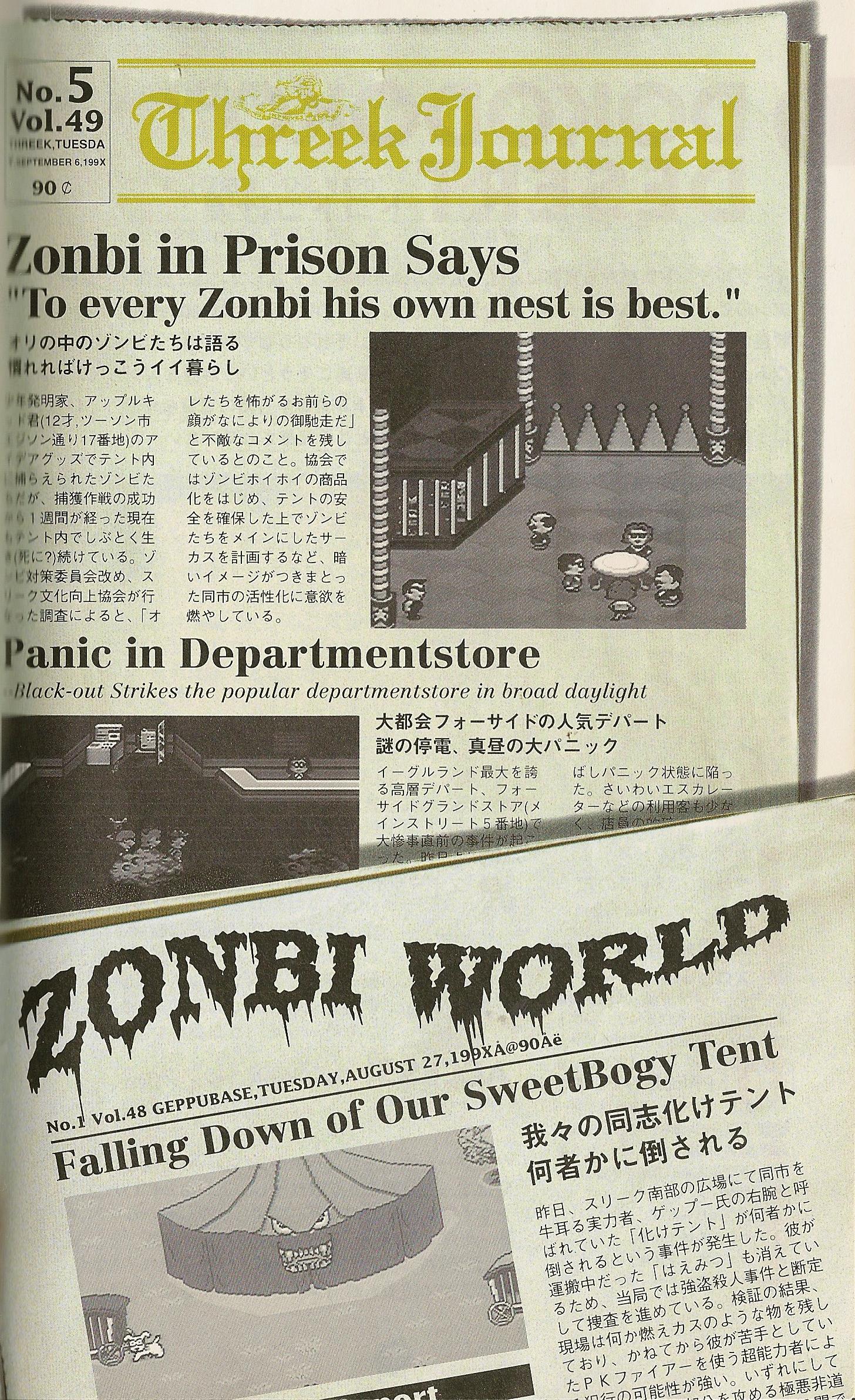 You can see more such scans
here
.
Basically, some of these phrases are extremely bizarre and unique, and act like translators' fingerprints. The fact that some of these same phrases appear exactly as-is in the EarthBound translation makes me almost absolutely sure that the entire rough translation script was like the English text in these official guidebook scans. If the translations given to NOA were exactly like that, then the game's English editors get a million more thumbs up from me. That's absolutely incredible that text like that could be converted into what we see in the final version 😯
Crybaby

A lot of the English headlines have slight differences but not enough to warrant being mentioned here. So here are the ones that are especially different or of interest:
Onett Times
| | |
| --- | --- |
| MOTHER 2 | EarthBound |
| Even its clerks get lost in it?! The world's largest department store, the Fourside Grand Store | Even our clerks get lost in the store! The world's largest department store, the Fourside Grand |
Twoson Today / Twoson Tribune
MOTHER 2
EarthBound
The brave local hero named Ness who broke up the Sharks has left Onett.
The brave local hero named Ness who broke up the Sharks has left Onett. Reports that the Mayor stopped the Sharks have been proven to be false
Mr. Carpainter Speaks: "Looking back, Happy Happyism was a mistake. I was out of my mind. I cannot apologize enough."
Regarding Mr. Carpainter
Follower states Happy Happyism is wrong
Follower claims temporary insanity…
Cure your shyness instantly with the book, "Overcoming Shyness"! Available at your local library!"
Are you shy? Do you have trouble talking to people you don't know? If so, the book "Overcoming Shyness" is your self-help guide to becoming more outgoing. This title is now available at your local bookstore or library.
Old MOTHER game is a huge hit among Twoson residents! Nintendo thrown into a fevered haste!
In Twoson, Nintendo's eight-bit system, the NES, makes a comeback!
Threek Journal / Threed Journal
MOTHER 2
EarthBound
Caged Zombies in Southern Threek Speak Out: "It's not such a bad life once you get used to it."
Zombie prison warden states inmates believe Our Nest is Best
The Twoson Today, the neighboring town's newspaper, also worth reading.
The Twoson Tribune, the neighboring town's newspaper, also woth reading


Note that the English line has a typo, that's the real point of interest more than anything.
Fourside Post
MOTHER 2
EarthBound
Fourside citizens' approval rating of Monotoly drops to 50%!

Lonely death in the city – Long-haired man with a beard, sunglasses, and an aloha shirt
Over 50% of Fourside citizens now support Anti-Monotoli campaign

And on page 23 of the Fourside Post.

Lonely demise in the city. Long-haired man with beard, sunglasses and aloha shirt found in street
Famed Mr. Monotoly vanishes from Fourside after stating he is going on a trip
Famed Mr. Monotoli leaves Fourside. States he is going on a trip
Lucky of the Tonzura Brothers found to have once been a member of the student council.
Lucky of the Runaway Five found to have been in state House of Representatives
Scarabi Papyrus / Scaraba Papyrus
Note that in MOTHER 2, all of the headlines end with something like, "…According to rumor." So the joke is that they only get their news through rumors.
| | |
| --- | --- |
| MOTHER 2 | EarthBound |
| Kraken Vanquishers Were Actually Foreign Children… According to rumor. | Miraculous foreign children overwhelm Kraken! |
| Desert pyramid opens its doors for the first time in 300 years… According to rumor. | Activity at pyramid the first in 300 years |
This section of the EarthBound Legends of Localization book also includes:
The little-known background and Japanese manga reference found in a newspaper headline that probably no EarthBound player has ever seen before
An intriguing quote from Itoi about MOTHER 3… during MOTHER 2's development
A closer look at the "local hero" headline and the mistake the translators made
A look at the Japanese pun found in Twoson's headline that probably very few EarthBound players have ever seen
The name of Threed's newspaper, and why its zombified name changed during the localization
A newspaper headline that is theoretically impossible to see in the game
An actual in-game fact mistake, how EarthBound's localizers decided to deal with this clear mistake, and how the mistake was handled in all later ports/re-releases of MOTHER 2
A headline about Tessie, the Japanese wordplay involved, and a look at a beta MOTHER 2 screenshot that shows the same joke being made by a completely different character
The name of Summers' newspaper in Japanese, a look at the real-life newspapers it's parodying, and how EarthBound's team localized it in a natural (albeit oddly spelled) way
A Summers headline that connects with the heroes' journey in a sad, yet delicious way
More details on the Scaraba newspaper headline issue in EarthBound
A short feature on other instances in which Japanese entertainment has spelled "Kraken" in hilarious ways
The EarthBound Legends of Localization book also contains an entirely new chapter dedicated to interesting Hint Man localizations! This section includes:
A comment on secondary text in game localization
A hint about the Runaway Five that also includes an interesting and educational English word choice
A song about Saturn Valley, and how its English localization has a different "fingerprint" to it
A localized hint that adds a pop culture reference… yet stays in tune with the original game's tone
A hint that holds different significance depending on the player's native language
A surprising line that WASN'T toned down in EarthBound, yet WAS rewritten in later ports/re-releases of MOTHER 2
A case in which the Hint Man acts as a know-it-all… or not, depending on the version you play
An instance in which the Hint Man starts talking like a teenage girl, how this line looks in the original Japanese script, and a brief look at the subcultures behind both speech styles
A note on localizing speech style
A hint with a little word game inside it, and how the differences in English and Japanese change the game
A hint about Nintendo
A big feature on Nintendo's Japanese name, the history behind it, and the variety of possible meanings it holds
The EarthBound Legends of Localization book contains yet another new chapter dedicated to unused and rarely-seen text! This section includes:
Things that not even *I* had seen until now
Funny error messages
Items, item descriptions, and item actions that never got used
The original names for the Brain Food Lunch and Refreshing Herb, as they were known just after MOTHER 2's development began
Story events that were meant to be part of the game, but were cut out at some point
More details on the famous "Video Relaxant" item
A Japanese developer note that accidentally got left in the game's data
An unused scene involving an Onett bathroom
A policeman's dialogue and the unexpected connection it offers
A look at things in and around Burglin Park, which might've been a mini dungeon at some point
Music-related lines near the Chaos Theater, including a sign that references many real-life bands and musicians
A look at how the above sign was localized into English
A full-page feature on the many bands and musicians mentioned in this never-seen bit of text
A look at an early gameplay mechanic which let players check graves for items
Cheat codes to activate some unused NPCs who share text that can never be seen normally
A short feature on the silent war between Nintendo and Galoob's Game Genie devices, and how EarthBound fit into the situation
A few lines relating to Lake Tess and Tessie that went unused
Another instance of a Mr. Saturn shouting a geographical name, except this one is impossible to see normally in the game
A brief look at the Japanese location mentioned by Mr. Saturn, and the U.S. location it mentions in EarthBound
Some rarely-seen Mr. Saturn text
A rarely-seen line from the Dusty Dunes Desert
A couple lines relating to early version of Dalaam during MOTHER 2's development
A few unused lines about Scaraba and the pyramid
Some interesting and unused text found in the Lost Underworld area, one of which suggests there was a small gameplay change made to the region
A mention of an entire set of unused lines, a look at an especially interesting one, and how the localization differed from the original
A detailed look at the various debug menus found in both versions of the game, including codes that let you access them
An explanation of all the nonsense text in the main debug menu
A look at how the main debug menu was changed during the localization process
Some developer notes that are present in the MOTHER 2 debug menu, and what they translate into English as