Oww My Robot Balls

In EarthBound, after you beat Carpainter, rescue Paula, and return to Twoson, this guy says, "I heard that you, Paula, beat up the kidnapper. You're my favorite!"
In MOTHER 2, the guy says, "Paula! I heard you kicked the kidnappers' balls off! You're amazing!" Not only that, there's no mention of "being my favorite" at all. And understandably so. oww oww
That Rhymes

In EarthBound, Paula's mother creates a hand-made band-aid. She likes how it rhymes, so she calls it a "Hand-aid". In MOTHER 2, she doesn't say anything about rhyming, but the item is still called a "Hand-aid". This is because in Japan, condensing names of things is very common. A "word processor" is known as a "wapuro", a "handicap" is known as a "handii", and a "family computer" is known as a famicon (famicom).
It's strange that the localizers were able to use the word "Hand-aid" though, as I'm pretty sure that's trademarked name.
Jobby Job

Now, this is being VERY picky, but when this guy runs up to tell you that Evedred is looking for you, in MOTHER 2, he first states that he's a messenger for Everdred. The ever-so-slight nuance is that he's one of Evedred's low-ranking lackeys, kind of like a messenger for a gangster, I suppose. But it's not nearly as big as I make it out to be, it's just a tiny nuance that was left out of the original for whatever reason, because the whole sentence is missing in the English version of the game.
More Evedred Speech

Like before, Everdred's speech has some missed nuances and changed lines/terms. Here's a comparison of what he says in both games.
| | |
| --- | --- |
| MOTHER 2 (literal) | EarthBound |
| I'd like to have you join me, but I see "no" is written all over your face. | I was going to ask you to be my partner, but I know you'll refuse. It's written all over your face. |
| I was gonna give you this money if you became my lackey, but I can't exactly go back on that now, either. | If you accepted, I was going to give you some money. |
| Here, take this suitcase. There's 10,000 dollars in bills inside. | Actually, I can't keep the money now anyway. Let me give this to you. It's 10,000 dollars. |
| Use as much of it as you want, whether it's for good stuff or bad stuff. There's no use in trying to give it back to me! Just give it up and take it! | Use the money any way you like. You cannot refuse my generosity. Just accept it. |
| I'm planning to head out to get my hands on the so-called "Mani Mani Demon" or whatever that some petty bad guy named Lier Horando or something dug up in Onett. | Now I plan on looking for the evil Mani Mani Statue that Lier X. Agerate unearthed in Onett. |
| Let's meet again if we ever get the chance. | I'll see you at another time, in another space. |
Nothing too major here, except maybe that it's clear in the Japanese version that the money is in a suitcase rather than as a wad of bills as it's portrayed in EarthBound.
Heavy Metal Jazz

In MOTHER 2, Lucky refers to the tickets he gives Ness and Paula as "Platinum Tickets". The actual item name is still "Backstage pass", however.
No Cupcakes Here

In EarthBound, this old guy in the Chaos Theater is annoyed that there aren't any pretty waitresses here.
In MOTHER 2, he's annoyed because there are no hostesesses here — apparently he thought the place was some kind of hostess club.
In EarthBound, he also mentions not having room to do his dance moves, while in MOTHER 2, he also laments the lack of girls dancing on raised platforms.
Ragtime Folk

In MOTHER 2, this lady is singing to traditional Japanese folk music, while in EarthBound, she's apparently singing to ragtime.
Scary Womanizing Lucky

There's a nuance in what this girl says that is lost in EarthBound. It may have been intentional, or maybe just lost in the editing process. In any case, in MOTHER 2, she says, "Lucky of the Tonzura Brothers told me to come see him backstage…" By "see", he means more like "see and visit and have fun". Anyway, in EarthBound, this is written as, "Lucky of the Runaway Five told me I could go backstage…"
The difference here is that in MOTHER 2, Lucky asks her to come backstage in a flirty sort of way, while in EarthBound, he simply gives her permission but doesn't even give her a pass. From this and some other things, we see that Lucky likes to use his position to hit on girls.
More Girl Stuff

Once you're backstage, you can talk to Lucky again. In EarthBound, he says, "Well, yeah, in the old days, there was lots o' dancers and acts at this theater."
In MOTHER 2, he says, "In the old days, there used to be lots of cute dancer girls here at Chaos Theater." It's just a slight nuance, but in the English version you can't even tell that he's always thinking about girls.
That all said, it's not as if Lucky is some sort of crazy guy addicted to girls. Don't get the wrong idea. When I say "slight" nuances, they are pretty "slight".
It's Showtime

The introduction before the band's show is slightly different between the two versions of the game. Note that most of the MOTHER 2 version is in English via katakana.
MOTHER 2 (literal)
EarthBound
Yeah!
The Chaos Theater soulmeeeeen!
Sexy and exciting!
A dynamite performance!
Come on!
Greatest bluesmen….
Tonzura Brothers Band!
Here we come!
Gotcha! Gotcha!
Yeah, that's right!
Tonight you get the Chaos Theater Soulmen comin' at ya!
Rockin' and rollin' on this here stage for a limited time only!
The world's greatest Bluesmen, the Runaway Five!
And here they come! Oh yeah! Baby!
I really feel that the localization here was well done!
Tonzura vs. Runaway

As is pretty obvious by now, the Tonzura Brothers were renamed to the Runaway Five, even if there are always six people playing. This name change is very clear here during their act, but that's not all. We can see that the localizers edited each character's clothing. They originally all wore black, but now they wear all sorts of non-matching clothes. Even the keyboardist got changed ever-so-slightly!
It was pretty obvious that the legal department of Nintendo of America demanded the localizers change them to be less like the Blues Brothers. Itoi has even gone on record that the Blues Brothers movie served as some source of inspiration for the game.
I get the feeling that the legal department probably wanted to COMPLETELY change these characters, so that there would be no similarities at all to the Blues Brothers, but the localizers managed to strike a compromise by changing the colors and band name and such. No proof to this, but since that's been one legal concern for the EarthBound re-release on the Wii Virtual Console, it really seems that way.
I Have Bad Eyesight

In EarthBound, when you try to show Mr. Poochyfud the wad of bills, he says, "Let me take a reeeeal close look." Sometimes people get confused and don't realize that he's saying you need to go behind his desk and show him.
But in MOTHER 2, he says, "W-what is that?! Let me see it closer up! Right by my face!"
So what you need to do is made more clear in the original version. This is a gameplay-related thing, so it seems weird that the localizers would try to make what you need to do more vague. But oh well, it's not like they completely rewrote it or anything, I guess 😛
The Runaway Five Run Away

When you save the Runaway Five by paying off their debt, they each run up to the desk and say something. What's said is slightly different between the two versions of the game.
| | |
| --- | --- |
| MOTHER 2 (literal) | EarthBound |
| Well, whadya know?! | Well, what do you know? |
| Thanks to this tyke, we've gone from Hell to Heaven! | This little nipper took us from a nightmare to a dream… |
| Bravo! Now we can leave this town. | Ow! This means we can get out of this dump! |
| I'm great at drivin'. Just leave it to me. | I'm a good driver. C'mon, I'll show you. |
| Let's go to the next town! | All right, let's move on to the next town. |
| Alright, let's go to our hunk o' junk. | I'm sure our ol' hunk o' junk will get us there… |
| I didn't really stand out during our show, did I? | I didn't make a spectacle of myself, did I? |
The very last line there is the big difference – it's a contextual translation mistake. The intended meaning was "I didn't stand out and get much attention, did I?" but in the EarthBound translation the wording unintentionally gives it the opposite impression of the guy NOT wanting to stand out and get attention.
The translators/localizers actually repeat this same exact mistake – with the same exact word, even – in another line of text in Winters. When a translator makes a mistake, it's actually extremely common to see it repeated multiple times like this. This and a lot of other things sort of create a "fingerprint" for different translators.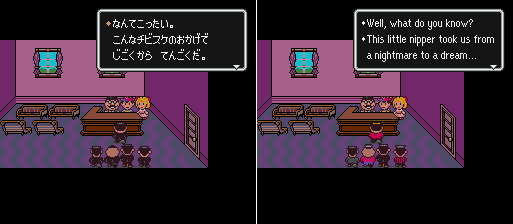 This section of the EarthBound Legends of Localization book also includes:
More info on the "kicking balls" line in MOTHER 2, and the many different rewordings the line received in later ports/re-releases
Ness sleeping at Paula's house, and changes to Paula's dad's several lines on the topic, including one Japanese line that might sound shocking to some players outside of Japan
A quick look at bathing culture in Japan
A Japanese line full of snack foods, and the localization choices made to it
Some more discussion on Everdred's involvement with Paula's kidnapping
Japanese onomatopoeia, onomatopoeia in translation, and EarthBound's multiple solutions to the problem of onomatopoeia in translation
A look at Japanese "hostess clubs"
More about the tone-deaf father and his musically-inclined daughter inside the Chaos Theater
Some inconsistencies in the revisions made to MOTHER 2 re-releases/ports
The speech patterns of some of the Runaway Five members, including details on their individual Japanese dialects
An overview of all the major dialect groups found in Japan
A look at the lyrics of the Runaway Five's first song, as well as its connection to the Blues Brothers and a centuries-old Japanese poet
The Runaway Five's tour bus, as it appeared in MOTHER 2 and how its graphics were changed for EarthBound
How the Runaway Five's tour bus was localized in the Super Smash Bros. games