Fourside Maps R Us

Looking at Fourside's town map, we see much of the same stuff that's been changed with other town maps. Just like in Twoson, we also see they changed DEPT. to DEPT STORE. I wonder why they did that, DEPT.'s meaning seems pretty clear as it is. And of course, the red cross for the hopsital is removed.
Monotoli Has Mono

In EarthBound, the powerful political guy in Fourside is known as Geldegarde Monotoli.
In MOTHER 2, his name is Monomochi Monotori, which has some meaning to it. Monomochi might mean something like "guy who owns lots of stuff" and "Monotori" could be taken as something like "guy who takes stuff". Makes enough sense. Because of the whole l/r thing in Japanese, his name can have alternate spellings, which can be seen on his big building.
According to a whole bunch of reader e-mails, "Geldegarde" comes from German – supposedly "gelde" can mean things like "money" or "riches", and "garde" means "guard". So that explains that. That's some serious localization there, the kind of thing you usually only see in game translations nowadays!
Monotol-E

While we're on the subject, the text written on the rich guy's building is different in each game. In MOTHER 2 it says Monotoly, but in EarthBound it says Monotoli. I wonder why that change was made. I think they even made this change for Smash Bros. Melee, on the Fourside stage.
My first guess is that it was too similar to the word "Monopoly"? Other than that, I really don't know why they'd go through the trouble.
Welcome to the Topollo

The music theater in Fourside is known as the Topolla Theater in EarthBound, but in MOTHER 2 it's called the Topollo Theater. I'm guessing the localizers made this change because its name was too similar to the famous Apollo Theater in New York. Seems like a real stretch to me, but I guess those crazy legal people can be paranoid as hell.
The Longest Meeting Ever

In EarthBound, this sign in Fourside says: "(Planning Meeting for EarthBound 2. Only those who are related to this project are allowed to enter. APE Software Development Team)"
In MOTHER 2, the sign says: "(MOTHER 3 planning meeting underway. Authorized personnel only. APE Kanda Development Office.)"
Oh, how this sign tortured fans for a decade.
Booze and Coffee Don't Mix

As already mentioned in a previous page, the bar in Fourside was changed to a cafe. This is one of the most famous changes made. But we're just getting started.
Hey, I'm Drinkin' Here

In MOTHER 2, this guy says, "…I think so, which is why I'm drinkin' here."
In EarthBound, he says, "I enjoy the atmosphere here."
Buzz Buzz Caffeine Buzz

In MOTHER 2, this guy inside the Fourside bar says, "I was drunk, so I accidentally knocked on the wall instead of the bathroom door."
In EarthBound, he says, "I was in the middle of a caffeine buzz, and I had to get to the bathroom fast! When I got there, I accidentally knocked on the wall instead of the restroom door…"
Espresso Kills Kids

In MOTHER 2, this lady in the Fourside bar tells you, "You know you can't drink alcohol, you're just kids. Quit hanging around here."
In EarthBound, she says, "Kids shouldn't be drinking espresso! Quit hanging around here."
Bad Puns are Bad

This guy in the Fourside bar tells bad jokes. In MOTHER 2, he tells a really crappy Japanese pun about curry that even a Japanese 101 student could come up with. In EarthBound, he makes a pun on the words "made" and "maid", referencing Pokey's maid Electra. He doesn't mention her in MOTHER 2, though.
Tears in My Coffee

In MOTHER 2, this guy behind the bar says, "No, I ain't *hic* drunk! Dumbass!"
In EarthBound, he says, "Yeah, yeah, I'm okay… just leave me here to cry into my cappucino! Nosy!"
The funny thing is, his sprite is obviously holding a mug of beer or something like that, even in EarthBound. I guess yellow coffee doesn't bother him.
God Dam

In one corner of the city is a punk guy who sells some interesting items. If you decide not to buy anything from him, he'll insult you.
In MOTHER 2, he says something like, "What the hell, dude?! God damn! You can't do this to me, dude!" The "god damn" part is actually in katakana, so if you heard a Japanese person say it, it would sound like it does in English.
Obviously, they wouldn't let that fly in EarthBound, so they changed things to "Mod-boy jerk! You can't do me like that!" I never really understood that line, being an uncultured Yank, until many readers sent me e-mails explaining that it's basically referencing the mod subculture in England. Now I know, and maybe you do too!
R-E-S-D-E-P-T

In MOTHER 2, the Fourisde department store has the text "DEPARTMENT" on it. In EarthBound, it says "DEPT STORE".
Boris vs. Jackie: FIGHT

In MOTHER 2, the bar is owned by Boris. In EarthBound, his name was changed to Jackie. So both the establishment and the owner's name got changed. I wonder why this was done.
Evil Entities Excite Me

In MOTHER 2, this lady says, "…I hear he made a deal with the/a devil to get the political power he has now."
In EarthBound, because the localizers hated any bit of religious stuff in the script, the reference to "devil" was changed to "pure evil entity". Which is okay and all, but in a way it sounds like that would be referring to Giygas and not the Mani Mani Statue, which was the Mani Mani Devil in MOTHER 2, as we've seen previously. So this "devil" is a clear reference to the player that the statue is somehow involved.
A Whole Lot o' Money

In MOTHER 2, this guy in Fourside says something like, "…It'd be enough to pay off even a hundred billion jillion dollar debt."
In EarthBound, he says, "They'd be able to pay off a million dollar debt easily."
I don't know why the localizers changed the crazy number to a realistic number like that. What's more, this isn't the first time they've done it – the same translation problem happened back at Pokey's house too. I'm thinking that the Japanese translators actually wrote the literal numbers out, and then the editors (like Dan Owsen) didn't realize what the deal was and just cut the numbers down to something that didn't look as crazy but were still high-ish numbers. The original intent was lost in the process though.
Going East

In MOTHER 2, that same guy in Fourside says something like, "…I'd use that money to order three or so pork cutlet meal sets at the Kastuman restaurant in Tokyo!"
In EarthBound, this was cut out and smoothed over with, "If I were them, I'd go to Japan and live it up!"
The Japanese text here actually gets referenced again in MOTHER 3, by a pig on Butch's farm. I guess Itoi likes to mention restaurants he likes in his games. Anyway, Starmen.Net member Izumi actually visited the restaurant. You can read her write-up and see pictures at EarthBound Central and view a subtitled video of a visit to said restaurant here. It's interesting and yummy-looking 😀
Hospital Wackiness

This nurse in the Fourside hospital talks about a guy who came to the hospital and asked for a haircut. The reason he did this is because the word for hospital in Japanese (byouin) looks a lot like the word for hair salon (biyouin) when written in Japanese hiragana. The nurse suggests that he must've made that mistake because the game uses hiragana in place of kanji. It's a funny joke if you know Japanese.
Anyway, in EarthBound, to keep the joke similar, the nurse figures that the guy must've thought that "bad hair day" was covered by his medical insurance. It's a pretty good job at keeping the joke similar and funny, so the localization gets a thumbs up here!
Monopoly and Solitaire

In MOTHER 2, this guy says something like, "There was a Monopoly tournanment last night. Man, I really had my butt kicked."
In EarthBound, he says, "Last night there was a solitaire tournament. …I lost my shirt…."
Itoi included this Monopoly mention because he LOVES Monopoly. In fact, he's head of the Japanese Monopoly Association. He's crazy about the game. I'm assuming the reference was removed because the NOA legal people were probably paranoid and feared the Parker Brothers board game company.
Not sure I like the English version of this line either, because the last part was a poor choice of words that would give some people the impression that it was strip solitaire. Which is funny, but I don't think that was the intended meaning by the editors.
Also, the MOTHER 2 guy mentions that you can play Monopoly on your Super Famicom too.
Hey, Hip Lady

In EarthBound, this elevator lady says, "Quit staring at my hips… why don't you stand somewhere else instead of behind me?"
In MOTHER 2, the word she uses CAN mean "hips", but it can also mean "butt". It's boring and hard to explain, but overall, I always felt this line was a lot funnier in Japanese.
You're Gonna Be Dead

In MOTHER 2, Near the top of the Monotoli Building, this goon says something like, "Someone could even shoot you with a machine gun and kill you." Don't mind my ugly phrasing, it could be made prettier if I tried 😛
As we've seen, the EarthBound localizers tried to smudge out all references to killing and such, so this line was smoothed out to be "Someone might be suspicious of you and take a pot shot at you with a machine gun."
Not a big deal, but it's another case of light censoring. It's okay with soccer moms if you're shot at with a machine gun. But don't mention the word "kill".
Aloysius I Am Not

In EarthBound, Pokey's dad is named Aloysius Minch. In MOTHER 2, his name is Anburami Minch.
His MOTHER 2 name might be more closely translated as something like "Greasy" or "Oily" or some play on words with those words. It's supposed to be a theme in his family – his wife's name is Lardna and his son is technically named Porky. Dunno what Picky's supposed to be, though, if anything.
I should also mention in passing that their last name is "Minchi" in MOTHER 2, which is also the Japanese word for "mincemeat". Porky Mincemeat 😛
Think Harder, Please

Speaking of themed names, the researcher in the Fourside museum is known as Mr. Ricebowl in MOTHER 2, but for EarthBound they changed it to Mr. Spoon to sound less stupid. This isn't the first time they've done this, remember Mr. Poochyfud? Japanese game/manga/anime creators really love to use lame thematic names.
Creepy Time

As we see later, Mr. Spoon is a little too obsessed with famous-ish girls. In MOTHER 2, he says here, "I wish idol-talents would come here once in a while…"
It's hard to explain what the Japanese term "idol" means quickly, so just see here. Also, in Japan, a "talent" is hard to explain, but it's basically a low level celebrity, more info here. Basically, he loves young Japanese girls who look pretty for money and occasionally do performances.
In EarthBound, the phrasing got kind of messed up in translation so he says, "I wonder if there are any famous stars here today?"
Changing the "idol-talent" thing to "famous stars" was good, but it could've been done better by mentioning famous female stars specifically. Also, his messed-up phrasing makes it sound like he's just making a simple statement or question, when he should instead be longing and lusting for famous female stars to visit the museum. This English line always sounded strange and out of place to me as a kid, so now I understand why.
Show Me Your Tickets

In MOTHER 2, the show ticket (shouldn't it be tickets?) you buy in Fourside are for "S Seats, #3". Judging from the Twoson ticket stuff, S tickets must be box seats or something.
In EarthBound, the ticket is for "Section B, Seat 3D".
I'm not very knowledgable about Japanese ticket stuff, so if anyone has more info about the MOTHER 2 version, let me know.
Also, is it possible that "B Seat 3D" could be a play on "Be Seated", with the 3 acting as an E? I wouldn't put it past them, and it might explain the change here. I don't know how common that sort of letter/number play was back then, though. It definitely wasn't as common as it is now in the age of the interwebs.
That's Not Very Nice

In MOTHER 2, when you watch the Runaway Five show in Fourside, the announcer says something like, "Have I got a real bombshell for you nice assholes today! Nnnnnnnn! Blow 'em away! Tonzura Brothers Band! 3..2..1..GO!" You can substitute "assholes" with any equally as shocking and rude word like "shits" or "motherfuckers".
Just to note, this is done with a sort of sense of "being rude makes this really raw and hip" not as an actual "we hate you, you suck" sort of thing. It's a sub-cultural thing of a foreign culture, basically.
Just like with the other Runaway Five show, this intro was changed quite a bit for EarthBound. For this show, the announcer says, "Have I got a bombshell for you tonight, kids! aaaaaAAAAAH!!! Ka- Boom!! The Runaway Five!!! Yeah!! 3 — 2 — 1 — Go!"
Hunch Lunch

This is being especially picky, but in MOTHER 2, this band member says, "I can't really give a real reason. I guess it's just a musician's hunch."
In EarthBound, he says, "I don't know exactly why… it's just a hunch."
The hunch went from a musician's hunch to just a normal hunch anyone can have. Not a big deal, but given that these guys suck at staying away from trouble, the idea of a "musician's hunch" seems a tad funnier.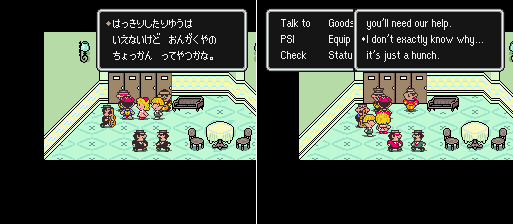 This section of the EarthBound Legends of Localization book also includes:
Further clarification on Monotoly's name change, including details and a quote from EarthBound's head localizer on the matter
A discovery that clears up a misconception about Monotoly's role
More info on the MOTHER 3/EarthBound 2 sign, including something from one of Nintendo's financial documents
More details on the real-life Katsuman restaurant that's referenced in MOTHER 2, including photos of the restaurant (inside and outside) and some of the food served there
Some more details on the "mod-boy jerk" line
Some graphical changes to Fourside that few have ever noticed, even after 20 years
More on a line that changes to its complete opposite in EarthBound
Corrected info that gives the real name of the bar in MOTHER 2, including some brief info on the man it's named after
A look at five other classic games from the 1990s and 2000s that have had alcohol references changed
Another typo in MOTHER 2's script, and what happened to it in later ports/re-releases
A more in-depth explanation of the "bad hair day" hospital line and a clearer explanation of how the Japanese wordplay works
More info on the Monotoli building's graphical change, and it's surprising effect after EarthBound's release
A quick look at a Monopoly game for the Super Famicom, including surprising new information about Itoi's relationship with Monopoly
More details on "hips" in Japan, including real-life examples of the word used in Japanese beauty product advertisements
Some other examples of English words adopted by the Japanese language, yet mean very different things
A whole new chapter about the gold mine appears after the chapter about Fourside, including many details and photos about Shigesato Itoi's own gold mining adventure, the TV specials about his quest to find buried gold, and the man George Montague's Japanese counterpart is based off of