Going for the Record….

In EarthBound, the police officer guarding a road block at the beginning of the game says, "We are going for the world record…" when talking about Onett's claim to fame: putting up roadblocks.
In MOTHER 2, he says, "We're going for the Guinness record." This very slight change was probably made to avoid any legal issues, however small they may be. You know how uptight legal department people can be.
Liar, Liar, Pants on Fire!

In EarthBound, a strange recluse known as Lier X. Agerate discovers the Mani Mani statue. In MOTHER 2, this same guy is called Lier Horando. In Japanese, "hora" means something like "exaggeration".
I Hate Knock-Knock Jokes

When Pokey's pounding on the door in MOTHER 2, the little text bubble says, "DON". EarthBound's text bubble just has a big exclamation mark.
"DON" is Japanese onomatopoeia (a sound effect word) often used for loud pounding. It'd be hard to fit anything in English in such a small space and make it look good, so the localizers chose to put an exclamation mark in there instead.
So Strict

In MOTHER 2, Pokey's freaking out because Picky's missing and if their parents find out, he'll "get spanked 100 times".
In EarthBound, they wrote around this by just using a vague phrase that still gets the general idea across while avoiding the idea of child abuse/violence. The localizers actually did this "writing-around stuff with vaguer phrases" trick a lot, as we'll see soon enough.
EXCLAMATION.

In EarthBound, if you take your dog up to the meteorite, he'll get scared and run away, but not before saying, "Awooooof!" and then some other stuff in parentheses. In MOTHER 2, He doesn't make any sort of dog noise, he just makes a bunch of exclamations in parentheses then says his stuff. Not a big deal, and in fact, the English version seems to be cooler/funnier in this case.
Buzz No More

In EarthBound, the helpful bee (or not a bee) that starts your quest is actually a rhinoceros beetle (or not) in MOTHER 2.
In addition, his name is Bunbuun in MOTHER 2, which is the Japanese word for the buzzing sound that flying insects make.
Buzz Buzz Talks

When Buzz Buzz first starts talking in MOTHER 2, he often speaks in a normal way and then suddenly changes his speech pattern to be that of a stereotypical old wise man. He does it in a funny way that's hard to describe if you don't know Japanese, but it's almost like he forgets to talk old until the very last second. I'm fairly certain it's meant to parody all the old wise men in other RPGs that tell you about legends and myths and prophecies and stuff all serious-like.
Because of the way English works, though, this little language humor doesn't really work in translation.
While I'm on the subject of Buzz Buzz's talking, here's a side-by-side comparison of what he says in both games.
| | |
| --- | --- |
| MOTHER 2 (literal) | EarthBound |
| A rhinocerous beetle… I am not! | A bee I am not… |
| I've come from ten years in the future! Gyiyg, the universal cosmic destroyer, has plunged everything in existence into the darkness of hell! | I'm from 10 years in the future. And, in the future, all is devastation… Giygas, the universal cosmic destroyer, sent all to the horror of eternal darkness… |
| | …… |
| But… However… | However, you must listen! |
| A mysterious legend exists in the future I'm from! | Where I am from, there is a well-known legend that has been handed down from ancient times. |
| It goes, "Should the boy reach the place, the just one will find the light. The flow of time will shatter the nightmare boulder, creating a path of light." | It says "When the chosen boy reaches the point, he will find the light. The passing of time will shatter the nightmare rock and will reveal the path of light." |
| My sharp hunch says that you, Ness, are that boy! | You see, it is my opinion that you are that boy, Ness. This I believe… |
| …… | …… |
| Gyiyg's evil plan MUST already be underway in parts of the Earth! | Giygas' monstrous plan must have been set in motion somewhere on Earth… |
| There should still be time, if you begin your fight at once!! | If you start to confront the enemy immediately, you may have time to counter the evil intentions of Giygas. |
| What's most important is wisdom, courage, and your friends. | Three things are of the utmost importance: wisdom, courage, and friendship. |
| According to the legend, three boys and one girl defeat Gyiyg. | …The legends from the ancient times tell of three boys and a girl who defeat Giygas. |
| I can fill you in on the details later. | …I will tell you more later. |
| Let's go! | Go now! |
| Don't worry. | And do not be anxious about the future. |
| | You have much work to do, Ness. |
At first glance they're not that different. We see that the localizers took out the "hell" mention.
Digging a little deeper, we also see that the legend is ever-so-slightly different, and it's clear from the Japanese version that the "nightmare rock" is referring to some sort of REALLY big rock, like the size of a boulder or bigger. I'm assuming that it's referring to Gyiyg himself, since you have to go back in time to defeat him, only after getting powered up by the universe.
You can also see some slight nuance differences between both versions, although it's mostly pretty minor stuff.
Starman Speech

In Japanese, all the Starman characters who talk use only katakana in their speech. This is a common way to denote robotic-style voices, and in English translations, it's often common to translate stuff like that in all-caps. In EarthBound, they kept Starman speech in the normal speaking style, so it's not as obvious they should be talking non-standardly.
To make up for this, the localization added in things like "click" and "whirr", although this gives the possibly false impression that the Starmen are mechanical in nature.
Star Killer

After the Starman Junior is defeated, Buzz Buzz mentions in EarthBound that the Starman Junior had been sent 10 years from the future to kill him. It's actually interesting to see the word "kill" used in the English localization like that.
Anyway, in the Japanese version, this particular line is more like, "He was a hired killer/assassin who came here from 10 years in the future to eliminate me."
Basically, it sounds like Giygas hired the Starman Junior to get rid of Buzz Buzz. Does this mean all Starman enemies are mercenaries or something? Fans have often wondered if they're Giygas' creation or aliens or something else; maybe this will offer some extra insight for theories.
Abusive Parents

Pokey and Picky get in trouble for being out so late, so their father punishes them. The sound made to signify this is different between MOTHER 2 and EarthBound. MOTHER 2's version sounds like some kind of crazy beating sound effect, while EarthBound uses the "angry yelling" sound effect there.
We see throughout the game (mostly here and at the end of the game) that the localizers toned down a lot of little things about Pokey's family like this. It's nothing too big, but it's obvious they made a conscious effort to write around stuff like this, since Nintendo games were supposed to be absolutely-family friendly back in those days.
Stop With the Hurting

After Pokey is punished by his father, if you go talk to him in MOTHER 2, he says, "I was really scolded by my father. Aa, my butt hurts." But in EarthBound he says, "My dad really got after me. He said I get no dessert for the rest of the decade…"
Money Money

In MOTHER 2, Pokey's dad says they might've lent Ness' family hundreds of trillions of dollars. In EarthBound, he says it was maybe a hundred thousand dollars or so.
The phrasing of the Japanese number, though, is equivalent to saying something like "a hundred million jillion dollars" in English. Why they edited it to be 100,000, which is a very realistic amount of money isn't clear. It might've been a localization goof.
Dung Slapping

When Lardna freaks out in MOTHER 2, she screams, "Eeeeek! A pesky toilet fly! Die and go to Hell!" In EarthBound, she screams, "Ayaaaeee! I think it's a dung beetle! I'll smash your guts out!"
Obviously, the last part of the original line had to be changed to meet Nintendo's standards. I feel the change to "dung beetle" made it funnier than the original, though.
Incidentally, in MOTHER 1+2, this Japanese line was revised to simply say "pesky fly" rather than "pesky toilet fly". Later on in Twoson, another line about flies landing on food got changed in MOTHER 1+2. Is there something about flies that's bad in Japanese games all of a sudden?
Death is Dying

Also a common theme to EarthBound's localization was the "writing around" of references to death and dying. In Buzz Buzz's final speech, he mentions how he's about to die, how death is near, etc. but in the English version, they use colorful phrases to write around the actual words of "death" and "dying". The original text wasn't dark or anything, so this isn't a big deal, but you can tell the writers purposely used different phrases to talk about the death stuff in a less direct way.
Here's a comparison of what he says in both games. Don't mind the stilted text of the literal version too much, it's like that for clarity here.
MOTHER 2 (literal)
EarthBound
U-ugh… It turns out I'm much, much weaker… than I thought.
Agh! *Gasp* I was… …much weaker than I thought…
But don't concern yourself with me… You must set out on your adventure…
So you must now begin your adventure…
see… you…
Oh, right! Before you go, listen to my dying words!
Oh, I just remembered… Listen to my final words…
To defeat Gyiyg… you will need to unite the earth's power with your own.
To defeat Giygas, your own power must unite with the Earth's…
There are eight locations on earth – "spots that are only yours" – that will draw out your power and strengthen you.
the Earth will then channel your power and multiply it…
There are eight points that you must visit. Make these places your own…
Each of these locations is "Your Sanctuary."
One of those locations is in Onett. A place called "Giant Step"!
One of them is near Onett. It is called "Giant Step."
Go there first, Ness!
Go there first…
Do you understand?
Do you understand?
If you say yes:
Excellent. You're a bright young lad.
All right.
You are a very intelligent young man… and…
So… Oh, the pain… I think I'm about to die… U-ugh…
Oh! The pain!… Everything is getting dark…
urgh!… *Gasp*…
B-but, before I do, I must give you this.
Before I pass on, I want to give you something…
It's the "Sound Stone"!
It is the Sound Stone.
It's a great item that will absorb the sound from each of the eight "spots that are only yours" on the earth.
You can record the melodies from the eight "Your Sanctuary" locations into this stone. It is an awesome item…
Bet you're happy to get it, huh?
Now, then… I'm about to die now, but do you want to hear all that over again?
By the way…
I'm almost gone, but did you want to hear the story one more time?
If you say no to the first question instead:
…I see. I guess I didn't explain it well enough. (goes back to the beginning)
…I see.
When you say no when he asks if he should repeat his speech:
That's a relief…
Good!
It's dawn outside now…
It's already dawn outside…
But that doesn't matter to me, now that I'm on my deathbed…
But it doesn't matter to me. I'm fading fast…
Argh! *Gasp*
You can also see that a few little lines were left out or added. None of it matters much to what he's saying, but it's still interesting to note.
Fuzzy… Sandwiches?

In EarthBound, the photographer's famous line is, "Say, 'Fuzzy Pickles!'" In MOTHER 2, it's, "Say, 'Cheese Sandwich!'".
In the years since EarthBound's release, many fans have noted that real photographers have been saying the fuzzy pickles line. Was this started by EarthBound, or is this a real, but lesser-known phrase that photographers have always used? Quick, to the book depository!
The Blue Button

When you pick up the town map from the librarian, she tells you how to use it. In MOTHER 2, she tells you that if you press the X button, the map will pop up. She then tells you that the X button is the same as the blue button. In EarthBound, she doesn't mention blue buttons at all.
This is because in Japan the buttons on the controllers are color-coded. But they're not in North America. Instead, the X and Y buttons are concave, and the A and B buttons are convex.
Where's Mapson When You Need Him?

When you do press the blue button in MOTHER 2, or the X Button in EarthBound, a map of the current town will pop up. As you can see, the localizers made some slight changes to the EarthBound map. "DRUG" has been changed to "SHOP". I'm not sure why, as the store in the Dusty Dunes Desert has a big sign that says "DRUGS", so why fix this tiny instance of "DRUG"?
Also changed is the red cross pointing to the hospital. Red cross changes are a big part of the changes made to EarthBound, as we'll see soon enough.
Lastly, if you look reaaaaaally closely, you can see that the Os in "FOOD" in the EarthBound map are larger than the Os in "FOOD" in the MOTHER 2 map. Somebody was probably just being nitpicky when editing this stuff real quick.
The Mayor with Many Names

In MOTHER 2, the mayor of Onett is named G. H. Pirkle, but in EarthBound his name is B. H. Pirkle. What could've caused them to want to change that? What do the acronyms even mean?
It wasn't obvious to me at first until a really awesome reader sent me an e-mail about it. Basically, we see elsewhere that the mayor's name is pronounced as "Geha Pikaru" in Japanese. "Geha" is an anagram of the word "hage", which means "bald" or "baldy".
I'm assuming (thanks to reader suggestions!) that the "B. H." in EarthBound stands for "Bald Head".
This Game is Demonic

In EarthBound, Ruffini the Dog is possessed by the spirit of the game designer, then gives the player some gameplay tips.
In MOTHER 2, the dog's name is "Itako Dog". An "itako" is a type of Japanese spirit shaman or summoner or medium. It's tough to explain, so see this for more detailed information.
It's not clear where the name Ruffini comes from, but I'm assuming it's a combination of "ruff", a barking sound, and the name Houdini. I don't remember Houdini ever possessing anyone though, so I could be wrong.
Trick Questions

In EarthBound, one of the residents of Onett gives you a pop quiz:
"OK, pop quiz!'A Beatles song, XXXterday. Can you fill in the blanks?"
Your choices are "Yes" and "No".
In MOTHER 2, the same guy asks this:
"OK, quiz.'OOdi, Girl of the Alps'. What goes in the place of OO?"
You get to pick from "hai" (yes) or "iie" (no).
The answer, "Haidi", is the Japanese name for Heidi, Girl of the Alps, whose story became incredibly popular in Japan decades ago after an animated TV drama of it was aired there.
Delivery Trucks

In MOTHER 2, the logo on the red delivery truck has the word "Come" and a little swoosh underneath it. In EarthBound, the logo is of a stick man running.
Why this change was made is open to conjecture, however, the most likely cause is that the swoosh-like logo looked too much like Coca-Cola's logo.
No Crosses Allowed!!!

The signs on the hospitals in Onett are different. The MOTHER 2 hospital has a red cross on it, while the EarthBound version does not.
To make the change less obvious, there's a bunch of scribbling added to the EarthBound sign. But who'd be able to read such small text written on the top of a tall building? Weird.
The reason for this change was to avoid any legal problems with the Red Cross organization. The red cross symbol is actually a copyrighted logo, not a generic symbol. The legal guys at NOA probably were aware of this and told the localizers to ditch the red crosses on the hospitals and anywhere else.
In fact, just very recently even, the Canadian Red Cross has started to go after game creators for misuse of the logo. Related Link Here
Nurses Eat Purses

Just as the red crosses on the hospitals have been removed, so too have the red crosses on the nurses' head thingies.
Poor Superman

In MOTHER 2, one of the cops you fight says something like, "Policemen are even stronger than Superman, you know!"
In EarthBound, he says, "Your average policeman is stronger than any super hero!"
The legal guys at NOA probably didn't want to risk any mentions of copyrighted characters in this game, and thus had the localizers write around it with "super hero".
This same cop also gives a quite unexpected martial arts war cry, often used in things like sumo wrestling.
Captain Strong's Moves

In EarthBound, Captain Strong of the Onett police force threatens to use his "Super Ultra Mambo-Tango-Foxtrot martial arts".
In MOTHER 2, he threatens to use his "Super Ultra Sambo Mambo martial arts". I'm not sure if it's a reference to the martial art known as Sambo or not, though.
Mouse House

This is a bit nitpicky, but it's probably worth a quick mention.
In MOTHER 2, the scuzzy guy in the mouse house says something like, "I'm taking the liberty of living in the mice's home and mooching off of them."
In EarthBound, he says, "I live rent-free in the mouse's house."
The problem here is that the translation sort of glossed over a joke that's obvious in the Japanese version. The idea in the Japanese version is that this is a juxtaposition of roles — usually mice live in people's homes and mooch off of them and are pests, but this house is the opposite — mice live here and a bummish scuzzy guy lives there and mooches off of them and is a pest.
The problem is that the Japanese word used isn't easy to translate into a single English word, so the translators probably said something like, "I live here without paying the mice", and then the non-Japanese-knowing editors turned that into the rent-free line. The joke is still there, though, but not as obvious. So now you know!
Hmm, that wasn't a quick mention, was it?
The Demon Baby Story

If you pay $7500 to a guy in Onett, you'll get your very own beachside house… that's actually a dump and is even missing an entire wall.
If you look inside the dresser, you'll find a special magazine with a special story. In EarthBound, the story is translated as:
"My Secret Life, chapter three." (Story from the previous chapter.)

I was neither a murder suspect, nor a target for an international spy organization. But I drove a car down the Jersey Turnpike at 80 mph.

…A police officer pulled me over and asked for my driver's license. He said I was going 20 mph over the speed limit.

I instantly pointed to my wife and said "I'm in a hurry, my wife is in labor." Fortunately, my wife actually had a big stomach. I hoped he'd let me go with this excuse.

"Oh, since it's an emergency. I'll lead you to the hospital with my police car," he said.

"No, it's not necessary."

"Why not?" asked the officer.

"Uh… well…"

"Let's get going," said the officer…

"No, no! We can't! This baby is a demon child!"
I'm often asked if the story is different in Japanese. It's actually almost exactly the same, though. The only major differences are:
The Japanese version simply says "Koshu Kaido" instead of "Jersey turnpike"
And the Japanese version says "80 kph" instead of "80 mph"
Incidentally, this story is completely original – it isn't from any real-life book Itoi wrote or anything. For some reason, people think it is.
Also, it looks like NOA kept the "demon" reference in. I'm glad they did!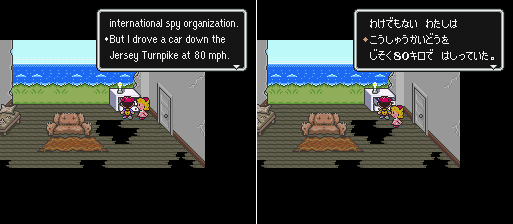 This section of the EarthBound Legends of Localization book also includes:
A look at the world of MOTHER 2, including continent/country names that were left out of EarthBound's materials
Trivia from Shigesato Itoi
Ness' transformation during localization, including a potential age change
An official response from Shigesato Itoi about Ness' age in MOTHER 2
A look at the obscure Japanese comedy gag hidden inside Pokey's knocking at the start of the game
A Japanese proverb left unlocalized, and the head localizer's thoughts on the matter
Playing with the beam of light when Buzz Buzz appears
A look at how robots talk in other video game localizations
A peek at families as portrayed in other JRPGs at the time
The Japanese name for "Your Sanctuary"
The Japanese names of everyone in Pokey's family, including the meanings behind each one
A look at the "Pokey" spelling vs. "Porky" spelling, including how the names have appeared in other official games and merchandise
Some more info behind the "fuzzy pickles" phrase, including other games that now use the phrase to reference EarthBound
Some trivia about how the Town Map works
Japanese payphones vs. North American payphones
A line of text that's different in almost every port/re-release of MOTHER 2
The Hint Man's graphical changes + the inspiration behind his portrayal
A closer look at what an "itako" is
An examination of a rare line in which a male merchant speaks in a very feminine way – and how this was handled in localization
A closer look at "Heidi of the Alps"
A brief glimpse of the Beatles' popularity in Japan
A line that pokes fun of MOTHER 2's release schedule, and how it was changed in EarthBound
A character's explanation of Lucky Sandwiches, and how the cultural reference was deftly handled in EarthBound
A line about a very nasty Japanese food and how the English version uses something very different
The explanation to a Japanese-to-English-to-Japanese joke that very few MOTHER 2 players ever understood, including EarthBound's translators!
A sign that underwent a slight change during localization, and the changes the same Japanese line underwent in later releases of MOTHER 2
Detailed information & the history of the Red Cross, including an official statement on why red crosses in games are problematic
A look at other games that have had red crosses removed during re-releases or updates
Two NPCs who somehow got their lines swapped during localization… except pre-release EarthBound screens showed them with the correct lines!
A line about Beak's Point and the intended meaning behind it
A character with an accent in MOTHER 2, its significance, and how it was handled in EarthBound
A quick mention of the challenges of translating accents
A Shark gang member who parodies a Japanese children's song, and how that children's song transformed into English in a surprising way!
A Shark gang member who speaks in an unusual way in Japanese
One of the best English puns I've ever seen in a localization
The meeting with Onett's mayor and how his text was altered with every MOTHER 2 release to adhere to Japan's game rating board
A situation in which the target audience itself changes the significance of a line of text
Details behind wrestling moves mentioned in MOTHER 2, including a feature in which we worked with a professional Japanese wrestling association to photograph one special technique in particular
Further information and analysis behind the "demon child" story, including a look at the actual locations referenced in MOTHER 2 and EarthBound