EarthBound's ending is very long – probably half of all the random townspeople in the entire game have new things to say. I also accidentally wound up being extra picky with a lot of these, I'm not sure why. I think I was just excited to get this over with finally 😛 So grab a snack before reading this, there's a lot to go through!
PK Poo

It's being especially picky, but as Poo is about to leave in EarthBound, he says he's going to use a "strange power". In MOTHER 2, it's more like "neat/interesting/funny power".
For random trivia's sake, his technique in MOTHER 2 is called "PK Sayonara", which was translated as "PSI Farewell" in EarthBound.
Andonuts is Nuts

What Dr. Andonuts says during the ending is a little different between the two games. Nothing major, but here's a look if you're interested:
| | |
| --- | --- |
| MOTHER 2 (literal) | EarthBound |
| It's a miracle! A miracle produced by your bravery! | It's a miracle! A miracle that has only happened because of your great courage! |
| …I shed a lifetime's worth of tears. | …Believe me, I went through a lifetime's worth of stress while you were gone… |
| …Earlier, I had considered turning myself into a robot as well and joining you in the Space Tunnel. | I just wish I could have come with you as a robot. I should have used the Phase Distorter. |
| Four kids and a man saving the Earth… It seemed like it might be plausible… Ahahahaha! | What a story that would have been… "Scientist and four kids save the world!" Wah ha ha ha ha! |
The biggest thing is the change from tears/crying to simply "stress".
Brews and 'Shoes

This miner guy – I forget which one he is – congratulates Ness. In MOTHER 2, he says, "If we ever run into each other again somewhere, I'd love to pound some drinks."
In EarthBound, the drinking reference is changed, making him say, "If we ever have the chance to get together again, let's go on a picnic or something."
Right after that, he says in MOTHER 2, "Maybe we could do some karaoke too!" As a side note, drinking and karaoke are super popular in Japan and a popular way to unwind.
In EarthBound, he says, "Maybe we could play horseshoes, too!" I can only guess that they chose horseshoes instead of a better equivalent because it matches his character in some way.
Tony's Letter

I often get asked about Tony's text in the game. So here's a side-by-side of what he says in his letter. It's not really any different, but I'm including it here for fans' reference:
| | |
| --- | --- |
| MOTHER 2 (literal) | EarthBound |
| Dear Jeff, | Dear Jeff, |
| I am doing well. | Everything's really going great here. |
| I wish I could have helped you a little while you were on your adventure, but in the end… all I was able to do was wait in Winters for you. | I wish I could have gone with you on your adventure, even just part of the way, but instead I'm sitting here, waiting for you in Winters. |
| I can't wait to see you. I want to see your cheerful face as soon as I can. I want to wipe the smudges off your glasses too. | I want to see you again as soon as possible. I can't wait to see your cheerful face. I bet your glasses are dirty… If you come back, I'll clean them for you! |
| I'll be waiting for you. | Like I said, I'm waiting for you. |
| Sincerely, Tony | Yours truly, Tony |
| PS Don't show this letter to anyone else, okay? | P.S. Don't show this letter to anyone! |
Mr. Mouse

We haven't talked to Apple Kid's mouse in a while, so I had forgotten that in MOTHER 2 he talks like an old guy, but you don't get that at all from the English version. In fact, this line in EarthBound ends with "Tee tee tee", which sorta gives the exact opposite impression.
Growing Up

When you call your dad, he says in EarthBound, "You sound a lot more… mature over the phone."
In MOTHER 2, there's a little more to it than that: "Your voice sounds a little more mature over the phone… I bet you've grown up, huh?"
So Long, Braniacs

After defeating Giygas, the Stoic Club shuts down and is replaced by something else. In MOTHER 2, it becomes a bar called the "どアホ一代", which is tough to translate into sensible English. If I was forced to call it something though, I might go with something like "Lunatics for Life". The important thing is that it's supposed to sound like wild and crazy stuff happens there.
In EarthBound, it becomes a truck stop called "The Lazy Cowpoke Stop'n Go". I don't know why there'd be a rural American truck stop on the beach of a foreign country, but okay.
Take a Hint

In EarthBound, the hint guy says, "It's been a while since I first saw you…"
In MOTHER 2, this line doesn't exist.
Demand the Sequel

In EarthBound, the Onett newspaper talks about how Chief Strong has finished EarthBound and demands the sequel.
Naturally, in MOTHER 2 it says that he's finished MOTHER 2 and demands MOTHER 3.
A girl elsewhere in Onett has her text changed in this same way.
Scaraba Huh?

The Scaraba newspaper is basically the same in both games. But for some reason, after the guy is done reading the paper in EarthBound, he continues on by saying, "…Well …there is some news here about…"
This doesn't happen in MOTHER 2. I'm assuming EarthBound does this because of a typo in the scripting language, possibly a missing [END] code, which causes the game to continue to print text from the next line stored in memory. I could be wrong, though.
Tracy's Attitude

The general tone of Tracy's text is off in EarthBound, at least during this part of the game. In EarthBound, she seems kind of snarky and flippant.
In MOTHER 2, she's 100% nice, caring, and super supportive of Ness. She's like the model little sister.
Future In-Laws

In EarthBound, if you talk to Ness' mom while Paula is in your party, she'll say, "…but I don't want to annoy you as soon as you walk through the door. I want to have a chance to get to know your little girlfriend."
In MOTHER 2, what she says is more literally like, "…but I don't want to barrage you with questions the minute you walk through the door. I don't want your girlfriend to hate me, after all."
A Beastly Bride

In Pokey's house is a new guy! If you talk to him in EarthBound, he says, "I heard your family is in debt. Ms. Minch told me about it."
This might make you think she's divorced! But nope, she's not. In MOTHER 2 he calls her in a way that makes it clearly "Mrs. Minch".
The fact that Pokey's dad is gone and a new guy is in the house might add to the thought that she's divorced, but it's not the case. Maybe this was just a simple mistake on the translators' part, or maybe they didn't like the idea of promoting infidelity in a kid's game.
Lardna on the Loose

In EarthBound, Pokey's mom says, "As usual, you're wearing your grubbies! So, what do you want? My son isn't at home now. He's walking around somewhere. My husband is also gone. Oh yes, this is Mr. Prettyman. He always has great advice. He's a real gentleman, he is. You'll be happy that you met him."
In MOTHER 2, what she says translates more literally to, "Oh, Ness. What bring you here, in your usual cheap clothes? If you're looking for my pig of a son, he isn't here. Who knows where he's wandered off to. Plus my husband went out to have some fun and never came back… Oh, this is Mr. Colorman, he's giving me all sorts of advice about stuff. He's a wonderful gentleman. You should keep in touch with him."
That last sentence in the Japanese one is always tough to translate into English, so don't mind it too much.
The really important thing is that she calls her son a pig in MOTHER 2, Pokey is wandering around somewhere rather than walking, we see more into what the deal is with her husband, and Mr. Prettyman is called Mr. Colorman in MOTHER 2. "Color Man" is the Japanese word "iro-otoko" translated literally into English, and it means something like "lover boy", "lover", "stud", and stuff along those lines.
Picky is Okay

In EarthBound, Picky says, "I haven't seen you in a while. You look cool. I'm nowhere near as cool as you. I'm just average cool."
In MOTHER 2, it's a little more like, "Oh, Ness. Haven't seen you in a while – you're looking well. I'm not, though. I'm just 'okay', I guess."
Frank the Tank

In EarthBound, Frank says, "Hello sir, how may I help you? …Uh… Aren't you Ness? After our battle I became serious, and have been working very hard. I've even been doing some training for… for… Well, a little bit of pro wrasslin'. It's the ring for me, baby… So you made it back alive. You must have many stories to tell. Let's get together for a drink, when you have a chance so I can hear your stories. …I'm talking about drinking mineral water. I'm still under age, you know."
In MOTHER 2, what he says more literally translates to, "Welcome, sir! Oh, it's just you, Ness. After our battle I became completely serious and have been doing honest work here part-time. I've even been doin' some training in the hopes of joining Akira Maeda's 'Rings'. Ness. You've made it back alive. You must've gone through a lot, huh? Tell me all about it someday while we have a drink. By 'drink', I mean mineral water, of course. I'm still underage, after all."
The biggest thing that stands out here it the part about Akira Maeda and 'Rings'. As you might expect, he was a professional wrestler in Japan, a pretty important one at that. You can read more about him here The Rings thing was a new wrestling group/federation that Maeda formed in 1991, kinda like the WWF/WWE, but apparently they stopped calling it actual wrestling some years later. You can read more about Rings here.
Obviously all of this would go over non-Japanese players' heads, so for the localization they simply changed it to say "pro wrasslin'". I suppose they could've used an American wrestling federation name, but since doing so might involve trademarks and such they just went the simpler route. I really like the word "wrasslin'" anyway, so this gets a thumbs up from me!
Hideout Lookout

The hideout lookout in Onett was made an official member of the club finally. His entire line in general sounds kind of stilted, but one part isn't translated quite right for the context.
In EarthBound, he says, "Yesterday, I finally became a hideout member. Please come back and visit."
In MOTHER 2, it's more like, "Yesterday I finally become a hideout member. I'm glad to be club members with you." The phrase used in Japanese is a tough one to put into English (the same as used in the Mr. Colorman line above), and the standard absolute last-ditch translation is usually something like, "I would appreciate your continued support." I'm thinking the translators went with something like that, and it sounded odd (of course) to the editors, so they smoothed it out improperly, making it say something else altogether.
Let's Laugh Ha Ha Ha

In EarthBound, one of the club members in the hideout talks about coming up with a club name. In MOTHER 2, it's not quite like that. Here's a look.
MOTHER 2 (literal)
EarthBound
Ness, I thought up a catchphrase for our team. It's "Let's laugh tomorrow, friends." What do you think? Do you like it?
Ness, I've been thinking about our gang's name. It's "We'll laugh about it tomorrow." Do you like it?
If you say yes:
The concept behind it is "male bonding". So you really like it? I knew you'd get it.
My philosophy is "peace to all men"! Really? You like it? I knew you would understand.
If you say no:
Oh. "laugh" here doesn't mean actual laughing though, it's more like "let's be cheerful".
…Okay. Laugh doesn't really mean "laugh." It means "chuckle."
The main thing is that it's the club's catchphrase, not its name. And there are other smaller differences too, as you can see.
ENTER COMMAND NOW

The mayor's text in both games is pretty much the same. The only reason I'm mentioning him is that for some reason his "Yes" and "No" options are suddenly in all-caps for some reason in EarthBound. It's weird, because the editors made sure to undo all-caps text in all but a few tiny places in the game. Dunno why or how some wound up here.
Okay, that's all.
Let Nintendo Know!

In EarthBound, Ruffini the dog in the Onett drugstore will tell you to send your comments about the game to "Ruffini the Dog" at the address on the back of the game's box. We old timers even took them up on this suggestion when we did Project Ruffini back in 1999.
In MOTHER 2, he says basically the same thing, but tells you to send it to the game on the back of the MOTHER 2 box, addressed to "Itako Dog", which is his name in MOTHER 2, as we've seen earlier.
Incidentally, one of EarthBound's very few typos is in this line, but if you read fast you wouldn't know it:
Apparently, Japanese fans who sent in comments would get a reply letter from Mr. Saturn. I've never come across a copy of it anywhere, though, so I don't know what it said.
Girl Hunting

In EarthBound, this lady in Onett says, "In this town, you're famous. I heard you asked a Twoson girl out on a date."
In MOTHER 2, it's slightly more like, "You're famous in this town. I even heard you snagged yourself a girl in Twoson named something or other…"
The nuance difference is that she thinks Ness worked his charm to do what the Japanese call "nanpa", which you can read more about here. Basically, she has the completely wrong impression of Ness in MOTHER 2, while in EarthBound's version what she says sounds pretty close to right.
Smack the Cheek

If you return the Overcoming Shyness book to the Onett librarian, she'll kiss you. In EarthBound, the kiss is denoted by her saying "Smack!"
Like we saw earlier in the game, "smooch" probably would've been a nicer choice to go with. I dunno, "smack" makes me think of being slapped before it makes me think of someone being kissed, even when the context is about kissing. But in the end it doesn't matter much.
Bike to the Future

If you go to return the bike to the guy in Twoson but then say you won't give it back to him, he says in EarthBound: "Well, don't forget to return it… You're gonna have to sooner or later."
In MOTHER 2, what he says is more like, "Be sure to bring it back, you hear? Devote all of your life and pride to it!"
Everdead?

In MOTHER 2, this guy in the park says, "Mr. Tonchiki's dead? I don't believe it!" (Remember that "Tonchiki" was Everdred's name in MOTHER 2.)
In EarthBound, the death reference became, "What? Everdred is gone? That's crap! Don't believe it."
This is another of the few times "crap" appears in this '90s Nintendo game. What's interesting is that the original text didn't really have anything similar, but oh well.
Everdead Part Two

In EarthBound, this other guy in the park also says about Everdred, "Even if Everdred has passed on, he'll keep watch over us from… from…wherever he's at."
In MOTHER 2 he says, "Even if Mr. Tonchiki IS dead… he'll always be watching over us from hell."
Twoson Nudical

Venus' mom lives in Twoson, and if you talk to her now in MOTHER 2 she says, "I got a letter from my daughter. She wants me to come see her perform. Apparently she's also doing photos for a photo-book… A nude photo-book. Times sure have changed."
If you're unsure of what a photo-book is since they're really popular in Japan but not so much in America, see here.
Obviously, Nintendo couldn't keep this nude talk 100% as-is, so they tailored it slightly to keep the same general meaning but a little more family friendly: "I got a letter from my daughter. She wants me to see her next show. A book of photographs of her is coming out soon. I really hope she kept her clothes on… Times have sure changed…"
Daddy Issues

For the most part, what Paula's dad says after she comes back home is the same in both games, minus a few exceptions.
In one part in EarthBound, he says, "Perhaps you should continue dating Paula."
In MOTHER 2, it's ever-so-slightly different: "If you wish, you should continue to go out with Paula."
Not a big deal at all, though.
The bigger deal is this line in MOTHER 2: "You should come visit sometimes. I'll even let you sleep in my room."
He doesn't mean this in a creepy way at all, though perverted minds will see otherwise. He's just saying, "You should come stay the night sometime too, you can crash in my room." Since obviously he wouldn't want Ness and Paula sleeping together.
In EarthBound, I'm guessing they picked up on possible misunderstandings, so this line was reworked to say, "You can even sleep on the living room couch instead of the one in the den…"
That's My Name

In EarthBound, this guy on the bridge to Happy Happy Village says, "Is that Ness? You're always so cheerful!"
This is slightly wrong; in MOTHER 2 he says, "Ness, was it? You're always so cheerful!"
Basically, he forgot Ness' name in MOTHER 2. In EarthBound he sounds blind or like he's talking to someone else.
Happy Hunter

In EarthBound, this guy in Happy Happy Village says, "I shouldn't be so desperate to chase after happiness."
In MOTHER 2, the line is, "Turns out desperately chasing after happiness isn't happiness at all."
The double use of happiness here means that the entire cult's obsession with obtaining happiness never actually brought happiness at all. That meaning's not quite as clear in the English version.
The Mole Hole

This guy next to the second Your Sanctuary dungeon now says in EarthBound, "You seem to thrive in places like that." in reference to the cave ahead.
In MOTHER 2, it translates more to something like, "It seems like it was almost made for you." or "It seems like you have good chemistry with it."
Cult Cow

In Happy Happy Village, the cow now says in EarthBound, "I have moooore respect for Mr. Carpainter than others."
This cow pun isn't in the MOTHER 2 line at all, which goes something like, "Even now I greatly respect Mr. Carpainter."
Say Hello to Paul

In MOTHER 2, this guy in Fourside says, "You guys are little, but you've done all kinds of great work."
The plural for "you" is used here in Japanese, but it's gender-neutral. Somehow the English version wound up as, "You boys are young, but you did a great job here and out there."
Unless Paula's somehow actually a dude, that's not right 😯
Venus Snaps

When you talk to Venus backstage, she sounds kinda mean or pissed off in EarthBound. This is just accidental poor wording on the localization team's part. In MOTHER 2, she sounds perfectly nice. It's strange, because other lines of hers came across pretty nicely in translation.
Later, she asks if you're here to see her performance. The English sounds kind of stilted, leading me to think this line might have only gotten one very quick look-over and that's all.
I didn't even realize she said something different during the ending until now, so I can see how it might be overlooked too.
Dang Dad

In Fourside, Pokey's dad is in the bar/cafe, drinking his troubles away. In EarthBound, he says about Pokey, "If you see him, tell him that he should take better care of his father."
In MOTHER 2, he says, "If you ever run into that idiot Porky, tell him he needs to treasure his father more."
Basically, the father insults his son, but that gets left out of the translation. I'd chalk it up to just randomness, but the fact that the mother's insult was left out too makes me wonder if they wanted to avoid showing such a harsh family life. Judging from other changes in the game relating to Pokey and his parents, that probably is the case. It's not a huge deal, but I think MOTHER 2 shows how Pokey was a product of a broken household a little better than EarthBound.
Drowning Sorrows

In MOTHER 2, Pokey's dad also says, "Keep it an absolute secret from my wife in Onett that I'm boozing it up here…!"
In EarthBound, this reference was changed to say, "Don't tell my wife in Onett that I've been spending my time here."
The Joker

The joke-teller in the bar/cafe has a new joke! Jokes – especially ones with word play like this – don't translate at all, but essentially the joke is, "What is bread's favorite animal? Humans." He then goes on to explain that "humans" is the answer because it's not the answer you would expect (which in this case would've been "panda"). Kind of like a lame joke I made up long ago, which goes like, "What's a pirate's favorite letter? D!"
Since jokes rarely translate well, the localizers inserted a completely new one, this one being a knock-knock joke: "Knock, knock!… (who's there?) Sawyer… (Sawyer who?) Sawyer doin' well, I'm fine, too!"
Not Happy

One of the guys in the cafe in EarthBound says, "Happy happy!" during his text. This might make you think he's a former Happy Happyist, but it's nothing of the sort. In MOTHER 2, he simply says what translates to something like, "I'm feelin' good." or "I'm feelin' happy."
Tasty Edifice

It's a little known fact that after you beat Giygas, the Monotoli Building becomes the "Enrich Flavor Building". You can even talk to Enrich Flavor at the top of the building if you want.
I would've figured this was some kind of goofy replacement for whatever MOTHER 2 used, but he's called "Enrich Flavor" in Japanese too. So this isn't so much a translation difference as it is a "I'm surprised it was that way in the original too" sort of thing.
Choo-choo-vator

One of the elevator ladies in the Enrich Flavor Building makes a clear train joke in MOTHER 2, it's what's said before a train takes off.
In EarthBound, she uses the English equivalent which is "All aboard!" I think it might've been a little clearer if it was like, "Allllll abooooard!" but it's good to see they kept the same basic joke intact.
Maid My Day

In EarthBound, if you find Electra the maid again, she says, "Thanks for dropping by, even though there's nothing to do, honey."
In MOTHER 2, it's more literally like, "Thanks for coming to visit me even though you're not here on any real business. You're so cute!"
Dinomite

In EarthBound, the researcher in the Fourside museum says, "As I thought, dinosaurs did actually exist in history. Yes, I have sure-fire proof. I've seen them in so many movies, they must have been real!"
In MOTHER 2, it's a little more like, "I guess dinosaurs really did used to exist after all. Hmm, yes, yes. I mean, I knew they existed based on theory, but, yeah… Plus they've been in lots of movies too…"
The main point of the Japanese line is that he's backpeddling and saying he knew the science and all that and thus knew dinosaurs were real. Then he lumps in the movie appearances to support his stance further, like, "I knew they were real all along! I know my science stuff! Yeah, and they're even in movies too!"
That said, I love the EarthBound line more 😛
Pork Butt

In MOTHER 2, this guy in the museum in Summers says, "You're looking well, but I wonder whatever happened to that fatty named Porky or whatever who I met earlier."
In EarthBound, he says, "It's nice seeing you in such good shape. I wonder what porky Pokey's doing. Yeah, that's the boy I met before."
The reason I bring this up is because by absolute sheer coincidence (I'm assuming, using my translator spidey senses) the editors wound up calling him "porky", which we found out like 10 years later was the intended spelling of his name.
Singing Sailor Man

In both games, this sailor now sings a song. They're basically the same, with minute differences.
MOTHER 2 (literal)
EarthBound
♪ Men of the sea
are a little bit different
from men of the mountains ♪
I'm a mighty sailor man
A mountain man I'm not
The open sea is home for me
And mountains aren't worth snot
We've seen earlier in the game when songs wound up lost in translation, turning them into regular sentences. It's good to see they caught this one, though the fact he later says it's a song probably helped.
I'm also curious why they removed all the music notes from the translation text, not just here but everywhere else. The music note character is still in the game – you can even use it when naming your characters! They also liked to un-all-caps any text that was all-caps, so maybe somewhere along the editing process someone was like, "This isn't proper, standard English! Away with you!"
In any case, I really like the localization done here. Good job!
No More Cake

In EarthBound, the Magic Cake lady says, "I can't make anymore Magic cakes. If you want to try something tastier… I have a 'Magic tart.' Try it. (Ness gets the tart, sound plays) …I could make one extra good today."
The last part there is a simple mistranslation, usually the verb means "can do (something)" but in the context of food it means to finish making something. So, in MOTHER 2, it's more like, "I've made another tasty treat today!"
Two Heads Are Better Than One

This is another super-picky thing almost not even worth mentioning.
Basically, Maxwell in Winters says that Dr. Andonuts and Jeff are working together. In EarthBound, he then says, "The two of them may be able to develop a new scientific theory."
In MOTHER 2, it's a little more like, "With those two together, I bet they'll come up with some new theories."
Lonely Tony

Again, fans often ask me about Tony's text in MOTHER 2, so here's a side-by-side look at what he says in Winters:
| | |
| --- | --- |
| MOTHER 2 (literal) | EarthBound |
| …Jeff won't call me. | …Jeff doesn't call me. |
| I wonder if he thinks I'm annoying… I don't mean to be, though. | Maybe he thinks I'm too annoying… But I don't think so. |
| Ness. Don't tell me YOU told him not to call me? | Ness, did you tell him not to call me? |
| I know you're not that kind of person, though. If you do run into Jeff, tell him to call Tony, okay? Please. | …No, I know you wouldn't do that. If you see Jeff, please, please ask him to call Tony. Thanks! |
Nothing really different, just some slight nuance changes. Maybe you superfans can get something out of that, I dunno.
Haikus Again

This Tessie watcher in Winters has a new haiku. In Japanese, his haiku translates to something like, "Sebastian / Even after being saved / is Sebastian".
To make the haiku work in English, they changed it to, "I waited for you. / I'm glad to see you again. / You're back, Sebastian."
As we've seen, unless a haiku or poem in the game was specifically referenced as being one, the translators often completely overlooked them. Since this one was marked as a haiku, the translators knew exactly what to do.
Telling the Future

Earlier, we saw that a lot of the legend/prophecy/metaphysical discussion in Dalaam was slightly mucked up in translation, and this is another case of that.
In EarthBound, Poo's master says, "As I thought, the prophecy foretold of our only chance for success."
In MOTHER 2, it's more literally like, "The prophecy came to pass in the best possible manner after all."
The English version sounds okay at first, but then seems kind of silly when you think about it. Of course the prophecy foretold the future, that's what they do. There's no doubt that prophecies speak about the future, what's in question is if they come true or not. His line would only make sense if they had known a prophecy existed but didn't know what the actual prophecy was – but he told the prophecy to us earlier in the game.
Sticking with the original line and polishing it up would've been the better choice here.
We're Dust in the Wind

In EarthBound, the philosopher in Dalaam says, "I'm a little embarrassed to say it, but I'll tell you anyway… I thought "Philosophy" was the study of stones. I now realize it's about studying all night… …What? It's not?"
This seems okay, but a little weird. It's EarthBound, after all.
In MOTHER 2, the line is, "I'm embarrased to admit it after all this time, but the truth is… I thought tetsu-gaku (philosophy) was about studying tetsu (iron, metal), but it turns out it's about tetsu-ya (pulling all-nighters) studying instead… …Huh? It's not?"
The joke is on the "tetsu" thing in all three cases, and it's a nice little humorous line in Japanese. The English version left the literal translation in for the most part, killing the joke. It's still kind of funny in a way, but it's mostly lost in translation.
Ness Has Fans

In EarthBound, the Poo fangirl in Dalaam says, "Prince Poo is so cool, but you're also young and tough."
In MOTHER 2, it's a little more literally like, "Prince Poo is handsome, but you're delightful and handsome too, Ness."
She actually adds "-sama" to Ness's name, so she's defintiely a fangirl of Ness too now.
Cast of Characters

The cast of characters stuff is basically the same between both games (minus the name changes mentioned throughout all the earlier pages), but I thought I'd point out a few little things of interest:
For some reason "Cast" is displayed in different colors.
"Star Master" in EarthBound is called "Mystical Old Man" in MOTHER 2
"Noble Warrior" in EarthBound is called "Spear Man" in MOTHER 2. I'm still not sure why such a small role gets such high billing in this character list.
Game Credits

As you might expect, there are a lot of differences in the list of credits. Only a crazy person would list every single little thing, so here are just some things of interest I noted while watching both.
Looks like Kouji Malta went from Second Director to U.S. Conversion Director. He did some great work.
As you can see, Satoru Iwata was the main programmer for MOTHER 2 and EarthBound. He basically saved MOTHER 2 from being cancelled in the early 1990s, and his name is listed everywhere in the credits. It also looks like some new programmers joined up to work on EarthBound's programming – again, they did a great job going the extra mile for a lot of little things!
The font designers are completely different between the two games, which makes sense. I once ran across an Internet post somewhere by one of the Japanese font guys, I oughta dig that up sometime.
Throughout this comparison site I've talked about there being multiple translators and editors. Here they are. The "English Text Writers" are the guys who took the raw translated script and polished it up and localized it further. The translators are the one who actually delved into the Japanese text.
Looks like they translated the voice stuff here, cool. Incidentally, M.D. Seeger was actually Shigeru Miyamoto, I forget why he picked this pseudonym though.
Interesting that the logo and package designers get credited in MOTHER 2 but not EarthBound.
Hello there Atsuko Kawahara. You must be new in town.
Dunno who Nancy Yoshitake is, but the she got thanked in EarthBound!
I think this "Lucky Nice" company is actually where the Tonzura Bros. names come from. I don't know what the company actually does, though.
Some pretty big Nintendo names were involved in this game. From the sound of it, Miyamoto had very little involvement, but he still got major credit. I guess that's a perk of being an important guy there, same with Hiroshi Yamauchi 😛
Minoru Arakawa got added because he was president of NOA at the time, just as Hiroshi Yamauchi was president of NCL at the time too.
It's You Again!

The final name in the list of credits… is you!
In EarthBound, it simply prints the name you last entered, which was in Tenda Village. In MOTHER 2, it prints the English-letters-version of your name, which you entered way back in Summers/Toto. So now we see how both versions of your name end up getting used in MOTHER 2.
The End

The ending screen is different in both games. In MOTHER 2, a Back to the Future-esque image says, "To Be Continued.." and it pops up all at once with a little sound effect.
In EarthBound, the text "The End…" appears, then a question mark appears (with the same sound effect) a few seconds later.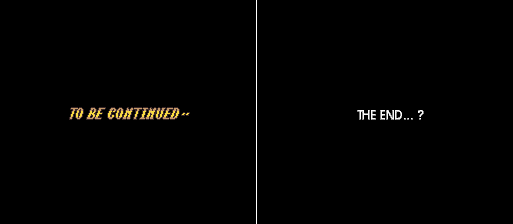 This section of the EarthBound Legends of Localization book also includes:
A Mr. Saturn line that received an unusual localization choice that removes a tiny bit of the Mr. Saturns' personality
A Japanese pun in the Lost Underworld that went unnoticed in translation
A better explanation of the Japanese wordplay used by the Dalaamese philosopher, and how this transferred into English
A different look at the new establishment that has replaced the Stoic Club
A feature on Japanese-to-English name translation, the risks and challenges involved, and some real-life examples involving MOTHER 2's cast of characters
Some extra info on the jokester's line in Fourside's drinking establishment
An NPC in Happy Happy Village who lost a line of text during the localization process
A feature on other instances of missing text in EarthBound, as well as text that was added that wasn't in the original Japanese script
A look at Everdred's unused sprite graphic
Much more detail about Ruffini's suggestion to send a letter to Nintendo, including pics of the rare item that Japanese fans received in return vs. what English-speaking fans received
Many more details on the Japanese reference Frank makes when talking about professional wrestling, including a quick bio on the pro wrestler specifically mentioned
Info on EarthBound's "choice" text prior to the game's final release, and how this relates to the mayor's line of text at the end of the game
The real and surprising reason that "CAST" is displayed in diffrent colors in both games
A brief mention of the legacy of EarthBound's font, including a real-life example of it being used on an unexpected product
A little-known fact about the photo man that Itoi once shared
The definitive reason that MOTHER 2 has two different "player naming" events when EarthBound only needed one
A look at Pokey's "spankety spankety" line, its Japanese equivalent, and more
Two examples of other "spankety" lines that wound up phrased differently in EarthBound's localization
The reason the "TO BE CONTINUED" message was changed to say "THE END…?"
An accompanying video that shows the final screen in action in both games