Electric Maid

In EarthBound, Pokey's maid is named Electra. But her original name in MOTHER 2 was Etsuko.
I C U

In MOTHER 2, the sentry robots, when you encounter them, say, "PLEASE STATE YOUR CODE NUMBER."
In EarthBound, they say, "Secret code, please."
While it's not that big of a deal, I found it interesting that the localizers made the clearly robotic-style text (usually done in English by using all caps) look like regular text. If you'll remember, they did the same thing with Starman Jr. and with every other robot in the game.
Dem Snooty City Folk

In MOTHER 2, the description for Strawberry Tofu is: "A fashionable desert popular in big cities."
In EarthBound, the localizers spiced things up for the Trout Yogurt description: "A fashionable treat for snobby, haute cuisine people in some big cities."
Not that big of a change, but Itoi didn't intend for it to be seen as a snobby thing. It was even in MOTHER 1 and later on in MOTHER 3.
This reminds me a little bit of the way the localizers altered the Fly Honey description. Given that all the descriptions were probably translated/edited all in a row by the same guy in the same day, it makes sense that some of these key item descriptions demonstrate similar-style alterations. Of course, since it's a different item in EarthBound, maybe Itoi's original intentions shouldn't apply anyway 😛
Made for a Maid

In EarthBound, Electra says about Pokey: "He gave me something the other day and said, 'this is fit for a maid…'"
In MOTHER 2, what Pokey said was a pun involving an old Japanese saying and the English word "maid". As such, it's not very translatable, but I'll try to explain it.
Pokey apparently gave the maid a souvenir gift and told her "meido no miyage", which could mean "maid's gift" if you wanted it to, but "meido no miyage" is also an old Japanese phrase that means "this will be a good memory for when you die and go to hell."
Basically, Pokey was being an ass, but she thought he simply mixed up an old saying with an English word.
Monotoli Speaks

Once you reach the top of the building, you find Monotoly/Monotoli and recover Paula. What the old man says after that is relevant to the plot and has some slight changes and censoring.
MOTHER 2 (literal)
EarthBound
Stop! I'm not going to fight at all! Honest!
Stop! That's enough! Please stop! I give up! I really do!
Just look at these skinny arms. See my thin body? And my hair is completely white.
Look at my skinny arms, thin body, and white hair…
Now that the Mani Mani Devil is gone, I have no power at all!
I've become so weak since I lost the Mani Mani Statue.
I apologize for kidnapping Paula. I haven't harmed her in any way… and she was truly a nice girl.
I'm sorry I kidnapped Paula. I haven't done anything to her. …Paula is a nice girl.
Okay, Paula. Return to Ness now.
Paula. Return to Ness.
I'm very sorry for causing you so much worry.
I'm sorry I created so much trouble for you.
Paula talks, joins, and then Monotoli speaks again
…… I will tell you everything I know now.
….. I'll tell you everything.
The Mani Mani Devil shows people illusions. It then increases the evil in their hearts and brings forth the devil's power. I was so afraid of that power that I hid it in the storeroom in Boris's bar, where I went to look upon it on occasion.
The Mani Mani Statue creates an illusion. It attracts evil spirits and weakens your heart. The power scared me so much, I hid the statue in the warehouse at Jackie's Cafe. I often went there to pray.
……
…..
There were mysterious words inside the illusions, including your name, Ness.
Cryptic words appeared to me while I was in the illusion. Ness, your name appeared in the cryptic messages.
Things like, "Stop Ness by your own hand!"
"Stop Ness, and do so by your own hand."
And, "Do not let them go to Summers!"
Or… "Don't let them go to Summers."
And, "Do not let them see the pyramid!"
Or… "Make sure they know nothing of the Pyramid"…
I don't really understand why, but someone apparently doesn't want you children to go to Summers.
I don't fully understand the messages, but someone obviously doesn't want you to go to Summers.
I also heard things like, "The devil… Giygas…"
…Evil… Giygas… or something… I could hear the name…
Apparently, the devil's side doesn't want you going to Summers. Which means, of course, that you probably SHOULD find a way to Summers somehow.
Anyway, the evil side would be in trouble if you visit Summers… Oh! On the contrary, you should definitely go to Summers, especially because they don't want you to make it there.
……
…..
Summers is across the ocean. You can use my helicopter. Allow me to open the way to the heliport.
Summers is located across the ocean. Take my helicopter. I'll open the way to the heliport.
I'm exhausted now. I'm sure you children can manage to right things on your own. It appears that that is your fate, Ness!
You must go on! Ness! This is your destiny.
Well, goodbye, Paula. Please be careful on your way.
Paula, it's time we said goodbye. Take care.
Besides the slight changes, there's of course the usual replacement of "devil" and other things like that. But what's most surprising is how the localization adds in the reference to praying!
Pokey Has His Own ROFLCopter

Since what Pokey says in the game is important to the plot, let's take a look at what he says in both games here, kind of like how we did with his speech back in Happy Happy Village. There's not much difference, but it's important anyway.
| | |
| --- | --- |
| MOTHER 2 (literal) | EarthBound |
| Ness, you brain-dead moron! Struggle all you want, but you're still too late! Bye-bye! | Ness, you pin-headed idiot, you're just a half-step too slow! |
| Now that old Monotoly is a nice guy again, I have no more use for him. | I'm getting outta here! Since Monotoli has become a plain, old man again, I have no more use for him. |
| I sure am glad to take his helicopter, though! Spankety-spankety! Bleh! Blehhh! | This helicopter will really come in handy. Looks like you're the world-class loser again! |
The "Bleh! Blehhh!" part in the MOTHER 2 text is actually the sound you make when you stick your tongue out at someone and taunt them. So here we see that the physical taunting is mostly absent in the English localization.
Can't Spell Pokey Without Spelling OK

After Pokey takes off with the helicopter, in EarthBound, Monotoli says, "Pokey took the helicopter… I hope he's okay…"
That's a 100% acceptable translation, but because of how Japanese grammar works and because of context, the original line in MOTHER 2 was more like, "So Pokey took the helicopter? I wonder if he'll be okay…"
It's definitely being picky, but the tiny difference in translation is just enough to warrant a mention here, I feel. Monotoli isn't concerned about Pokey's present condition, but his future condition instead. Maybe he was aware that the helicopter's engine wasn't in tip-top shape?
Freed to Threed

As soon as you leave Monotoli's room, the Runaway Five are there, waiting for you. In MOTHER 2, this guy says, "What's that, Paula? You want to go straight to Threed now?"
In EarthBound, he doesn't mention Paula at all.
Orange You Glad I Called?

A slight mistranslation or at least something that was glossed over. In MOTHER 2, Orange Kid will call you and say, "Hello. I'm sorry I wasn't able to contact you before. This is Orange Kid."
In EarthBound, he says, "Hello! This is Orange Kid. Sorry I haven't called lately."
The super-slight difference is that in MOTHER 2, the nuance is that he's tried to call Ness in the past, but was unable to. The EarthBound version makes it sound like Orange Kid hadn't even been trying to contact Ness. What a jerk!
Nobody Guards

After Pokey leaves the building and Monotoli repents his ways, these bodyguards talk about how they've been affected.
There's a slight mistranslation here, though. In MOTHER 2, this guy says, "Ever since I quit working as a bodyguard, I've had a lot of pent-up energy. Oh, I was just bragging about my strength. I'm not going to come along with you. Did you kind of hope I would, though?"
In EarthBound, he says, "When I'm off duty from my bodyguard job, I still have a lot of pent-up energy. But don't worry, I won't come after you. Unless you're kinda itchin' for a fight…"
What's going on is that now that Pokey's gone, the guy is unemployed, but he doesn't want to give you the impression that he wants to work for you now. But the EarthBound version acts like he still has his job and that he's just talking about how things are when he's off-duty. And then the translation starts to crumble even more as he continues to talk.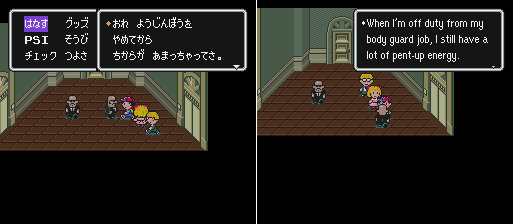 This section of the EarthBound Legends of Localization book also includes:
The origin of the Japanese name of Pokey's maid, including a photo and short bio of the character referenced
A look at how the idea of "strawberry tofu" went from "this is a crazy combination" to "you can find strawberry tofu everywhere" in the course of a decade or two
Examples of strawberry tofu appearing in the other MOTHER games
A Japanese idiom that Pokey's father uses to describe Pokey, the English idiom that replaced it, and how the two compare
A little more insight into Pokey, his maid, and the gift Pokey gives her
A look at the Japanese food at the Clumsy Robot eats, and the American food that replaced it in EarthBound – including side-by-side photos of both foods
An unusual, often overlooked misspelling