Cult Blue, Part Two

Here's another famous localization change! This time, Nintendo of America's target was Carpainter's cult. As you can see, the cult members in MOTHER 2 have the letters "HH" (short for "Happy Happy") on their foreheads.
In EarthBound, however, the letters are gone. Not only that, but the EarthBound cultists have a little fluffy thing at the end of their hats, most likely to make them look less evil and more like Santa (as if Santa weren't evil). You gotta love the ties though…
It's pretty obvious Nintendo of America was concerned with the cultists' resemblance to members of the Ku Klux Klan.
Godliness

This part of the game naturally features a lot of talk about gods and god-type stuff. In EarthBound, this was all written around using other terms that mean generally the same thing without saying it outright.
In this instance, in MOTHER 2, this character says, "One day, Master Carpainter suddenly received a revelation from God. His words are the words of God."
In EarthBound, this was changed to, "One day, Mr. Carpainter received a revelation. He now speaks the real truth."
Obviously, this change isn't mind-shattering or anything, but it's another example of the light coating of censoring the game received. And it certainly didn't affect anyone's enjoyment of the game in English. I'm only pointing this stuff out so people will nod and go, "Ah, neat!" I hope that's what you, the person reading this, did. DO IT
Incidentally, I'm pretty sure there were some major cult things happening in Japan around the time MOTHER 2 was made, like the Aum Shinrikyo for example. I wonder if this whole part of the game was inspired by it. I know some Kentaro Miura used it as inspiration for a large section of his Berserk manga back then, I think it was on a lot of Japanese creators' minds.
Da Vine

Another instance of direct religious avoidance. The original line here was, "Master Carpainter can communicate with all kinds of Gods/gods, you know."
The EarthBound line was, "Mr. Carpainter communicates with the divine…"
Again, nothing major, and even though the EarthBound version sounds better than the literal version, you can still feel the localizers' creative "write around it" style.
What a Nice Lady

Again avoiding mentions of death and killing, the localizers changed this lady's line of "Kids like you deserve to get struck by lightning and die" to "You deserve to get struck by lightning".
Basically, in the original she hated Ness enough that she wished he was dead. Just goes to show how crazed this cult really is.
Enough Already

Just another case of trying to avoid god talk, but in MOTHER 2, this guy says Carpainter wanted Paula to be a goddess for Happy Happyism, but in EarthBound, they write around it by using "high priestess" instead. The slight nuance that's lost here is that this means Carpainter wanted to be a god, possibly. At least that's an implied/inferred bit of information from this particular guy. He might be wrong, but who knows.
Who Drew Blue Blue?

The Blue Blue Drugstore of EarthBound is called Blue Blue Shop in MOTHER 2. No big difference, really. But it's interesting that normally the localizers went OUT of their way to remove instances of the word "drug" in the game, so it seems weird that they'd add one in here from out of nowhere. Maybe they were trying to make all the stores in the early part of the game consistent by calling them all drugstores? Who knows.
Bust a Move

In EarthBound, when you first meet Paula trapped in the mountain cabin, she says, "If you didn't come, I would have had to try to bust out of here."
In MOTHER 2, she doesn't say that at all. She says something like, "If you hadn't come, I… would have started crying."
From my perspective as a translator, I'm almost nearly certain a rushed translator accidentally read "nakidasu" (to start crying) as "nigedasu" (to break free, to break loose, make a break for freedom) here.
Not VIP Enough

In EarthBound, after you first see Paula in the cabin, you'll run into Pokey. He'll say that Carpainter made him an important person in Happy Happyism.
In MOTHER 2, he actually says something more literally like, "And just when it looks like I'm going to be able to be a big shot in Happy Happyism thanks to Mr. Carpainter…"
Obviously, that's a mouthful and it'd need to be trimmed down a LOT to sound more natural. But the difference in nuance here is that 1: Pokey ISN'T an important person in Happy Happyism yet, he's only about to be; and 2: Ness' meddling is getting in the way of Pokey's hope for becoming a big shot in the cult. In other words, this is one of the very first times Ness has messed things up for Pokey. I bet Ness regrets it by the end of the game 😛
Buru Blew

In EarthBound, one of the cultists in the Happy Happyism headquarters is trying to get the hang of whistling. In MOTHER 2, he actually trembles/quivers at the sight of you. The Japanese onomatopiea for trembling is "buru buru", which is very similar to "buruu buruu" ie "blue blue" in English. It's a Japanese play on words, but like most jokes, it's not very funny if it needs to be explained 😉
Anyway, here's what the guy says in MOTHER 2:
"*tremble* *tremble* Don't glare at me with such a stern look! Okay, fine. I'll move out of your way."
He then moves out of the way. Talk to him again, and he says:
"*tremble* *tremble* Is scaring me that much fun for you?"
HELL

This actually ISN'T a difference between the two games, but it's often (and understandably) incorrectly believed to be a localization change.
In EarthBound, one of the cultists tells you, "Don't go to heaven!" Everyone believed this was a lame Nintendo of America way of avoiding saying, "Go to Hell!" but surprisingly enough, the cultist says "Don't go to heaven!" in MOTHER 2, too. So actually, this line was kept 100% as-is.
Power Mad

In MOTHER 2, Carpainter asks, "Won't you and Paula become my right hand assistants?" In EarthBound, he never mentions Paula and instead says, "Will you be my right hand assistant?"
While this isn't a major change or anything, I suppose it does sort of add a tiny bit more to the game's canon.
Mani Mania

In MOTHER 2, after you beat Carpainter, he says something like, "The gold-colored statue behind me…"
In EarthBound, he refers to the statue by name by saying, "Do you see the Mani Mani Statue behind me…"
This is interesting, because I'm not sure Japanese players were meant to know its name yet, or that it even had a name. I guess the localizers either messed up (all the text is organized in a really illogical order) or wanted to make things a little clearer for players earlier on.
Hi, and Welcome to Devil Talk

In MOTHER 2, after you beat Carpainter, this hippie says, "We might've been listening to messages from the Devil rather than God…"
To write around this religious stuff, the English localizers made him say, "We might have been listening to evil messages rather than good."
Uh Oh

Now this one is definitely a mistranslation. In MOTHER 2, this guy says, "My wife who had returned ran away again. Man, I have no luck…"
In EarthBound, he says, "My wife has run away for a second time. I'm such a lucky man!"
Not only is this a mistranslation, it seems odd that at first he wanted her back, but now he feels lucky she's gone. I know that's hardly unheard of in real life, but still. Anyway, either this was a mistranslation or one of the localizers wanted to add in some humor out of thin air, or maybe one of them was going through a nasty divorce or something 😛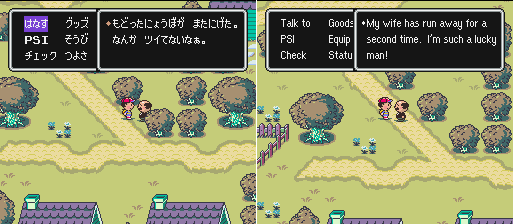 This section of the EarthBound Legends of Localization book also includes:
The Japanese name of Happy Happy Village, and the localization's inconsistent translation + spelling
A closer look at the cultists' art changes + the official reasoning behind them
A look at two prominent Japanese cults that were active around the time of MOTHER 2's development
A look at five other well-known games that also had religious changes made during localization
Some inconstent terminology translations in Happy Happy Village
More on the blue cow
All about the Refreshing Herb advertisement, how it was localized nicely into English, and a quick thought on Japanese advertising vs. American advertising
The character + art changes Paula underwent during the transition to EarthBound, including her official out-of-game artwork and her age
A look at how Paula's artwork looked before MOTHER 2's release
Some info on Paula's last name
Many tiny little puns, Japanese jokes, and Japanese idioms, and how they were localized – including a quote from the American Civil War
Literary references that some of the cultists make
More on the "Aaiiiieee! I screamed" guy
Paula being deadly