A common question I've been getting lately is about a small bit of text in the Final Fantasy X English translation:
Tidus: They say Seymour went to Macarena Temple.

Wakka: Macalania Temple.

Tidus: Aye.
This is famous among English-speaking fans – right in the middle of a mandatory, main event scene is a reference to the Macarena, complete with the weird-sounding "aye"?! Surely this wasn't in the Japanese version, right?
First, for the uninitiated, here's a music video of the Macarena song – it pretty much took America by storm in the mid-90s and hung around for years. The times were crazy.
So anyway, what did this Final Fantasy X line say in Japanese? I did some digging around and got some screenshots for comparison: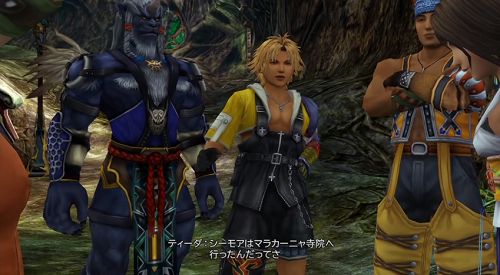 Final Fantasy X HD (Japanese)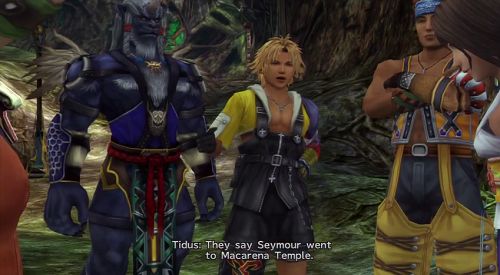 Final Fantasy X HD (English)
And here's how the text looks side-by-side:
| | |
| --- | --- |
| Japanese Version (basic translation) | English Version |
| Tiida: They say Seymour went to Malacania Temple. | Tidus: They say Seymour went to Macarena Temple. |
| Wakka: Macalania Temple. | Wakka: Macalania Temple. |
| Tiida: Yeah, that's it. | Tidus: Aye. |
So in Japanese, it looks like Tidus ("Tiida" in Japanese, which apparently comes from an Okinawan word for "sun") just mixes up "Malacania" for "Macalania" – an understandable mistake.
The Final Fantasy Compendium actually interviewed one of Final Fantasy X's localizers, Richard Honeywood, about this Macarena reference many years ago:
Actually, I can still remember when Alex was writing that line. I'm always a sucker for silly humor, and I'm a pop culture junkie. Of course, I laughed and agreed to it at the time, so long as the "Aye!" was done in a way that it wouldn't seem really strange to people who didn't know the song (or years later, when everyone has forgotten the old one-hit wonders).
The whole discussion is fascinating and entertaining (he even discusses fan translations and possibly me), so I definitely recommend checking out the full interview here. While on the subject, this 8-4 podcast discussion with him is amazingly interesting too!
Also, just for fun and further reference I've put both the English and the Japanese clips of this Final Fantasy X scene into a handy video:
Summary: The Japanese version of Final Fantasy X doesn't mention the Macarena or make a pop culture reference – it just plays the scene straight. The Macarena reference was added into the English release.
If you liked this, check out
press start to translate
, my book about the time I Google-translated
Final Fantasy IV
. It includes the worst/most hilarious translation mistakes, all while explaining
why
Google's A.I. made such terrible choices. (
free preview PDF
)