The Pokémon series has lots of quotable lines, and one particularly famous line comes from the original Game Boy Gen. 1 releases: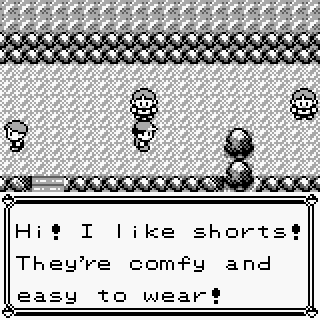 I barely know anything about Pokémon myself, yet even I still remember this line 20 years after playing the original games. I remember it felt like such a weird, random thing for an NPC to say, and apparently I wasn't alone. It's become a meme and has been kept in many Pokémon games since then.
So this got me wondering: what does the original Japanese text say? And is it as popular of a quote in Japan? Let's take a look!
Here's the actual quote in question, as seen in Pokémon Red:
| | |
| --- | --- |
| | |
| Pocket Monsters Red (Game Boy) | Pokémon Red (Game Boy) |
| | |
| --- | --- |
| Japanese Version (basic translation) | English Translation |
| Shorts are nice and easy to move around in! Why don't you wear some too? | Hi! I like shorts! They're comfy and easy to wear! |
The first thing I notice is that the Japanese shorts line feels like a self-observation and a suggestion directed at the main character. The Japanese line also mentions that shorts are easy to move around in, which fits the character and the setting. He's a Pokémon trainer and has to go around training and fighting and catching stuff in the wilderness, so being properly clothed is important.
In contrast, the English line feels more like a random statement that comes out of nowhere and has little relevance to anything. It reminds me a bit of Ralph Wiggum from The Simpsons and all his weird, random lines too – stuff like "my cat's breath smells like cat food" and "my parents won't let me use scissors". Now that I think about it, those quotes have a very similar and beloved reputation too.
The topic of shorts also makes more sense in the Japanese version because these male trainers are called たんパンこぞう (tanpan kozō), which means something like "Shorts Rascal" or "Shorts Kid". But in the English text, they're called "Youngster".
So of course it makes sense for a "Shorts Rascal" to talk about shorts – the connection is obvious. A random "Youngster" talking about shorts, on the other hand, makes it seem like he brought up the topic out of nowhere. Sure, you can see that he's wearing shorts in battle, but the text connection helps link everything more clearly in Japanese.
| | |
| --- | --- |
| | |
| Pocket Monsters Red (Game Boy) | Pokémon Red (Game Boy) |
If you do a Google search or YouTube search for "comfy and easy to wear" in English, you'll get an avalanche of results from Pokémon-related content. Here's what comes up in a simple Google Image search: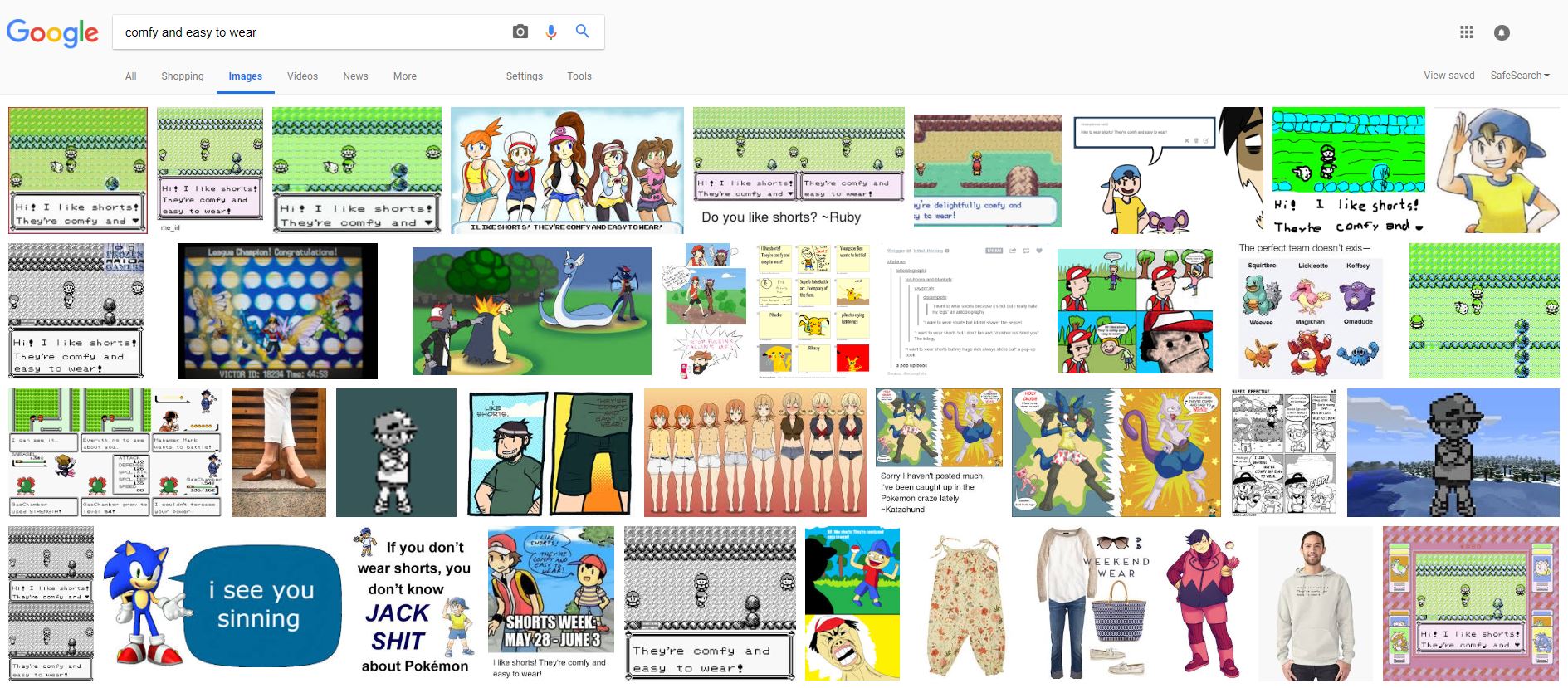 As we can see, it's almost entirely Pokémon-related stuff. But if you try the Japanese quote or any of its variations, the results aren't quite as intense:
Of course, search result comparisons don't exactly prove how popular or beloved stuff can be among fans, but I thought I'd share my results anyway just for curiosity's sake. Again, I'm not much of a Pokémon guru, so if anyone out there can shed more light on the popularity of this quote in Japan and in other countries, let me know in the comments or on Twitter!
For Japanese Pokémon players, this trainer's line was a quirky yet logical statement, while the perceived randomness and phrasing of the translated line made it quirky and memorable for those who played the English version.
---
If you enjoyed this quick look at Pokémon translation differences, check out all these other articles I've written too!