The EarthBound Legends of Localization book is out! It's the culmination of 20+ years of EarthBound knowledge, 15 years of professional translation experience, inside info from key staff members, and some scratch-n-sniff craziness. Don't let this scare you though – even if you don't know a thing about EarthBound or aren't an EarthBound fan, there's a lot you'll enjoy in this book.
Here's a quick summary of what the book comes with:
432 full-color pages, hardcover
Reversible dust jacket w/ release timeline
Scratch-n-sniff history card+postcard (no longer available as of 2020)
Signed bookplates (1st edition exclusive)
Forewords by EarthBound's localization director & industry alumni
Inside info straight from key EarthBound staff members: the localization director, marketing director, and creator
Chapters on the game localization process & EarthBound/Nintendo history
84 special features (see full list here)
90 other games referenced and discussed (see partial list here)
A full chapter on unused/secret content
It also has a companion video that showcases things that couldn't be conveyed fully in print form. You can see the 15-minute video here:
You can also see 20+ sample pages here!
There are currently two places you can get the book, although some brick-and-mortar stores might offer them in limited quantities as well.
I 100% recommend getting it from Fangamer – you're guaranteed to get a signed bookplate (1st edition exclusive) and possibly some extras thrown in. And if you order it from Fangamer, we'll even sign the book directly for you if you ask for it in the order form – it'll just take a little extra time to ship out.
Also, between now and November 29, 2016, Fangamer shipping is free within the U.S., and international IPA shipping is 50% off. I don't think they'll ever offer a better deal than that!
Q: How is this any different from what's already online?
A: I rewrote and re-researched everything from scratch. In doing so, I made many new discoveries that haven't been documented anywhere. I tried to distill all of my findings to make sure that every single page is fun, interesting, and surprising. Almost every page has new info that I myself didn't know until this year!
Q: I haven't played EarthBound/I'm not an EarthBound fan. Will I still enjoy it, and will I get lost reading it?
A: You will absolutely be able to follow along – from Day 1 I wrote the book with non-experts in mind. The first several chapters (full list here) cover things like game translation theory, game localization history, the history behind Nintendo and EarthBound, merchandise releases, and all kinds of neat under-the-hood stuff. It's all very accessible and easy-to-read.
The chapters specifically about EarthBound's content assume no prior knowledge of the game. One of the book's editors, who had never played EarthBound, remarked afterward:
If a non-EB initiate like myself is having this much fun reading a book about a game I've never played, there've gotta be tons more like me out there.
Q: Is an electronic/e-book version planned?
A: At the moment, Fangamer doesn't have plans for electronic versions. It's possible that could change, but I wouldn't expect it anytime within the next few years.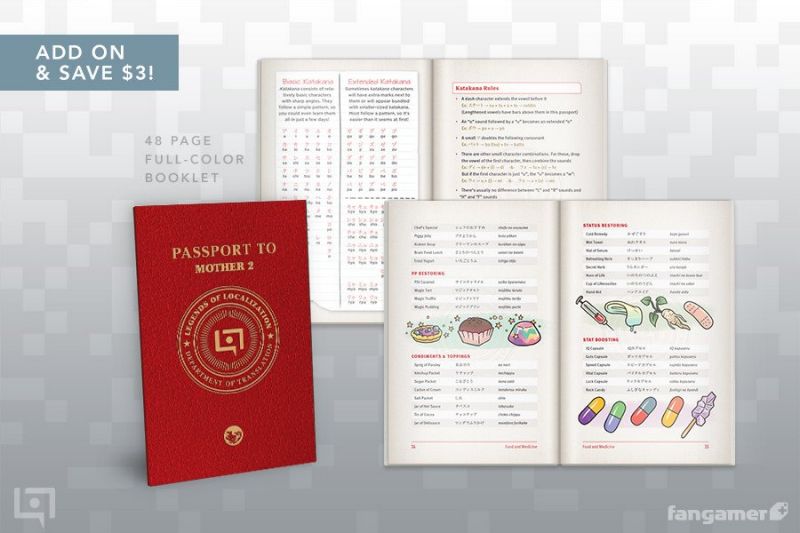 Similar to the first Zelda Legends of Localization book, this EarthBound one has an optional companion booklet that will help you dive into the Japanese version of the game yourself! Even if you don't know a lick of Japanese right now, by the end of the booklet you'll be able to read, pronounce, and even translate simple phrases from MOTHER 2. I wrote it with my younger self in mind – I remember wishing I could play the Japanese version of EarthBound back in 1995 but not having the resources to do so.
The booklet also contains special tips, tricks, and info on how to enjoy the game in new ways, as well as explore the Japanese side of the Internet to see what fans are up to.
You can get the 48-page Passport here for $9, but if you get it and the main book together you'll get a $3 discount.
Comparing EarthBound with its Japanese counterpart is how I got into game translation and localization, and it's also the origin of this entire Legends of Localization site. It's hard to believe that this dinky site would become my career and livelihood years later. With that in mind, I made sure to fill the book with everything I wanted, so that I'd have no regrets and feelings of "I wish I had included this". That's a big reason why the book comes with the scratch-n-sniff card, in fact.
In a sense, this EarthBound book marks the end of a long, 17-year journey, but the start of many new ones. So before we move on, let's take a look at some behind-the-scenes photos from the book's initial stages until today!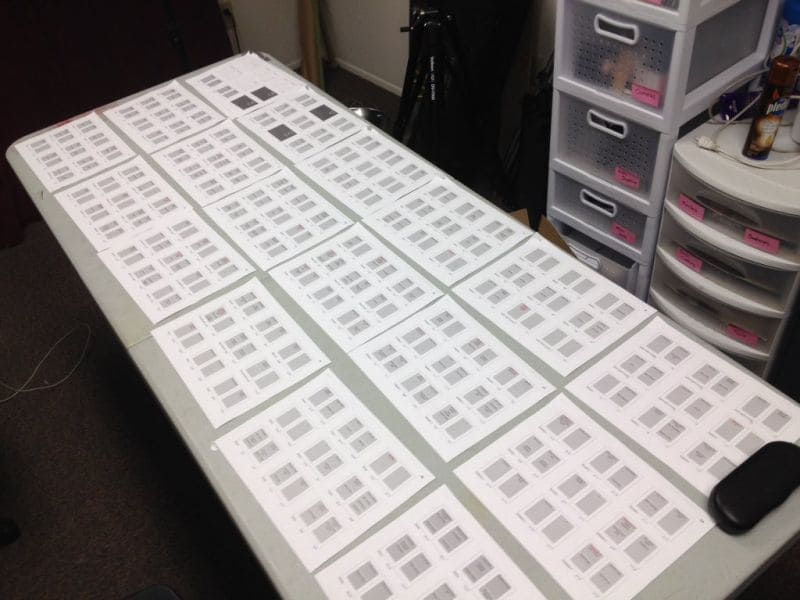 Shortly after the Zelda book was released, Tony (the book designer) prepped some early ideas for the EarthBound book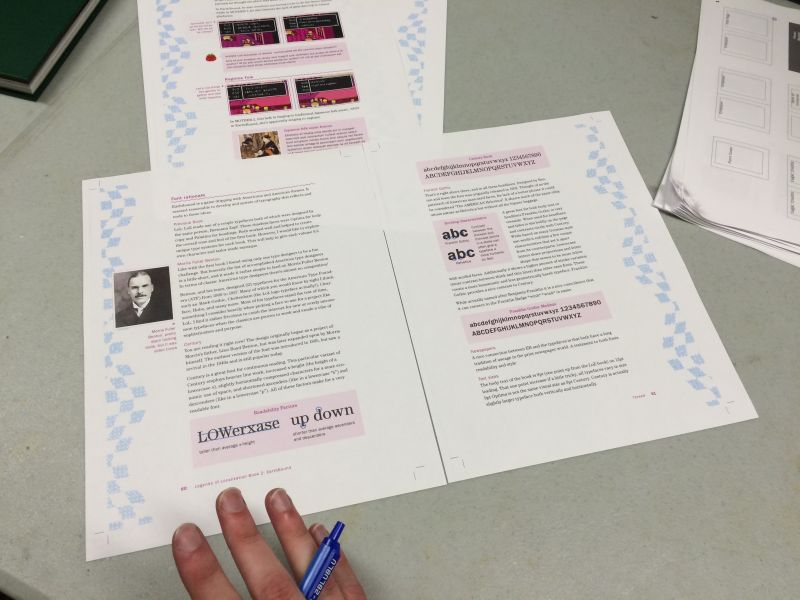 We took our experience from the Zelda book to improve things for the EarthBound book - here Tony shows off his font choices and research behind those fonts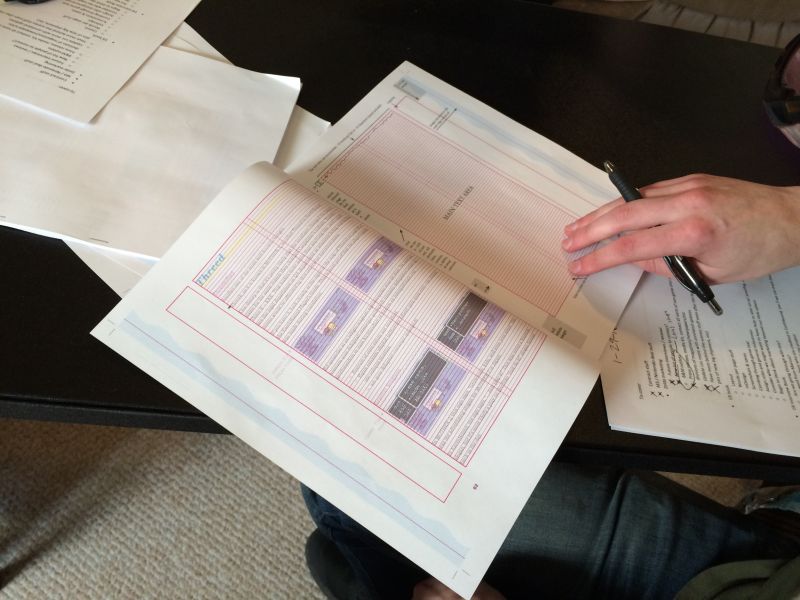 Tony moved grid margins and such around to create a nice and roomier format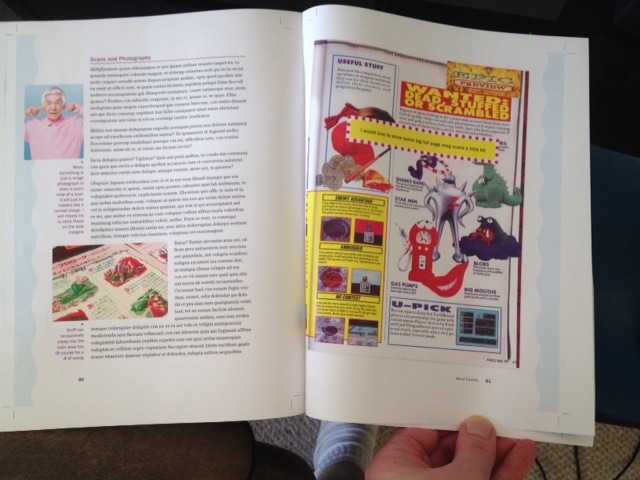 Experimenting with some new layout ideas to see what works and what doesn't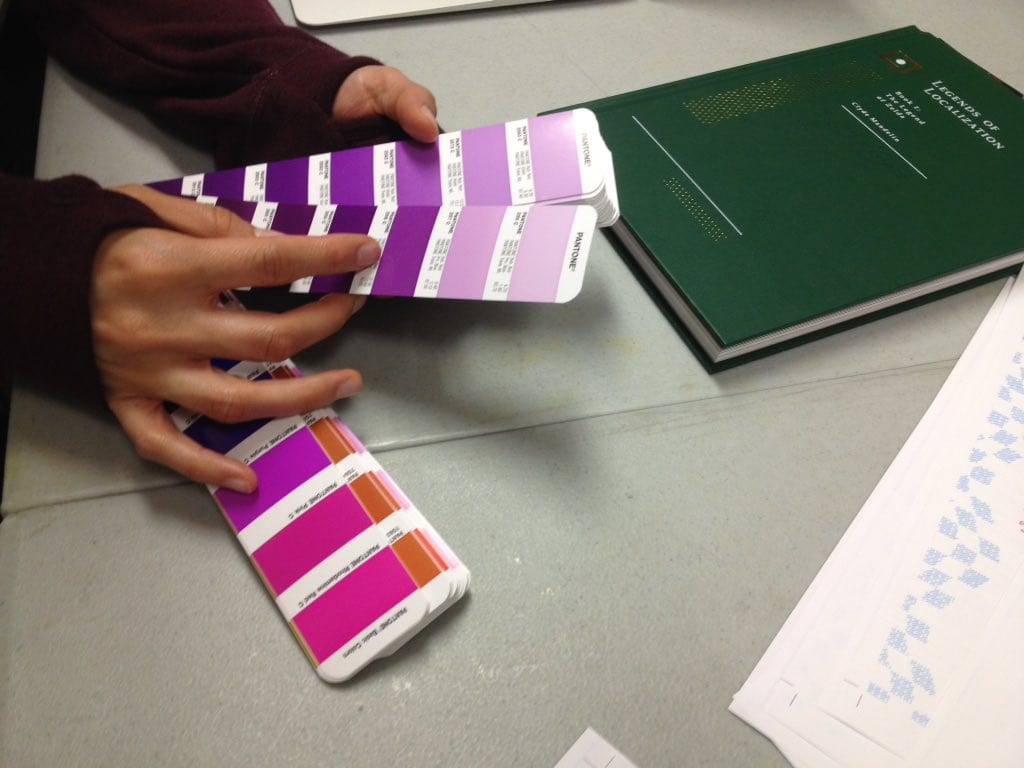 Discussing potential cover colors and textures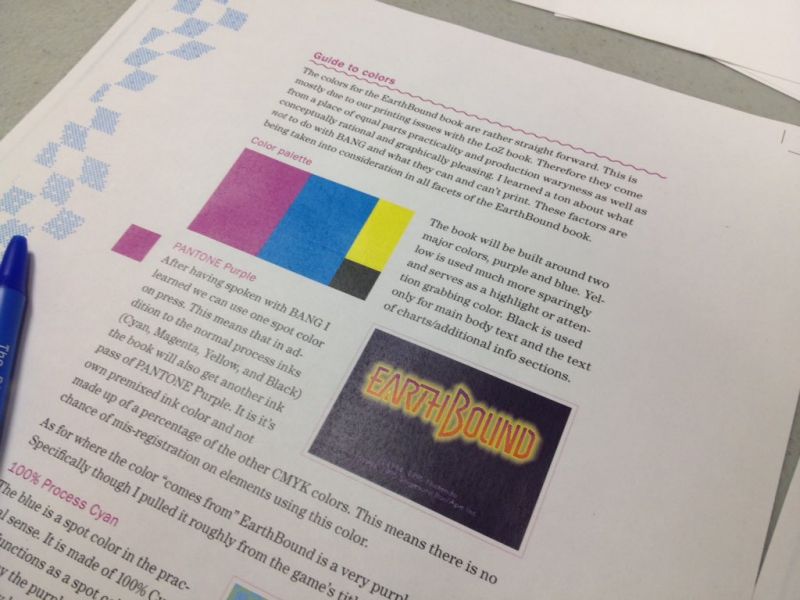 The book's colors, inside and out, were very carefully chosen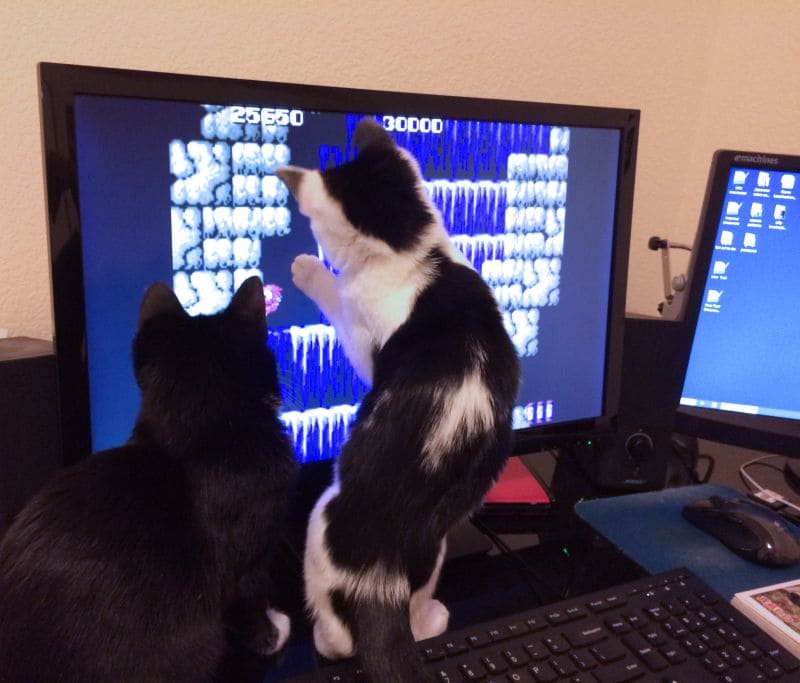 Early into the book writing, Poe and I got kittens - they're awesome and they love video games... but whoa they slowed the project down quite a bit sometimes!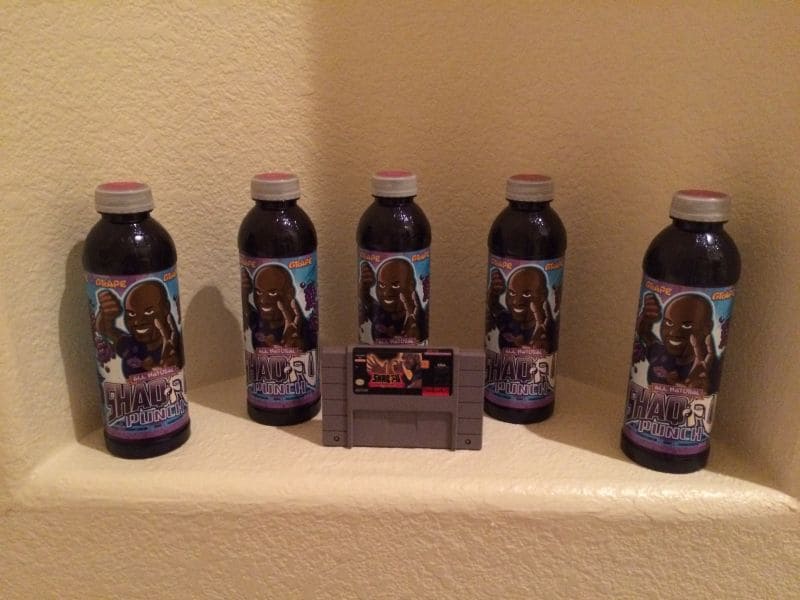 Shaq Fu drinks went on sale so we made a shrine to ensure the book's success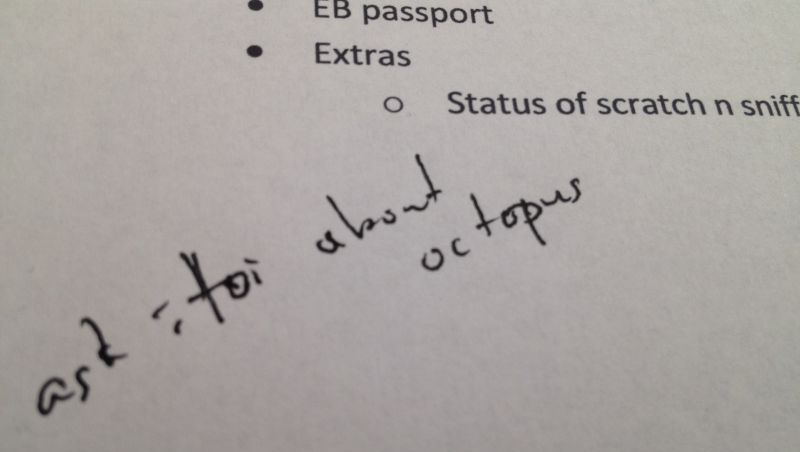 We had many meetings over many months - here's a note from one meeting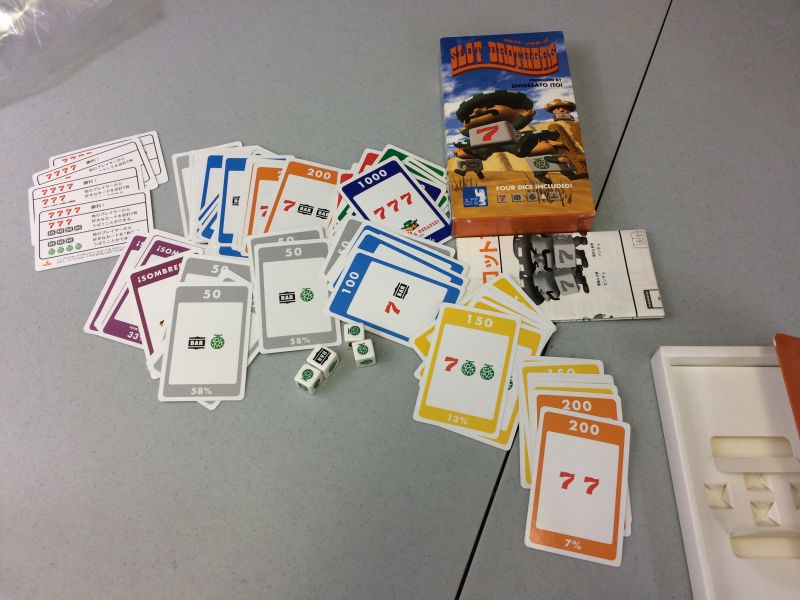 We tried to find all the merchandise and materials that we could - even super-obscure and rare items like the official Slot Bros. dice game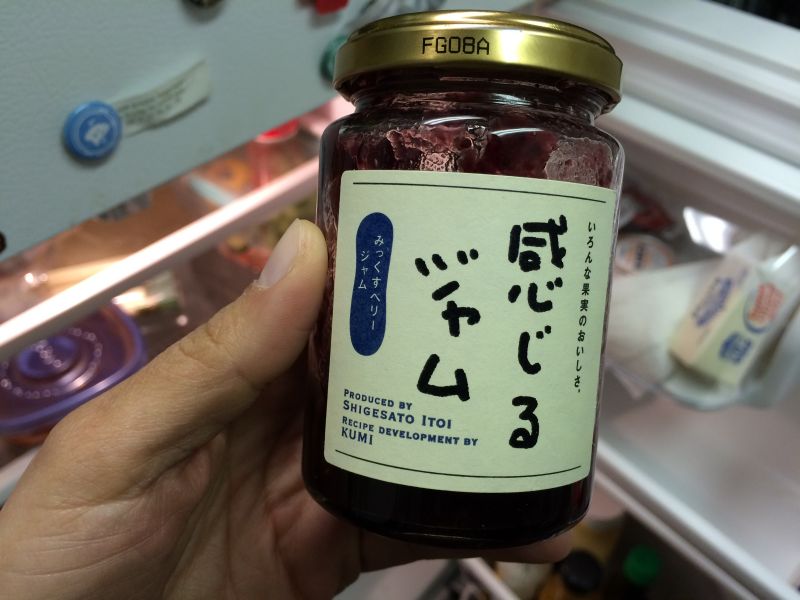 We even bought jam produced by the game's creator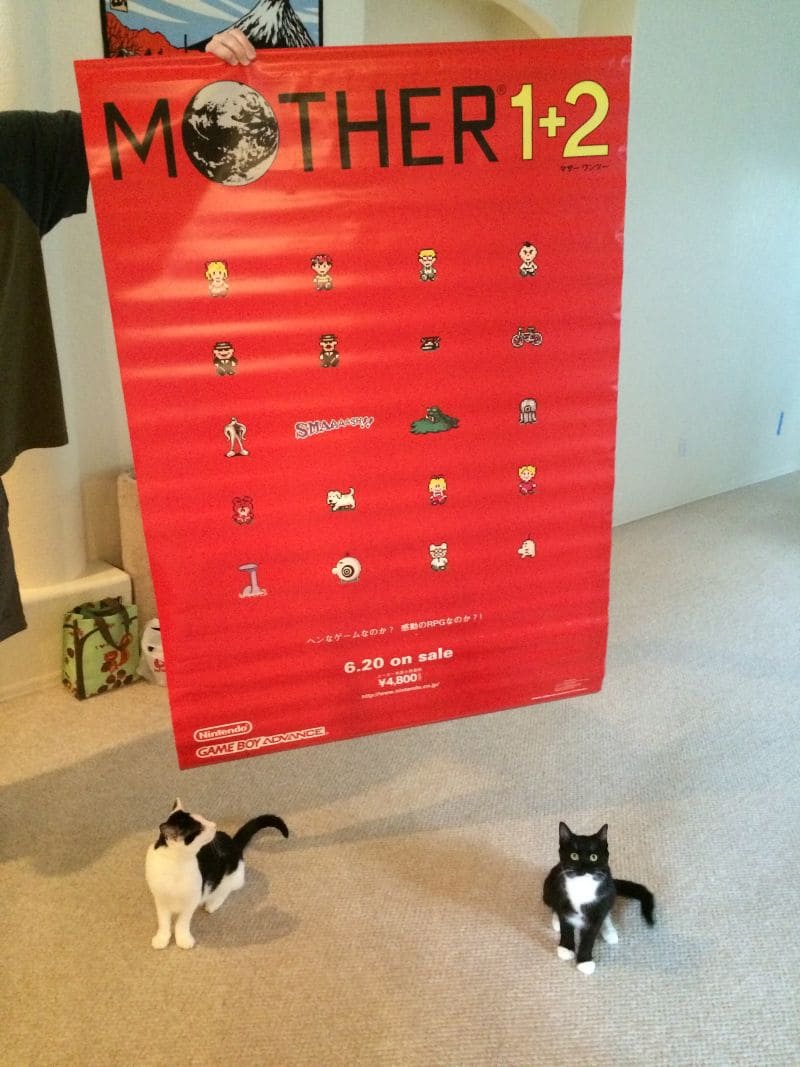 Yeah, we might've gone a little overboard sometimes, but luckily Fangamer is filled with EarthBound fans, so we were able to borrow a lot of merchandise for free!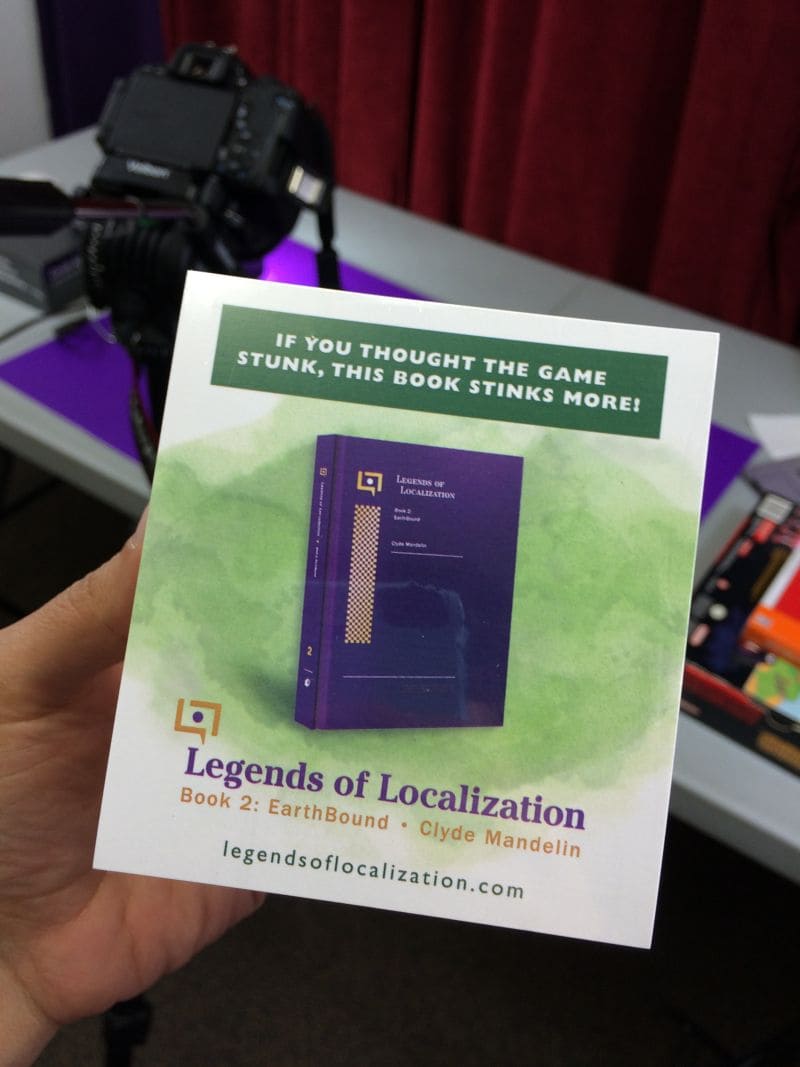 Trying to build hype for the book, so we made some special cards to hand out/include with orders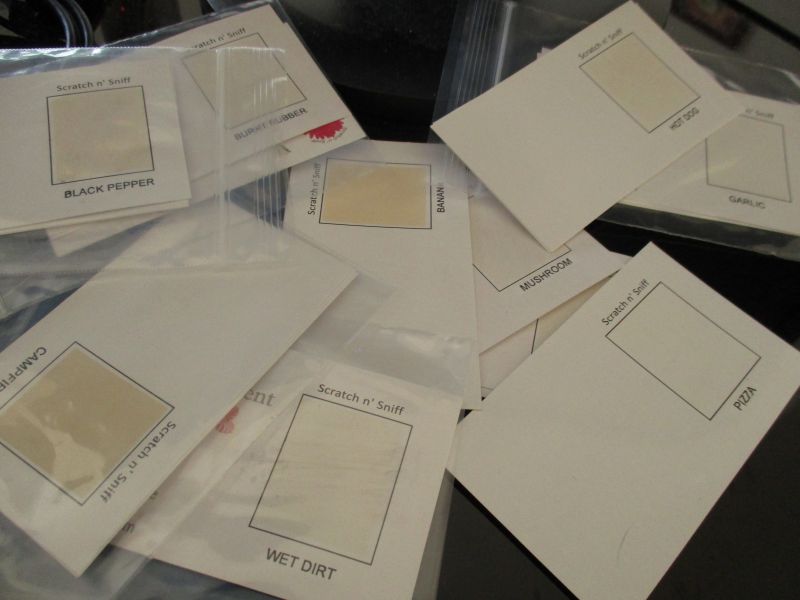 Smell was a huge part of the initial EarthBound experience, so I felt very strongly about bringing that long-lost memory back to life by re-creating the original smells. Figuring out how to do scratch-n-sniff cards took a lot of work!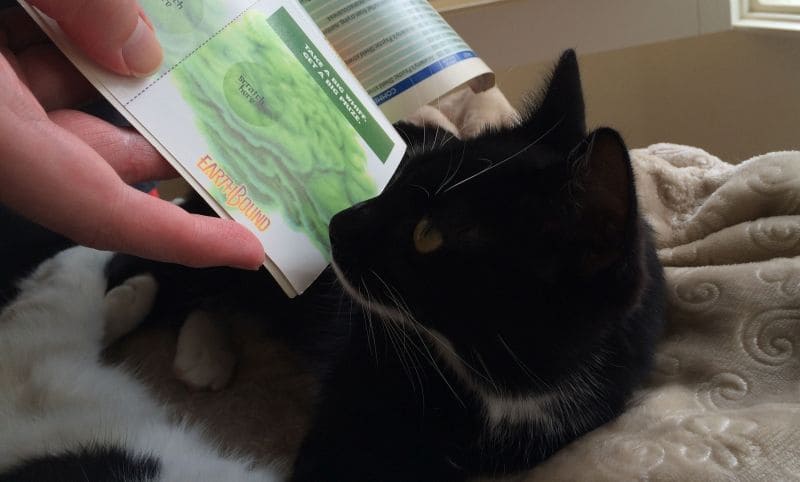 The cats helped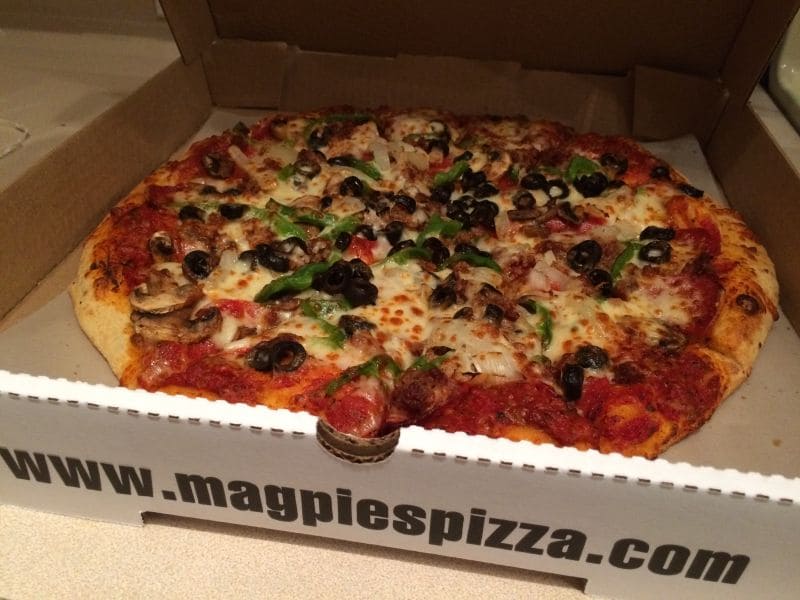 Many of our long meetings included delicious pizza - very fitting for an EarthBound project!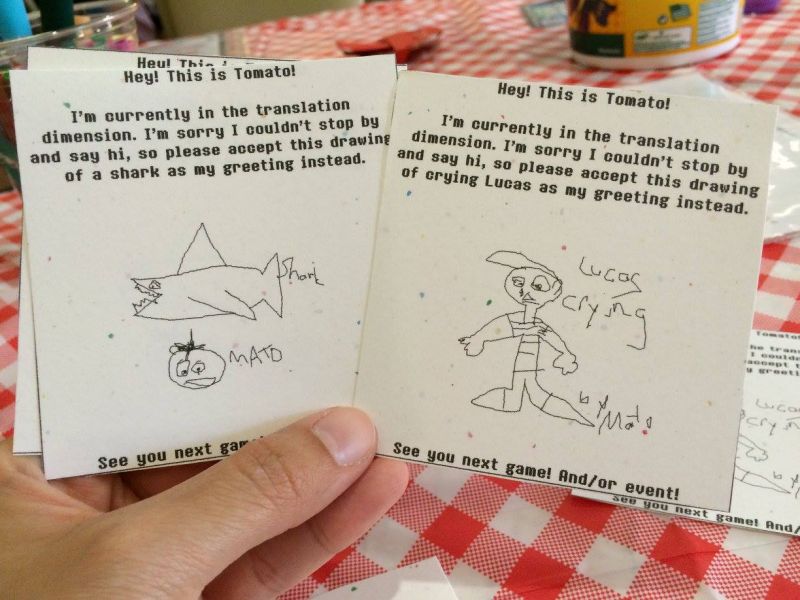 The book schedule and my normal schedule got so hectic that I only spent a few hours total at Camp Fangamer 2016. I had a lot of fun chatting with fans and signing stuff, though, and when I couldn't be there I made sure people got these instead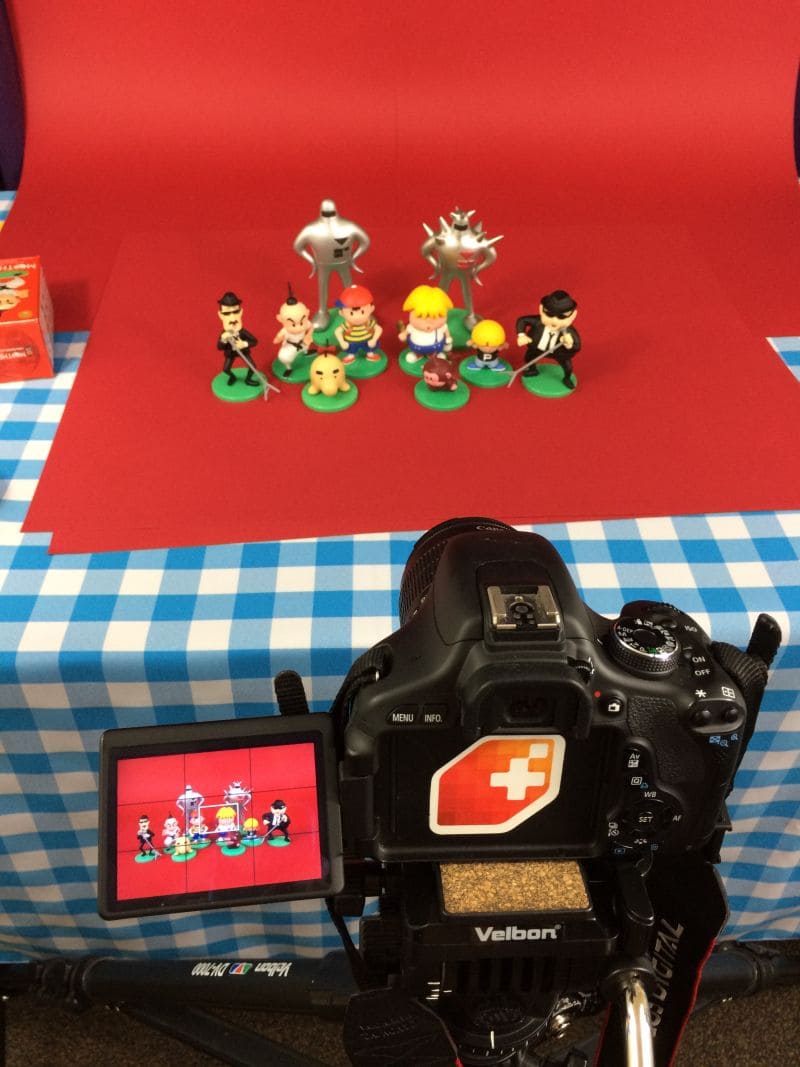 Poe spent a LOT of time getting photos for everything just right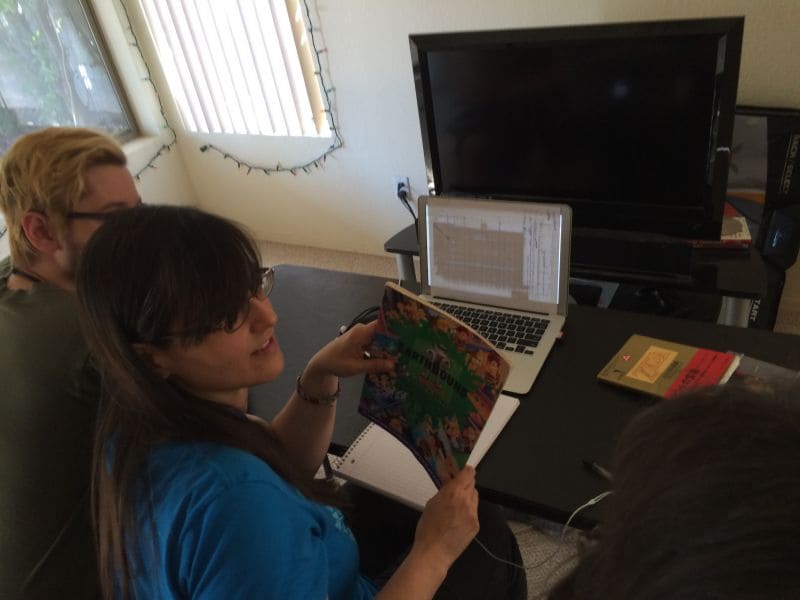 We had an absolutely amazing interview with EarthBound's marketing head (never mind the paper covering their face 😛 )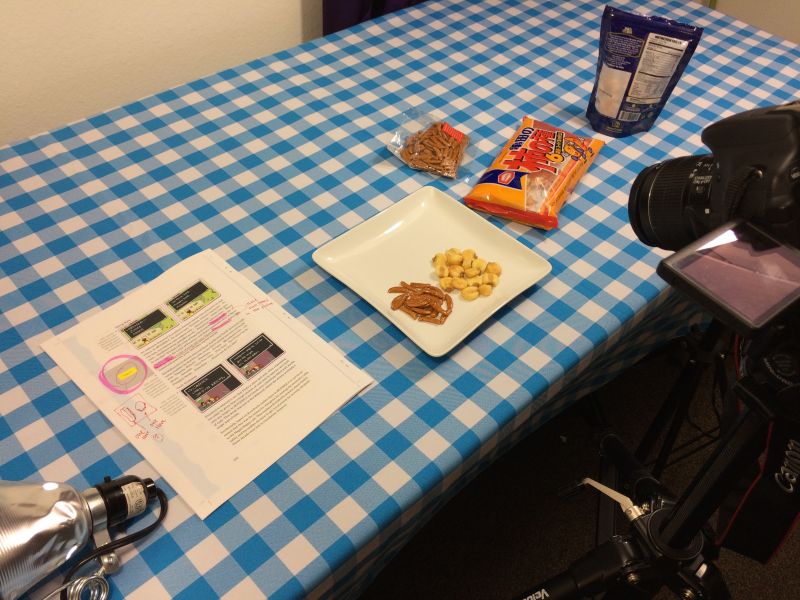 Food plays a huge part in EarthBound, so we went out and bought all kinds of tasty food, weird food, gross food, and bizarre food to photograph!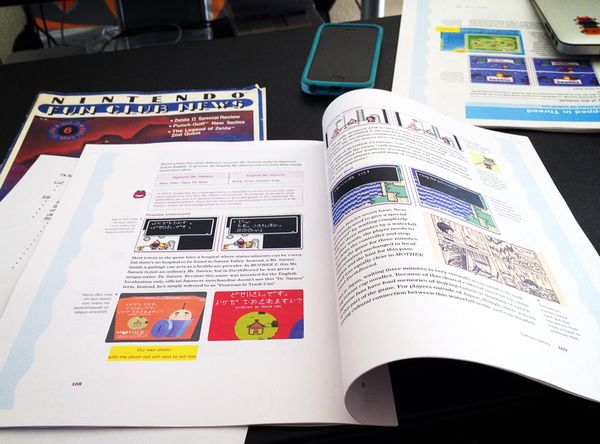 Tony often printed out chapters for each meeting so we could see things in actual physical form - this is IMMENSELY helpful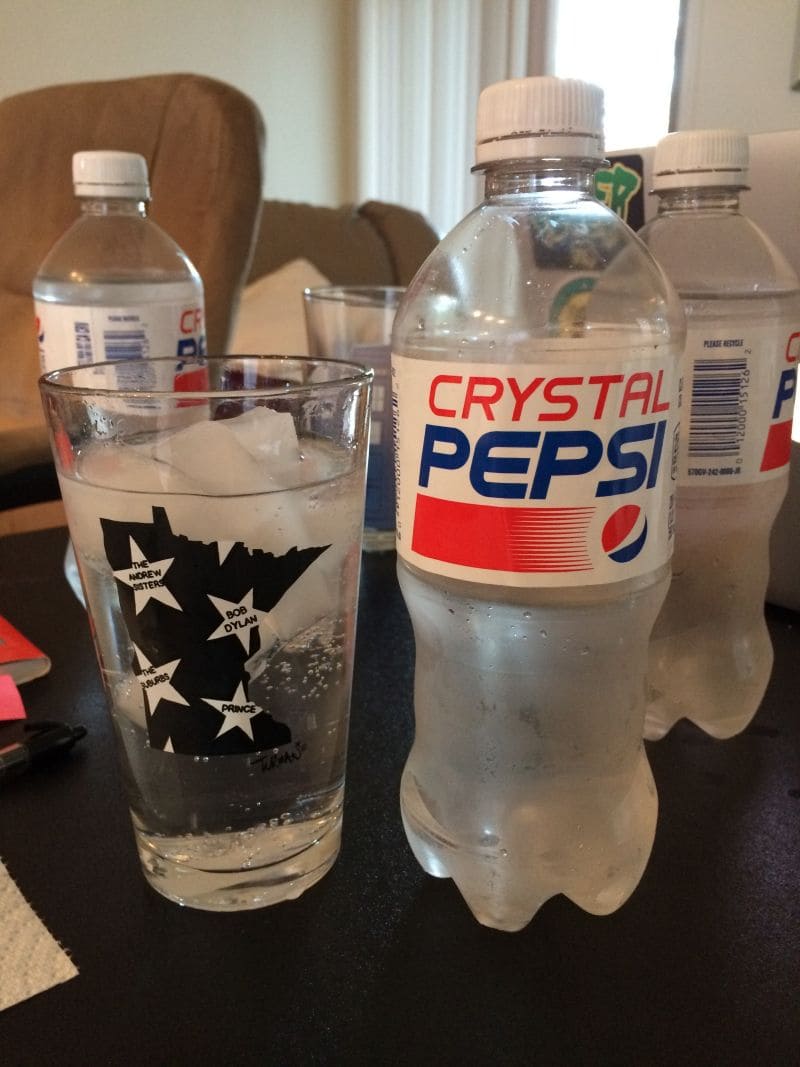 Crystal Pepsi got re-released and it became a tasty highlight of some of our meetings
The last 3 months were spent in crunch mode - very exhausting. But afterward, we put all our research items together... and whoa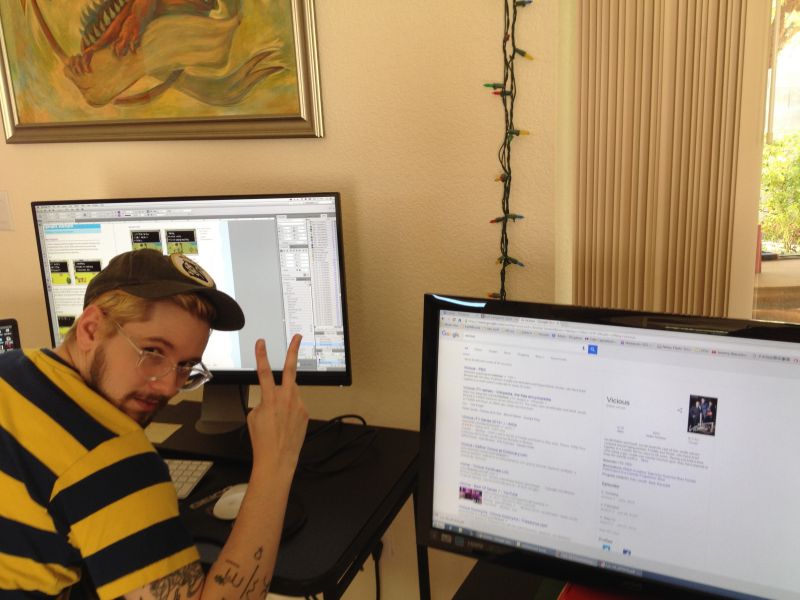 The final week is all a blur, but many of the coolest parts of the book came together during these last days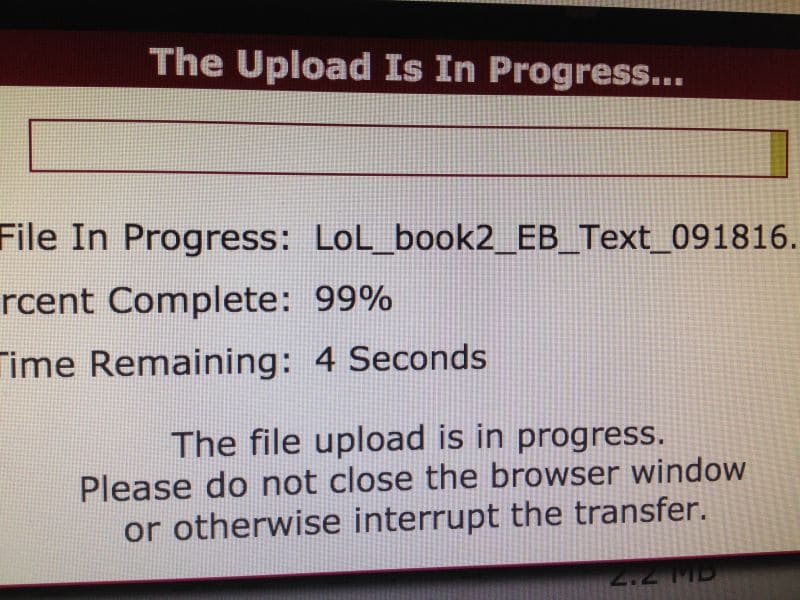 Sending the final book files to the printing company!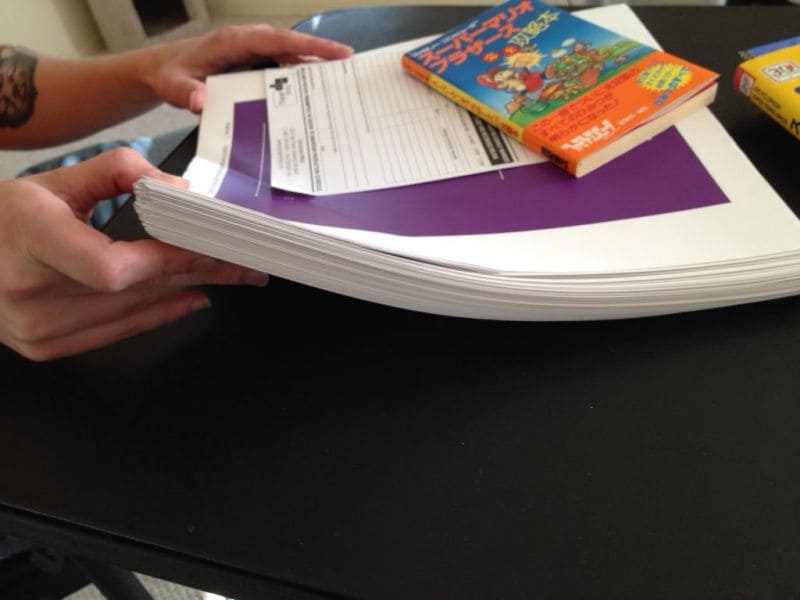 It's not over yet, though! The book proofs arrived the next week, and we had to make sure everything was in order before printing began. We did find a few sneaky typos and goofs, so we fixed them - fixing things at this point costs hundreds of dollars though!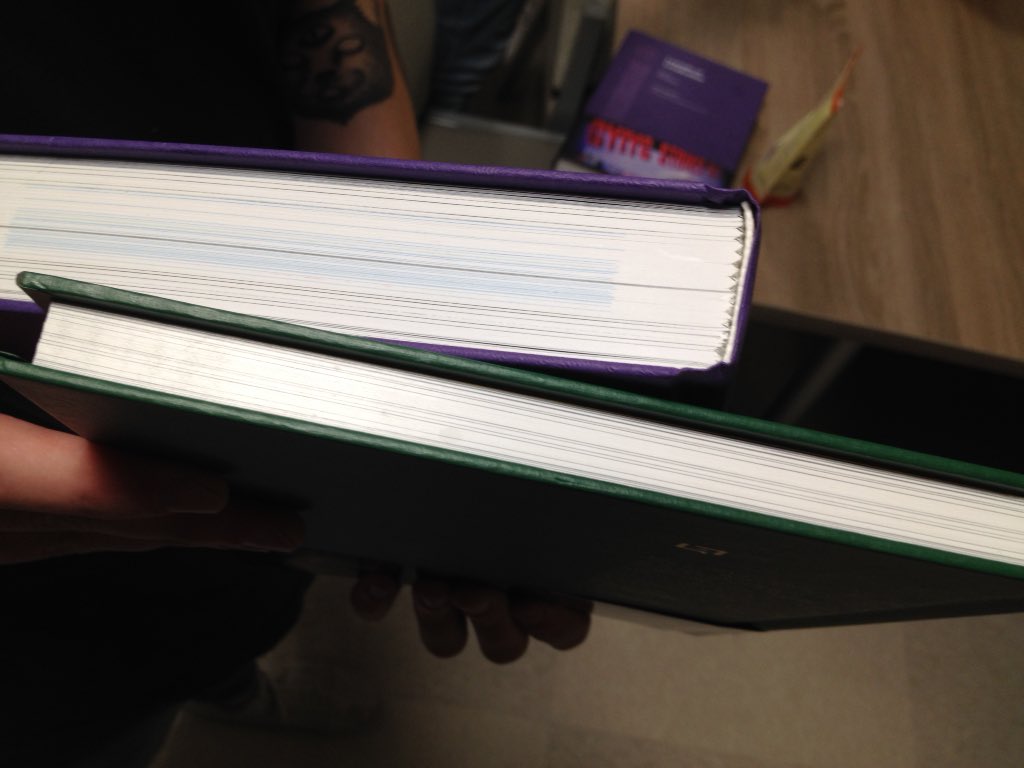 About two months later, the books arrived! Here's how thick the EarthBound book is compared to the Zelda book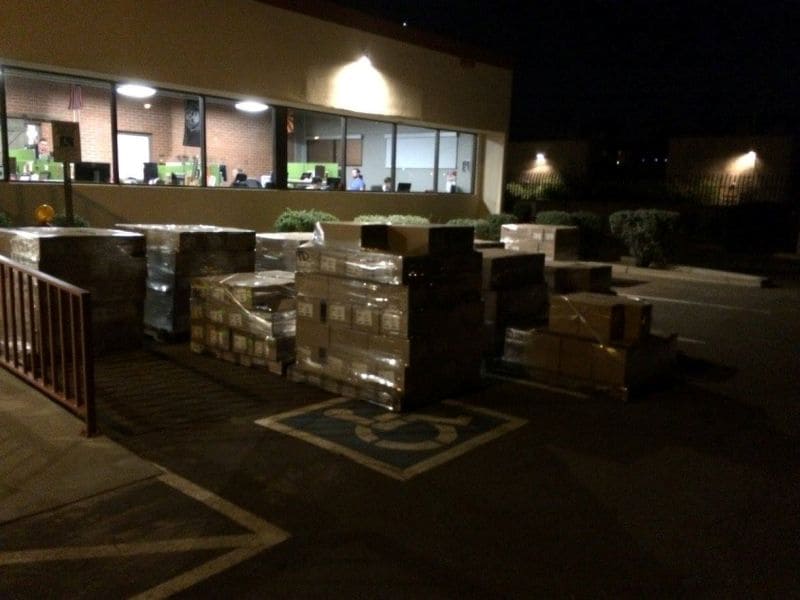 Holy Giygas so many books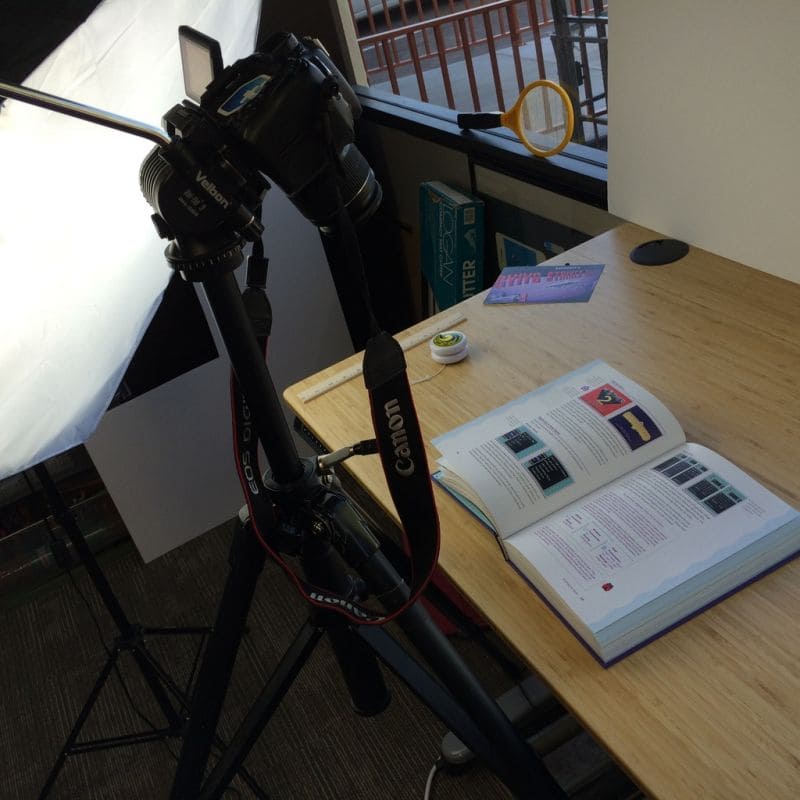 Time to photograph this beast!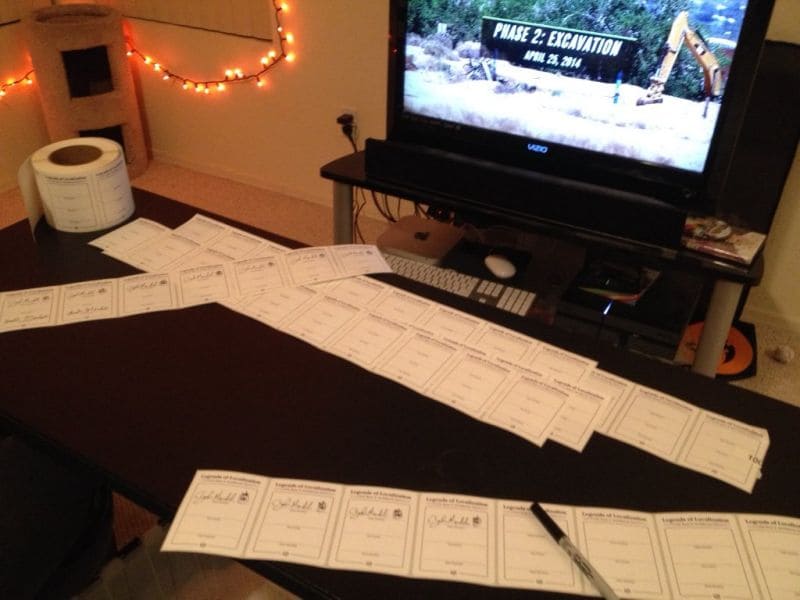 Signing thousands of bookplates! We're still not done, but the special Zelda book bundle sold out so quickly last year that we're making sure no one misses out this time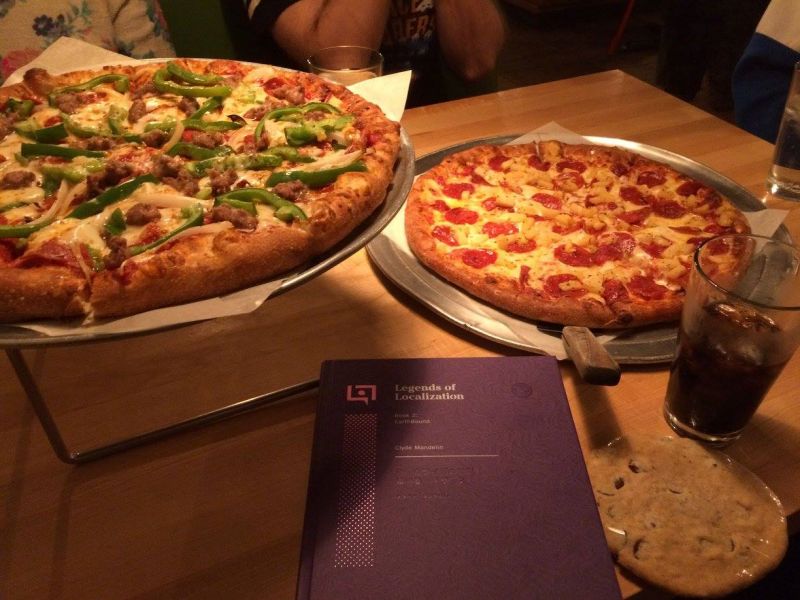 We celebrated with... more pizza! Our true, final celebration has yet to come, though. I think we're gonna hit up an Irish pub because why not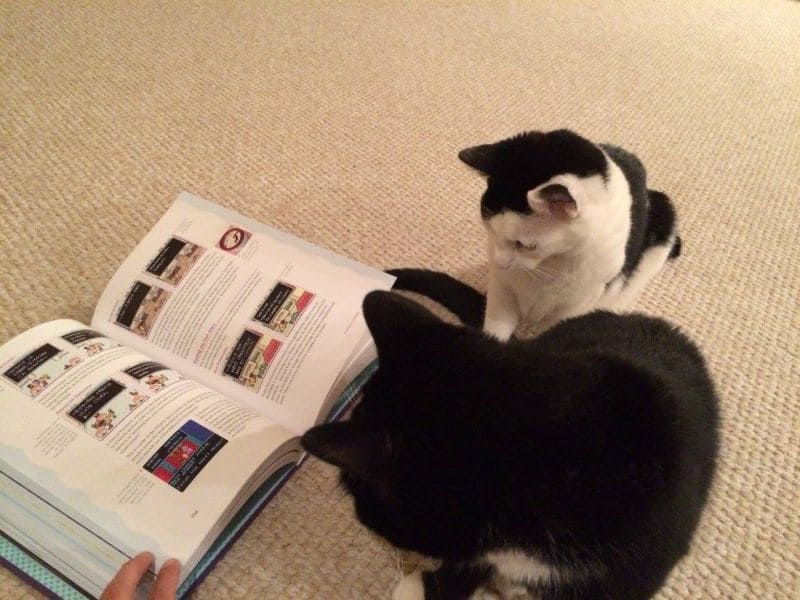 The book is done, and the cats are all grown up
Looking back at all this now, a lot of life went into this book. Again, thanks to everyone who's supported Legends of Localization by getting the books, offering direct encouragement, or even just spreading word about the site to others. This book is about EarthBound, of course, but it's turned out to be way more than just that. I hope that feeling comes through as you read it!