A reader named Bethany sent in a question about Mario & Luigi: Bowser's Inside Story that's actually a great example of how difficult it can be to translate simple jokes if the jokes have to fit the logic of a scene:
Midbus gives two lines of dialogue containing the name of a classic Mario enemy (the first being the Koopa Troopa, and the second being Dry Bones). The Goombas, in confusion, summon the relevant enemy.

This is quite possibly the only joke in Bowser's Inside Story that feels forced and odd, but after reading a lot of your site, I have the hunch that the joke was much smoother in the Japanese game.
For reference, here's the first line Midbus says about Bowser after Bowser shows up to ruin the fun. The intended joke is that saying the name "Koopa" out loud caused a Koopa Troopa to mistakenly show up:
After this, Midbus says another line to Bowser and uses the phrase "dry bone". Saying this out loud causes a Dry Bones enemy to mistakenly appear too:
These jokes do feel a bit forced, so the question is: what were these lines like in the original Japanese?
Japanese Koopa Troopa Joke
| | |
| --- | --- |
| | |
| Mario & Luigi RPG 3!!! | Mario & Luigi: Bowser's Inside Story |
| | |
| --- | --- |
| Japanese Version (basic translation) | English Version |
| Showing up here nonchalantly… You got some guts, Koopa!! | He crawls up like a Koopa. Such is Bowser's courage. |
First, it's probably important to note that while we call him "Bowser" in English, that appears to be more of a localized name that dates back to the original Super Mario Bros. game, where he was called "Bowser, King of the Koopa". In Japan, he's known almost exclusively as "Koopa", however. Normally this name difference rarely matters, but in this line we see "Koopa" being used different ways in each language.
Anyway, in Japanese, Midbus uses the common phrase "noko noko". This is often used as an adverb for when someone does something nonchalantly, carelessly, or brazenly – I often see it translated as "to waltz right in and do something". "Noko Noko" also happens to be the name of the standard turtle enemy in the Super Mario Bros. series, which makes sense given that they nonchalantly walk back and forth waiting to get stomped on. So, by using the phrase "noko noko" when talking about Bowser showing up, one of the standard turtle enemies mistakenly thinks its name was called.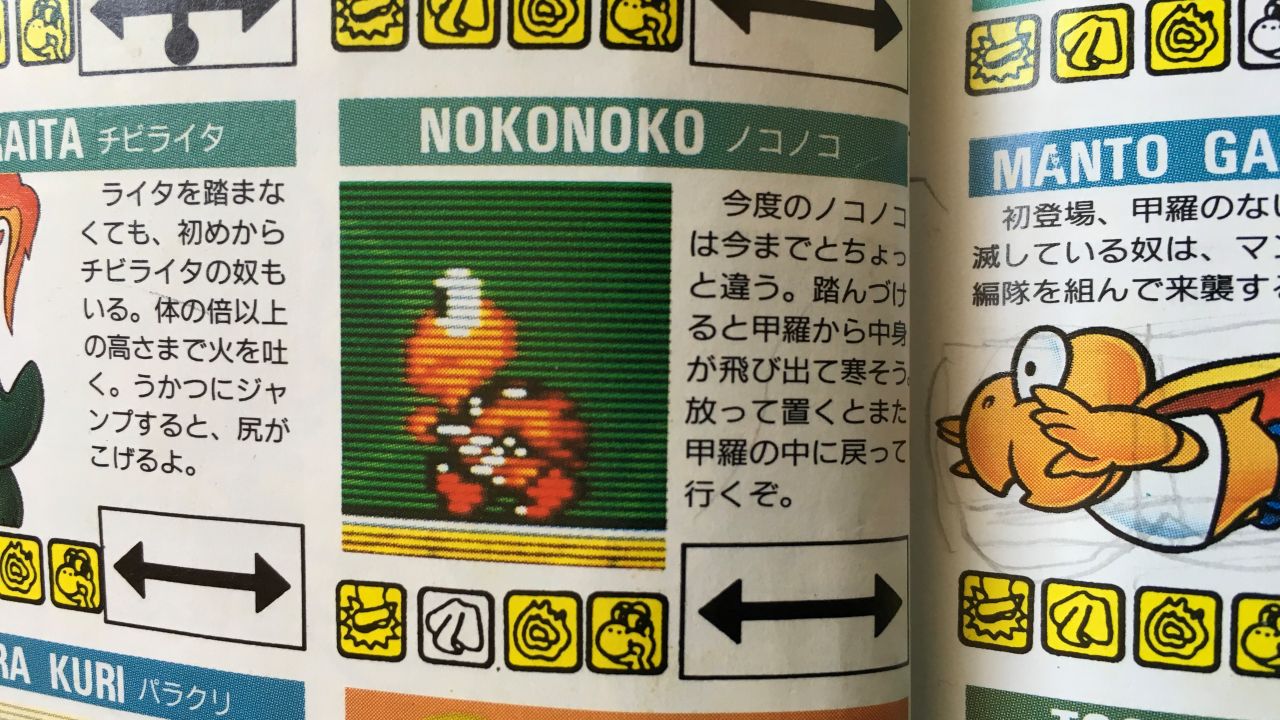 The Japanese joke works really well and flows naturally. But because we call the Noko Noko enemies "Koopa Troopas" in English, making the same joke work in translation becomes extremely tough. When jokes are especially difficult to translate they often feel forced, which is what happened here. In fact, it looks like the localizers decided to forego most of the joke by inserting the name "Koopa" directly into the line. Off the top of my head I can't think of much beyond trying to force the word "koopa" with something like "…flew the coop– Uhh…" which probably isn't much better.
Japanese Dry Bones Joke
| | |
| --- | --- |
| | |
| Mario & Luigi RPG 3!!! | Mario & Luigi: Bowser's Inside Story |
| | |
| --- | --- |
| Japanese Version (basic translation) | English Version |
| Koopa! Next time for sure, I'm gonna kechon-kechon you and keron-keron you and karon-karon you! | Bowser! Next time, I punch your thigh bone, your eye bone, and your dry bone! |
In this Japanese line, Midbus is threatening Bowser and explaining the kind of stuff he's going to do to Bowser by using unusual phrases that are vaguely threatening. "Kechon-kechon" refers to beating someone in a fight or argument, "keron-keron" appears to be a much vaguer threat, and "karon-karon" is most likely a new word entirely. The point of the line was to reach the "karon-karon" part, though, because "Karon" is the Japanese name for the Dry Bones enemy in the Super Mario Bros. series. This is what causes the Dry Bones monster to mistakenly think its name had been called.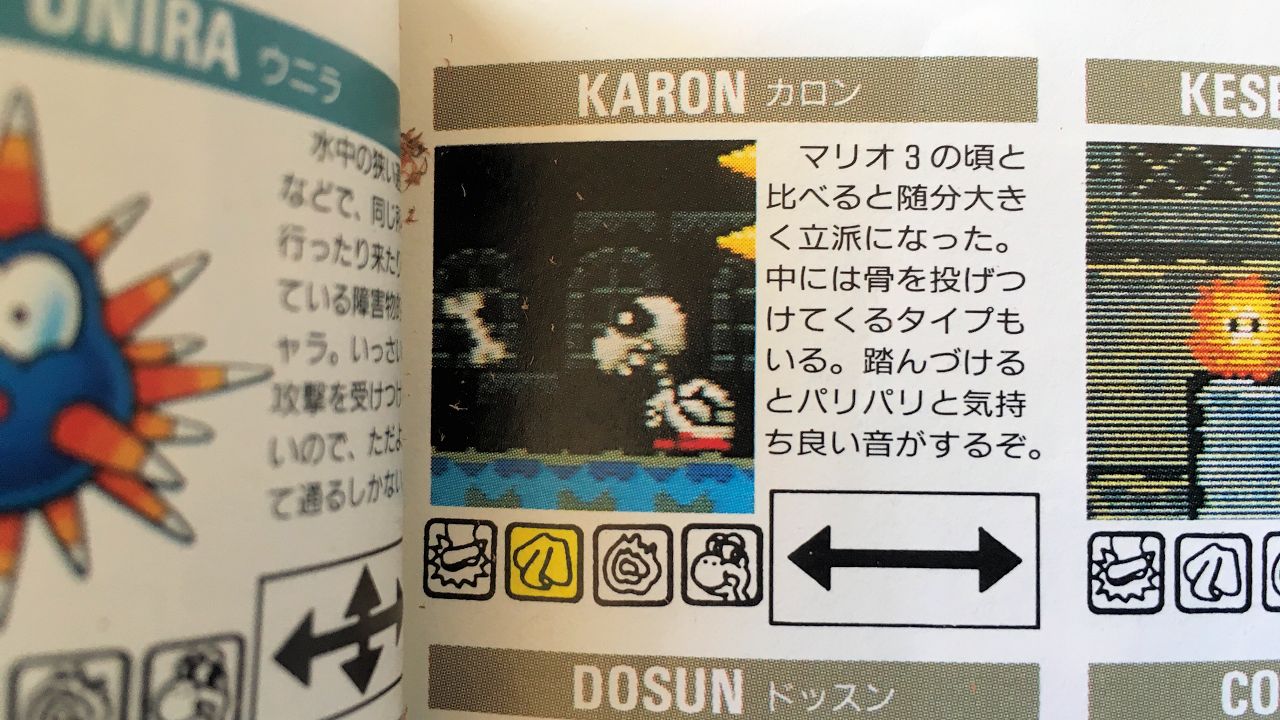 These sorts of weirdly phrased threats are common in Japanese entertainment, and they're almost always a challenge to translate directly. In this case, the threat also contains a joke, so it makes even more sense that the English line wound up significantly different. Although the English joke feels a little forced, it doesn't seem much more forced than the original joke, and both seem to be in line with Midbus' unusual character. Plus it sounds like Midbus is a minion of Fawful, who's famous for saying crazy things too:
---
It's hard to explain language jokes in simple terms, but hopefully this helps clarify the original Japanese jokes of this scene and helps answer Bethany's question. Translating jokes in general can be a real challenge, and this is a good example of how it gets even tougher when the jokes are constrained by events and reactions in a scene. If the Koopa Troopa and Dry Bones characters weren't part of the scene, it'd be simple enough to insert more generic jokes into the translation, but since they're a part of the comedy of the entire scene the joke text HAS to fit the situation.
Anyway, sometimes you can spend an entire day on a single joke and still not reach anything as clever as the original. So I have no doubt that the localizers struggled and worked hard to come up with English phrases that would fit the events of this scene too. Unfortunately I can't think of anything much better at the moment, but I'd love to hear what alternatives you might have, so share your suggestions in the comments!
If you liked this post and know any other fans of Mario and Luigi or Super Mario Bros., I hope you'll consider sharing it with them. People rarely seek out localization articles, so sharing really helps me a lot!