Humzasaur sent in a question about Chrono Trigger which is pretty interesting!
I have a question about Chrono Trigger, which I couldn't find an answer to online.

In one of the sidequests, Lucca finds a red gate that takes her back to the past, right before her mother gets trapped in the contraption. There is a note on the table that says the password to stop the contraption is Lucca's mum's name, Lara and the player has to press L – A – R – A on the SNES controller to stop the contraption.

I'd like to know how this scene and button combination was handled in the original, Japanese version since Lara is an English name and the button combination wouldn't translate too clearly since the languages have a different character set.
As Humzasaur mentioned, there's a little scene where you can save Lucca's mother from an accident, but you need to know the password. The password is the mother's name, and you need to spell out the name using the buttons on the Super NES/Super Famicom controller; you'd press the L Button to type in an "L" or the B Button to type in a "B", for example. But how does this work in Japanese?
In Japanese, the mother's name is ララ. How are you supposed to spell that with a Super Famicom controller? I mean, there are no ラ buttons on the controller, so what are you supposed to do?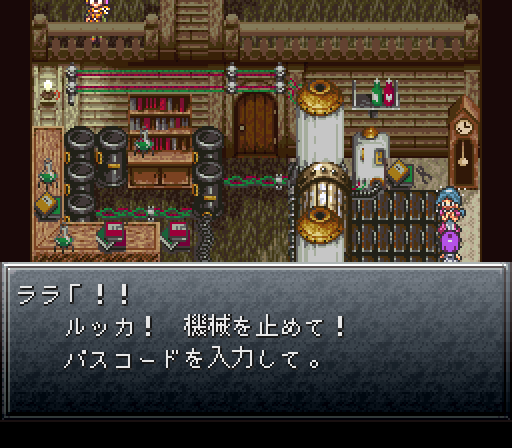 Chrono Trigger (Japanese, Super Famicom)
This is where things get interesting. Because there's no real distinction between the L and R sounds in Japanese, ララ could be written in English letters many different ways, including:
With so many possibilities, how would a Japanese player know which one is right? And which one is right? It turns out that the correct answer is LALA, so to save Lucca's mom in the Japanese version of Chrono Trigger, you need to press the L Button, the A Button, the L Button, and then the A Button. Any other combination will give you an "Incorrect password" error.
I'm not really sure how Japanese players are supposed to know which spelling is right – it might even be the case that it was meant to be a 1/4 chance sort of thing even after you figured out the whole "I gotta type it with the controller!" trick.
In any case, when Chrono Trigger was localized into English, the mother's name was translated as "Lara":
Chrono Trigger (English, Super NES)
To match this spelling, the password to save Lucca's mom was changed too. So to enter the correct password in the English release, you need to press the L Button, the A Button, the R Button, and then the A Button. Any other combination will give you an "Incorrect password" error.
Because her name is written out in English letters that map directly to the names of buttons on the game controller, there's no real ambiguity about how to spell her name or enter her name on the controller. So it's possible that English-speaking players had a greater rate of saving her than Japanese-speaking players. I say "possible" because I don't think anyone's researched the topic, and it's possible that for whatever cultural or educational reasons, "LALA" might be the first spelling to come to most Japanese players' minds. Since I'm not a native speaker, didn't learn English in the Japanese school system, etc. I can't really say.
Anyway, in effect, her name in Japanese is unquestionably meant to be "Lala", while in English it's unquestionably "Lara". As a Japanese-to-English translator, being able to say "unquestionably" when dealing with L/R issues in names is a very rare situation. This is also a neat little localization change that I wasn't expecting – they didn't have to change the mom's name; they could've easily left it as "Lala", which also would've saved the programmers from having to change the password. I'm guessing Ted Woolsey thought "Lara" sounded like a better name.
Summary: In Japanese, the password is L-A-L-A. In English, the password is L-A-R-A.
This has me curious, though – what did the DS translation use for her name? Was the password still LARA? What about the Japanese DS version? Was it still LALA? Man, I really ought to play through the DS version someday 😛
Follow @ClydeMandelin