A good while ago I wrote an article listing examples of fan translations that turned into official translations. About six months ago, a reader contacted me about something similar: after he and his friends fan-translated a game, they were hired to produce the official localization!
The game in question is a Japanese title known as Rosenkreuzstilette, or just "RKS" for short. I'd faintly heard of the game before, but really only knew that it was full of references to classic retro games. In fact, the official English site even calls it "a love letter to retro gaming". I can see why, just from some of the preview screenshots:
Anyway, after the translator contacted me, I was eager to learn more about the project. I asked him if he'd be willing to write up a summary of how the jump from fan translation to official translation came about. And since the game gets released today, it seems like the perfect time to share his short write-up!
A Look Back at Rosenkreuzstilette -Blades of the Rose Cross-
by Leif Landevag
"In everyone, there is the ability to excel.
With the proper desire, even the meek can attain heights undreamed of.
When adventure beckons, only those with the drive and ambition to succeed will answer.
The world is filled with new possibilities.
All of us have within us the power to grasp opportunities and master our destinies.
The river of life continues to ebb and flow.
The future will be magnificent for those of us who dare to meet the challenge."
These are the words that conclude Adol Christin's adventure in Ys III: Wanderers From Ys, the first video game I ever owned. The game was a gift from my father for my tenth birthday. As a shy little kid in the early '90s, constantly bullied for my nerdy looks and my foreign name, the hopeful and reassuring words of Ys III's ending brought me to tears the day my brothers and I finished the game for the first time.
I knew from an early age that video games could have a powerful impact on people. As I broadened my horizons, regularly renting new games from my local Microplay, I learned that this impact could be dampened by a translation team that didn't really know what it was doing. For example, Breath of Fire II was a great game with a deep story and loads to say about the real world, bigotry, fanaticism, and self-sacrifice. But the game's shoddy localization crippled its emotional impact. The game deserved better. Gaming deserved better. So, after the turn of the millennium, I figured it was time to give video game localization a shot and see for myself how challenging the task could be.
In early 2001, I founded Darkside Translations with a handful of online acquaintances. For our first project, we decided to retranslate the first title in the Megaman X series (as my handle can attest to, I'm a huge Megaman X fan). The experience was a real eye-opener; we learned a great deal about the intricacies of Super Nintendo programming and Japanese-to-English translation. We also learned our limits — ambition didn't mean as much as we had thought if we didn't have the skills to back it up.
Although our retranslation received quite a bit of fanfare, we weren't really satisfied with the quality of our final release. So, rather than continue on with a retranslation of Megaman X2 as we had originally planned, we decided to pack it in and sharpen our skills before taking another stab at leading a translation project ourselves.
Over the next few years, I studied Computer Science at Dawson College (yes, that Dawson College) and Concordia University, meeting many talented people along the way that I'm proud to now call my colleagues. I met Tyler Nelson, a quiet intellectual, a fellow gamer, anime and visual novel fan, and a great friend. I met Xander Barth, an ambitious writer and fellow Neon Genesis Evangelion fan who would one day become my roommate. As my friendships with the two deepened, I found myself being scouted for a handful of fan translation projects, including Ys I & II Chronicles, Ys: The Oath in Felghana (a full-on remake of Wanderers From Ys — a fanboy dream come true!), and ef – a fairy tale of the two. I'm proud to say that all three of these projects went on to become the basis for the games' respective official releases, even if my contributions were limited to the original fan-translated versions of the games. At least some of my best lines made it into the final version of ef!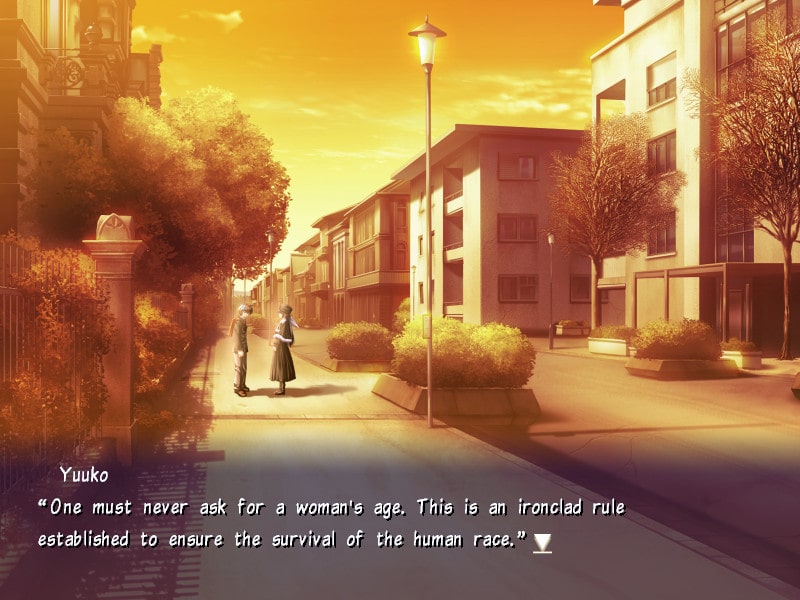 Sometime in 2008, I came across a gem of an indie game by the name of Rosenkreuzstilette. "RKS" was a tribute to everything I loved about gaming, with a lot more depth to it than I first thought. I knew it was a title I had to share with the world, and decided to let the Darkside banner fly once more for the sake of doing just that. I teamed up with Akira, a translator I had befriended while working on ef; Alex Velasco, the webmaster of Schwer and Schwer Alike (a Rosenkreuzstilette fansite that had received permission from [erka:es], the game's developer, to translate the game); Tanin, Alex's close friend who had already translated the game's prologue stage; and my good friend Tyler, who was honing his own translation skills at the time. We officially started work on the game in January of 2009, and we released our completed English localization with the developer's blessing six months later.
Much to our surprise, our English localization was a huge success. The game garnered a devoted following, and the overseas reception helped encourage [erka:es] to work on a sequel. Amusingly, one fan of the game tried to encourage fans to offer me a cookie or ask to have our children (I'm not kidding — read the description). New fans of the game started pestering English-language indie game publishers about the prospect of an official English license. I chanced upon one such request thread and chimed in that we'd love to lend our skills to such a project.
The very next day, I received an email from Seon King, a former Capcom employee and the head of Nyu Media. He invited me to a conference call discussing the prospect of us working together to give RKS an official English release. Between that email and our conference call, he learned that the game had already been licensed by Active Gaming Media. So, he did everything in his power to set up a meeting between Darkside Translations and Active Gaming Media.
The rest of the story is history. We met with AGM's staff, reorganizing ourselves under the name Darksquid Media (a portmanteau of Darkside's name and Schwer and Schwer Alike's mascot, the "Head Squid" Mr. Zeppy) with Xander officially joining our ranks as a writer and editor. Skip ahead to 2017, and Rosenkreuzstilette -Blades of the Rose Cross- is now ready for release on Playism and Steam.
We never expected that a chance forum post would be the catalyst in our transition from a fan translation outfit to an official localization team. But the words of the ending to Wanderers From Ys have rung true:
"All of us have within us the power to grasp opportunities and master our destinies.
The river of life continues to ebb and flow.
The future will be magnificent for those of us who dare to meet the challenge."
When I first chanced upon RKS and joined forces with Alex and his crew, I never imagined that our alliance would pave the way to new careers for everyone involved. Life is kinda strange like that, isn't it? But I've come to learn that this is one of life's biggest secrets; when you're genuinely passionate about something and try to do right by it, people will take notice. And that's how opportunities present themselves.
Leif Landevag (TDOMMX)
Project Coordinator / Localization Specialist, Darksquid Media
January 30, 2017
Leif also shared many before-and-after screenshots of the localization project:
From what I've seen the game is a Mega Man homage filled with references and parodies, as we see above. You can see the official trailer here, and if you're a fan of retro Mega Man-esque games, you can check out the game here:
It's always interesting to see how completed game localizations compare to their original versions, but it's not very often that you get to see how localization projects themselves get started in the first place. Thanks again to Leif for the rare inside look!
Mato here! I'd love to feature more inside stories like this in future guest articles, so if you're a translator or localizer and have some interesting stories of your own to share,
let me know
. It doesn't need to be Japanese-to-English - any language pair is good!