The following is a guest article written by members of XSEED's localization staff. It offers a quick inside look at the professional localization of a comedy-filled Japanese game – check it out!
Heroland – known as WORKxWORK in Japan – is a quirky RPG adventure brought to you by some of the legendary imaginations behind MOTHER 3, Shin Megami Tensei, Legend of Mana, and Fantasy Life.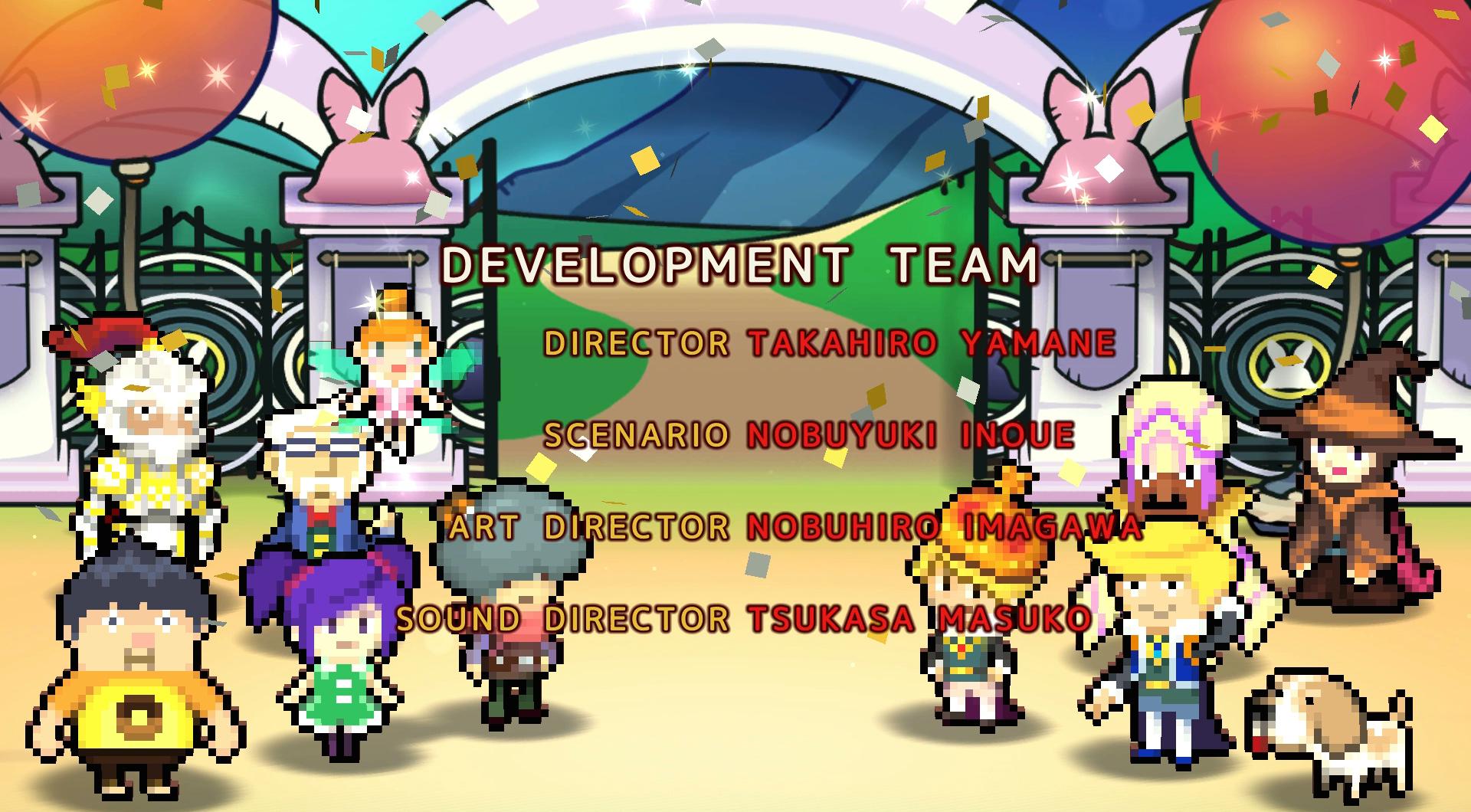 Today we, the localization team at XSEED, are parting the curtains to take you behind the screens with this sneak peek into the game's story, characters, and the localization process that ties it all together! Now then…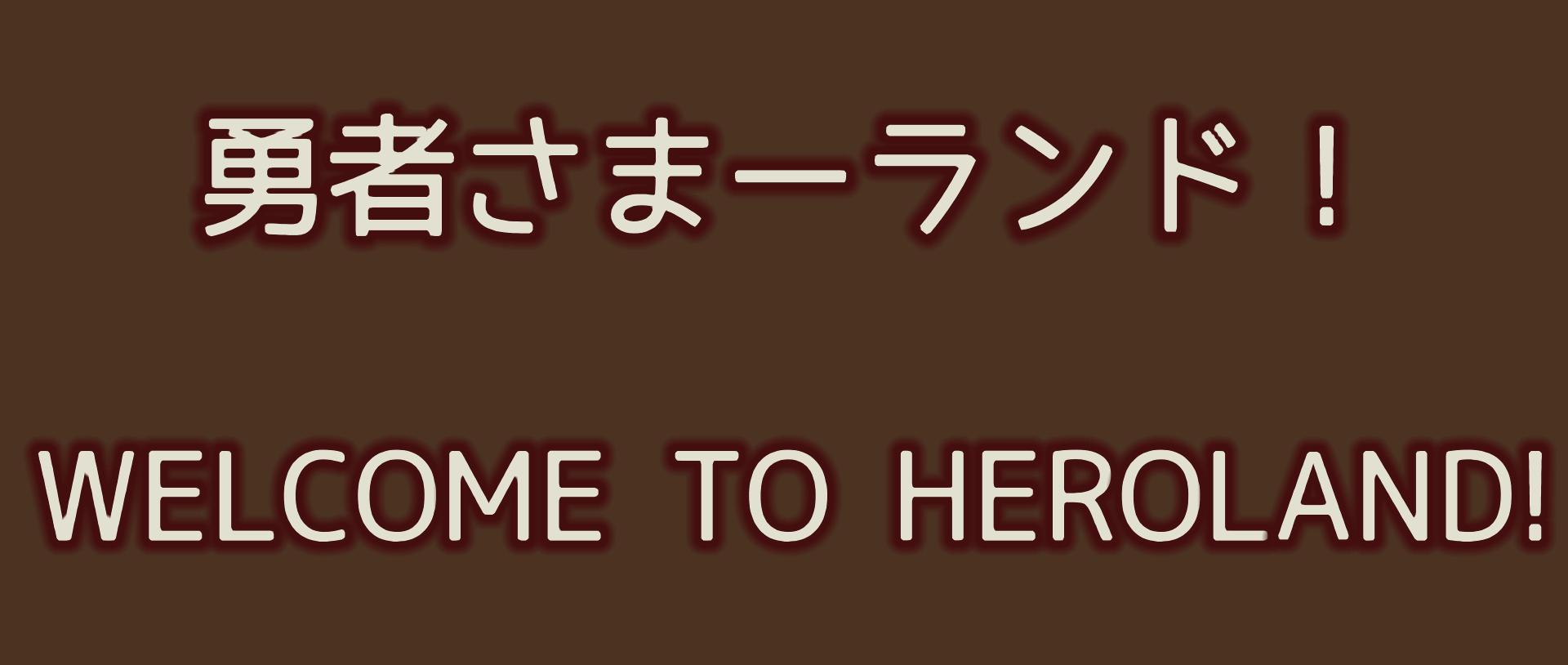 Ready to depart for adventure? Here's a handy-dandy commercial to introduce you to the game:
---
Good question! We are: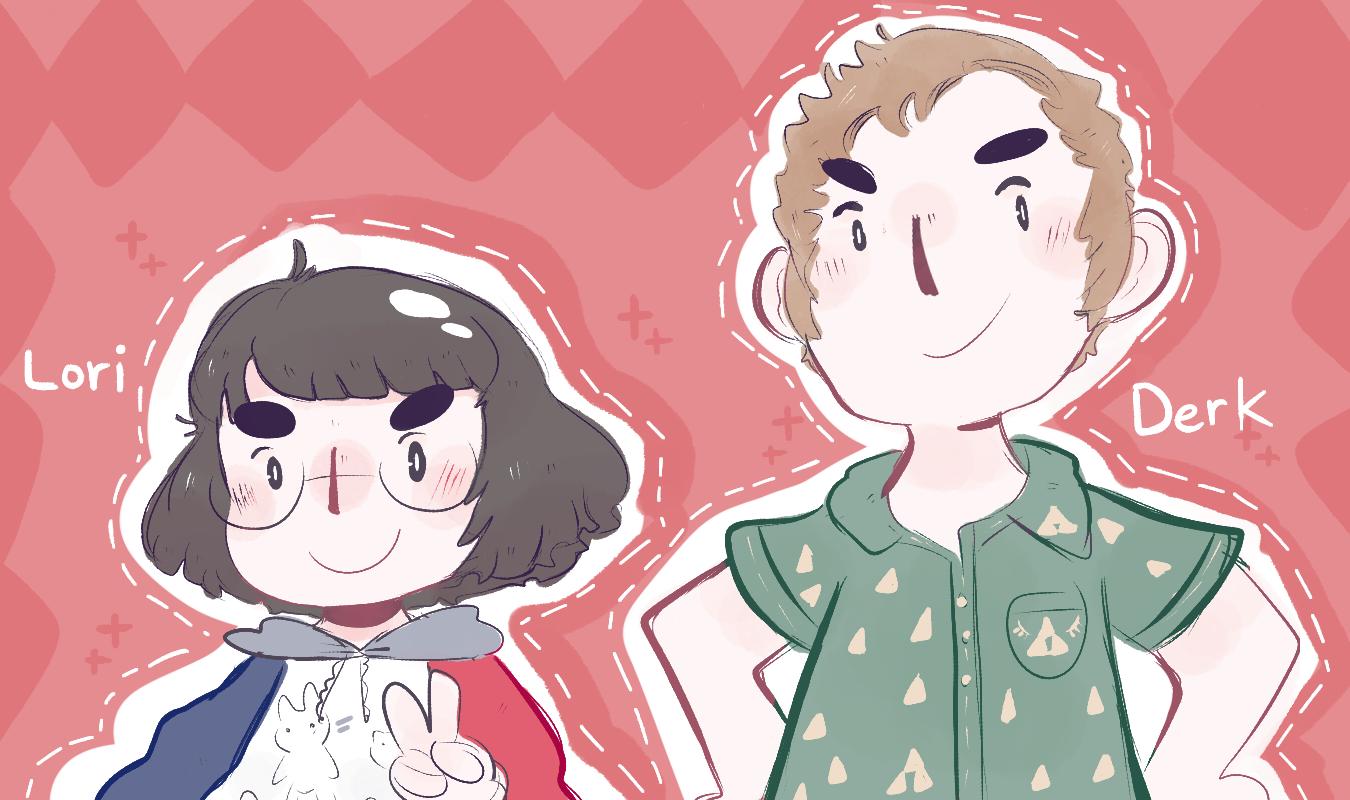 Lori Snyder – Hi there! I'm the localization translator for Heroland! This was my first professional project, but as a longtime fan of the MOTHER series (and RPGs in general) I couldn't have asked for a cooler game to be my first! I hope you'll love to learn about Heroland as much as we loved working on it! I am also responsible for the above scribble…please forgive me; drawing is fun.
Derk Bramer – Heya, I'm Heroland's localization editor. This ain't my first time at the loc rodeo – I've previously worked on series like Yakuza, Valkyria Chronicles, and Etrian Odyssey – but a game like Heroland is every pungeon master's dream, so I'm delighted to take you backstage where the magic happens!
…of XSEED Games! You might know XSEED from their localization of the STORY OF SEASONS and Rune Factory series, as well as Corpse Party, Senran Kagura, and a whole bunch more!

---
We thought it'd be useful to first give some brief introductions on our respective styles of how XSEED localizers translate and edit games before we dive into the nitty-gritty.
Lori – I always aim to make my translations sound like they were in English to begin with. A lot of my mentors have been pretty creative localizers, so I always strive to do the same while keeping the core of the conveyed idea into English. If there is a joke in Japanese that doesn't translate well, I'll put a relevant equivalent in English. If there's a phrase that's going to sound like weird gibberish when it's directly translated, I'll try to word it as naturally as possible…and so on.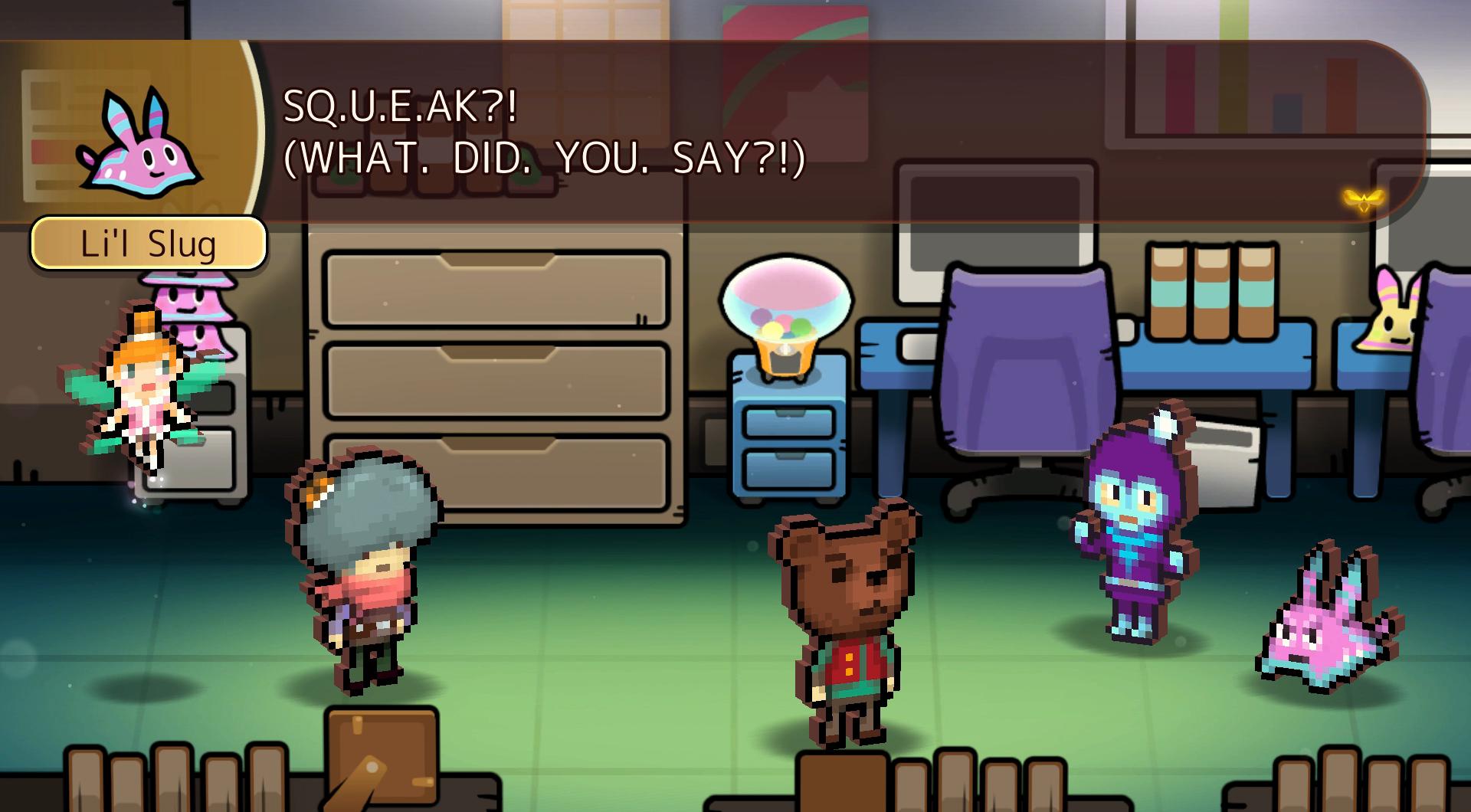 Derk – My editing philosophy is simple: localization shines brightest when it's hidden in the shadows. It's about smoothing over the seams in translation without adding linguistic wrinkles. But if you've previously seen my criminally smooth edits highlighted on Legends of Localization, my affection for alliteration and punmanship should come as no surprise.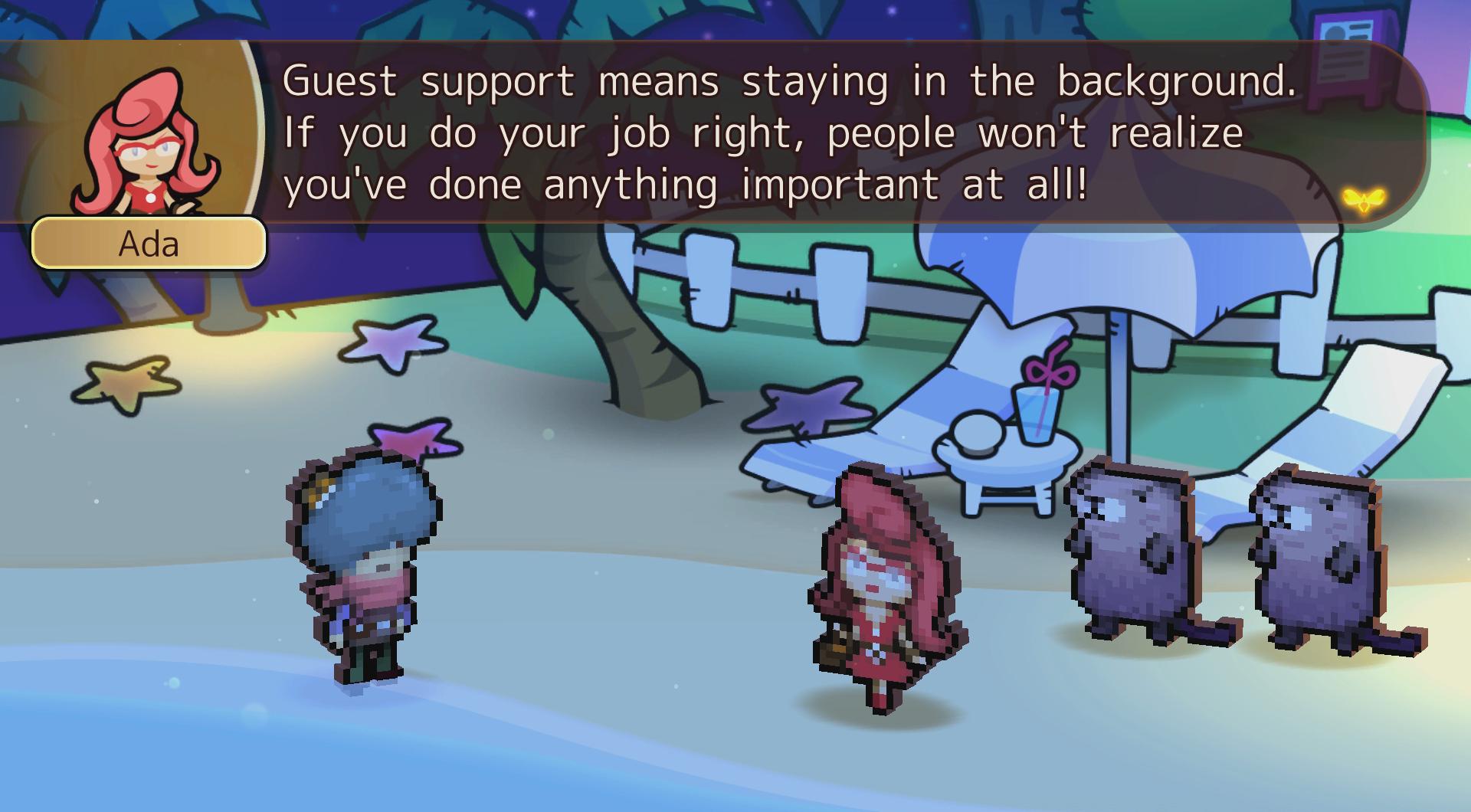 ---
So how'd WORKxWORK get renamed to Heroland? Before Lori's role in production started, she was still living in Japan, so she was able to grab the game and play it ahead of time. This kind of running start, however, is super rare. Typically, translators and editors won't get much (if any) hands-on time with a game before their work begins, as projects are often still in development during the localization process.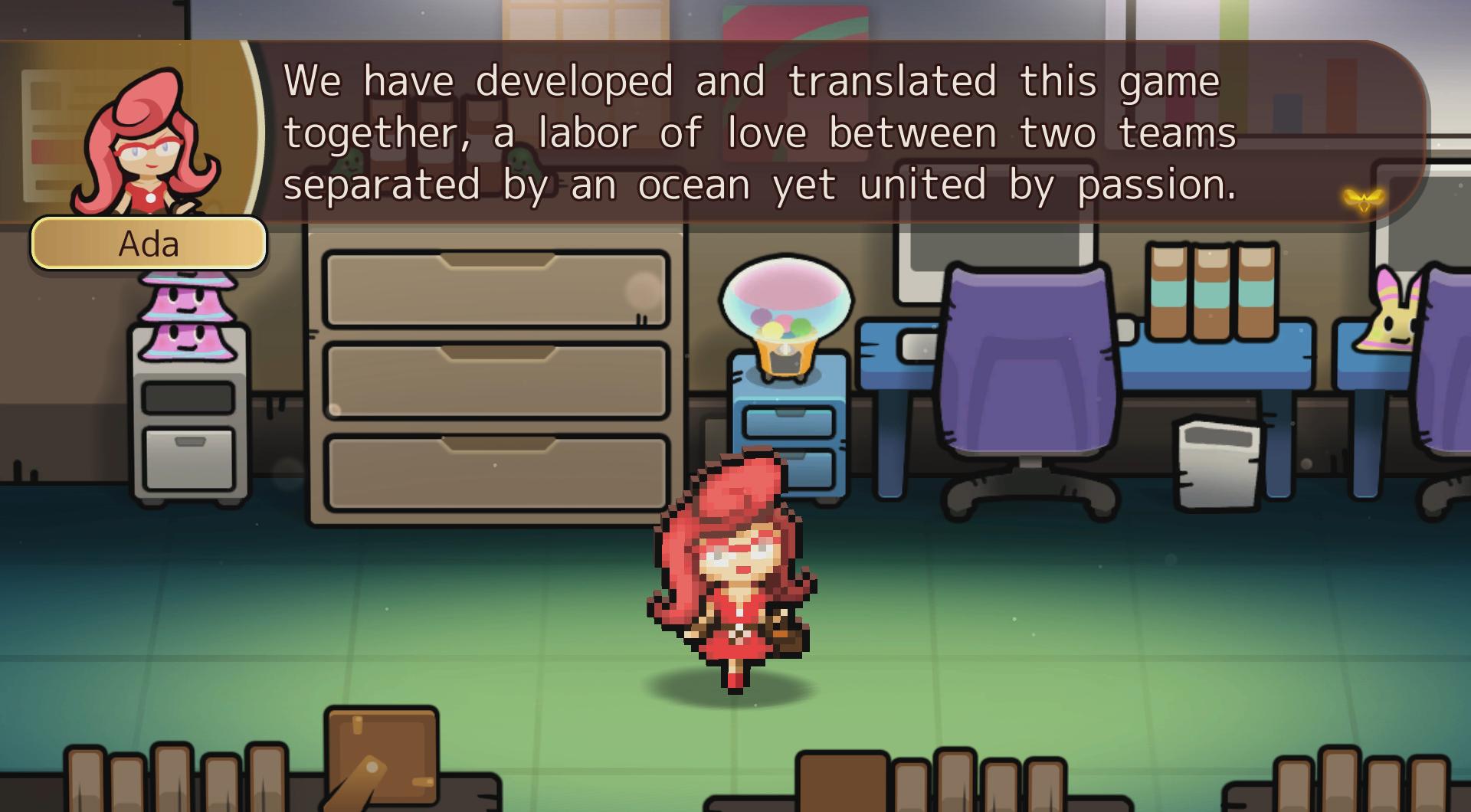 Experiencing the story first-hand was a fantastic springboard into Heroland's translation. The first thing Lori noticed was that there's a ton of wordplay in Japanese. Seriously. Even the game's TITLE was a pun!
From the get-go, our team wanted a title that would clearly convey the game's story and content to Western audiences. While WORKxWORK is already English, there's more to its meaning than meets the eye. Pronunciation questions aside (Work by Work? Work Squared? Is the "x" silent?), Lori would've had to leave a long footnote explaining what these two "works" meant…what kind of footnote, you ask? Well, here's an abridged version: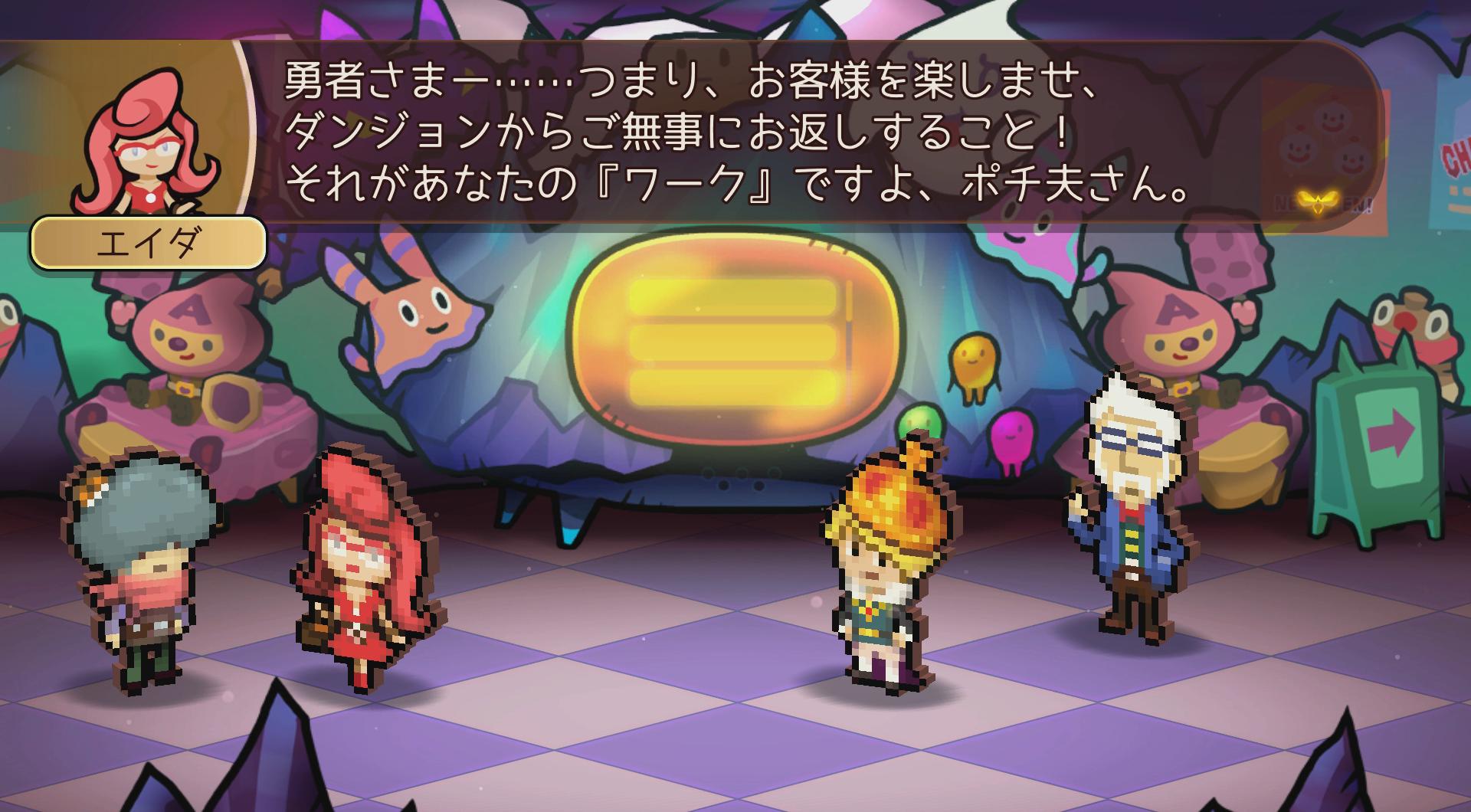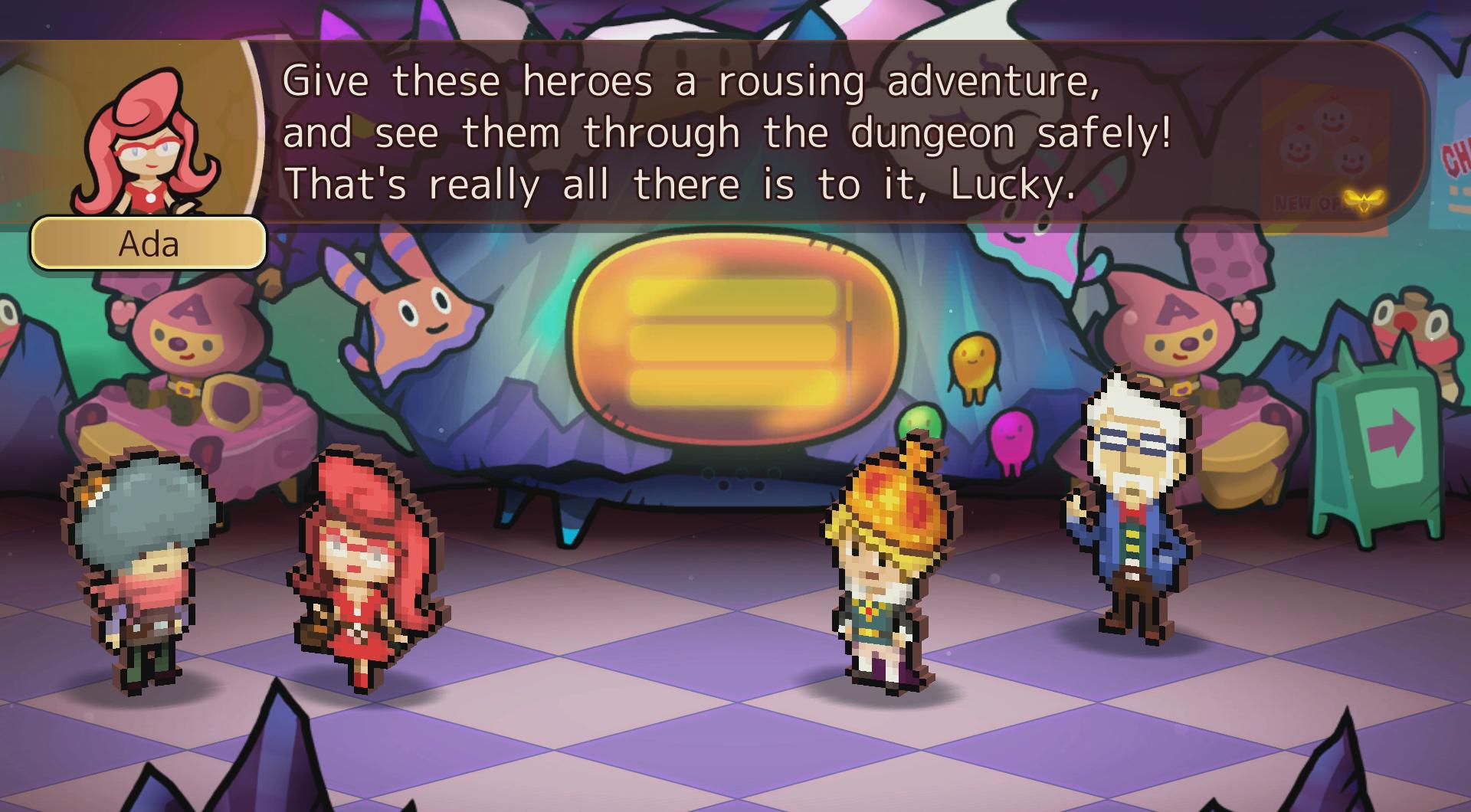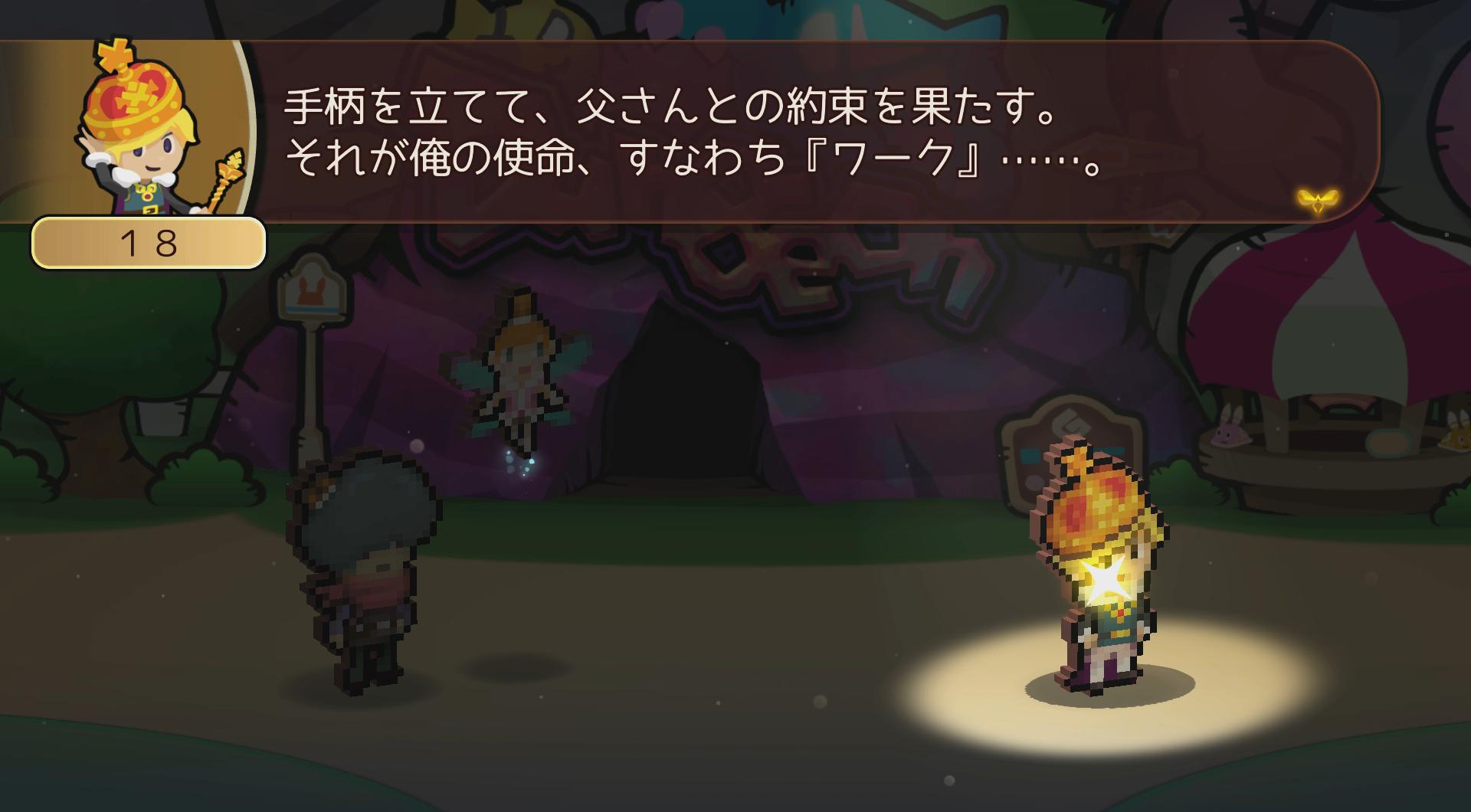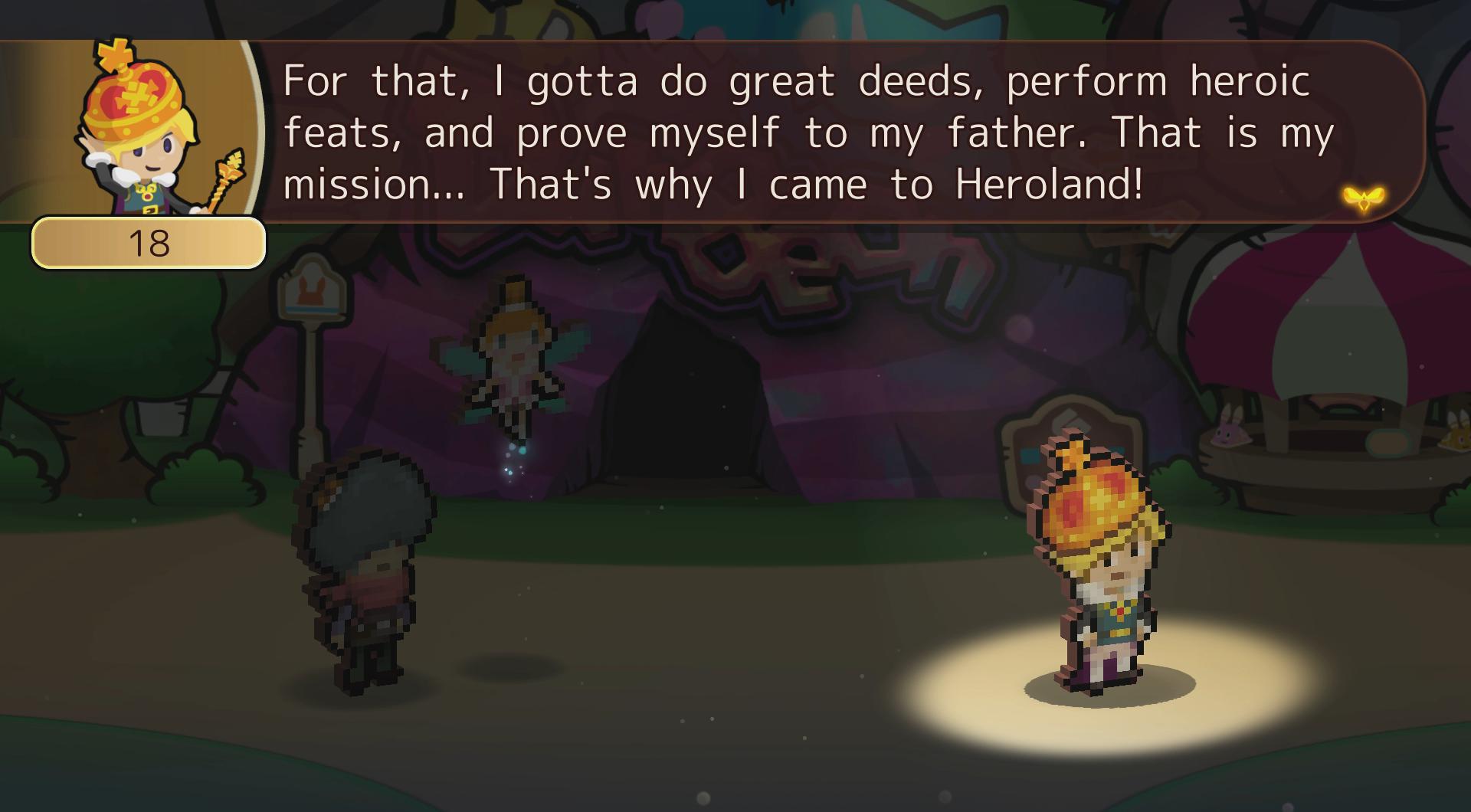 In both cases, the katakana for "work" is emphasized. The two protagonists each have their own 'work' to do, but they stem from different meanings. Lucky's 'work' is pretty straightforward: it's his job as a tour guide. For Prince Elric, who's fallen from first in line to 18th, his 'work' is a mission: to reclaim the title of heir apparent…which he thinks he can do at a theme park.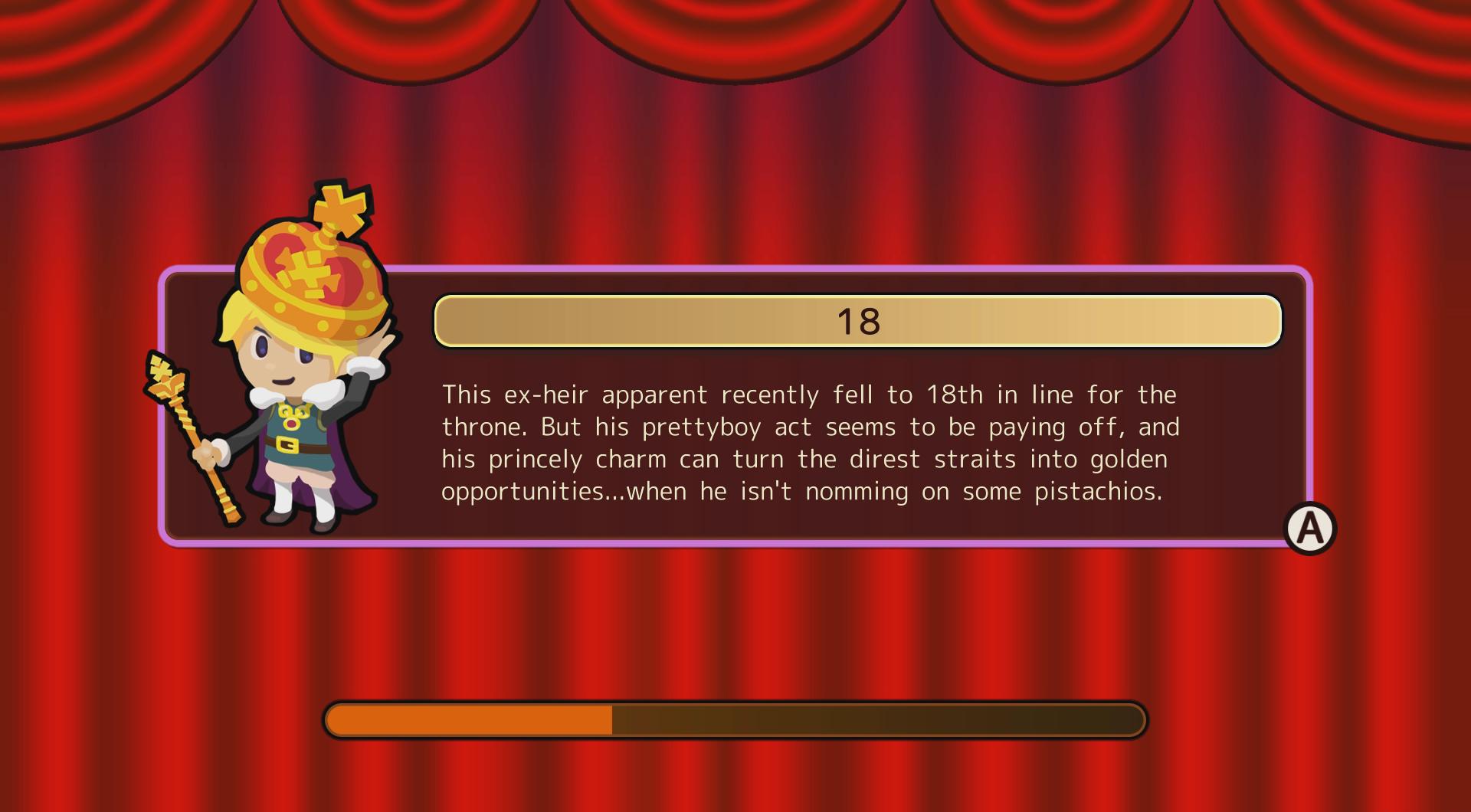 The title is also a pun on ワクワク (wakuwaku), the word for "excitement." This was used in much of the game's Japanese marketing material, as well as on the original box art with the catchphrase "忘れられないワクワクを (wasurerarenai wakuwaku o)," roughly translating to "unforgettable excitement."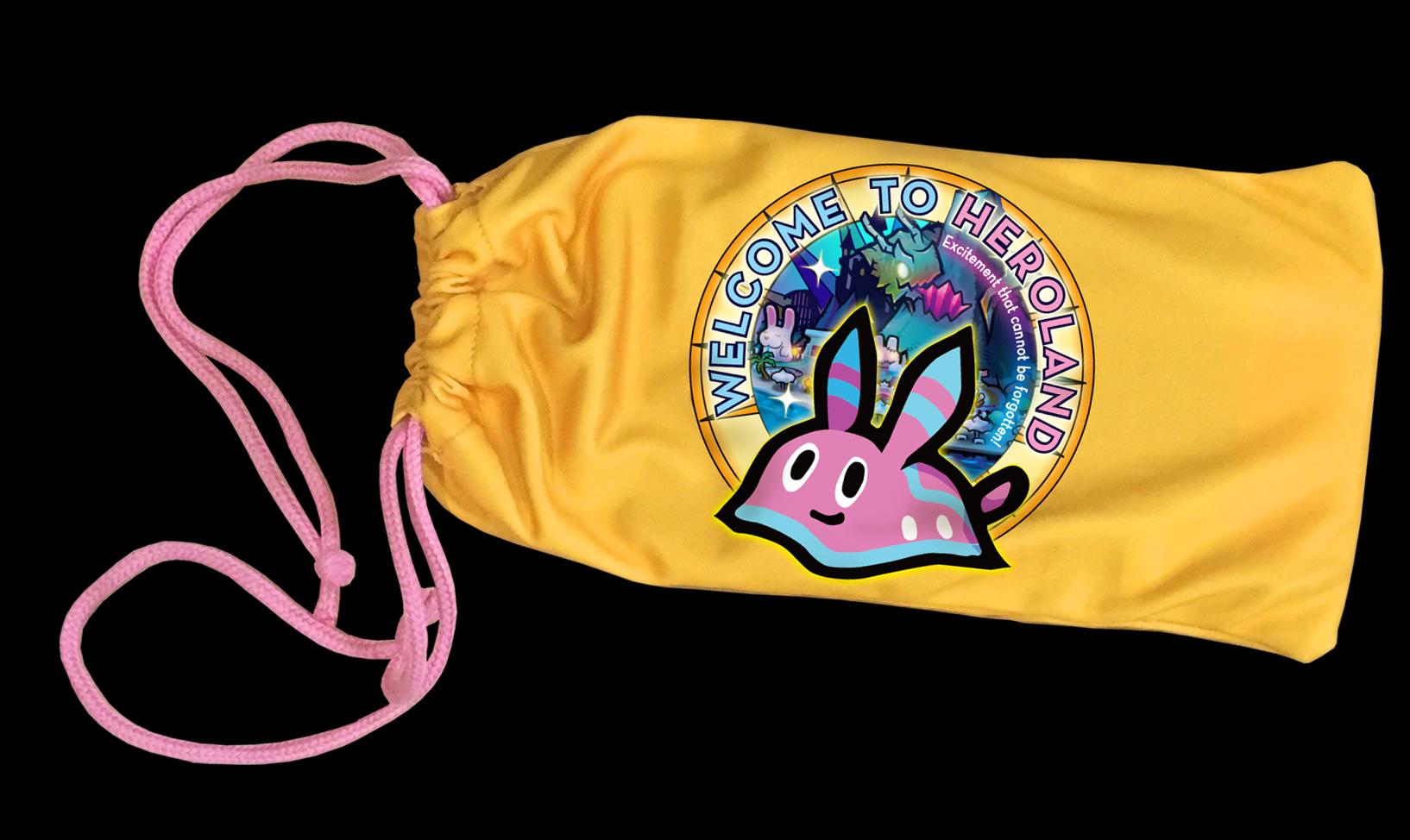 We had to settle on a title that encompassed all this excitement and fun contained on an island resort…so why not name it after the theme park itself? This way, it's not just the main characters in the spotlight. Everyone in the cast makes this game the quirky adventure that it is!
---
Heroland's silent protagonist is called Lucky, though in WORKxWORK his nickname was originally Pochio! He's Heroland's newest tour guide, and his job is to give his heroic guests a helping hand during their dungeon tours.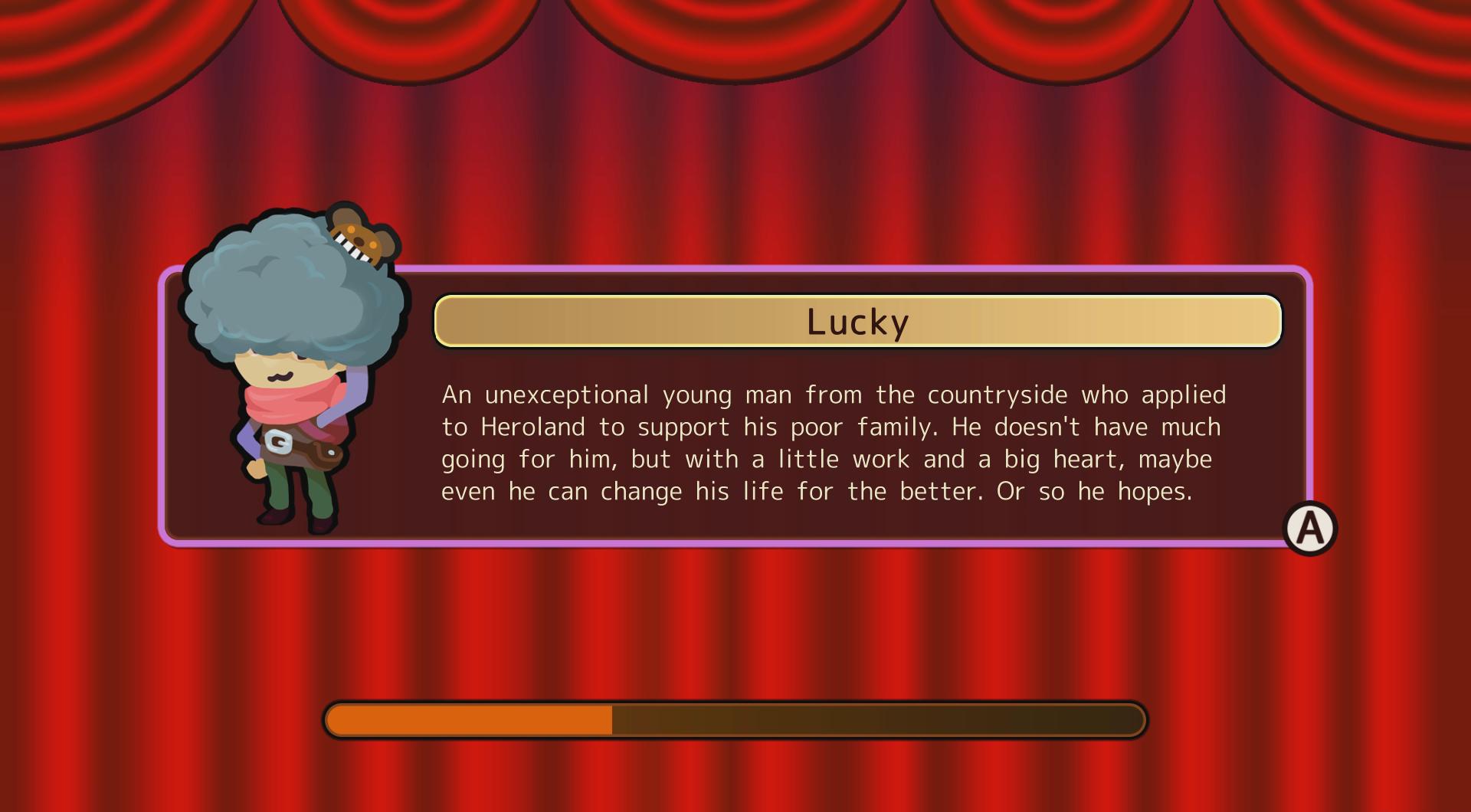 At the beginning of the game, our boy Lucky has a real name that you get to pick for him! But we had to call him something other than Main Character, so "Lucky" is his de facto moniker.
How'd Lori come up with his English name? Well, Pochio is a play on two concepts:
Pochi is a common dog name in Japan, roughly equivalent to Spot or Rover.
Based on other characters' naming schemes, it might also be a play on ポチる (

pochiru

), a click-like onomatopoeia meaning "to buy online."
So after poring through a bunch of lists of popular dog names and reading game wiki articles (as people do on Friday evenings), Lori thought, "Wait, doesn't Duster from MOTHER 3 have a nickname and an afro just as cool as this li'l guy's?"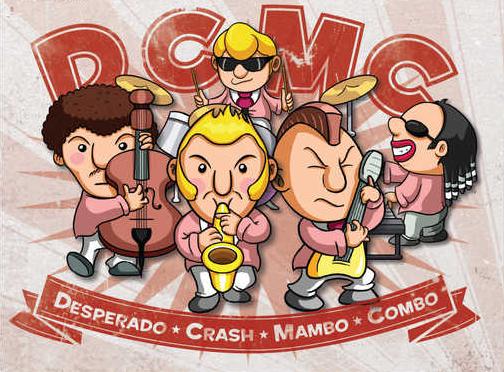 That DCMC band member's name was Lucky, which checked off all the right boxes:
Lucky is a common pet name in the West, and it sets up puns like "you lucky dog."
It's a nod to Google's "I'm Feeling Lucky" in keeping with the internet reference.
It pays homage to a relevant series that's near and dear to Lori's heart! Nice!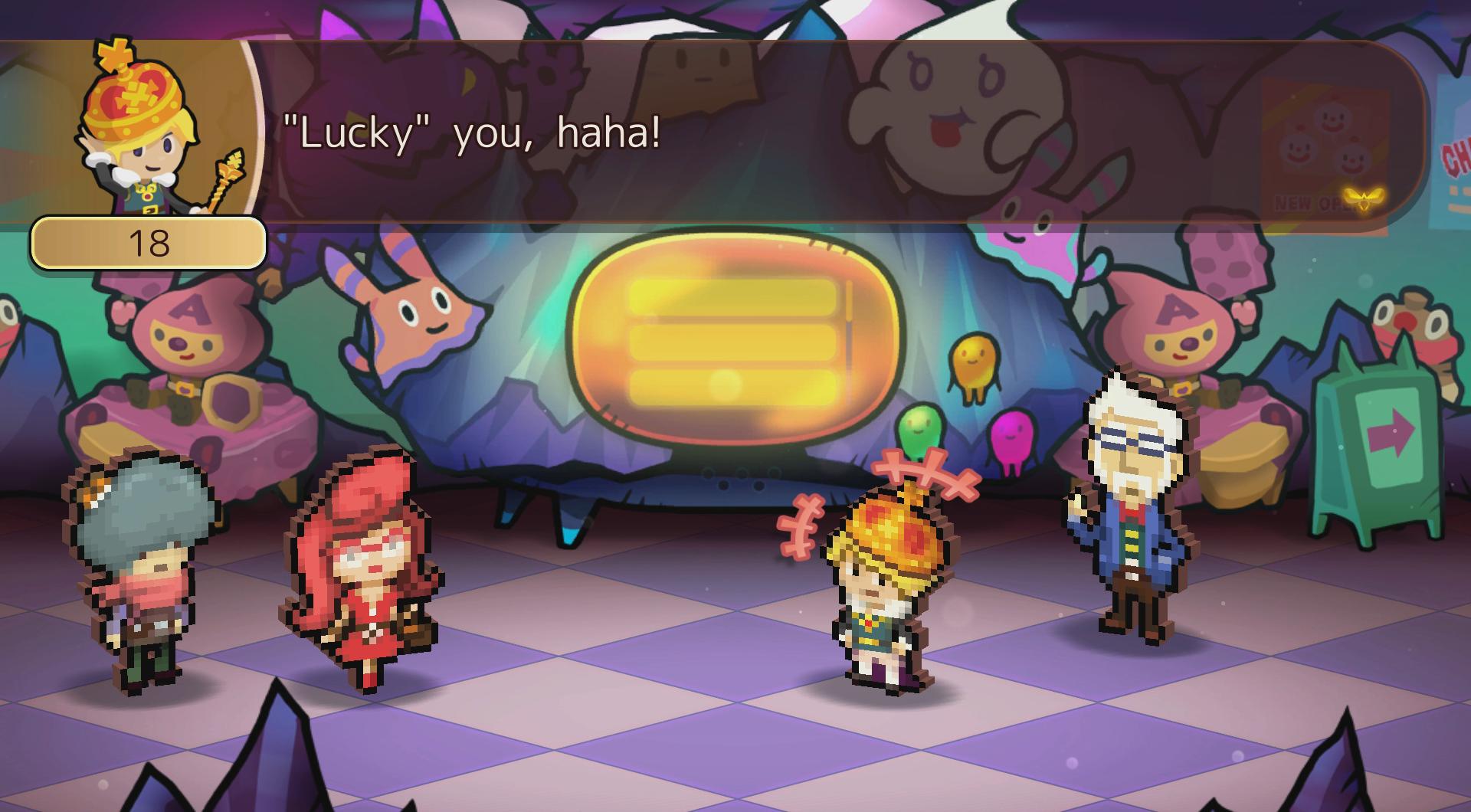 …And so our hapless tour guide would henceforth be nicknamed "Lucky." But fear not! If you prefer his original moniker, try leaving the naming screen blank and see what comes up after pressing "OK"!
---
While Pochio's/Lucky's nickname is multilayered, the playable characters (and some non-player characters, or NPCs) had a pretty straightforward naming scheme: programming languages! Programming is universal, so a majority of these names were kept in our version. Some were straightforward, like Lua the exposition fairy.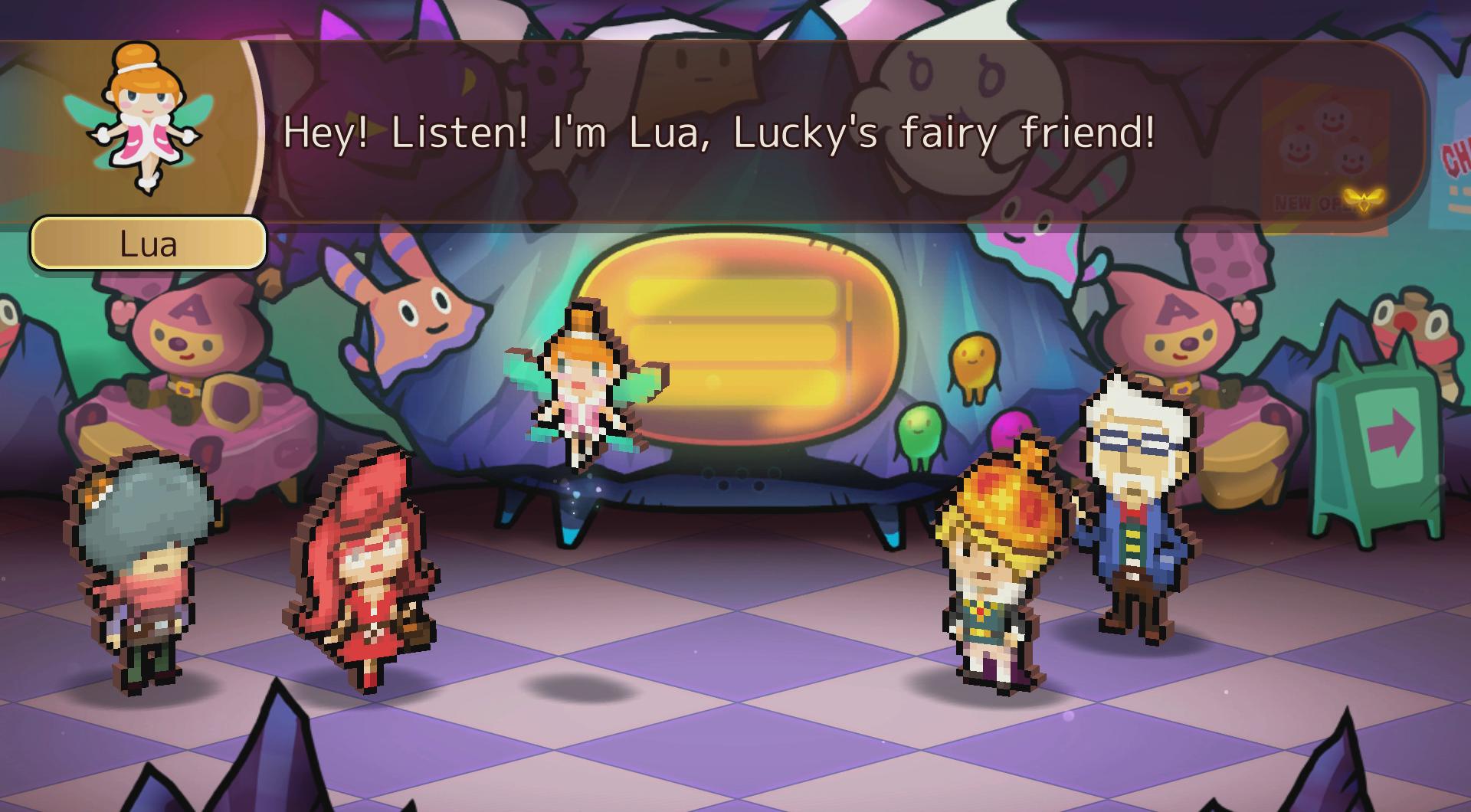 Other names went through some minor adjustments, but whenever Lori swapped one name out, it was with another programming language, preferably one that sounded more…namey.
For instance, one of your coworkers is a guy in a bear mascot suit. His name was Xaml…but that wasn't very name-like. (If your name is Xaml and you're reading this, you have my permission to call me a jerk; I'm so sorry.) Lori instead dubbed him Alfie, based on ALF, or Algebraic Logic Function.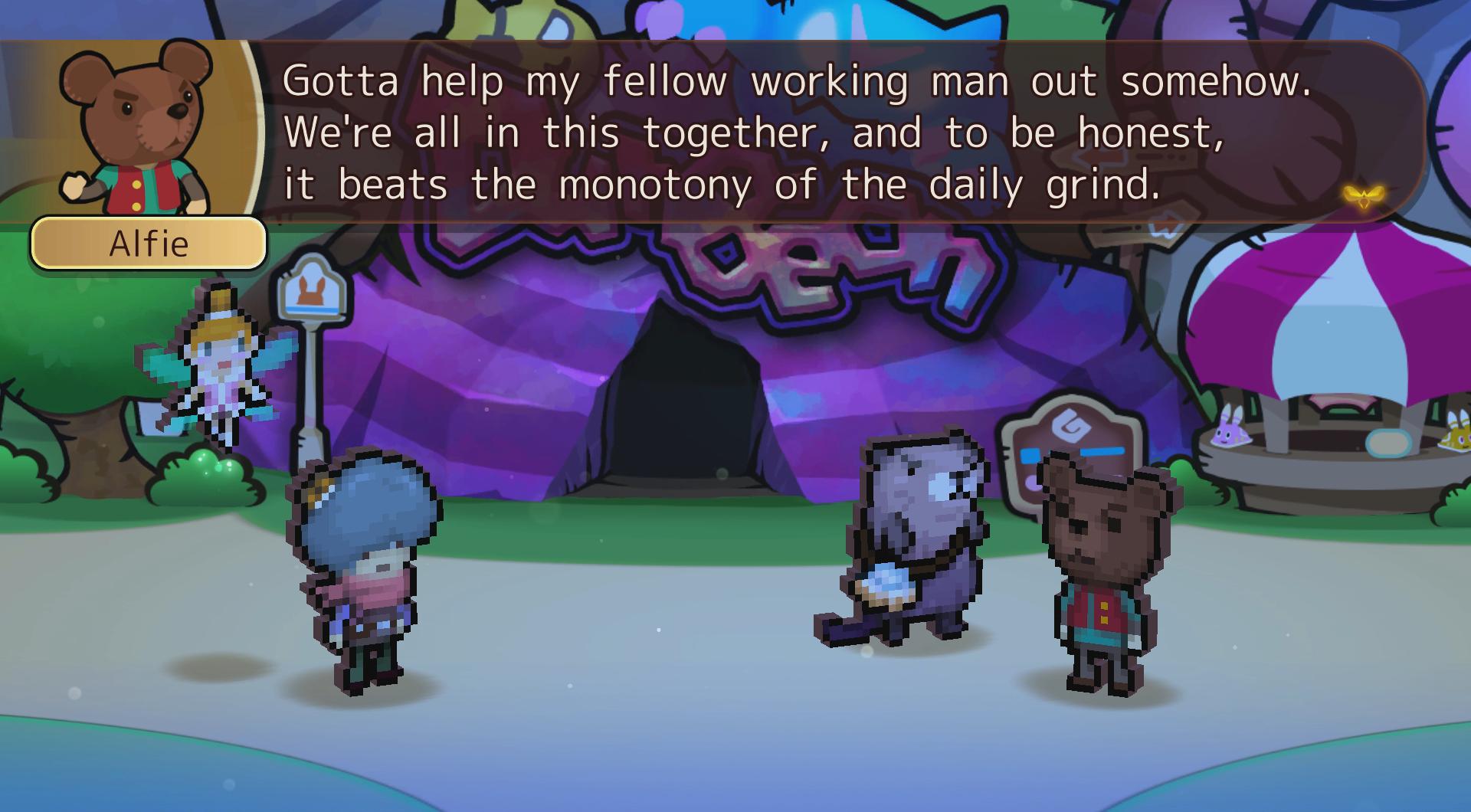 As another example, Elric's royal minister was called Awk in Japanese. Lori switched this awk-ward name to Oak, another programming language… So now when we show off the demo at conventions, people lovingly refer to him as "The Professor."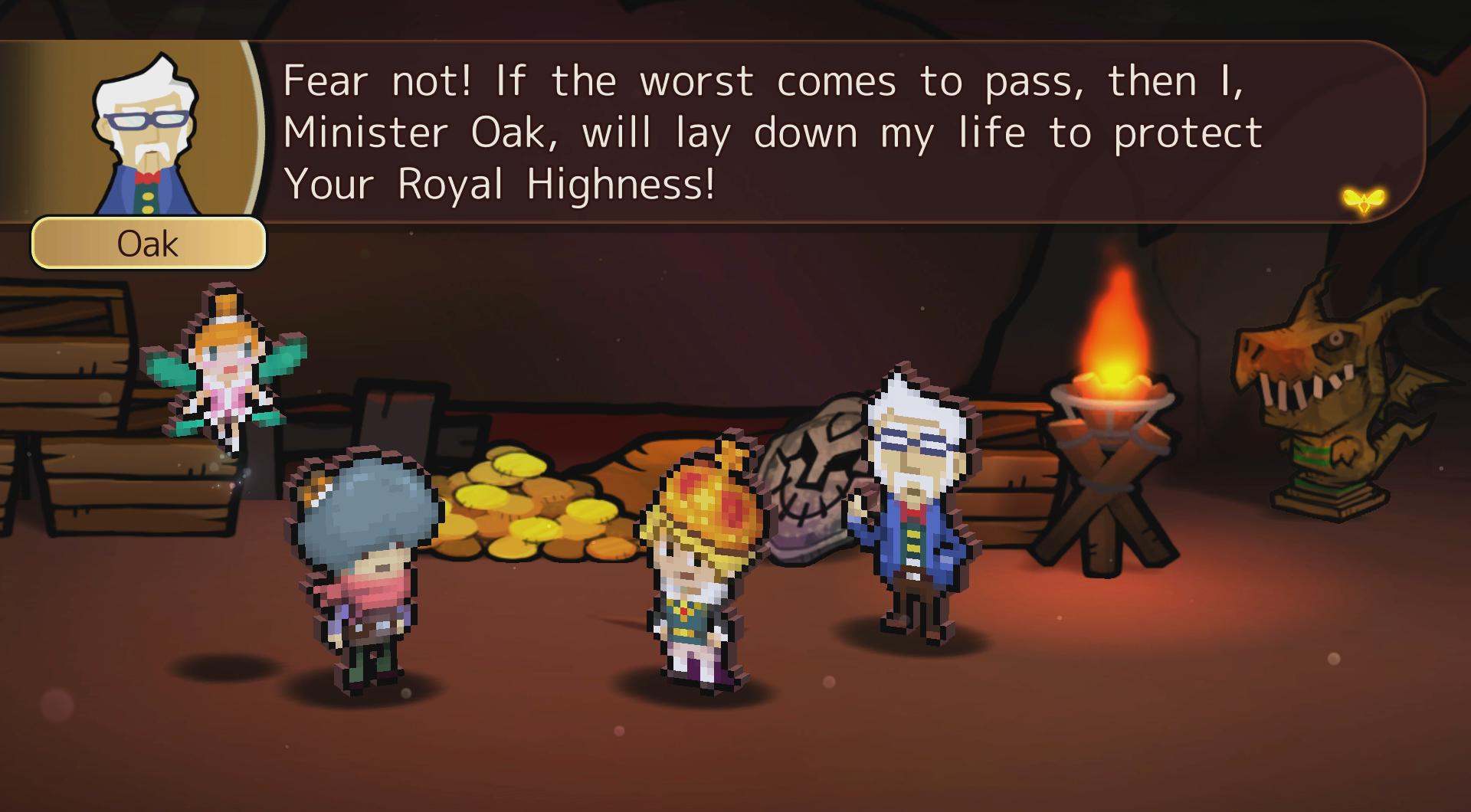 There are some names that won't be as straightforward as these, but still make various references to programming languages. See if you can find them all when you play!
---
But naming the cast of Heroland wasn't all clamshells and tummy pats. If you've ever played an RPG chockablock with generic NPCs, you can probably guess how WORKxWORK named its six interchangeable mustelids: Otter A, Otter B, Otter C, Otter D, Otter E, and – you guessed it – Otter F. It stuck out to Derk as a gamey distraction long overdue for a glow-up.
Derk found himself wondering, "What's Otter B's story, anyway? Just who is Otter E under that fur?" He decided that NPCs are people too, and by golly he'd name them as such! So he gave them new alphabetized appellations: Otter Abe, Otter Bob, Otter Cam, Otter Dan, Otter Edd, and Otter Fry. He delivered the text and patted himself on the back…
…Cut to the QA phase, when our intrepid tester Mao pointed out that Derk's glow-up was more of a blow-up. These six NPCs had to fill the roles of soldiers in one scene, then of schoolgirls in the next, so giving them fixed (male!) names called more attention to the gaminess of a trope Derk had hubristically tried to avert.

Thankfully, fellow XSEED localization editor Robb heroically helped Derk devise a naming scheme that subverted the "Otter A-F" trope by leaning even harder into it. Now, Heroland's nondescript mustelid NPCs are titled Otter Alt, Otter Backup, Otter Copy, Otter Double, Otter Extra, and Otter Fill-in. Collaboration, ho!
---
Now that you know the story behind how we named Heroland and its colorful cast of characters, we'll let you in on how we hashed out the dialogue and system text that brings them to life.
XSEED is based in Southern California, so when it came time to pencil in a glossary's worth of game terminology, Derk's lifelong love affair with the Mascot Who Shall Not Be Named (please don't sue us) naturally bled into the line-by-line lingo of Heroland itself.
First, Derk replaced Lori's accurate yet somewhat-literal translation of Japanese (loan)words like sutaffu ("staff") and okyaku-sama ("customer") with English buzzwords like "cast member" and "guest" to solidify Heroland's corporate identity.
Of course, in-game verbiage often varies based on context – a manager admonishing a temp will stick closer to the script than two coworkers chatting by the water cooler – but our aim was to emulate the sort of jargon you might overhear at any real-world resort.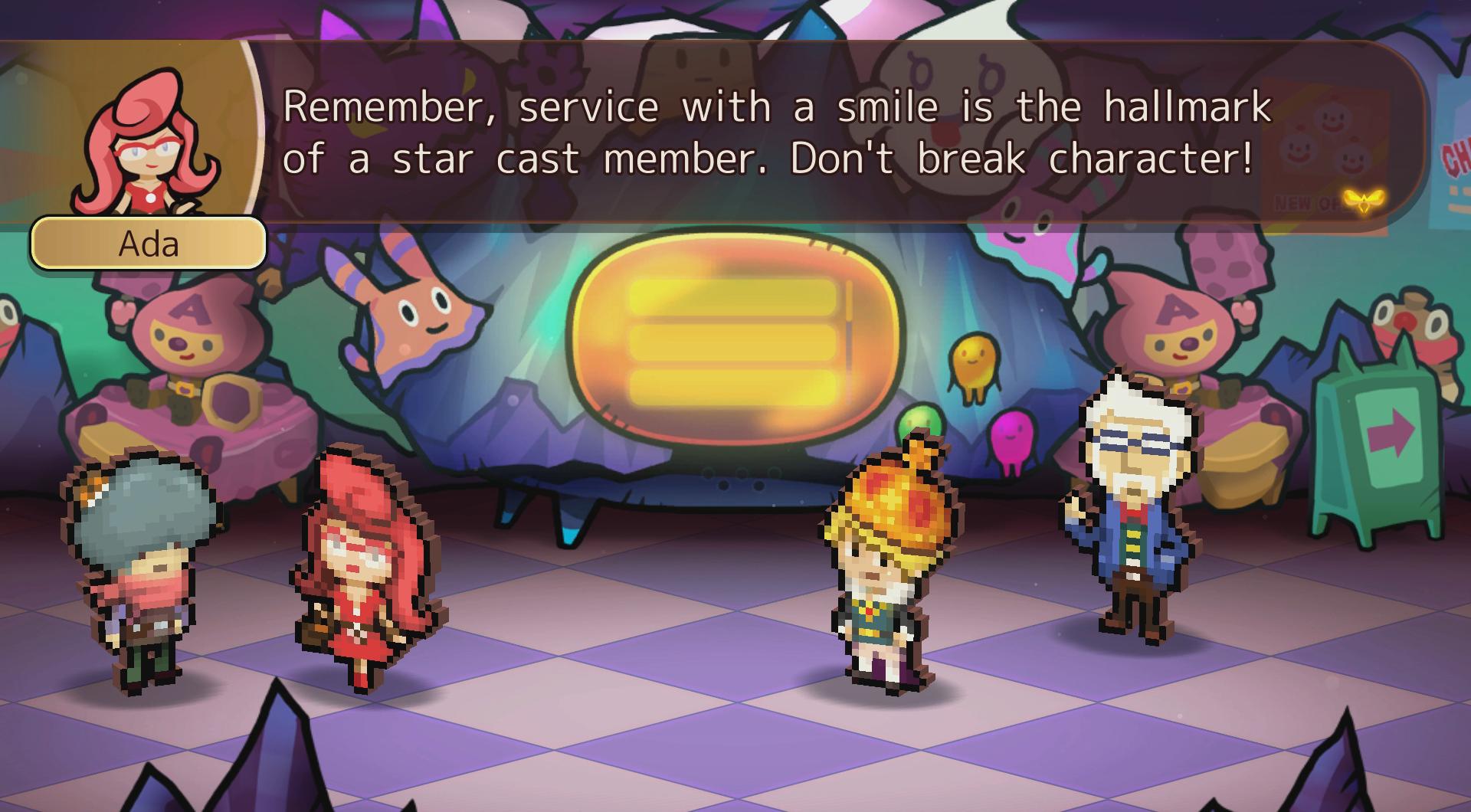 Of course, WORKxWORK already had a rich vein of wordcraft to tap into. In lieu of experience points, our titular heroes level up by accumulating a cryptocurrency called モンコイン ("MonCoin"), which was punny enough to include as-is. Hey, if it ain't broke, don't fix it!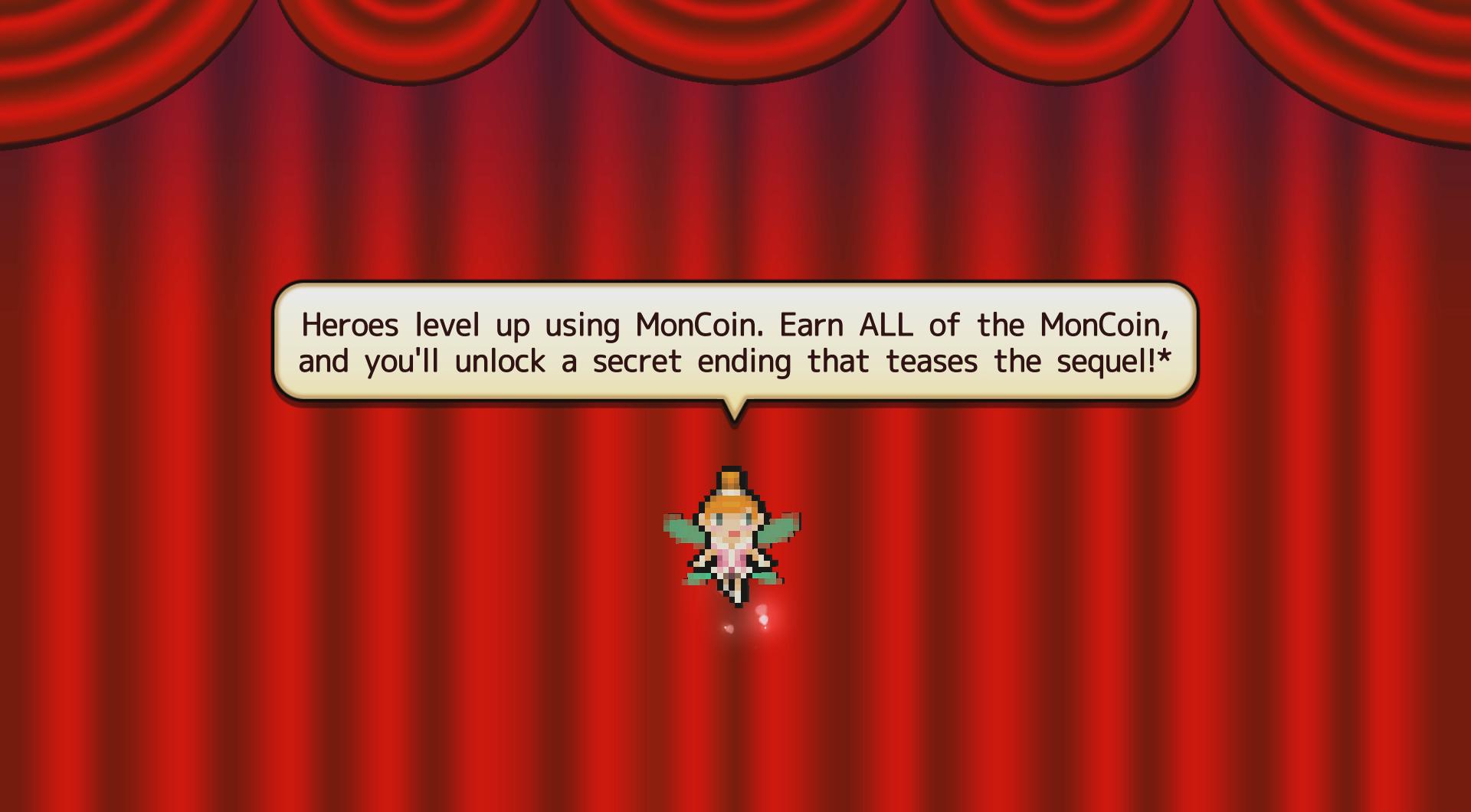 As we delved deeper into the text, we found ways to take this joke and run with it by turning straightforward descriptors such as モンスターずかん (monsutāzukan, "Monster Encyclopedia") and the バトルモンスター班 (batorumonsutāhan, "Battle Monster Team") into the MonDex and the MonStar Team, respectively.
But every theme park needs, well, a theme. Ours is based off the adventures of four legendary heroes and their quest to defeat the Dark Lord. After all, Heroland's in-game lore draws from video games and tabletop RPGs, so we tried to reflect that tongue-in-cheek meta-humor as consistently in English as possible, even down to the menu headers.
---
Human-ish characters like Lua and Otterman proved to be particularly fertile fields for some prime-time punnery. Derk occasionally fleshed out each speaker's unique voice by replacing common idioms with punny expressions and quirky turns of phrase.
Along with its wordplay and naming schemes, WORKxWORK is rife with pop-culture references, and Heroland was localized with this in mind. JRPG references, anime quotes, manga memes…you name it, we have it. This is where Derk and Lori had to get creative, because while some references could easily hop on through the localization radar, others could not.
---
More than you might think! One easy-to-demonstrate example comes in the form of a sidequest. If you're familiar with early Dragon Quest games, you'll probably recognize this famous quote.
There were quite a few straightforward references like these, where a localized equivalent is already well-known in the West. We kept as many as we could find…and that character limits would allow.
Given the whimsical precedent set by the Japanese writers, we naturally took that ball and ran with it by sprinkling in our own winks and nods to these RPG classics.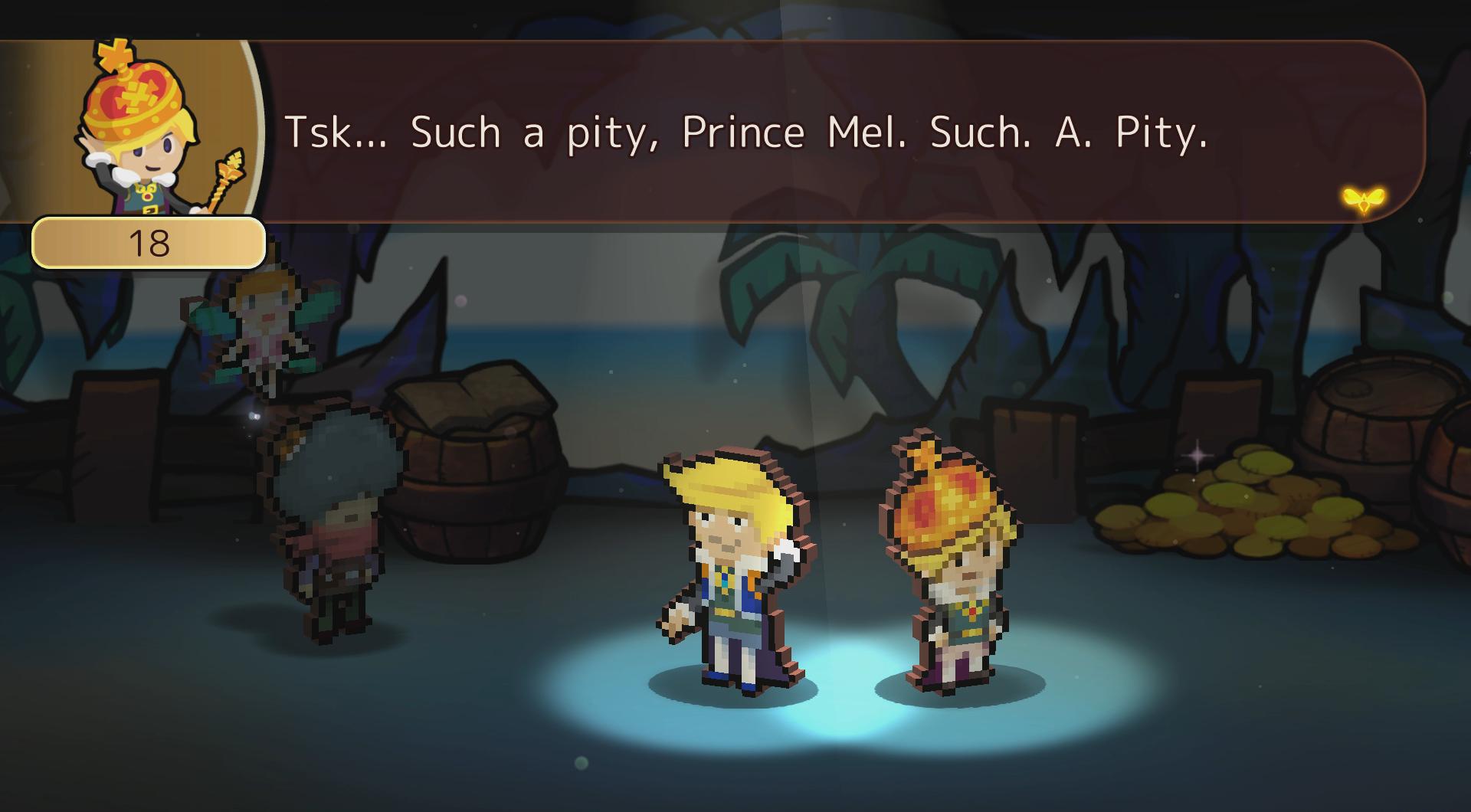 There were other instances where the text in translation naturally lent itself to a fun reference. Our team at XSEED refrains from rewriting content unless there's a good reason, but if you're gonna make pop culture and RPG homages, Heroland is the game to do it!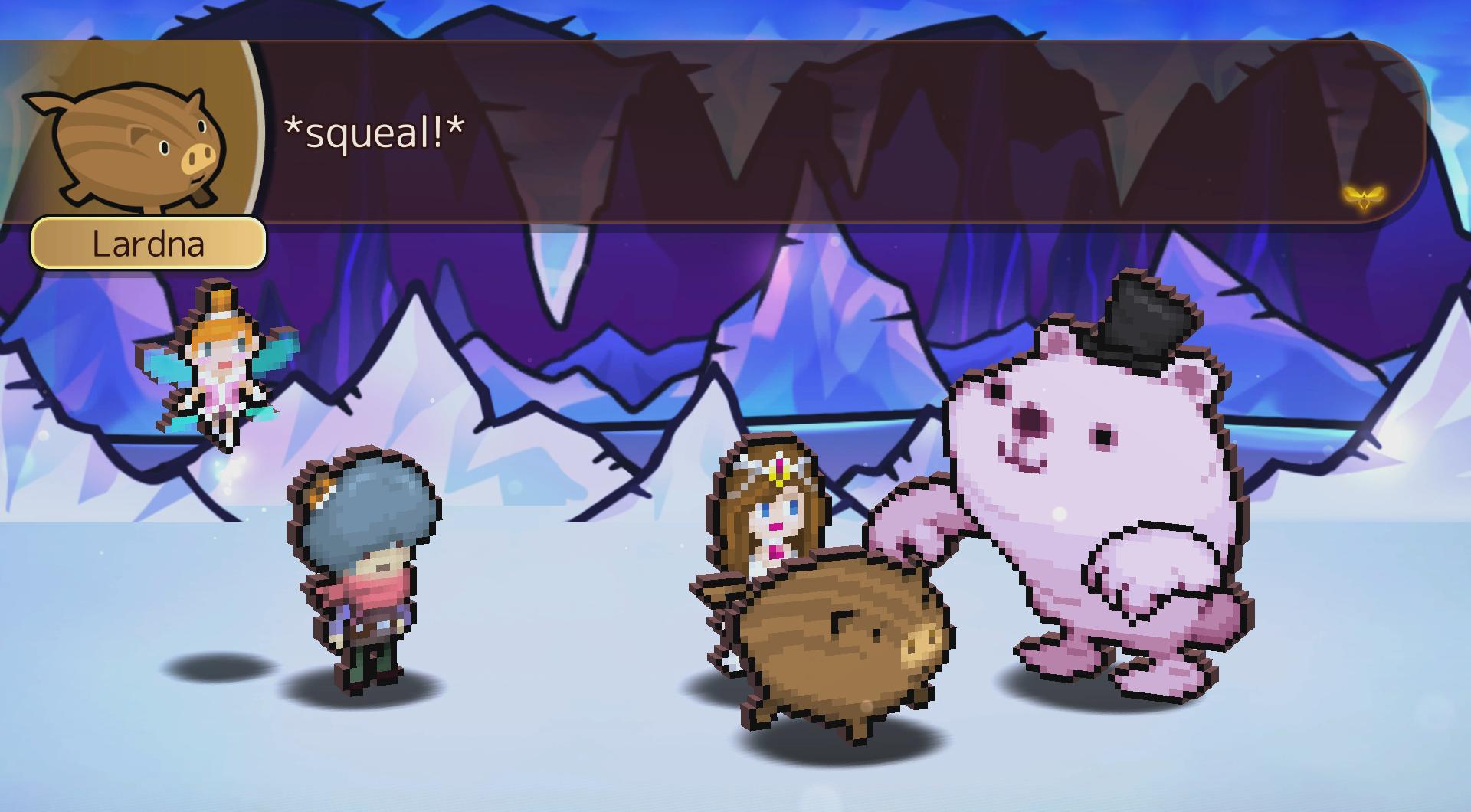 Let's take another example from Chip, one of Lucky's guests. When Chip is put in an unfavorable situation in battle, he says this:

The Japanese text reads as oshiri pen-pen, which is normally used as a taunt while you slap your butt. Real stuff. It's a phrase that can be used in lots of contexts, but Lori knew in her heart what to do with this line: she could be accurate to the Japanese text AND add a little extra flavor!
---
Dialogue and character names are one thing, but system text is a slug of a different color. Take the stat-boosting comics you can buy from Ruby's Item Shop. In Japanese, their titles are kept subtly vague, but their in-game descriptions include subtle yet explicit nods to specific series.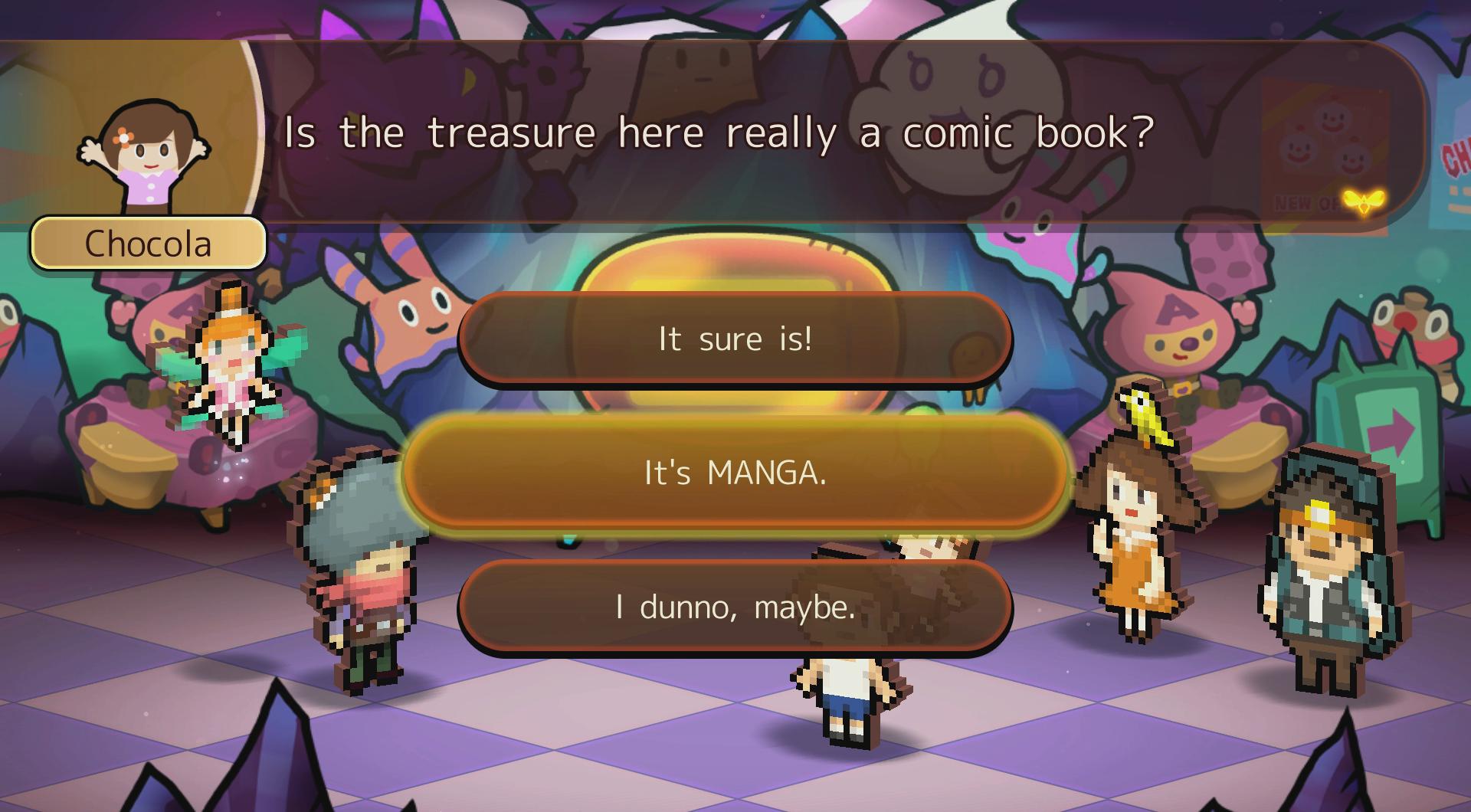 Some of our titled references will be easily recognizable to the average anime aficionado. Others are deep cuts from the developers' childhoods, are less well-known stateside, or have not been officially released in English.
In both cases, giving these comics parodic titles helped us bridge a cultural gap for our audience without having to choose between:
Keeping a reference too obscure to understand, or…
Removing the significance behind its inclusion.
Option C was one of those magical localization moments in which we managed to meet the game's audience and source culture halfway. As you unlock more comics, our hope is that even if you don't recognize all the references straightaway, you'll have enough context clues to look them up and discover your new favorite manga series!
---
If there was something that Lori felt absolutely wasn't going to have the same comedic value in Japanese, she would often change it to something more fun or relatable to Western players. Let's take this description of the Green Tea Slug DX Plushie, for example: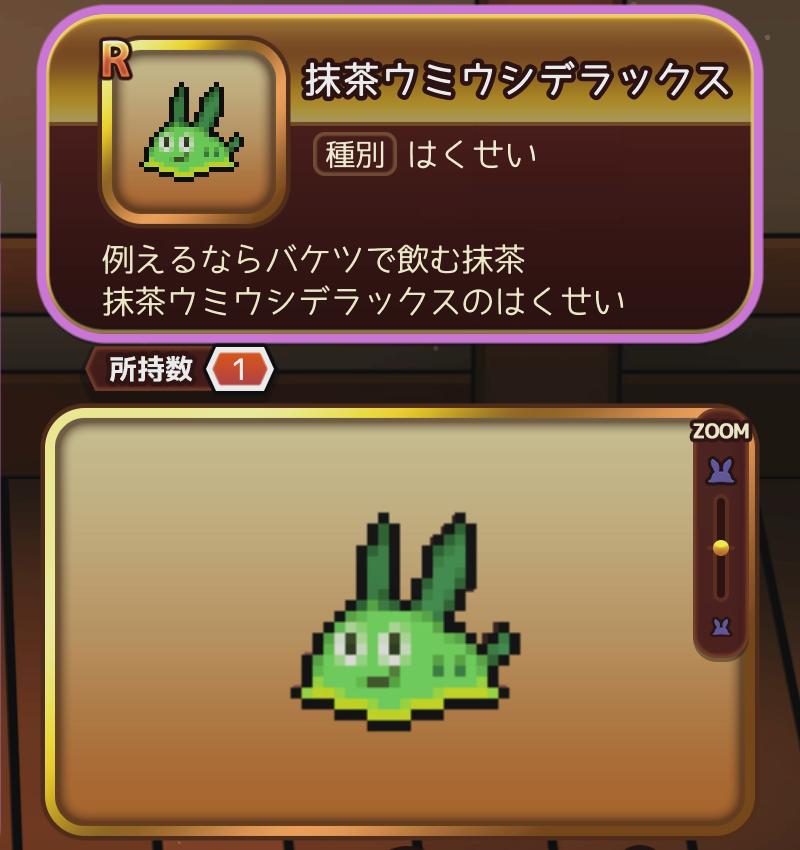 Drinking tea out of a bucket? It struck Lori as odd that they'd word it that way, but it reminded her of those Ayataka Green Tea commercials from a few years ago where they always started with "for example…" and then the narrator lady would proceed to tell you when a great time to drink their tea was while relaxing music played in the background.
Whether this was the writer's intention or not, she couldn't say for sure, but with so many Japanese pop culture references, it was fair game. She wanted to adjust it to something that was:
Still relevant to green tea and the suggested consumption thereof.
Equally eye-catching, with similar shock value to…drinking tea from a bucket.
Lori left Derk a note with the literal translation, and we agreed on this: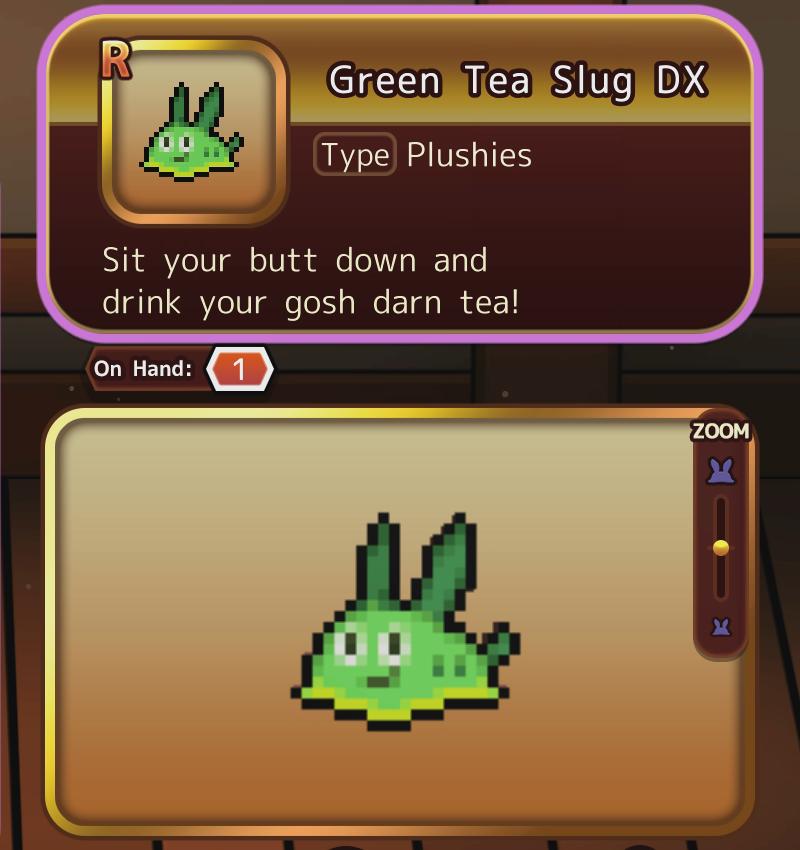 ---
Since the MonDex's flavor text is fun rather than functional, we had a little more artistic leeway with monster descriptions. We kept most of the original spoofs and goofs intact, but sometimes, restrictive character limits or lack of a cultural equivalent called for a little creative reflavoring.
---
Not to worry! We tended to go for this approach when we absolutely knew that a line would confuse western players, or when a vague reference was at play – quest names were a serious culprit of this. As a wise tomato once wrote, "sometimes you have to localize things in games, or else the games become unplayable for the new target audience."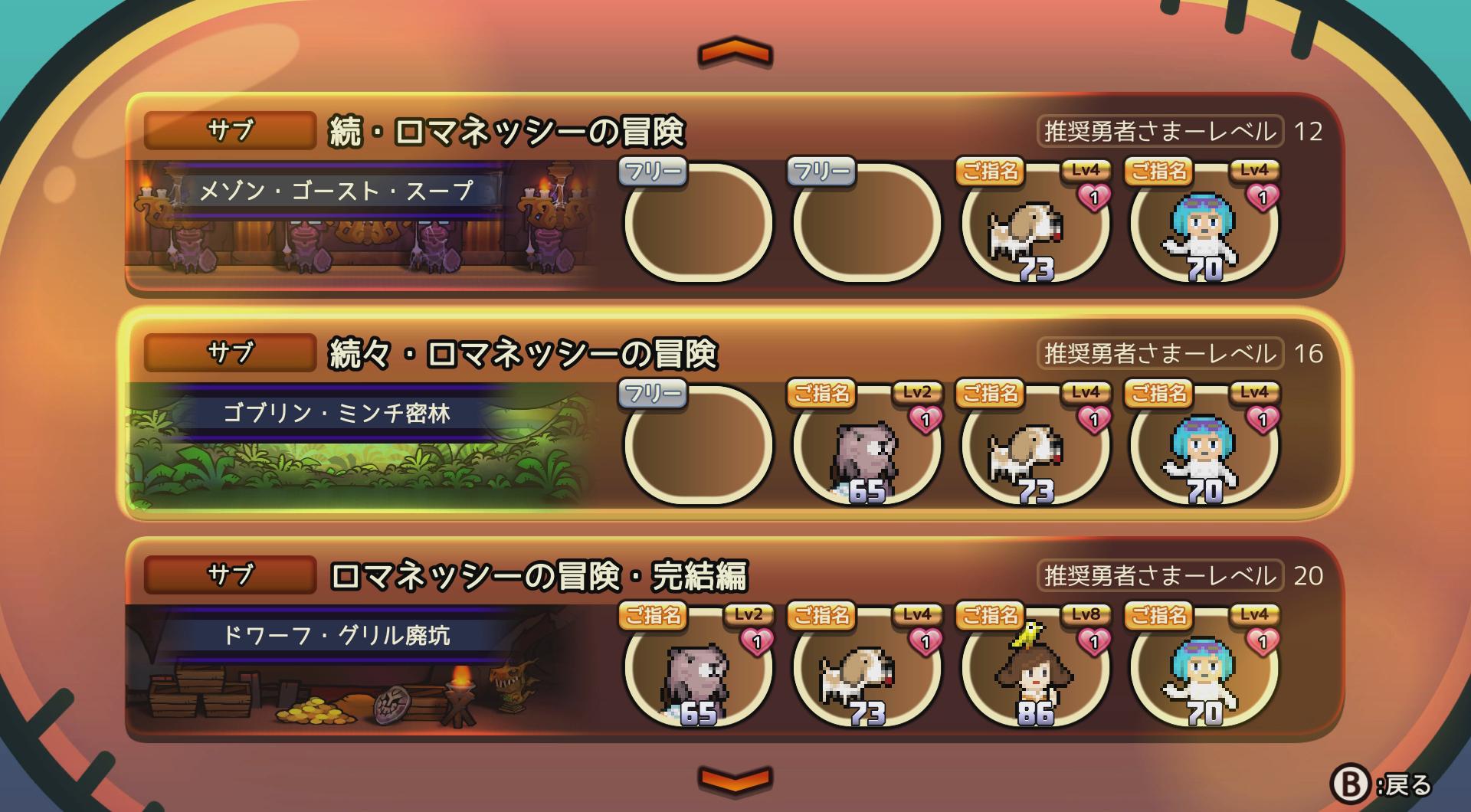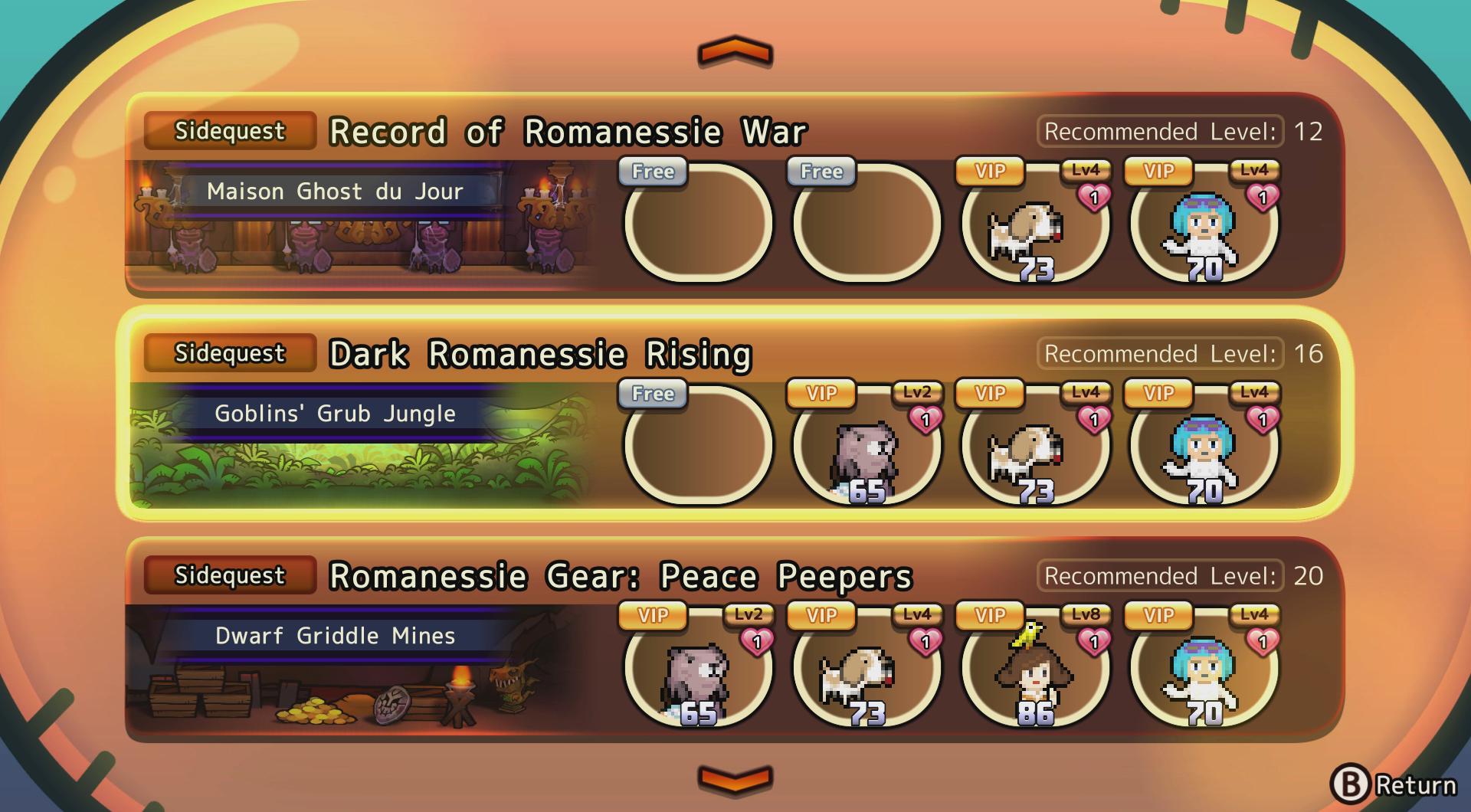 If we had the flexibility to explain a concept and leave the text as-is, however, we absolutely did…so by the end of your playthrough, you too will learn what a chikuwa sausage is!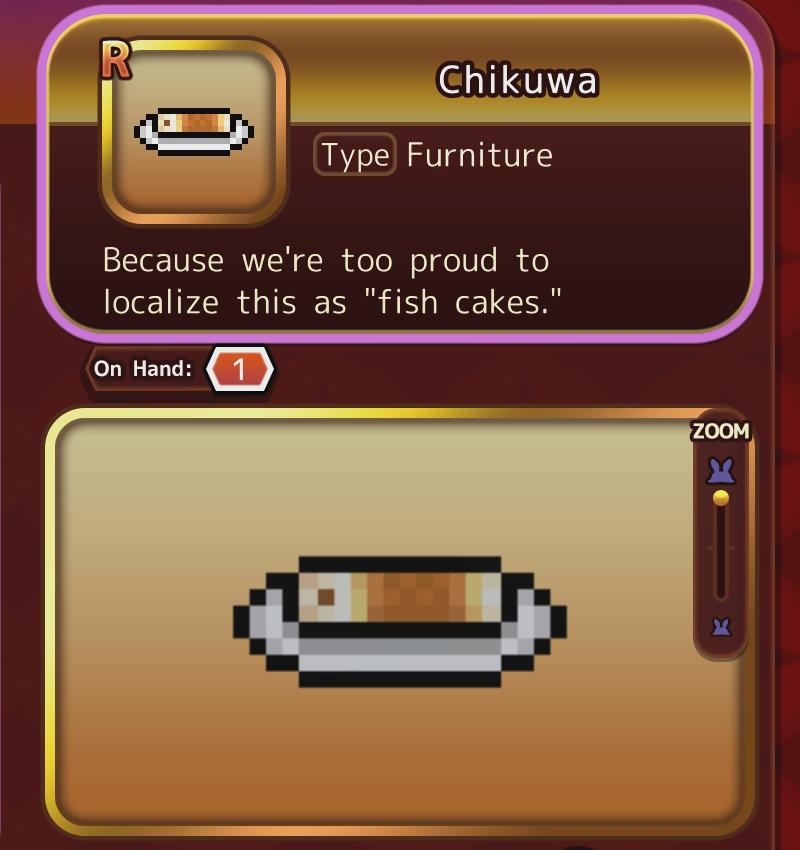 ---
Now that you've got a good idea of how we do things, let's put this all together! The following scene is a random event that occurs in-game, where a jack-0-lantern themed monster gets…pumpkinterrogated.
As you'll see below, the main idea of the scene's text and its intention largely remains intact, but Derk adds a brand new dimension of character to these minor NPCs that brings the same level of humor that the Japanese text did.
---
Even after the project was translated, edited, proofread, and QA'd, our Work x Work wasn't over yet… Everyone in the office got to vote on a title for Heroland's limited edition! We were asked to throw out a few names that were relevant to the game and would look good on a big fancy box. Some of the suggested names were:
Legendary Hero Edition – a name to represent the four heroes of legend who defeated the Dark Lord decades prior to the game's main events. Will you meet them all? You'll have to journey to Heroland with Lucky to find out!

The Knowble Edition – "Knowble" is the name of the kingdom Elric's father rules, and its political intrigue makes up a large part of the game's story. Fun fact: the nation's name in Japanese was ユイショアル王国 (

yuishoaru ōkoku

), literally translated to "prestigious/noble kingdom," though it's spelled in katakana rather than its kanji equivalent. We settled on Knowble to keep the "same pronunciation, different spelling" train running.

Gold Mecha Slug Edition – Slugs are to Heroland as slimes are to Dragon Quest: cute, tiny mascots that come in various colors and sizes. The Gold Mecha Slug is one of these, and one of the most rare and powerful members of slug-kind that you'll meet.

It's beauty, it's grace, it will zap you in the face.
Once the vote ended, we decided on the Knowble Edition for the physical release. It's got some extra goodies packed into it like a guide map, papercraft sumo battlers, and the adventure pouch we mentioned earlier. Enjoy your little piece of Heroland if you end up snagging one!
---
Thank you so much for reading our article! We hope you've enjoyed this sneak peek into Heroland's localization. If you're looking to go on a fantastical journey with Lucky and Elric, you won't have to wait long: Heroland's gates open in North America on December 3rd, 2019! Find out more at discoverheroland.com!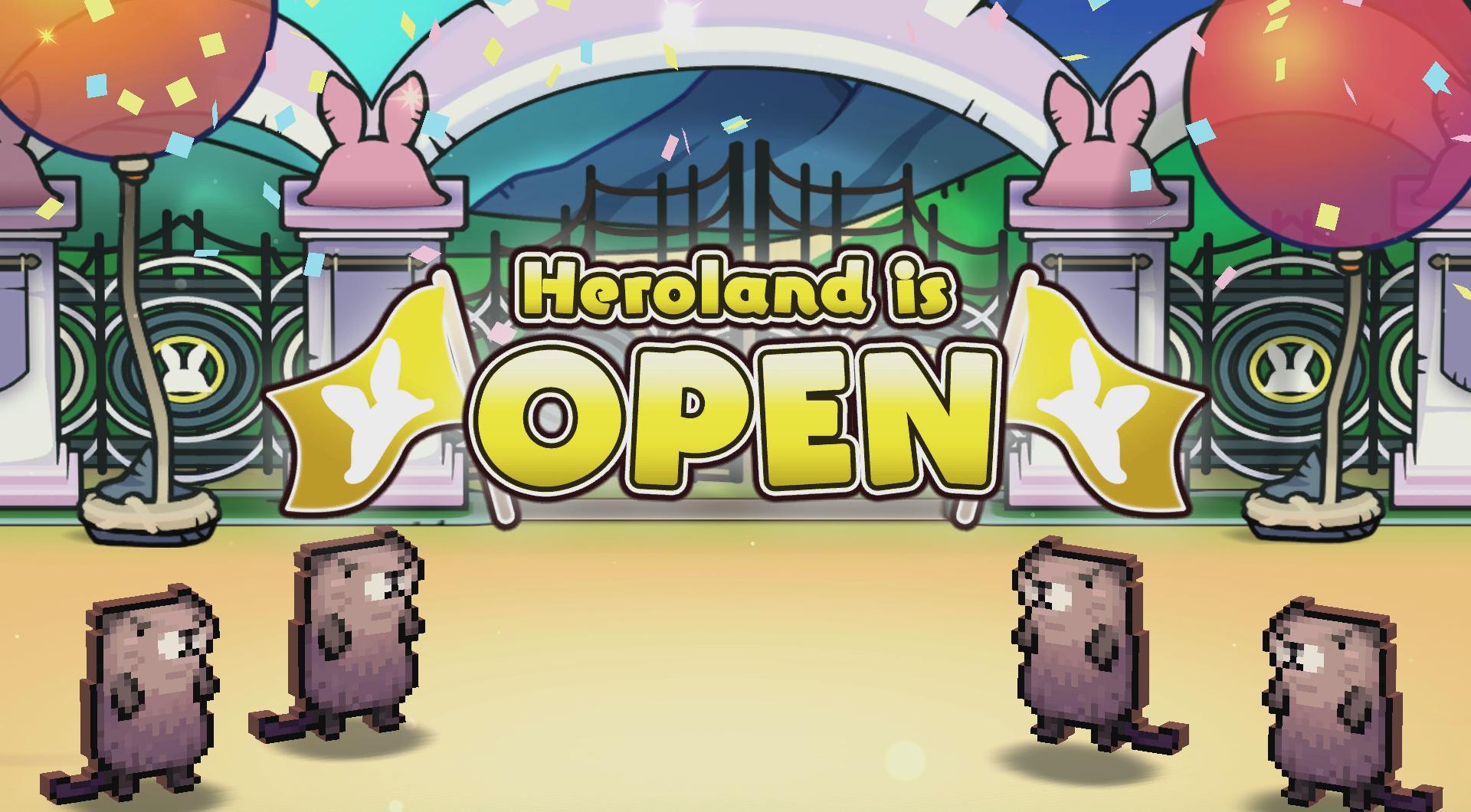 If you have any other questions about our process, or about Heroland in general, we'd be happy to reply! Just leave a comment and we'll do our best to answer as many as we can!
We'll leave you with an image of our mascot with attitude: Li'l Slug! He's excited to meet you all, and wants you to know that you're squeaktacular! He's just…so emotional and happy to be here! See for yourself: