A reader by the name J-R asked me a question recently about an arcade game:
I have a request for a game that is pretty obscure but it is my all time favorite Capcom game. The game is called "Midnight Wanderers" and it's actually part of a compilation arcade cabinet called "Three Wonders". I am such a big fan of this game that I want to analyze it as much as I can and I'm hoping you can help me. Whether you want to post it on your site or not is up to you, but if you can help me translate the Japanese text, it may give me a clue as to what the quote at the end of the game is.

My request: When you beat the game, there is a cutscene that plays and right before the credits roll, there is a quote that goes:

Look up in the sky, young man
and see the cloud called Hope.
Then, look beyond into space
and see the star called Happiness.
~ Author unknown ~

However, the ending in the Japanese version may be different. My Japanese is extremely limited but from what I can see, it could either be a different ending, or it may be the same ending except that it looks like the quote actually references the so called "Author Unknown", and if that is the only difference between the two, I would be ecstatic to learn who wrote that quote
Neat, I remember seeing some of this game while watching Aquas play stuff. If you've never seen or heard about this game before, it's got some pretty cool stuff for 1991. Here's a look at the first stage boss, for example:
Okay, so basically the question is about the ending text, so here's a look at some screenshots: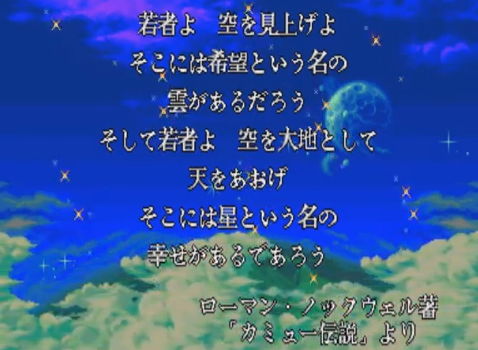 Roosters (Arcade)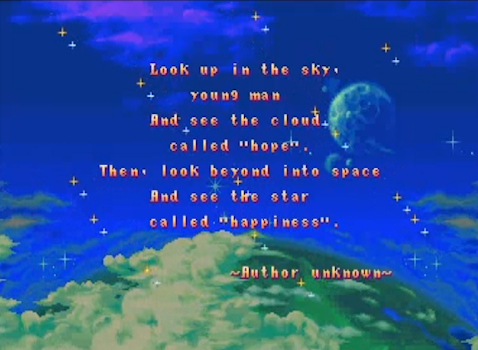 Midnight Wanderers (Arcade)
And here's a look at the text side-by-side:
Japanese Version
English Version
Look up into the sky, lad
There you shall find clouds
called "hope"
Then, lad, with the sky as land
gaze into the heavens
There you shall find happiness
called "stars"
Look up in the sky,
young man
And see the cloud
called "hope".
Then, look beyond into space
And see the star
called "happiness".
from "Legend of Camus" by Roman Nockwell
~Author unknown~
So for the most part the official translation is okay. It looks like some things got trimmed or changed to fit within memory limits and/or screen space. It should also be mentioned that "star" here could be translated as "stars" or even "planet/planets" or "world/worlds". I don't recall the context of this game, so the safest best is just "star" or "stars". The English version also reverses the last part for whatever reason, I can't tell if it's a mistake or if it was purposely rephrased that way.
But the real interesting thing is that the Japanese version does attribute this line to something – it looks like it's a parody name of "Norman Rockwell", and the "Legend of Camus" initially strikes me as a reference to Albert Camus, the famous writer and philosopher. He seems to come up in a lot of Japanese entertainment.
I'm not sure why the English version would take out this fake attribution, but maybe it was also for memory limitation reasons. Or legal worries? Or maybe it sounded more authentic to Japanese players but would seem less authentic to English-speaking players? I dunno – if anyone has any thoughts or ideas, share them in the comments.
If you liked this post and know someone else who'd enjoy it, let 'em know about this article. People rarely seek out localization articles, so sharing really helps me a lot!