Darien sent in a quick question about a game I'd never really taken a look at before:
This one might be too weird, but I have to try. In the North American release of Ar Nosurge: Ode to an Unborn Star (both the PS3 and Vita versions), there's an item called the Eggstreme Tart. The picture has obvious, drastic mosaic censorship on it, but nowhere in the description nor in the crafting scene is there even the faintest allusion to why it's censored, and this in a game that goes out of its way to be risque.

Can you use your mighty powers to figure out what's going on with this item? Was it censored in the Japanese? Is there any explanation in the text?
And here's a look at the item in question: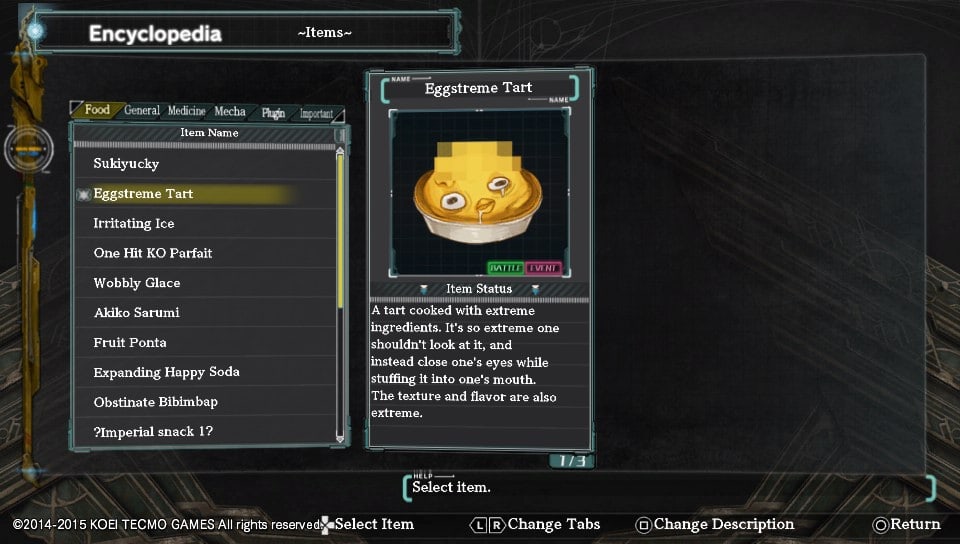 Ar Nosurge: Ode to an Unborn Star (North American release)
Darien asked if the item is censored in the Japanese release too, so I did some quick searching and found that the answer is: yes, the Japanese item has a mosaic on it, too!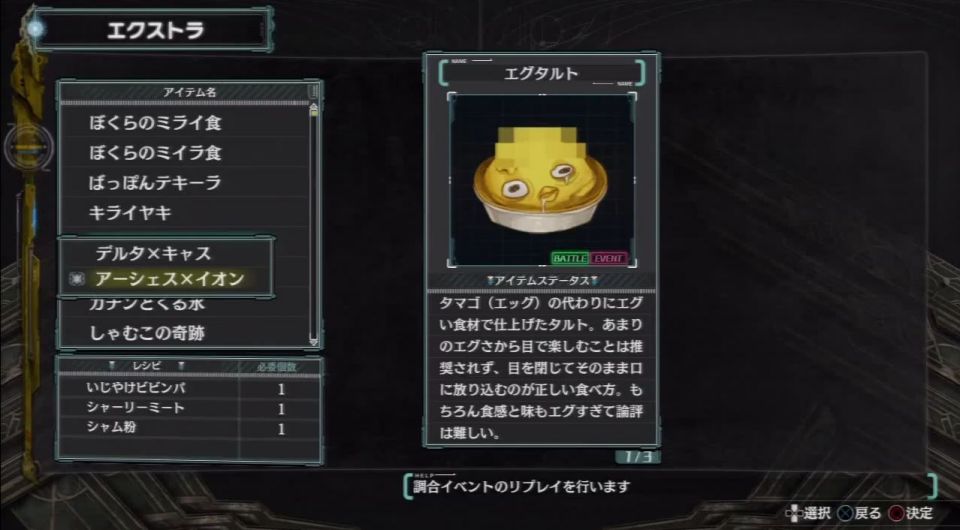 Ar Nosurge: Ode to an Unborn Star (Japanese release)
What's the deal, then? Why would some simple item in the game need to get the mosaic treatment?
The answer is in the item description, so let's take a look:
| | |
| --- | --- |
| Japanese Version (basic translation) | English Version |
| Egutart | Eggstreme Tart |
| A tart made of disgusting ingredients instead of egg. It's so disgusting that enjoying its appearance isn't recommended; instead, the correct way to eat it is to shut your eyes and shove it into your mouth. | A tart cooked with extreme ingredients. It's so extreme one shouldn't look at it, and instead close one's eyes while stuffing it into one's mouth. |
| Of course, the texture and flavor are also so disgusting that it's difficult to critique this. | The texture and flavor are also extreme. |
Ah, it makes much more sense in Japanese once I see the word play at work!
Here's the deal: the item is called an "Egutart" in Japanese, which a Japanese player would first see as a misspelling of "Egg Tart". But this "egu" actually comes from the slang word "egui", meaning something like "disturbingly gross" or "disturbingly nasty". So it's a bit of a pun between the word for "egg" and the word for "gross".
The developers decided to further play along with this idea by blurring out part of the item's graphics. It's meant to make you think, "Whoa, it must be really gross if they have to cover stuff up!"
Because the word play doesn't translate into English, the localizers had to come up with the closest equivalent possible. It looks like they decided use "eggstreme" and "extreme" word play throughout it all. It's a great choice, but it does lose a tiny bit of the original meaning, which is why English-speaking players might've been confused.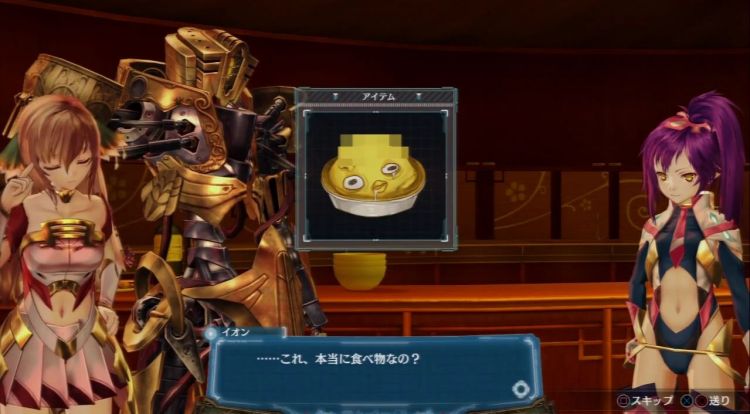 'Is this really food?'
Doing some more quick online searches, it seems the whole idea of, "Just what is in this item?!" becomes a theme for a short scene or two. And even Japanese gamers are really curious to know just what its "ingredients" are. So in that sense, players in all languages are on the same level about this item!
Summary: The image is censored in the Japanese version too. It's meant to be an in-game joke. The item is meant to be super-disturbing and gross in Japanese, but a little bit of that is lost in translation into English.
Hopefully that helps answer the question somewhat! And if anyone can come up with a better localized name for this odd item, please share it in the comments!
If you enjoyed this post and know someone else who'd like it, let them know about this article. It'd be a great help!