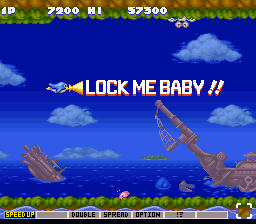 It's pretty well-known that Japanese speakers have trouble with Ls and Rs – in fact, it's been part of the Japanese stereotype for close to a century now. There's even a common phrase on the Internet that mocks the Japanese L/R problem: "Engrish".
In this article we'll briefly look at why Ls and Rs are so troublesome and explore actual examples of these problems in video games. We'll also look at lesser-known letter pairs that are almost as problematic as L and R. By the end, we'll be able to decipher bizarre Japanese misspellings that look like pure nonsense at first glance!
This might seem obvious, but not every language uses the same sounds. For example, the Khoisan languages use a variety of clicks, but we don't have anything equivalent in English. So the question becomes: how do you write non-English sounds in a way that English speakers can easily say and learn?
That's basically where the Japanese L and R problem comes from – the Japanese language doesn't have a clear L or R sound, but something that's closer to a blend of an L, R, and a D sound:
If you listen to the recording a few times, you can probably trick your brain into hearing "ra ri ru re ro", "la li lu le lo", and maybe even a bit of "da di du de do" – all from the same sound.
Actually, you know how we have the stereotype of Japanese people struggling with Ls and Rs? Their stereotype of English speakers is that we can't say their L/R sound right either.
To make matters worse, many Japanese speakers can't even hear the difference between the English L and R. So when it comes time to write something in English, whether a word should use an L or R often devolves into a guessing game. The result: unusual misspellings that native English speakers laugh at.
L and R Problems in Games
This issue with Ls and Rs predates video games, so the problem can be seen in everything from the earliest Japanese video games to today's big-budget, hi-tech releases.
Japanese doesn't have an "uh" sound, so the "ah" sound usually takes its place – basically, English words like "bus" and "gun" end up closer to "bas" and "gan".
This U/A thing gets messy quickly and causes Japanese speakers to compensate for the "uh" problem when it's not necessary. The result: the letters U and A get mixed up almost as often as L and R.
Japanese doesn't have sounds like "ar", "er", or "or". To get around this, the "r" often gets dropped and the vowel gets held longer: the English word "car" becomes kā and "mirror" becomes mirā, for example.
Simple enough, but when you factor in the L/R and vowel problems above, you end up with words like ロード (rōdo), which can mean "road", "load", "lode", or "lord" depending on the situation. To make matters worse, Japanese speakers sometimes overcompensate for this "Vowel-R" problem by reintroducing an R and using the wrong vowel.
Although they're not as iconic as the problems above, smaller vowel mistakes are super-common too.
Traditionally, there isn't a clear "V" sound in Japanese, so the "B" sound is usually used as a replacement. Because of this, V/B mistakes are common among native Japanese speakers.
It's a bit complicated so I'll skip the details for now, but basically there are rare times when the letter "M" can replace the letter "N" in a Japanese word. As a result, words you might be familiar with – like "Famicom" and "senpai" – can sometimes appear with alternate spellings:
---
This M/N thing does cause problems sometimes, however:
Japanese also lacks the "th" sounds found in the words "thin" and "this". The letters "s" or "z" are often used as an approximation, but this causes occasional confusion during translation.
This probably deserves a huge article of its own, but the quick summary is that most of the world uses a different Japanese-to-English spelling system than what's taught in Japan. We use a system that tries to preserve pronunciation, but the Japanese system is more focused on preserving certain patterns.
In short, Japanese natives usually spell words differently from the rest of the world. This results in so many spelling differences that I'd be crazy to cover them all here. Instead, here are a few simple examples:
But Wait, There's More
Honestly, there are many more "gotchas" when it comes to Japanese-to-English spelling. "W" sounds, "H" sounds swapping with "F" sounds, mythological names that have surprise spellings, problems with the English "i" (as in "hit") sound… the list goes on and on.
The good news is that if you're a native English speaker, most of the above problems are rarely an issue – you already know that "danger" isn't spelled "dangar" and that nobody ever has to "harry" to "flash the toilet". But I'm hoping that this detailed look at spelling issues helps show just how difficult spelling is for native Japanese speakers, and how problematic it is for translators.
Don't worry, we're prone to messing up Japanese writing all the time too: one little mistake can turn 大使 (ambassador) into 大便 (feces), for example…
Using the information above, see if you can make sense of the following translation mistakes. Bonus points if you can identify the actual problems with each mistake!
Share your answers in the comments and compare notes with everyone else!
Summary
As we can see, writing Japanese words in English is a tricky process – even more so for non-native English speakers. And keep in mind that this whole article was simply about spelling – there are lots more translation problems that can happen, from awkward phrasing to shattered grammar to total mistranslations.
We'll look at some of these non-spelling topics in future articles, but for now, if you ever see weird spelling mistakes in a Japanese game, look for the patterns listed above. They might just help you make sense of the nonsense!
---
I'd like to keep building my archive of L/R, A/U, etc. mistakes in games, so if you ever encounter any good examples yourself, let me know! And if you're a student or a professional translator, definitely share your own Japanese-to-English spelling experiences in the comments!
---
If you enjoyed this quick look at how Japanese games get weird translations, you'll like this article about Japan's obsession with the English word "let's"!