The other day I ran across an image that showed Famitsu's review of Doki Doki Panic and Famitsu's review of Super Mario USA side-by-side. It was pretty interesting, and since localization played a big part in this game's history, I thought I'd share the review here too.
First, a super-quick refresher: Dream Factory Doki Doki Panic was released for the Famicom Disk System in Japan in 1987. It featured the Imajin family, who were mascots for a "Dream Factory" event held in 1987. For more info, check out the thorough Wikipedia article here.
Afterward, Doki Doki Panic was edited to include Mario elements and then released outside of Japan as Super Mario Bros. 2 in 1988. Many aspects of the game were left unchanged, though, which lent the game a very different feel from the original Super Mario Bros. game. Also, unlike with Doki Doki Panic, you only needed to beat the game with one character, you couldn't save your game, and you had limited continues.
In 1992, this version of Super Mario Bros. 2 was released in Japan as "Super Mario USA" on a standard Famicom cartridge.
So that's a quick review of how this one game existed as three different games over a 5-year span. Now, back to the Famitsu reviews!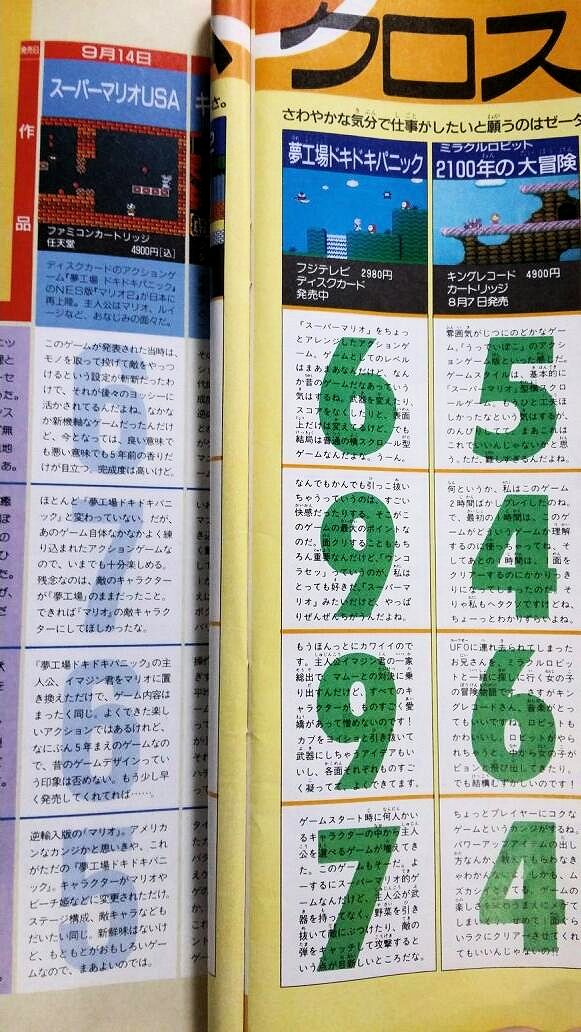 (Image courtesy of Twitter user @chou_nosuke)
It looks like Doki Doki Panic received a score of 31 out of 40, while Super Mario USA received a 24. Why the difference? Let's take a look at the reviews and find out!
Dream Factory Doki Doki Panic Review (1987)
6 points

: An action game that's a slight remix of "Super Mario". It's a decent-enough game, but it definitely gives off an old-fashioned vibe. The weapons are different, there's no score, and other superficial things may have changed on the surface, but in the end it's just an ordinary old side-scroller. Hmm.

9 points

: Pulling anything and everything out of the ground actually feels really good. That's the biggest point of this game. Clearing stages is important too, of course, but I personally can't get enough of that, "Heave-ho!" aspect. It may seem like "Super Mario", but it's actually completely different.

9 points

: This is so incredibly adorable. Imajin and his family set out to battle Mamu, and all the characters are so absolutely cheerful and lovable! Between the turnips and items can you pull out of the ground to use as weapons and the really solid stages, it's a very well-made game all around.

7 points

: Games that let you pick a hero from a lineup of characters have been on the rise lately. This is one such game. Basically, it's a Super Mario-like game, but the main character doesn't have a weapon; instead, you pull vegetables out of the ground and hit enemies with them or catch enemies projectiles and use them to attack back. A very novel aspect, indeed.
And now let's compare that with the reviews for Super Mario USA.
Super Mario USA Review (1992)
6 points

: When this game first came out, grabbing things to throw at enemies was a fresh, novel gameplay feature, one which has since become a Yoshi staple. It was a pretty innovative game, but the only thing that stands out about it now is that it feels like it did 5 years ago… which is both a pro and a con. It's a well-polished game, at least.

7 points

: It's almost no different from "Dream Factory Doki Doki Panic". But since that was such a well-crafted game to begin with, it's still enjoyable even now. I'm disappointed that the enemies are the exact same as in Doki Doki Panic, though. I wish they could've changed them into Mario enemies.

6 points

: All this does is replace Imajin, the main character of "Dream Factory Doki Doki Panic", with Mario. The game is the exact same otherwise. It IS a well-made and enjoyable game, but it's also from 5 years ago, so there's no getting around the feel of its old-fashioned game design. If only they had released this a little earlier…

5 points

: Reverse-imported Mario. I expected an American-style Mario, only to discover it's just "Dream Factory Doki Doki Panic" with Mario, Princess Peach, and others as the main characters instead. The stage layouts, enemy characters, and most everything else are the exact same. It doesn't feel new or fresh at all, but it was a fun game to begin with, so I guess it's okay.
For reference, Famitsu often has a slightly different lineup of reviewers each issue, and since these two issues came out years apart, it's to be assumed that these reviews weren't necessarily by the same people. In any case, it's interesting to see how the reviewers share many of the same thoughts about Super Mario USA – that it feels old, that they're disappointed that it's not much different from Doki Doki Panic, and so on. I wonder what Japanese gamers who'd never played Doki Doki Panic before might've thought about Super Mario USA, though.
Anyway, that's a look at how our version of Super Mario Bros. 2 was received when it was brought back to Japan. I'd always wondered about that, and now we know!
If you enjoyed this article and know any fellow Super Mario Bros. fans, let 'em know about this article. Sharing articles is super-helpful and keeps Legends of Localization running!