Jacob Beets sent in a question about the game Cave Story:
I just played Cave Story for the first time and was just curious whether the english flavor text like "EMPTY" when your missile launcher runs out of ammo is in english even in the original freeware version of the game.

Also is the correct name for that grassy place "Grasstown" or "Bushlands" like, what's the difference.
Nice! This is a good excuse for me to get back into this game. Even though I haven't played very far in the game myself it's pretty easy to look into these questions 😀 Also, just as a disclaimer, I was involved with the original fan translation project although it's been so long that I honestly can't remember what I did.
Okay, let's take a look! First, if you run out of missiles but try to fire a missile anyway, a little bit of text pops up. Here's what it looks like in both versions of the original game:
| | |
| --- | --- |
| | |
| Original Japanese release | AGTP Fan Translation |
The Japanese version does indeed say "Empty", although it isn't written in English text. That might seem like a weird thing to say or ask about, but it's pretty common for Japanese game creators to use English for stuff like this, so it's a good question.
The next question was about an area in the game that was known as "Grass Town" in the fan translation and "Bushlands" in the official translation:
| | |
| --- | --- |
| | |
| AGTP Fan Translation | Official Translation |
I know this name was a big issue among fans of the game when the official translation was first released, so what's up with the name change? Which name is right?
First, let's take a look at the Japanese name: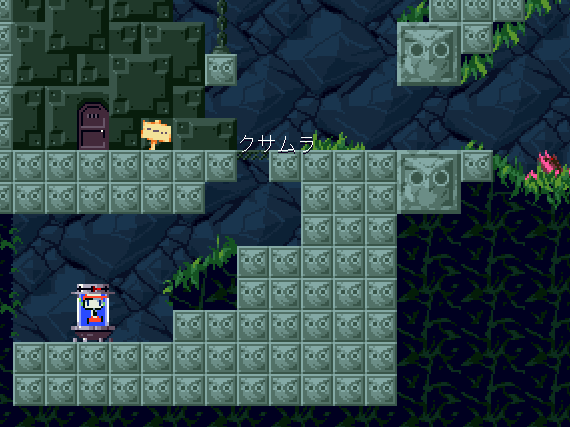 Original Japanese release
The name here is クサムラ, or "Kusamura". To an inexperienced translator, this might seem to be the combination of "kusa" (grass) and "mura" (village), hence the decision to translate it as "Grasstown".
That's actually a risky and likely-incorrect assumption, though, as "kusamura" is an actual, everyday word – it refers to a field or location with really thick grass. A word that comes to mind is "thicket", but "bushlands" works too.
So with this in mind, calling this place the "Bushlands" probably is a more accurate translation. I say "probably" because it's always possible some word play was intended, but given that this is the official translation of a game developed by the tiniest team possible, it's likely the creator was asked for details and confirmation of stuff. It's such a unique situation that I'm really curious to know how much contact the translator(s) had with the creator, actually.
Anyway, hopefully that helps shed some light on the Grasstown/Bushlands thing!
If you enjoyed this article and know someone else who'd enjoy it, let them know about it. There's all kinds of stuff on this site that fans probably would enjoy!