Fergzilla sent in a question about a series I've only vaguely heard of, yet the question turned out to be unexpected!
Recently, I have gotten myself into the Medabots (Medarot in Japan) franchise, and it's pretty cool. I have been watching the dubbed anime and playing the only localized RPG games in the series, simply titled "Medabots: Metabee/Rokusho Version" ("Medarot 2 Core: Kabuto/Kuwagata Version" in Japan). Speaking of, I have a bit of a question regarding that game.

Very early on in the game (and I mean very early), there were a few NPCs that talked about a person using a Medabot to "tickle little girls", and that stuck out as pretty weird to me. At first, I thought that came off as "bad deviantART fanfiction material" to me, but then some people I spoke to suggested that it might be an act of localization censorship to hide something more "…THAT…" that was in the Japanese version.

What was the original Japanese Medarot 2 Core's version of Medabots' "tickling little girls"?
Fergzilla also included screenshots of the English scene in question (thanks!):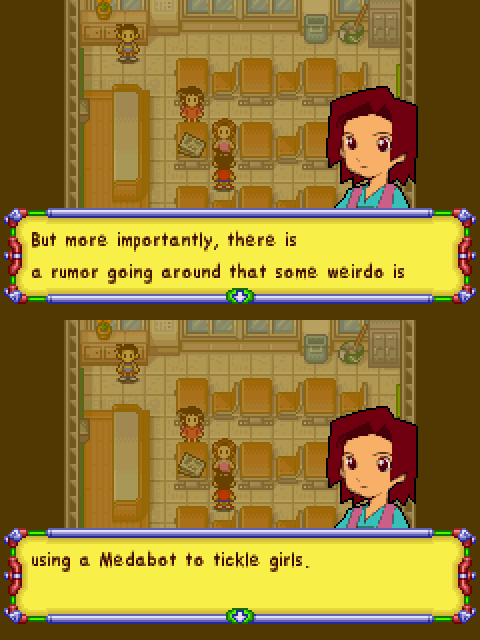 The English scene features this unusual line of dialogue
So, what does this line say in the Japanese release, and is it any different from the English translation? Luckily, the line in question happens pretty early in the game, so I was able to find it without much trouble. Let's take a look!
| | |
| --- | --- |
| | |
| Medarot 2 Core (Japanese, GBA) | Medabots (English, GBA) |
| | |
| --- | --- |
| Japanese Release (basic translation) | English Release |
| But never mind that. Have you heard? There's a crazy rumor going around that someone in this town is using a medarot to lift up girls' skirts. | But more importantly, there is a rumor going around that some weirdo is using a medabot to tickle girls. |
It's immediately clear that things were changed – the robot wasn't a tickle-bot in the original script at all!
There are actually two aspects to this localization change to consider:
Lifting girls' skirts is sort of a stereotypical schoolyard "custom" in Japanese entertainment. I don't think we really have the same thing here in the West, or at least in America, but I'd say tickling is a decently close equivalent.
The fact that it's not as common here probably would've made it seem creepier and less family-friendly to Western audiences. The localizers likely picked up on this fact and changed the line, either on their own or as part of company policy.
So there you are! The robot wasn't a tickling robot in the original Japanese game, but it also wasn't as risqué as some might suggest!
I'm curious though – I didn't play much further than this particular scene, so I don't know if this change also required any graphical edits or further revisions in later scenes. If anyone knows, let me know in the comments!
If you liked this article and know someone else who's a Medabots fan, it'd mean a lot if you shared it with them. Thanks for your help!