Sekiro: Shadows Die Twice is a 2019 game about a one-armed, slightly immortal ninja in ancient Japan. The game is so steeped in Japanese culture and the Japanese language, however, that many details and nuances were inevitably lost in translation.
For a rough idea of how much was unavoidably lost in translation, check out my article on the Japanese words for "I" and "me", then multiply that by a thousand. I have no doubt that localizing Sekiro was a difficult task from beginning to end.
Anyway, I recently stumbled upon some online comments by Japanese players regarding Sekiro's English translation. I thought they were pretty interesting, so I've translated some of them below. As always, these comments shouldn't be considered representative all Japanese fans – they're just a few random comments from random people.
Note that
there might be spoilers ahead
, if you're sensitive to that sort of thing. Also, for reference, most of these comments come from sites like
here
,
here
,
here
, and Twitter.
An early boss in the game is a big guy on a horse named Oniwa Gyoubu Masataka. As per Japanese warrior tradition, he announces his arrival on the battlefield before doing battle.
In Japanese, this boss introduces himself using archaic, centuries-old Japanese that's no longer in use today. In English, however, the character introduces himself with "My name is Gyoubu Masataka Oniwa!".
This sentence pattern of "My name is ___" is one of the very first English phrases that Japanese students memorize in school, and one of the main phrases they retain afterward.
Anyway, because "my name is ___" is such a well-known English phrase, Japanese Sekiro fans have a lot to say about this single, specific line in the English script:
"My name" feels a bit unnatural. Because [of the archaic, formal nature of the original Japanese line] I think he should say "I am" instead.
Maybe it's because "My name is" is more formal when introducing yourself? And in JRPGs, when Demon Kings introduce themselves with "wagana wa ___", it's *always* "My name is ___" in English. It might be that it comes off differently than it does for Japanese people.
Well, English doesn't have as many words as Japanese, after all. Like, oppai, mune, and chichi all equal "breast".
No, there's "tity" [sic] and "boobs" too. It's just the natural fact that English vocabulary and Japanese vocabulary don't have a perfect 1-to-1 match all across the board. Kind of like how Japanese puts a heavy emphasis on formalities, so it has larger set of words for such things, which makes it hard to translate into other languages. That's my take on it, anyway.
MY NAME IS! MY NAME IS!
Does "my name is ___" actually even fit the era?
I think "my name" follows with what localized samurai stories use. But only a native speaker would know if the English in a translated work of fiction feels "off" or not.
Actually, if anything, "My name is ___" is a perfect translation for it
Did they seriously switch his family and given name order in his introduction? Talk about shitty. Who localized this?
I think Japanese players are laughing at the "My name is" thing just because it brings back memories of English grammar phrases we learned in grade school. Talk about idiotic.
I think the point they're trying to make is: "my name is" is used today, in modern times, but isn't there a better, more archaic way of saying it they could've used?
"My name is ___" is a pretty outdated expression, although it's not entirely unused. For old English, you'd need to go to English from Shakespeare's time or something like that. I can't read any of that stuff though, it's too crazy for me.
I remember there was talk about how Demon's Souls used old "Queen's English", wouldn't that fit here? England English and American English have different words, pronunciations, and spellings, after all.
He screams his introduction too much in English in comparison to the Japanese
"My name is" is how you start a self-introduction before giving a speech.
Ninja characters throughout Sekiro don't go by their real names – instead, they generally have animal-themed code names. You play as a ninja known as 狼 (ōkami, "Wolf"), for example, and your old ninja master goes by the name 梟 (fukurō, "Owl"). All of these animal-themed code names were translated into their English equivalents for the English release.
Here are some Japanese comments about these English code name translations:
Nothing is as lame as that English spelling for the Ōshinobi Fukurō
They should've just left it as "Fukurō" and let foreign players look up the meaning for themselves
"shinobi great owl" LOL
I disagree, they use animals as their code names, so it's actually MORE natural to translate them
How is translating their code names natural?
That'd be like saying "007" should be read "zero-zero-nana" in Japanese
Would you call Snake [from the Metal Gear series] "hebi! hebi!"? It feels weird to translate sets of pseudonyms directly, if you ask me.
"Great Shinobi" sounds like it could be a pro wrestler's name
Owls and wolves aren't a Japan-only thing, nor are code names, so I don't understand why people say they should be left untranslated
Because it's a proper noun, I think "Fukurō" should've been left as "Fukurō". If things were reversed and an English character named "Owl" was suddenly translated into Japanese as "Fukurō", it'd feel really weird.
He's a main character, so it's not just about whether a basic translation is correct or not, but maybe also whether or not it's easy for English speakers to pronounce and whether it sounds good or not in English.
Wouldn't that be like translating "Yamaoka-san" [an ordinary Japanese name] as "Mr. Mountain Hill"?
A memorable boss in Sekiro is known as the "Guardian Ape" in English. In Japanese, the boss is known as the "Shishizaru" – the "shishi" part means "lion", but carries some monstrous, mythical connotations with it beyond just the real-life animal. The "zaru" part means "monkey".
Here's a Japanese comment thread about the English translation of this boss' name:
In the English version, is the shishizaru called the "Lion Ape" or "Lion Monkey" or something like that?
It was "Guardian Ape" or "Guardian Monkey".
It was the super-plain name of "Guardian Ape/Headless Ape" (seriously)
Thanks. The idea of a "guardian" throwing poop at you isn't so great
Surprise! The Guardian Ape has a second form: it fights while holding its decapitated head in one hand and a sword in another. And double surprise! You get to face it again later in the game!
Before this second encounter, a dying character talks about being attacked by a giant monster. The English version has a genuine mistranslation here: kubi was translated as "(my) neck" instead of "(its) head".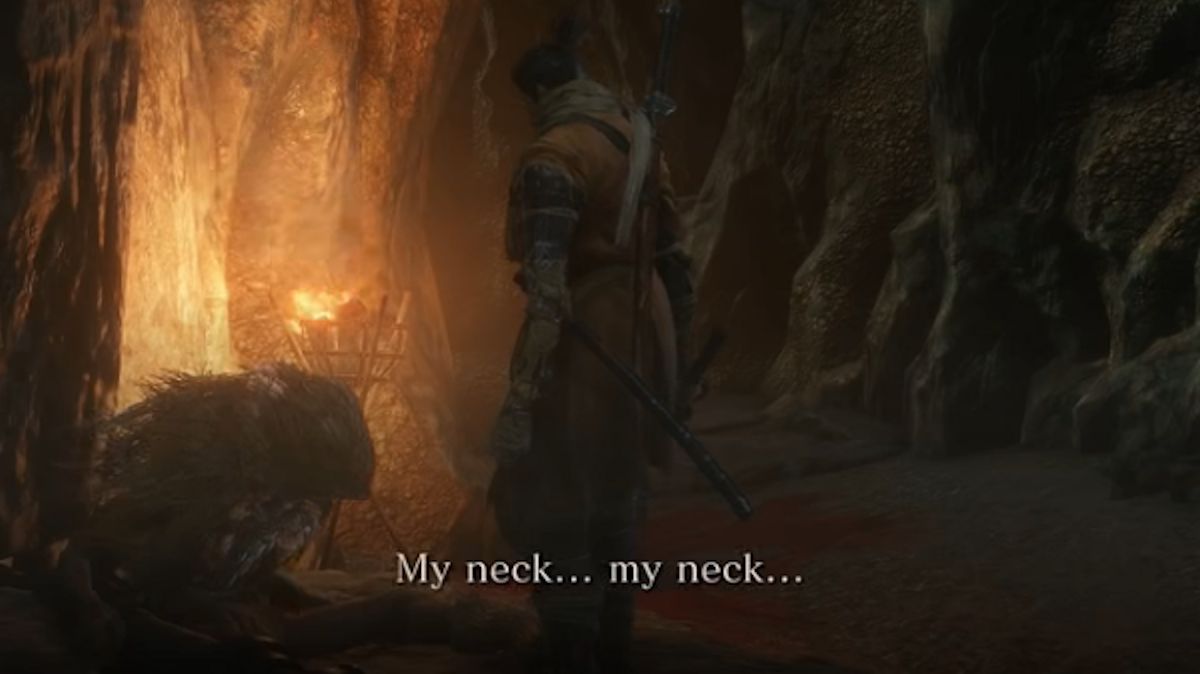 This translation mistake wasn't lost on Japanese players:
The English in this game is so bad lol. When you talk to the rifle guy right before the ape, he says "my neck… my neck…" instead of "its head… its head…"
"What do you mean, YOUR neck?!"
I've seen complaints about many other topics too, but for the sake of brevity, here are a few other random comments:
You can complain about the translation being "lame" or whatever, but the translation isn't meant for Japanese players to begin with. I don't actually know what they (English-speaking players) think about it, though.
It's less about being "lame" and more like the whole translation is weird to begin with
Whoever translated this game was incompetent
I wonder if the diehard fans overseas know the translation is poor this time
Calling the 桜龍 (sakuraryū, "Cherry Blossom Dragon") the "Divine Dragon" seemed kinda cool
Whoa, they called it the "Divine Dragon" in English? I'm again reminded of how much better Japanese is
This is Skyrim-level crappy translation
The game is filled with so many archaic words and vague phrasing that translating it into English must've been insanely hard
When it came out, I wanted to play it with English voices, but there was no voice setting in the options menu, so I considered waiting for an update. I even called FromSoftware, but looking back now I'm glad I played it in Japanese. I watched some English videos after I beat the game, but lines like Isshin's "face me sekiro" in English really fell flat for me
It seemed weird to me that they left "Mibu" in "Mibu Village" untranslated, but then translated "O'Rin of Mibu" as "O'Rin of the Water"
Yeah, that's definitely a mistranslation then. I was thinking of playing the English version, but it sounds like it's not so great.
Again, these comments come from just a handful of Japanese message boards and websites, so they shouldn't be considered representative of all players. Still, it's interesting to see translation complaints coming from players outside of the translation's target audience. I can't think of many instances of the reverse happening – English speakers complaining about English-to-Japanese translation choices. Does that happen at all?
Looking back now at all these Japanese comments, I can't help but wonder which translation issues native English speakers tend to focus on. Are they the same? Or are they completely different? If you know, please share in the comments!
---
If you liked seeing what Japanese gamers think about fans in other countries, I have a bunch of other similar articles here!