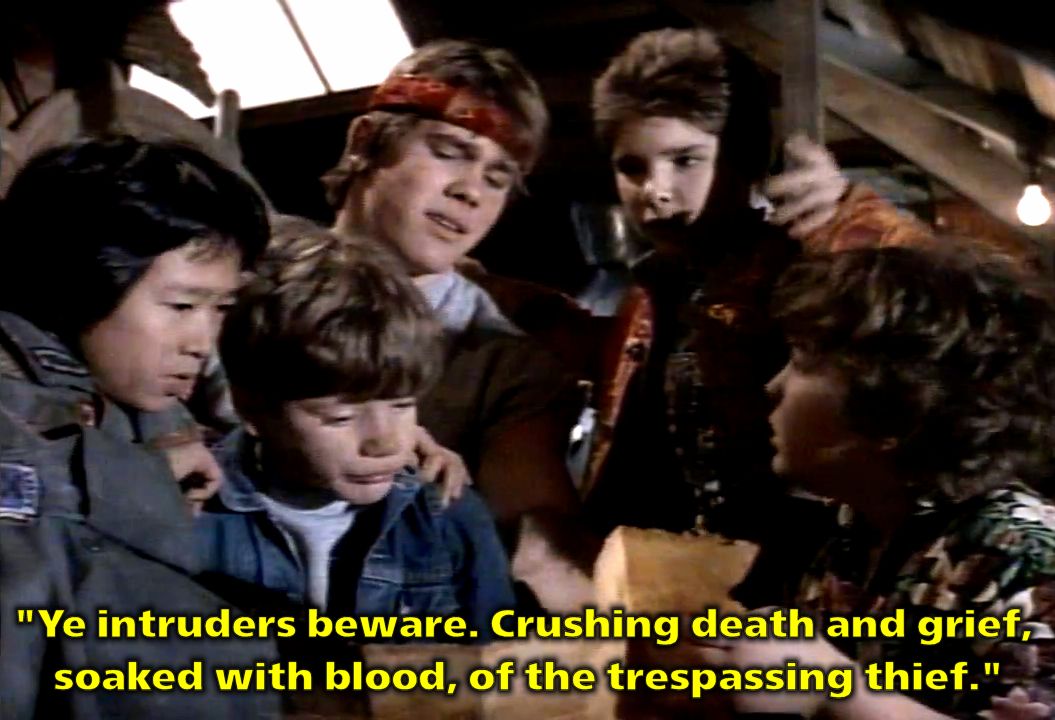 In movies and TV shows, characters flawlessly translate super-technical subjects on the fly without even blinking. Sometimes they'll even translate ancient text on the spot and localize it so it rhymes perfectly in English!
In actuality, translation is much more complicated, and even the simplest things can stop a translator in their tracks for hours at a time.
In this latest Tricky Translations article, we'll see how one of the simplest ideas of all – the concept of "I" and "me" – isn't so simple when translating between Japanese and English.
The Japanese language has lots of personal pronouns – words for "I" and "me", in other words. Some are used every day, some are regional, some are historical, and some are limited to things like entertainment and academics. Countless books have been written about Japanese pronouns, and the topic even comes up in the mainstream media from time to time.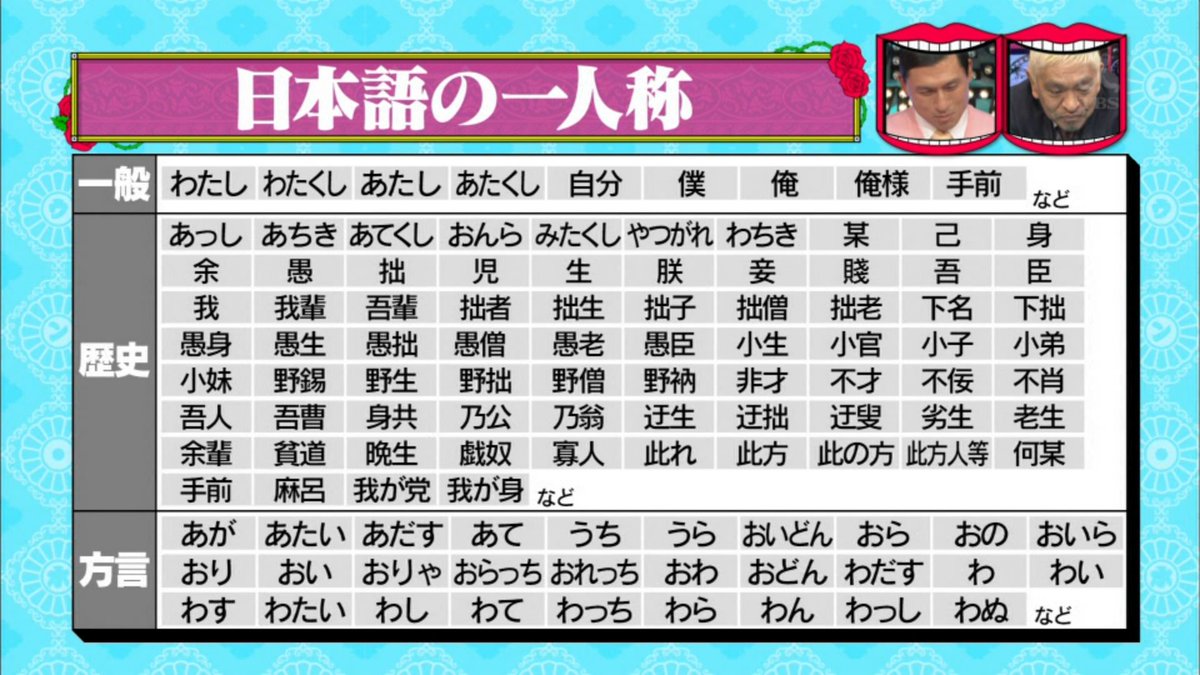 The cool thing is that you get to choose which pronouns you personally identify with. Of course, it's a little more complicated than choosing one pronoun and using it everywhere – there are formal-sounding pronouns for formal situations, casual pronouns for casual situations, and so on. But it's a fascinating system that doesn't have a direct equivalent in English.
In this article, we'll look at a dozen or so Japanese pronouns and see how they work. In particular, we'll focus on how these pronouns are used in Japanese entertainment and who uses them.
Why does Japanese need so many words for "I" or "me"? What are they even good for?
The quick and simple explanation is this: think of Japanese pronouns as clothing. The clothes you wear are an expression of who you are, what you're doing, where you currently are, and so on. You probably wear a certain type of clothes while at home or hanging out with friends. When you go to a job interview, you probably dress up a little more to seem professional. And even when you're just walking around in public, how you dress can offer clues about the kind of person you are.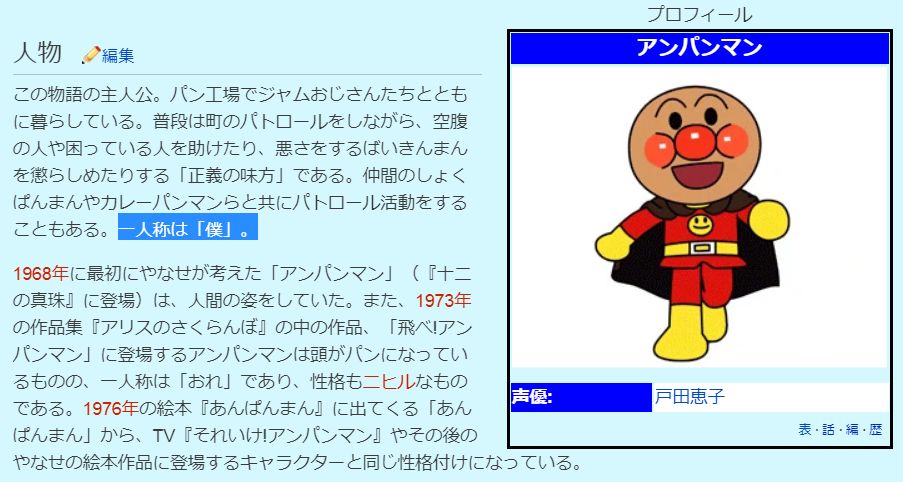 Japanese pronouns work the same way. When you're with friends, you might use certain casual pronouns that feel very "you". But those same pronouns probably wouldn't be appropriate in a formal or professional setting. And other situations might call for other pronouns too. What's more, your pronouns preferences can change over time, just like your fashion sense might change.
Basically, Japanese personal pronouns can say a lot about a person. In fact, it's common to see a character's preferred pronoun listed in their bio on wiki sites, fan sites, and the like. Japanese pronouns are that significant.
It's hard to divide all of the Japanese pronouns into distinct categories, but if you study Japanese, you'll probably encounter these three first. They're used all the time in everyday situations and in entertainment.
---
Watashi can be considered the default and most neutral version of "I" or "me" in Japanese. In formal situations or when being generally polite, watashi can be used by just about anyone. In informal situations, watashi leans a tad toward the feminine side.
Since watashi is sort of the default, a list of popular characters who use watashi would be extraordinarily long. But here are just some examples to give you an idea of how wide its usage can be:
Also, you know how some bad guys are so powerful and confident that they don't even need to act powerful or confident? Watashi is sometimes used to convey that feeling too:
---
Boku is an informal, masculine pronoun for "I/me". It doesn't carry a strong, sharp sense of manliness, though. Instead, it gives off a slightly softer masculine vibe that's hard to describe with one word.
Boku can also give off the sense of boyish-ness, gentleness, timidness, decency, and/or being spoiled, among other things.
Note that girls can sometimes use boku too – doing so generally gives them a "tomboy" feeling.
---
Ore is another common male pronoun in Japanese. It projects a much stronger, harsher, and manlier feeling than boku. As such, it's considered a bit crude, and isn't fit for formal situations or when trying to be polite.
Ore can lend a person a sense of masculinity, strength, confidence, being in charge, and/or vulgarness. Among close friends and family, ore can instead indicate familiarity.
Ore is primarily a male pronoun, but female characters use it on occasion too. Usually this makes them sound tough, manly, and intimidating:
The above Japanese pronouns are ones you'll encounter all the time in real life situations and in entertainment.
This next batch of pronouns is a bit different – some pronouns are regional, some are falling out of style, and some are almost completely limited to entertainment these days. But if you spend enough time with Japanese entertainment, these are personal pronouns you will encounter sooner or later.
If you're studying Japanese, these are pronouns they don't really teach in class, probably because a lot of them aren't used in ordinary situations. So I wouldn't recommend using these in conversation unless you know what you're doing.
It's common in Japanese entertainment for characters to simply say their own name instead of using a pronoun for "I" or "me". Speaking about yourself in the third-person isn't a Japanese-only thing, of course, but it's far more common in Japanese entertainment than in English.
When a character uses their own name instead of a pronoun in Japanese, it tends to make them sound innocent, childish, and/or simple-minded. This speaking style is also strongly associated with young girl characters.
Characters who grew up in the wild, characters who aren't accustomed to human speech, characters who don't speak the local language, and other similar characters can also use their own name instead of pronouns. This matches with what we have in English, like with cavemen and Tarzan.
---
Old people in Japanese entertainment often use washi to refer to themselves. It's usually used by old men, but not always. Washi is extremely common in Japanese entertainment, but not as common in everyday Japanese.
Washi is also somewhat associated with the Hiroshima region, parts of western Japan, and sumo wrestlers. Supposedly Steven Seagal uses washi when speaking Japanese.
---
Atashi is a more casual and more feminine variation of watashi. It's very common in both everyday Japanese and in entertainment Japanese.
---
Watakushi is a more formal version of watashi, and is common in both everyday Japanese and in entertainment Japanese.
Watakushi is usually used to express greater politeness and formality than watashi. It gets used all the time during political speeches, press conferences, business deals, and other things of that nature.
In entertainment, using watakushi outside of formal situations can lend a character a "prim and proper" feeling, or the sense of being very cultured. In some cases, this can be used to make a character sound snobby too.
---
Atakushi is a feminine variation of watakushi. Characters who use atakushi sound like they're cultured, refined, and belong to high society. Because of this, atakushi can also give off a "snooty rich lady" vibe in some cases.
---
Uchi is a common personal pronoun in everyday Japanese and in entertainment Japanese.
In the real world, uchi is an informal, mostly feminine personal pronoun that's primarily associated with the Kansai dialect of western Japan.
In entertainment, uchi is often used by young female characters from the Kansai region or by young female characters who feel like they could be from the region, in the case of fictional worlds.
If you're studying Japanese, note that uchi has a few other, slightly different pronoun uses than "I" and "me". See here for some more details.
---
Ore-sama is like ore, but the added sama makes it more over-the-top.
Ore-sama is pretty much an entertainment-only thing. It's generally used by male characters who are cocky, egotistical, and think highly of themselves. As a result, ore-sama is often used by bad guys who believe the good guys are no match for them at all.
---
Ora tends to give off a feeling that someone is from certain rural regions of Japan or that someone is from a remote area in general. Related to this, ora can also give off a strong "country bumpkin" vibe. Ora mostly appears in entertainment these days.
---
Oira feels a little less "country bumpkin" than ora. Oira appears quite often in entertainment, but not very often in everyday Japanese anymore.
In modern Japanese entertainment, oira can still be used to lend characters a rural vibe, but more often than not, oira is associated with lovable rascals, rambunctious youngsters, friendly mascots, and other characters of that sort.
---
The personal pronoun wagahai gives off a sense of self-importance, arrogance, or the idea of "I'm on a completely different level than you lowly commoners", like something you'd hear from a snooty nobleman. It's not really used in modern Japanese anymore, and even feels kind of old-fashioned and outdated.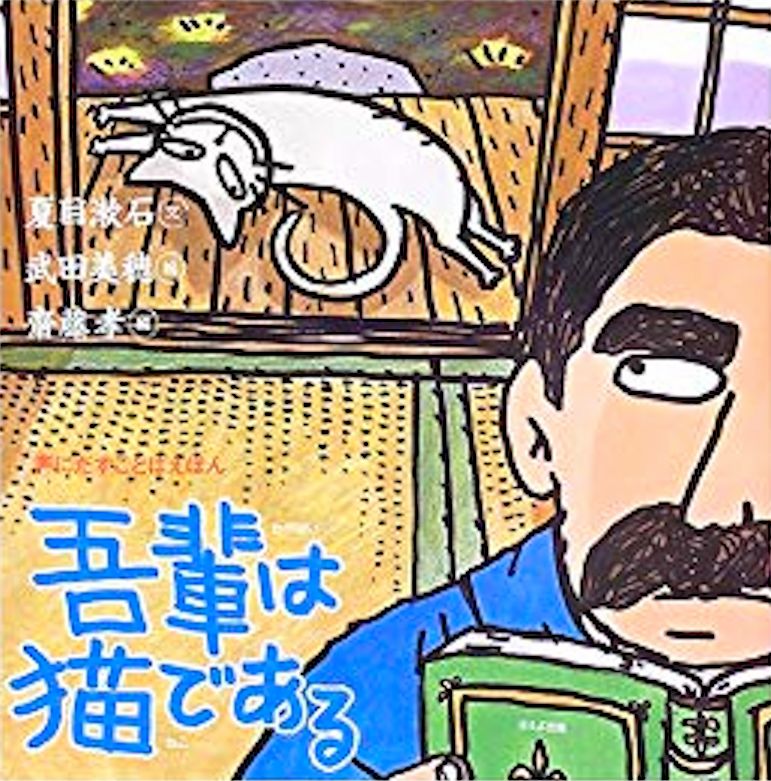 Wagahai has become very closely associated with the classic book Wagahai wa neko de aru ("I Am a Cat"), by Natsume Sōseki. It's a satirical look at daily life in Japan in the late 1800s and early 1900s, when traditional Japanese customs began to mix with Western culture. It's told entirely from the point of a cat who thinks very highly of himself while watching the lowly humans do their silly little things.
"I Am a Cat" is also one of those books that's taught all the time in literature classes in Japanese schools, which has helped keep wagahai a part of the national consciousness. Because of this tight connection between wagahai and "I Am a Cat", if you see wagahai in something, there's a good chance it's related to the book, to Natsume Sōseki, or to cats in some way.
---
Warawa is almost exclusive to Japanese entertainment now, and is usually used by powerful female rulers or noblewomen. This pronoun indicates that a woman considers herself far above everyone else, so it often also carries a condescending vibe.
---
The personal pronoun yo is mostly an entertainment-only thing today. It's sort of like an old-timey watashi and is usually used by members of royalty or people of high rank.
Yo is often associated with the old samurai times, especially with feudal lords and warriors of high standing.
---
Atai isn't used much in everyday Japanese these days, but it's pretty common to see it in Japanese entertainment. Atai is generally used by female characters with rough, brash attitudes. It also gives them a "you don't wanna mess with me" vibe.
I've noticed that some transgender game characters use atai too:
---
The Japanese word jibun usually means "self", "myself", "yourself", "himself", "herself", and so on. But jibun is often used as a first-person pronoun too, in both the real world and in entertainment.
Jibun places a clear distinction between the speaker and the listener, so in the real world, someone might use it when talking to a visitor, an instructor, a potential business partner, etc.
Jibun is also heavily associated with organizations that emphasize rank, discipline, and regulations. As such, jibun is commonly used in Japanese entertainment by:
People who are in the military
People who are in the police force
People who are involved in athletics
Some jibun users from Japanese entertainment include:
---
The Japanese word mī, which can also be written as mii, comes from the English word "me".
Mī mostly appears in entertainment and is often used by foreigners or fun, quirky characters.
---
Wate is a regional personal pronoun, mostly used in the western Kansai area of Japan, which includes Osaka and Kyoto. If a character uses wate, they're probably from the Kansai area or – in the case of a fictional world – act like someone who would belong in the Kansai area.
---
Wai is a regional, mostly male personal pronoun associated with the Kansai area of Japan, which includes Osaka. Characters who use wai often also use wate, and vice-versa.
Wai is sometimes used by speakers from northern regions of Japan. In these cases, wai has different nuances and can be gender neutral.
---
Ware is a personal pronoun that's seen in old, literary texts. It also pops up from time to time in certain Japanese dialects. It's a bit unique in that it can mean both "me" and "you" in these dialects, depending on how it's used. You're more likely to see ware used in entertainment, though.
Fictional characters who use ware tend to be old or feel like they're from old samurai times. Ware can also lend things an "ancient and imposing" feeling, so it's often used by ancient, powerful beings as well.
---
Sessha is pretty much an entertainment-only thing that's used by samurai characters, ninja characters, and other similar warriors.
---
As best as I can tell, soregashi is almost indistinguishable from sessha – it's now an entertainment-only personal pronoun that's used by old-time samurai-like characters.
For some reason, I feel like soregashi and sessha are best suited for low-tier to mid-tier warriors, while high-ranking warriors would probably use something else on this list.
---
Boku-chin is a variation of boku. It occasionally appears in entertainment, and only rarely in modern, everyday Japanese. Boku-chin lends the speaker a sort of giddy, childish vibe.
Believe it or not, there are still many more Japanese words for "I" and "me" than what's listed above.
---
Sometimes Japanese pronouns get kind of weird and unique:
---
There's also a whole slew of Japanese personal pronouns that appear in entertainment less frequently than the ones listed above. Here's a quick and definitely incomplete list:
| Pronoun | Notes |
| --- | --- |
| ate | Similar to wai and wate |
| boku-chan | Equivalent to boku-chin, can also be used as a second-person pronoun |
| chin | Originates from ancient China, used by emperors, including Japan's emperor until after World War II |
| fushō | Feels formal and shows humility, suggests speaker still has a lot to learn in comparison to the listener |
| konata | Used by high-ranking warriors, noblemen, and noblewomen |
| maro | Used by high-ranking imperial court officials/aristocrats |
| midomo | Male pronoun used by warriors in samurai stories |
| oi | Male personal pronoun associated with the Kyushu region |
| oidon | Male personal pronoun associated with the Kyushu region, used by older people |
| orecchi | Associated with 19th century stuff, but now associated with the Shizuoka area |
| sessō | Used by Buddhist monks |
| shōsei | Used by academics when writing formally |
| temae | Shows humility as a first-person pronoun, rudeness as a second-person pronoun |
| ura | Regional pronoun associated with central Japan |
| wa | Regional pronoun associated with northern Japan |
| wachiki | Female pronoun, mostly used by geisha and the like in old samurai times. Variations include achiki, achishi, and asshi |
| wadasu | A regional variation of watashi, variants include adasu and wasu |
---
Most of the pronouns we've looked at so far are limited to Japanese entertainment these days, but there are many other personal pronouns for other real-world contexts too, such as:
When talking via radio
When writing business correspondence
When speaking as a representative of a specific occupation (police official, religious organization official, military official, etc.)
When making a formal statement as/for a company or organization
Japanese pronouns are never-ending. Ironically, though, pronouns are used much less often in Japanese than in languages like English.
After covering so many Japanese pronouns, it's important to keep a few things in mind if you're learning the language or studying translation.
First, Japanese pronouns aren't set in stone – people can switch their preferred pronouns as they see fit. In entertainment, this means that if a character normally uses one certain pronoun, they aren't "locked" into using that pronoun all the time. Again, it's like clothes – maybe there are some days when you just feel like dressing differently.
I'm sure I can find a better example, but here's a game character that demonstrates this pronoun fluidity:
Second, although personal pronouns play a big role in expressing oneself in Japanese, it's only one character aspect of many. It's easy for inexperienced translators to fall into the trap of focusing on a character's chosen pronoun while overlooking other equally important traits. Speech patterns, grammar preferences, particle preferences, mannerisms, direction of thought, tone of voice, and so on are just as important in translation and shouldn't be overlooked.
Basically, Japanese personal pronouns are important, but are only one piece of the full picture.
Personal pronouns can be a big challenge when translating between Japanese and English.
---
As we've seen, the Japanese language has a huge variety of personal pronouns, yet we only have "I" and "me" in English. This means that whenever someone uses a pronoun in Japanese, all of the background details, gender cues, and character traits associated with that pronoun get stripped away in translation. It all just gets "flattened":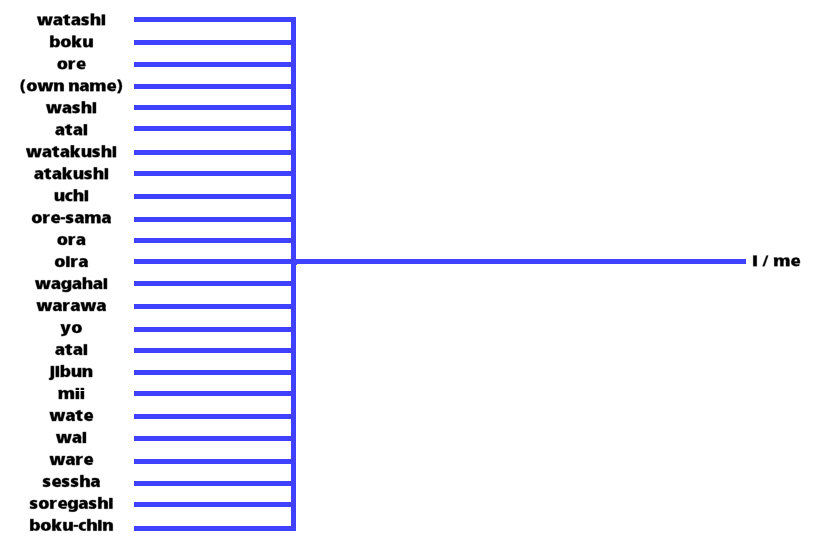 As a result of this pronoun flattening, samurai warriors sound no different from high school girls, ancient monsters sound no different from housewives, and so on. Even the simplest of sentences get flattened down.
This flattening effect can be frustrating for translators. To counteract this, a translator might try to re-inflate a flattened translation by taking all the original text cues and expressing them in a different way in the target language. And, in fact, that's the very definition of localization.
---
If Japanese has dozens of personal pronouns, and English basically only has one, what happens when you translate from English to Japanese? How do you deal with all those "I"s and "me"s?
In an ideal world, a translator will have all the information needed to choose the most appropriate, natural-sounding Japanese pronoun for any given situation. But in the real world, translators rarely have all the information needed. So, when in doubt, the safest choice is to simply use watashi for everything.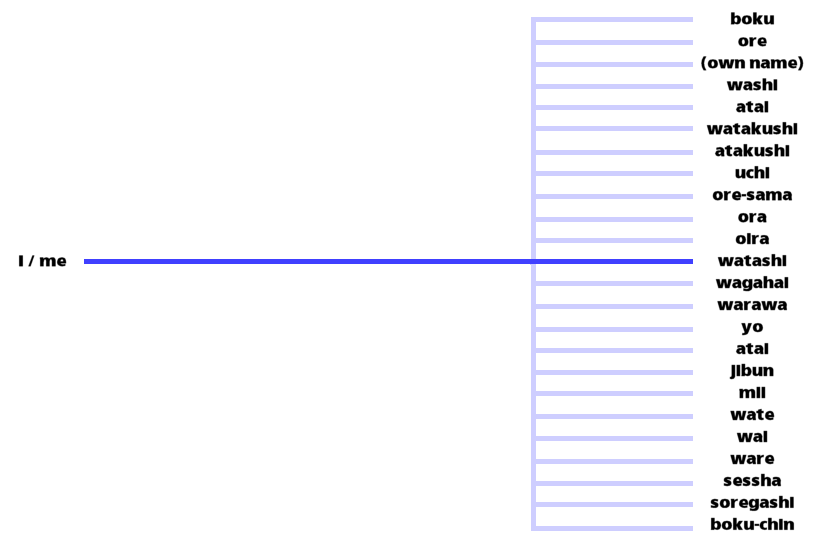 Unfortunately, using watashi as a safe default leads to another flattening effect. Again, this leads to giant monsters sounding no different from kindergarten teachers, and ninja masters sounding no different from tax lawyers. These safe translations work, but come off as bland and monotone.
This pronoun problem gets even more complicated when a game has lines of text that are shared by multiple characters. And things get even worse when a game has a character creation system. Basically, unless a developer designs a game with Japanese language peculiarities in mind to begin with, the game's translation is inevitably going to be full of weird language compromises.
Ideally, an English-to-Japanese translator would have complete notes about who's saying each line and what kind of character traits they have. Some savvy English-speaking game developers have even started to specify their characters' Japanese pronouns before getting their games localized.
Japanese pronouns – especially personal pronouns – always intimidated me when I first started studying translation. I ran into new pronouns so often that it almost felt like there was some giant, secret list of pronouns that everyone knew about but me. I kept that feeling firmly in mind as I put this article together, so hopefully this simplified overview will help others who are in that same boat right now.
Despite how long this article seems, we've only just scratched the surface of how tricky the Japanese language can be to translate. Personal pronouns are just one small piece in the puzzle, so I hope to cover some more tricky pieces in future articles.
For now, if you know of any other characters with interesting Japanese pronouns, let me know. I'm sure I missed some great examples that deserve to be on here!
---
If you liked this article and know someone in the game industry who'd like it, let them know about it! Most of this stuff isn't widely known outside Japan, so I partially wrote this to help devs understand the challenge of English-to-Japanese game translation.