As a professional translator – and as a fan translator – there are two questions I regularly hear:
Why does anything need to be "localized"? Can't you just translate all the words into other words with a dictionary?
Why does that thing need to be re-translated? There's already a decent translation of it!
I hope to write a super-detailed article about these questions someday, but I thought I'd share what other translators have said about these topics over the years and centuries.
---
Basically, the term "localization" is relatively new in the translation industry – I'm not even sure people started using it until the early 2000s. Even so, the idea behind localization (that focusing on the original intent is just as important as the original words, if not more important) has probably been around for as long as people have been translating.
Similarly, the idea of re-translating works that have already been translated is nothing new. It's probably been around as long as people have been translating too.
So, with that explanation out of the way, let's see what acclaimed literary translators have to say.
Thanks again to everyone on Twitter who brought some of these examples to my attention. I'd like to add more over time, so let me know if there are any other examples that deserve to be on here.
Incidentally, this 1954 quote from John Ciardi is probably my favorite explanation of localization that I've seen so far!
Between 382 and 405, St. Jerome corrected previous translations of the Bible and then re-translated it from scratch. St. Jerome is considered the patron saint of translation.
In this letter to the Roman senator Pammachius, St. Jerome explains his translation philosophy of "dynamic equivalence", which is what we'd probably call "localization" today:
I not only admit, but freely proclaim that in translation from the Greek – except in the case of Sacred Scripture, where the very order of the words is a mystery – I render not word for word, but sense for sense.
In the preface to my translation of the Iliad I have given my views as to the main principles by which a translator should be guided, and need not repeat them here, beyond pointing out that the initial liberty of translating poetry into prose involves the continual taking of more or less liberty throughout the translation; for much that is right in poetry is wrong in prose, and the exigencies of readable prose are the first things to be considered in a prose translation.

[…]

The Odyssey (as everyone knows) abounds in passages borrowed from the Iliad; I had wished to print these in a slightly different type, with marginal references to the Iliad, and had marked them to this end in my MS. I found, however, that the translation would be hopelessly scholasticized, and abandoned my intention. I would nevertheless again urge on those who have the management of University presses, that they would render a great service to students if they would publish a Greek text of the Odyssey with Iliadic passages printed in a different type, and with marginal references.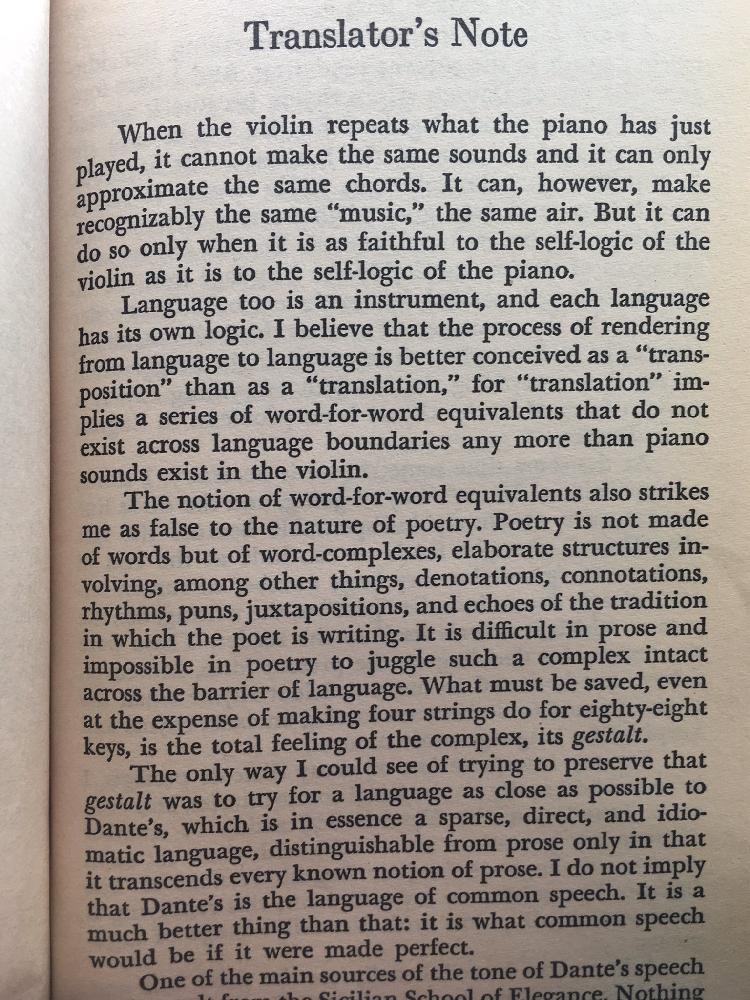 When the violin repeats what the piano has just played, it cannot make the same sounds and it can only approximate the same chords. It can, however, make recognizably the same "music," the same air. But it can do so only when it is as faithful to the self-logic of the violin as it is to the self-logic of the piano.

Language too is an instrument, and each language has its own logic. I believe that the process of rendering from language to language is better conceived as a "transposition" than as a "translation," for "translation" implies a series of word-for-word equivalents that do not exist across language boundaries any more than piano sounds exist in the violin.

The notion of word-for-word equivalents also strikes me as false to the nature of poetry. Poetry is not made of words but of word-complexes, elaborate structures involving, among other things, denotations, connotations, rhythms, puns, juxtapositions, and echoes of the tradition in which the poet is writing. It is difficult in prose and impossible in poetry to juggle such a complex intact across the barrier of language. What must be saved, even at the expense of making four strings do for eighty-eight keys, is the total feeling of the complex, its gestalt.

The only way I could see of trying to preserve that gestalt was to try for a language as close as possible to Dante's, which is in essence a sparse, direct, and idiomatic language, distinguishable from prose only in that it transcends every known notion of prose. I do not imply that Dante's is the language of common speech. It is a much better thing than that: it is what common speech would be if it were made perfect.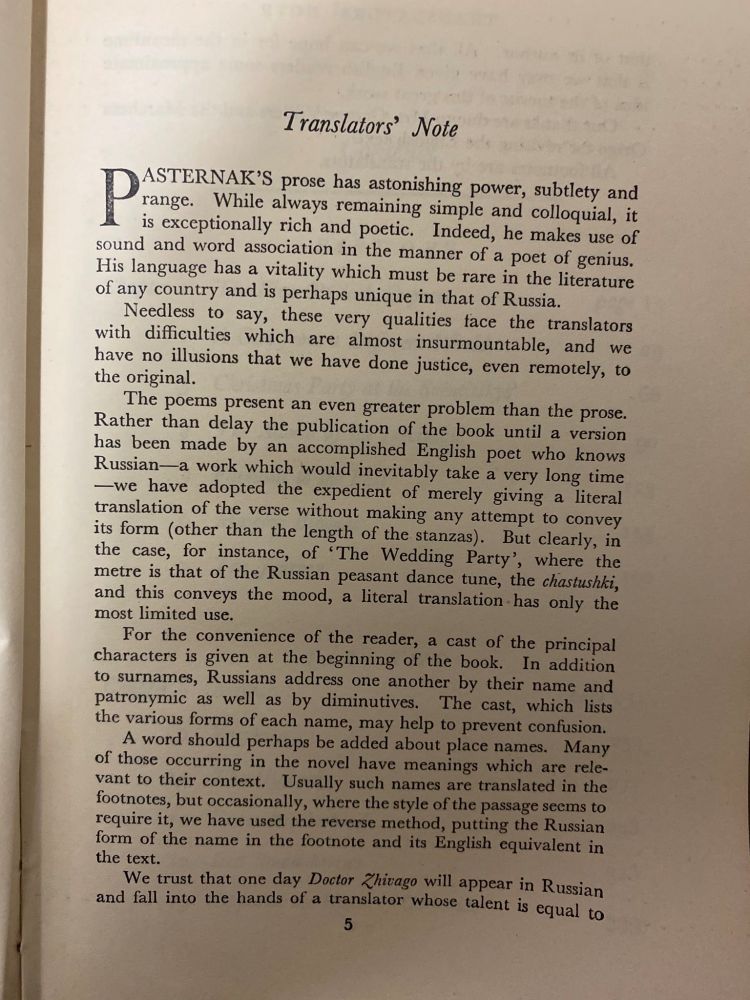 Pasternak's prose has astonishing power, subtlety and range. While always remaining simple and colloquial, it is exceptionally rich and poetic. Indeed, he makes use of sound and word association in the manner of a poet of genius. His language has a vitality which must be rare in the literature of any country and is perhaps unique in that of Russia.

Needless to say, these very qualities face the translators with difficulties which are almost insurmountable, and we have no illusions that we have done justice, even remotely, to the original.

The poems present an even greater problem than the prose. Rather than delay the publication of the book until a version has been made by an accomplished English poet who knows Russian—a work which would inevitably take a very long time—we have adopted the expedient of merely giving a literal translation of the verse without making any attempt to convey its form (other than the length of the stanzas). But clearly, in the case, for instance, of 'The Wedding Party', where the metre is that of the Russian peasant dance tune, the chatushki, and this conveys the mood, a literal translation has only the most limited use.

For the convenience of the reader, a cast of the principal characters is given at the beginning of the book. In addition to surnames, Russians address one another by their name and patronymic as well as by diminutives. The cast, which lists the various forms of each name, may help to prevent confusion.

A word should perhaps be added about place names. Many of those occurring in the novel have meanings which are relevant to their context. Usually such names are translated in the footnotes, but occasionally, where the style of the passage seems to require it, we have used the reverse method, putting the Russian form of the name in the footnote and its English equivalent in the text.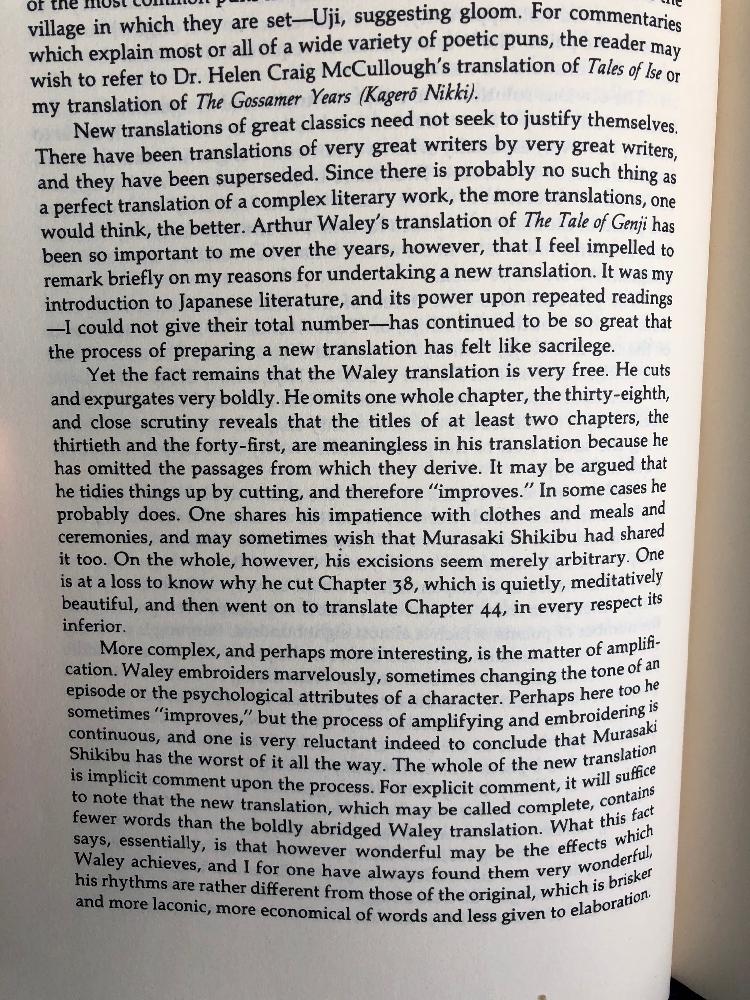 New translations of great classics need not seek to justify themselves. There have been translations of very great writers by very great writers, and they have been superseded. Since there is probably no such thing as a perfect translation of a complex literary work, the more translations, one would think, the better. Arthur Waley's translation of The Tale of Genji has been so important to me over the years, however, that I feel impelled to remark briefly on my reasons for undertaking a new translation. It was my introduction to Japanese literature, and its power upon repeated readings—I could not give their total number—has continued to be so great that the process of preparing a new translation has felt like sacrilege.

Yet the fact remains that the Waley translation is very free. He cuts and expurgates very boldly. He omits one whole chapter, the thirty-eighth, and close scrutiny reveals that the titles of at least two chapters, the thirtieth and forty-first, are meaningless in his translation because he has omitted the passages from which they derive. It may be argued that he tidies things up by cutting, and therefore "improves." In some cases he probably does. One shares his impatience with clothes and meals and ceremonies, and may sometimes wish that Murasaki Shikibu had shared it too. On the whole, however, his excisions seem merely arbitrary. One is at a loss to know why he can cut Chapter 38, which is quietly, meditatively beautiful, and then went on to translation Chapter 44, in every respect its inferior.

More complex, and perhaps more interesting, is the matter of amplification. Waley embroiders marvelously, sometimes changing the tone of an episode or the psychological attributes of a character. Perhaps here too he sometimes "improves," but the process of amplifying and embroidering is continuous, and one is very reluctant indeed to conclude that Murasaki Shikibu has the worst of it all the way. The whole of the new translation is implicit comment upon the process. For explicit comment, it will suffice to note that the new translation, which may be called complete, contains fewer words than the boldly abridged Waley translation. What this fact says, essentially, is that however wonderful may be the effects which Waley achieves, and I for one have always found them to be wonderful, his rhythms are rather different from those of the original, which is brisker and more laconic, more economical of words and less given to elaboration. If it should be the aim of a translation to imitate the original in all important matters, including the matter of rhythm, then it may be said that the translation offered here has set itself a fuller set of aims than did that of Waley. How full have been its successes is for others to say.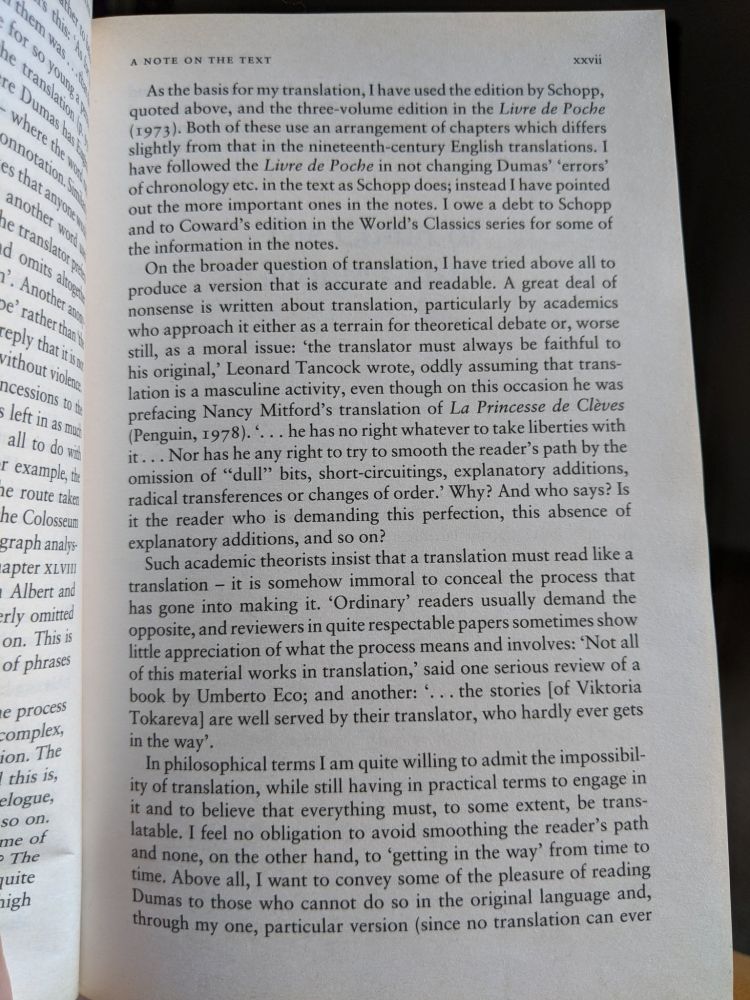 On the broader question of translation, I have tried above all to produce a version that is accurate and readable. A great deal of nonsense is written about translation, particularly by academics who approach it either as terrain for theoretical debate or, worse still, as a moral issue: 'the translator must always be faithful to his original,' Leonard Tancock wrote, oddly assuming that translation is a masculine activity, even though on this occasion he was prefacing Nancy Mitford's translation of La Princesse de Clèves (Penguin, 1978). '…he has no right whatever to take liberties with it…Nor has he any right to try to smooth the reader's path by the omission of "dull" bits, short-circuitings, explanatory editions, radical transferences or changes of order.' Why? And who says? Is it the reader who is demanding this perfection, this absence of explanatory additions, and so on?

Such academic theorists insist that translation must read like a translation – it is somehow immoral to conceal the process that has gone into making it. 'Ordinary' readers usually demand the opposite, and reviewers in quite respectable papers sometimes show little appreciation of what the process means and involves: 'Not all of this material works in translation,' said one serious review of a book by Umberto Eco; and another: '…the stories [of Viktoria Tokareva] are well served by their translator, who hardly ever gets in the way'.

In philosophical terms I am quite willing to admit the impossibility of translation, while still having in practical terms to engage in It and to believe that everything must, to some extent, be translatable. I feel no obligation to avoid smoothing the reader's path and none, on the other hand, to 'getting in the way' from time to time. Above all, I want to convey some of the pleasure of reading Dumas to those who cannot do so in the original language and, through my one, particular version (since no translation can ever be definitive), to reveal aspects of his work that are not to be found in any of the other existing versions. This is a new translation and consequently a new interpretation of a great – and great popular – novel. If nothing else, most people would surely agree that it is long overdue.
The most common question I was faced while working on this new Tin Drum was, "What was wrong with the old one?" This question reveals a fundamental misunderstanding about the nature of literary translation. It is precisely the mark of a great work of art that it demands to be retranslated. What impels us toward new versions is not the weakness of existing translations, but the strength and richness of certain works of literature. The works that are never retranslated are those we only care to read once.

We translated great works because they deserve it—because the power and depth of the text can never be fully revealed by a single translation, however inspired. A translation is a reading, and every reading is necessarily personal, perhaps even idiosyncratic. Each new version offers, not a better reading, but a different one, one that foregrounds new aspects of the text, that sees it through new eyes, that makes it new.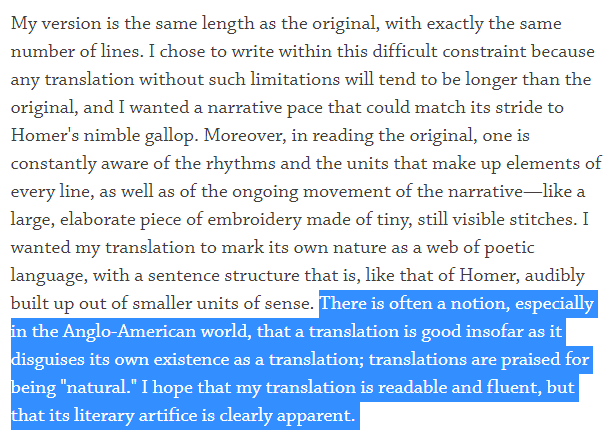 There is often a notion, especially in the Anglo-American world, that a translation is good insofar as it disguises its own existence as a translation; translations are praised for being "natural." I hope that my translation is readable and fluent, but that its literary artifice is clearly apparent.
The translator, in an interview with the New York Times about translating The Odyssey, also offered this personal experience: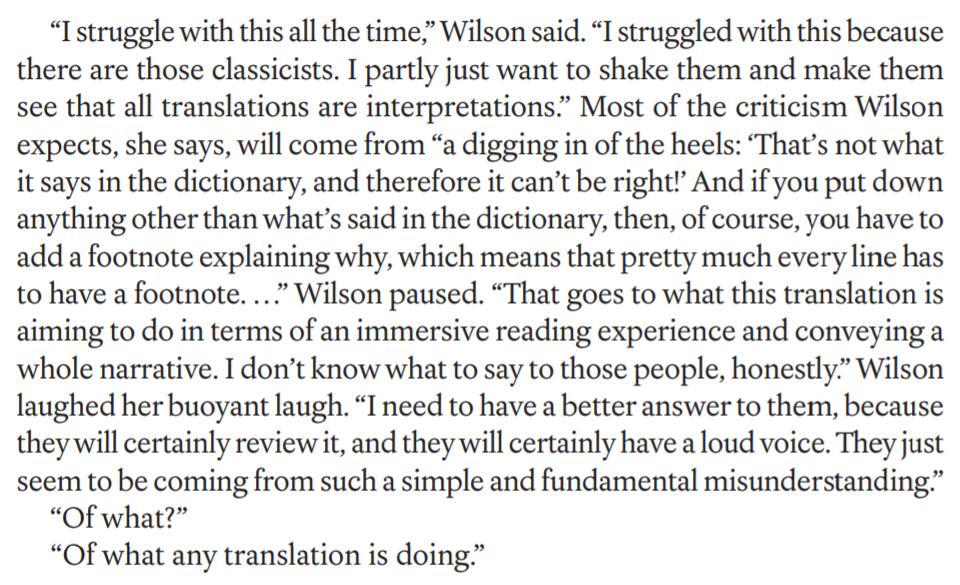 ---
If you have any other good examples to add to this list, let me know! And if you'd like to read more about translation, localization, and such, see my other articles here!