Nintendo and Mattel released many NES games in various European countries during the 1980s and 1990s, but strangely enough, they usually left the games' text untranslated. To make up for this, sometimes the companies would translate the games' manuals into the local language – but not always.
I didn't grow up playing these European releases, but it really feels like console game translation in Europe during this time was in an unpredictable and frustrating Wild West era of sorts.
Anyway, while researching Zelda II stuff a while back, I came across an interesting find: there was a French release of Zelda II: The Adventure of Link that came with a translated manual and a booklet that translated all of the in-game text.
I'd never seen a console game get this translation booklet treatment before, so I bought a complete copy of this French version to learn more. So let's take a look at it!
This copy cost quite a bit to import, but I was able to get it without worry thanks to the Legends of Localization Patreon followers!
First, if you're interested, here are photos of the entire Zelda II English-to-French translation booklet:
I don't know French, but I'm enough of a linguist to recognize that there are a number of odd translation choices and translation mistakes in the Zelda II French translation booklet. So I asked two native French speakers to go through all of the text and provide their thoughts about each line, along with translations of each French line back into English.
Not every French line was noteworthy or interesting, so we'll skip those and focus on the good stuff. Check out the booklet photos above if you want to see all the lines side-by-side, though!
At first, I thought every line of text in the game was included in this French translation booklet, but it turns out that that's not the case. A bunch of lines were dropped or went missing:
We can see that the French translation booklet skips important and unimportant text alike. Some of these lines are needed to progress the game, though, so I wonder if they caused any problems for players who didn't have outside resources like gaming magazines.
---
I consulted two native French speakers about this Zelda II translation booklet. Below are some of the more interesting translations they pointed out, along with notes they included.
If there are any mistakes with the French stuff below, let me know in the comments. I don't speak French so I can only rely on others for things like this!
I've also included a couple notes of my own, and have highlighted some of my favorite differences in a tomato-ish color.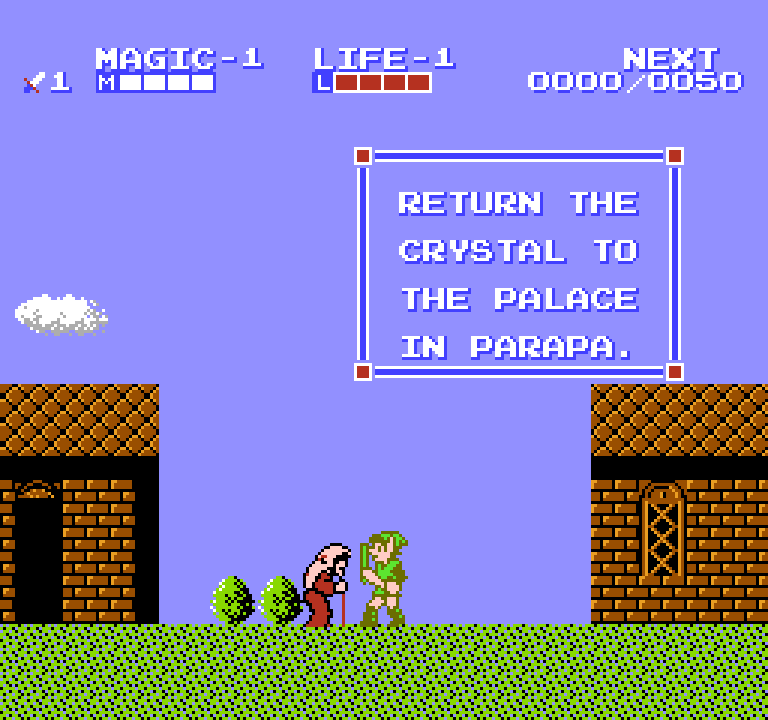 French: Rapporte le Cristal au Palais de Parapa.
Meaning: Return the Crystal to the Palace of Parapa.
Note: Oddly has some extra capital letters.
Mato Note: This is a common thing throughout the booklet's translation, so we'll skip most of the other instances of this happening.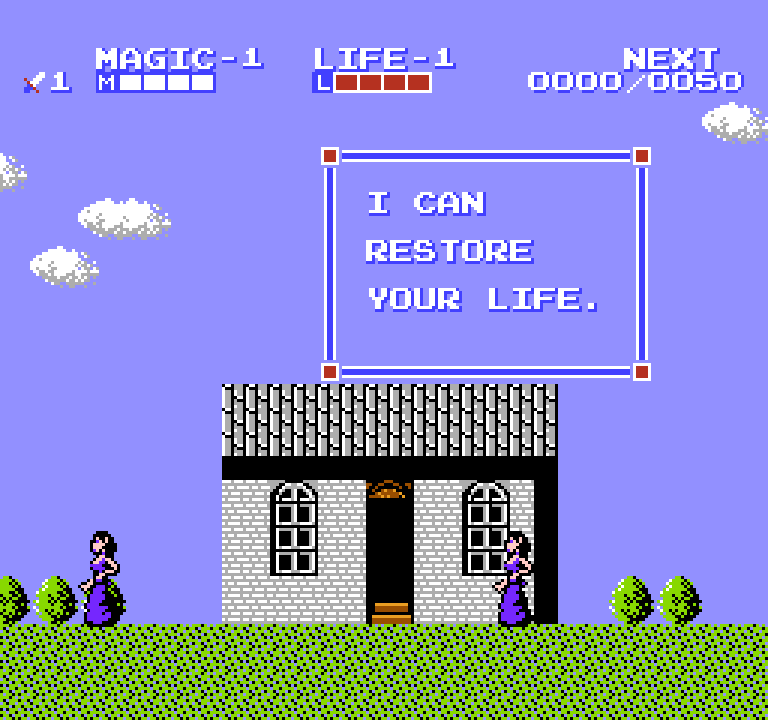 French: Je peux te redonner la vie.
Meaning: I can give back life.
Note: The French translation has more of a sense of giving back a life rather than talking about restoring life points.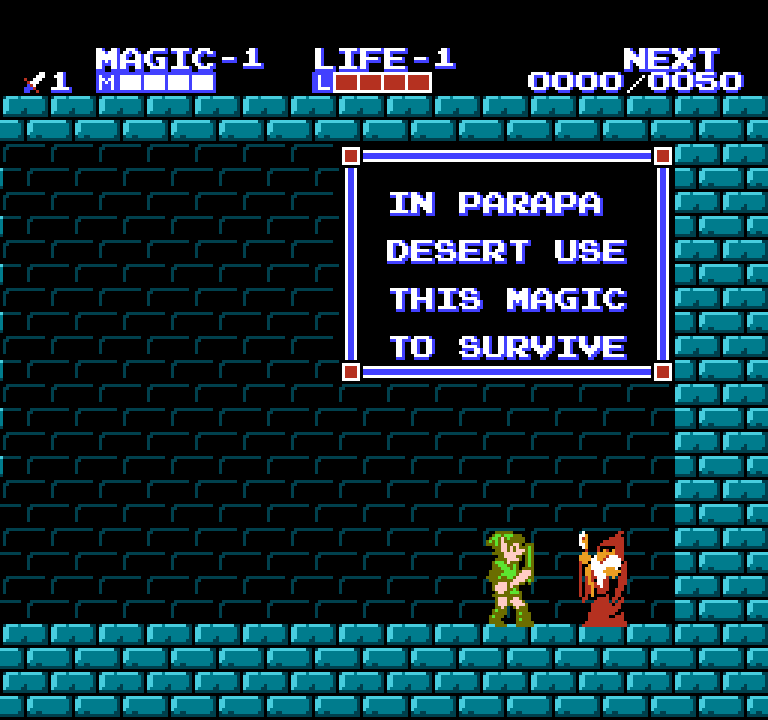 French: Dans le Désert de Parapa utilise le pouvoir magique pour survivre.
Meaning: In the Desert of Parapa use the magic power to survive.
Note: The original line talks about using this magic to survive but the French one talks about magic in general.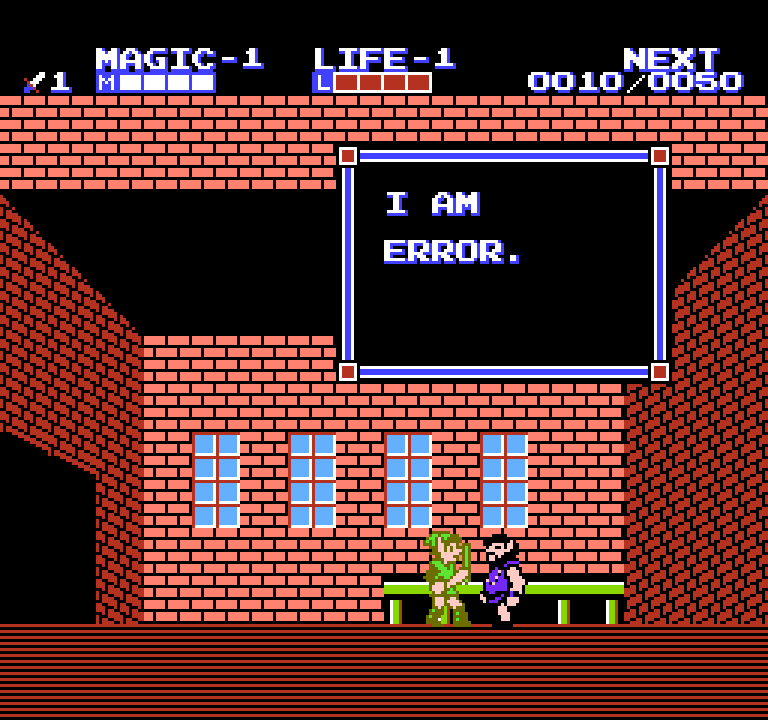 French: Je suis Error.
Meaning: I am Error.
Note: The French kept the English name as-is and did not use "Erreur".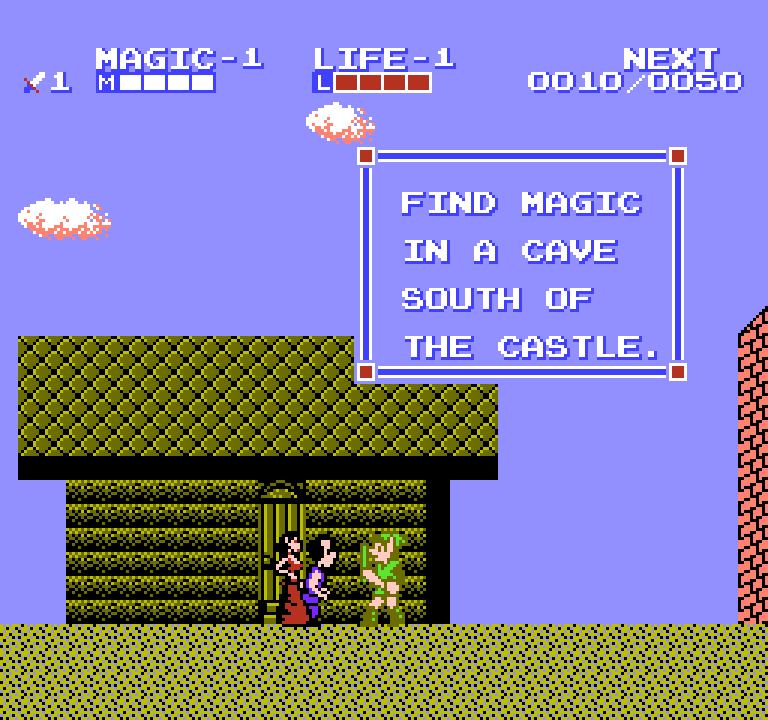 French: Trouve l'Instrument magique dans la cave sud du château.
Meaning: Find the Magic instrument in the southern cave of the castle.
Note: The French line talks about a "magic instrument" instead of just magic. Also, since it's the cave south of the castle, it should be au sud du château. Written as-is, it seems like the castle has multiple caves and you should go to the south one.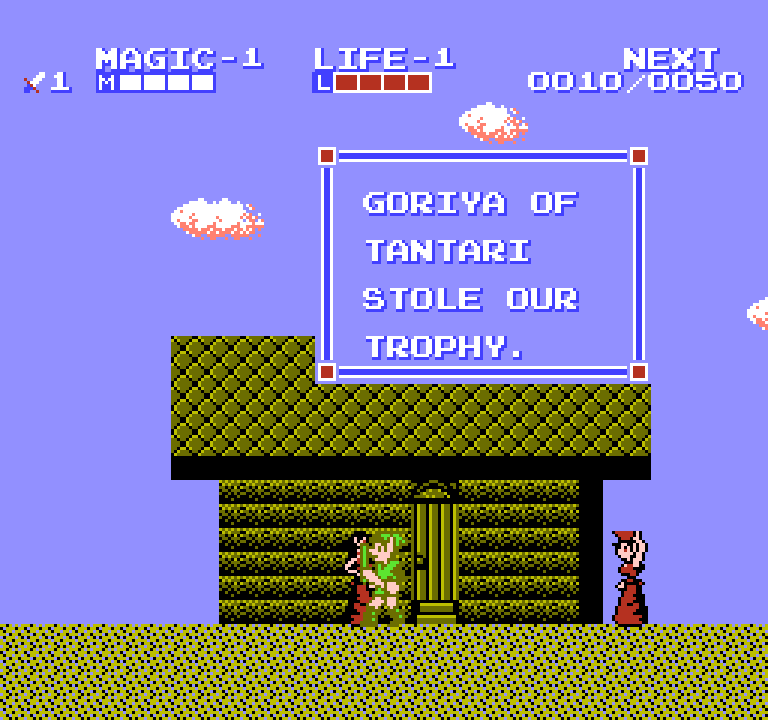 French: Les Goriya de Tantari ont volé notre Trophée.
Meaning: The Goriya of Tantari have stolen our Trophy.
Note: In French, they specify that "Goriya" is plural here.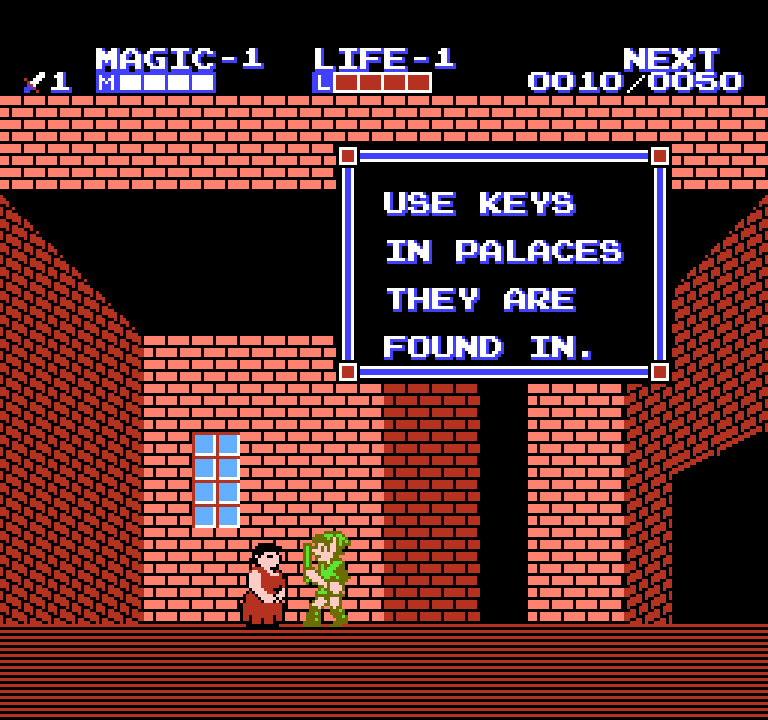 French: Utilise les clés dans les Palais. Elles s'y Trouvent.
Meaning: Use the keys in Palaces. They are Found in.
Note: The English transcription in the French booklet mistakenly breaks this up into two sentences: "Use the Keys in Palaces. They are found in." The French translation is word-for-word the same.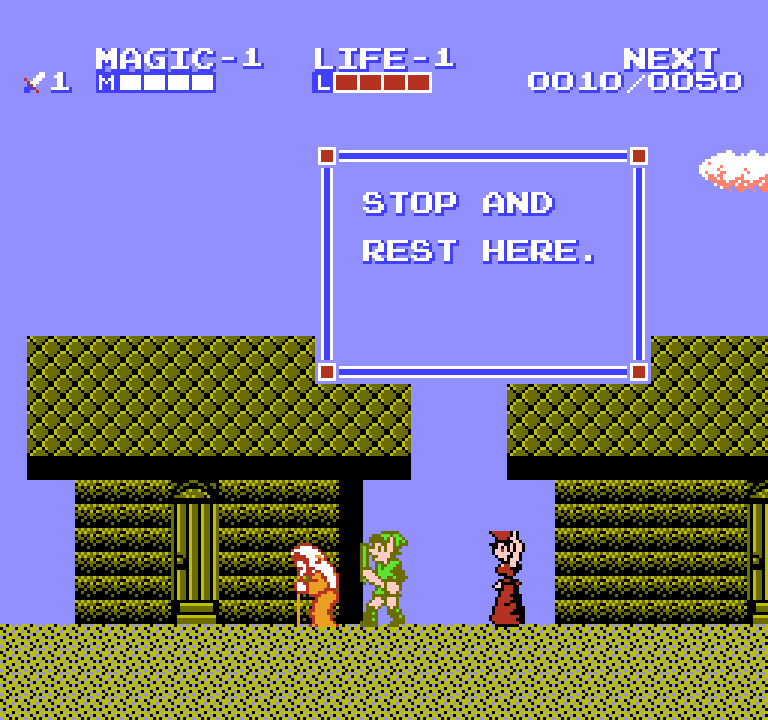 French: Arrête-toi et repose-toi ici.
Meaning: Stop yourself and rest yourself here.
Note: More emphasis on referring to "you" than in the English version.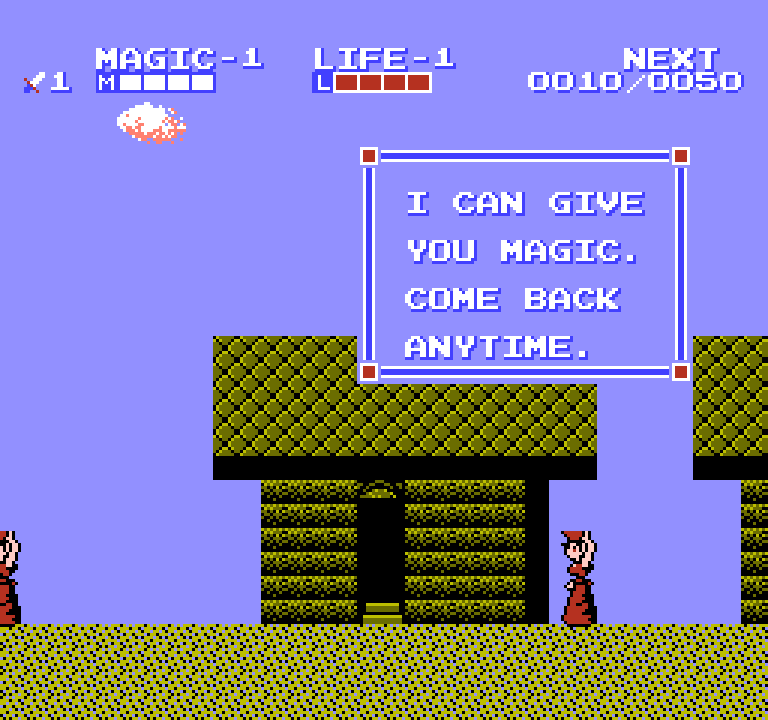 French: Je peux te donner de la potion magique. Reviens quand tu veux.
Meaning: I can give you magic potion. Come back anytime you want.
Note: The French line talks about a "magic potion" instead of just "magic".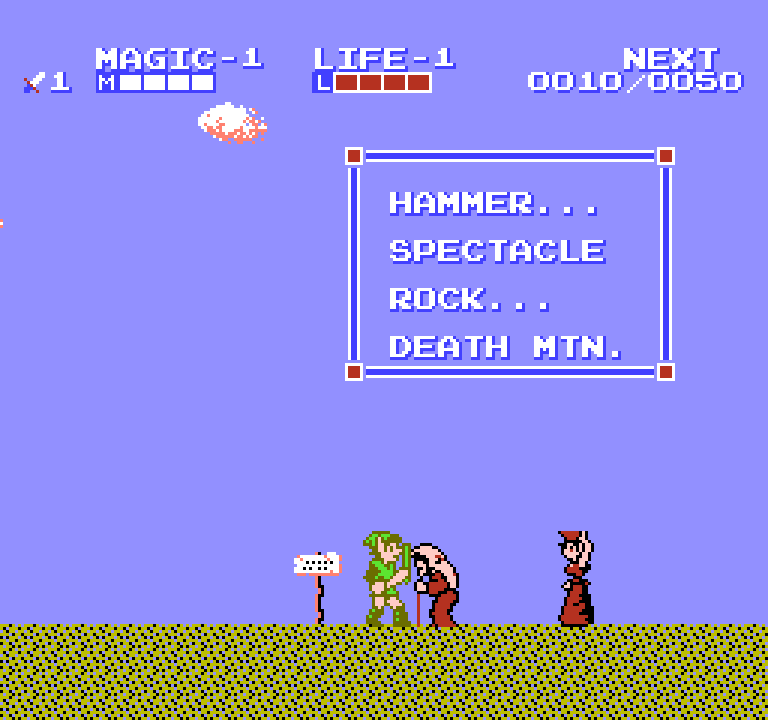 French: Marteau… Spectaculaire Roche… Montagne de la Mort.
Meaning: Hammer… Spectacular Rock… Mountain of Death.
Note: They didn't translate location names for most of the game's text, but here they changed "Spectacle Rock" to "Spectaculaire Roche", which is wrong.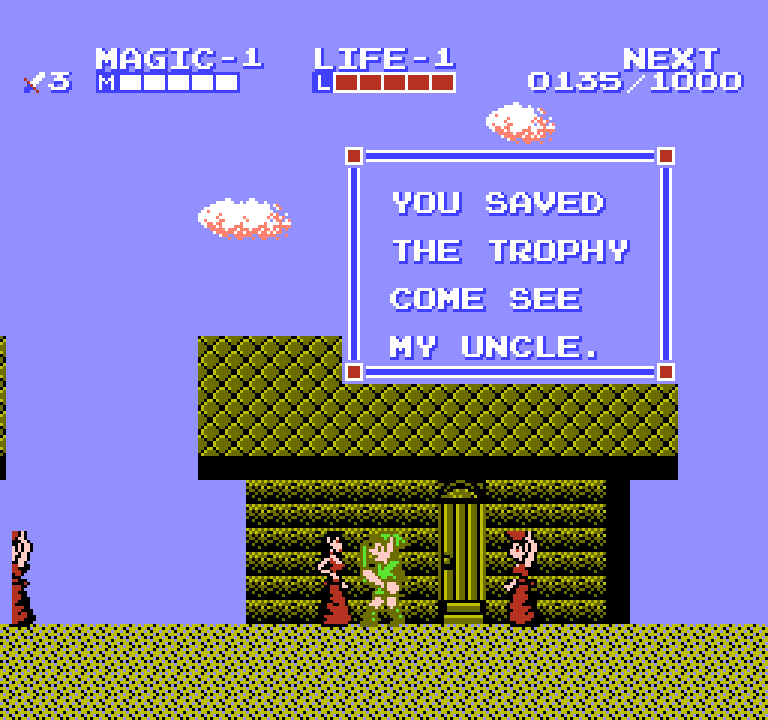 French: Tu as sauvé notre Trophée. Viens voir mon oncle.
Meaning: You saved our Trophy. Come see my uncle.
Note: The French translation uses two separate, logical sentences.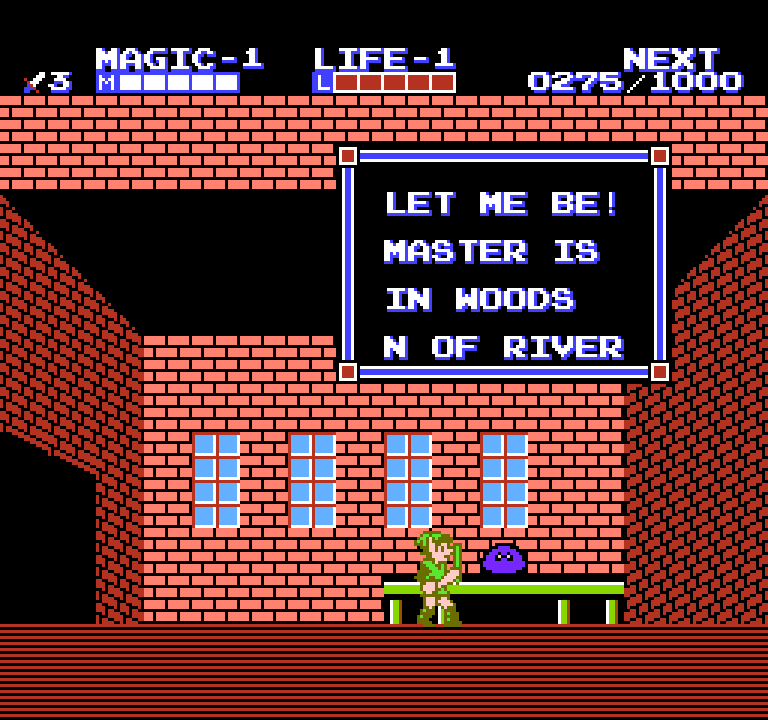 French: Laisse-moi! Le Maître est dans les Bois et les Rivières.
Meaning: Let me be! The Master is in the Woods and the Rivers.
Note: They probably mistook the "woods n of river" as "woods and river", so the French booklet got that instead of "north".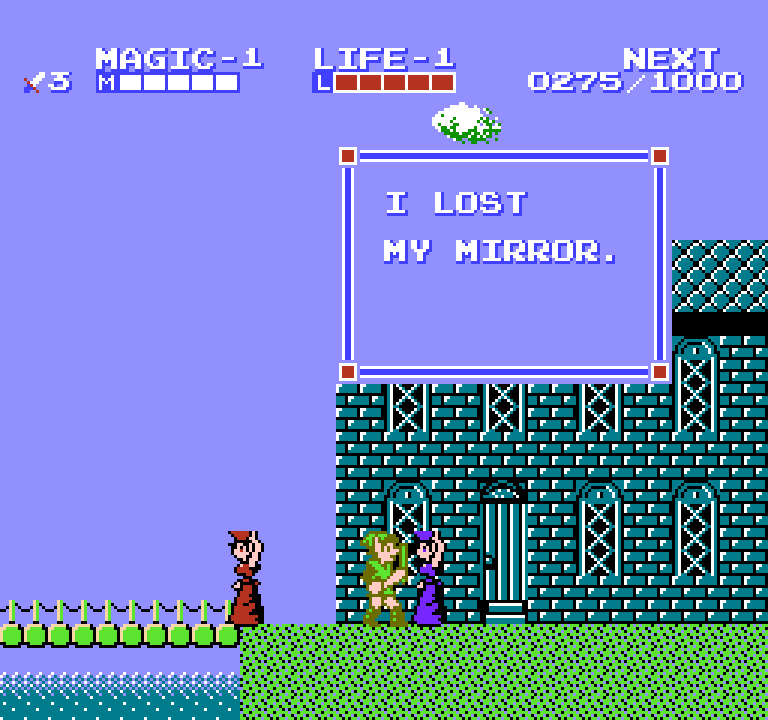 French: Trouve mon miroir.
Meaning: Find my mirror.
Note: The French booklet actually mistakenly lists the English line as "Find my Mirror".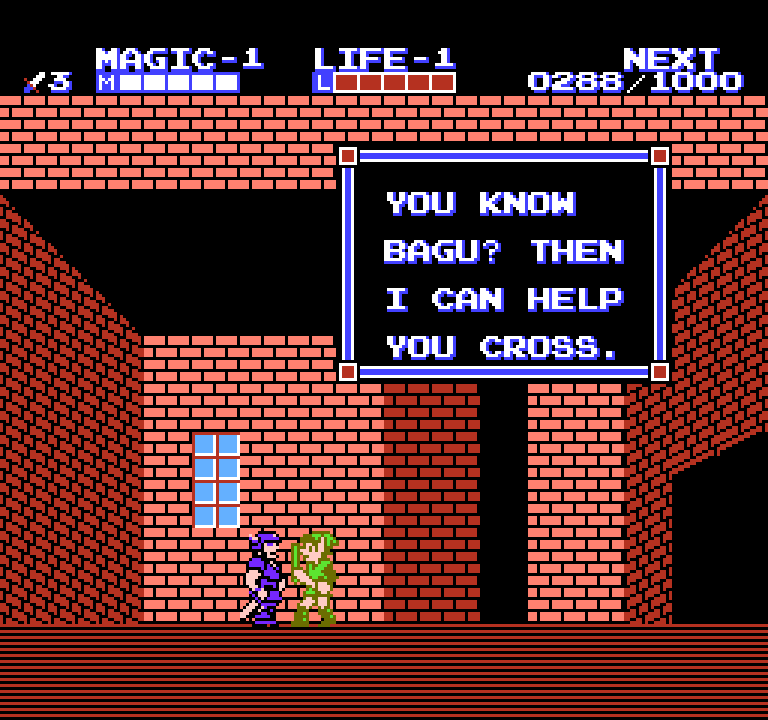 French: Connais-tu Bagu? Alors je peux t'aider à traverser.
Meaning: Do you know Bagu? Then I can help you cross.
Note: Connais-tu ("Do you know") works, but Tu connais ("You know") would've probably be closer to the English version, but I feel like since it was a booklet translation they used longer phrases that had more style than just the strict minimum like in the game.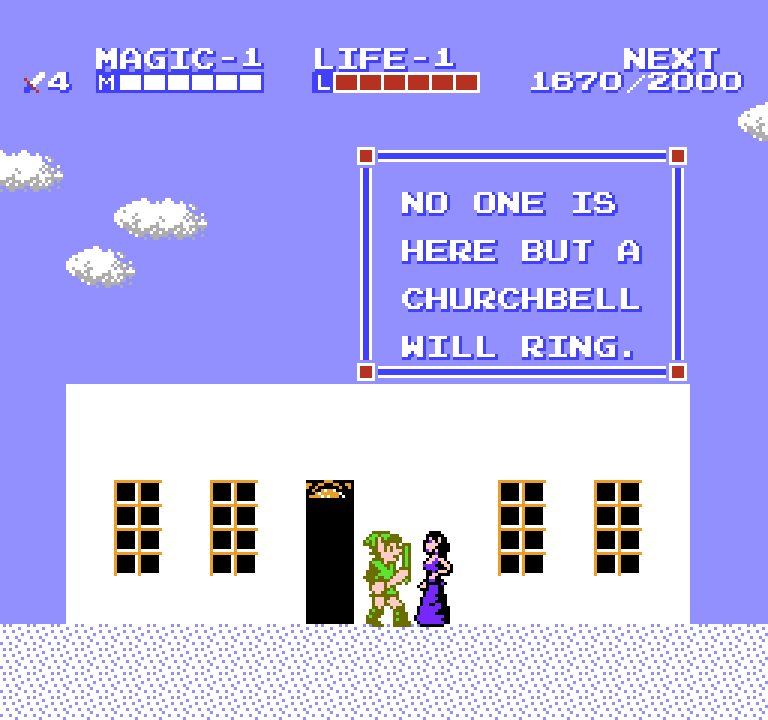 French: Il n'y a personne mais la cloche sonnera.
Meaning: There is nobody but the bell will ring.
Note: The French doesn't point to as specific a location as the English version.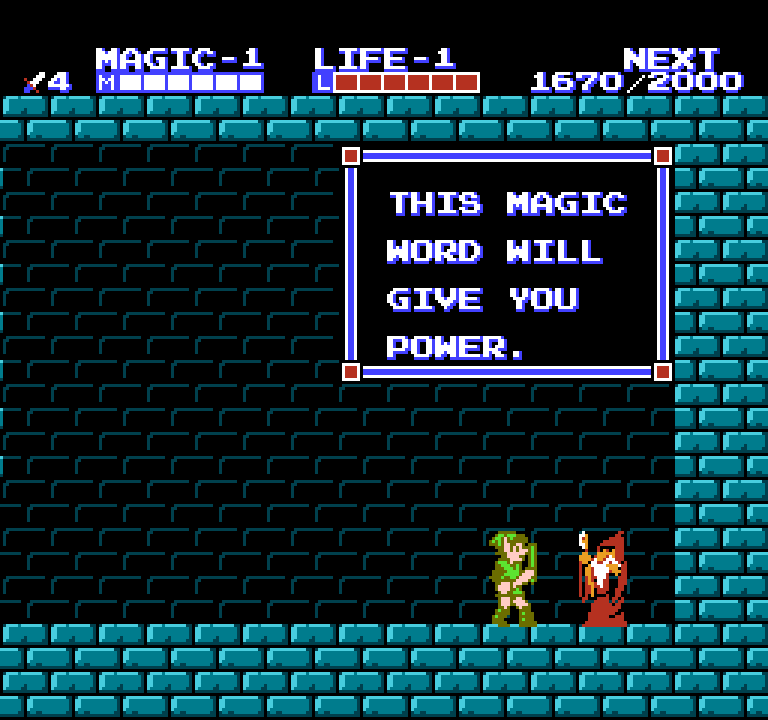 French: Cette potion magique te donnera du pouvoir.
Meaning: This magic potion will give you power.
Note: The French booklet takes "word" out of the English line and instead talks about a "magic potion". They probably changed "word" to "potion" because mot ("word") wouldn't make sense.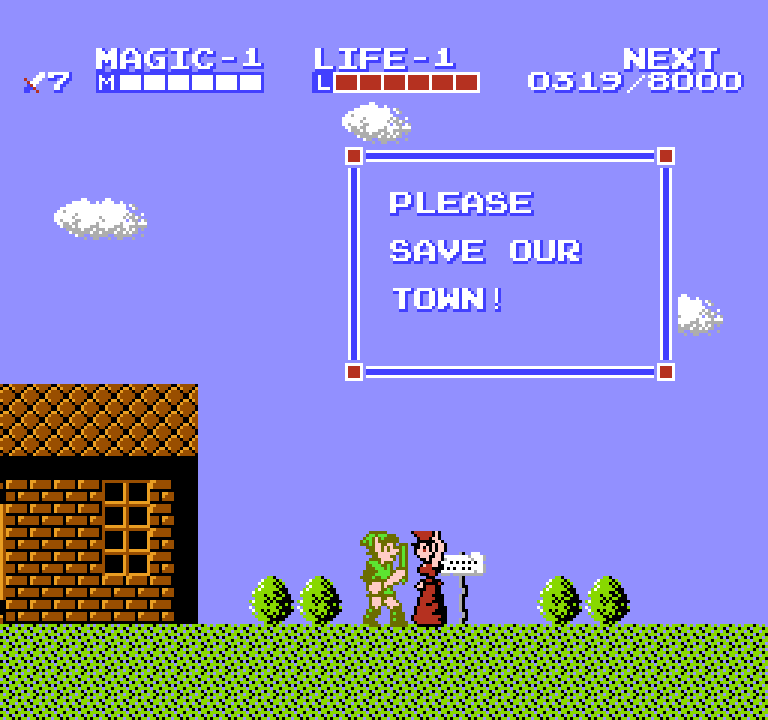 French: Je t'en prie, sauve notre ville.
Meaning: Please, save our town.
Note: The French line is written as two phrases instead of one.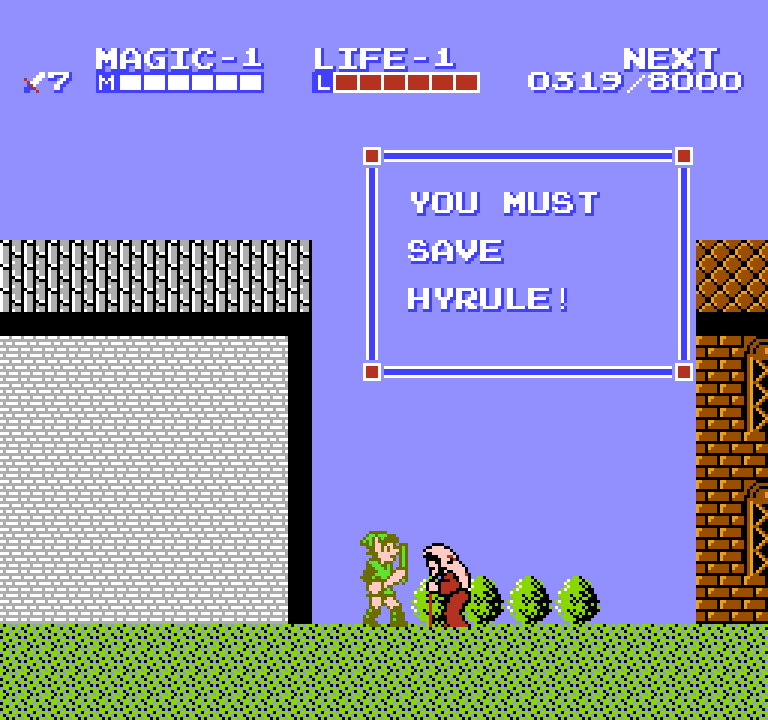 French: Tu dois sauver HYRULE.
Meaning: You must save HYRULE.
Note: Why is "Hyrule" in all-caps?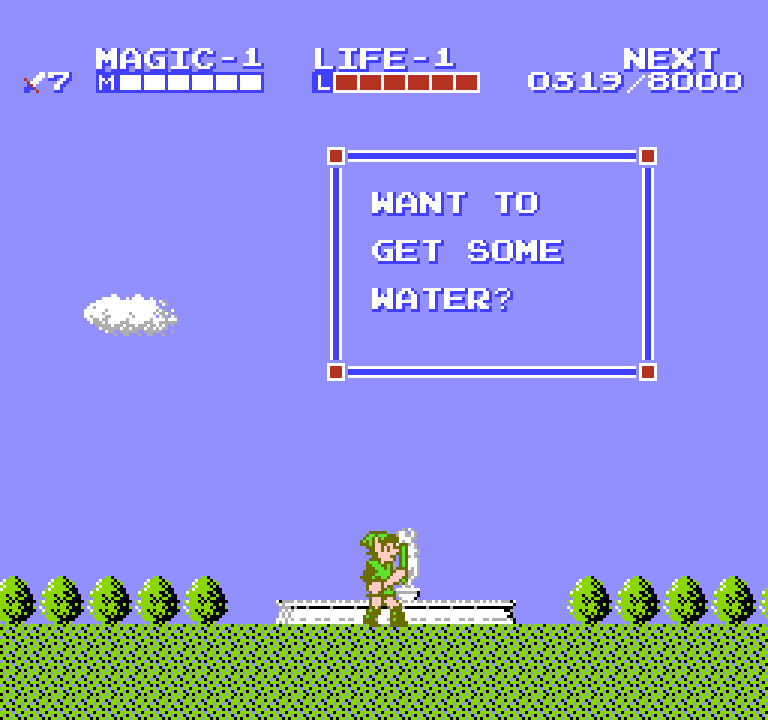 French: Veux-tu aller chercher de l'eau.
Meaning: Can you go find some water.
Note: The question mark is missing in French.
Mato Note: Also, this text appears when you check a fountain in town, not when you talk to a person.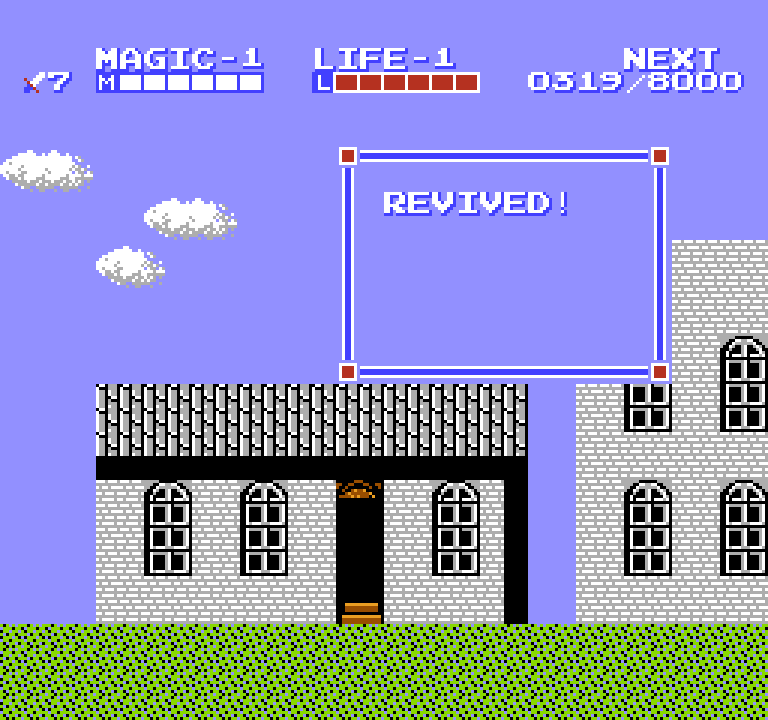 French: Régénéré.
Meaning: Regenerated.
Note: "Revived" sounds more like coming back to life while "Régénéré" is more about recovery.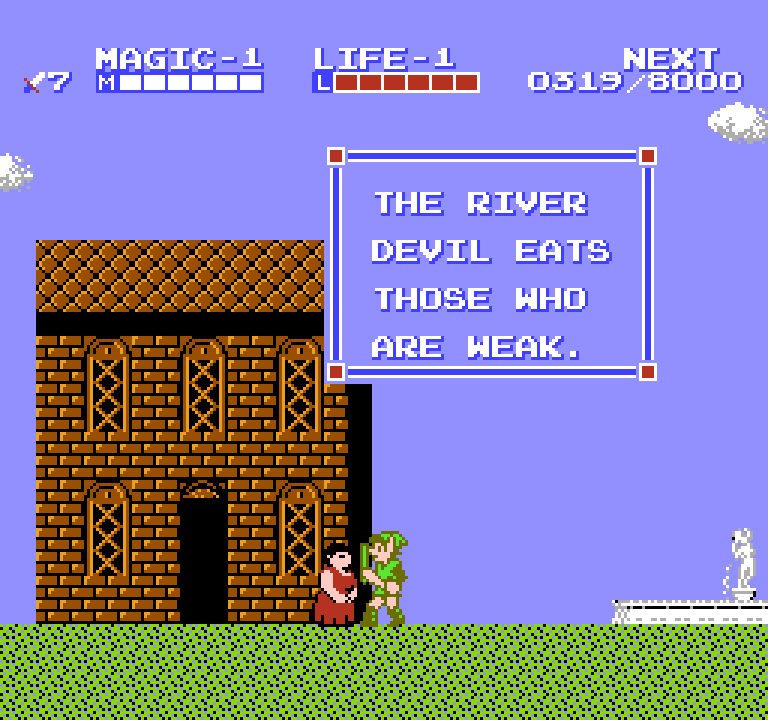 French: Le Démon de la Rivière dévore ceux qui sont faibles.
Meaning: The Demon of the River devours those who are weak.
Note: They used "demon" in French instead of diable ("Devil").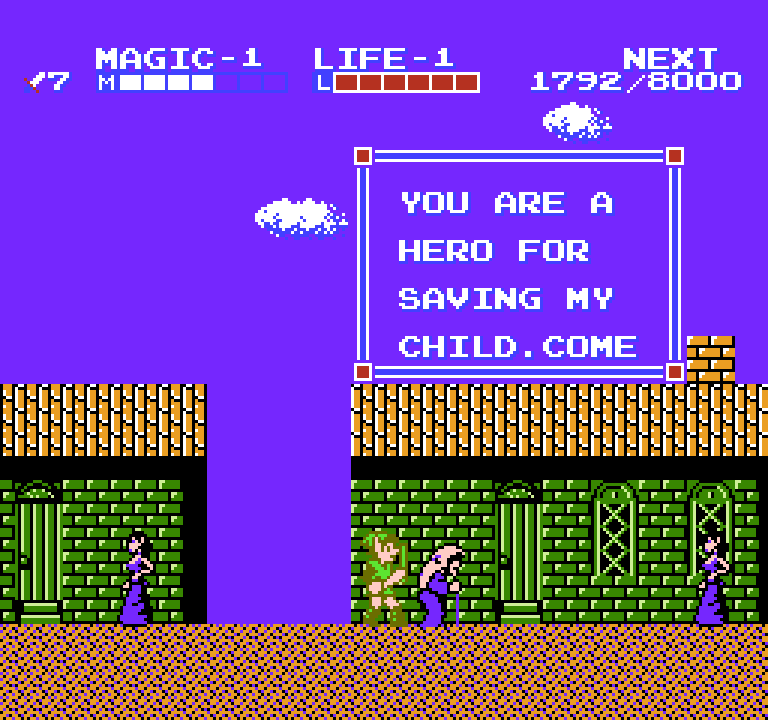 French: Tu es un Héros d'avoir sauvé mon enfant. Viens.
Meaning: You are a Hero to have saved my child. Come.
Note: The French sentence is strange as it uses d' which is the preposition de but used before a word that begins with a vowel, which does not give a sense of cause and effect.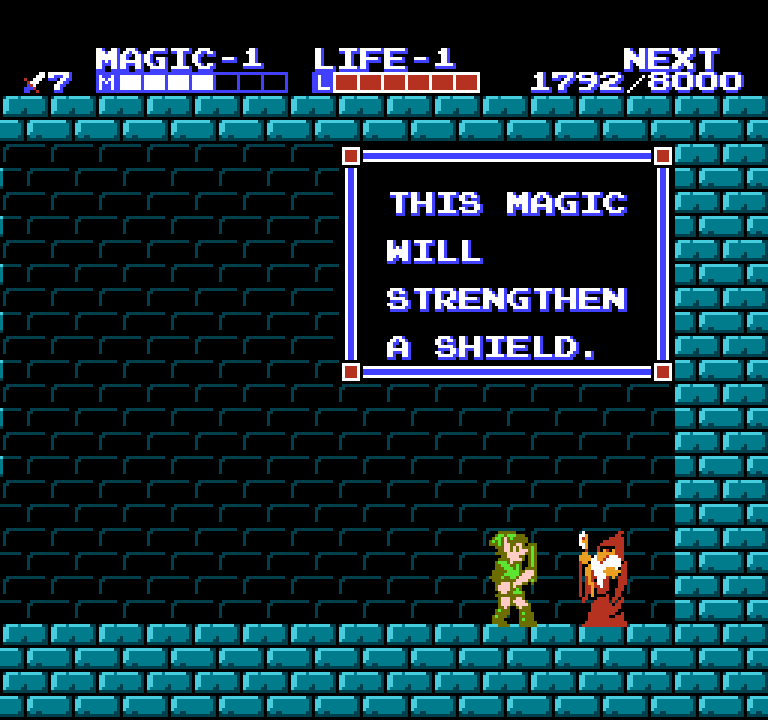 French: Ce pouvoir magique accentuera l'effet.
Meaning: This magic power will strengthen effect.
Note: The French translation doesn't talk about a shield at all.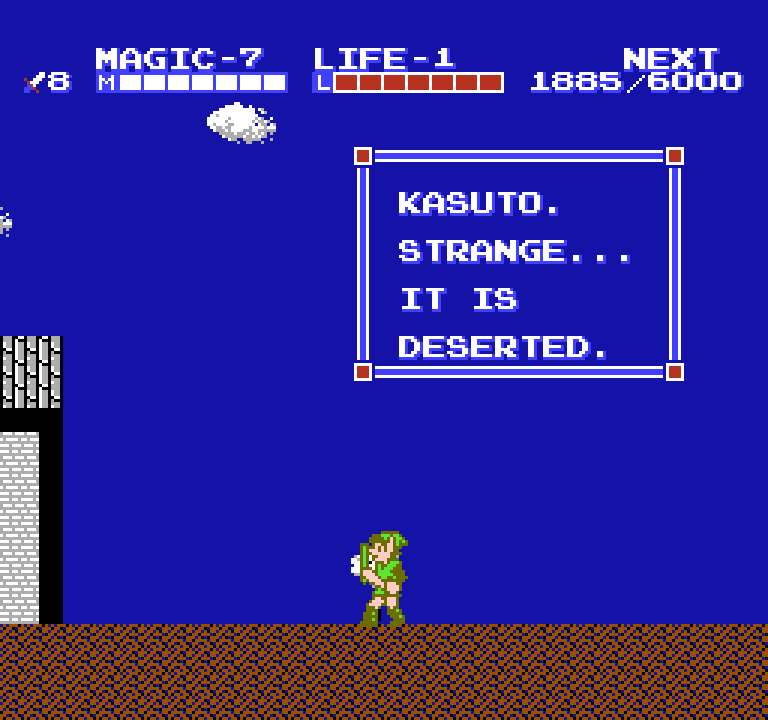 French: Kasuto Strange est un désert.
Meaning: Kasuto Strange is a desert.
Note: This is translated as if "Kasuto Strange" is the name of a desert.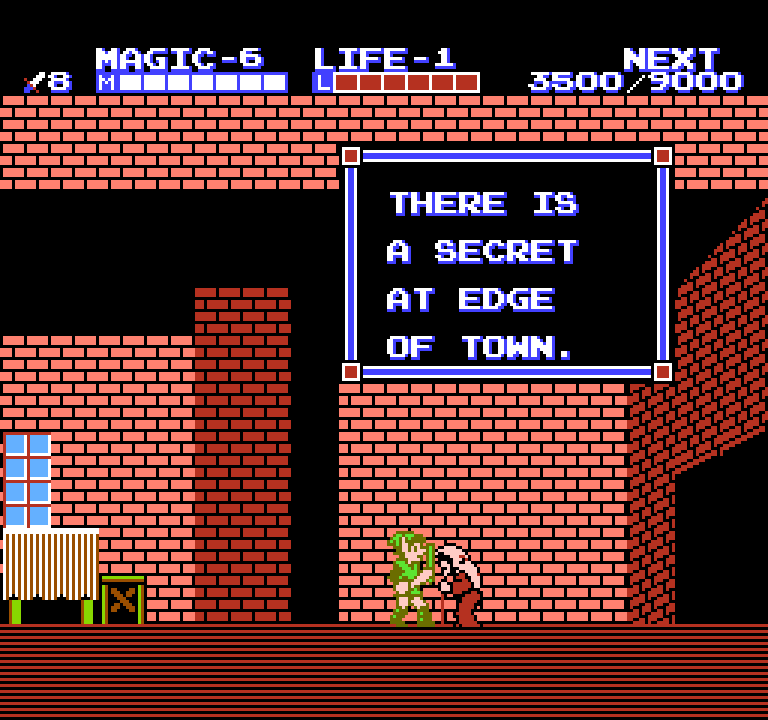 French: Il y a un secret à la sortie de la ville.
Meaning: There is a secret at the exit of the town.
Mato Note: In the game, the secret is actually at an edge of the town that's a dead-end and not an exit.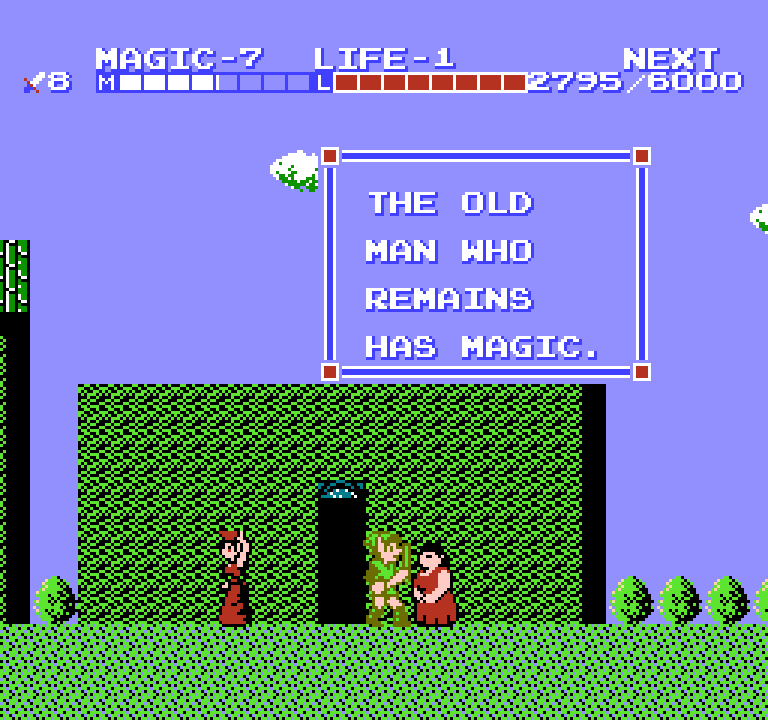 French: Il reste un Vieil Homme qui a le pouvoir magique.
Meaning: There remains an Old Man who has the magic power.
Note: The French line changes the sentence structure and mentions a "magic power" instead of "magic".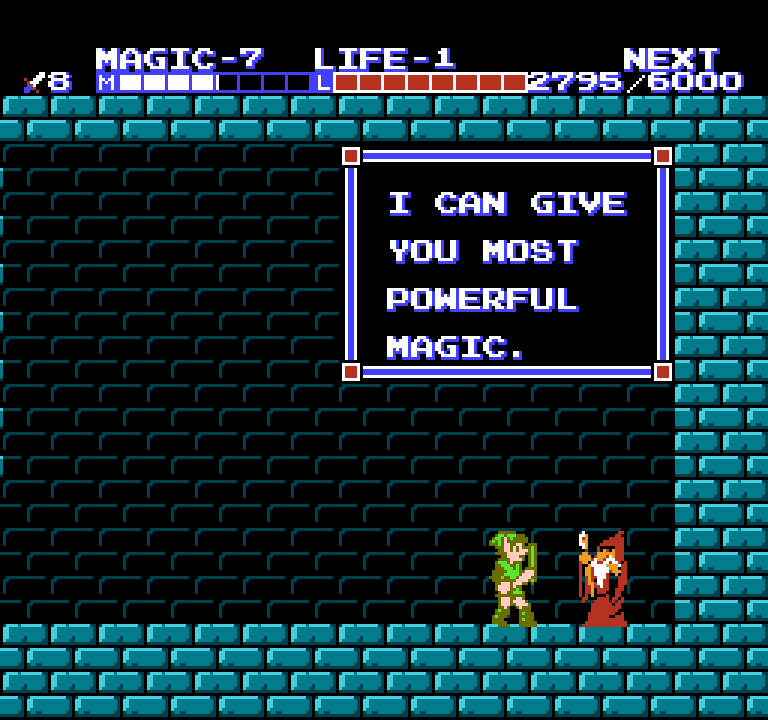 French: Je peux te donner plus de pouvoir.
Meaning: I can give you more power.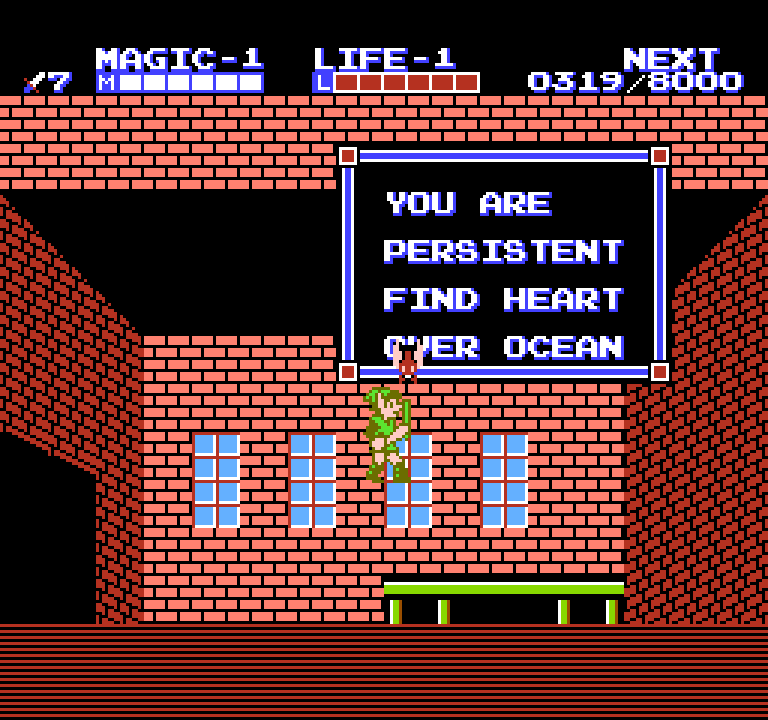 French: Tu persistes. Trouve le Cœur au-dessus de l'Océan.
Meaning: You are persistent. Find the Heart above the Ocean.
Note: The French line breaks this into two logical sentences.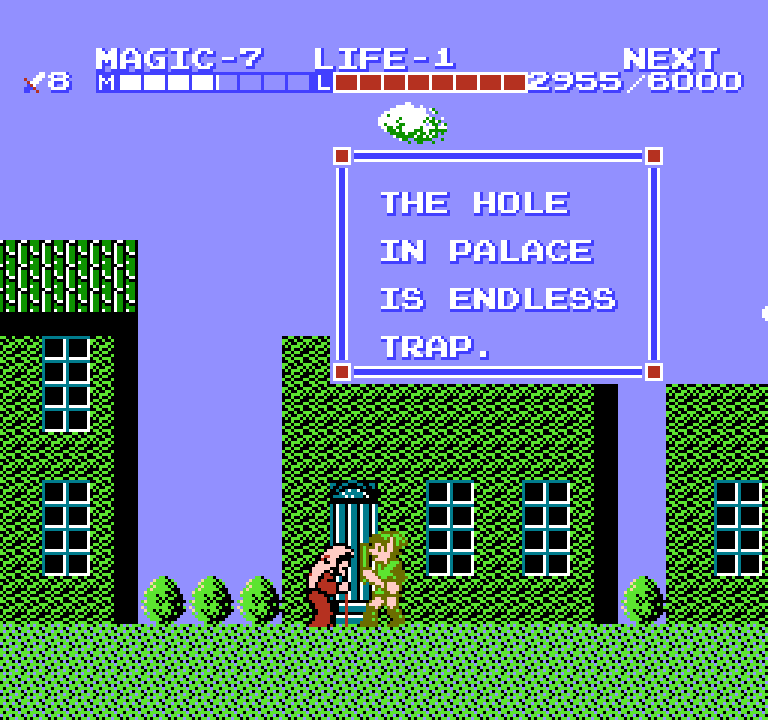 French: Le trou dans le Palais est un puits sans fond.
Meaning: The hole in the Palace is a bottomless pit.
Note: They use "pit" instead of "trap" in French. They could've gone with un piêge sans fond instead.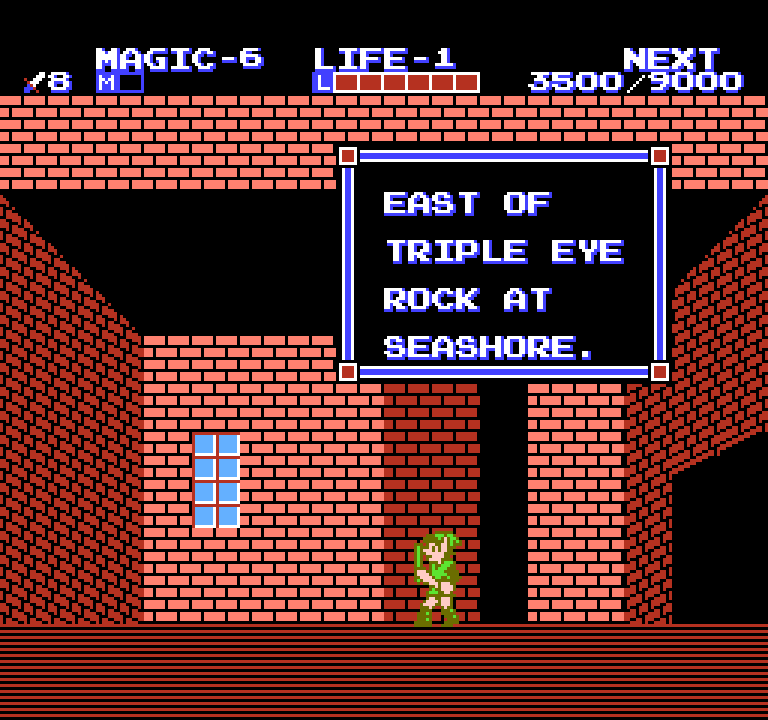 French: A l'est de Triple Eye. Un rocher au bord de la mer.
Meaning: To the east of Triple Eye. A rock at seashore.
Note: The French writes this as two sentences.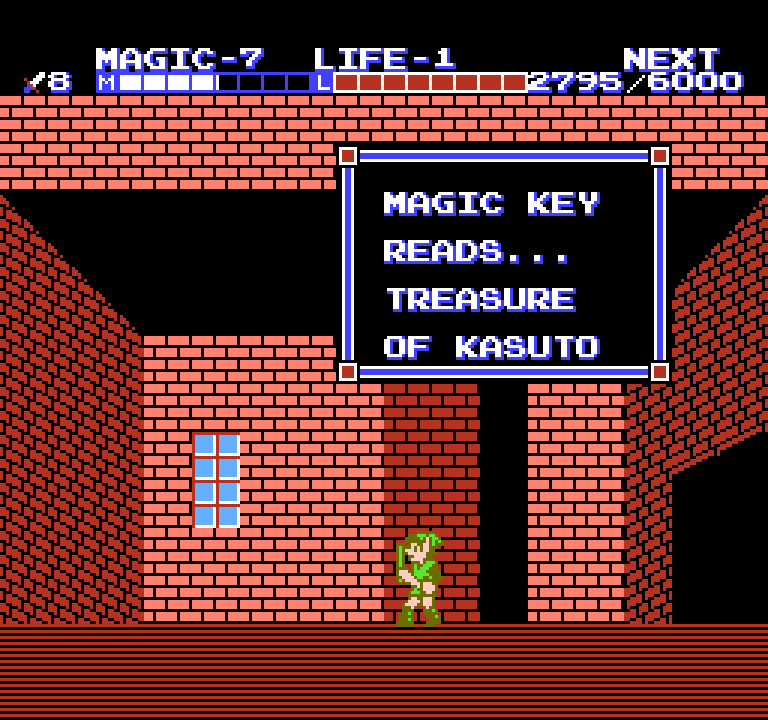 French: Clé Magique. Trésor de Kasuto.
Meaning: Magic Key. Treasure of Kasuto.
Mato Note: The French clearly turns this line into two distinct sentences.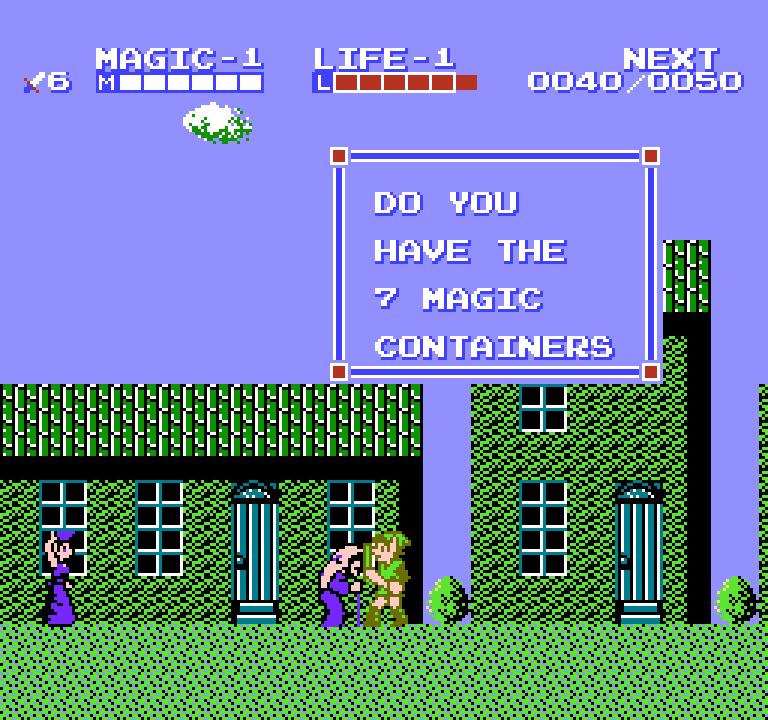 French: As-tu les 7 containers magiques?
Meaning: Do you have the 7 magic containers?
Note: "Containers" is left as-is in the French sentence instead of the French word conteneurs. Conteneurs here would feel weird since I read that more like "shipping containers", I'd rather use Contenants ("container"). Maybe contenant de magie ("magic container") would work better in this case.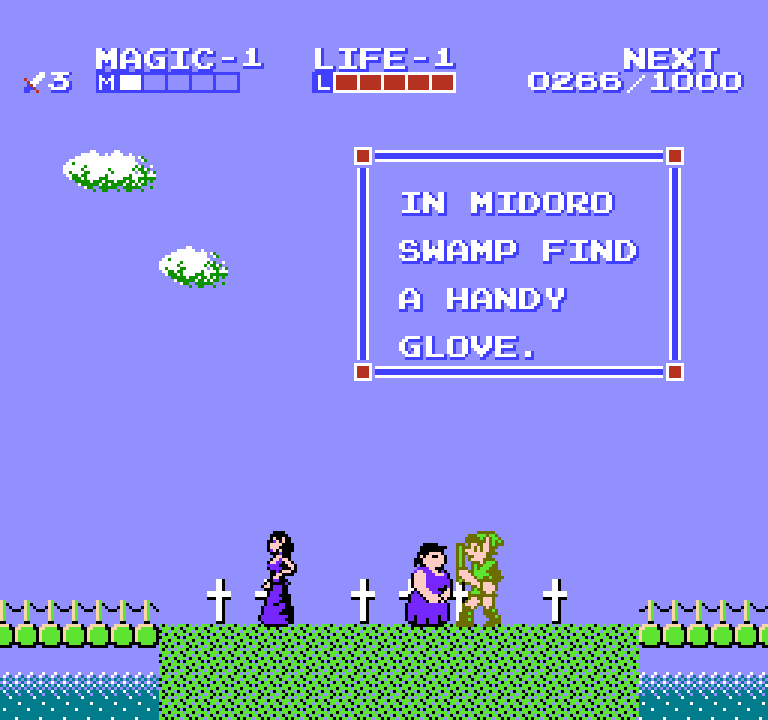 French: Dans les marécages de Midoro trouve un Gant de Feu ou un Gant Magique.
Meaning: In Midoro Swamp find a Fire Glove or a Magic Glove.
Note: Oddly talks about two gloves. "Handy Glove" would probably translate to Gant Utile ("Useful Glove") so I guess they had to give it another name. Also, it's weird that they went with "Fire". While I could see "Magic Glove" working, "Fire" doesn't make much sense.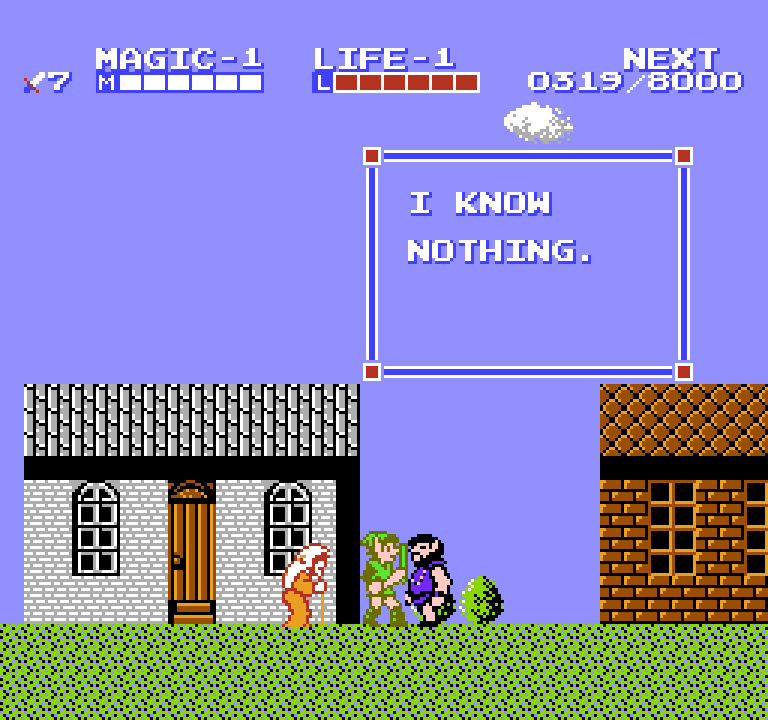 French: Désolé, je ne sais rien.
Meaning: Sorry, I know nothing.
Note: This line was given an added apology.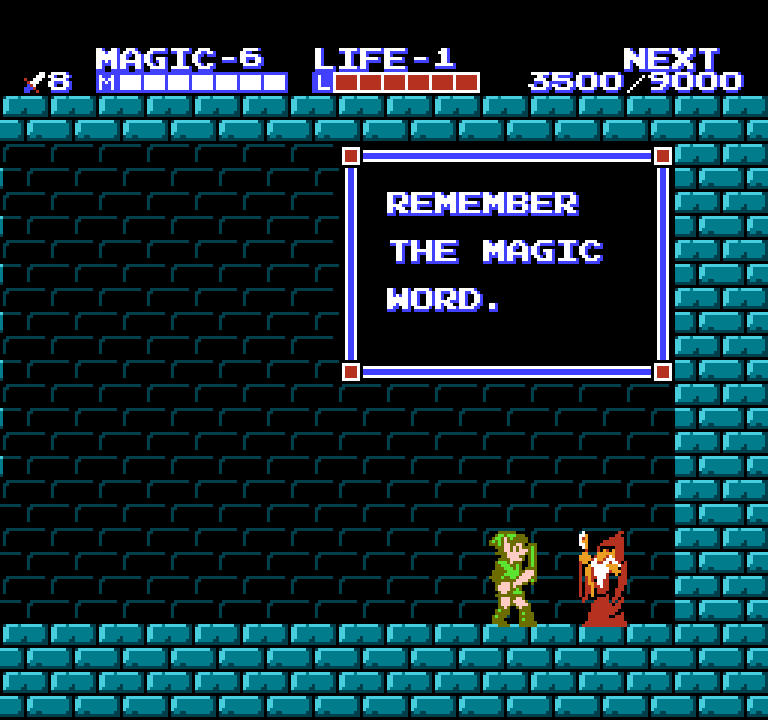 French: Souviens-toi de ces paroles.
Meaning: Remember these words.
Note: This translation doesn't mention magic. Like with earlier lines, they didn't want to translate "magic word" into mot magique.
As we can see, the official Zelda II French translation booklet has a bunch of minor translation issues and technicalities that don't matter too much, but the booklet also contains a number of genuine mistranslations and baffling choices. Surprisingly though, some of the French lines seem slightly better than the English text. But maybe that's just because the English text had to be crammed into tiny text boxes.
On a side note, I haven't posted a detailed comparison of the Japanese and English games on here yet, but I'm familiar enough with the Japanese script that it's clear to me that the French translation relied 100% on the English translation.
All in all, I really enjoyed looking at this little-known translation of Zelda II and getting a peek at the quality of early European console game translations. Later Zelda games started receiving fully translated releases throughout Europe, so this booklet offers a neat look at video game translation history.
I don't know how common this "translation booklet" thing was with console games back in the day, but when I asked on Twitter it sounded like most of my followers had never encountered it. I do know that it happened at least one other time, though, with Spain's version of The Legend of Zelda: Ocarina of Time:
Have you encountered any translation booklets in any other console games? If so, let me know in the comments!
I normally only write about Japanese and English translation topics, but that's because Japanese-to-English is what I specialize in. I'd love to post more about other languages and other countries, but I'll need expert help to make that a reality. So if you're a professional translator that deals with a different language pair and would be willing to help with stuff like this, let me know via e-mail. I'd pay you for your work, naturally.
Similarly, if you're a professional translator and would want to write an article on Legends of Localization about something exclusive to your language or country, let me know too. In fact, I have a bunch of non-Japanese topics I'd like to tackle someday – check them out here. Or if you have any other article ideas you'd like to pitch, let me know. Again, I'd pay for your work – I'm very much against the "you'll get paid with exposure" nonsense that's so common out there.
Anyway, this was a fun little journey through an unusual Nintendo translation. Here's hoping it's the first of many more!
---
If you liked this look at Zelda II, you might like my book about the Japanese and English versions of Zelda 1. Or, if you're more of a Zelda II person, here are some other articles I've written about the second game!