We've taken a look at hundreds of game translations so far, mostly from Japanese to English. But I've always wanted to look at the reverse, so a good way to start is to answer the question: what Western games are well known for their localizations into Japanese?
I went through lots and lots of Japanese review sites, message boards, social media posts, etc. to see what I could find. A small handful of games immediately stood out everywhere I looked, including:
Witcher 3: Wild Hunt
Uncharted series
Bioshock series
Borderlands 2
Overwatch
Those are just a few of the top game localizations, though – see below for summaries of these localizations and more.
Also, while researching all of this, these were some of the most highly regarded English-to-Japanese game localization companies:
Spike Chunsoft
Square Enix
Ubisoft
Sony
Flyhigh Works
I'm sure there are more, but these ones seem to be some of the top names in the industry for quality localizations.
Keep in mind that the summaries below are broad generalizations and that not everyone shares the same opinions. Everything here is subjective and should not be considered representative of all Japanese gamers – that'd be crazy. This article is simply to satisfy readers' curiosity.
Another important point: games that have multi-platform releases or later get ported/remastered sometimes get brand new localizations. So some things on this list might have have been updated or redone entirely by the time you're reading this.
Also, this list is not comprehensive – it's only a small handful games for now, but I plan to add more to the list from time to time. So if I've left a game out here, it could still get added later on.
The following list is in alphabetical order.
---
The voice work for this game's localization was apparently top-notch.
---
This series is known for its wonderful localization with memorable writing and voice work. Apparently you could also point your cursor at signs in English and the Japanese translation would pop up. The first game was released so long ago, yet it had such a solid localization compared to everything else at the time that it's surprising. The Japanese version of "Would you kindly…" is maybe just as memorable.
---
This Japanese localization is very highly praised. I've read that there are a number of translation mistakes, but the quality of the dub and everything else more than make up for it. Apparently everything reads and sounds so natural that it's hard to believe it's a foreign game. The voice work is supposedly so good that it rivals the original English voices.
---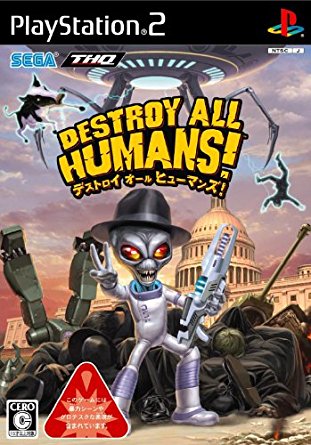 Apparently Sony didn't think this could be released in Japan due to the dark, violent content, so Sega hired a professional sci-fi writer to write new stuff for the game. I haven't played either version myself, but I'm reminded of how the classic Takeshi's Castle show turned into MXC outside of Japan – they kind of just went crazy with it.
Whatever the case, the game was transformed into an over-the-top, wacky game full of pop culture references that still sort of fit the vibe of the original game while being targeted specifically for Japanese audiences. So now it's got anime references, tokusatsu references, and stuff like that. Apparently it went over pretty well, because it's gained a "so bad/weird that it's good" reputation over the years.
---
I've seen lots of love for this game's Japanese localization. In particular, I've seen praise for the fact that it remains so funny in Japanese and that all the parodies are presented properly for Japanese audiences.
---
The fact that you can make your character male or female made things very difficult for the localizers. As a result, the player's text uses male speech patterns, but the voiceovers use female speech patterns. It's apparently a strange combination overall. Some fans seem impressed with the sheer amount of work the translation must've taken, though.
---
These games have really good localized dubs apparently. They feel gritty and funny in the same way that American movies get translated into Japanese.
---
Considered to have a pretty good, thoughtful translation. I saw one interesting comment about how playing it with Japanese subtitles makes it easier to get into accidents, but playing it with the Japanese dub takes away from the game's vibe.
I've written about some of the GTA English-to-Japanese translations in the past – see here.
---
In general, these games seem legendary for their weird, mistake-filled, unnatural-sounding translations into Japanese.
---
This game seems to have a very positive reputation in terms of localization, although it's apparently kind of awkward in places. Supposedly Aloy uses male speech patterns a lot, but I wonder if that's on purpose, given the way she grew up. Some of the game's special terms have clever and memorable names.
I've actually written about Horizon Zero Dawn's English-to-Japanese translation before – check it out here.
---
The quality of this game's dub is legendary. Apparently the voice acting and even the intonation rival the original in terms of quality.
---
This is considered a good localization. Slang terms feel natural, which is an impressive feat in any localization.
---
Considered a very good localization with an incredible team of voice actors. The localizers supposedly really "got" the game and what Japanese audiences would want out of it.
---
The localization work in this series is highly regarded for its inventive phrases and creative wording. It all adds up in a way that fits the series' world.
---
This apparently had very enjoyable writing in its localization.
---
I tend to see two camps here: one that really likes the localization and dubbing, and one that hates it and is quick to list mistranslations. This is a somewhat normal pattern to see from any translation of a super-popular game, but it seems there really are many genuine translation mistakes.
The infamous "arrow to the knee" line is regularly quoted, but just by its very nature it's sometimes mistaken for a poorly translated line.
Fans consistently mention that the bard's Japanese singing is weird, unnatural, and unnecessary:
---
I've seen some occasional negative reactions about the Uncharted games' Japanese localizations, but by and large these localizations seem to be well-admired. I've read that the localization process begins while the games are still in development and not as an afterthought to the main English releases, so that's probably a big reason for the praise.
The dub work is apparently really, really good. It sounds like the localization work got better with each release and now it's some of the best Japanese-to-English localization work currently out there.
---
The official localization is highly regarded within the industry, but it appears that fans who've played the fan translation first are far louder. These fans consider the official translation to be 100% crap, sometimes because of a single line or word.
Whenever a fan points out that the game's creator, Toby Fox, worked with the official translation team, someone else usually says, "But he doesn't know Japanese so he wouldn't know what's good or bad." Still, I know for a fact that he worked really, really closely with them – often in person – and that their back-and-forth flow of communication was phenomenal.
After looking through so many comments, I can't help but wonder if the same exact thing will happen if MOTHER 3 ever gets an official English localization…
In any case, someday I plan to write about the Undertale localization changes, the localization process, and more. It's really fascinating stuff.
---
All the computer slang was handled exceptionally well in Japanese from what I hear.
---
This Japanese localization is considered god-like and probably the pinnacle of modern localization.
Apparently the localization producer, who has an almost legendary reputation in the industry, temporarily moved across the world to where the game was being developed. I don't know the details, but that's a pretty hardcore thing for a translator/localizer to do. Trying to coordinate between Japan and other countries can take forever due to time zone differences, so this probably greatly helped with the flow of communication.
Some of the Japanese phrasing is apparently so good that you'd think it was written in Japanese originally and not a translation. The dub feels extremely natural and nothing sounds out of place at all. The voice actors were apparently really talented too. I've seen some rare criticism of some lines being said too quickly to fit within certain time limits and characters whose voices don't match their ages.
Some of the things in the list above came as a surprise to me, so hopefully this has been a fun look at Japanese localizations for you too. I haven't played the Japanese versions of most of these games, so I can't personally say much about their quality, but I'd like to do a side-by-side comparison of an English-to-Japanese localization someday. Translating from English to Japanese is really tricky, and I can't wait to show why!
Anyway, if I've left anything out and you're curious to know about the reputation of its Japanese localization, let me know in the comments. I'll try to update this article from time to time, so check back every so often!
---
If you enjoyed this brief overview of games translated into Japanese, here are some other articles I've written on the topic!