The other day I posted an update to my in-depth Final Fantasy IV analysis, and part of it included a look at the secret frogs in Toroia Castle's moat.
Basically, all the frogs in the Japanese version make frog sounds except for one, which says something like, "It's nice being a frog…."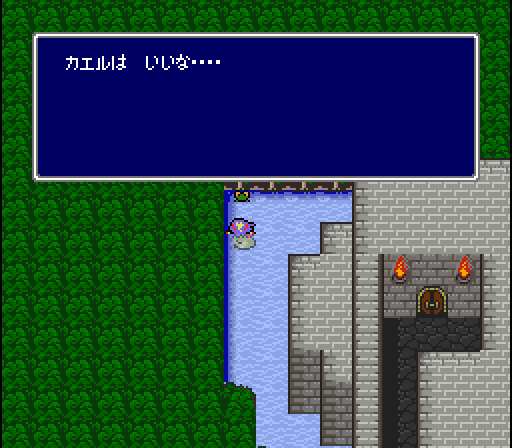 Final Fantasy IV (Super Famicom)
I've already covered how this line was handled in the various official translations and the fan translation, so if you're interested in that, see the full details here.
Anyway, fellow ROM hacker H.S recently e-mailed me to let me know that there's actually a secret frog in Final Fantasy V that says the same thing:
Final Fantasy V (Super Famicom)
So it looks like this was a sort of running gag!
H.S also kindly provided some screenshots of how this line was handled in the various English versions of the game, and Darien has also been helping me out with FFIV DS screenshots, so let's look at all the things!
| | |
| --- | --- |
| | |
| RPGe FFV fan translation | PlayStation FFV translation |
| | |
| --- | --- |
| | |
| GBA FFV translation | DS FFIV translation |
So it looks like the fan translation and the PlayStation translation stick to the original, the DS FFIV translation builds on the original line, and the FFV GBA translation does a Kermit reference of its own, similar to the FFIV fan translation. The FFIV GBA translation inserts plenty of references of its own, though, so that's not surprising. Again, for the other versions of this line, see here.
I'm most surprised by the fact that the FFV PlayStation translation wasn't handled in a crazy, zany way, especially after seeing how the FFIV PlayStation translation was handled. I've heard rumors that Ted Woolsey's FFV translation is used in the PlayStation release, but has that ever been confirmed? I've never really looked into FFV stuff much yet – I don't think I've even played any of the official translations yet, in fact. So if anyone knows, share your knowledge with me!
Anyway, I looked into this "It's nice being a frog" line a little more and here's what I was able to find out:
The source of this line seems to be from a 4-panel comic done by Yoshida Sensha back when Final Fantasy III for the Famicom was released. The comic goes something like:


"It's nice being a frog."

"Yep, it's nice all right."

"Whadya say we forget about saving the world and crystals and all that stuff and stay frogs forever?"

"Sounds great!"

So apparently the FFIV frog is actually a reference to this comic, and the FFV frog is either a reference too or is just part of what was meant to be a running gag that never continued in any other games.

As this comic has some historical significance to it (well, as far as Final Fantasy and JRPGs go) I ordered a compilation book from Japan that apparently included it so I could fact-check it and share it here. And it's true! Here's the comic in question, along with a basic English-translated version I made:

    

For those who are curious, this comic is part of this compilation book:

For added reference, I believe Final Fantasy III was the first game in the series where your party members could be turned into frogs, so this comic is playing off of that. Apparently it was a big enough hit with someone at Square that they decided to quote it in the next two games!

The frog's line in Japanese FFIV DS was changed very slightly to say

カエルはいいよな

. This doesn't really change the meaning at all, but it's an ever-so-slight change from the original line, which was meant to be a direct reference. So maybe the DS writers didn't know what this frog's line was about?
There are apparently two frogs that say this in FFIV DS, as opposed to just the one in the original game.
So there you go! The unknown history of what otherwise seemed like a secret, throwaway line in Final Fantasy IV! Ribbit!
If you liked this, check out
press start to translate
, my book about the time I Google-translated
Final Fantasy IV
. It includes the worst/most hilarious translation mistakes, all while explaining
why
Google's A.I. made such terrible choices. (
free preview PDF
)