When you jump into the world of translation, you quickly realize that one language might have special terms that other languages don't have. So what do you do when you have to translate one of these tricky words?
In this new article series, I plan to showcase common terms and phrases that appear in Japanese entertainment that don't have solid equivalents in English. This time, we'll be looking at the words maō and daimaō. We'll see what the words mean, why they're a problem for translators, and how they've been handled in games since the 1980s.
Note that these can also be written as "maou" and "daimaou", but the pronunciation is the same. Generally, if you see an "ou" in a Japanese word, you just pronounce it "oh".
What is a Maō and Daimaō?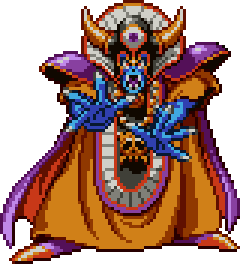 Again, it's difficult to explain with a single word in English, but a maō is basically a term for a supreme supernatural being that's usually super-evil. It's a generic term that's extremely common in Japanese fantasy settings.
When you think of a fantasy RPG, you kind of assume it includes a king, a queen, a brave hero, and stuff like that, right? A maō is about on that same level of commonness. In short, if you're playing a game that's cliché enough to have a chosen knight or a hero of light, there's great chance there's a maō too – and it's probably the final boss.
A daimaō is pretty much the same thing as a maō – the dai part means "big" or "great", so it's an even more powerful / evil version of a maō.
The Problem
In English, we don't have a solid, universal term for maō and daimaō the way Japanese does. But you can't just ignore the words when translating, so you have to come up with something. There are at least five main approaches to the problem.
---
Option #1: Focus on Each Character by Itself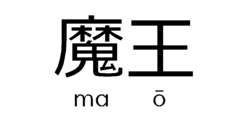 The word maō is written in Japanese as 魔王 (maō). Let's look at each character by itself.
First, right off the bat, the 魔 (ma) presents a big problem. It actually has a bunch of different meanings, including:
devil, demon, evil spirit
harmful (or evil) person or thing
magic
supernatural
crazy, insane
obsessed
So which one are you supposed to choose? It might seem like an easy question at first, but the best choice actually depends on each specific situation. Maybe the maō in one game is demon-themed, while a maō in another is just a magical creature.
Similarly, the 王 (ō) character has several meanings. It's generally translated as "king", but it's actually a little less gender-specific than in English. In fact, girls can be maōs too:
So, because translators often work without context, it's not always safe to assume that a maō is male. Other meanings of 王 (ō) – such as "ruler" or "monarch" – can be useful alternatives.
To complicate things even further, maōs come in all shapes and sizes. They're often humanoid and have devil horns, but not always. Here's a sampling of maōs from various games:
Even though all of these examples share the same title in Japanese, there's no clear equivalent in English. So if a translator goes with Option #1, they'll take the specific situation into consideration and tweak their wording from there.
---
Option #2: Focus on the Idea as a Whole
Taking a step back and looking at whole ideas is a key aspect to good translation. Translators who handle the word maō via Option #2 rely on creativity or outside resources to come up with a completely different word that still evokes the idea of the original.
Alternatively, a translator using Option #2 might consult dictionaries or look up how other translators have handled the word in the past.
---
Option #3: Write Around the Word
Since there's no clear equivalent for maō in English, another option is to reframe things entirely. This can involve moving text around, adding all-new descriptive words, or just dropping the word entirely.
---
Option #4: Use What You're Given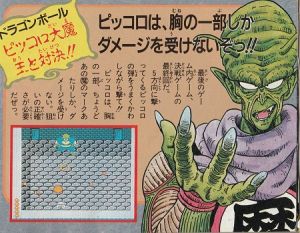 Sometimes you have little choice in the matter at all and have to go with what your client says.
For example, when I worked on Dragon Ball way back when, the title for "Piccolo Daimaō" had already been chosen as "King Piccolo", so I stuck with that. This option can be stress-relieving or frustrating depending on the situation. It can also get messy as new translators, companies, and series come and go, but that's a topic for another time.
---
Option #5: Don't Even Translate It
Yep, another option is leaving the word maō as-is. I rarely see it these days, but I'm sure it's still common in fan communities that don't need explanations of what a maō is.
---
As we've seen, maō and daimaō have a lot going on with them. They manage to describe a lot of things at once, all in one word. Translating them can be a challenge, but there are plenty of options to make it happen.
Maō / Daimaō Translations in Action
Because maō and daimaō are so complicated and involve so many variables, they get translated in different games in different ways. The examples below include games from the 1980s until today, and show how different translators have tackled the maō challenge.
---
The Longest Five Minutes (Switch, 2018)
This recent multi-platform game starts you at the final battle with the maō. Because it's a sort of RPG parody/homage, the translators went with the straightforward "Demon King" title.

---
Okage: Shadow King (PlayStation 2, 2001)
This is a good example of a maō that doesn't look human or demonic. The translators went with "Shadow King", but if you look closely at the original Japanese title, you can see that the original publisher went with "Satan king" instead. In the actual English game, however, maō is translated as "Evil King" – so many inconsistencies!

---
The Legend of Zelda Series
The Zelda series is full of maō references. It's also a good example of how inconsistent those references can be in translation.
First, in the original Zelda (1987) game, Ganon is called a daimaō in Japanese. The instruction manual localizers went with "Prince of Darkness" while the actual game developers went with "Prince Darkness":
In A Link to the Past (1992), Ganondorf is now just a basic "maō of darkness" in Japanese and "the evil King of Darkness" in English:
Adding to the inconsistency is Ocarina of Time (1998), in which Ganondorf is known again as daimaō in Japanese, but now he's the "Great King of Evil" in English:
---
Super Mario Bros. (NES, 1985)
That's right: both Ganon and Bowser share the same title. In the original Super Mario Bros., the daimaō was dropped and all-new text was used in its place. Even his actual name got changed!
We can also see that daimaō was rendered as "sorcerer king" in Bowser's description. The Japanese description didn't include daimaō at all, though – this is an example of Option #3: writing around the tricky word by moving things around and adding more info.
---
Chrono Trigger (Super NES, 1995)
One of the main characters in Chrono Trigger is simply referred to as the maō in Japanese. In the English version, he has an actual name instead: Magus.
This small detail adds weight to his choice to renounce his former name of Janus and simply go by the title of maō instead. It adds further weight when you consider that you can actually grant him a new name once he joins the party.
---
Disgaea: Hour of Darkness (PlayStation 2, 2003)
As we saw earlier, the prologue in Disgaea uses the word maō in Japanese but changes it to "King" and adds explanatory text in English:
Just a few minutes later, however, the word maō is now translated as "Overlord". I believe this translation choice remains consistent throughout the rest of the game:
---
Lunar 2: Eternal Blue Complete (PlayStation, 2000)
At the beginning of the game, Lucia is considered the maō that must be exterminated. In English, the title of maō became "Destroyer".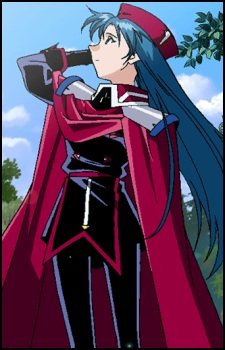 ---
Actraiser (Super NES, 1991)
In the Japanese version of Actraiser, the final enemy is the maō Satan. In the English translation, maō became "demon" while his name changed to something removed from real-life religion: Tanzra.
---
Unholy Heights (Switch, 2017)
In this recent release, the maō-themed title was dropped entirely and replaced with a totally new idea.
---
Shadowgate (NES, 1989)
Here's an interesting case of an English game getting a maō added into its Japanese translation. The "Warlock Lord" in the English version of Shadowgate became the maō Warlock in Japanese.
Yes, I think they might've literally named the guy "Warlock". If not, then he's at least a maō now!
The Maō Hunt Continues
Have you seen any other translations of maō or daimaō in action? If so, let me know – I hope to update the list above over time.
Also, I plan to cover more tricky Japanese words in detail someday, such as omoshiroi and the infamous "it can't be helped". If you have any other suggestions, let me know on Twitter or in the comments!