I've been looking at a lot of Zelda-related translations lately, but whenever I run into the strange CD-i Zelda games usually I have to skip over them because they were never released in Japanese. In case you haven't seen them before, you can take a peek at one of the CD-i Zelda games here.
On a whim, I decided to check out Japanese comments about the games today. The results weren't very surprising, but I thought it'd be fun to share some translated comments anyway. First, though, there are a few important things to note before checking them out:
These are random comments from Japanese news sites, message boards, videos, and Twitter. There are so few listed here that they shouldn't be considered representative of all Japanese gamers – that would be a silly thing to assume. This is only to satisfy readers' curiosity!
Similarly, the comments come from many different years and shouldn't be considered representative of current opinion, although I doubt much has changed.
Now for the comments!
Why isn't Link the main character?
This isn't the Link I know!
This feels like the real world but on drugs
It's like they drew this game in MS Paint
Yep, this is the quality you can expect from no-name foreign companies.
I can't believe these exist… It almost seems like Link is straight out of old Disney films LOL
The others are terrible, but Zelda's Adventure seems a tiny bit fun.
Foreign games have always LOOKED nice, but that's about it.
Whoa this is horrible LOL
The Legend of Zelda: Triforce of the Shits
What a waste of good art.
The animation is so amateur-level
Wait, is this Link right-handed??
In terms of controls, animation, and gameplay, the CD-i Zeldas don't make the grade as Zelda games. They don't even pass as actual games. They're the kind of games you'd play in hell.
The old wizard guy seems like he could've fit in Disney's Aladdin movie just fine
The three CD-i Zelda games the AVGN covered – I can promise you that there are no bigger game trainwrecks out there
They'd never be able to air this animation in Japan
Link's a middle-aged man!
Nintendo got backstabbed big-time!
These look like they'd be stressful games to play.
Despite the bad controls, these graphics aren't TOO bad
These feel like PC games
They still had crap like this even in 1993?
Nintendo must've been pissed after seeing these.
Animated Zelda is cute!
I bet they wouldn't be so bad if they changed the controls a little.
It feels like they sacrificed everything else just for the sake of fancy graphics.
They need to put the CD-i Zeldas on the Virtual Console someday
I'm guessing a bunch of stuff happened behind the scenes back in the day, and that's why Nintendo let these other companies use their two flagship series of Mario and Zelda.
This goes to show how great Nintendo actually is!
The CD-i Zelda masterpieces rank near the top of all crappy games
Basically, some foreigners tricked Nintendo.
It's no wonder Nintendo won't give the rights to anyone else now.
Zelda looks so cute when she's sleepy!
How could they do this?
Setting the actual gameplay aside… that animation is clearly "do not want" ROFL
That's foreign quality for ya
It's refreshing that Zelda does the fighting for once
This background music sounds like American porn music
There's no question about it. The CD-i Zelda games are textbook examples of shitty games.
It feels like these might've been decent if they hadn't been Zelda games.
Wow, this is way worse than Zelda 2
They seem pretty playable, actually.
This music reminds me of Splatoon somehow.
I bet the CD-i would've sold great if Nintendo had handled these games instead.
Western games from this period all had horrible controls and insane difficulty.
This is a nightmare
All the American animated Links are too obnoxious
Did they have a grudge against Nintendo or something?
It's disgusting!
Miyahon would knock a table upside-down out of anger if he saw this.
What is this, a fan game?
The Rule of Crappy Games: good music, nothing else
The animation reminds me of 80s music videos.
Zelda isn't Zelda without Nintendo.
All in all, the responses were about what I expected, but it was still fun to look into. It also felt like the games were almost unknown in Japan until the Angry Video Game Nerd's episodes about the CD-i were translated into Japanese. The HD remake video also hit the Japanese gaming news sites in 2016, which brought another surge of attention to the games.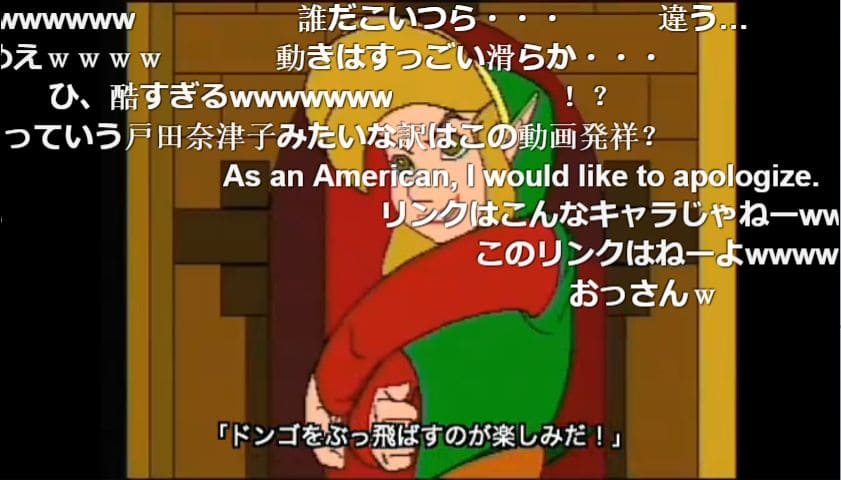 From the Japanese AVGN video about the CD-i Zeldas
I've never played the games myself so I can't say much beyond what I've seen in videos, but there's a small part of me that wants to translate them into Japanese for some insane reason. But maybe I'll save that for Shaq Fu instead.