Castlevania II: Simon's Quest for the NES is notorious for having bizarre text – some characters spout nonsense, while others outright lie to you. On top of that, the translation is full of mistakes, typos, and missing details. As a result, it's hard to tell if a line of text is true, false, or just gibberish.
There's one line in particular that has baffled players for the past 30 years: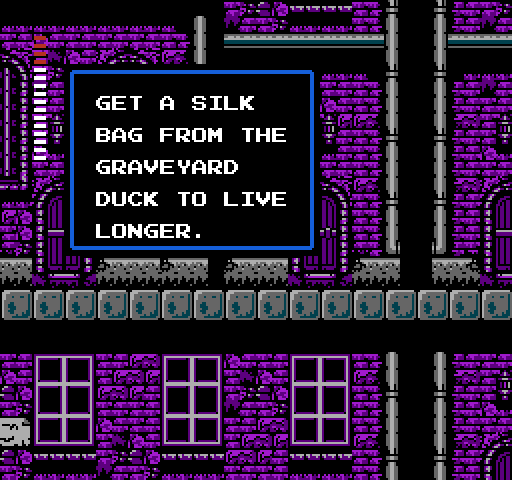 The line "GET A SILK BAG FROM THE GRAVEYARD DUCK TO LIVE LONGER." has at least two potential interpretations:
There's a duck in a graveyard that will give you a helpful silk bag.
There's a silk bag in a graveyard. Ducking will help you survive there.
Option #1 indicates that there's a duck in a specific graveyard – but there isn't a duck at all. Instead, you get the silk bag from some random guy in the graveyard:
Option #2 assumes that there should be punctuation after "GRAVEYARD". Missing punctuation was common in NES-era games, so it's a reasonable interpretation. Ducking in the graveyard doesn't do anything helpful, however.
Both interpretations still seem strange, so different fans have different theories about the line, including a theory that the line was mistranslated from Japanese.
Was the line mistranslated? Let's take a look at the original Japanese line and see:
| | |
| --- | --- |
| | |
| Dracula II (Famicom Disk System) | Castlevania II (NES) |
| | |
| --- | --- |
| Dracula II (literal) | Castlevania II |
| Receive a Silk Bag from the duck in Strigoi Graveyard and you'll live longer. | GET A SILK BAG FROM THE GRAVEYARD DUCK TO LIVE LONGER. |
So we see that it was referring to a duck all along – there wasn't a mistranslation or a punctuation problem at all.
Now that we know the line is about an actual duck, the next question becomes: "Why would it say there's a duck in the graveyard? That makes no sense!" I can only offer a couple theories of my own:
The Japanese manual states "There are also people who will lie and confuse Simon."

Since many characters intentionally lie to you in the game, this one might be lying to you too. I don't know why he would give such an obvious and pointless lie. Plus the hint is mostly true – you can get a Silk Bag from someone in the graveyard, and the bag is useful.
Maybe the person in the graveyard is named "Duck"?
The Japanese word used here is アヒル (

ahiru

), which does indeed mean "duck", as in the animal. But maybe it has a different meaning here or is slang for something else?
Looking through old English-language forums and web pages, I found people claiming that ahiru has other meanings in Japanese, including "recluse" and "hardhead". I'm not a native Japanese speaker so I'm not as in tune with rare word usages as a native might be, but I've never heard ahiru used as anything other than "duck". Still, I checked all the big-name dictionaries and slang resources but couldn't find anything to back up these claims.
Finally, I dug deeper into Japanese fan sites and found that Japanese players chalk it up to the guy lying to you – there are no attempts to try to explain possible alternative definitions for ahiru. It seems the duck was simply meant to be a duck.
During my research, I realized that ducks are a running gag in the Castlevania series – some of the designers have been adding secret little rubber ducks to their games for years:
I'm not a
Castlevania
expert so these are the only examples I know of off the top of my head. If you find any more rubber ducks in any of the games,
let me know
and I'll add them here!
Incidentally, GameCenter CX: Arino no Chōsenjō / Retro Game Challenge for the Nintendo DS – which is intentionally filled with old retro game references for fans to discover – appears to reference the famous graveyard duck as well:
It turns out that Yada Bon, the character designer for several of the games in the Castlevania series, included a personal message in the readme file that came with the X68000 version of the first game.
During the game's development, I bought books and watched horror videos for inspiration, but then I remembered that I can't handle horror movies very well, so there were a number of movies I never managed to watch all the way to the end. They didn't turn out to be very helpful, I feel. I don't care what anyone says, scary stuff is scary scary scary. So scary that I can't forget it. I hate ducks. Because one time I kicked at one and it came rushing after me super-fast. Ducks scare me more than Dracula.
So it looks like there's been some connection between ducks and the series for a very long time. I don't know if Yada Bon's message is what started the running gag or if it started with something else, but it's at least an interesting coincidence.
It appears the "graveyard duck" line in Castlevania II: Simon's Quest wasn't a mistranslation, but rather another bit of false information from a lying NPC. Additionally, secret ducks have been a running joke in the Castlevania series for a long time, with this being perhaps the first example of it in action.
If you liked this article and know someone else who's a Castlevania / Game Center CX fan, I hope you'll consider sharing it with them. It's a great way to help support Legends of Localization!