Castlevania II: Simon's Quest for the NES is infamous among gamers for having really strange text. Not only does it sound like they're saying nonsense, many of the people actually outright lie to you! It makes it difficult to know whether something is true, false, or just nonsense.
One of the most infamous of these nonsense-sounding lines is about a graveyard: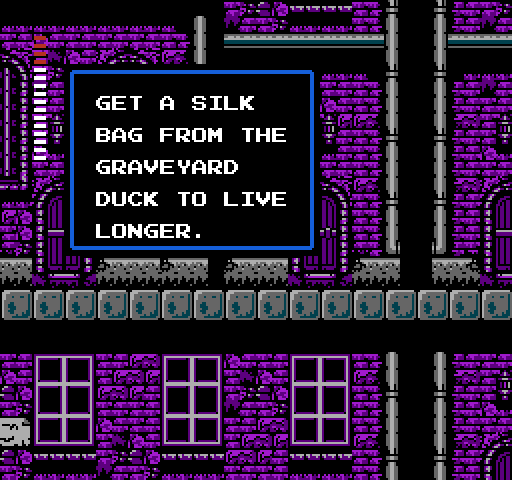 Castlevania II: Simon's Quest (NES)
A graveyard duck? What the heck is that?
There's obviously not a duck in the graveyard (it's just some guy), so a lot of players assumed this was just a mistranslation of the Japanese text – after all, this was in the early days of console gaming and weird translations were normal, right?
The common theory was that this might've been a poorly-phrased translation and that you were supposed to duck down while in the graveyard or something… which is plausible enough. But what's the real deal? What did the original Japanese line say? Let's take a look.
| | |
| --- | --- |
| | |
| Dracula II (Famicom Disk System) | Castlevania II (NES) |
And here it is translated and placed side-by-side with the NES translation:
| | |
| --- | --- |
| Dracula II (literal) | Castlevania II |
| Receive a Silk Bag from the duck in Strigoi Graveyard and you'll live longer. | GET A SILK BAG FROM THE GRAVEYARD DUCK TO LIVE LONGER. |
So we see that it WAS referring to a duck all along – it wasn't a mistranslation at all!
…The next question is then, "Why would it say there's a duck in the graveyard? That makes no sense!" I can only offer a few theories:
Since many characters lie to you in the game, this one might be lying to you too. Although I don't know why it would give such an obvious lie. Plus this hint is actually valid – you can get a Silk Bag from someone in the graveyard, and the bag is useful.
The person in the graveyard is named "Duck"?
The Japanese word used here is アヒル (

ahiru

), which does indeed mean "duck", as in the animal. But perhaps in this case it has a different meaning or is slang for something else?
Looking through old English-language forums and web pages, I see people claiming that "duck" means "recluse" in Japanese, or that it means "hardhead", or other such stuff like that. I'm not a native Japanese speaker so I'm not as in tune with slang and rare word usages as a native might be, but I've never heard ahiru used as anything other than "duck". Still, I checked lots of different dictionaries and various online resources but can't find anything to back up any such definitions.
I decided to dig deeper into Japanese fan sites and found that Japanese players chalk it up to the guy lying to you – there are no attempts to try to explain possible alternative definitions for ahiru.
That makes sense and all, but then I realized that ducks are also a running gag in the series. For example, there's a rubber duck in Order of Ecclesia: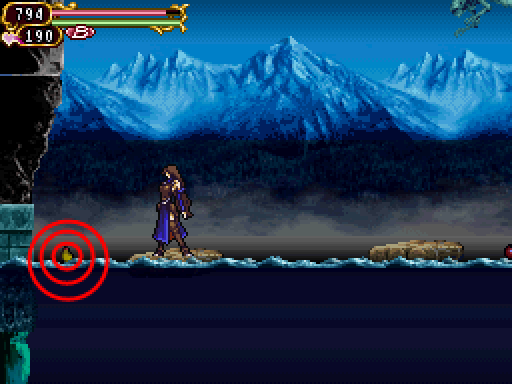 Image courtesy of vgmuseum.com
The Japanese arcade game even has a silly, secret ending that's triggered by killing a rubber duck at just the right time: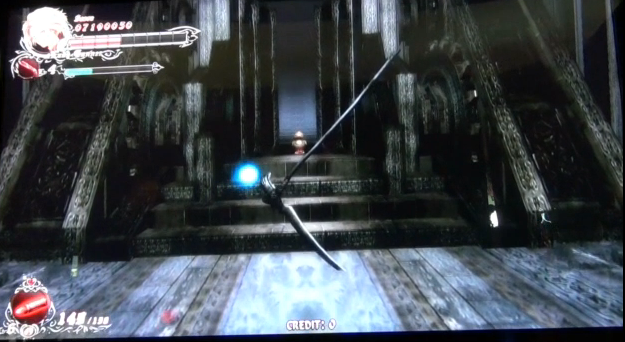 Akumajō Dracula: The Arcade
Harmony of Despair apparently has some rubber duck zaniness included too. In fact, I'm sure ducks appear in many more games in the series, but I'm not too familiar with much of anything past Symphony of the Night, so I can't offer too much more info.
---
I learned after initially posting this article that there's a little more to this mystery. Yada Bon, the character designer for several of the games in the series, wrote the following in the readme file that came with the X68000 version of the first game:
During the game's development, I bought books and watched horror videos for inspiration, but then I remembered that I can't handle horror movies very well, so there were a number of movies I never managed to watch all the way to the end. They didn't turn out to be very helpful, I feel. I don't care what anyone says, scary stuff is scary scary scary. So scary that I can't forget it. I hate ducks. Because one time I kicked at one and it came rushing after me super-fast. Ducks scare me more than Dracula.
So it looks like there was some connection between ducks and the series' development staff. I don't know if this is what spawned all the ducks in later games, but it's at least an interesting coincidence.
Summary: It appears that the "graveyard duck" line wasn't a mistranslation, but rather just another lie. Additionally, ducks are a running joke in the Castlevania series that seem to have some connections to the development staff.
Follow @ClydeMandelin