Joey asked a question recently that I've gotten every so often over the past 10+ years, so I figured it's time to write up something about it!
Has the fact that you've participated in technically-not-entirely-legal fan translations and the like ever caused problems for you professionally? I notice that those projects aren't listed on your resume (unless the resume I've got in mind is super old, which is certainly possible), but are listed on your plain-for-all-to-see personal website.

I ask partially because a decent portion of the amateur VA work I've been getting has been in fandubs and other fan projects.
The quick answer is that no, it's never been much of an issue as far as I can tell. Obviously I wasn't on the hiring side of the equation so I suppose it's possible, but it doesn't seem to have caused any major problems from my perspective, except for maybe one misunderstanding.
I could probably write up huge, multiple articles on the subject, but for now I'll just give a few tidbits of info.
Fan Translators and Professional Translators
One thing I guess a lot of people don't realize is that the difference between a fan translator and professional translator isn't that big – it's mostly just a matter of experience level. People who get into professional translation usually always start out doing it for fun or as a hobby or whatever. In fact, I'm completely serious when I say that every professional translator I've ever known has started out as a fan translator. And that's including acquaintances who don't translate entertainment and counting acquaintances who don't even translate to/from the same languages as me!
I think this is because like a lot of specialization-based or art-based careers, it's pretty rare to just randomly "fall" into this kind of job. Usually someone will find that they like translating or sharing stuff from other cultures, so they'll translate stuff they enjoy. Then, eventually, they'll turn that fun hobby into a paying career. Much like, say, film-making or sculpture or football or something, where you'd expect a professional to have done tons of early, personal projects or whatever for fun.
As such, I think most translation/localization managers expect job applicants to have done personal projects for experience or fan enthusiasm. It's just sort of normal. In that sense, I don't think having or mentioning your personal projects is a bad thing. And when you're just starting out in the professional world, it might be ALL you have to show – that's how it was for me, anyway.
Relying on Fan Translation Projects at First
As I already covered in a previous article, I had fun translating video games for fun, so I decided that was what I wanted my career to be. So around the time I graduated with my degree in Japanese, I started looking for video game translation work. I had done a lot of fan translation projects to gain experience and build a portfolio, but I was still a little naive about how the real world worked and how video game translation was handled in the real world, so I met with a lot of rejection letters and e-mails. I'll save the details of all that for another time; right now I'll focus on them in the context of "did my fan translation portfolio hurt or help?"
Square (Japan)
I was a huge fan of Square games (I don't think it was Square-Enix at this time) so I applied for a contract position in Japan. I think I got far enough along in the process – I even had to write a fanfic as part of it. I'm pretty sure I included a sheet listing a bunch of the fan translation projects I worked on, the difficulties each project presented, and how I handled them. I don't think including this hurt me – if anything, it probably helped demonstrate my enthusiasm and competence. But I didn't make the cut for that hiring period. Looking back, I think the fact I wasn't actually in Japan and the fact I had no professional experience were the biggest detrimental factors. So I got the good ol' rejection letter, saying to try again next month or something like that: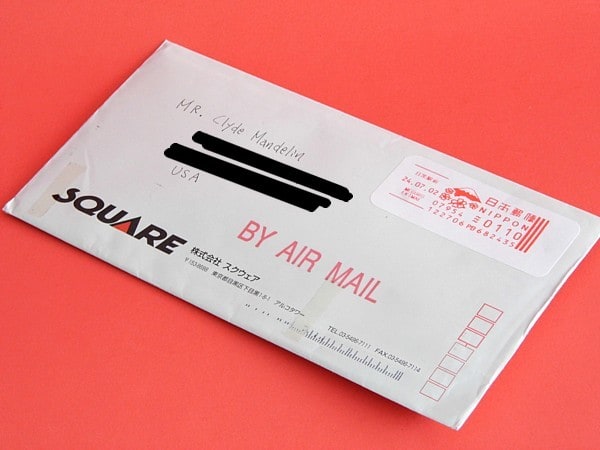 In fact, I think one of the producers on the Front Mission series was actually impressed and glad that fans had translated some of the unreleased stuff on their own (more here), so I get the feeling that having a fan translation background wasn't a terrible thing to admit to, at least for Square. And when I worked on the MOTHER 3 translation I got encouraging e-mails from translators/localizers inside several companies, including Square-Enix.
Square (USA)
Around the same time, I think I saw a vague Square job posting for some localization-related position in California. It definitely felt like something I had little chance of landing; I think they wanted 5+ years of localization producer experience, voice-over directing experience, stuff like that. I figured I sort of had that, having headed a number of large fan translation projects and even spearheading (but ultimately failing) an optional dub patch for the Star Ocean translation. But I felt it was better to apply and fail than possibly miss an opportunity, so I sent a packet of stuff their way. And in this case I actually do think my fan translation stuff might've been a detriment.
I had just done a fan translation of the Wonderswan version of Final Fantasy, so I had included some bits from it as samples of my work. I think I got a generic e-mail rejection a few weeks later, saying something like, "Unfortunately, I don't think we would make a good match at this point in time." Which was totally understandable, as I didn't have years of professional localization producer experience to begin with. But years later, I think I read from someone working there that they had sometimes received job applications from people that included re-translations of existing Square translations, which made him think, "Why would we ever hire you if you're basically saying our current work sucks?"
That wasn't what I was going for, though 🙁 So I think that's one of the few times my fan translation work wasn't beneficial. So use this as a tip, future translators! Don't use samples from the company you're applying to – you could end up giving the wrong impression!
Nintendo, Part 1
One day I got an e-mail (or was it a phone call) from a "headhunter" – someone from a hiring agency who actively tries to find employees for companies. She had seen my online resume, which at the time mostly listed my fan translation work as I hadn't yet gotten any professional work. She explained that she was trying to fill a localizer position at Nintendo of America and that she had been impressed by my resume. When I mentioned that all the games listed on there weren't official translations she seemed a little less excited, but she felt it was still a strong enough background for someone just starting out. I don't remember why this didn't work out, I'll have to go dig around some old hard drives or something for those e-mails. It was probably because my spoken Japanese was getting rusty.
In any case, it seemed like my fan translation work wasn't necessarily considered a "bad" thing, but how beneficial it was or would've been isn't clear. I doubt this would've worked out anyway, though, due to the lack of professional experience. It was that age-old problem of "how am I supposed to get professional experience in the first place if no one will hire me?" That'll probably be a topic all its own in a future article.
Other Places?
I'm pretty sure I applied to other companies too but the fact I don't remember clearly means they probably never got back to me. I assume I applied to other game companies like Capcom, Konami, and such. Maybe my applications got absorbed by the darkness.
Eventually, since I wasn't getting any good responses from anyone, I decided, "Since no one will hire me, I'll just take charge and get work for myself." So being the naive, straight-out-of-college guy I was, I started a little translation "company" for a month or two. Nothing much came from it, but maybe I'll talk about that experience some other time.
FUNimation
One of the other places I had applied to was the anime distributor FUNimation. I didn't hear anything for months so I just assumed my application was absorbed in the darkness there too. But months later I got a response, hooray! Again, the details might be better saved in an article of their own, but it sounds like what really helped me get the job was the fact that I already had familiarity with subtitles and subtitling software.
During those few months after college, I sometimes subtitled Japanese TV shows for friends in an IRC channel I used to hang out on. I tossed some quick info about that on my resume/portfolio, and I guess it helped!
Years later, I read somewhere online that the president of the company said something about respecting the high-quality fan translation work done in the gaming community. Did he really say that? Was that a reference to me? I dunno, but it'd be cool if that was the case! Either way, I think my portfolio either had no bearing in getting the job, or it helped. I don't think it hurt it in this case.
Later On
For the most part I didn't do much fan translation work after this point, but the MOTHER 3 project did attract a good amount of attention from professionals all over. Translation staff members from various companies sent me nice e-mails, and I even did get asked a few times to take some translation tests to get in various agencies' pools of translators. It was a cool, crazy time, and it made me think that if there ever was a stigma regarding unofficial translation work, it's not as strong as it might've been before.
Summary
So that's a quick look at my experience with my fan translation work mixing with the professional world. By this point, like 11 or 12 years after all that, I don't really need to point at my fan translation work anymore; I've done so many professional projects that it would just make things all the more tedious. My online resume is way out of date (and I'm considering taking it down), but I include both my professional and my hobby work here just for reference for anyone who happens to find it.
Getting your foot in the door is probably always going to be a little rough, whether you're a translator or a voice actor or artist or whatever else. But if you keep at it and try to make yourself stand out somehow – like with unofficial work, for example – you'll probably accomplish it eventually. I'd like to go into more detail about the job hunt process for translators someday so that future translators can avoid some of the pitfalls I ran into. But that's another topic for another time!
Your Experiences
My own take on this subject is very limited in scope, so I'd love to hear from other translators. Did you include a portfolio of amateur work when you first started out? Did you used to do unofficial/fan translation before making a career out of it?
If you liked this, check out
press start to translate
, my book about the time I Google-translated
Final Fantasy IV
. It includes the worst/most hilarious translation mistakes, all while explaining
why
Google's A.I. made such terrible choices. (
free preview PDF
)