A reader named Mike asked a simple question about Final Fantasy VI:
I have a question that's been bugging me for years.

In ffvi, there's a section of the game in the returner hideout where Terra is being asked to join the rebels. When you're allowed to run around at will in this section, you can find a strange scrap of paper at the head of a large table. If you find it and choose to not throw it away, Banon freaks out about it during the next story event. I was wondering what this text said in the original Japanese script, and if it's changed in any of the re-releases.
I remember when I first found out about this scrap paper thing! It was the smallest, tiniest thing, but back then it blew my mind that game designers would stick in something so tiny and unimportant 😛
It's been a while since I've played the Japanese version of the game, so I decided to take a look at this for myself too. First, just for reference, here's the part where you get to choose to pick up the scrap of paper or leave it:
| | |
| --- | --- |
| | |
| Final Fantasy VI (Super Famicom) | Final Fantasy III (Super NES) |
Then, a little later on, Banon will notice the scrap of paper if you've left it there. Here's how it looks in both versions of the game:
| | |
| --- | --- |
| | |
| Final Fantasy VI (Super Famicom) | Final Fantasy III (Super NES) |
And here's a look at the text:
| | |
| --- | --- |
| Japanese Version (basic translation) | English Version |
| Who was it? Who threw away scrap paper in a place like this? | Who did this? Who left this piece of paper here? |
So it's more or less the exact same – no liberties were taken and nothing was really changed in tone.
As for the GBA release, the Japanese script appears to remain untouched, but because the English version received a retranslation, the text is naturally a little different: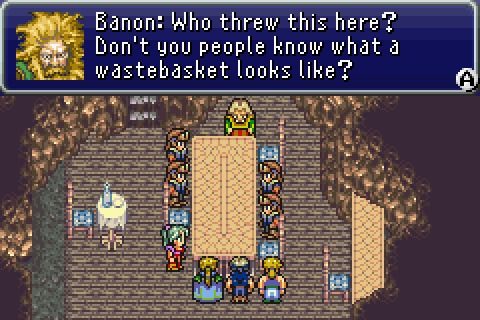 Final Fantasy VI (Game Boy Advance, English)
Who threw this here? Don't you people know what a wastebasket looks like?
I'm not sure what the English mobile port of the game says, but I assume it's the same as the GBA script.
So, although there wasn't much here to dig into, hopefully that answers your question, Mike!
If you liked this, check out
press start to translate
, my book about the time I Google-translated
Final Fantasy IV
. It includes the worst/most hilarious translation mistakes, all while explaining
why
Google's A.I. made such terrible choices. (
free preview PDF
)