The game Tales of Phantasia never had an official English release until 2006, when a localized Game Boy Advance port was released outside of Japan. I honestly don't know a whole lot about this release, but there's one line in this translation that's become a bit of a legend among gamers – somehow the word "Ragnarok" in the game's script was replaced with "Kangaroo"!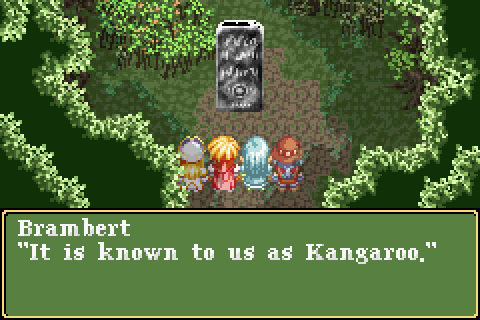 How the heck did this mistake happen? I'm not sure, but I'd always heard faint rumors that it was the result of Microsoft Office's spell checker – supposedly it didn't recognize "Ragnarok" and replaced it with "Kangaroo" instead.
I never really thought much about it until the other day, when I suddenly got the urge to see how true this rumor might be. So I fired up my copy of MS Word and typed in a sample sentence with "Ragnarok" in it. And when I hit the spell check button… it didn't find anything wrong.

That didn't seem to work – maybe Ragnarok became a part of the MS Word dictionary since then? Or maybe it at least became a part of my own personal dictionary on this computer? At this point, I figured maybe it would be better to try it on an earlier version of the MS Office suite, on a computer from the mid-2000s… and just by luck, I have one!
So, after digging around in the back of my closet and hooking ancient technology back together, I tried spell-checking the word "Ragnarok" and got…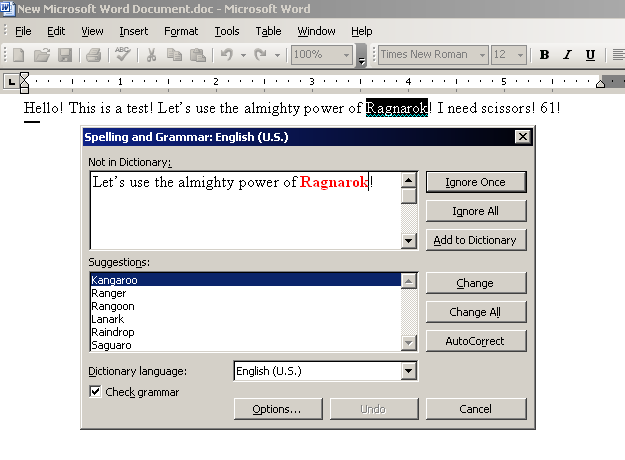 Voila! "Ragnarok" is indeed flagged as a misspelled word and the first replacement it suggests is "Kangaroo" with a capital K. It looks like the rumor might be true after all.
I'm guessing what happened is that someone on the translation team (I believe it was outsourced to a translation agency, actually) accidentally hit "Replace" or "Change" while running a last-minute automatic spell check through the entire script. Also, the script was most likely not in an MS Word .doc file but in an MS Excel spreadsheet file, which is more or less the industry standard. Staring at never-ending spreadsheets of text really numbs the mind, so it's understandable how this mistake happened… but how the typo made it all the way through the quality assurance/testing phase is another question altogether 😛
You know, I wonder what other mishaps in game scripts have been caused by automatic spell-checking tools. Surely this isn't the only one – if you know of any, share it in the comments or let me know on Twitter!
Oh, an extra question! It seems like whenever gamers talk about this GBA version of Tales of Phantasia, the translation quality is quickly dismissed solely because of this one line. Is the rest of the translation really that bad, or is this an isolated incident that doesn't really represent the rest of the script's quality?
If you liked this write-up and know any other fans of Tales, let them know about it. There's all kinds of stuff on this site that fans probably would enjoy!