This is Part #2 of my write-up about the hope, hype, and disappointment that has followed MOTHER 3 for over 20 years. For more details, see Part #1.
Disappointment was strong in 2001, but the feeling was still too new for most fans to last for long. Hopes diminished even more when Satoru Iwata casually mentioned that MOTHER 3 was still dead.
"I'm not sure. I know it's not being worked on at the moment. I don't think Mother 3 is really on anyone's "to do" list, either."

–Satoru Iwata (translated)
"…Several attendees asked about specific games or genres. Mr. Iwata cited From Software's Rune as an example of Nintendo's efforts to reach out to the RPG audience, although news on the Mother front was bleak. "We don't have anything to tell about Mother 3," he apologized…"

–Gaming Intelligence Agency
Around this time, Nintendo began focusing on its new GameCube and Game Boy Advance systems, and this gave fans hope that MOTHER 3 wasn't dead – it was just in limbo, waiting to be released on one of the new systems.
So, despite what Nintendo execs were saying, hopes for a revived MOTHER 3 steadily grew, although some older fans were now more cautious. It was a weird, long year of denial, pleading, over-analysis, and twisted logic. And, as always, rumors were rampant – some reliable and some laughable.
If you're familiar with more recent hopes for a MOTHER 3 release, try comparing these comments, theories, and rumors with things you hear today. A lot has stayed the same!
Recently while looking at the games section of the upcoming Gamecube system at IGN.com, I came across something interesting. Nintendo of America was doing a direct port of the N64 game Animal Forest to the Gamecube. This game was released on N64 in japan but was cancelled as a US release. Now they are taking the exact same game,N64 graphics and all and porting it to a Gamecube game. Since it was possible for this game, this might bring about the possibility of Nintendo finishing Mother 3 in N64 format and just port it to Gamecube with the Origional game graphics and sound we've seen in development for the past few years. Sure, spiffed up Gamecube graphics would be nice, but I would like to see the game released as I've anticipated it, with its wonderfully unique "not-as-modern" Mother game appeal. Wasn't Earthbound release with graphics that could have been much better, but they gave it a very unique and pleasing appeal? I would like a game that every now and then as long as it is a good and solid game, like Earthbound. There is also a constant hinting of Mother 3 in Nintendo Power with something pertaing to Earthbound in almost every issue this year. And don't forget about all the new Earthbound stuff in Super Smash Bros. Melee. Two levels, Mr. Saturn, and a revamped character model are a lot for character barely known to most gamers. Maybe they just need more people to notice him before anything goes into finalization, even though everyone who visits this site would definantly get one, but I guess that's not enough people. I know this is very unlikely, but I'd like to keep my hopes high like I did waiting for Mother 3 for N64, disagreeing with friend who said it would never come out. I just hope some day, in some way or form, Mother 3 comes to see the light of day. Maybe someone will turn up with a prototype cart, like the ones at spaceworld 2000, and sell em on E-bay or something like that, like the Earthbound 0 prototype. Maybe we can show Mr. Itoi how much we love the game and hope it will come out soon by have a letter writing campaign aimed at convincing him how much the game means to us Mother fanatics. Well, I hope some people agree with me on at least some of the stuff. Please tell me what you think. PK-GoodBye! More… »
Pokemon is gonna die out soon. Each new pokemon game that comes out is basically the same. Anyway, Nintendo is throwing too many EB hints around. A new level or two. Saying it's one of the greatest games ever in the last issue of NP. Also in their last issue they put Ness as one of the 10 characters never to grace the cover of NP. If it doesn't happen alot of people will be PO'd!
At the same time, I still believe that Mother 3 will be worked on once they get the first Gamecube lineup out of the way and the system to have a good stepping stone at launch. Once thats cleared, they can reallocate resources back to those projects. If they can do it with Dinosaur Planet and Eternal Darkness, they can sure as [heck] do it with Mother 3.
Mother 3 probably wont come out, but the liscenese will probably be used again and chances are that that game would probably be called Mother 3 so in a way, yeah. At this point the chances of Itoi and friends starting the project back up are remote. But, at some point in time Nintendo and HAL will probably examine the possibility of resurrecting the Mother franchise and assemble a team and take a look at unfinished product of Mother 3. So, in a way it is very possible that Mother 3 (or some variation) will be released at some point in time, just probably not on the GameCube, but we can always keep our fingers crossed.
I think they're gonna do it. All the hinting that they are doing leads me to believe this. They are either trying to hype EB up or just please us with a little EB in SSBM. Yaaaa! Sigh.
I really hope Mother 3 is released, but I'm losing hope fast. I wouldn't be too surprised if Nintendo's been keeping it under wraps, but I'd be even less surprised if they're not.
Eh.. I don't know. I don't think it will EVER come out.
Hey, just in case you care, I'm on vacation in the UK this months, and I happened to see a UK Gaming Mag called N64. Inside, in a big section about Nintendo's next gen systems, Shigeru Miyamoto was quoted to say that he would really like to see SNES classics like EarthBound on the GBA, and EB64 converted to gameCube. Actual quote. He really used EB as his example for an SNES classic port. Cool huh?
Guys, let's be straight about this, Mother 3 will come out for the Gamecube. For all the work they're putting in with Ness in Super Smash Bros Melee, it's only logical to use all these new renderings and sounds of Ness and Mr. Saturn and Starmen, and Poo… And all these hints from interviews and emails people have sent Nintendo, and their replies back are all something like "but ya never know" or "you never know what the future may hold". It's coming, I know it, but I'm still gonna jump for joy when they announce it.
Oh let's just say a little birdie told me something just a bit ago (they don't call me the supa fly information guy for nothing). Something that has me very excited (and counting my money too). I can't reveal what it is right now, not until I have confirmation about it from my sources. But if it's true, we will all be happy, very happy. ☺
Ok my source is kind of sketchy in details, but this is what he tells me. And take this with a grain of salt right now because it's anything but confirmed. So here goes: There have been rumors floating around since August about Earthbound 64 being moved to the Cube. We've seen Nintnedo Power somewhat hint at it, among other things. The real shocker to us was just a few weeks ago when a high ranking man at Nintendo said that no one was working on Mother 3, and he didn't think anyone wanted to. But from my source I've heard this. Don't always believe what Nintendo says. They like and try and surprise you later. If they make you think it's not being done, then you will be surprised when it shows up firnished. So far my source has said (and tried to confirm with others) that Earthbound 64 (or Mother 3 if you prefer to call it by the Japanese name) most likely will come to the Cube. The best part of what he said, it may be a launch title. We all know Nintendo wants (and needs) RPGs, especially at launch. What better game to bring out on launch (especially in Japan) to show that Nintendo has RPGs? Earthbound of course! Okay again, take this with a grain of salt, it may or may not be true (but I think we all hope for the may). But if it is true, then every Earthbound fans dream will come true. Watch E3 and see what happens. 😊 More… »
Fans – including me – still clung to quotes from Itoi and Miyamoto when the game was cancelled the year before:
…I'd like to say I'm sorry to the people who have been waiting, but for now, the Mother series will only go up to Mother 2…

–Shigesato Itoi (translated)
As far as costs are concerned, I should say that we have already spent several hundreds of millions of yen by now, and we would really like to make use of them in one way or another. For example, I'm talking with the writer, Mr. Itoi, who has been directly involved with this project of Mother 3 about whether we can make it for another story, or some kind of possibility in the future.

–Shigeru Miyamoto (translated)
But nothing happened.
Unfortunately, most of my relevant forum archives from 2002 are missing, but I managed to dig up some old articles like this one from IGN: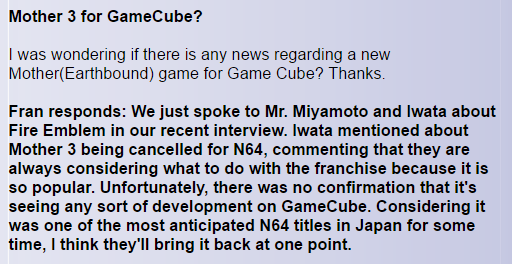 And here's what was specifically said in that IGN interview:
Of course, Fire Emblem has been an important franchise for Nintendo for a very long time and Intelligent Systems has been working on it the entire time. We're always thinking about possibilities on how we can continue to use that franchise in the future and Mother 3 is something that Iwata and I have always talked about bringing to the users.

–Shigeru Miyamoto (translated)
This wasn't much information to go on, but the weird thing about MOTHER 3 is that any non-negative news is seen as great news by fans. So looking back now, it's no surprise that this little blurb got fans excited again:
At least thats some good news on the M3 front. Im waiting till May when E3 happens then I bet we might see M3 hopefully
SWEEEEEEEEEEEEEEEEEEEEEEEE**breathe**EEEEEEEEEEEETtttttttt This is practically a confirmation here folks. Although i already read it on the front page of sm.net i'm just posting here to talk about it. I don't think it will be shown at E3 or even mentioned at E3 at all. Because he said that he was "talking" not "developing".

its about time too. we were supposed to get Mother 3 a couple of years ago.
There have been many hints:
1.) In Vol. 149 of NP on the quiz at the beginning Mani Mani was mensioned.

2.) In Vol. 149 of NP there was fan art of EB put in the mag.

3.) In Vol 149 of NP there is a pic of a woman holding a Mr. Saturn.

4.) Ness has returned in Super Smash Bros. Melee.

5.) NP Seige from Starmen.net: they actually put the art in the mag.

6.) Earthbound and Ness are getting mension a lot lately in the magazine, more than they used to.

I think all of this means something! ☺
Of course, fans aren't one giant blob with one single mind. By this point, some older fans were burned out from all the hope and disappointment:
Heh, I don't see much of a reason to get excited… This means very little. Although talk starts everything, it really doesn't do much else. I doubt we'll be seeing M3 anytime soon :/

Sorry for being so cynical; I'm usually not.
Still, this little mention was encouraging enough that fans at Starmen.Net began a new petition project:
For some reason, I'm actually expecting Mother 3. So, I'm gonna keep my hopes up. It's gonna come. It's gonna come. We can at least wait for Spaceworld to see if there's anything…I wanna see how the new Mario and Zelda games are coming along too.
I think they're gonna do it. All the hinting that they are doing leads me to believe this. They are either trying to hype EB up or just please us with a little EB in SSBM. Yaaaa! Sigh.
Well, I've been an optimist. They way I saw it, Mother 3 would have to come at some point, even if it was 10 years from now. It's popularity in Japan is just too high for it not to be released. Hearing this now only reiterates my point. I'm excited for this year, because I think that this year will be the year that we all see significant development on Mother 3. And if I'm wrong, then I'll just wait until it is released. It WILL be released.
I'm sure my submission will be surrounded by hundreds of dorks screaming their lungs out about how this guarantees the release of Mother 3. Face the fact: it doesn't. What it DOES say, however, is that at least Nintendo hasn't forgotten about Mother 3 completely, which has always been a possibility since its cancellation. Not only this, but that they think about it enough to actually mention it in an interview; that's gotta' be significant at least. So maybe we'll hear news of a possible release date in the coming months; who knows. But maybe if they see some success with Animal Forest and other quirky imports this year, they might make a decision about Mother 3. We'll just have to wait and see.
Later in the year, the rumor section of a Japanese magazine seemed to point to some sort of MOTHER series release on the Game Boy Advance, including a potential MOTHER 3 revival: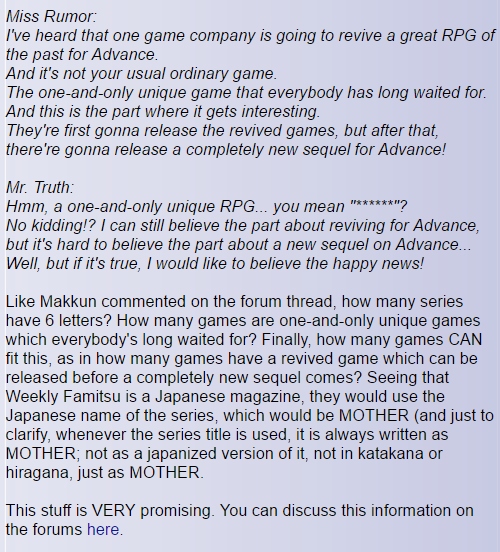 At around the same time, there was a rumor in Electronic Gaming Monthly about EarthBound getting remade for the Game Boy Advance: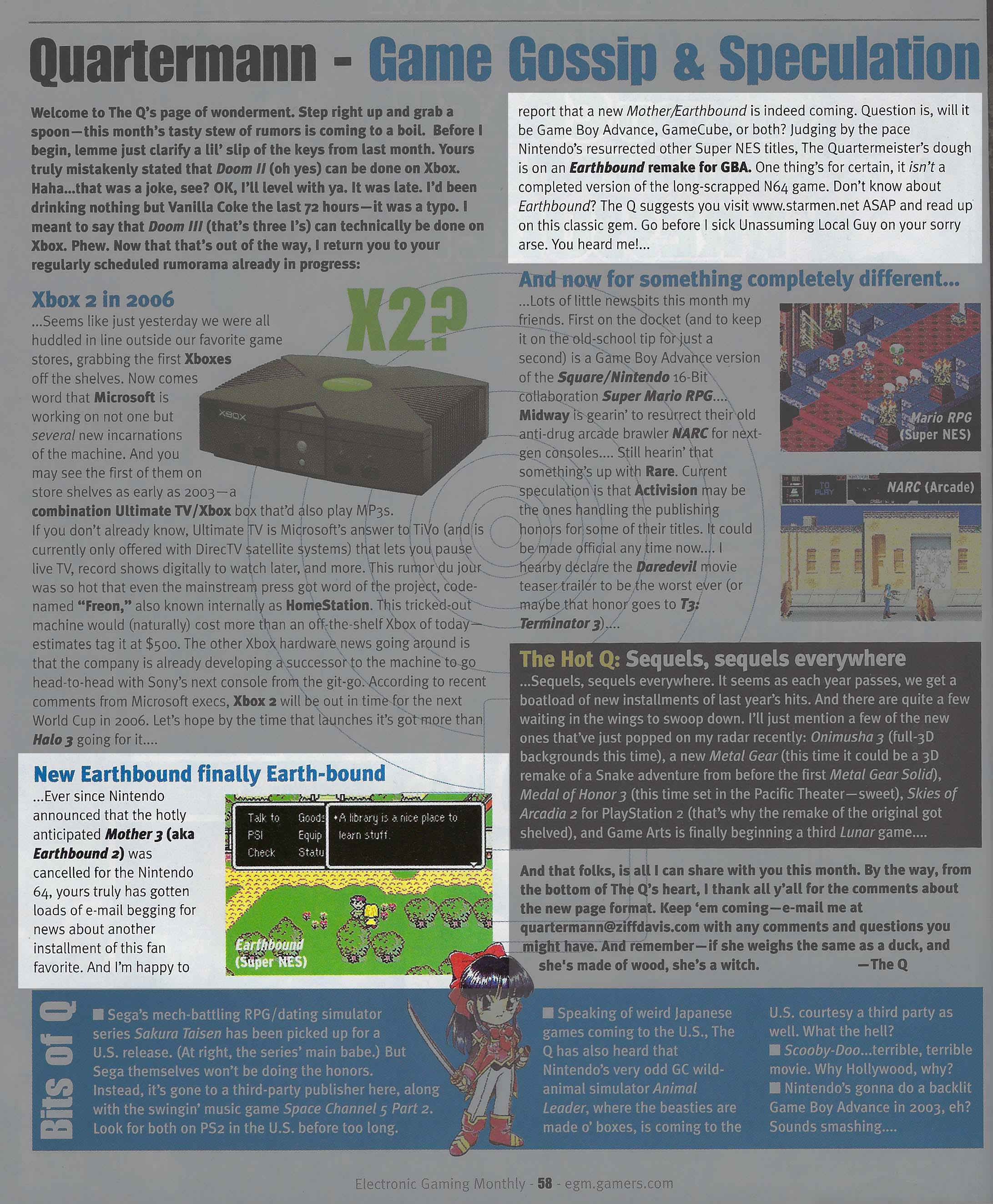 These separate rumors seemed to fit, so fans were excited by the potential of a revived MOTHER 3. Other online rumblings stirred up more excitement:
New GC Mother and New Square RPG?

Thanks to John Ricciardi, we've learned that rumors are circulating that next week's Famitsu, along with having a review of Nintendo's highly-anticipated Super Mario Sunshine, will unveil two new RPGs.

The first is a new Mother game from Nintendo, a very popular series which spawned on the Famicom. The only game in this series to ever make it to America is Earthbound, which was released on the Super Nintendo. Nintendo was developing a game for the N64, Mother 3, but the title was canned after development wasn't going as planned.
Other sources of information were starting to pop up too:
Itoh (not Itoi) is the art designer for Mother 3, and also a comic book artist on the side. ANYWAYS, Itoh said that Mother 3 IS going to happen, and very soon. I'll quote the article: "According to QUITER, at a recent Super Smash Brothers musical concert, comic book artist Benimaru Itoh revealed that an announcement regarding Mother 3 is going to happen very soon."

Now, I understand that this may simply be a red herring, but it still looks VERY promising! Perhaps EGM's recent rumor of a new Mother coming could be what Itoh is talking about!
These rumors about a new version of MOTHER 3 continued to appear: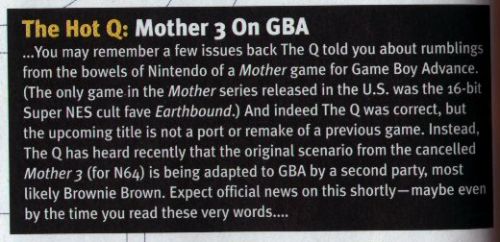 At this point, everything was still in rumor mode. Older fans were understandably wary, but it was hard not to be excited and hopeful.
Things were a bit quiet in early 2003, until MOTHER 1+2 for the Japanese Game Boy Advance was suddenly announced out of the blue. The very first commercial also announced that MOTHER 3 was in development for the GBA too:
Fans were ecstatic. Unfortunately, I don't have good comment archives from this point in time, but I recall that Starmen.Net was blazing with excitement. Forum threads would get updated faster than it took to post a comment. Old fans returned to the site. Regulars began analyzing every bit of info available. It was fun.
Starmen.Net's petition project from 2002 completed at almost the exact same time as the announcement. It turned out to be much more than just a standard online petition. It was covered in large gaming outlets, and Miyamoto himself later commented on it.
The official announcement and the successful completion of the big petition project had fans very excited. There was a lot of speculation about when and where the game would be shown. MOTHER 3 at E3 felt like a sure thing to many:
E3 is in May isn't it? Wasn't it said that lots of information about the new Mother products coming out would be revealed at this years E3? And did Reidman say something about having starmen.net representatives at this years E3 (I can't remember if he did or didn't)? Doesn't it start the first week of may or something like that?
Yeah, it's early May, Right? :D!!!
MOTHER 3 didn't appear at E3 or any other events. In fact, all mention of the game disappeared completely after the commercial. "They were still finishing MOTHER 1+2 in 2003, so 2004 is when MOTHER 3 will come out" fans told themselves.
The disappointment at the end of 2003 led to high hopes for 2004.
Hopes were high for MOTHER 3 to appear at E3 again. Rumors and miscommunication helped build hope as well.
Look at this link right about…HERE

http://www.gamefront.de/

E3 thing is near click that then go to "Nintendo" and it is highlighted in "Light-Blue"
Despite all the hope, MOTHER 3 was nowhere to be seen anywhere in 2004. Some fans were disappointed. Others felt 2005 would be the year it'd happen.
Not to be a fuddy duddy, but I don't think there's a good chance of seeing Mother 3 at E3 this year.

Now before the bricks start heading my way, hear me out…

Mother 3 development has just been restarted for the GBA as you all know.

Chances are, the initial release of Mother 3 is going to be for Japan, followed by the US and other countries. This being the case, whatever has already been created would be in Japanese.

Unless they've already started translating the story, and the currently unfinished game, I highly doubt that it will show up at E3.

Now I'm looking forward to this as well, but I just don't think that we'll see a Mother 3 demo till around the end of the summer. Even then we'll have to have someone from Japan sending us info.

I believe that it is even more likely that we'll see it at E3 2005… that is unless it's released sooner than that… *Crosses fingers.* More… »
As far as we know Mother 3 has been in development since April 2003. In all logic there should be no reason why Mother 3 shouldn't been at E3 2004. A trailer at the least would be feasible.
In late 2004, a mysterious screenshot was being passed around on Japanese sites. It wasn't clear what the source of the screenshot was, but it looked very much like a MOTHER game: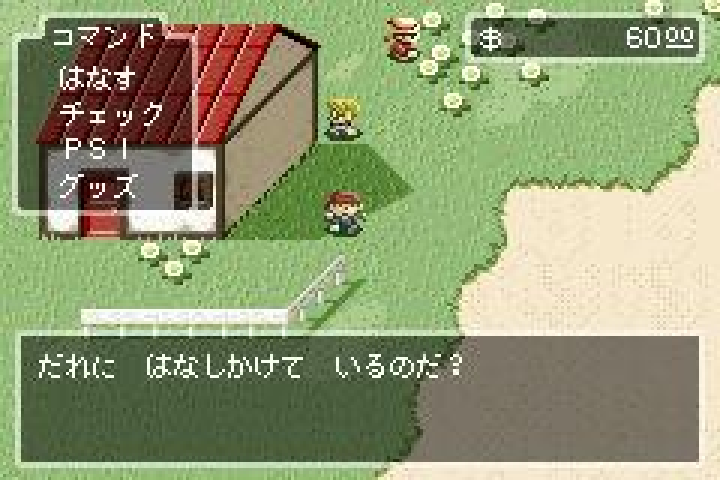 Some fans were skeptical, calling it a fan-made image. Other fans who were desperate for anything tried to analyze what little there was:
Nothing ever came of this strange screenshot, except for empty hopefulness.
Although all news of the new MOTHER 3 had dried up, hopes – and expectations – were growing stronger by the day.
Two years after the first GBA MOTHER 3 announcement, many fans were certain this was the year it would be released.
Longtime fans, after many years of disappointment, began to feel uncertainty about the game appearing at E3 this year. When it became clear that MOTHER 3 was going to be a no-show, hopeful logic pointed fans toward later events in the year.
I haven't heard anything. GameAreFun actually predicted Mother 3 would appear at E3 the past 2 years, but they haven't made any such preditions for this year's as of yet.

While it does seem a little unlikely that we'll see any new Mother 3 info at E3, we may still have something to look forward to. This was one of Game Informer's E3 predictions: "Nintendo will announce that they will reveal more on the Revolution at a Space World show in August, or the Tokyo Game Show in September."

It makes perfect sense. If Nintendo doesn't cover the Revolution too much at E3, then it would be a logical choice to have a Space World show and reveal more information there. And since Mother 3 is rumored for late 2005, then Space World would be the perfect time to show it off.

Also, in that fairly recent interview with Miyamoto, didn't he say that there would be an announcement regarding Mother 3 later this year? I have a feeling we'll hear something before long.
Actually, now that I think about it, Space World would be better because then they can show it to a Japanese audience instead of the American media, who will demand an English version.
Correct, thats why they would show it at TGS. But if M3 did miraculously appear at E3, it wouldn't be Nintendo's first Japan-only E3 showing.
Or maybe if it is there, we'll also see a confirmation for a US release. Honestly, how can you have so little faith of it being released here? All we missed as a compilation, and although that was the only game we saw for 7 years, it was still just a compilation. Nintendo knows there are EB fans here, they can't just forget about us. I mean, look at Fire Emblem. Nintendo was cautious, but it sold great. An even better example that they were hesitant to release Pokemon! I'm sure Ness has sparked some curiosity in EB from being in SSBM, so if Mother 3 has Ness(I know, it'll probably have Flint or something, but they could have changed it for a direct EB sequel, you never know ), I think it could sell well here.
Hopes began to fade when MOTHER 3 appeared nowhere at all, but an unexpected hope took its place when a peculiar set of Nintendo 64 DD development disks with "M3" and "KM" were discovered by a hardware enthusiast. It was believed that "M3" stood for "MOTHER 3" and "KM" stood for キマイラの森 (Kimaira no Mori, "Forest of the Chimera"), which was the game's official Japanese subtitle in the late 1990s.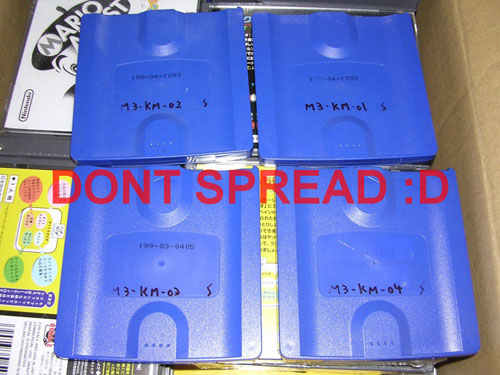 Excitement was high, but getting the disks dumped was difficult – it was nearly impossible to find a Nintendo 64 Disk Drive development system that could read the disks. "What's on the disks? What's on the disks?! Is MOTHER 3 waiting on them for us?!" is what the general feeling was at the time.
Near the end of 2005, some surprising clues skyrocketed fans' hopes higher than ever before:
First, series creator Shigesato Itoi dropped some sudden hints in his daily blog posts that he was working on a big project with a company based in Kichijoji. Next, Brownie Brown, a game company that had worked with Nintendo in the past, had been rumored to be working on a certain secret project for some time. Brownie Brown was based in Kichijoji as well.
So when a mysterious MOTHER/EarthBound-esque Flash animation was posted on the company's site, it re-energized fans like crazy:
I just wet myself. o_o The fact that this mock up is using terms like " so and so started crying " and " 999 physical and mental damage" shows that the company working on it is staying true to the roots and not changing things a little like Square-Enix has a reputation of doing lately. (I.E. FFX-2)
OMG IM HYPERVENTILATING i just saw the flash game and even though I couldnt understand any of it, there was still way too much resemblance, now I think Im gonna cry tears if joy, YAY!!!!! Wow, I was hyperventilating so badly that I was close to passing out! Man I am SOOOOOO HAPPY!!!!!!!!!!!!!!! !!!!!!!!!!!!!!!!!!!!!!!!!!!! !!!!!!!!!!!!!!!!!!!!!!!!!!! !!!!!!!!!!!!!!!!!!!!!! There, Im calmed down now. But seriously, this is so awesome!! This week is awesome already, and I still have lots of stuff to look forward to, thanks for showing up to tell us about this Tomato!!!!
Any Mother 3 news is good news, but something seems a bit wrong in the flash.

N-Dude, who's probably Nintendo, is represented as some evil being (hence the Darth Vader mask) that can't be defeated and is over-controlling. But the part that disturbs me most is where the N-Dude says some long explanation, and everyone starts freaking out. This eerily reminds me of Lucas Arts' cancellation of Sam and Max: Freelance Police a while back.

Perhaps it has been cancelled and picked up multiple times, and they were forced to restart.

Either way… I don't think they'd try to make a Flash video like this about a cancelled game. So here's hoping to the best. 🙂
At almost the same time, a strange teaser animation with a countdown clock appeared on a mystery page:
Fans were convinced this was an incoming announcement for a MOTHER 3 release. The graphics were MOTHER/EarthBound-like, and the character looked a lot like Dr. Andonuts from MOTHER 2/EarthBound.
Some fans ripped the animation apart and looked at its innards. Some tried to tie a bunch of various clues to make sense of the animation. Other fans tried to see if there was a Morse code message in the beeps.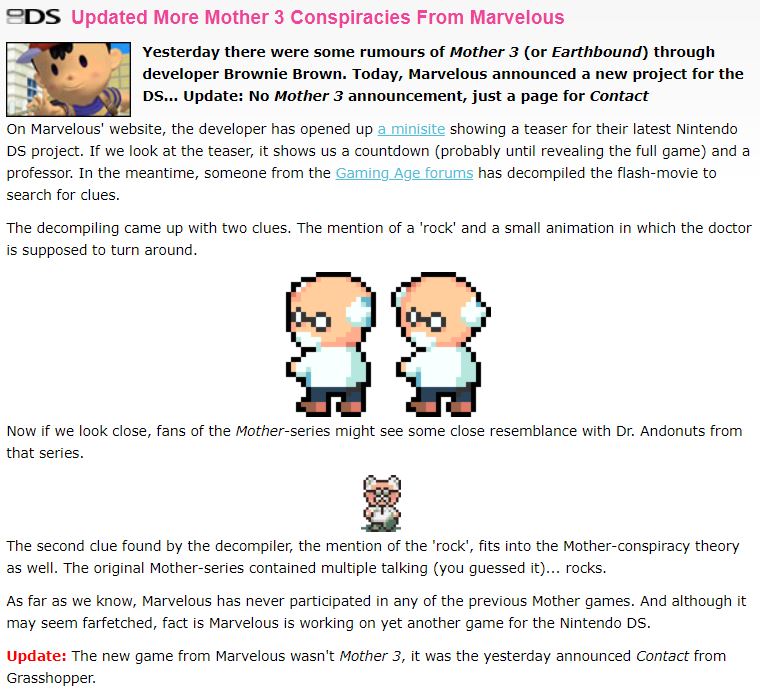 Before long, it was learned that this wasn't a MOTHER 3 announcement at all. It was a teaser for a completely unrelated game called Contact for the Nintendo DS. Although there are similarities between the games, this huge misunderstanding resulted in Contact being very closely associated with EarthBound and disappointed EarthBound fans.
Luckily, shortly after, Itoi began posting cryptic clues of his own about MOTHER 3's final stage of development. Fans were also excited when the series' mascot, Mr. Saturn, started making surprise appearances in Itoi's fish tank webcam:
Then Itoi just started talking about MOTHER 3 without beating around the bush. He even announced that it would be released in Japan in the spring of 2006:
In a 2005 announcement, I asked people to forget about something for a while. I'm referring to the game, Mother 3. I've decided to announce what I can say with certainty here before the new year is upon us. First, it looks like the game will make the Spring 2006 release. It'll still be a while until it has a specific release date, but there will be no cancellations or huge delays for it… hopefully. As I announced before, it is being released as a Game Boy Advance game. So you can play it on the currently-mega-popular DS, the Micro, AND the SP. There will be no changes to the above information.

–Shigesato Itoi (translated)
Fans' hopes were incredibly high, and a Japanese release finally seemed like a certainty. But would Nintendo translate it after that? Of course they would. Why wouldn't they? After all, EarthBound's popularity grew a lot after its initial release, thanks to the Internet and the Super Smash Bros. games!
Obviously, things didn't work out quite so nicely or this article wouldn't exist. Hope for a translated release of
MOTHER 3
reached its all-time high in 2006, when the game was finally released in Japan. Read all about it in
Part #3: 2006 to 2011
!