This is Part #3 of my write-up about the hope, hype, and disappointment that has followed MOTHER 3 for over 20 years. For more details, see Part #1.
In early 2006, Shigesato Itoi began posting information about MOTHER 3 bit by bit every few days on a special site. Fans went crazy over this – it was the first new
EarthBound/MOTHER
stuff in a long time. They (including me) analyzed every tidbit possible and translated everything Itoi posted:
MOTHER 3 was finally released in Japan on April 20th. Fans clamored for an English version – some begged Nintendo's representatives, some tried to talk to the higher-ups about it, and others took matters into their own hands and began unofficial translations of their own:
The announcement of these fan translations pushed hope even higher – some fans assumed it would only take a day or two at the most to take the Japanese game and turn it into English. Disappointment set in when it became clear it was much more complicated than that.
The day of the Japanese release, Reid (my fellow Starmen.Net co-founder) shared some inside info he had learned – Nintendo was soon going to make its internal decision to release or not release MOTHER 3 in English. This gave fans further hope.
[19:37:12] <@reidman> we have good release to believe that mother 3 is being considered for release in america
Naturally, fans asked Nintendo representatives – including Reggie Fils-aime about releasing MOTHER 3 in English. A week after the Japanese release, Reggie answered a question about plans to bring the game to America: "Not yet. Not yet."
This answer led many fans to think MOTHER 3's English announcement was just around the corner.
"not yet" "not yet"
We have a chance yet
YET! YET! i feel a sign!
Two weeks after MOTHER 3's Japanese release, the European Official Nintendo Magazine printed a small blurb about MOTHER 3. It seemed to indicate that an official translation was underway and that it would likely be released in December 2006 at the earliest. More details were promised for the next issue. Fans' hopes were back up.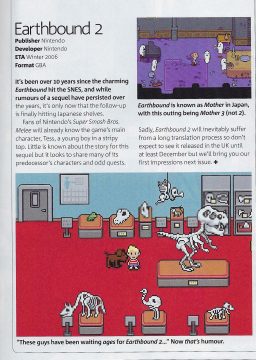 This was backed up by a Dutch magazine that made the same claim.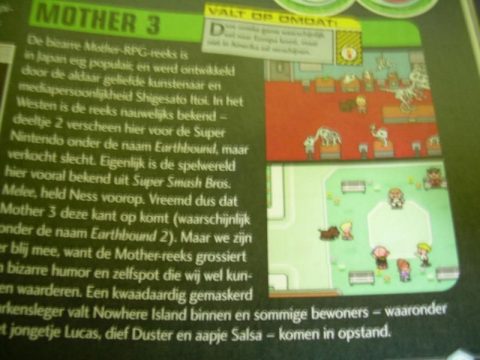 But in the next issue of ONM, all mention of MOTHER 3 was relegated to a tiny note that said the previous article was incorrect.
Still, fans assumed that Nintendo would say something about MOTHER 3 at E3 for sure this year.
Yeah, E3 will give us a hint. If not, we'll at least know by the end of the year.
If they don't announce something around the time of the Japanese release (give or take a few days), before ruling the game out, we'll have to wait for E3, simply because of all the new announcements that get made at E3. If it's not at E3, then start to worry a bit.
E3 came and went with nothing. Hearsay and unconvincing rumors sprung from the emptiness:
My dad went to Eb games on Sunday, June 4, 2006 and (he's also really into earthbound) asked the manager if he knew anything about it. So far all they know is that it is supposedly coming out in september of this year. I am going back to eb games today to confirm it. if you have any other questions, please ask i'll try to get an answer from eb games. im sorry if i get your hopes up or let you down i some way. i'll keep you posted!
And a rumor in EGM suggested that the entire MOTHER series (the third game included) was slated for a DS release: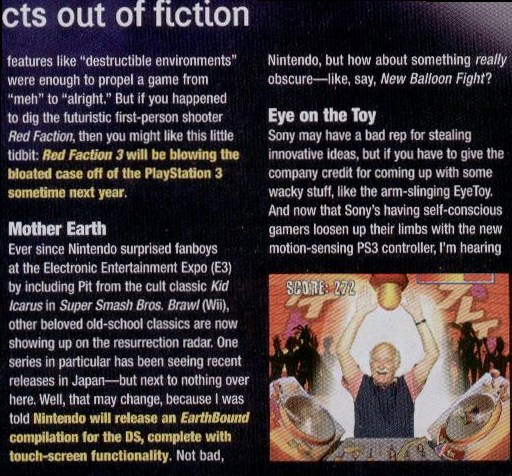 Hope continued to spawn a variety of theories about Nintendo's silence on a MOTHER 3 release:
First of all, I, like many other people actually have a pretty good feeling about an American Mother3 release. I, also like many other people, am importing (w/ Super Deluxe GBA combo) it anyway. I was reading some interview with Reggie Fils-Aime and thinking out devious Nintendo's marketing is nowadays when it hit me like I ran into a wall on a teleport. Nintendo knows about us, they know what a dedicated cult, er, fanbase the series has in the US. They could possibly be so tight lipped because they know we'll buy both anyway, and they want a double-dip. It's perfect. I'd even put money on the US announcement coming right after the D-LuX preorder ends.
Releasing EarthBound 2 will probably be Nintendo's last resort in keeping the GBA alive. If they are going to release it, they might as well do it ASAP, otherwise, the GBA might find an early grave. The only way I see the game making it to the USA is if they decide to package it with the rest of the series on a DS card, calling it "EarthBound Trilogy".
Well, that may be true at the moment, but in the U.S. they could always introduce Mother 3 as a Virtual Console exclusive. Aside from translating the game, they might have to do a little modification to the screen size, but it wouldn't be too much trouble. Honestly, I think if Nintendo sees a great deal of interest when they release EarthBound on the VC, it might not be too far out to expect a release of Mother 3, too. Considering the fact that they'd be making nothing but profit off EarthBound since it's basically like us paying for a ROM, and Nintendo doesn't have to manufacture anything. They could put some of the profit toward translating Mother 3, and then, again, make tons of profit off of another ROM.
But in an interview near the end of 2006, a localization manager at Nintendo of America shot down hopes that an English translation of MOTHER 3 was in the works:

With so many fans waiting on pins and needles for a translation announcement, this didn't go over well. In the end, though, it was the usual mix of strong disappointment, "I refuse to give up" hope, and exhausted resignation:
I really don't know what to say. I can't say I was expecting this, but I also can't say I didn't think they'd just completely throw us outside like that.

There are so many expletives I want to yell at them right now, yet I can't muster up the nerve to do so.
God, Nintendo of America is the most useless company ever. I hate those ****ers.
I can say this much….the NOA representative's response is more legit than that beat around the bush crap from the last time we had a major response.

It's disheartening, I know….11 freakin years of waiting and suddenly the game gets pushed back for more bigger anticipated titles. ( Then again, technically, the second take on Mother 3 has only been out for over a year. ) For NOA…money talks, always.
The only remedy to cure the disease known as lack of U.S release, is just to continue doing what we love here; show our appreciation for the Mother series to the best of our ability.

Even if Mother 3 doesn't come out right away, I refuse to set myself up for ultimate disappointment.
Wow, that really sucks. I had been watching this site for years, hoping something would happen. Well, at least Mother 3 actually got released at all. Cool Maybe someday they'll finally figure out that it would actually probably be a good investment, and maybe they'll send it over. Only time will tell, I suppose.
It was very shortly after this that Starmen.Net's MOTHER 3 fan translation project was announced: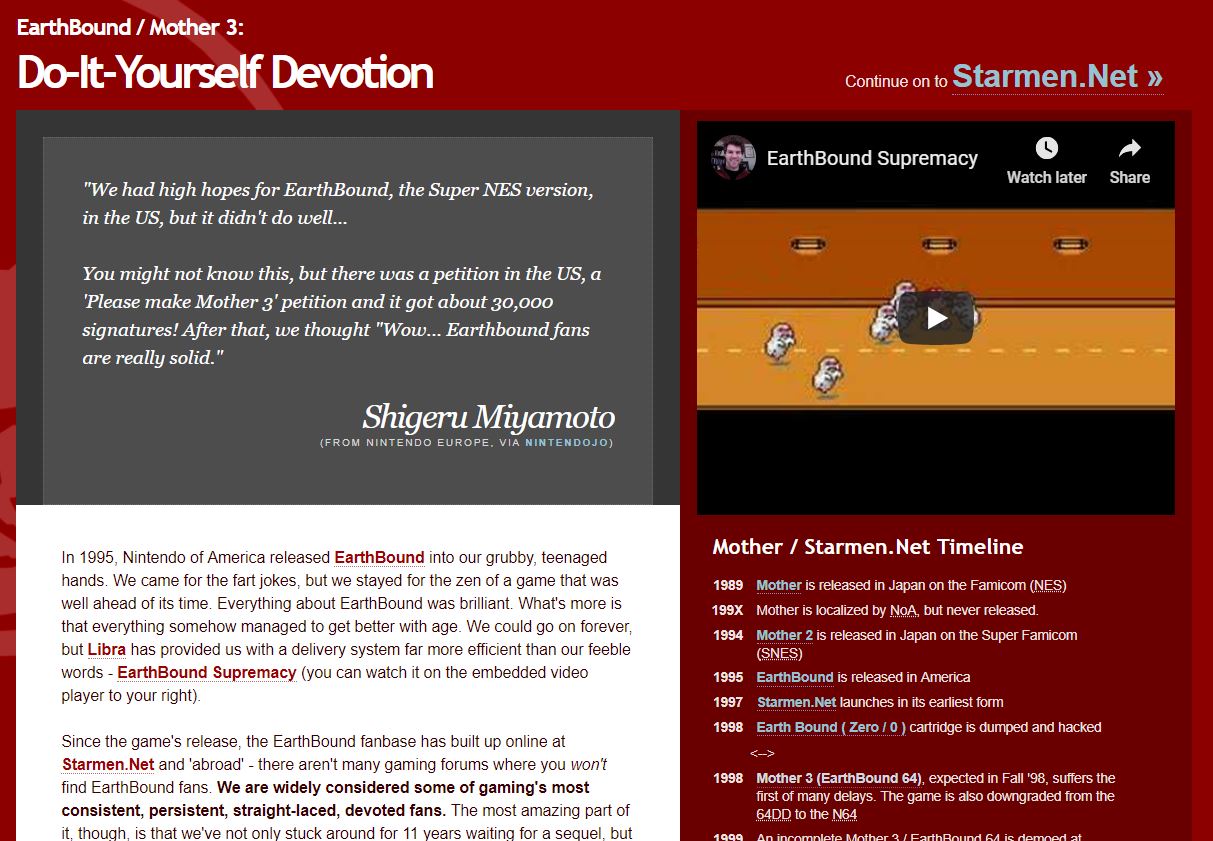 The earlier fan translation attempts had over-promised and had stagnated, so this news got fan hopes back up. It wasn't going to be an official release, but it looked like fans would finally get to play a translated version of MOTHER 3 eventually.
By early 2007, hope for an official MOTHER 3 had dimmed, but it hadn't been lost.
Out of the blue, the two MOTHER 3 soundtracks were released on the iTunes stores outside of Japan. This bolstered hopes that the game could be getting an official translation: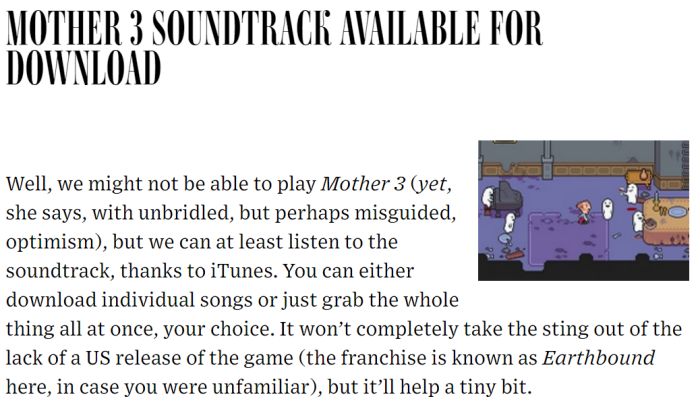 I'll buy just to support the release.

I'm not sure to get hopeful, or just see this as yet another slap in the face.
Now, if only Nintendo would bother to release the damn game in the West!!
As 2007 progressed, MOTHER 3 content was slowly announced for the upcoming Super Smash Bros. game. This included a MOTHER 3 stage, music, and even a main playable character.
Fans felt certain Nintendo was going to do something with MOTHER 3 soon – players outside of Japan would have no idea who Lucas was otherwise. Something similar had happened with Fire Emblem and the previous Super Smash Bros. game, so it seemed logical that MOTHER 3 would follow the same example. Hope was high again.
There were also rumors flying around that Nintendo would be announcing the sequel to a famous series soon. Naturally, fans hoped this was referring to an announcement of MOTHER 3 outside of Japan. I don't remember what this turned out being, but it wasn't MOTHER 3.
At one point, Nintendo of America's senior vice president announced that Japan-only classics were being considered for release on the Wii Virtual Console. The announcement was sparse on details, but some fans found further hope in it.
We are aware that there are some very successful Japanese franchises that have a small following in the US, and that they could never be reached by putting these products out at retail. We're open to games released in Japan if we can get them translated properly.
Fans' hopes were ruffled by another quote from Nintendo of America's Reggie Fils-Aime:
Fils-Aime has never played the game, but he knows about the translation project. He said the "Mother" series (known as "Earthbound" when "Mother 2" was released in the U.S.) is important to Satoru Iwata, Nintendo's president, who worked on the series years ago as a developer. "It certainly is a franchise near and dear to his heart, and it's something I'm trying to get smart on to understand whether or not there is an opportunity here. But certainly I've seen the success in Japan. That hasn't gone unnoticed. And it's certainly something we're looking at
Mother 3 could end up on the VC, but it's still too early to tell. It's only been almost a year since the game's initial release.
Lying about Mother 3's chances is a sin, Reggie.
I wouldn't be surprised if all of the Earthbound games get released on the Virtual Console, including the GBA version, some time in the next year or two. It makes a lot of sense for Nintendo to put it there rather than through retail.

I would also expect them to be USA + Japan only. ☹ Europe am cry.
As always, there were plenty of hearsay claims and rumors that seemed plausible enough to keep hope faintly alive.
Nintendo Rep: (not so friendly sounding anymore): "Reggie is NOT a fan of the Mother series and personally does not see it as a profitable bussiness move on NOA's part-also, I personally had a chat with George Harrison a few years back and upon getting hired I was told regarding Mother that Nintendo has no plans, and will not have any plans anytime soon to bring back the EarthBound series stateside again."

"However, what I can tell you is this-EarthBound will be coming to the Virtual Console sooner than you expect it; and Nintendo DOES plan on bringing GBA games to VC."

Me: "So it's possible Nintendo may use the online sales of EarthBound on VC as a scale of interest of the Mother series in the US?"

N:"Yes, exactly, Nintendo does plan on using EarthBound's VC sales as a reference to Mother's popularity on in the US, so you never know!".
My dad got an employment newsletter that said NoA was hiring a software Engineer that is bilingual in Japanese and English to assist with 2nd and 3rd party developers to create localizations!
You pondering what I'm pondering?
Some fans sought hope in coincidences:
If you picked up Pokemon Diamond or Pearl, it would be wise to know that Nintendo is toying with us once again. First is the Main Boy Character's default name being Lucas and one of the Elite 4 member's name being Flint….
Coincidence? I think not…

I'll keep my eye out for any other "easter eggs" Nintendo planted in Pokemon D/P…
Reggie mentioned MOTHER 3 a few times in 2007, usually in a dismissive "this is getting annoying" way:
Starmen.Net staff members were invited to visit some people at Nintendo Power and within Nintendo itself: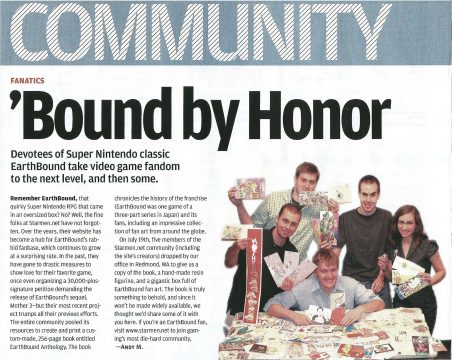 I didn't take part in this, but the meeting sounded surreal:
We sat down for lunch in 'Cafe Mario' and talked about all kinds of stuff, obviously focusing around EarthBound and especially MOTHER 3. They actually asked us about the MOTHER 3 Fan Translation, at which point everyone looked at me, and I was all 'err heh uhh hmm'. As it turns out, they're pretty excited about it and are looking forward to playing it ☺ Who saw that coming?
The big thing that came out of the meeting though, was this:
This led fans to rally around EarthBound on the Wii Virtual Console, but that turned into a whole debacle of its own. It didn't even matter in the end – EarthBound never got released on the Wii Virtual Console and it wouldn't see a re-release until six years later.
Anyway, with fan enthusiasm up again, Starmen.Net began a new round of action to convince Nintendo to release MOTHER 3 in English. It wasn't just a petition this time, though – it was much more. All the energy and dedication that went into this project kept hope alive.
Meanwhile, things started happening with the four mystery Nintendo 64 Disk Drive development disks from a few years before. The final pieces of hardware were on their way, and fans were again hopeful that they'd soon discover a prototype version of EarthBound 64.
Ooh man, I can't wait! Maybe we'll finally get some idea of what that Lucas/Claus mine cart ride in the video was all about.
I can't wait! Whether it's Mother 3 or not, I just want to find out what is on those disks once and for all. Even the Mother 3 demo would be awesome if it were on those.
There's nothing more that I would love than for a playable version of EB64 to be on the discs but we have to be realistic, they may be completly blank. They may also contain a different game, or if it is M3 related it may be a bunch of broken code or a few images and videos, but who knows and thats why corey is doing this.
Two of the four disks booted up properly. They were unrelated, retail-version games. It was disappointing, but fans clung to the hope that the other two disks contained the prototype EarthBound 64.
Aw, man. Everybody cross your fingers for those two disks he hasn't booted yet. :/ What a bizarre way to end this crazy ride.
We've come so far… and no MOTHER 3 64… But! There's still hope. The 1st and 3rd disk's contents have not been revealed!
Near the end of 2007, a well-known video game news tipster known as "Surfer Girl" claimed that the whole MOTHER/EarthBound series would likely be released in 2008 on DS or Wii:
Nothing came of these rumors.
With Super Smash Bros. Brawl out, fans had high hopes of MOTHER 3 finally seeing a release. The general logic went something like this paraphrase:
Okay, now that Smash Bros. is out, way more people will know about MOTHER 3 and Lucas, so this way they can release MOTHER 3 and more people will buy it! Looking back, it makes perfect sense that they didn't release MOTHER 3 before Smash! It'll make more profit this way!
When news about MOTHER 3 quieted down, fans began to see hope in things like WiiWare and the DSi:
Virtual Console, no. WiiWare, however, yes! WiiWare would be a great way to distribute Mother 3. The file can easily fit on the Wii, and Mother 3 can easily be played with the Classic Controller or even better the Super Famicom Classic Controller (I bought one I'm saving for Earthbound). Nintendo of America wouldn't have to worry about packaging and the like. Perhaps the GameBoy Advance's days have ended, but the Wii will be around for awhile.
So, i don't want to beat a dead horse or anything when it comes to Mother 3 being downloadable on Nintendo media, but Nintendo just announced a new DS called the DSi. Its smaller, and it has a few more features, like it has a .3 Megapixel camera, and even connect to a DS store similar to the Wii Store. We all know that its highly unlikely for Mother 3 to come out for Wii (yipes, i almost said ps2…) but maybe this will make it possible.
As before, vague Nintendo announcements offered scraps of hope to fans. Even Reggie made comments about E3 that garnered lots of attention:

The wording and timing made it seem perfect for a MOTHER 3 announcement. Fans had their fingers crossed.
I agree with you. Lately there's been lots hints pointing towards Mother 3 or EarthBound being re-released and the best place for Nintendo to show off their new (or old) game is at E3. I can't wait for E3 this year! Unless they said there was going to be a "big game" last year. Did they say the same thing any other years or is this something they don't do often?
I see this year's E3 as our last hope for Mother 3. Although I know it's been said every year for years, this will be the second E3 since M3 was released and it really is hopeless after this ☹
Older fans remained skeptical of every announcement and hint. In that sense, there was definitely a fan "generation gap" by this point:
Sorry, but I doubt there will be anything MOTHER related in E3. It just doesn't seem likely.
Nintendo isn't going to translate a game on a dead system two years after the game came out.

Additionally they aren't going to remake a game two years after it came out either.
As always, MOTHER 3 failed to appear at E3.
At right around the same time, an issue of Nintendo Power included a teaser about some secret games that would be revealed in the next issue: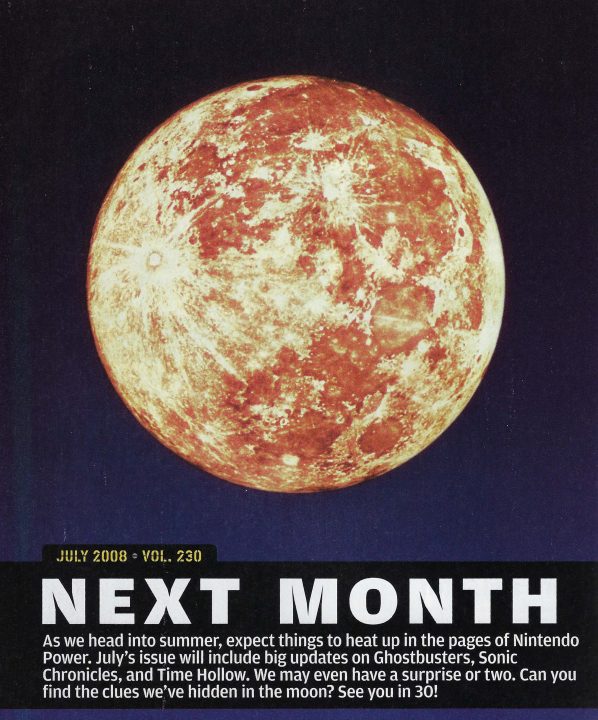 For some fans, this image seemed similar to the MOTHER series logo. Other fans swore they could see certain faces in the moon that pointed to the MOTHER series. Although it didn't seem like much to go on, the cryptic clue in the official Nintendo Power magazine generated a good bit of excitement.
I might be completely out of my mind for even imagining this, but the moon is associated with the Mother series, right??? I throughly examined the picture of the moon and found nothing out of the ordinary. It's just the moon. Could there be some huge Mother related announcement coming this summer? If anybody else saw this and thought the same thing I did, please share your thoughts.
I see Pit and Ness. Those are the two things I see.

Plus, if you rotate the moon, it looks like the O in MOTHER.
Then a later teaser mocked EarthBound fans' excitement:

By this point, cynicism and sarcasm were common coping mechanisms:
You realize that the way they worded that (relative to previous teasers) makes it at least three times more likely that Mother 3 will in fact be announced next issue/E3.
In late 2008, the MOTHER 3 fan translation was finally completed. After 13 years of teasers and rumors, fans could finally play the sequel to EarthBound in English:
The team and I still hoped for an official release someday, but the patch's release was of course at odds with that hope. It was a weird situation to be in for sure. But the fan translation did appease die-hard fans who had waited years for this chance.
The company that developed MOTHER 3, Brownie Brown, publicly stated its interest in releasing MOTHER 3 for the DS. Although the statement had some "if"s to it, fans were excited to hear something from an official source so vital to the game's existence:
Brownie Brown also had a hand in developing Mother 3. While it's way too late for Nintendo of America to backtrack and release Mother 3 as a Game Boy Advance game they could port it to the Nintendo DS. "If we were asked to make one [a DS version of Mother 3], then we would definitely like for fans abroad to play the game," Kameoka-san said.
Reggie dashed hopes again by directly discussing MOTHER 3 in an interview:
Fils-Aime: I'm a big "Mother" fan. I have to set the record straight on this topic, because I have seen all of the hate comments. I'm a big "Mother" fan. Huge "Mother" fan. I would love to see "Mother" localized in our market. In fact, I've talked to [Nintendo president] Mr. Iwata about it because this is a game he has some history with. [pauses] But it is not on our announcement schedule. [laughs]
Shortly after that, Reggie quashed any lingering hope in a separate interview:
Wired.com: Finally, when is Mother 3 coming out?

Fils-Aime: Mother 3. OK, Chris. So I have seen all the hate mail and all of the stories that say that Reggie is deliberately holding back Mother 3. Nothing is further from the truth. I would love to see Mother 3 here in the U.S. market. But it's not a title that we're working on, not a title that we've announced. Personally, that disappoints me, but as we look at what's important for DS or for Wii, we've got other priorities right now.
Honestly, I'd rather have a definite "no" than a "maybe possibly sometime in the future" thing he's doing.
Probably just my own bias but Mother 3 should be a priority title, it seems like a lot of people really want it. Besides, what are Nintendo's priorities? Wii Sports 3? Wii Music 2? I mean really…
Are you guys surprised?

If Nintendo wouldn't even add EarthBound to the Virtual Console…did you really think they were going to translate MOTHER 3 to English and release it here in America? Nope.

'Forget it, let it go and stop bugging us. We aren't releasing it.'
At some point in 2009, the two MOTHER 3 soundtrack albums were removed from all of the iTunes stores outside of Japan. Naturally, this didn't bode well for an official MOTHER 3 translation.
I'm assuming it'll make it's way onto the torrent network eventutally, but this is pretty sad, as it seems to be just another way of Nintendo saying "Sorry, this page is unavailable." with anything related to MOTHER.
This is beyond ridiculous. Two of the few things that Americans were legally allowed to have that were related to Mother 3 are now gone. What has gaming come to?
For fun, Destructoid hired a professional psychic before E3. The psychic made many claims, including one about MOTHER 3 being released on the DS:

I doubt this got any fans' hopes up. Just the opposite, if anything – you could almost feel fans getting tired and cynical about all the nonsense surrounding MOTHER 3:
After reading a few of her predictions, namely "Nintendo has an attitude that they know everything, but that is a problem. They are having trouble taking in outside criticism." I have to say stat I 100% have to believe this prediction. It's gonna happen. ☺
Please do not falsely raise our hopes. Thank you.
Bill Trinen of Nintendo of America commented on MOTHER 3 in an interview. The answer less of a "no" than Reggie's quotes earlier in the year, but it was still a "no":
NWR: Any word on anything for Mother 3 or Another Code coming to America?

BT: You know, when you hear about them, you'll hear about them. (laughs) Until then, there is nothing on those at this point and time.
With all of these rejections flying back and forth, fans showed little hope for MOTHER 3 at this year's E3.
Elsewhere, the two remaining Nintendo 64 Disk Drive development disks were finally checked. Unfortunately, they contained unrelated games too. All hope that these disks held a prototype version of the Nintendo 64 MOTHER 3 went up in smoke.
Disappointing, but not a complete surprise. The idea that the disks contained anything Mother 3 related was just an educated hunch at best.
It's just as well. We were finally able to experience Itoi's dream for Mother 3… I always felt that the blue disks were being used as a kind of "look at me, I have the disks" being waved around in front of the EB community. Now that Mother 3 has actually been released they meant less, and now that we know what is actually on them the community will no longer have its heartstrings needlessly tugged on. Hopefully one day we will maybe get access to some EB64 beta, but at least this brings the community much needed closure. ☺
Overall, hope and excitement for an official MOTHER 3 release was weak in 2009.
Things were quiet as 2010 started. As MOTHER 3's Japanese release stretched further into the past, hope for an official translation waned. In fact, fans had even switched a lot of their focus to begging for EarthBound to get a Virtual Console release. The fact that 2010 marked EarthBound's 15th anniversary added a little extra fuel to everything this year.
Like most previous years, fans hoped that E3 would offer some sort of MOTHER 3 information – anything at all, really. As the event approached, a photo of an E3 game announcement list started circulating online: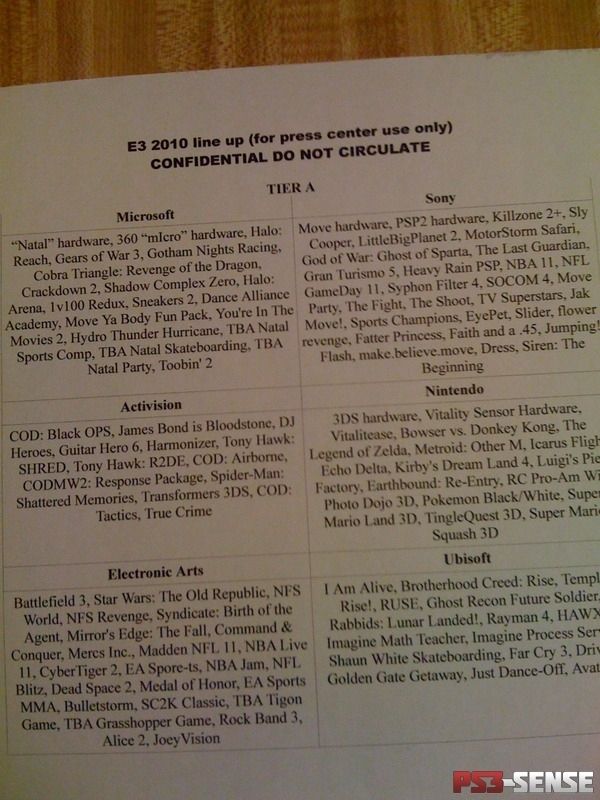 The Nintendo section of this list included a game called "EarthBound: Re-entry", which one might assume is a localized title for "MOTHER 3". This caused a stir among fans – some believed it, most saw through it as a fake, and others were simply exhausted from yet another stupid rumor.
Super fake. Nothing more to say. The "confidential" label at the top actually bolsters its position as a hoax.
I'm inclined to believe the list is a complete hoax designed to get this kind of reaction out of people, but the inner die-hard Mother fan in me is incredibly excited at the mere mention of EarthBound stuff being released.
Let's just keep talking about Luigi's Pie Factory.
Then something strange happened on the actual E3 show floor: Nintendo set up a special room labeled "Dr. Andonuts":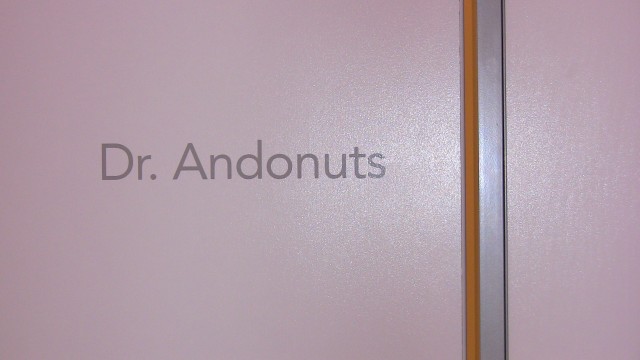 Dr. Andonuts was a key character in EarthBound and in MOTHER 3, so it was clearly an intentional, undeniable reference. But what could it mean? What was in the room? Was something EarthBound/MOTHER-related going to happen? Naturally, fans were suddenly very excited and hopeful:
I don't know if I have room in my heart for this.

Just stop, Nintendo. Just stop. Just… do it or don't!

I mean… gah, I had given up! Now you do this? Come on!
I am about to kill myself. I haven't even been an EB fan as long as most have, and this door is killing ME. And I NEVER get my hopes up! ; __ ;
this BETTER be leading to something good. like nintendo hasn't poured enough salt into my poor Mother fan wounds already. or else, stop teasing us!
ITT new EB fans get all "OMG ILL KILL MESELF IF THERES DISAPPOINTMENT THERE BETTER BE A NEW EB GAME BEHIND THAT DOOR!!!!111ONE!11!" and old EB fans are all "Meh"
Well I can see the door is real, but it must be a cruel coincidence. I don't think this has anything to do with Mother/Earthbound.
YAY Mother Trilogy is actually a POSSIBILITY!
just look at that, it's a secret room behind the scenes at e3 2010. that doesnt necessarily confirm anything or even hint at anything, it could just be a nintendo inside joke…but it ups the possibility by a bit!
Luckily, fellow fan Jonathan Holmes looked into the mystery for us:
Hopes were dashed when an employee revealed that the room was named "Dr. Andonuts" for no real reason – Nintendo just likes to label rooms with various Nintendo-related names for fun.
By now, the belief that "Nintendo just likes to troll MOTHER/EarthBound fans" was growing more widespread than ever before.
At this point, I think NOA is just made up of a bunch of assholes. They just like to see how we react to this stuff.
Okay, either A, Nintendo is being very bizarre with their announcements, or B, they're trolling us.
Nintendo just loooooooves fucking with Mother fans.
This like these make me happy I'm not a huge Earthbound/Mother fan. I'd be pissed.
nintendo screws with eb community, news to no one at 11.
Not much more happened in 2010 from what I can recall. There was a general sense of growing pessimism as newer fans grew used to the cycle of hope, hype, and disappointment.
2011 was another slow year, but a few things did raise hopes for MOTHER 3.
First, Shigesato Itoi publicly acknowledged the EarthBound fans at Starmen.Net. He made no mention of MOTHER 3 or anything of the sort, but for many fans, this was a positive sign – the series' creator actually knew about the fans outside of Japan and his comments suggested that he knew of their petition-like activities.
Itoi actually mentioned Starmen.Net specifically, but Starmen.Net had nothing to do with it. Instead, it seems he remembered the name from the Starmen.Net petition stuff from 2007.
Pretty incredible to be acknowledged by Itoi himself. Congratulations to all the guys and gals who have made the Mother fan community what it is today; keep up the awesome work.
Nothing much happens in this video, but I can't help watching it over and over. I mean, the big man himself. Damn.
Later in the year, Nintendo announced the special "Ambassador Program" for early Nintendo 3DS adopters. Basically, early adopters would get a set of classic games – including Game Boy Advance games – that wouldn't be available for regular 3DS owners. And since MOTHER 3 was a Game Boy Advance game, younger fans were filled with optimism:
Since Nintendo has announced the price drop for the 3DS and the 20 free NES/GBA virtual console games for the "Ambassadors", I believe this could be an opportunity to convince them to release Mother 3 here in the west since the risk of the game being released on cartridge, not selling well, and making enough money has been done with. Sure they have said that "at this time we have no plans to release them in this market, either on disc or via download." but this was before they mentioned GBA games would be coming to the virtual console. With Operation Moonfall gaining support from Zelda fansites and gaming sites such as Destructoid to release Majora's Mask on 3DS, it could be possible for Mother 3 to get similar treatment.
This hope for MOTHER 3 on the 3DS went nowhere, however.
After all of the craziness from the previous E3, there was almost no hope for MOTHER 3 at E3 this year. The rest of 2011 was uneventful.