This is part of my ongoing series in which I compare four translations of Final Fantasy VI with the original Japanese script. For project details and my translation notes from Day 1, see here.
This time we take a look at a bunch of major story moments that will eventually lead to the world's destruction.
Over the last few comparisons I've noticed that the Super NES version has had a steady increase in translation issues, and that trend continues this time too. At this point, I can almost "feel" how rushed the Super NES translator was at times. Who knows, maybe that feeling comes across in these write-ups too.
Video Archive
Notes
As always, my notes below are only a small portion of all the translation topics I covered during this stream. So if you want to see some more changes, mistakes, and such, definitely check out the video above.
Earlier we looked at the infamous mistranslation of Setzer's line about his business booming/drying up. The problem was that the Super NES translator misunderstood あがったり (agattari) as "to go up" in the "to increase" sense when it actually means "to go up" in the "to dry up" or "to go up in smoke" sense. Luckily, the Game Boy Advance translator was able to fix the translation by avoiding the same tricky mistake.
In this particular line, however, we see that the Super NES translation has made the same exact agattari mistake. This pub used to be very lively and profitable when Imperial soldiers were stationed in town. But now that they've withdrawn from the town, the pub is empty and barely making any money. So it makes sense when the pub owner says in Japanese:
With the imperial soldiers gone business has dried up.
But the Super NES translation says just the opposite – that business is on the way up. Again, the GBA translator avoids this same mistake and translates the text properly. Meanwhile, the fan translation borrows from the flawed Super NES translation.
On a side note, little mistranslation patterns like this can indicate a lot about a translator's skill level, what kind of experience they have, what kind of fields they're weaker in, and other stuff like that. They add up and combine with other things to create a sort of "translation fingerprint". It's a lot like how you can differentiate writing styles when you read novels, articles, forum posts, and stuff like that.
Incidentally, a big part of my job years ago was picking up on such fingerprints to mimic the style that previous translators had. This is the kind of stuff they don't really teach in school, yet it's so interesting!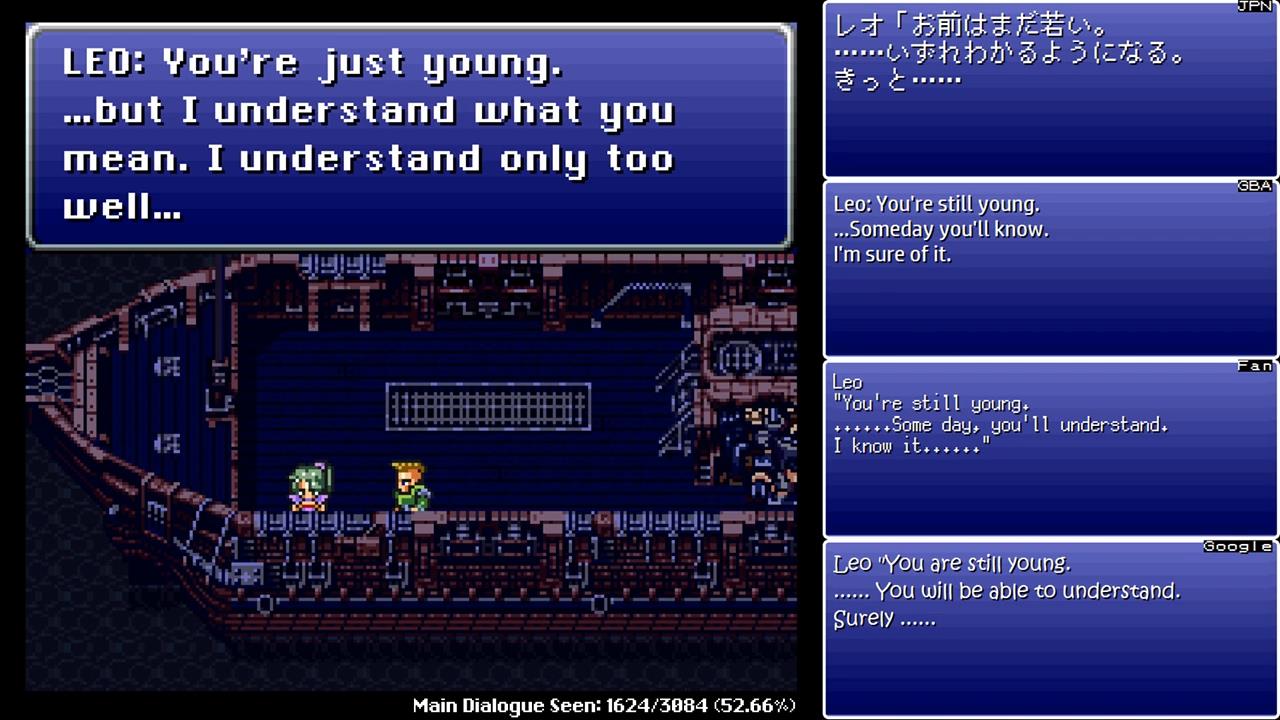 A lot of character drama happens during this part of the game, including the boat scene. There are lots of little differences to be found, but the biggest one that stood out to me immediately was when Leo tells Terra in the Super NES version:
You're just young. …but I understand what you mean. I understand only too well…
The last part about "understanding only too well" is nowhere to be found in the original Japanese line:
You're still young. …Someday you'll come to understand. I'm sure of it…
So the original line is meant to be a straightforward bit of encouragement, but the Super NES version alludes to something bad from Leo's past that never gets explained.
The GBA translation, the fan translation, and even the Google translation all get this line correct.
The village of Thamasa is home to magic users who try to hide their abilities from the outside world. As you walk around the village, you actually catch glimpses of people using magic, though.
In one case, a mother is about to cast the Cure spell (known as Kearu in Japanese) on her daughter. But the mother notices the main characters just before she finishes saying the spell name. She then pretends she was doing something else and that she definitely wasn't using magic at all.
In Japanese, the mother's line is something like:
Okay, okay. Kea– Now where is that medicine…
As we can see, the jump to the second sentence is sudden and not smooth at all – both sentences are separate thoughts.
The official translations handle this scene properly and improve upon it by linking the two sentences together:
| | |
| --- | --- |
| Super NES Translation | GBA Translation |
| Oh all right. Cure… | Oh, all right. Cur– |
| …medicine… where is my cure medicine?! | -io. Yes, I think I left the medicine in the curio cabinet… |
These are both clever choices, and show how different translators can take the same creative path, yet produce very different results.
The fan translation keeps the scene literal and the same as the Japanese text. That's another valid choice too, and it fits with the fan translation's stated goals.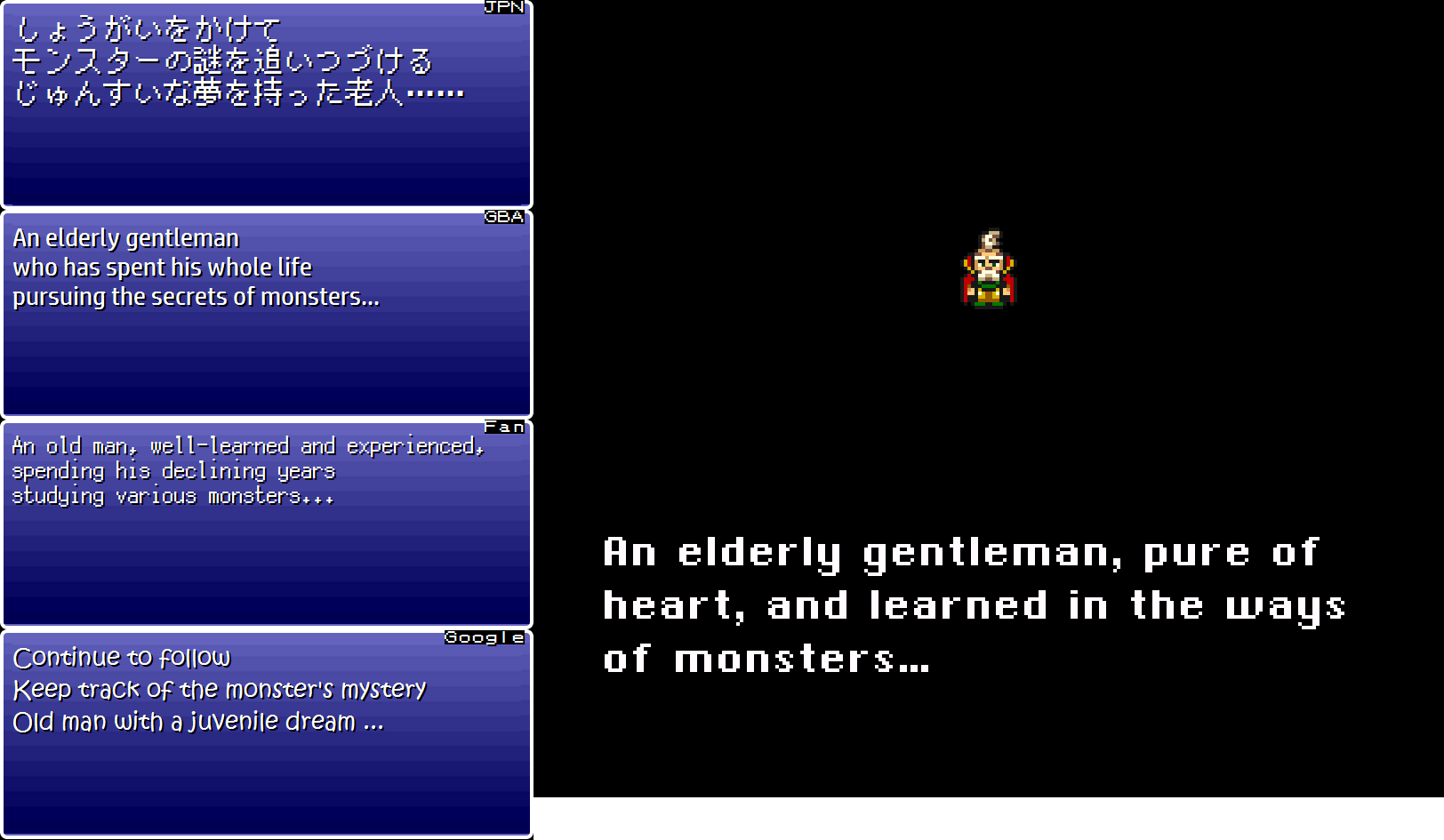 An old wizard joins the party during this part of the game. In Japanese, his name is "Stragus", but this became "Strago" in English due to name length limitations.
In Japanese, Strago's introduction is roughly like:
An old man with a pure-hearted dream who has spent his entire life continually pursuing the mysteries of monsters.
The Super NES translation tries to compress all of these ideas into something shorter, but it drops the detail that he's been chasing down monsters his entire life. The Japanese line also explains why Strago is obsessed with finding the weird monster on Ebot's Rock after the world gets destroyed.
The GBA translation gets closer to the original text. The fan translation seems to be a rewrite of the Super NES text combined with a complete misunderstanding of the original line: Strago has been studying monsters his entire life, not just his declining years.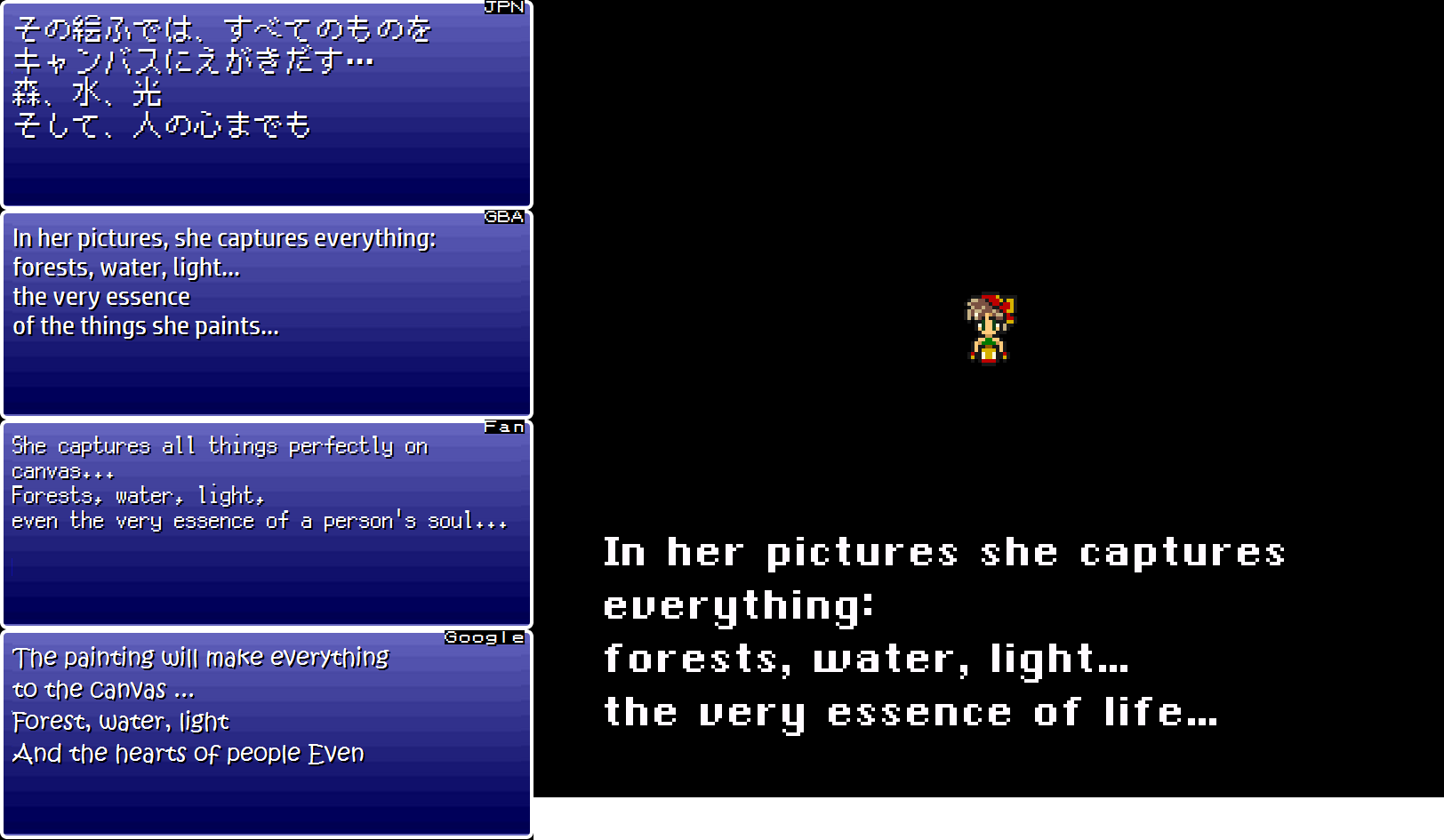 Relm's name in Japanese is リルム (rirumu), which doesn't quite match the pronunciation most English players know her by. This means that it's intended to sound more like "Reelm" than "Realm" in Japanese. It's indeed spelled "Relm" in all the official Japanese materials and guides, however.
There's not much more to say beyond that, but I thought I'd share this bit of info for fans who enjoy name pronunciation trivia.
This whole scene between Strago, Relm, and Shadow always felt weird to me back in the day, like I was missing some sort of info. It turns out that the whole scene was wrecked in the Super NES translation. From looking at the scripts side by side, it very much feels like the translator was rushed, didn't have any context, and didn't have easy access to this scene. In other words, it feels like most of this scene was translated without any idea of what was happening, who was walking around, who was facing who, and so on.
Still, some lines clearly don't need much context to translate. This line, for example, has Relm saying "Bye-bye". She's literally saying the way the English phrase "bye-bye" would be pronounced in Japanese. Yet the Super NES line says "Oh, all right…" instead. It's clear she's saying goodbye to someone or something. In this case, she's saying goodbye to Shadow's dog.
In this specific case, it appears the Super NES translator was rushing through the script at warp speed and misread バイバイ (baibai, "bye-bye") as ハイハイ (haihai), which means something like "oh, all right" or "okay, fine". It's a very basic mistake that would be like mixing up the letters "q" and "p" in English.
Anyway, as a result of this issue and many others, the Super NES scene feels kind of off and Relm comes across as a super-pouty kid rather than a relatively cheery little girl.
The GBA translation fixes all of the problems in this scene's text. And we can see that the fan translation borrows from the faulty Super NES text.
For a more detailed look at each line in this scene, check out the stream video at the top of this article!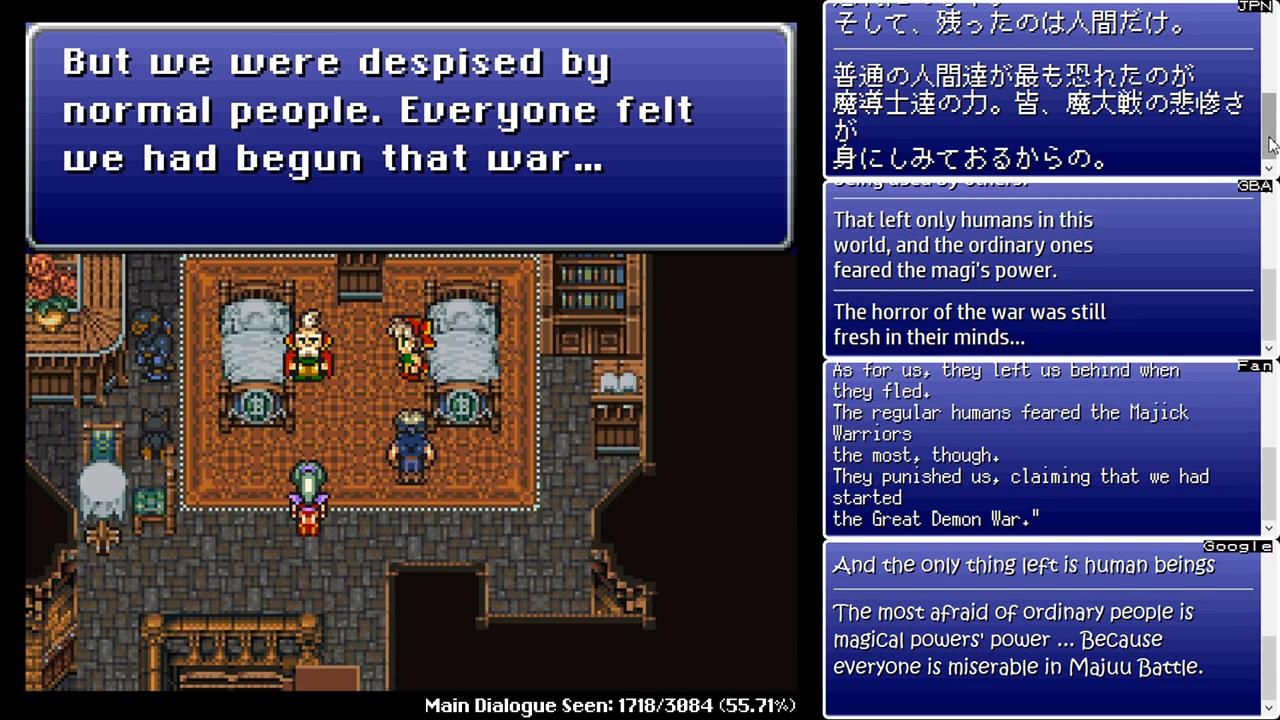 Strago explains the history of Thamasa and how magic users hid there after the War of the Magi.
In Japanese, he says that ordinary people had experienced horrifying tragedy and misery during the war, so once it was over, they feared the powers that wizards had. It's a pretty understandable, natural reaction in my opinion.
In the Super NES translation, this changed to say that wizards "were despised by normal people". At first glance it doesn't seem different, but being despised is different from being feared, and it was the wizards' magic that they feared, not necessarily the wizards themselves.
The GBA translation fixes this little detail. Surprisingly, the fan translation fixes it too, but it also adds in extra stuff not found in the original text.
In Japanese, Relm speaks about herself in the third-person instead of the first-person. In other words, she calls herself by her own name rather than using the word "I" or "me". So she basically runs around saying "Relm did this" and "Relm did that" whenever talking about herself.
This type of third-person speech is often used by Japanese children and is a common pattern in Japanese entertainment. In games and such, it's often used by young girl characters. It usually lends a person a childish, pampered vibe, although it can sometimes indicate other things too. So although Relm's use of the third-person throughout the Japanese Final Fantasy VI script sets her apart from the rest of the main cast, it still comes across as pretty standard stuff.
Some examples of third-person characters I've run into include:
This third-person thing comes up often enough to cause heated arguments among English-speaking audiences. Some feel the third-person references are annoying and should be changed to first-person references to sound natural in English, while others feel that it's important to keep the third-person intact at all times since it's a part of the character's identity.
Anyway, in Relm's case, we see that the Super NES and Game Boy Advance translators turned the third-person references into first-person. The fan translator preferred to keep her third-person style as-is.
In my own experience, it's always a case-by-case thing whether or not one style should be used over another. Most professionals I know prefer the first-person option most of the time, but there are times when the third-person style is important to keep. Sometimes such speech quirks play a role in certain dialogue or during key scenes, for example.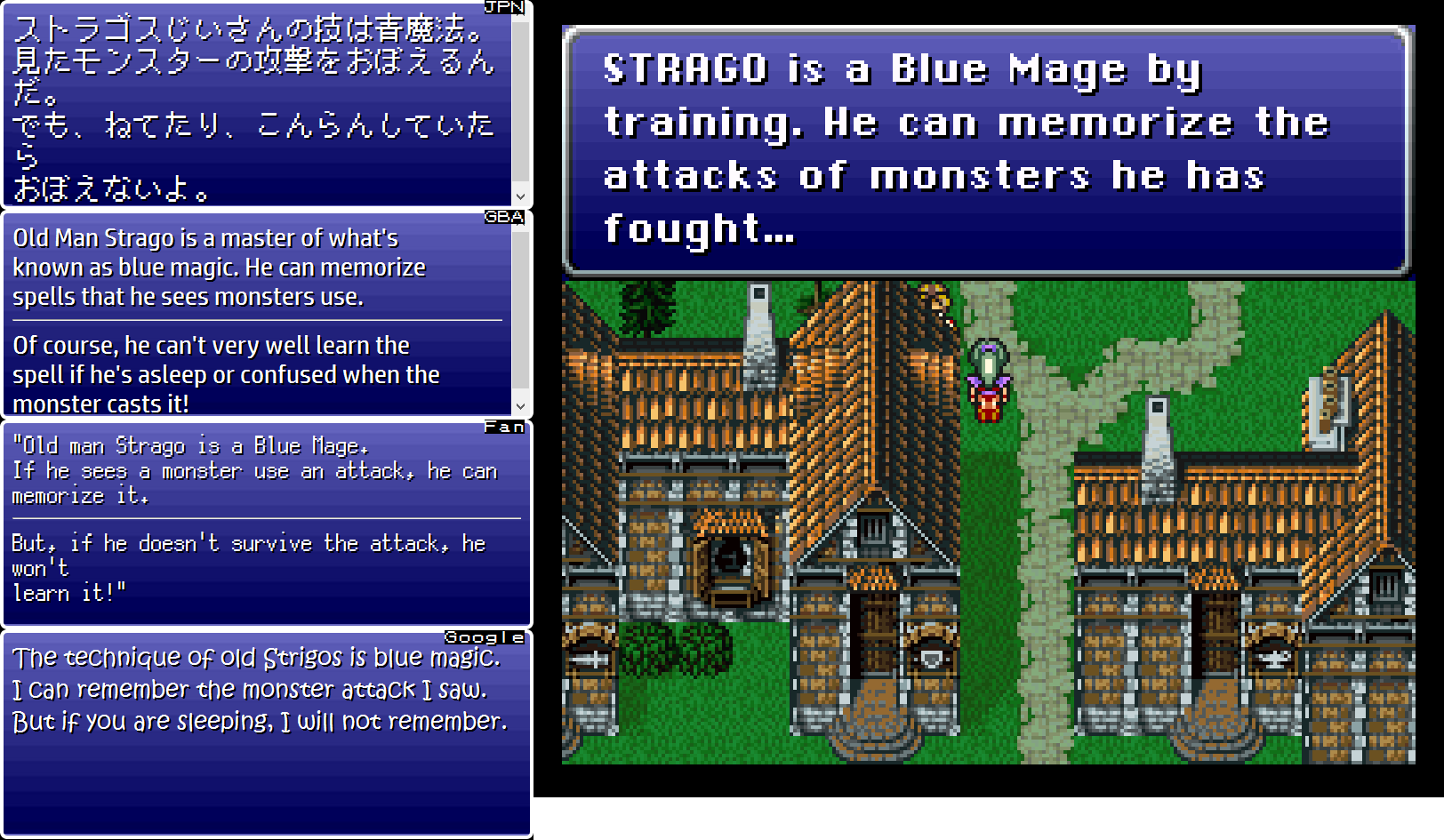 A man in Thamasa explains how Strago's special skill works. In Japanese, his skill is known as "Blue Magic", but this became "Lore" in the Super NES translation, presumably due to battle menu size limits. Despite this change, Strago is called a "Blue Mage" here. As far as I can tell, this is the only time the concept of blue magic appears in the Super NES script.
In Japanese, this man also explains that Strago won't learn new spells if he's asleep, confused, or anything else along those lines. This important gameplay information was cut from the Super NES version.
The GBA translation restores the missing text. The fan translation sort of adds the missing text back in, but gives different information than what's present in the original Japanese script.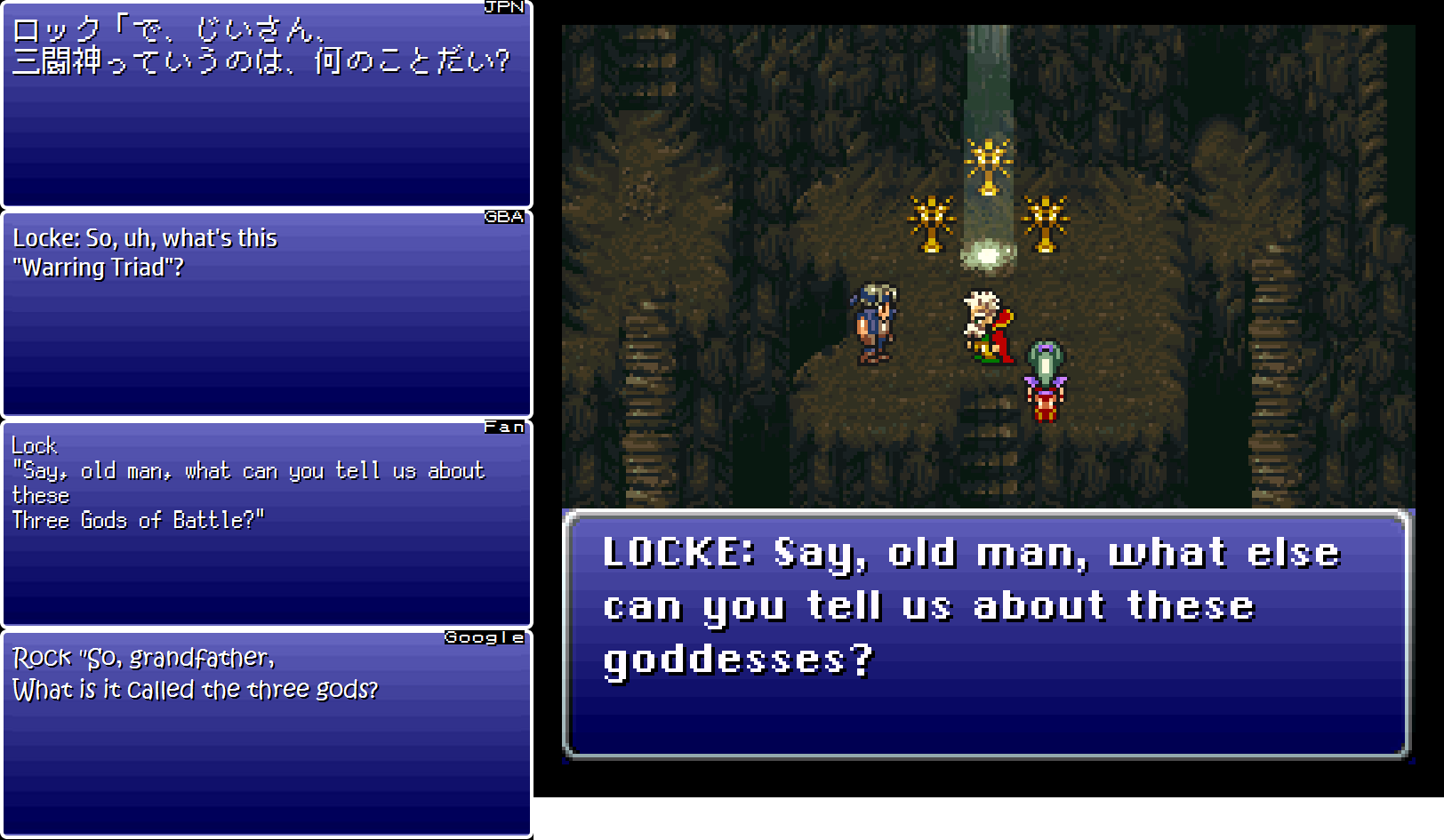 Previously, we saw how the Japanese game's "Three Battling Gods" were renamed the "Statues" in the Super NES release. The topic of the Three Battling Gods plays a central role during this part of the game, but for some reason the Super NES version suddenly starts calling them "goddesses" now. This is confusing for a few reasons:
Nintendo of America had policies in place against religious references, yet here we see the word "goddess" all over the place
When we finally see the three statues, only one appears to be female
We're literally looking at three small statues of the Three Battling Gods in this scene, so the Super NES translator's use of "Statues" to refer to other statues causes some confusion. Perhaps because of this, the characters suddenly start calling them "goddesses" instead. Later on in the story, when we're not looking at these three small statues, everyone goes back to calling the Three Battling Gods the "Statues" again. Basically, it's a weird, inconsistent mess when the Japanese text is perfectly logical and consistent.
This whole part of the game always felt really weird to me back when it was first released in English. Things like this are probably why.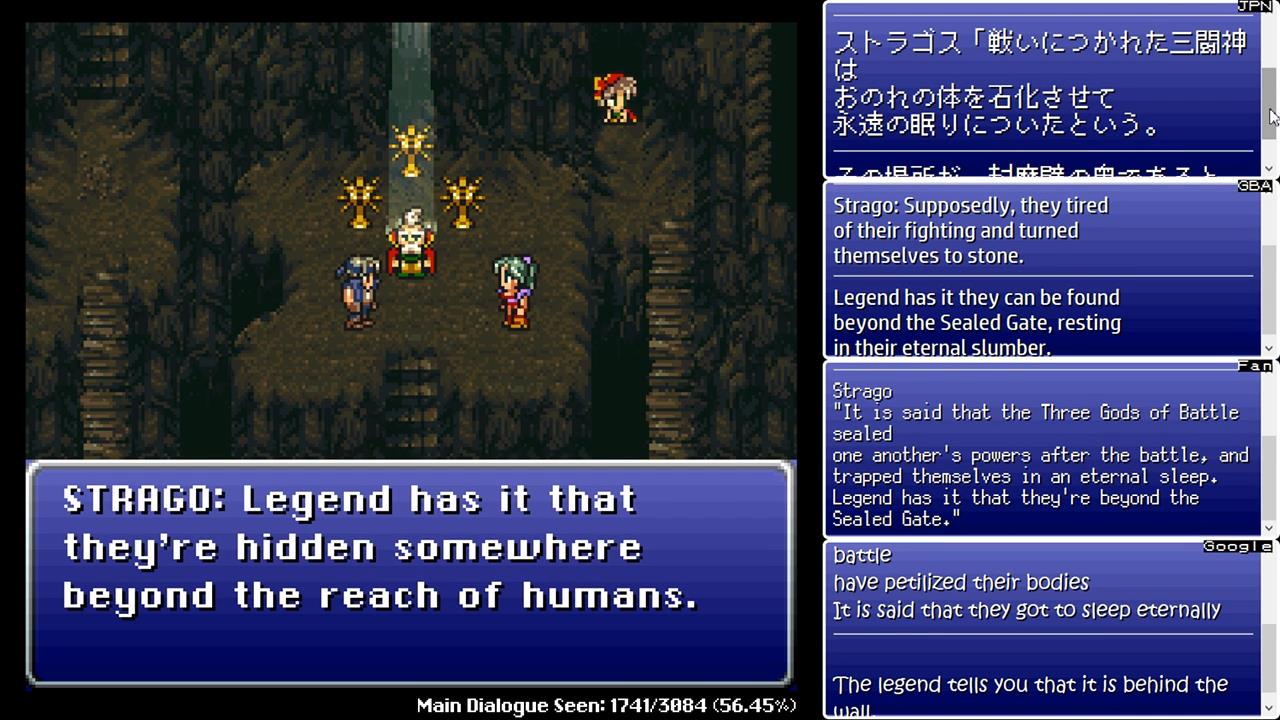 The Three Battling Gods are poorly explained in the Super NES translation, and their background information is handled messily. It's not even explained how they became stone statues. The GBA translation fixes and restores all of the details. The fan translation fares a little better than the Super NES translation, but gets some facts wrong, adds in new stuff out of the blue, and mistranslates some pieces.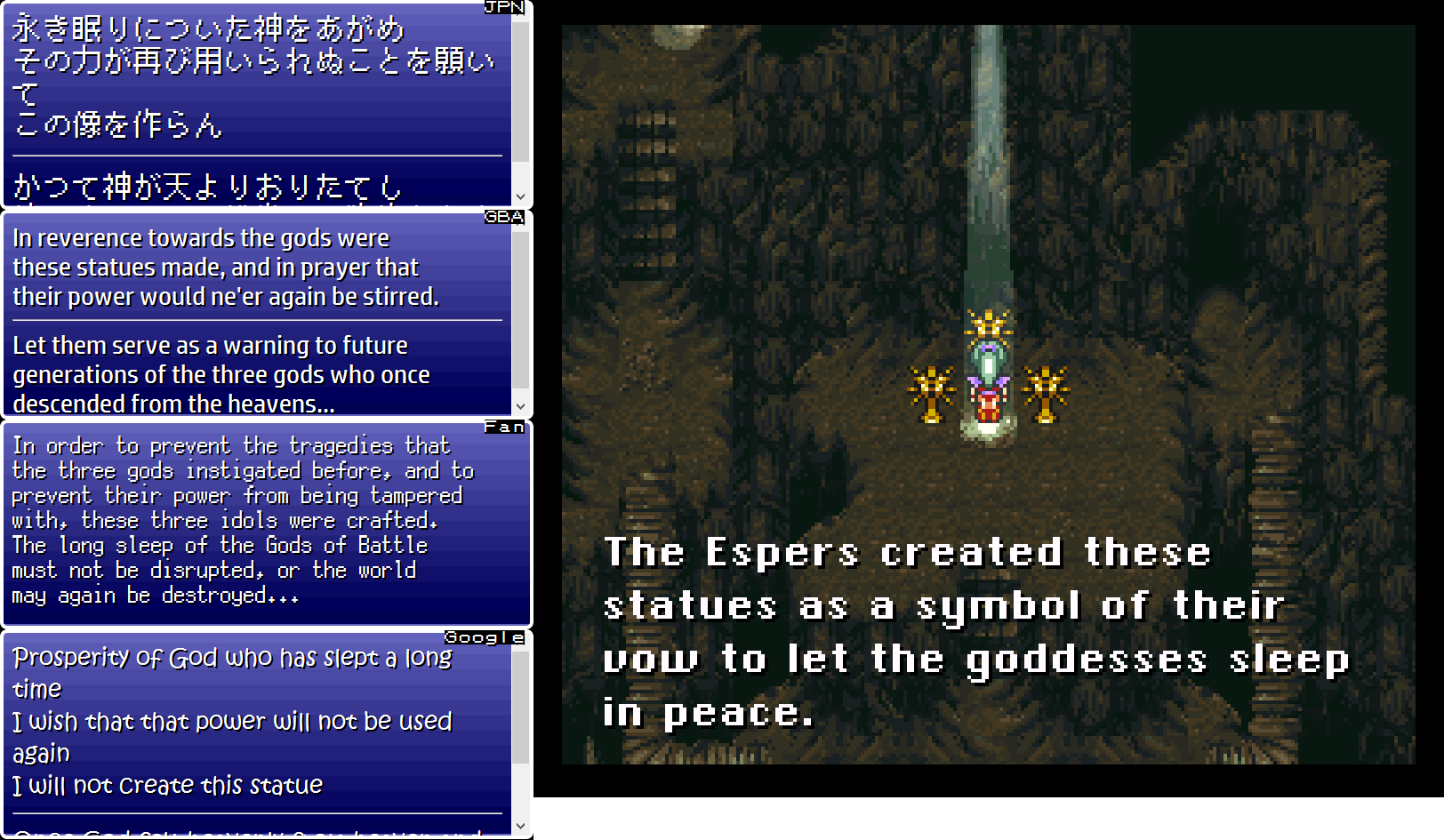 If you check the small statues in this room, they reveal the story behind the Three Battling Gods. In Japanese, this text is written in what's called classical Japanese, an old form of the language that was used centuries ago. The language is different and weird enough that it requires its own academic courses and dictionaries.
Anyway, the classical Japanese used in this particular text isn't very heavy, but it's why the Game Boy Advance script uses slightly fancier, old-sounding English here. In comparison, the Super NES translation is written in a pretty standard style that doesn't sound any different from other text in the game. And, again, the Super NES translation condenses text down and changes some story details here.
In my experience, classical Japanese has certain aspects that trip up amateur translators, but the fan translation appears to avoid those mistakes here. Just like in the Super NES version, though, the idea that this is supposed to sound like ancient writing isn't reflected in the fan translation, however.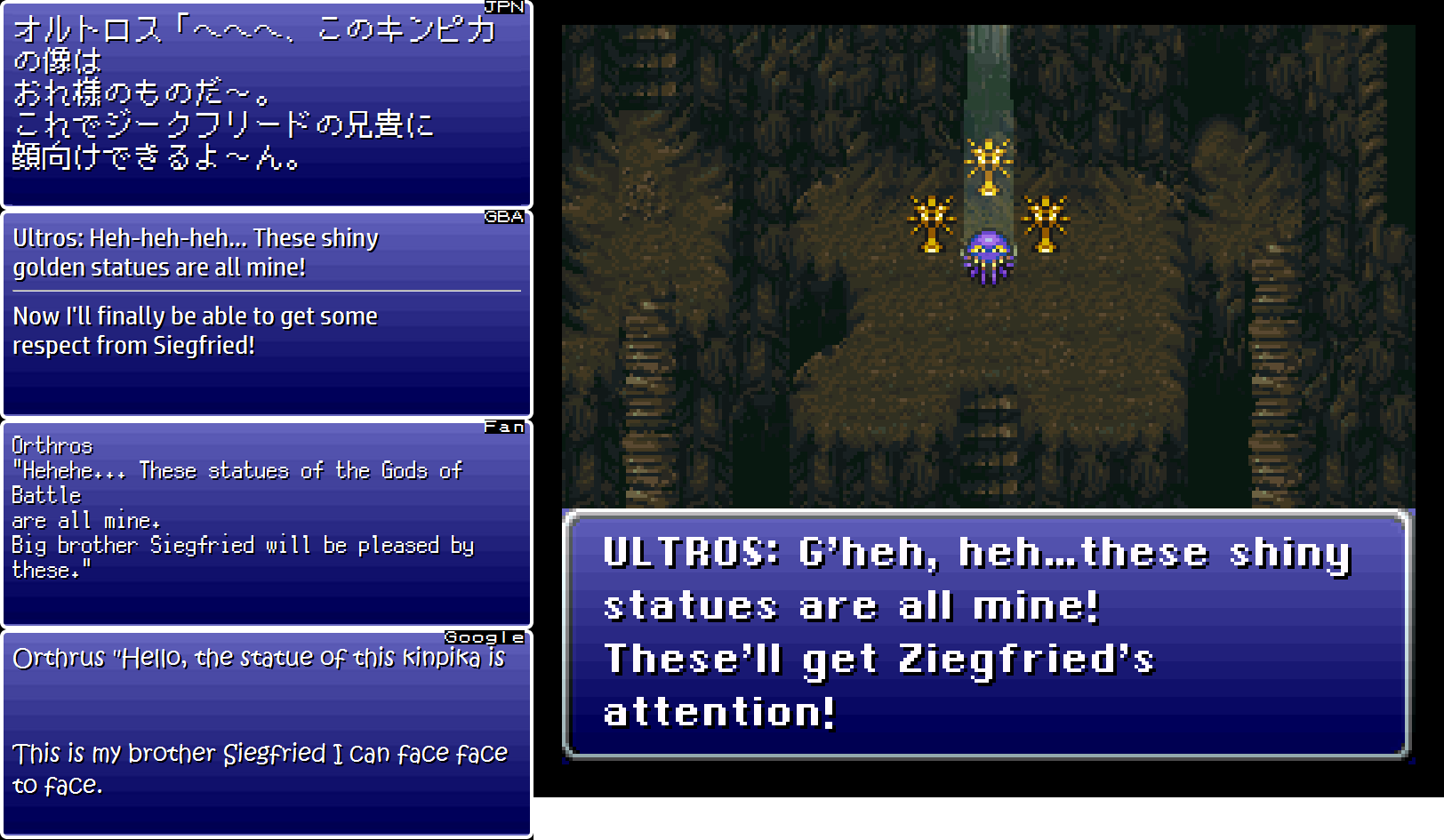 Ultros suddenly shows up and reveals his plan to steal the three gold statues.
Ultros mentions "Ziegfried" in the Super NES translation, which is a translation oddity we looked at earlier here. In the Japanese script, Ultros uses the same name as back on the Phantom Train, so it seems the confusion between "Siegfried" and "Ziegfried" is still just a product of the Super NES translation. The GBA translation follows the Japanese script and only uses one name everywhere: "Siegfried". Even the fan translation only uses the one name.
Anyway, in the Super NES version of this particular line, the phrasing always made me think that Ultros and "Ziegfried" were treasure hunting rivals. But the Japanese script makes it clear that Ultros looks up to Siegfried as a superior, and is stealing the statues to prove his worth to Siegfried.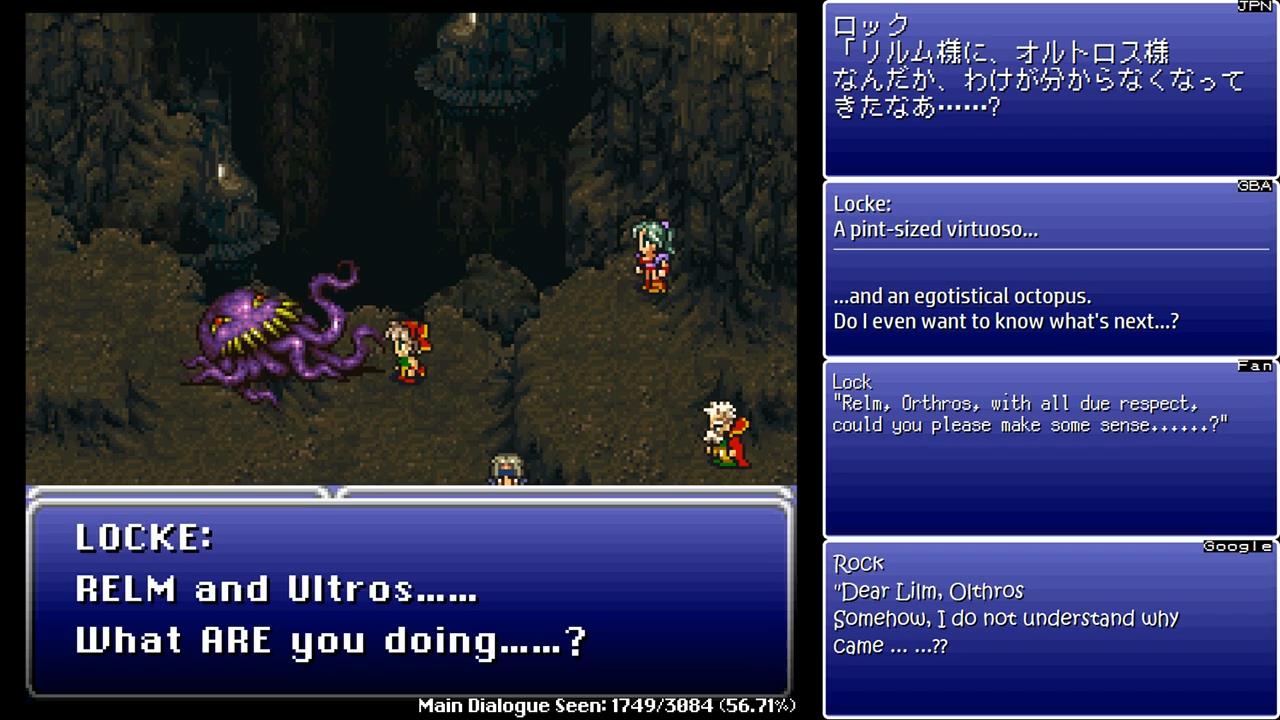 Ultros attacks the party, and Relm shows up to save the day. Both characters use the Japanese honorific -sama to refer to themselves, indicating that they both have big egos. After hearing this, Locke jumps to the bottom of the screen, faces the player, and says in Japanese:
Relm-sama… and Orthros-sama. I don't even know what's going on anymore…
This focus on the Japanese -sama honorific makes it tough to do a straight translation of this line into English. I guess that's why the Super NES version of the line always felt kind of off to me. The GBA translation does a good job at putting the scene into perspective.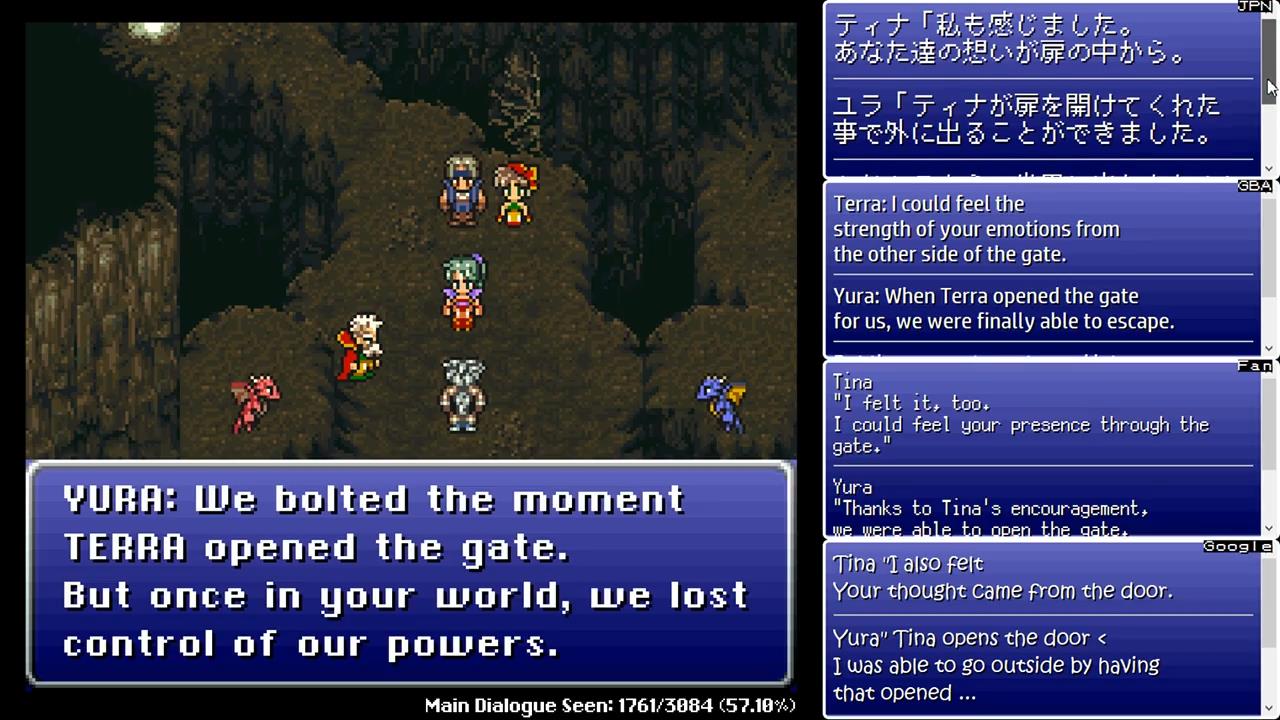 The heroes finally find the escaped Espers. They explain what happened: after Terra opened the sealed gate, they flew out and lost control. The fan translation gets this part wrong, though – instead of Terra opening the gate, Terra only gave encouragement to the Espers, which let them open the gate themselves.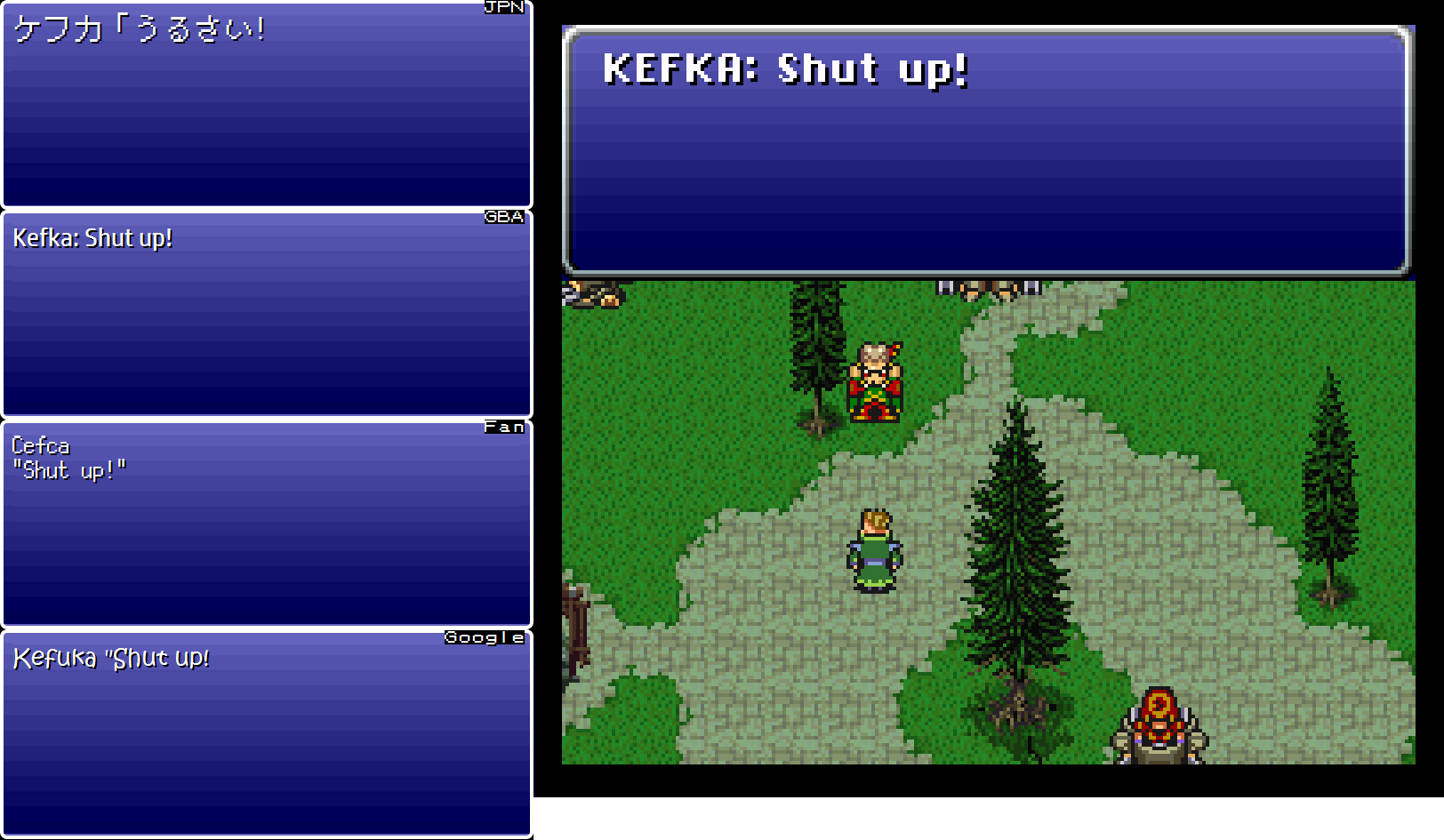 This was a rare instance in which all four translations were the exact same, so I thought I'd commemorate it here. Shut up!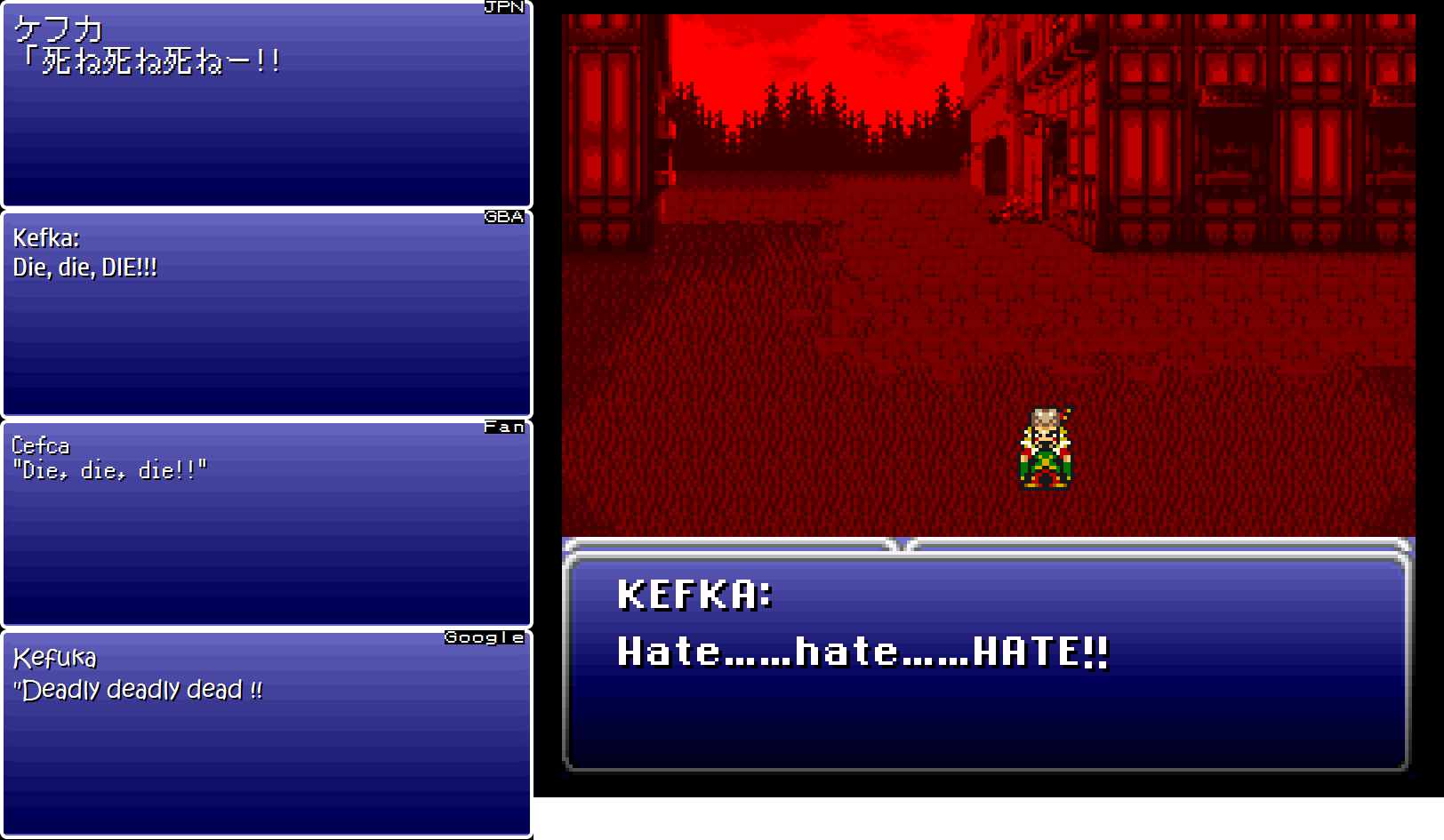 This line has Kefka yelling "hate!" over and over in the Super NES script. In Japanese, he's actually yelling "die!" over and over, but Nintendo of America's content policies didn't allow for that. We can see that this policy changed by the time the GBA translation was released. I also found Google's translation to be comical.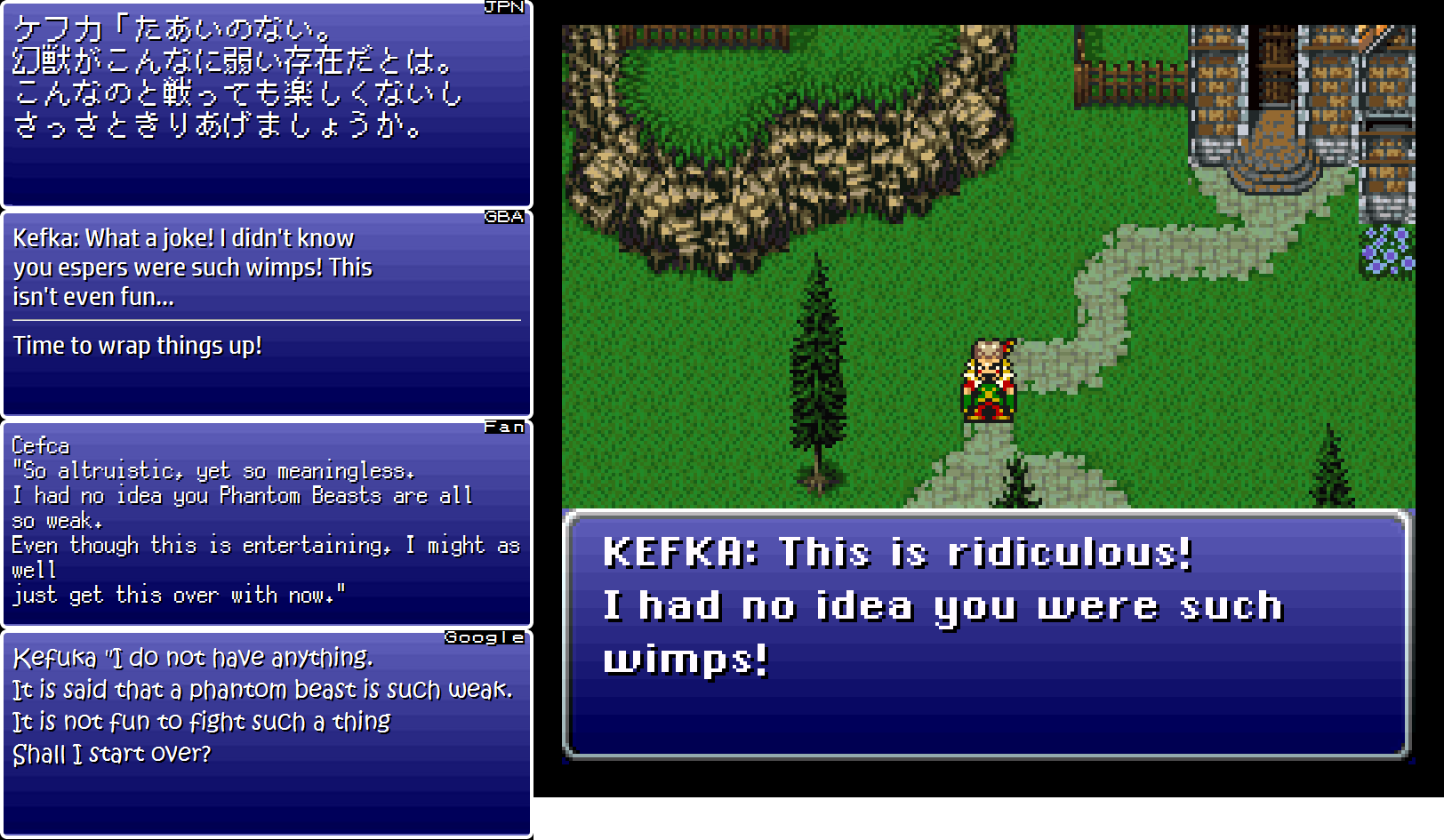 We've seen in previous comparisons that the fan translation tends to inject super-generic villain dialogue into Kefka's lines. This is another good example:
So altruistic, yet so meaningless.
The original Japanese script says nothing of the sort, and it doesn't even match Kefka's character. If anything, it reminds me of the overly-done villain dialogue that the J2E team gave Golbez in their Final Fantasy IV fan translation:
I don't know, maybe fan translators find villain text to be the easiest or most fun to write. I can kind of understand that – good villains are fun. But after looking at these separate fan translations, it seems it's easy to sound like a bad fanfic too.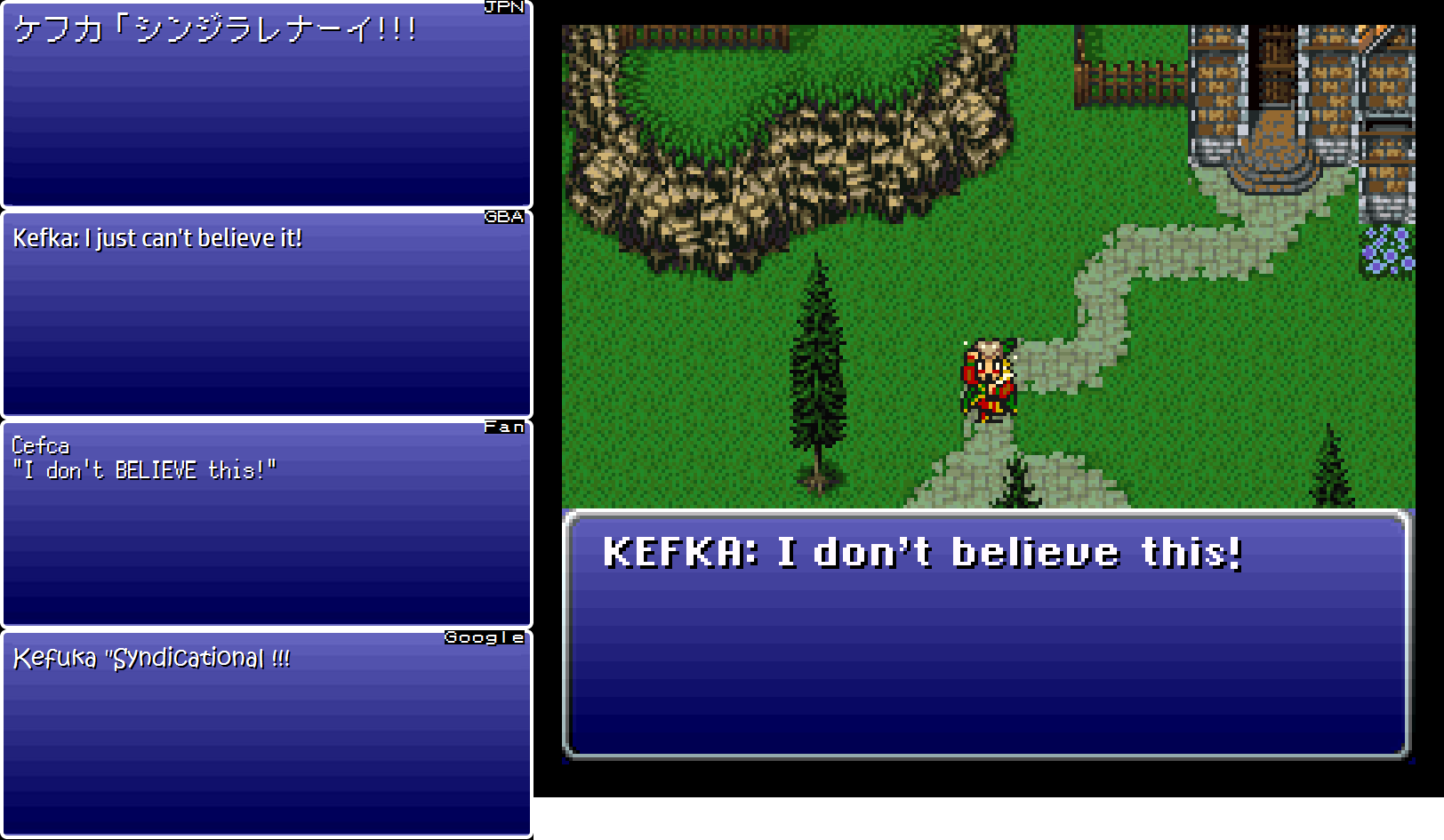 Kefka shouts this line during his assault on Thamasa and his Esper massacre. He also says the exact same line earlier in the game, when he's in a prison cell. This has made the line one of his catchphrases in Japan, but I don't think it's ever really caught on anywhere else.
At the end of this long story sequence, Edgar and Relm have a short exchange that's meant to lighten the mood a little bit. As we've seen before, the Japanese version of the game mentions in several places that Edgar hits on girls of all ages, from the very old to the very young. So when he asks Relm about her age here, it ties into that already established character trait.
After hearing Relm is 10, Edgar basically says that even that's too young for him. It's intended as a light joke in Japanese, but naturally Nintendo of America wouldn't have allowed an adult character to even consider hitting on an underage girl. So a few lines were altered for the Super NES release to say something else entirely. The GBA version returns the script to the original topic in a unique way, while the fan translation tries to keep close to the original text in a straightforward manner. Google makes Edgar a crime fighter.
I've actually already written an entire article about this specific scene, so if you'd like to see all the details, text comparisons, and reader comments, see here.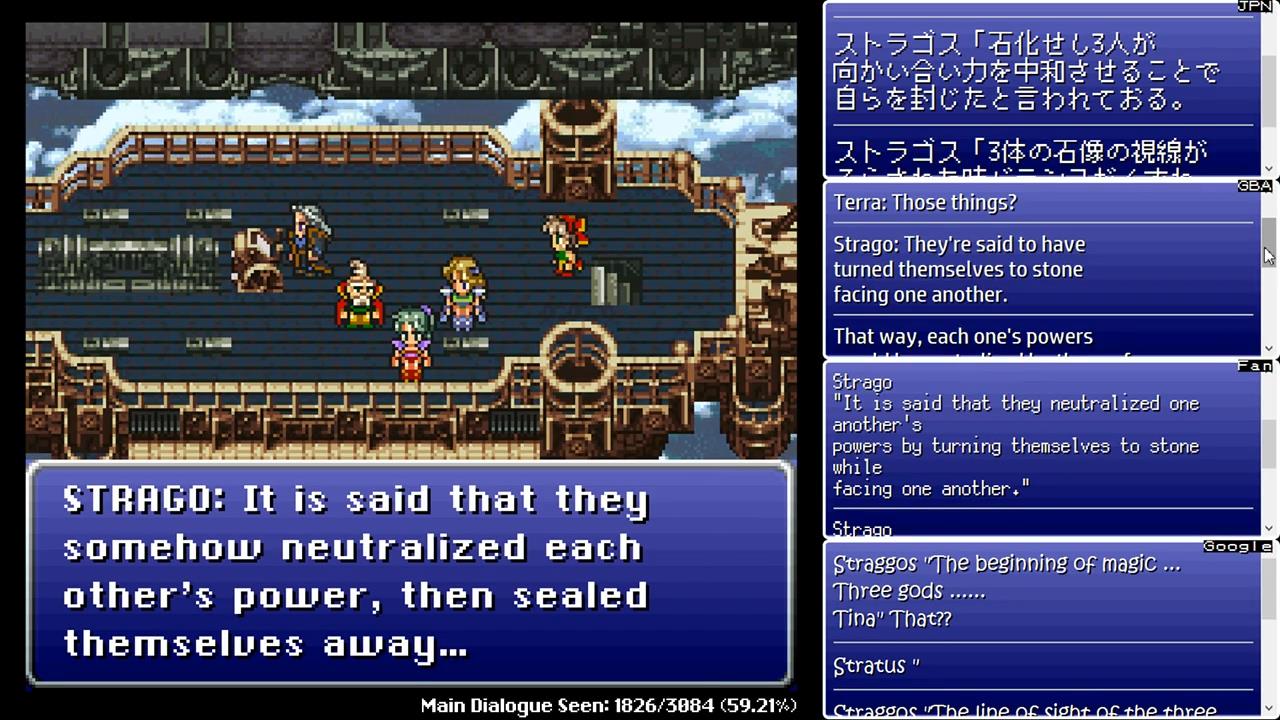 An entire magic-filled continent floats into the sky. As the heroes try to assess the situation, Strago explains more about the Three Battling Gods. In Japanese, he says that the three gods turned themselves into stone while facing each other in order to fully neutralize their powers. This explains why the world gets destroyed later on when Kefka moves the statues out of alignment.
The Super NES translation drops all of this explanation and simply says "they somehow neutralized each other's power". Both the GBA and fan translations restore this informative detail.