Note: I first wrote this article in 2016 and have updated it in 2020 to clarify things and add additional information.
A few days ago some news made the rounds about a man named Tony who edited some early Legend of Zelda games to leave Link's gender unstated. Later, Tony contacted me out of the blue asking about the text in the Japanese games:
I made some gender-neutral patches for the English version of TLOZ and ALTTP for my daughter to play Link as herself without the characters in the game calling her a boy and it's caused quite a stir online…

What's your take on this? From your analysis, it looks like the use of the word "boy" in TLOZ ("boy, you're rich") was meant as an exclamatory "wow". But what about all of Link's male pronouns used in the English translation of ALTTP? Did the Japanese version of ALTTP also use the same gendered language when referring to Link?

Some folks have also pointed out the English instruction manual for TLOZ used several male pronouns when referring to Link. Did the Japanese instruction manuals do the same?
The quick answer is: Link is indeed identified as a boy in the Japanese versions of Zelda 1 and A Link to the Past. There's not much more to say beyond that, but if you have an interest in translation and language differences, then this article is for you.
On an interesting side note, a few months after I first posted this article, Zelda producer Eiji Aonuma mentioned in an interview that he wanted Link to be gender-neutral during Ocarina of Time's development.
At first, it might seem silly to ask about pronouns in these old Japanese games, but there are actually some good reasons for it:
Pronouns are used far less frequently in Japanese than in English – instead, you can usually just restate the person's name every time, or leave out names and pronouns entirely if it's clear who's being referred to
Many Japanese pronouns are also tied to gender and identity, so whatever pronouns do get used in a game or elsewhere can say a lot about a person
Basically, because Japanese pronouns work so differently from English pronouns, there's a lot that can be lost, added, or changed in translation.
For some more information on Japanese pronouns – and first-person pronouns in particular – see my in-depth article
here
.
First, let's start with the Zelda 1 question. It's true that the "boy" in the line "Boy, you're rich!" isn't referring to a male child but is just a phrase of surprise. In Japanese, she says something like "You sure are rich!"
| | |
| --- | --- |
| | |
| Legend of Zelda (Famicom Disk System) | The Legend of Zelda (NES) |
The Japanese manual does refer to Link using pronouns, however: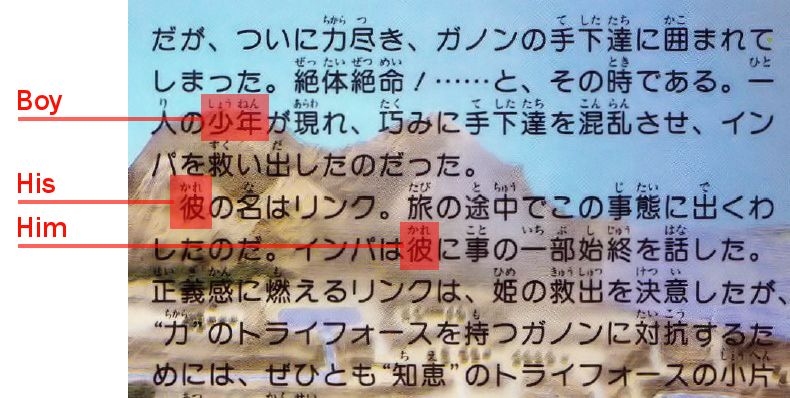 From this, there's no doubt that Link is a boy in the first Zelda game.
Just out of curiosity, I counted how many times Link is referred to with "he", "him", or "his" in the manuals. The results show how much more pronoun-heavy English stuff tends to be compared to Japanese:
English Manual: 70+ times
Japanese Manual: 3 times
Tony also asked if the Japanese version of the third Zelda game ever mentioned Link's gender.
Interestingly, this game's box and manual no longer refer to Link with male pronouns. Instead, they only use the words "you" and "the player":
At first, this gave me the impression that maybe the developers wanted Link to be a "blank slate" for the player, especially given that you get to assign the name that everyone calls the main character throughout the game.
After quickly skimming through the Japanese game's text, I didn't see any of the main male pronouns referring to Link, which led me to think the blank slate idea was solid after all. But I then discovered that there are three or so places in the game when Link is referred to as a boy:
So despite my initial assumptions, there's no question that Link is intended to be male in the Japanese version of A Link to the Past.
In an interesting twist, Link was actually played by a high school girl in the game's
Japanese commercial
.
We haven't discovered anything terribly new or surprising in this article, of course, but I feel it's been a good way to show how pronouns work differently between Japanese and English using real-life examples. It's also been neat to see how a single game, released in two different languages, can provide players with slightly different information and experiences.
Incidentally, if you'd like to play the Japanese versions of Zelda 1 and A Link to the Past and analyze the translation differences for yourself, see my custom emulator tools here:
Even if you know very little (or zero) Japanese, the Zelda plugins include translation notes and automatic dictionaries.
---
For more Zelda-related translation and localization stuff, see my other articles here!