A few days ago some news made the rounds about a man named Tony who edited some early Zelda games to leave Link's gender unstated. It seemed to cause quite the ruckus everywhere, but I didn't pay much attention to any of it. Later, Tony contacted me out of the blue asking about the text in the Japanese games:
I made some gender-neutral patches for the English version of TLOZ and ALTTP for my daughter to play Link as herself without the characters in the game calling her a boy and it's caused quite a stir online…

What's your take on this? From your analysis, it looks like the use of the word "boy" in TLOZ ("boy, you're rich") was meant as an exclamatory "wow". But what about all of Link's male pronouns used in the English translation of ALTTP? Did the Japanese version of ALTTP also use the same gendered language when referring to Link?

Some folks have also pointed out the English instruction manual for TLOZ used several male pronouns when referring to Link. Did the Japanese instruction manuals do the same?

And do you know of any Zelda localizations into languages that have no gendered pronouns for Link?
All controversy aside, I found these questions intriguing, so I decided to do some quick research.
Link in the Japanese Version of Zelda 1
First, let's start with the Zelda 1 question. It's true that the "boy" in the line "Boy, you're rich!" isn't referring to a male child but is just a phrase of surprise. In Japanese, she says something like "You sure are rich!"
| | |
| --- | --- |
| | |
| Legend of Zelda (Famicom Disk System) | The Legend of Zelda (NES) |
For a look at ALL of the text in the first game, see my Zelda section
here
or check out my book
here
.
The Japanese manual does indeed mention that Link is a boy, however:
Just then, a lone boy appeared, skillfully confused the minions, and rescued Impa. His name was Link. […] Impa told him the entire story.
So there's no doubt that Link is a boy in the first Zelda.
This might seem like a silly thing to ask about or write about, but there's actually a good reason for it: pronouns are used far less frequently in Japanese than in English. Instead, in Japanese you'll usually just restate the person's name every time, or, if it's clear who's being spoken about, you can just leave out names and pronouns entirely. Because of this difference in language, characters' genders can remain a mystery for a long time in Japanese entertainment. In fact, Link is never referred to as a "he" or "him" anywhere in the Japanese manual except in this single spot!
Just out of curiosity I counted how many times Link is referred to with "he", "him", or "his" in the manuals. Here are the results:
English Manual:

70+ times

Japanese Manual:

2 times
In short, thanks to a couple sentences in the Japanese manual, there's no question at all that Link is a boy in the Japanese version of the first Zelda game.
Link in "Triforce of the Gods" (Japanese Version of "A Link to the Past")
Tony also asked if the Japanese version of the third Zelda game ever mentioned Link's gender. Obviously it's hard to check every bit of text in a game this large, so I consulted a text dump of the Japanese script to find out. During my search, I found no mentions at all that Link is a boy. In fact, it also turns out that the main character is never even named Link in the Japanese game, manual, or box!
Instead, the game's main character is always referred to as "you" or "the player" and there are no mentions of the character's gender to be found:
The setting this time is an era long before Link's feats, when Hyrule was still a single kingdom.

Run, ram, carry, throw. Push, pull, swim, slash… Once you've freely wandered the land of Hyrule and obtained the golden power of the "Triforce", you can become the brave warrior of legend.
Here we see that the main character isn't referred to as Link, but simply as "you".
And in the Japanese game, the few times that the main character is referenced it's never with a male or female pronoun. Instead, the game simply uses the name that the player chose:
| | |
| --- | --- |
| | |
| Triforce of the Gods | A Link to the Past |
Japanese Version (basic translation)
English Version
WANTED ☺ <PlayerName>
The criminal who kidnapped Princess Zelda
Shout out loudly if spotted!
☺ WANTED!
This is the criminal who kidnapped Zelda.
Call a soldier if you see him.
So it seems that the main character is indeed left as a blank slate in the Japanese game. Neat! Although it should be pointed out that technically the name "Link" does appear in screenshots about creating and deleting save files: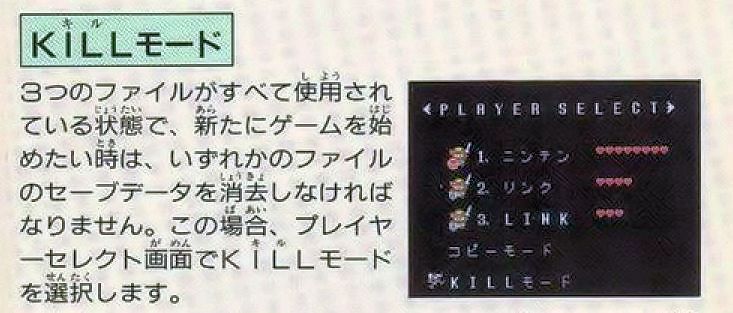 These sample names include "Link" and "Ninten"
And the character is referred to as "Link" in the game's Japanese commercial:

Anyway, this doesn't necessarily mean that the main character was meant to be genderless. It's simply that none of the text in the Japanese game, the box, or the manual ever specifies a gender, possibly because of the way Japanese works. Or it's possible that the game designers intentionally wanted this character to represent you, the player, in every way. Or maybe the designers just made assumptions about players' expectations based on the art direction or past Zelda experiences. Whatever the case, this is a great example of how Japanese writing can leave out character cues that other languages use all the time.
Incidentally, I've heard that the Japanese version of Link's Awakening (known as "The Dreaming Isle" in Japanese) also lacks an official name and gender for the main character. I haven't looked into it much, but I wouldn't be surprised if it's true.
Other Zelda Localizations
Tony's final question was about Zelda localizations into other languages that are also devoid of gender pronouns. I'm not aware of any, but then again I've only played Japanese and English Zelda games. If anyone out there has any info, let me know.
Of course, t's very possible that there's an obscure line somewhere in the Japanese games or manuals that I've missed during my research, so if I've made a mistake here please let me know so I can correct the article. I've done my best, but I only have one set of eyes 😛
---
UPDATE: Aha! Just as I suspected, I did indeed miss some text that indicates the main character is a boy:
Here, this guy calls the main character nīchan, which is something you'd call a boy:
Hey boy, you can't open any more treasure chests. The game's over.
So it looks like the main character's gender is specified after all in the Japanese text, just not in any immediate, abundant way. Thanks to everyone who sent in this info, I'm glad this helps answer the original question even more!
Summary:
Zelda 1: Link is clearly specified as a boy in the Japanese manual.
Zelda 3: The main character isn't formally named Link, and the character's gender isn't immediately specified as a boy in the Japanese game, manual, or box. The character's gender seems unstated at first, but a few lines strewn throughout the game do indicate that he's a boy.