A little while back I posted an article about the Metroid series' Varia Suit. After posting it, someone asked a follow-up question which went something like:
Samus is revealed as a woman at the end of the game, but the English manual for Metroid calls Samus a "he", probably as an attempt at misdirection. Does the Japanese manual do this too? Does it call Samus a man, or was this misdirection a product of localization?
This was a good question, and it's something I've wanted to know for a while myself, so let's take a look at the manuals again:
| | |
| --- | --- |
| | |
| Japanese Metroid manual | English Metroid manual |
I started to write out a text comparison for reference, but realized that the translation is surprisingly very close to the original text.
Anyway, some quick background info: the Japanese language doesn't use pronouns very much, so things like "he" and "she" aren't used very often at all. Instead, you'll usually use the name of the person in question, or, if it's already clear from context who you're talking about, you don't need to say anything at all. In fact, Japanese sentences often don't even include sentence subjects at all. This makes it very easy to write Japanese text without specifying someone's gender.
I bring all this up because it would've been extremely easy for the Japanese writers to keep Samus' gender a secret. But the Japanese writers went out of their way to use 彼 (kare, "he, him") three times in such a smallblock of text: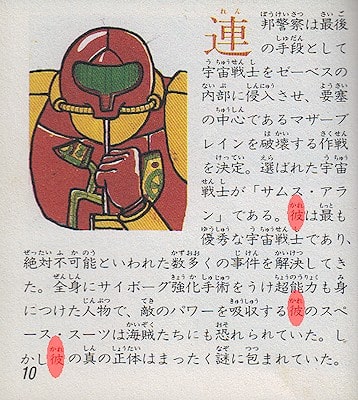 This pronoun use was clearly intended as misdirection, meaning the Japanese writers definitely intended for the player to believe that Samus was a man at first. So this wasn't a localization change or mistake at all – this trickery was included in the Japanese manual from the very start.
If you enjoyed this post and know any fellow Metroid fans, I hope you'll share it online. There's all kinds of stuff on this site that fans probably would enjoy!