Now that Cecil and friends have an airship, the world is opened up for exploration! Let's start by visiting the village of Mist, which Cecil burned to the ground not too long ago!
One of the citizens of Mist talks about the fire that devastated the village earlier in the game.
| | | |
| --- | --- | --- |
| FFIV (basic translation) | FFIV Easy Type (basic translation) | FFII |
| All the women, children, and proficient summoners died in the big fire of unknown cause. | All the women, children, and powerful summoners died in the big fire of unknown cause. | Women, children and highly trained Callers were all lost by the unknown fire. |
At first glance everything seems pretty okay, but there are a few things that stand out on closer inspection:
The Easy Type script changes the wording ever so slightly to say "powerful summoners" rather than "proficient summoners", presumably because the Japanese word used in the original line was sort of fancy and harder to understand.
In the translation, the death reference was reworded to simply say "lost". The meaning is still essentially the same, but "died" carries a lot more emotional weight to it than "lost". At least in my opinion, it might be different for other people.
The English translation calls it an "unknown fire", but that actually doesn't make much sense. Why would a fire be unknown? Its cause can be unknown, but if the fire itself is unknown, how would he know about it?
On an even more super-analytical level, we can see that the English translation lacks a serial comma. There's nothing wrong with this, but stylistic choices like this can sort of give a translator or a writer a unique fingerprint of sorts.
Actually, a big part of my professional work is finding these "fingerprints" in existing translations and then mimicking them in later translations I do myself, usually because I have to take over translation duties for other people or because I wind up translating a sequel to something that was translated by someone else. So even though these little stylistic things might go unnoticed by most players or viewers or what have you, they do play a big role in this line of work!
Stylistic differences between people, even tiny ones, are another big issue in translation projects that involve more than one translator. To combat this, companies usually have a style guide that the translators have to adhere to. It's pretty clear the FFII Super NES translators didn't rely on anything like this, though.
| | | |
| --- | --- | --- |
| | | |
| Final Fantasy IV (Original) | Final Fantasy IV (Easy Type) | Final Fantasy II (Super NES) |
While we're here, a look at the fan translation has this line as:
Not only did that mysterious fire kill powerful Summoners, but innocent women and children as well.
The very first thing I personally take away from this is that he seems to be placing initial emphasis on "powerful Summoners", as if they were the main, most obvious, most important group lost in the fire – even more so with the fan translation's addition of "innocent" to the other groups. That's not the intention of the original line, though, which has no particular emphasis on any single group listed. I suspect this English phrasing was due to the use of や, which is a sort of vague version of "and" that tends to suggest there's more than what's specifically listed.
The general information is still conveyed – and with a little more clarity than the official translation – but it still seems like a poorly worded choice.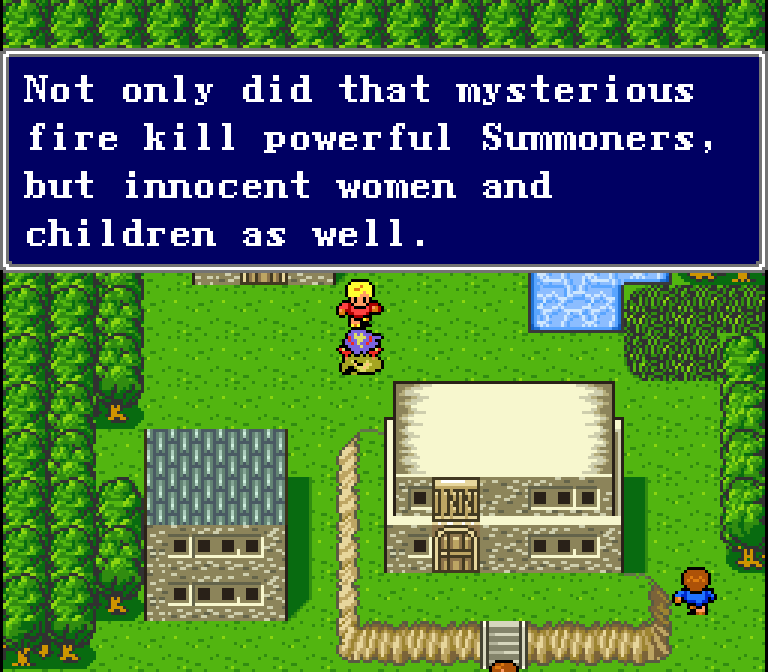 This other villager talks about a secret below Baron Castle.
| | |
| --- | --- |
| Japanese Version (basic translation) | English Translation |
| Rumor has it the spirit of an Eidolon that can kill with one hit rests beneath Baron. | I hear that the soul of Odin is sleeping under Baron. |
Basically, the English translation gets straight to the point in a near-spoiler fashion: "Odin's down there." It doesn't say it's actually an Eidolon soul or that it can kill things in one hit. It just says Odin's soul is down there.
| | |
| --- | --- |
| | |
| Final Fantasy IV (Super Famicom) | Final Fantasy II (Super NES) |
Another villager is worried about Mist's future.
| | |
| --- | --- |
| Japanese Version (basic translation) | English Translation |
| So this is the end of the history of Mist's summoners…. | The history of Mist Callers may be over now. |
This is basically fine, there's nothing to really nitpick.
| | |
| --- | --- |
| | |
| Final Fantasy IV (Super Famicom) | Final Fantasy II (Super NES) |
For fun, though, I checked out the PlayStation translation and saw that it changed the line to: "It's so desolate…"
I'm not quite sure how the translators came up with that translation – it's pretty far off the mark. This is a case of the basic translation losing quality between the Super NES release and the PlayStation release.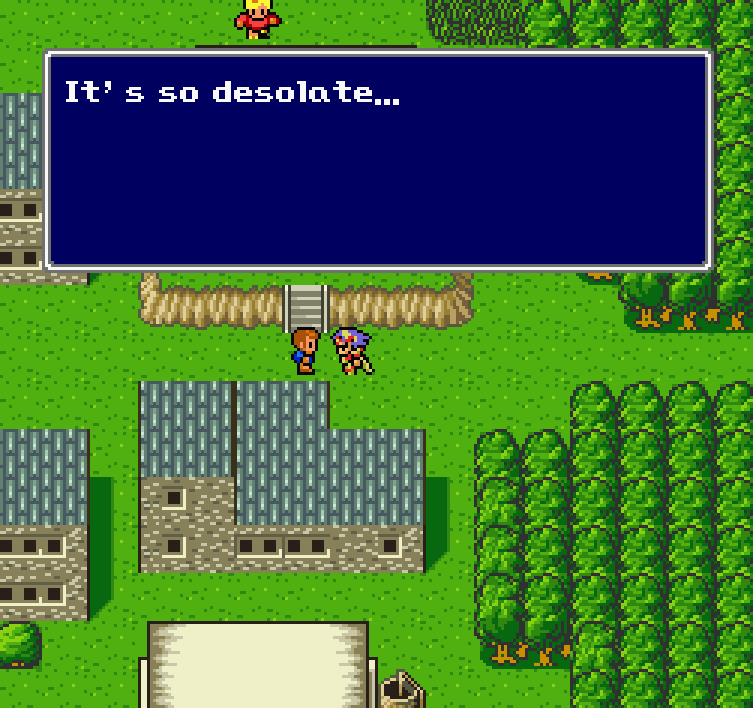 An old man in Mist explains how monster-summoning works:
| | |
| --- | --- |
| Japanese Version (basic translation) | English Translation |
| The Eidolons that we summoners call forth appear from the Eidolon world. The Eidolon world supposedly exists deep under the ground. | The monsters we call appear from another plane deep under the ground. |
The Japanese line actually calls the monsters' world the "Genkai" – in this context this isn't an actual Japanese word, it's completely made-up. The "gen" comes from "genjuu" (explained previously) and the "kai" in this case means something like "world" or "realm". So although I've called it "Eidolon world" here, that's only for the sake of convenience – in an actual translation I'd probably call it something else entirely, possibly by creating a new English word.
Anyway, I really do like how the English translation here economically conveyed all the important information from the Japanese line. It did remove the fact that this monster realm under the ground has a name of its own, though.
| | |
| --- | --- |
| | |
| Final Fantasy IV (Super Famicom) | Final Fantasy II (Super NES) |
I'm also impressed that the official translators used a fancy word like "plane" here, despite fumbling with simpler vocab in other situations. There's nothing wrong with it, it's just a really unusual translation choice to make here. I bring it up because the fan translation is clearly a retranslation of the Japanese line combined with the original official English translation in some sort of strange hybrid:
We Summoners have the ability to conjure monsters from the Phantom World…

a plane that supposedly exists deep under the surface of the Earth.
The use of "plane" again here is suspicious – we've seen many instances elsewhere where the fan translation was clearly based on the official translation, just with some rewording.
Also, it's always really risky translating lines with the word "God" in them or "Earth" in them. If handled without care, it could improperly lead people to think something is a reference to Christianity or a reference to real-life Earth.
In this case, the "Earth" reference actually fits, although the original line didn't actually say "Earth" (as in the planet) to begin with.
There are lots of hidden treasures in Mist. Pretty much all the outside treasures were changed in Easy Type and FFII.
| | | | |
| --- | --- | --- | --- |
| Location: | FFIV | FFIV Easy Type | FFII |
| Outside | Bomb Fragment | 100 Gil | 100 GP |
| Outside | Bomb Fragment | Potion | Cure1 |
| Outside | Bomb Fragment | Heal-All Remedy | Heal |
As you can see, the Bomb Fragments were replaced with other items. This was because the Bomb Fragment battle item was dummied out of Easy Type and the English release.
At the start of the game, Cecil accidentally unleashes Bomb enemies on the village, and they cause a huge deadly fire and all that. So being able to find fragments of those Bombs – leftover pieces of that earlier event – is actually a pretty nifty connection. The fact that they're all hidden in the grass shows that the designers put thought into this connection, too.
| | | |
| --- | --- | --- |
| | | |
| Final Fantasy IV (Original) | Final Fantasy IV (Easy Type) | Final Fantasy II (Super NES) |