In 1995, Nintendo translated and released a game called EarthBound for the Super NES. The game ended with a hint of a sequel that would tell the rest of the story, so fans quietly hoped and waited for this continuation. EarthBound didn't sell as well as Nintendo had hoped, however, and the game quickly fell into obscurity outside of Japan.
In the 23 years since, EarthBound has skyrocketed in popularity, as has hope for its sequel. That sequel, known as MOTHER 3, was finally produced and released in 2006… but it was never translated or released outside of Japan.
Today, MOTHER 3 sits at the top of almost every "most wanted game translation" list, and fans ask Nintendo about translating MOTHER 3 so much that it's almost a running joke at this point. This undying hope for MOTHER 3 has even broken into mainstream media.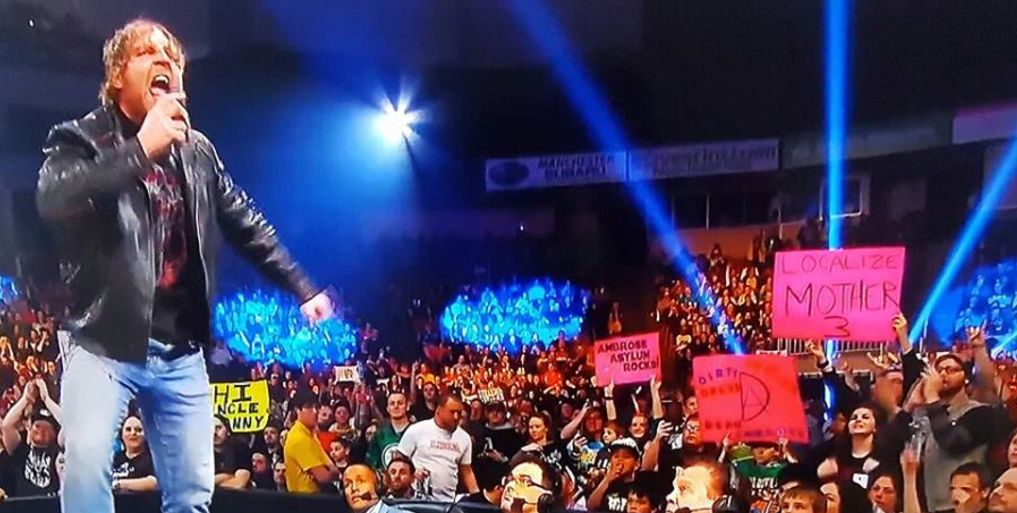 This change from a quiet hope to a thundering roar didn't happen overnight. Trickles of information and rumors created a cycle of hope, hype, and disappointment that has repeated more times than I can count. But as a fan who's worked on EarthBound-related sites and projects for most of those 23 years, I thought I'd try to document those ups and downs for newer fans and everyone wondering what the whole MOTHER 3 hoopla is about.
There's a lot to cover, so I've broken my write-up into five parts.
I originally intended for this to be a simple article on my EarthBound Central site. It quickly grew so big that I was going to give it its own dedicated section on the site instead. But then it eventually grew so big that I decided to turn it into another of my Legends of Localization books. It was going to be titled "C'mon Nintendo, Give Us Mother 3", and it even hit a bunch of news sites when I first announced it.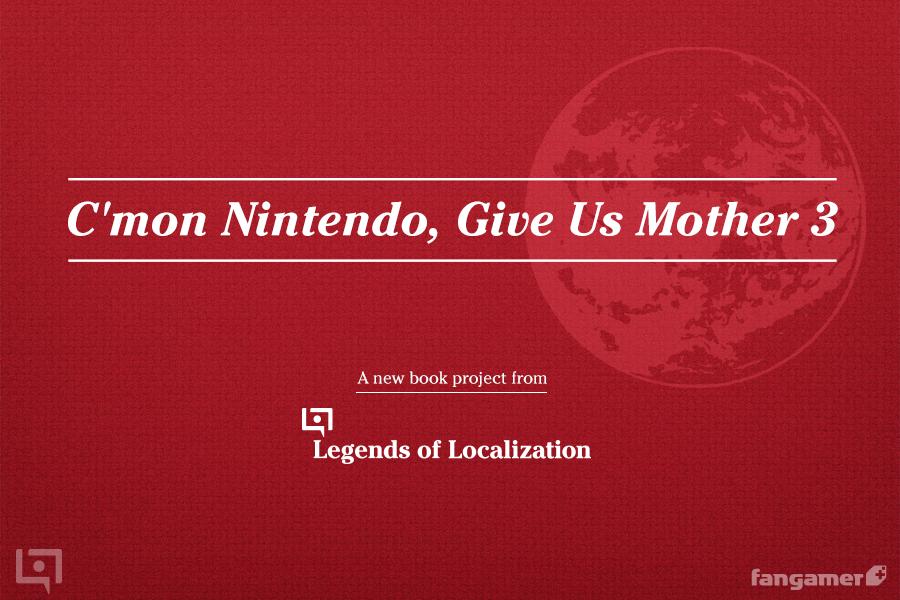 Unfortunately, due to schedule conflicts and other boring stuff, I had to drop the book plan. I'd rather share my findings than sit on it and do nothing, so I decided to package my raw notes and share them here in celebration of the 10th anniversary of of the MOTHER 3 fan translation.
I have no doubt the book version would've been far better, but hopefully these raw notes will still be interesting and useful in some way.
Also note that
EarthBound
's sequel sometimes goes by different names:
EarthBound 2
,
MOTHER 3
, and
EarthBound 64
.
"MOTHER 3″ is what most fans call the sequel today. "EarthBound 64" was what fans called it when it was being developed for the Nintendo 64. For a series refresher, see here.
Hopes for a sequel have existed ever since EarthBound's release in 1995: the game ends on a cliffhanger that strongly suggests a sequel is in the works, and it even literally refers to an EarthBound sequel elsewhere in the game.
So, for these earliest fans, it was perfectly logical to assume that an EarthBound sequel might be released in the near future.
Outside of Japan, there was no mention of EarthBound's sequel this year. Fans could only continue to speculate and hope for one.
At one point I had a handful of fan posts from Usenet groups, AOL clubs, and the like with brief discussion about the EarthBound sequel, but I can't remember where I saved them to. If I find them later on I'll be sure to add them here.
EarthBound fans were excited when news of an EarthBound sequel for the Nintendo 64 Disk Drive began to hit gaming magazines. There were some claims that the game was set to be released in 1997 in Japan.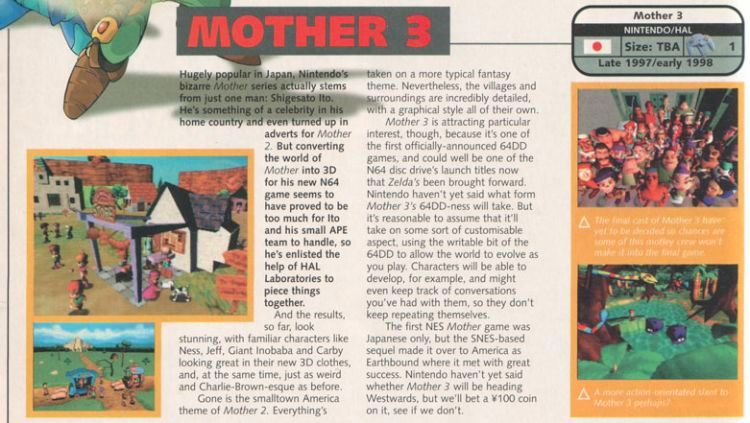 Other magazines, including Nintendo Power, covered this news too, but claimed that the sequel was on track for a 1998 release date. From the way these articles were worded, fans understandably believed that the game would be produced and that it would likely get a translated release: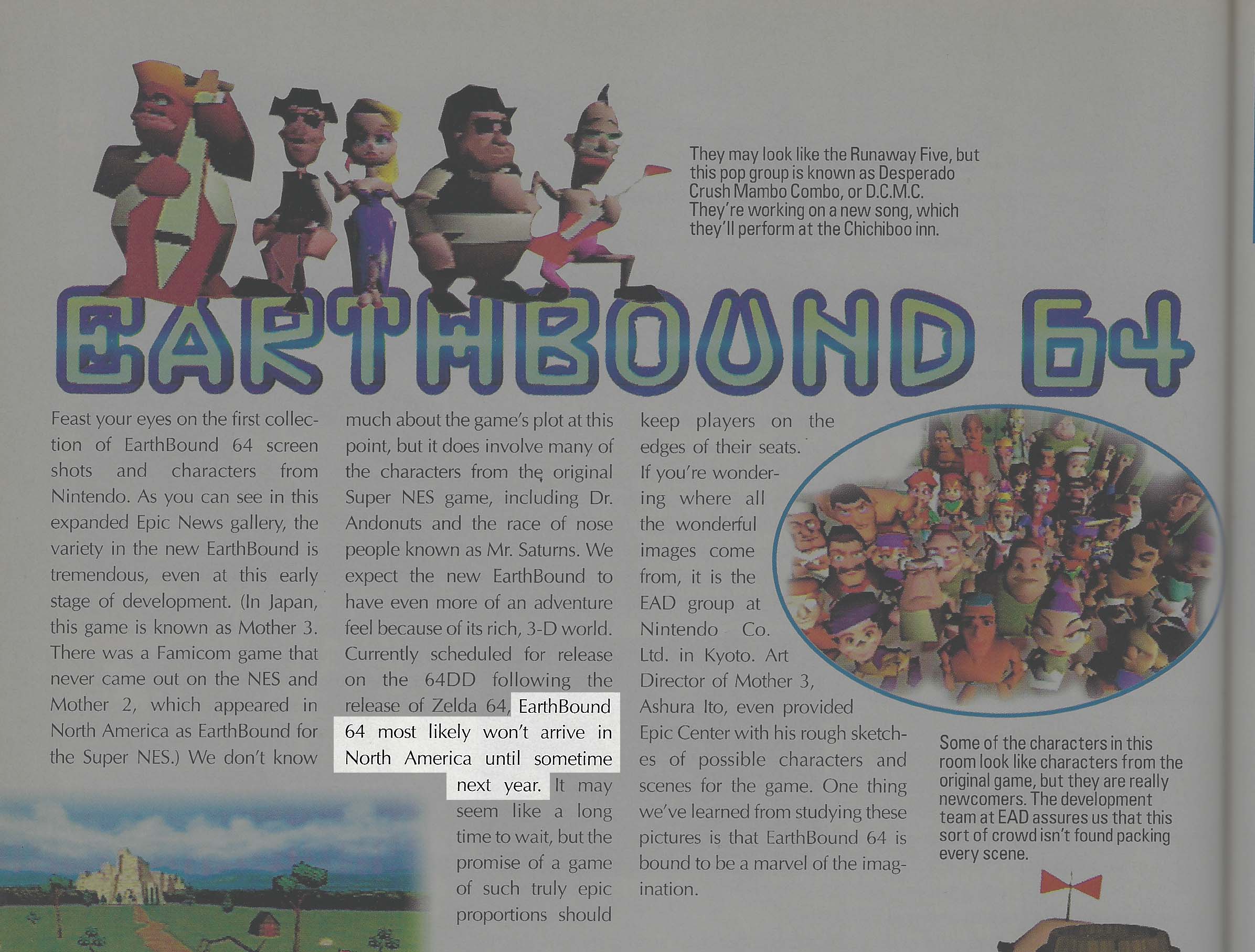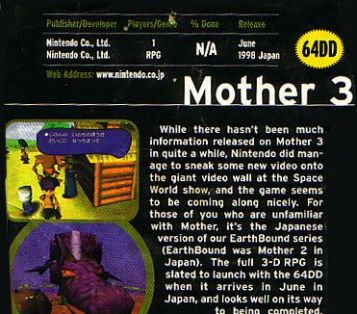 The expectations were so strong that worldwide releases were considered obvious: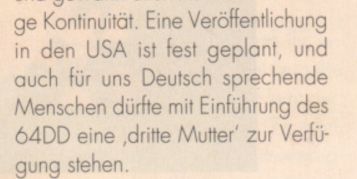 A 1997 release never materialized, but hope for EarthBound 64 remained. It seemed like 1998 would be the year for sure:
Some magazines expected EarthBound 64 to appear at E3: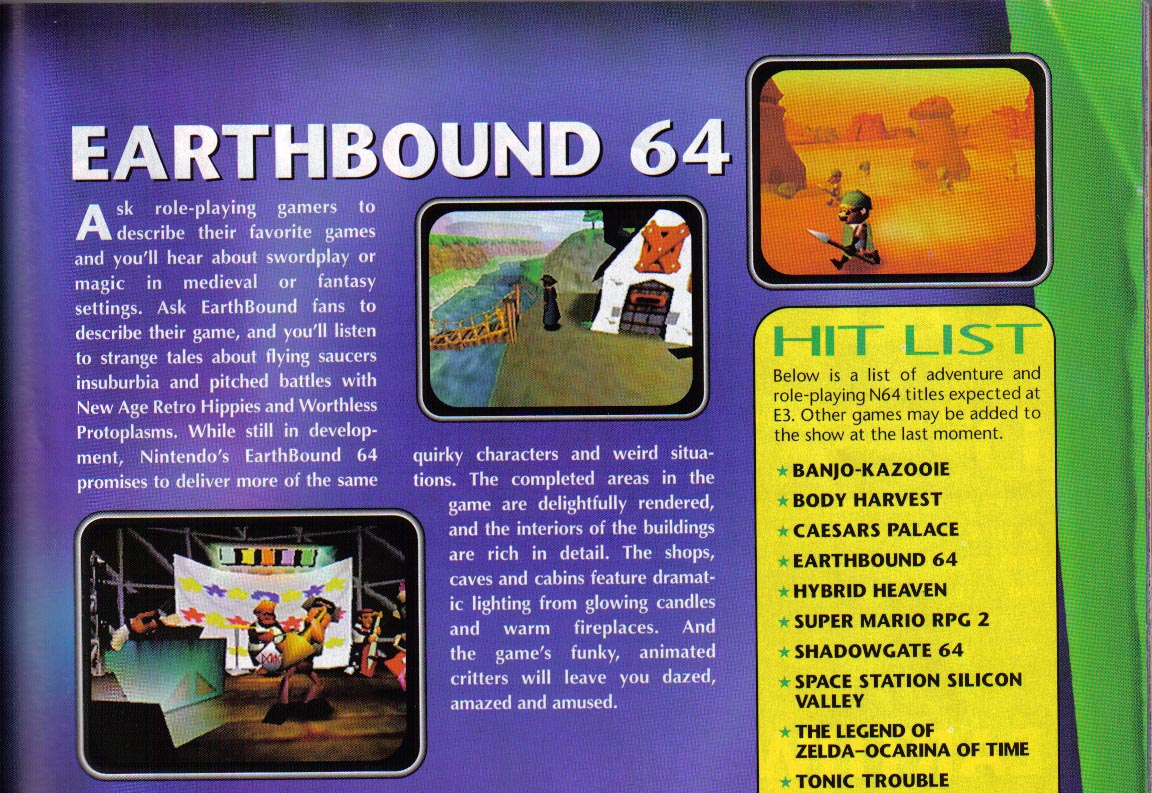 E3 passed without any information about EarthBound 64, but as Internet gaming sites began to sprout up, expectations for a release remained very high.
What We Think: N64 owners will never have an RPG that can challenge the likes of Square's offerings. Earthbound 64 may come close next year, but the hard truth of the matter is that PSX is much better equipped to handle the epic storylines and cinematics behind today's RPGs.

– IGN
Unfortunately, the Nintendo 64 Disk Drive's release was delayed again, which meant EarthBound 64 would be delayed as well. All signs began to point toward a spring 1999 release in Japan. In general, there was still a strong expectation that EarthBound 64 was set to be released soon.
1999 began with a comment from Shigeru Miyamoto stating that EarthBound 64 could be released by the end of the year: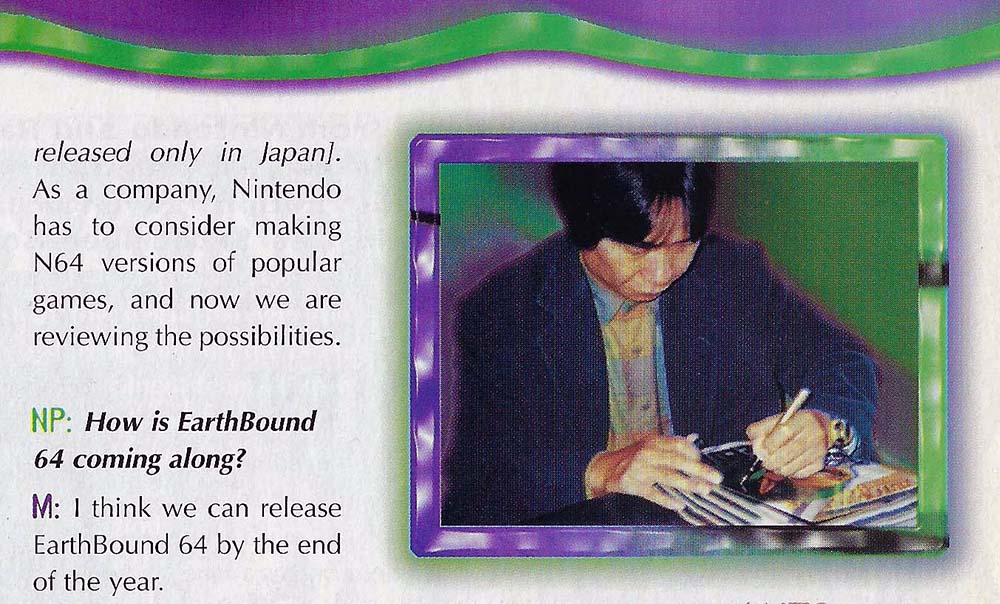 Not long after, Miyamoto suggested the game might instead get delayed to 2000:
The development team is working on Mother 3 releasing somewhere around the end of this year or next spring. It depends on the 64DD's launch date. But from a software development standpoint, we're on schedule. As for Mother 3, it will use a system like we do in Zelda 64.

–Game Walker Magazine
1999 also marked the start of Starmen.Net, the biggest EarthBound fan community online. Thanks to some old backup files I have, we can get a direct look at what fans thought back then.
Despite the constant delays over the past several years, many fans still held strong to their hope for EarthBound 64's release.
There's no way Nintendo is THAT stupid not to release EB 64. Much more coverage has been done compared to the original Mother. Plus Nintendo has already reserved earthbound64.com. Unless they did it just for sick and twisted…fun?
The first seeds of frustration and doubt began to take root in other fans' minds:
Yeah, I seriously doubt that too. They've lied about EB64 release date too many times to count already, I think they're trying to cancel it without anyone noticing. Of course, I'm also typing this at 1:00 AM, and everyone knows that your head isn't always right at that time of night.
—While you're waiting for EarthBound 64…— Ugh, once again the great and wonderful Nintendo has decided to yank EB 64 from the 'Future Release' page, which leads me to think we're going to be waiting a loooong time before this comes out.
In the summer, series creator Shigesato Itoi posted on a Japanese fan site about the state of the sequel's progress. He also mentioned that the game would be appearing at an upcoming game show and that it would be in playable form. This eased fans' doubts and brought hope back for many.
MOTHER 3 is also coming along nicely now. Just like every other time, it's taking a long time to come out. This one has quite a different "taste" than MOTHER 1 and 2, so it might not go over well with long-time fans. But I think it may be the very best one in terms of sheer excitement. But, I'm always worried, of course.

A playable version of the game is planned for an August game expo, whose name escapes me at the moment. It's a bit of a dilemma, because a lot of time will be spent focusing on the demo and not the game. But I think it will show how things are.

–Shigesato Itoi (translated)
Shortly after, Nintendo announced that EarthBound 64 was being revamped as a standard Nintendo 64 cartridge rather than as a Nintendo 64 Disk Drive game as was originally planned. This suggested further delays. Fans' hopes were kept up by the additional surprise announcement of a "MOTHER 3.5" expansion game, which would be released later for the Nintendo 64 Disk Drive.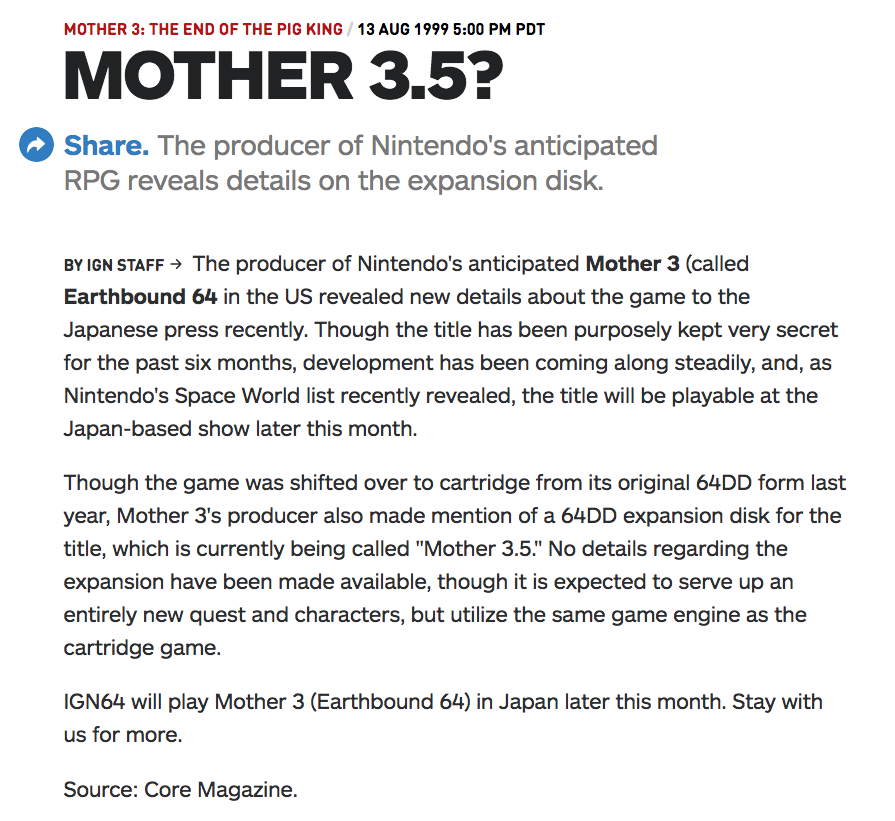 Indeed, playable demo versions of the game were available at Nintendo's 1999 Space World event. Photos and information from the event poured in. Seeing the game in this state brought back the feeling that EarthBound 64 was real, was finally coming together, and would be released soon after all:
Official Nintendo advertisements stated that the Nintendo 64 version of MOTHER 3 would be released in Japan in May 2000. This official announcement further convinced fans that the game was finally coming out: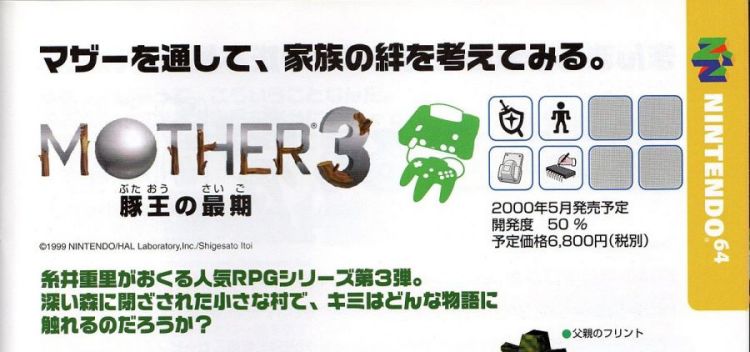 Gaming magazines and sites reported similar information about the game's Japanese release:
And, most exciting of all, Nintendo released an official trailer for the game online:
By the end of 1999, EarthBound 64's release in 2000 felt like an absolute sure thing again.
A 2000 release date seemed inevitable as the new year began. A specific release date remained hazy, though – some reports claimed EarthBound's sequel would be released in May, while others said June. Some outlets simply said "sometime this year". Interviews with the game's development staff also indicated that the game was just around the corner.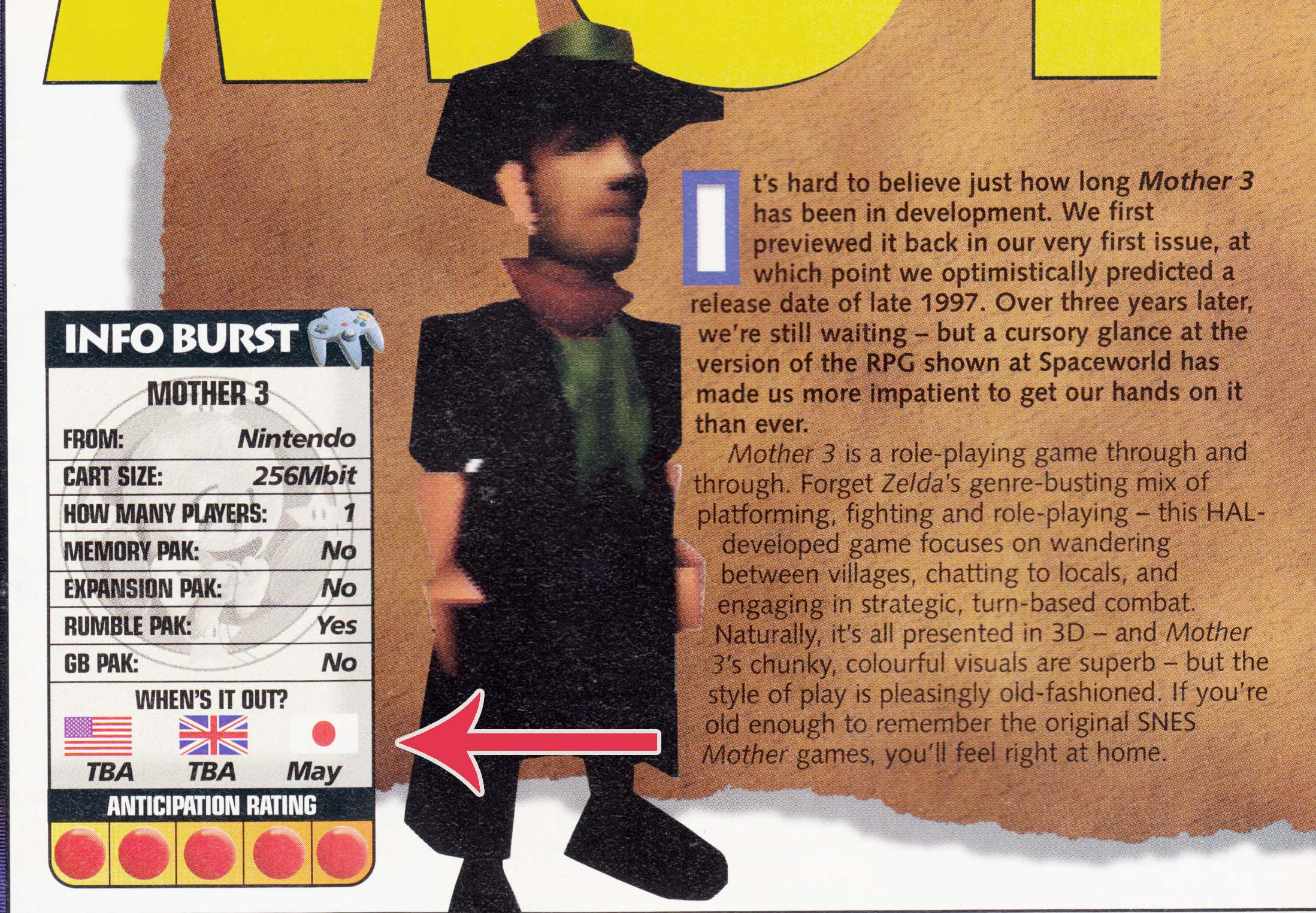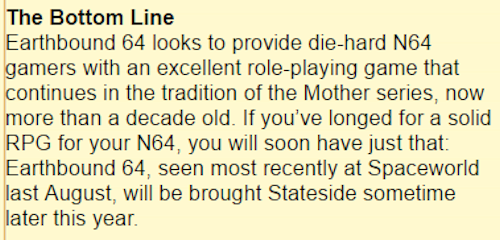 Naturally, fans were excited by this news:
I will definately be of the first people to import EB64. I don't really care how much it will cost and I don't give a [don't swear] if it's in Japanese! I have been waiting for this game for 3 years and if it doesn't get made by this year I myself will fly right over to Japan and finish the darn game myself!!!
Why are we obsessed with it? Well, it seems that people either LOVE EarthBound, or don't really care for it. Anyway, another reason is that we've come too far to just get sick of it. Especially since Mother 3 is FINALLY coming out in June. EarthBound has brought out a lot of creativeness in people. This ranges from music, art, fanfics, websites, games, and other weird stuff ☺. We're going to keep on truckin'.
New signs indicated the game's upcoming release too. Japanese game stores began to feature advertisements for MOTHER 3. They even began to take pre-orders for it: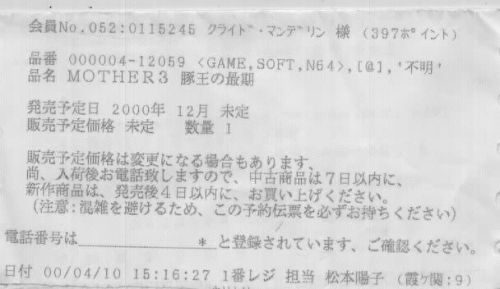 The EarthBound sequel was coming together, and everyone expected it to appear at Nintendo's 2000 Space World event.
Suddenly, two days before Space World, Nintendo cancelled MOTHER 3 entirely.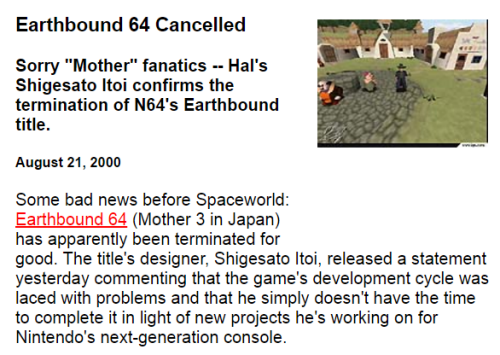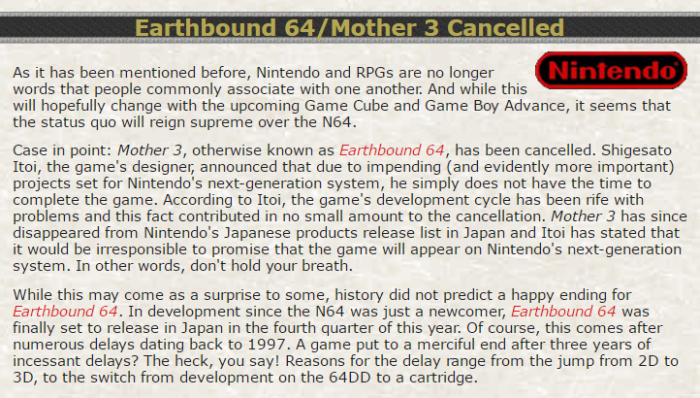 Shigeru Miyamoto stated that the project was completely cancelled, but then tried to keep hope alive by adding that he was attempting to get it released in some other format:
With the rumored game out of the way, the next game mentioned was the ill-fated Mother 3, or Earthbound 64. Miyamoto stated that the game had in fact been cancelled, saying that the team was simply needed on other projects. While Nintendo would like to see the remnents of the game get put to use in one way or another, it is unlikely that they will see the light of day in the Mother series. He also said that negotiations are going on right now with the original creator of Mother to see if some sort of licensing could be worked out so that the project could be salvaged in some way.
After over five years of anticipation and delays, fans were distraught. Many fans lost all hope. Others refused to give up and turned their hope toward Nintendo's upcoming new systems, the GameCube and the Game Boy Advance. Either way, there was no question that EarthBound 64 was dead.
I'm leaning towards no. EB64 probably won't come out on GameCube, but we should expect somthing similar to the EarthBound series. I mean come on, Mr. Itoi hasn't retired yet. Nintendo will probably be making him work overtime to make up for the EB64 cancellation. Then again, why was EB64 cancelled in the first place? One of the reasons was due to "Other projects" the development team was working on. Even if they are not in the EB series, they should share some simularity with it. (The humor f or istance)
Note that after EarthBound 64's cancellation, fans slowly began to call it by its planned Japanese name: MOTHER 3.
Although fans were shocked and disappointed by
EarthBound 64
's sudden cancellation, not all hope was lost. The next several years would go from gloominess to excitement to confusion. You can read all about it in the next section,
Part #2: 2001 to 2005
.