This is part of my ongoing series in which I compare four translations of Final Fantasy VI with the original Japanese script. For project details and my translation notes from Day 1, see here.
We streamed the Zozo section of the game and the opera scene section all in the same stream, but both parts were so heavy with info that I decided to break it into two parts. Even then, these two parts wound up so info-dense that it took me longer than usual to write everything up.
Video Archive
Notes
Since the opera scene in Final Fantasy VI is so iconic, I was hoping to give a super-detailed look into here. I started to get too ambitious, though, so if you're interested in learning more, definitely check the video above. But if I've missed anything major here, let me know in the comments and I'll update this article as needed.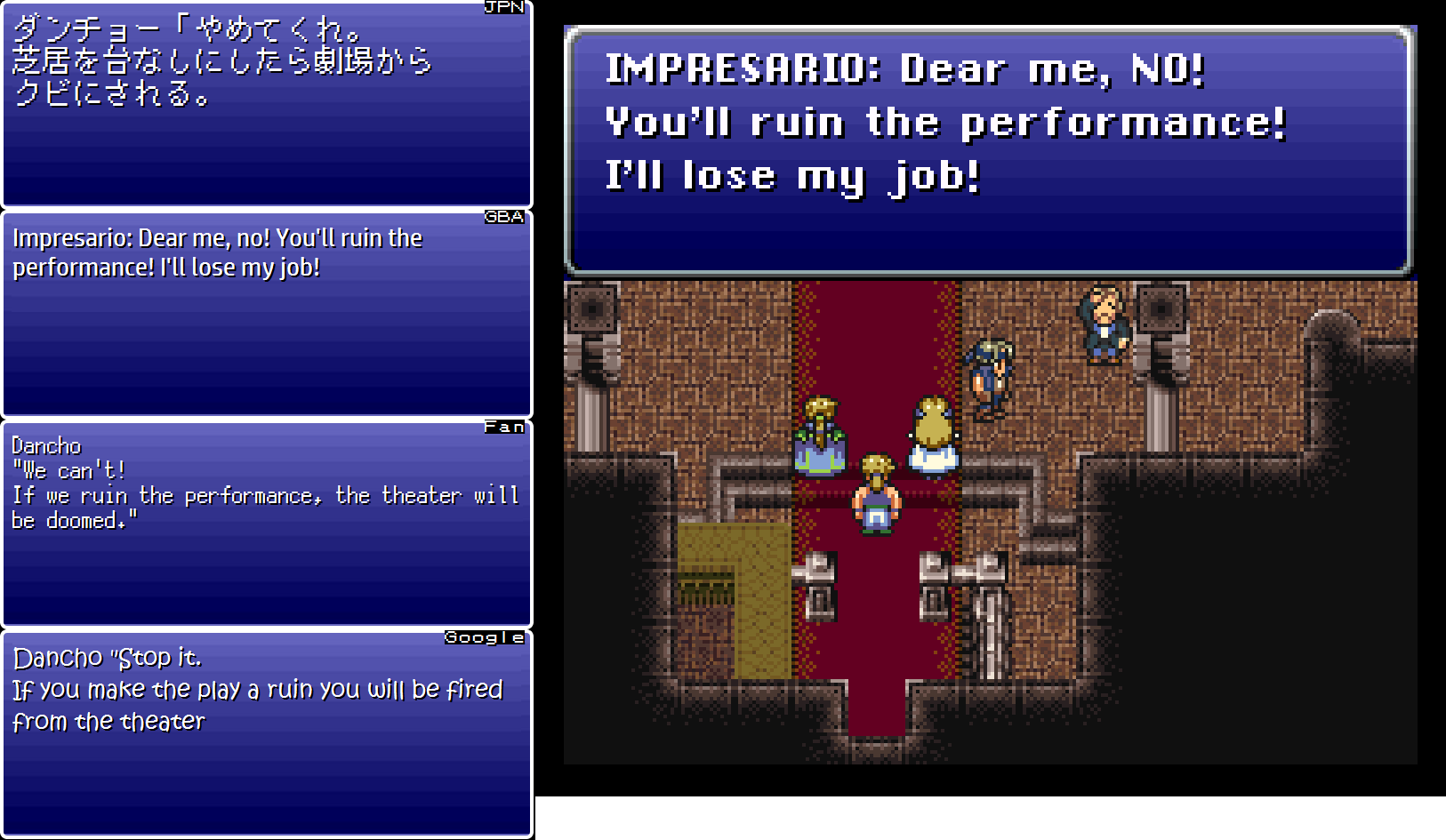 The whole opera section of the game begins with the Impresario worrying that the opera will get ruined. In Japanese, he's worried that he'll get fired from the theater if the performance is a failure. But in the fan translation, he's instead worried about the theater itself – his livelihood no longer has anything to do with his worries.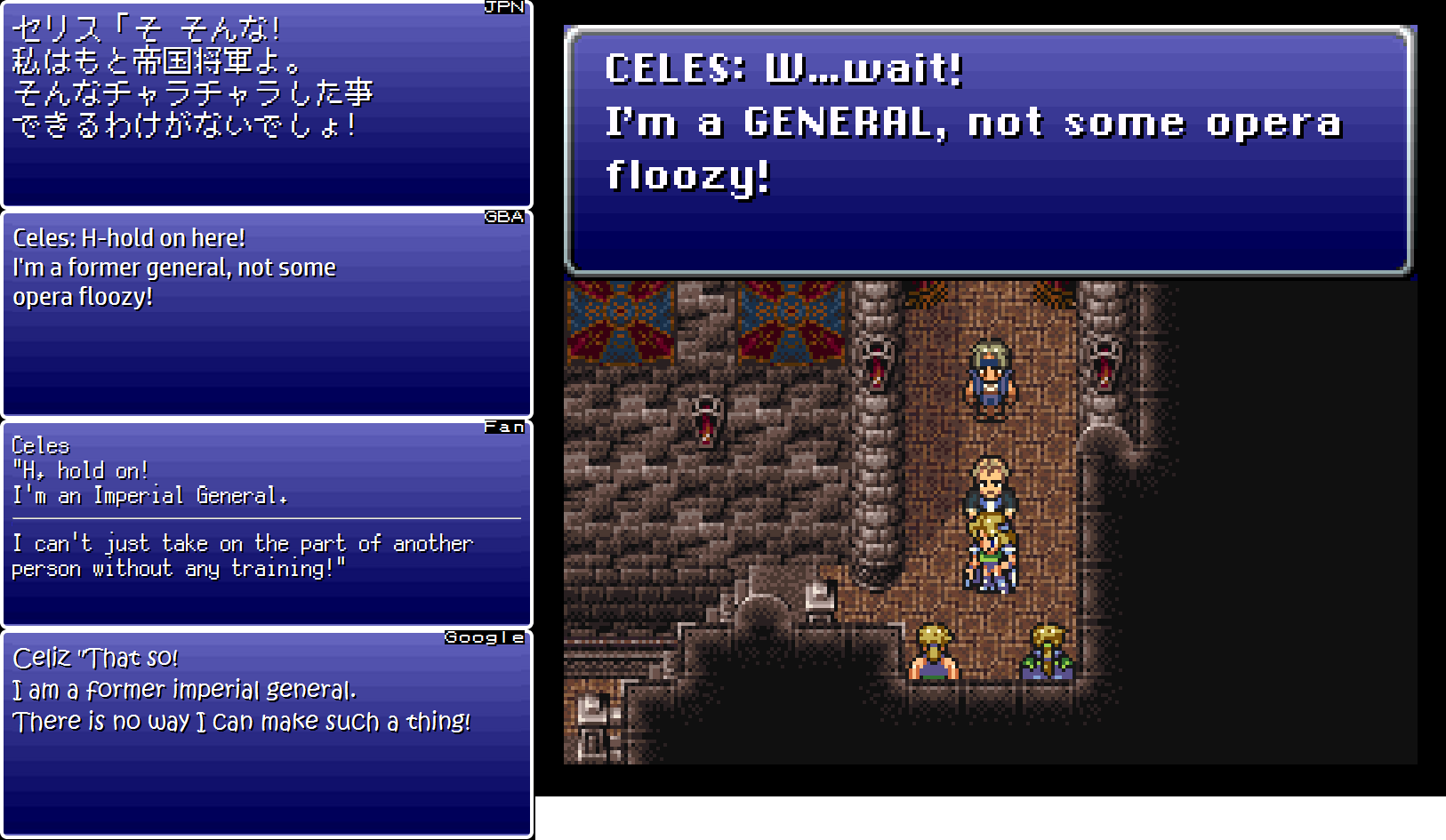 Celes hears about the plan to use her as a decoy actress during the opera. Her response in the Super NES translation is one of the most iconic lines in the game:
I'm a GENERAL, not some opera floozy!
In Japanese, the line is closer to: "I'm a former imperial general, you know. There's no way I can do anything that superficial/flashy/frivolous!"
The GBA translator recognized the iconic status of the Super NES line and decided to keep it as-is. Except the Super NES line had one little mistake in it: Celes used to be a general in the Empire, but she isn't anymore. Even the Japanese line mentions this by using the word "former". So we again see the GBA translator paying tribute to the previous translation while also patching up flaws as needed.
The fan translation gets the line wrong. First, the mention of "former" is missing from the translation, just as it's missing in the Super NES translation. Next, Celes says that she can't be in the opera because she "can't take on the part of another person without any training". That's not what she says in Japanese at all. It's not about being trained or not, it's about how she sees herself.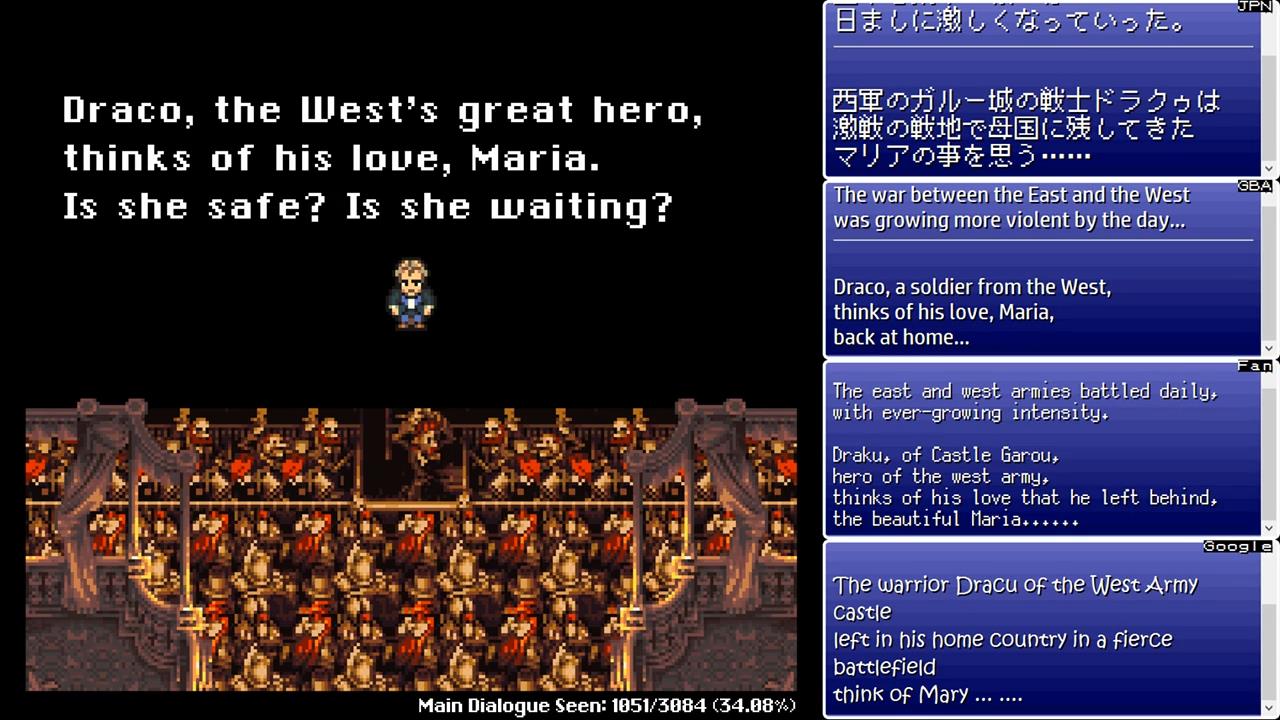 Throughout the opera we'll see that some details get changed or got left out. For example, in this introductory part, the Japanese script mentions that Draco is from "Castle Garū". This detail is dropped from the official translations – now Draco is just a soldier from "the West".
The fan translation is the only one that keeps the castle detail intact. For some strange reason, even Google drops the name of the castle. I guess it didn't know what to do with the word "Garū".
The opera singing begins after the Impresario's opening narration. But before we start looking into the opera in detail, there's some important stuff to know.
---
Way back when I was a university student, one of my translation professors gave us a little homework assignment on the very first day of class. He gave us a short poem by a famous Japanese poet and told us to translate it before the next class.
When the next class rolled around, we were asked to recite each of our poems in front of the class. To our amazement, all our translations were very different – you could barely tell that they were even from the same source text. Apparently the poem was from some old famous poet known for packing multiple meanings into every word he could. Unfortunately, I don't recall the guy's name, but I still vividly remember that feeling of surprise. How could the same thing be translated in so many different ways?
The lesson we learned is that different people experience different things from the same poem, same song, or same whatever. As a result, things like poems and songs can end up translated in many different ways. So the natural question is: which way is correct? Is there even a "correct"? It's tough.
On top of this fundamental translation problem comes an entirely different problem too: if you want to translate a poem or song and want to keep it as a poem or song in the new language, then you'll almost certainly have to make some big changes. Otherwise, lyrics won't fit the music, syllables won't match up the way they're supposed to, etc.
I bring all this up because song translation – including the opera in Final Fantasy VI – involves so many more issues than ordinary dialogue translation. And, unless you're analyzing lyrics on a literal level, most song translations are probably more of an adaptation than a straight translation.
It's a lot like when a book gets adapted into a movie: there are certain plot elements and beats that the movie tries to cover, but because books and movies are so fundamentally different, lots of changes have to get made. Sometimes new things get added in while other things get cut out. So if you try to compare them side by side afterward to see if anything changed, of course you'll find changes – that's how adaptations work.
Anyway, I don't expect the various translations of this Final Fantasy VI opera scene to vary wildly or anything, but I feel it's important to explain how song translation goes by different rules. Especially since the opera lyrics are an adaptation in almost every translation we're looking at here.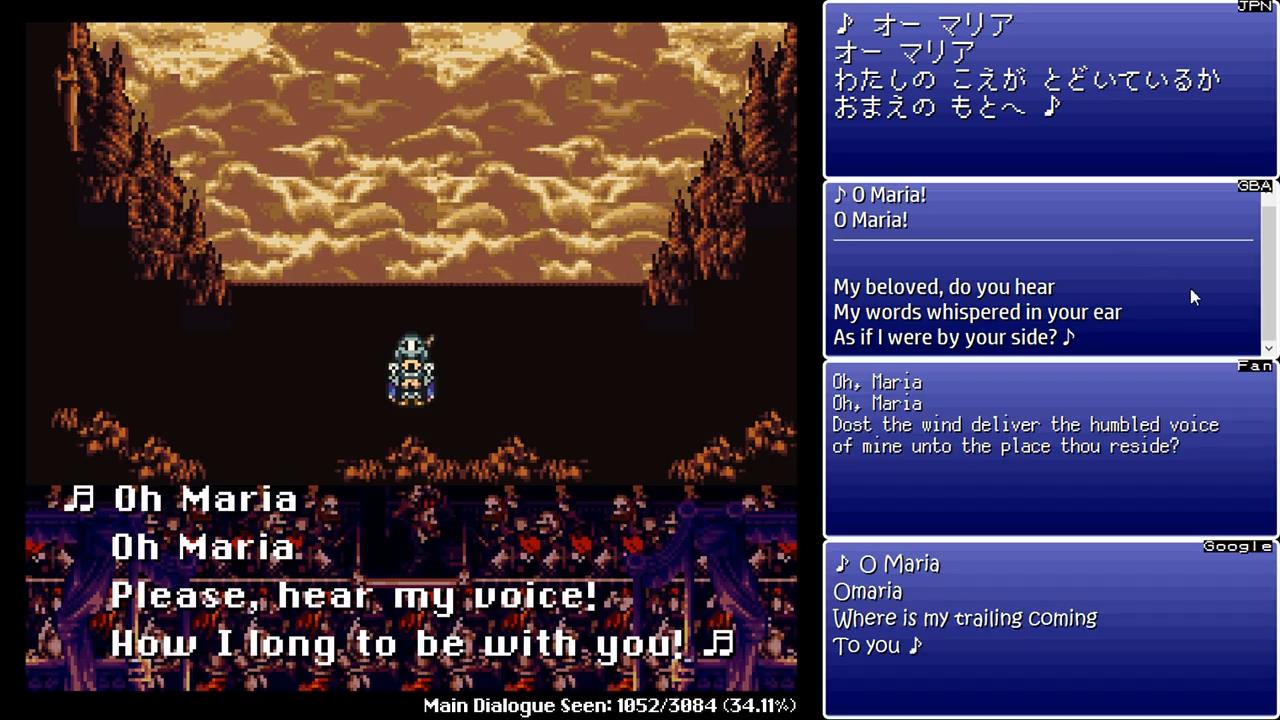 First, let's look at the Japanese lyrics. I've included the audio for this part so that you can see how the Japanese lyrics fit with the music. Note that I've put a / mark between some of the syllables to help, in case you're not familiar with how Japanese syllables combine.
Now that I think about it, you could also use this to learn the lyrics and sing them at Japanese karaoke sometime!
| | | |
| --- | --- | --- |
| Japanese Text | Pronunciation | Basic Translation |
| オー マリア | ō ma/ri/a | Oh, Maria |
| オー マリア | ō ma/ri/a | Oh, Maria |
| わたしの こえが とどいているか | wa/ta/shi no ko/e ga to/do/i/te i/ru ka | Does my voice reach |
| おまえの もとへ | o/ma/e no mo/to e | to where you are? |
Now let's look at what the two official translations and the fan translation do. I'm leaving the machine translation out here just to streamline things, but I hope someone will sing the machine translation lyrics someday somehow!
Super NES Version
GBA Version
Fan Version
Oh Maria
O Maria!
Oh, Maria
Oh Maria
O Maria!
Oh, Maria
Please, hear my voice!
My beloved, do you hear
My words whispered in your ear
Dost the wind deliver the humbled voice
How I long to be with you!
As if I were by your side?
of mine unto the place thou reside?
Right off the bat we can see that the GBA translation has lyrics that match the music much more clearly than the Super NES translation. The GBA translation also keeps the meaning a little closer to the original text while also adding some artistic flair.
We see that the fan translator opted to give the lyrics an olden English vibe. I had trouble hearing how some of the lyrics match the music, but I'm absolutely tone deaf and have no musical talent, so that's probably just my own fault.
Incidentally, the GBA translation of this entire opera is apparently used in actual, real-life performances of the game's opera. Man, as a translator, I bet hearing your work being sung by professionals in a fancy opera house is an amazing feeling!
Anyway, this short little piece of singing has already given us a good idea of what to expect in the upcoming opera scenes.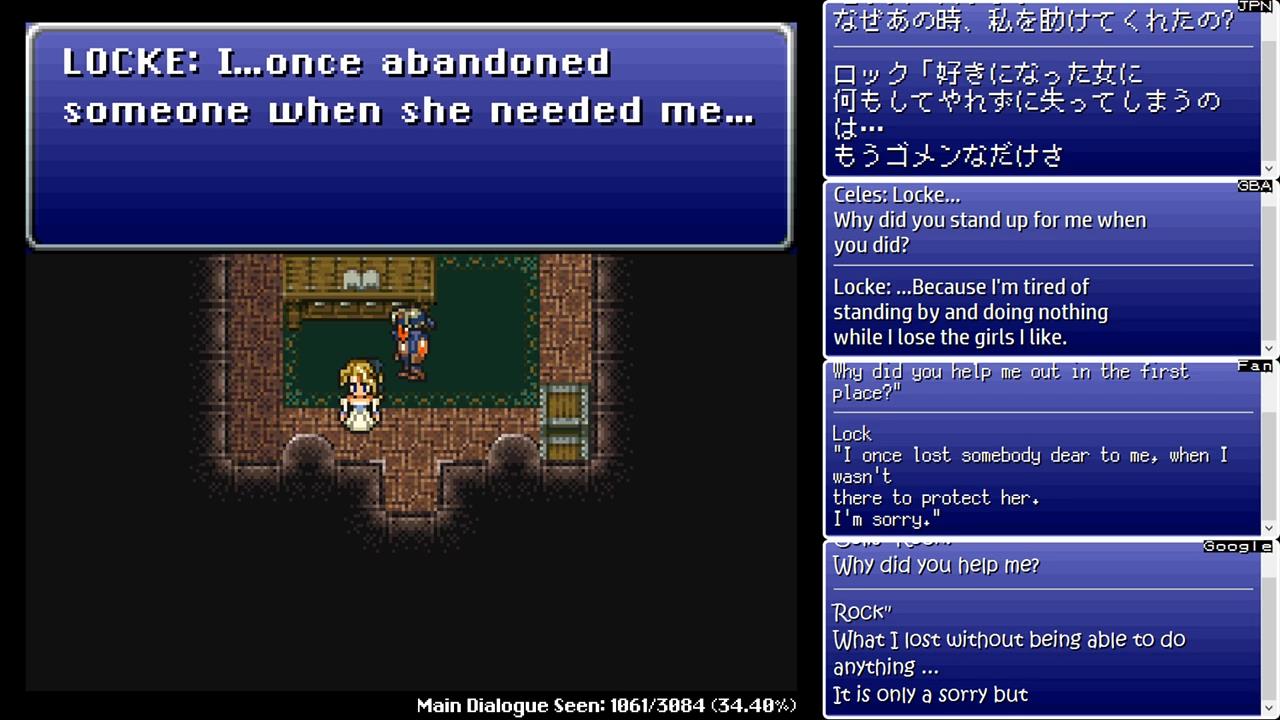 Locke goes backstage during the performance to chat with Celes. At one point, Celes asks why Locke helped her escape South Figaro earlier in the game.
In Japanese, Locke says something like:
I'm… tired of losing girls I like after being unable to do anything for them.
The Super NES translation isn't quite the same, but the connection to Rachel is made clear at least. The GBA translation clarifies things by fully translating the line.
The fan translation makes a simple mistake: the Japanese word gomen is often an informal way of saying "sorry", but in other contexts it means you're sick and tired of something and hate it. My hunch is that the fan translator hadn't yet learned about the latter usage, even though it's pretty common to hear. Even so, the line is largely a rephrasing of the flawed Super NES line anyway.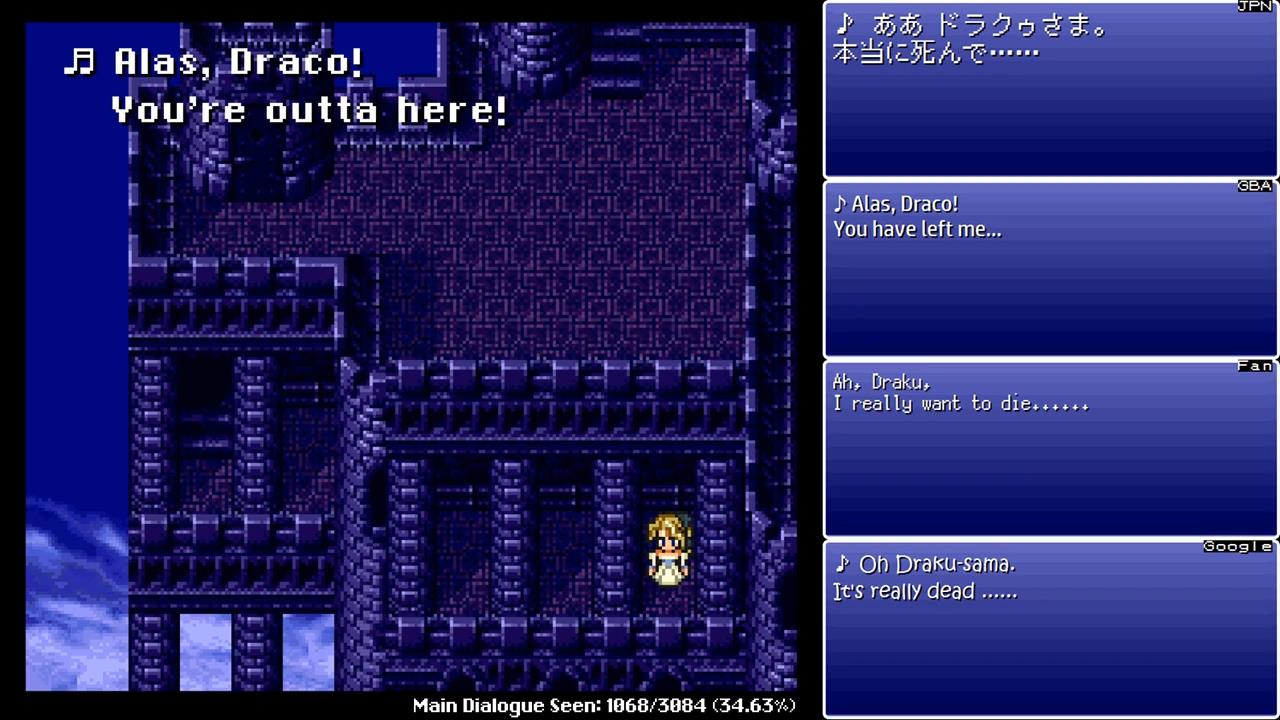 Eventually, you take control of Celes as she performs her part of the opera. You're supposed to memorize her lines and choose the right lines when prompted. If you get a line wrong, you get kicked out of the theater and have to try again.
During the stream, I tested this failure thing out with the first line prompt. In Japanese, when this first line is messed up, Celes sings a sentence fragment that can be translated as "Oh, Draco, please really die." or maybe even "Oh, Draco, are you really dead?". After this, she apologizes for messing up.
In the Super NES line, Celes instead says, "Alas Draco, you're outta here!" or something like that. It's such a strange line that at first I thought someone was yelling at Celes and telling her that she's getting kicked out of the theater. But on closer thought I think this "outta here" line was just a way to avoid the reference to dying that's in the original script.
The GBA translation also goes a different route than the dying reference. Only the fan and machine translations keep the death talk intact.
Celes gets her time to shine during the opera. First, here are her Japanese lyrics, their pronunciation, and what they mean.
Note that Japanese grammar works somewhat backwards from how English grammar works, so my basic lyric translations won't always match on a line-per-line basis. Similarly, my basic translations are intended for informational purposes and aren't meant to match the actual music. Also, if you'd like to hear the Japanese lyrics combined with the music,
see this video
.
Japanese Text
Pronunciation
Basic Translation
いとしの あなたは
i/to/shi no a/na/ta wa
My beloved,
とおいところへ?
to/o/i to/ko/ro e
must you go so far away
いろあせぬ とわのあい
i/ro a/se/nu to/wa no a/i
so soon after we pledged
ちかったばかりに
chi/ka/tta ba/ka/ri ni
our eternal, unfading love?
(pause)
かなしい ときにも
ka/na/shi/i to/ki ni mo
During sad times
つらいときにも
tsu/ra/i to/ki ni mo
and during painful times
そらにふる あのほしを
so/ra ni fu/ru a/no ho/shi o
I will think of that star falling in the sky
あなたとおもい
a/na/ta to o/mo/i
as you
(pause)
のぞまぬ ちぎりを
no/zo/ma/nu chi/gi/ri o
Must I exchange vows
かわすのですか?
ka/wa/su no de/su ka
that I do not want?
どうすれば? ねえあなた?
do/o su/re/ba ne/e a/na/ta
What should I do? Tell me, my darling
ことばをまつ
ko/to/ba o ma/tsu
I wait for your words
(dance sequence)
ありがとう わたしの
a/ri/ga/to/o wa/ta/shi no
Thank you,
あいするひとよ
a/i su/ru hi/to yo
my love,
いちどでも このおもい
i/chi/do de mo ko/no o/mo/i
for silently and gently
ゆれたわたしに
yu/re/ta wa/ta/shi ni
answering me
しずかに やさしく
shi/zu/ka ni ya/sa/shi/ku
even after my feelings
こたえてくれて
ko/ta/e/te ku/re/te
briefly wavered if but once
いつまでも いつまでも
i/tsu ma/de mo i/tsu ma/de mo
I will forever, forever
あなたをまつ
a/na/ta o ma/tsu
wait for you
Next, here are the two official translations and the fan translation, side by side:
Super NES Version
GBA Version
Fan Version
Oh my hero, so far away now.
O my hero, my beloved,
Oh my dearest, my beloved,
Will I ever see your smile?
Shall we still be made to part,
art thou trav'ling far away?
Love goes away, like night into day.
Though promises of perennial love
Lest I remind thee that we hath pledged
It's just a fading dream…
Yet sing here in my heart?
our eternal love anew…
(pause)
I'm the darkness,
I'm the darkness,
Amongst this time of depression,
you're the stars.
You're the starlight
melancholy and sorrow,
Our love is brighter than the sun.
Shining brightly from afar.
I can only reminisce of thee whilst gazing upon the night stars…
For eternity,
Through hours of despair,
for me there can be,
I offer this prayer
only you, my chosen one…
To you, my evening star.
(pause)
Must I forget you? Our solemn promise?
Must my final vows exchanged
Shall I proceed and pledge vows
Will autumn take the place of spring?
Be with him and not with you?
With the one whom I not love?
What shall I do?
Were you only here
What else can be done?
I'm lost without you.
To quiet my fear…
Thus I now wait…
Speak to me once more!
O speak! Guide me anew.
And wish for thy reply…
(dance sequence)
We must part now.
I am thankful, my beloved,
And I thank thee, my beloved,
My life goes on.
For your tenderness and grace.
my dearest and my love,
But my heart won't give you up.
I see in your eyes,
For even amongst my swayed feelings
Ere I walk away, let me hear you say.
So gentle and wise,
I meant as much to you…
All doubts and fears erased!
And my changed heart…
So gently, you touched my heart.
Though the hours take no notice
Thou so gently, and so kindly,
I will be forever yours.
Of what fate might have in store,
Thou truly answered me.
Come what may,
Our love, come what may,
And thus I shall wait,
I won't age a day,
Will never age a day.
for thee forever,
I'll wait for you, always…
I'll wait forevermore!
forever more.
I have a deep fondness for the original Super NES translation of this scene – it was the first version I encountered and the only one I've known for the past 25 years or so. Despite that, though, the GBA version is by far my favorite version now. I'm impressed how it was able to keep the core ideas and retain the key imagery, all while keeping the song an actual song.
I've translated more songs than I can remember during my own career, but usually never for the purpose of actual singing. In the few instances that my song translations needed to be sung by someone, actual songwriters and musicians were usually brought in to adapt the lyrics to match the original music. From what I can tell, the GBA translator handled the translation, localization, and all of that extra work by himself.
That's not to say I don't like the Super NES version anymore, but I have to admit that for many of the SNES lyrics I always had trouble figuring out how some lines were supposed to match the music.
The final part of the opera features multiple actors and not just one. It's not as meaningful or poetic as Celes' song, but it's worth checking out anyway.
First, let's check out the Japanese lyrics, their pronunciation, and basic meaning:
Japanese Text
Pronunciation
Basic Translation
マリア
ma/ri/a
Maria
ドラクゥ
このひを しんじてた。
do/ra/ku
ko/no hi o shi/n/ji/te/ta
Draco
I always believed this day would come
マリアは このわたしの きさきになる べきひとだ
maria wa / kono watashi no / kisaki ni naru beki hito da
Maria is meant to be my queen
いのち つきはてよう とも はなし はしない。
i/no/chi tsu/ki ha/te/yo/o to/mo ha/na/shi wa shi/na/i
Even if my life should expire, I will not let her go
けっとうだ!
kettо̄ da
It's a duel!
Next, here's how the two official translations and the fan translation look side by side:
Super NES Version
GBA Version
Fan Version
Maria
Maria!
Maria!
Draco,
I've waited so long.
I knew you'd come.
Oh, Draco!
I knew you would
Come for me, my love!
Draku!
I always knew that this day would come.
Maria will finally have to become my queen!
Insolent rogue!
Knave of the Western horde!
You would address my queen to be, Maria?
Maria shall finally be mine! She shall become my wife and queen.
For the rest of my life
I'll keep you near…
Never shall you have Maria's hand!
I would die before that day comes! ♪
Even if it costs me my life, I refuse to let her go.
It's a duel!
Then it's a duel!
Then we shalt duel!
Looking back on all of these opera lyrics, it's clear that the Super NES lines are shorter than all the others. This follows the same pattern we've seen for all dialogue in the Super NES version, so it makes me wonder if some of the SNES lyrics were shaved down from the translator's first draft translation and then stretched to fit. If so, then it's impressive that the original translation remained so iconic despite those compromises.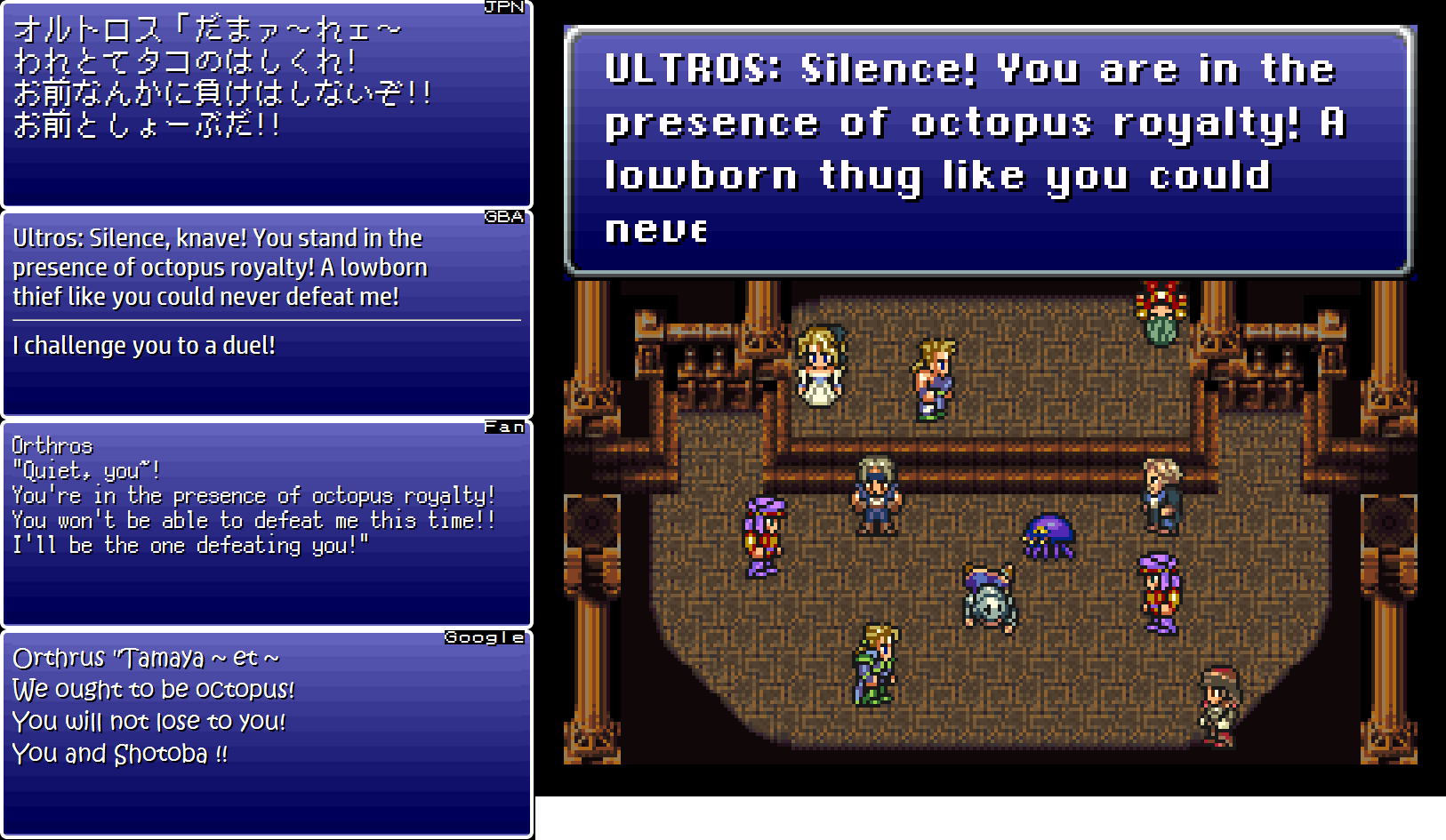 Locke and Ultros accidentally fall onto the stage during the middle of the opera. They do some bad acting to pretend that it's all part of the play, but the crowd boos in response to both of them.
One of Ultros' lines in the Super NES translation has become a fan favorite over the years:
Silence! You are in the presence of octopus royalty!
This "octopus royalty" thing is loved enough that it was kept in the GBA translation as well. But in Japanese, Ultros says nothing of the sort. His actual line could be translated in many ways, but it all basically boils down to something like:
Silence! Though I may not be a great one, I am an octopus, you know!
In other words, his cheesy line in Japanese means he's just some minor, petty octopus, which is the exact opposite of being "octopus royalty".
While checking the Japanese script, I noticed that Celes actually says something very similar back in Narshe before the big Kefka battle, just with "soldier" instead of "octopus". That line was was translated as "I'm a soldier, not some love-starved twit!" in the Super NES version. It's interesting to see how nearly identical phrases ended up so different in translation.
More than anything, I feel Ultros' line was changed in translation for the Super NES release to sound more over-the-top and befitting of the situation Locke and Ultros fell into.
The fan translation uses the "octopus royalty" phrase too, so it's clearly using the Super NES translation as a base here to some degree.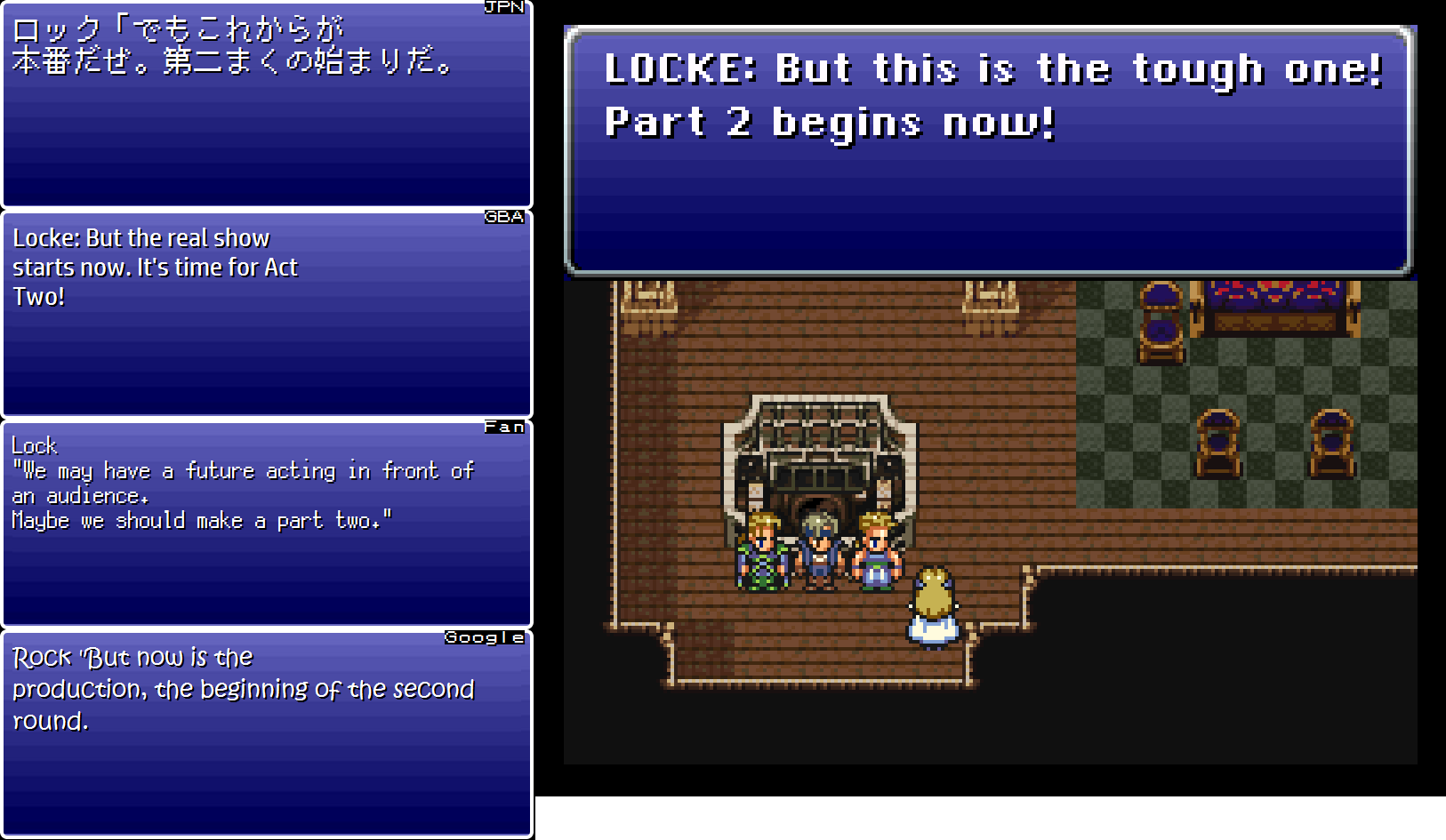 After Celes and the others manage to sneak aboard Setzer's airship, Locke says in Japanese:
But now the real show begins. It's time for Act 2.
This "Act 2" isn't referring to the actual opera anymore. Instead, he's saying that their "Act 2" is to convince Setzer to let them use his airship.
The fan translator had difficulty understanding this wit, so this entire line ends up incorrectly translated.
A reader recently mentioned that it's surprising that fans outside of Japan knew that Setzer's airship is called the "Blackjack" at all, because apparently the name never appears in the Super NES script. I checked this for myself, and it's true – the "Blackjack" airship never appears in the main script! So how did we know about its name?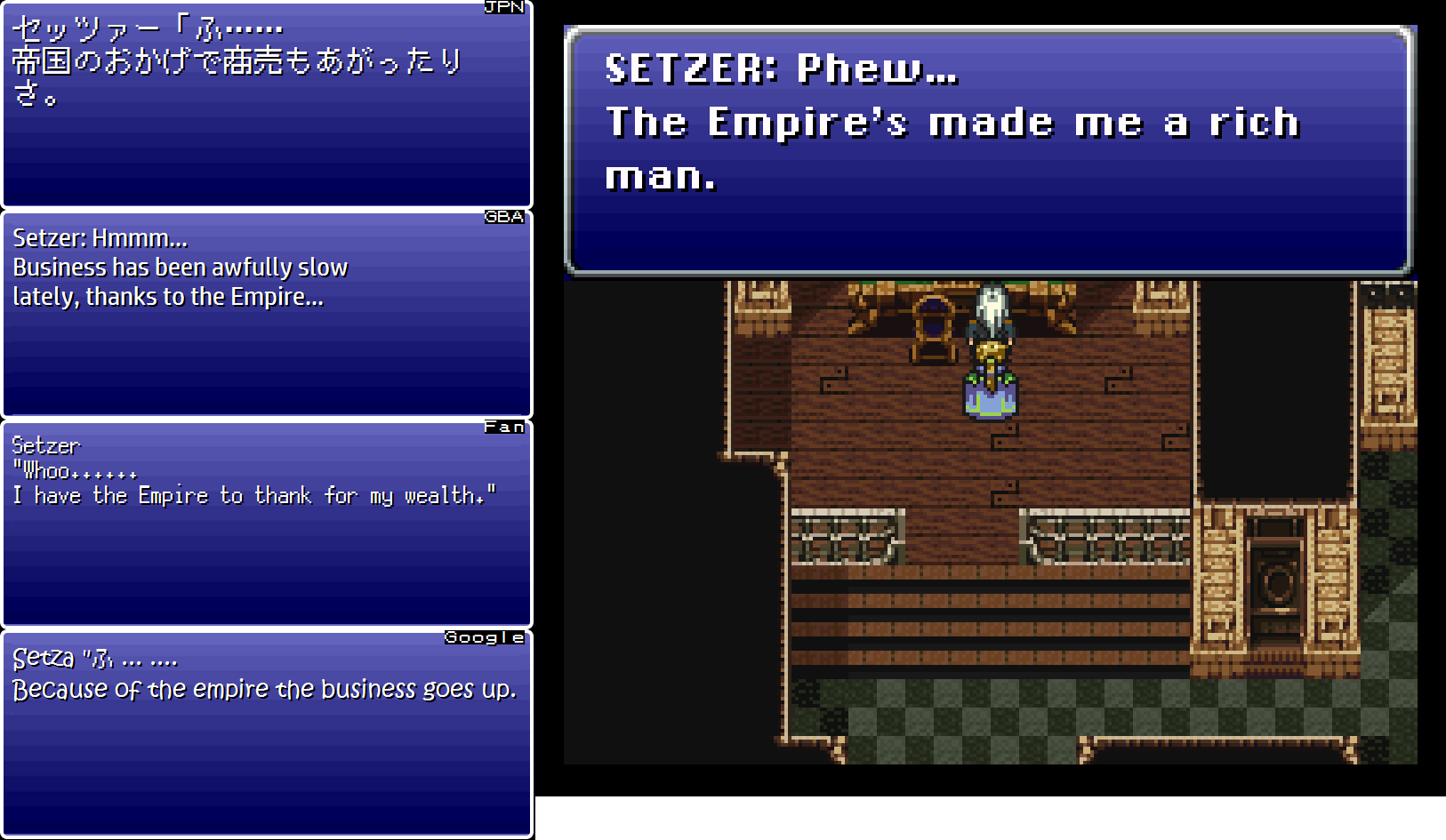 The heroes try to persuade Setzer to help them work against the Empire. At one point, Setzer says in Japanese:
Thanks to the Empire, business has dried up.
The actual word used is あがったり (agattari), and is connected to the word あがる (agaru), which generally means "to go up". So if you weren't familiar with agattari, you might assume this line is saying "business has gone up". It actually means just the opposite, however! Rather than think of agattari as "go up", it's easier to view it as something like "dry up" or "go up in smoke".
This agattari thing is precisely the kind of tricky translation trap that companies put on their translation tests to see if a translator is worth hiring or not. This one's too famous and too easy to look up though, but I think it'd be fun to someday make my own sample test for other translators to test their skills!
Anyway, the Super NES translator fell for this translation pitfall and wound up changing Setzer's motivation entirely. The GBA translation fixes the glaring problem, while the fan translation gets the line incorrect for the same reasons as the Super NES translation.
On a side note, this fix in the GBA translation was actually perceived as an error or as censoring back when it was released: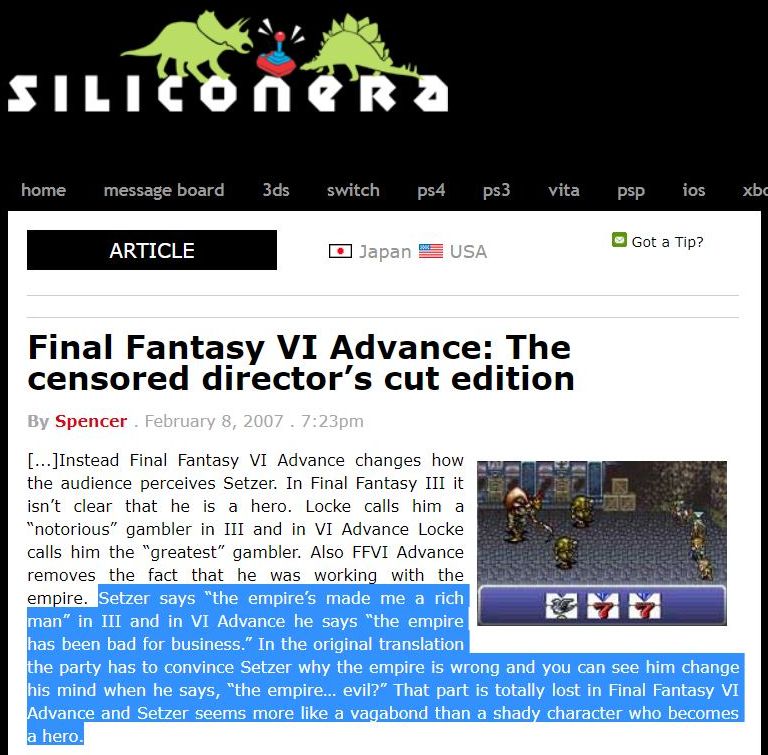 ---
Actually, a few years back, the GBA translator did an interview for RPGamer and discussed some of his Final Fantasy VI work. The topic of this exact line came up:
[…]that was a mistranslation in the original English script, plain and simple. The expression used in Setzer's Japanese line is an idiomatic one, shoubaiga agattari, meaning "business has dried up." Setzer is beginning to reveal that he has no personal love of the Empire, acknowledging that it has been hurting him financially. Celes jumps on this first sign of receptiveness to their appeal, saying literally "It's not just you," and encouraging him to think about all of the other people who are likewise suffering at the hands of the Empire.
This translation revelation was big enough to get surprising news coverage:
It's crazy to think that revealing one mistranslation would cause such a stir!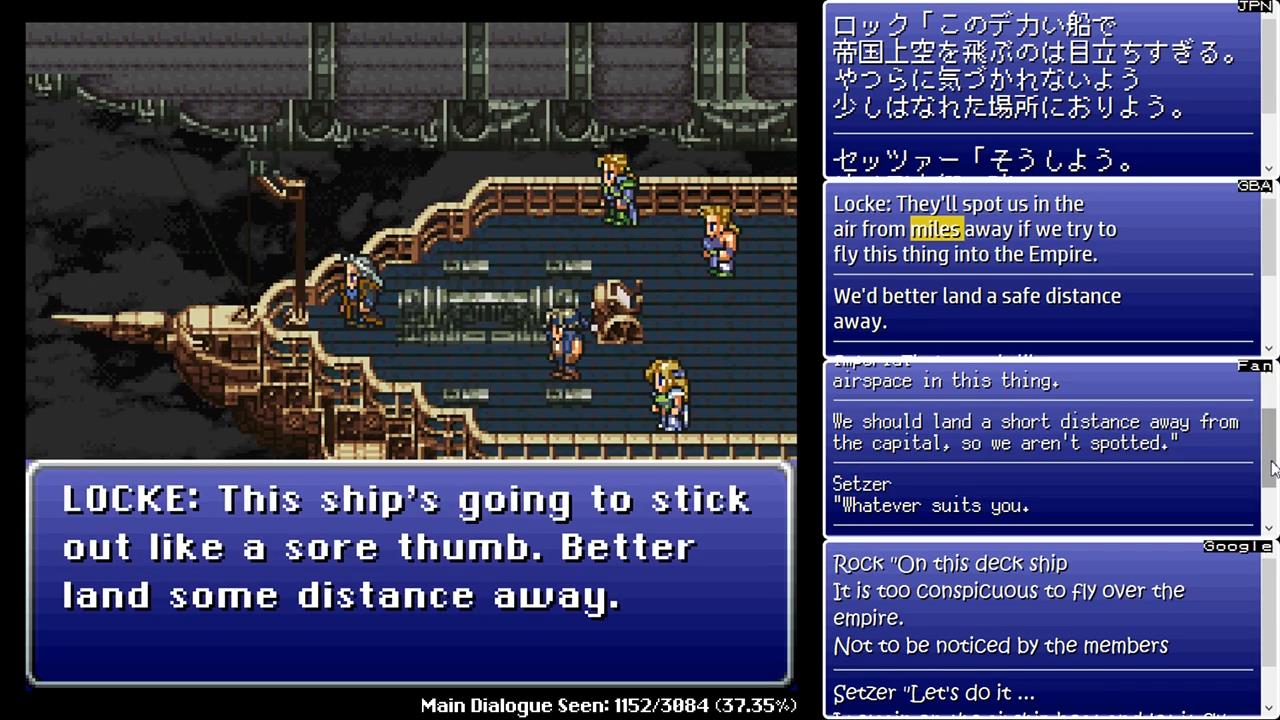 In Japanese, Locke says that the airship is so big that it'd really stand out if they flew it over the imperial capital. The GBA translation rephrases this slightly:
They'll spot us in the air from miles away if we try to fly this thing into the Empire.
This added mention of "miles" in the GBA translation made me pause and wonder if the phrase "miles away" is common outside of America. And I wonder how this line is handled in the other GBA translations into German, French, Italian, and Spanish.