This is part of my ongoing series in which I compare four translations of Final Fantasy VI with the original Japanese script. For project details and my translation notes from Day 1, see here.
During this segment, we visit a couple new towns and learn some information about main characters' backgrounds. I had a lot of fun with this stream and learned a lot at the same time, thanks to the chat. We also lucked out and got to see one of Shadow's dreams before he ran away.
Poe went on vacation for about two weeks after this stream, so there was a big break afterward. My original goal was to stream the game every day so we could finish before Poe left, and each day's notes would be just a rough bullet list of topics we discussed. I wound up doing these more meaningful write-ups instead, so that plan went out the window. But it's worth it, I think!
Video Archive
Notes
I've listed some of the translation highlights from this section of the game below, but I cover many more things during the actual stream. So check out the video if you want to see some more translation discussion that I've left off of here.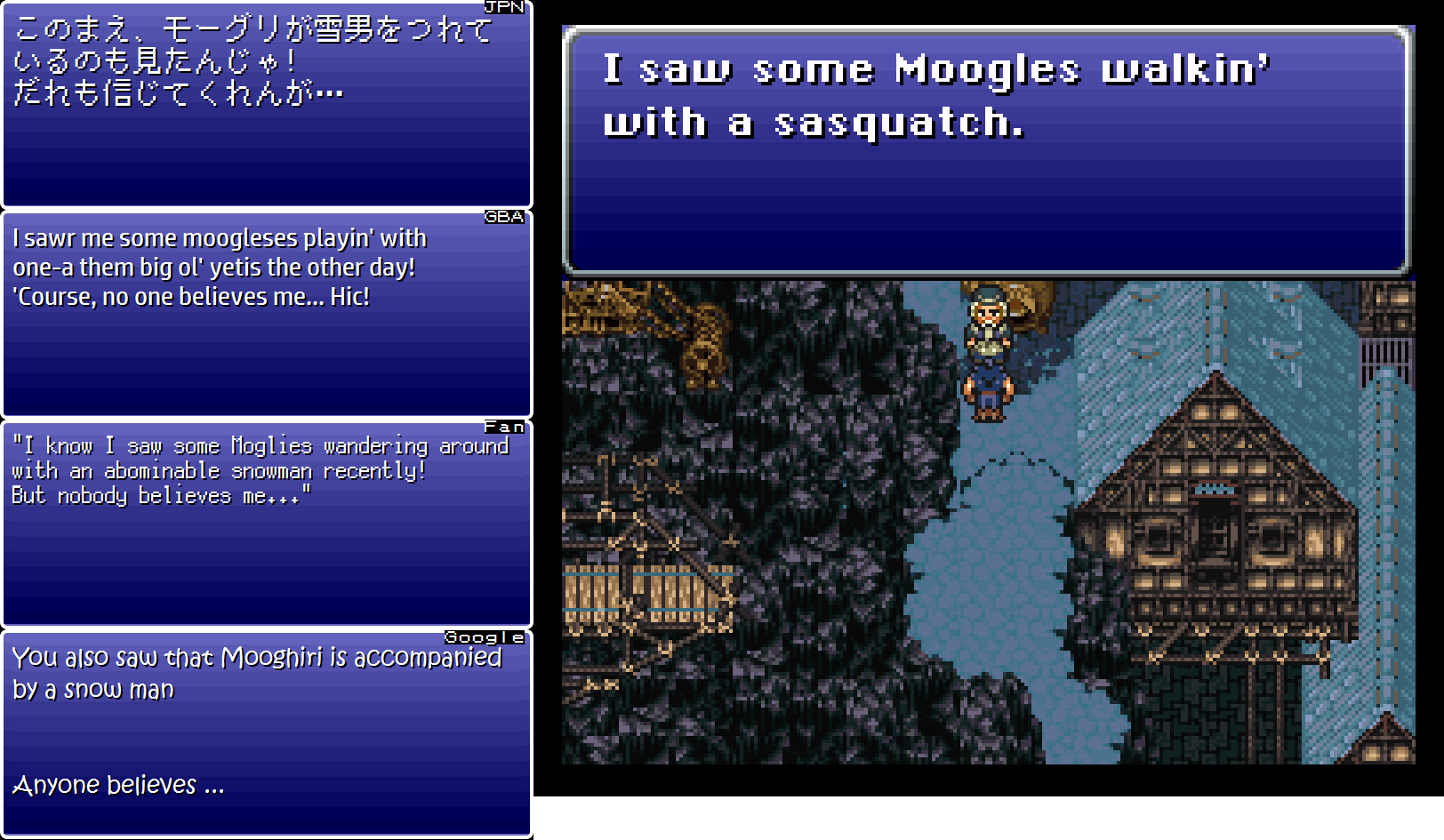 This old man in Narshe talks like a drunk person in the GBA translation, but there's nothing in the original Japanese script that suggests this man is drunk at all.
At first, I assumed it was a random thing the GBA translator added in for fun, but a commenter noted that there's actually more to it: the GBA translation of this line apparently references a pre-release version of the Super NES translation!
| | |
| --- | --- |
| | |
| Beta version of Super NES script | Final version of Super NES script |
So it looks like the Super NES translator was the one who added drunkenness to this guy's line, and just before the game was released it got removed. But the fact that we're seeing the drunkenness added back into the GBA version makes me think that the GBA translator had access to and/or was using the pre-release version of the Super NES script as a reference. Either that, or the GBA translator learned of the old drunk line via the Internet and decided to add it back in for the heck of it, even though almost nobody ever knew about it or would ever recognize it.
When it first came out, Final Fantasy VII's English release took fans by surprise – it was full of swearing that was never really seen before in previous translations. Sometimes the swears were left in, but other times they were replaced with crazy random characters. Here are some examples:
I had completely forgotten until now that Final Fantasy VI had an instance of this in its translation too, though. A generic NPC in Narshe uses the "random character" swearing technique at this point in the game: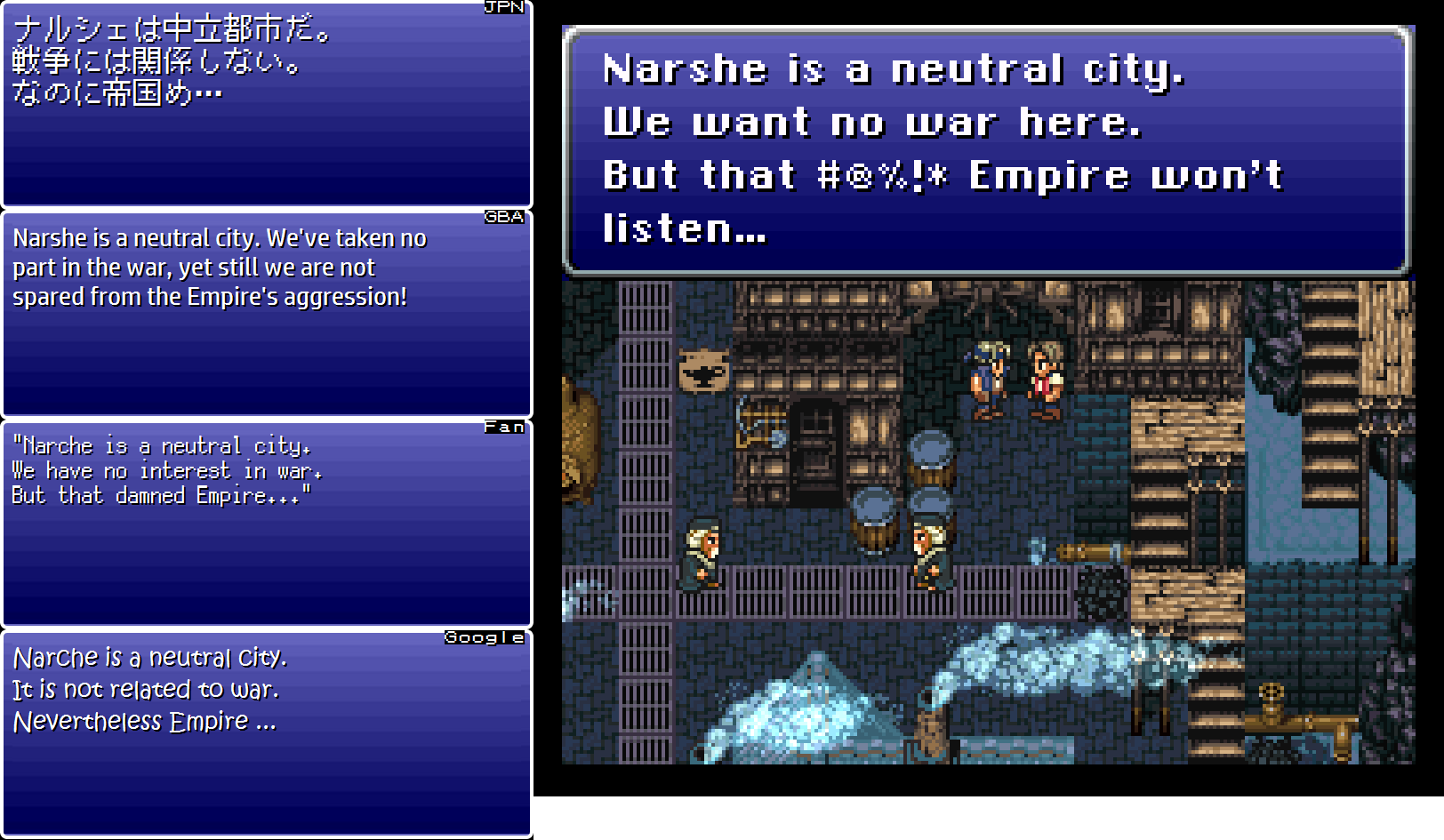 I never thought about it until now, but the Final Fantasy series actually handles swearing in a bunch of different ways. In addition to the examples above, here are two different approaches used in the PlayStation translation of Final Fantasy IV:
Out of these three different censor styles, I personally feel the "random character" one comes across the best. But if you know of any other interesting swear word usage in Final Fantasy games, let me know!
Also, if you're interested in swearing in game translations, I wrote an article about it
here
with all kinds of examples!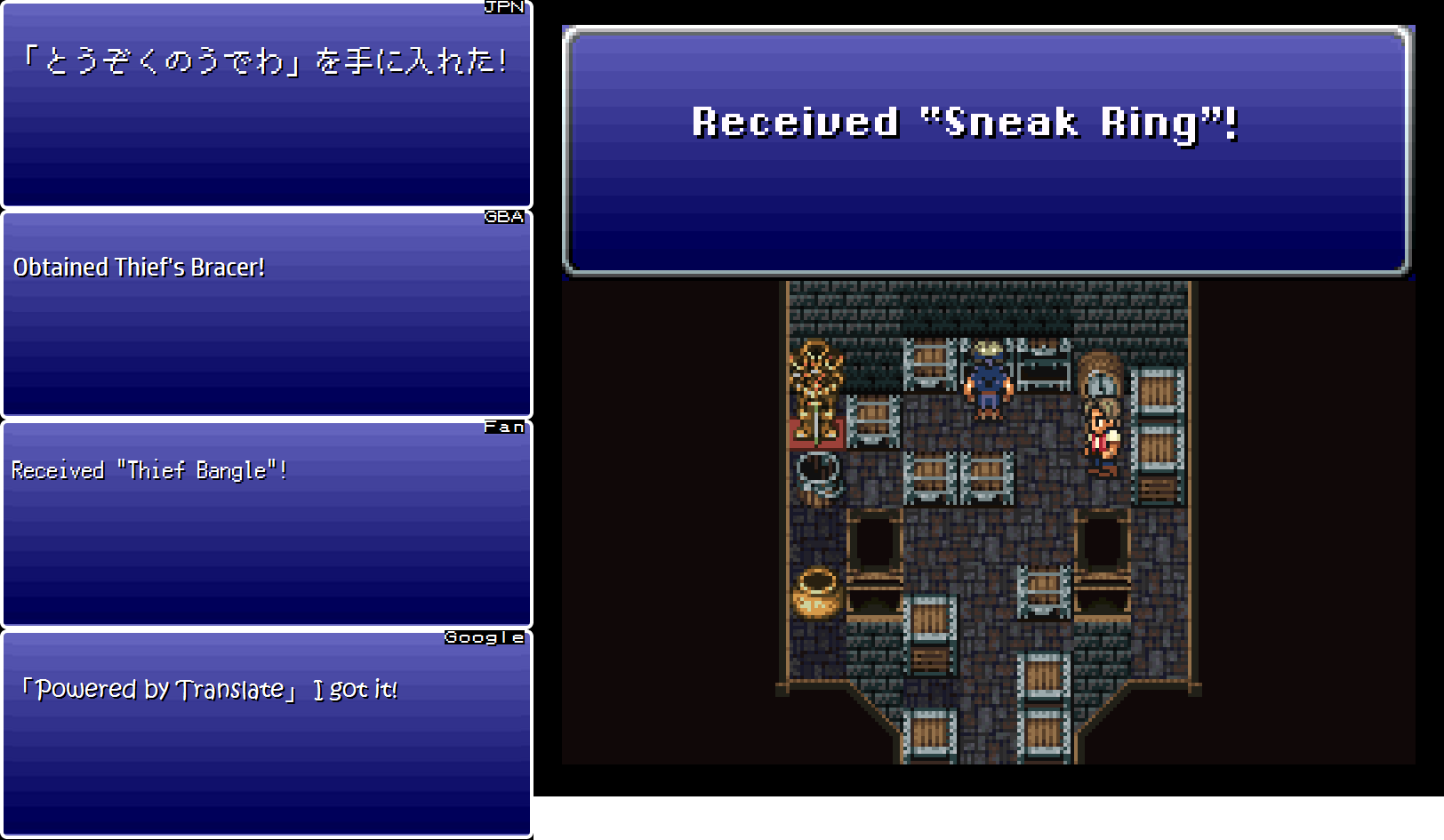 While working on my Google Translation of Final Fantasy IV project a year or two ago, I noticed that Google Translate sometimes translated things as "Powered by Translate". I still have no idea why it does this – my only guess is that it's maybe some sort of watermark, similar to all the light watermarks Google puts on its Street View images.
Anyway, the same "Powered by Translate" appears a few times in the Google Translate version of the Final Fantasy VI script, as we can see in the image above.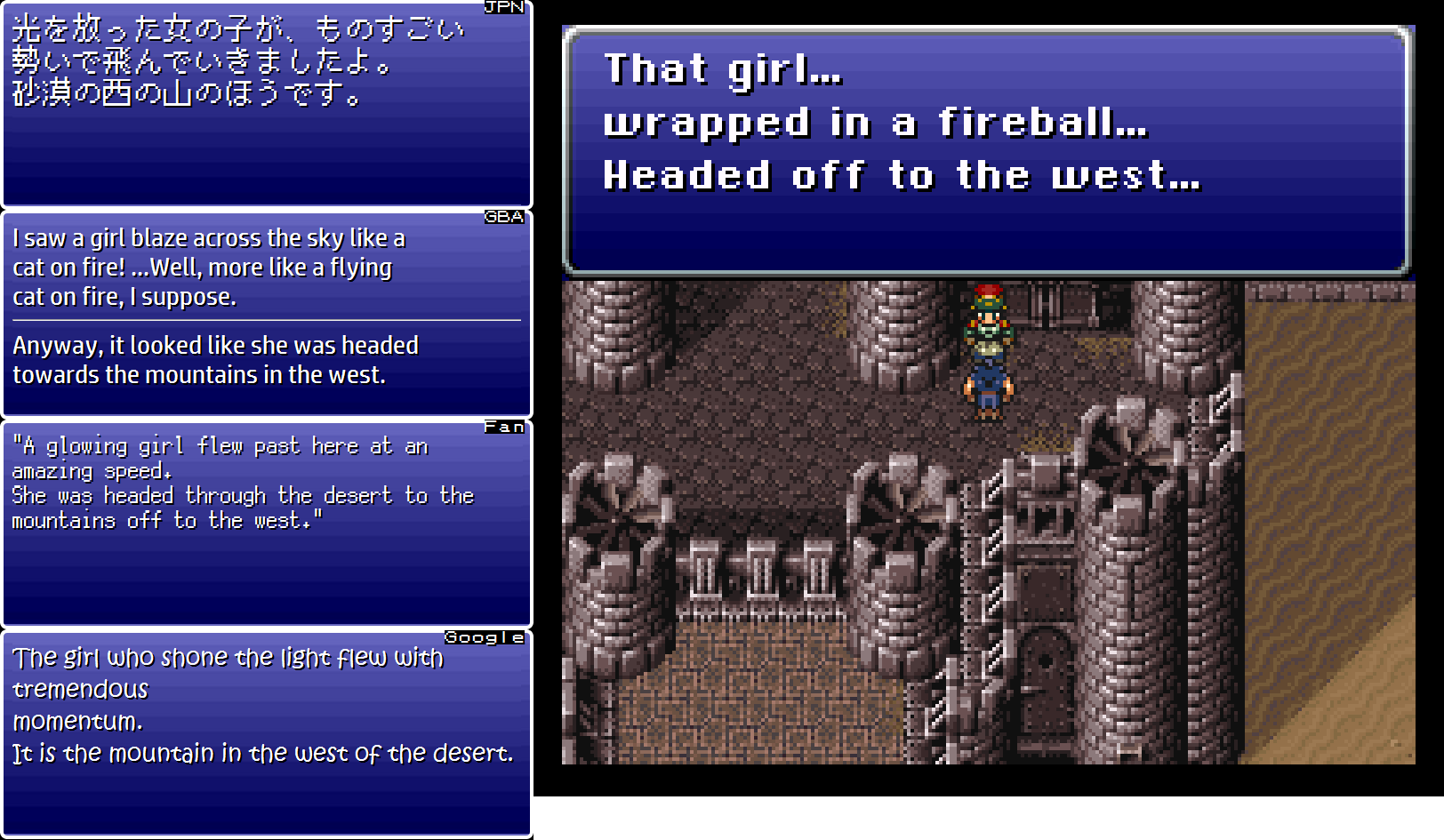 In Japanese, this NPC describes Terra as a "girl giving off light". The Super NES translation changes it to "wrapped in a fireball". The GBA translation changes things further and adds a joke about a "cat on fire" out of nowhere. Am I missing a secretly added reference or something?
UPDATE: A commenter mentioned that this is probably a reference to an old meme-like thing involving something called "Speedy Cat" from the early 2000s: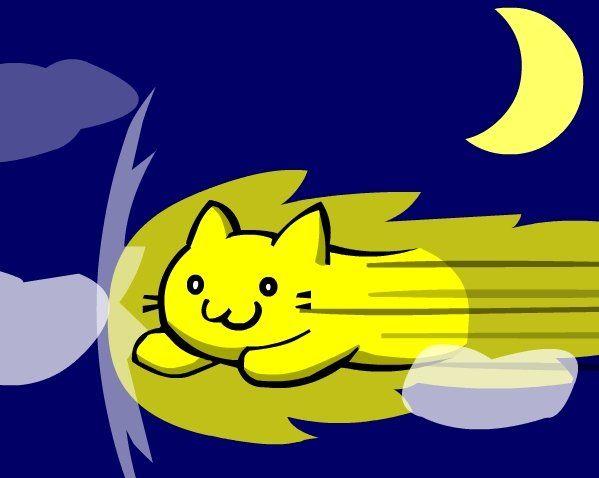 Google Trends lists how popular this meme was back in the day compared to now: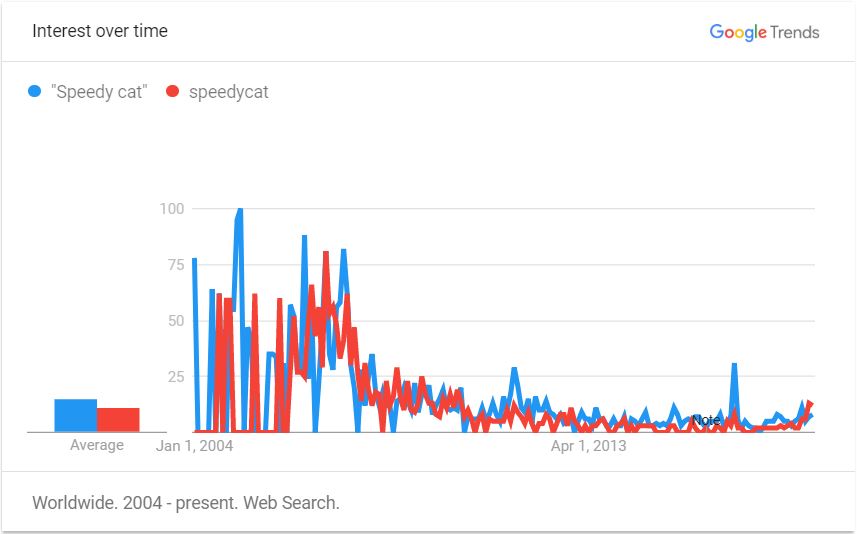 Memes and references get old really fast – in fact, Final Fantasy VI for the GBA was released in English in 2007, as the meme was already well on the decline. Most players probably don't care about things like this, but since the GBA script has been – and will probably continue to be – used as the basis for all future English re-releases, it's weird to think that old references like this will remain a part of the game for decades to come.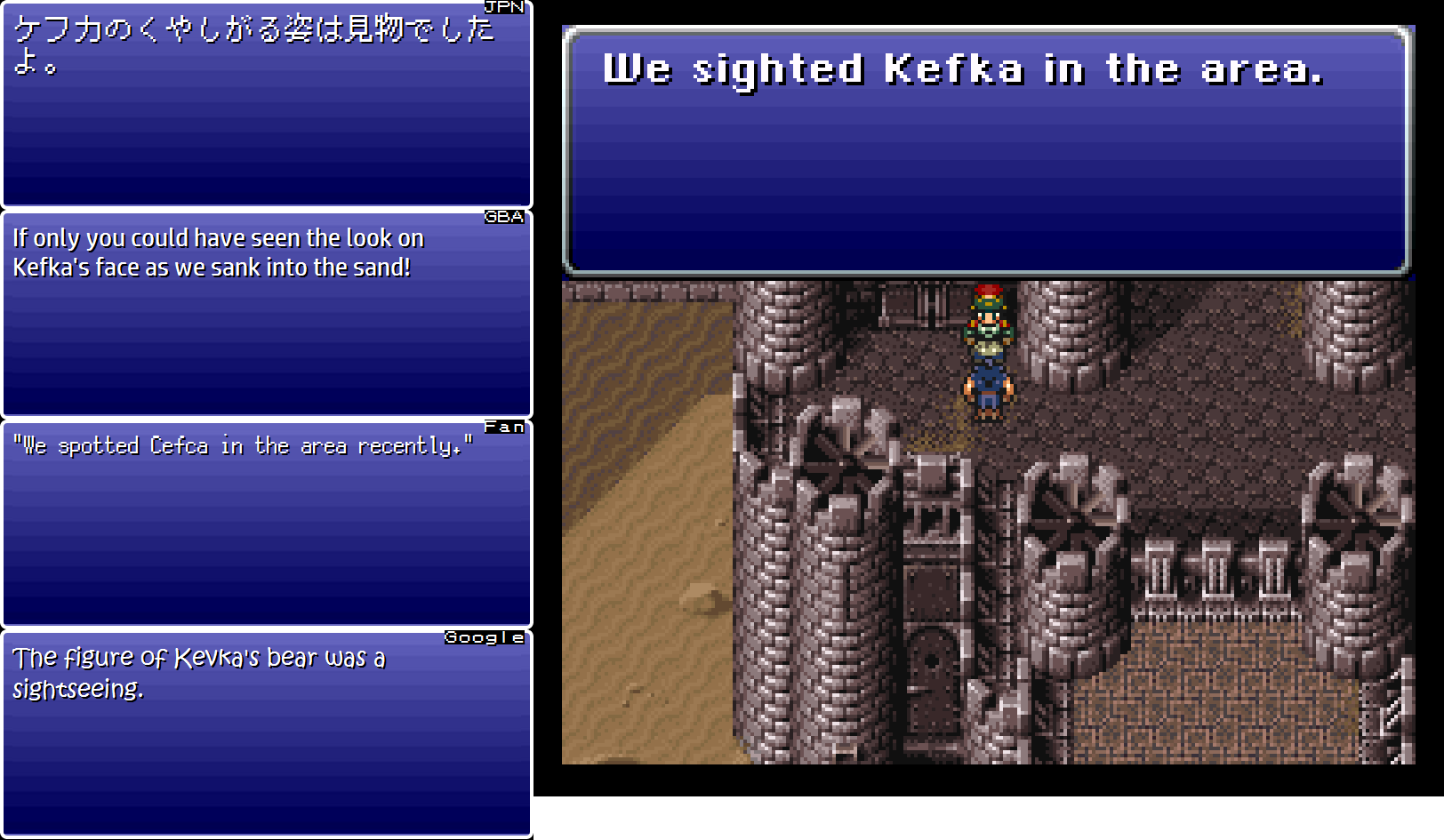 In the Super NES translation, this NPC says, "We sighted Kefka in the area." But this is completely wrong! In Japanese, he actually says, "Seeing Kefka filled with chagrin/frustration/annoyance was a wonderful sight to behold."
The GBA translation fixes this obvious mistake, but the fan translation clearly borrows from the faulty Super NES translation.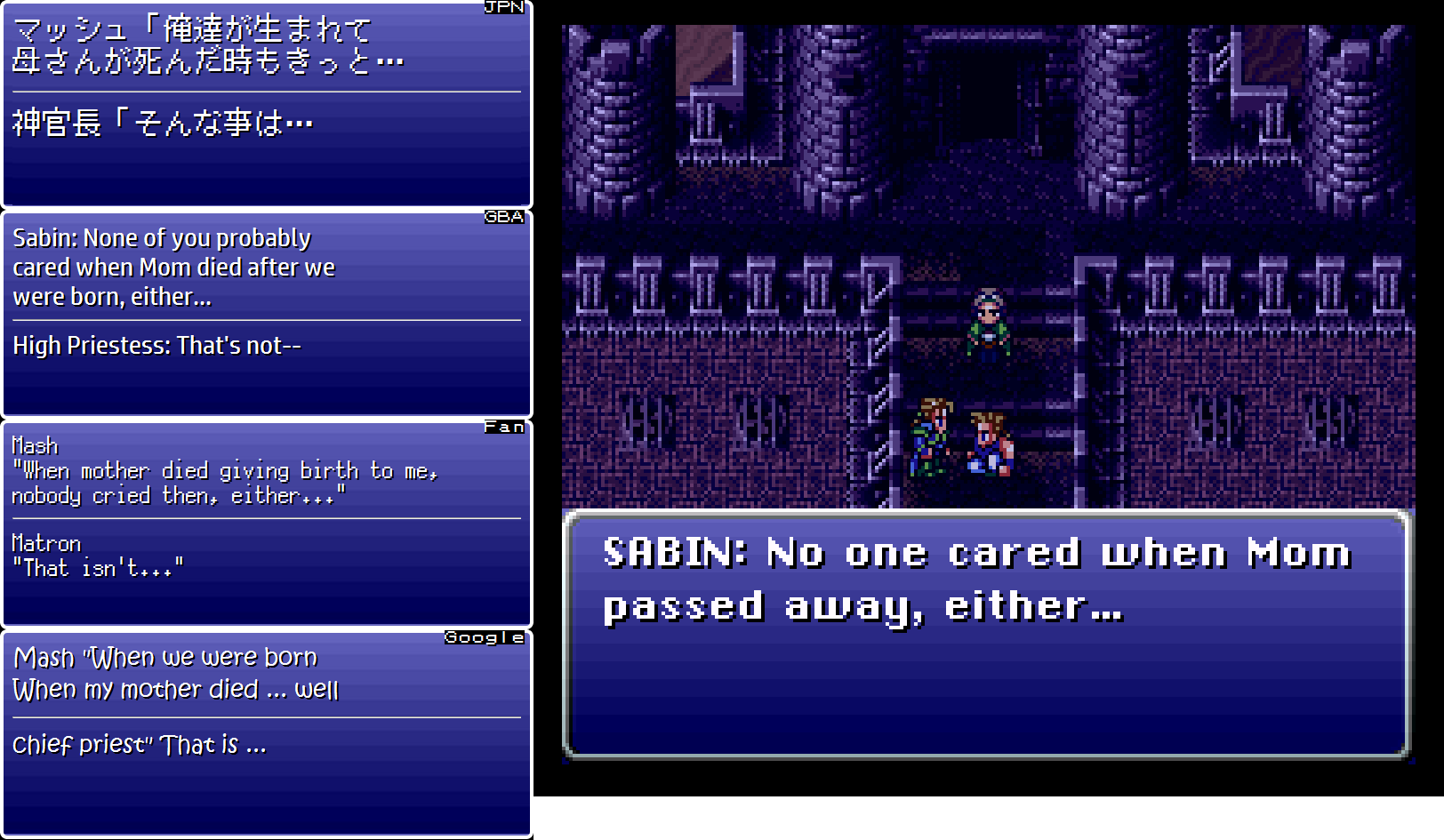 The Super NES translation leaves out an important point here: Sabin and Edgar's mother died giving birth to them.
The GBA translation adds this detail back in. The fan translation also adds the detail back in, but adds a new mistake: "us" was translated as "me". Not only is this a Japanese 101-level mistake, the fan translator also apparently forgot that Sabin and Edgar are twins.
Of course, you could argue that maybe the mother only died giving birth to Sabin after giving birth to Edgar without problem shortly before. But it's a moot point, as the original translation clearly says "we".
This reminds me of another tip for translators-in-training: pointing to edge cases or "oh, but technically…" arguments is a common, go-to tactic when a translation mistake is being analyzed or critiqued. It's basically a way of wiggling out of admitting a mistake was made.
As a professional, mature translator, though, it's important to control this defensive instinct. If you made a mistake, you made a mistake. Learn from it and get better.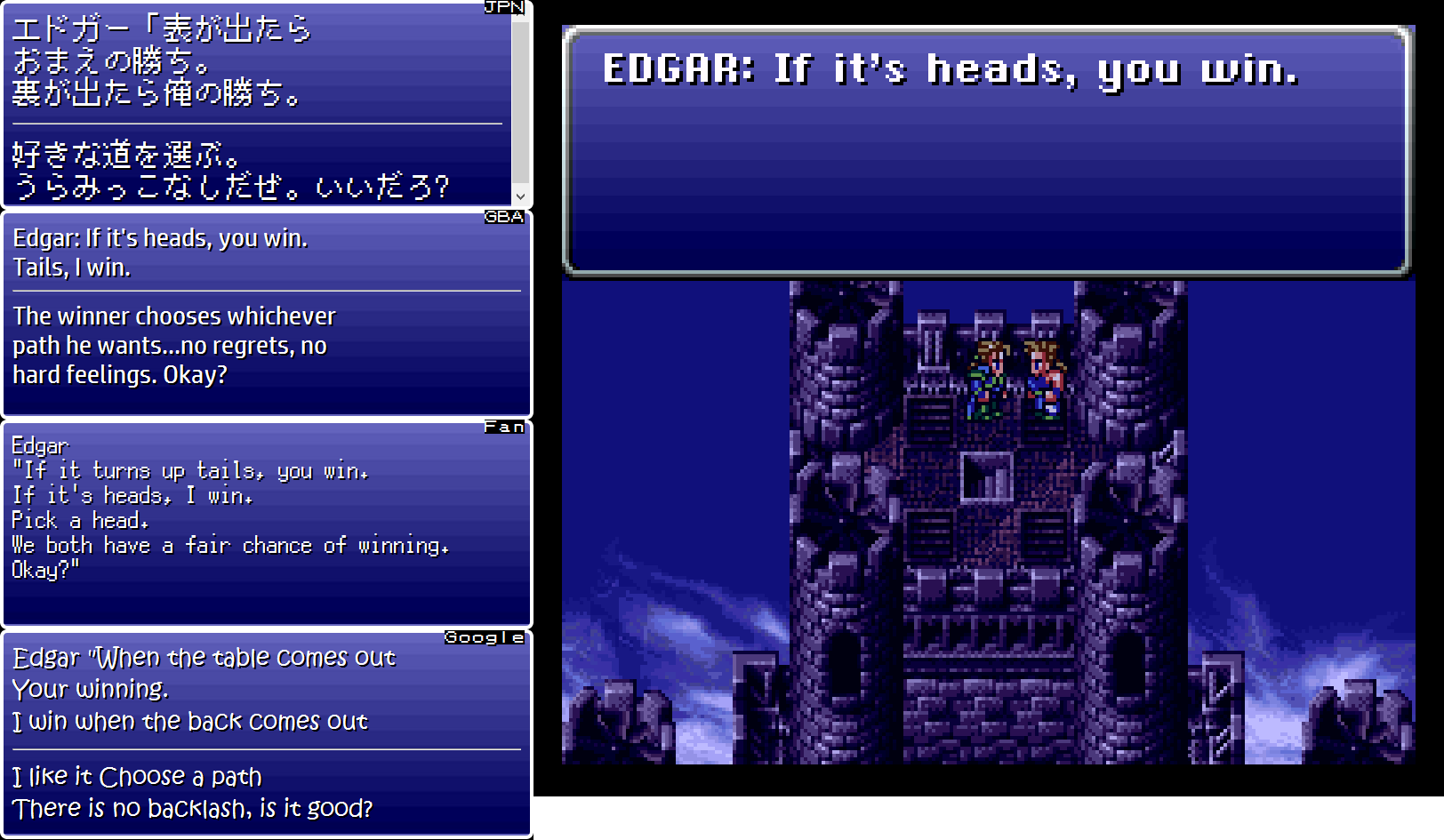 The fan translation gets this whole section wrong during the optional scene between Sabin and Edgar. The biggest mistake of all is that the heads/tails thing got twisted into the exact opposite from what the Japanese script says.
The part about the winner choosing what they want to do in life with no hard feelings is mistranslated in the fan translation too. It's also the whole point of the scene.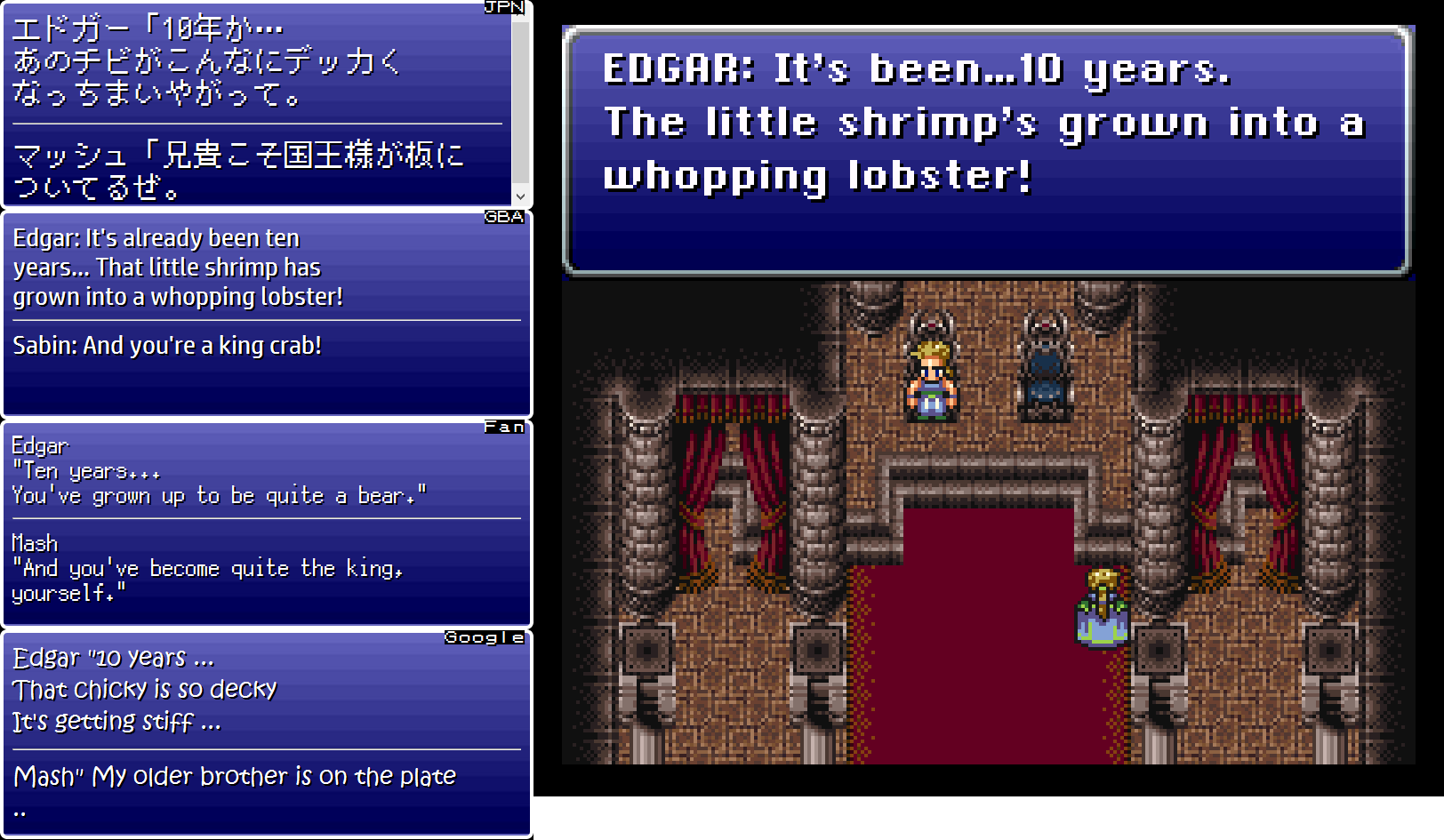 At the end of the scene between Edgar and Sabin, they comment on how much they've grown up. The Super NES translation uses some entertaining writing:
Edgar: The little shrimp's grown into a whopping lobster!

Sabin: And you're a king crab!
These lines are memorable enough that they stayed unchanged in the GBA translation. But the Japanese text is actually different and not as memorable:
Edgar: That runt's gone and grown up so much.

Mash: And you've really taken to your role as king.
The fan translation doesn't stick with the Super NES translation here, as it's clear there's no mention of seafood in the original text. Instead, the fan script adds a reference to bears, which is a clever callback to the scene when Terra first met Sabin.
The machine translation is just all around crazy, but that's what makes it so lovable.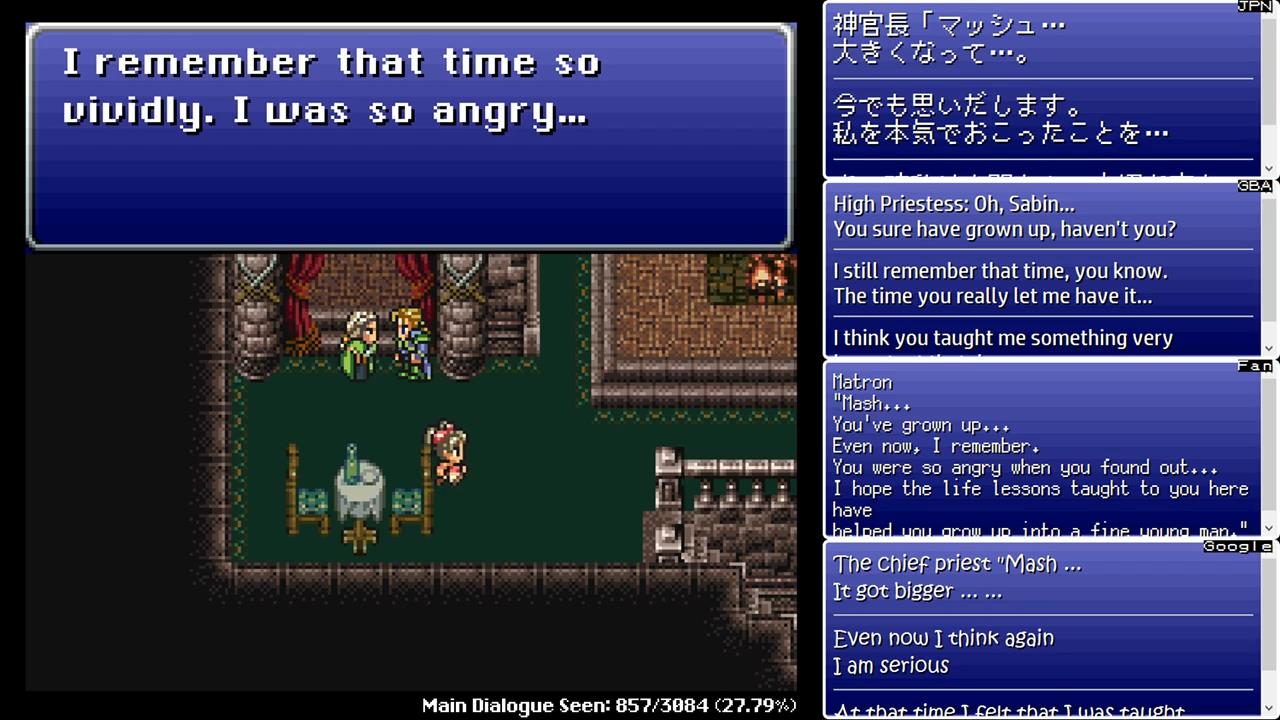 The high priestess/matron discusses how Sabin was so angry at her ten years ago. The Super NES translation makes a mistake here, and says that the matron was angry at Sabin – just the opposite of what happened, in other words. I always felt this part was kind of murky and confusing when I played it back in the day, so I guess that's partly why.
The GBA translation fixes this mistake, as does the fan translation. In fact, this is a shining example of the fan translation genuinely fixing a problem in the original translation. Unfortunately, the fix isn't super-obvious and was probably lost on most players, though. Also, the line immediately afterward is mistranslated.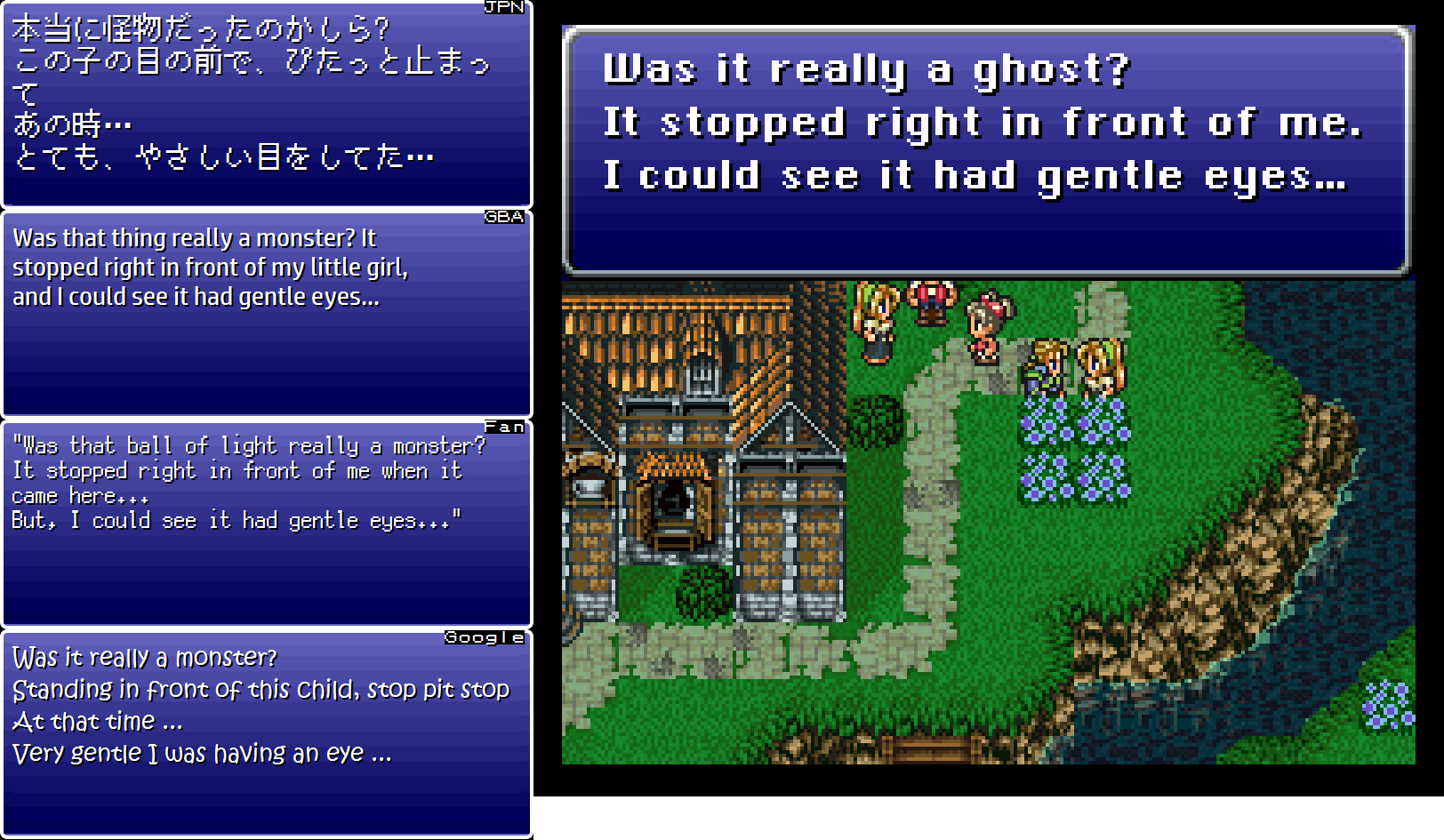 A little girl explains that a glowing monster stopped and looked at her with gentle eyes. The mother also confirms that this happened.
In Japanese, the mom says: "Was it really a monster, though? She suddenly stopped in front of my little girl, and then… She had such a gentle look in her eyes…"
Later in the game, we discover that despite her difficulty relating to normal adults, Terra is great with children and has a strong, protective, and mother-like side to her. She ends up taking care of a bunch of orphaned children after the world gets destroyed, and even fights to protect them. So this NPC text is a little nugget of text that quietly connects with who she becomes later in the game.
The Super NES translation breaks this early connection between Terra and children by mistranslating the line. The GBA translation fixes the mistake, while again the fan translation gets it wrong by pulling from the faulty Super NES translation.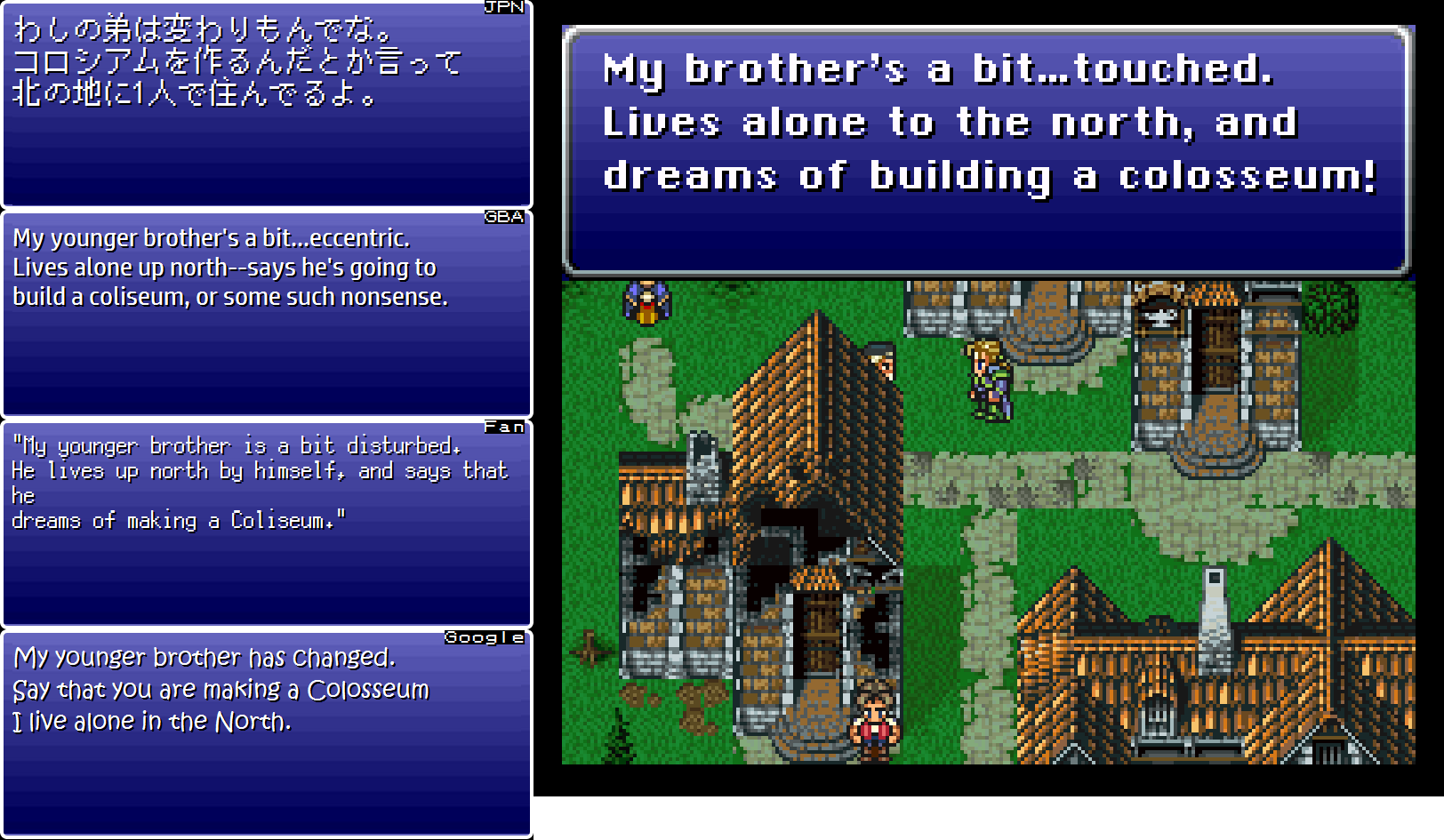 Here we see that some translations use the word "colosseum" while others use "coliseum". I feel like both spellings are acceptable in English, but "Colosseum" with a capital C refers specifically to the one in Rome. I don't know if it's allowed to be lowercased the way we see it in the Super NES translation, but apparently the GBA translator felt that "coliseum" is more appropriate.
Chatters in the live stream also mentioned that British English and American English tend to use different spellings of this word, much like "colour" and "color". Is that correct? I don't really know myself.
I personally prefer "coliseum" just because I always mix up which consonant needs doubling in "colosseum" for some reason.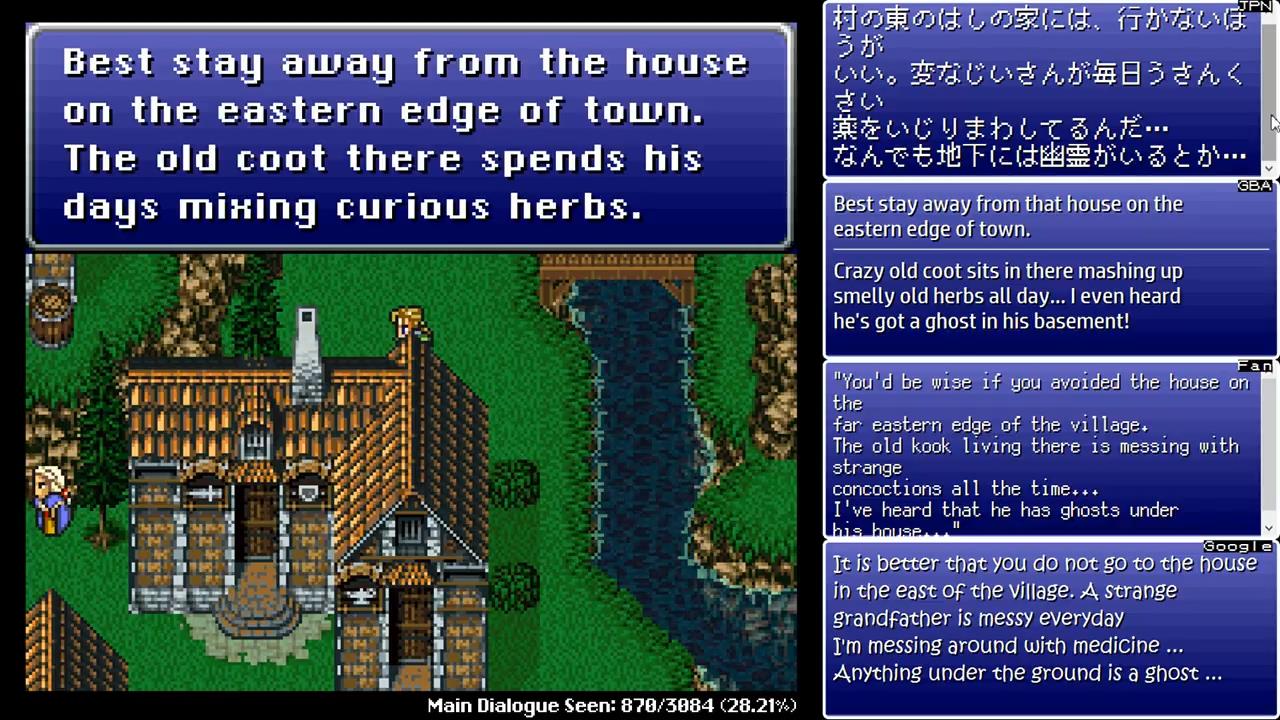 An NPC here mentions that the town weirdo messes with herbs everyday. In Japanese, it's something like: "You should probably stay away from the house on the eastern edge of the village. A weird old man messes with suspicious medicines there everyday. I've even heard he has a ghost in the basement…"
In the Japanese script, we see the word うさんくさい (usankusai) is used. In Japanese, usankusai means that something is suspicious, shady, iffy, or questionable. So this line is saying that the weird old man is messing with some weird stuff.
Unfortunately, the GBA translator made a reading mistake here and translated the word kusai ("stinky") instead of usankusai. As a result, the weird old man just messes with stinky stuff in the GBA version. It's not a big change in meaning, but it's a mistake nonetheless.
The original Super NES translation and the fan translation get this minor detail correct.
Another tip for translators-in-training: the way that the Japanese language builds words makes it dangerous to speed-read during translation. Sometimes you'll accidentally only see one piece of a larger compound, which is precisely what happened here in the GBA translation.
An NPC in town mentions that Shadow is an "assasin" in the Super NES translation. I figured it was an understandable typo… but the very next NPC also says "assasin"!
During the stream, this reminded me of how everyone has certain words they get wrong often. I used to spell "cemetery" as "cemetary" all the time, for example. Other chatters shared some of their own chronic misspellings. If you have some words you get wrong a lot too, share them in the comments – it's a phenomenon I rarely get to talk about and would love to learn more!
Also, this reminds me of another thing: a lot of kids learn new words – and their spellings – from wordy games like JRPGs. So I wonder if this "assasin" thing led to a rise in "assasin" misspellings afterward in schools.
In a similar way, I remember learning the word "populous" from the Super NES version of Populous, and decided to use it in in a school report. Except I got it wrong – I was actually supposed to use the word "populace" in that situation. That single little misspelling has remained in my memory ever since. Somehow video games can make powerful memories, even with tiny things.
A few other typos popped up during this day's stream. I only recall two now:
The fan translation says "That I loved him all my heart" – the word "with" should be after "him"
The Super NES translation says "Let's buy lot's of stuff today, too!" – there shouldn't be an apostrophe
Typos are the kind of surface problem "afterthoughts" that I discuss on my About page. They don't necessarily mean a game's translation is faulty or bad, but they're one of the few things that non-translators can pick up on. They're also why editors are such unsung heroes of the localization process. After all, relying entirely on automated spell-checkers is a recipe for disaster!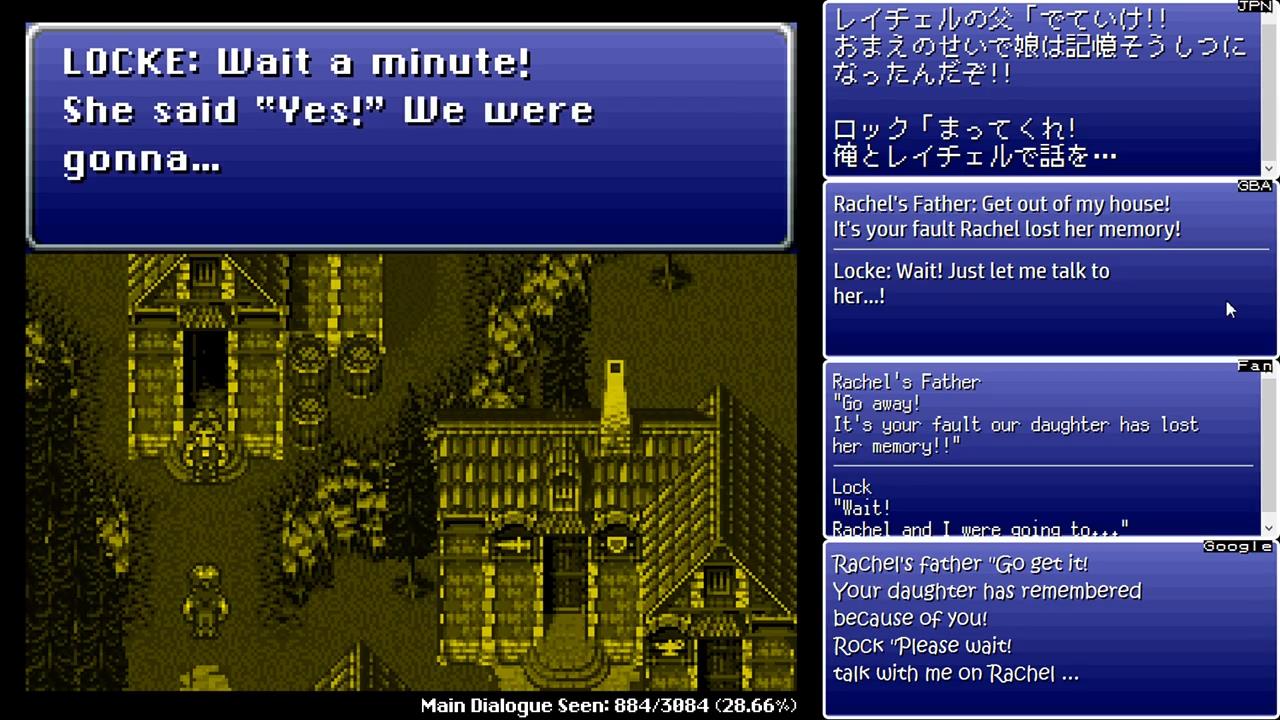 During the Super NES translation of this important scene, Locke says to Rachel's father:
Wait a minute! She said "Yes!" We were gonna…
The original Japanese script says nothing of the sort though. It's simply:
Wait! Let me talk to Rachel…!
The GBA translation changes the line back to the originally intended one. The fan translation doesn't really get it right, but it's kind of understandable, as the second sentence is an incomplete sentence and requires Japanese language experience to fill in the blanks.
Although the Super NES translation adds in a whole thing about Rachel agreeing to marrying Locke, it's very plausible that the original scene was about to lead into a marriage proposal had Rachel's accident not happened. It's possible that the Super NES translator asked the writers for details about the scene and adjusted the text accordingly, but it's more likely just an addition out of the blue.
I feel like this is something that official Japanese novels or manga or interviews might explain in more detail, so if you know anything about this, let me know!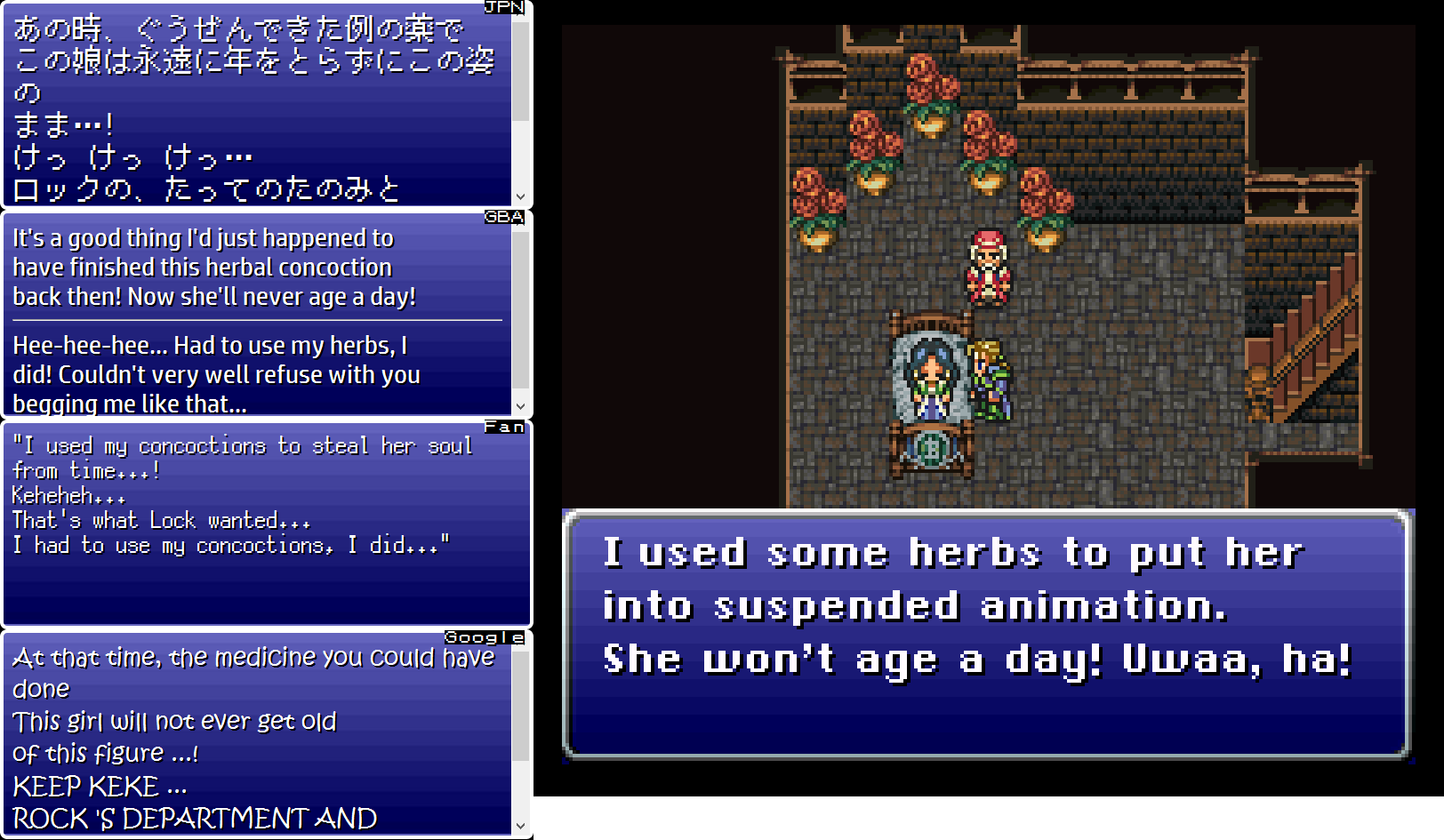 The Super NES translation here isn't too bad, but the GBA translation of this line is by far the closest to the original text and includes details that originally had to be cut out due to space issues.
The fan translation is really weird, though: "I used my concoctions to steal her soul from time…!" As we learn immediately afterward in the Japanese version, the weird herb man has preserved Rachel's body and only her body. Her soul is gone. More on this a bit below.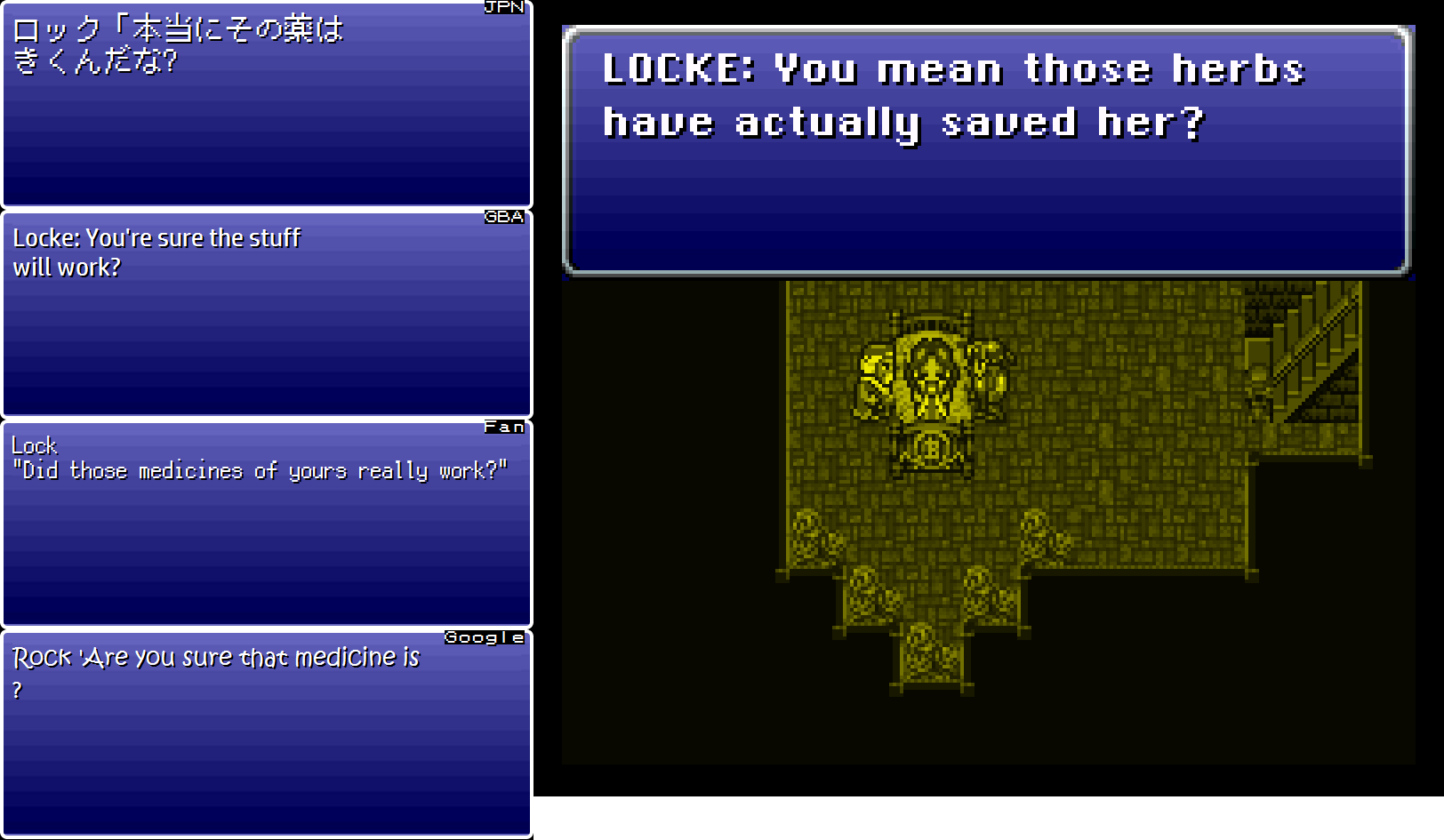 A lot of the text surrounding Rachel's death, preservation, and hope for revival gets messed up in the Super NES translation. In addition to everything we've seen so far (and everything covered during the stream), this line also gives some false impressions.
In Japanese, this line is something like, "This medicine is really going to work, right?" or "Are you sure this medicine will work?". Basically, Locke is a little uncertain that this weirdo's iffy concoction will actually do what it's supposed to do.
The Super NES translation changes this entirely and clears up Locke's doubt about the medicine's effectiveness – it's already proved itself effective and has saved Rachel. The line was also changed and framed as a past event, when the original question is more of a general present tense or future tense idea. This isn't a huge deal by itself – I only bring it up because we can see that the fan translation does the exact same thing as the Super NES version.
The GBA translation is the closest to the original line, and even the machine translation is on the right path despite not completing its sentence.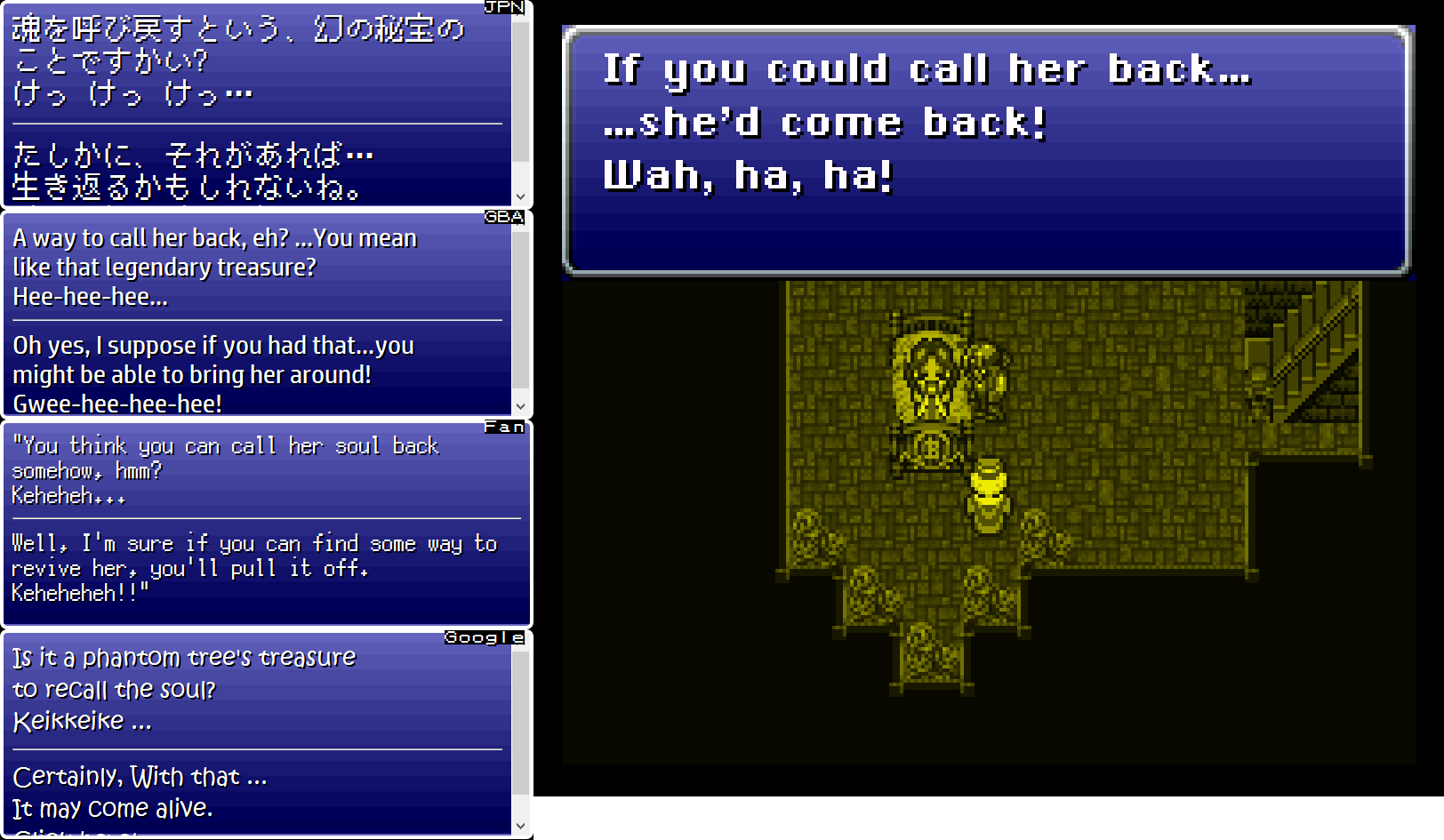 Locke asks if there's some way – any way – to bring Rachel back somehow. The old weird guy says in Japanese:
Do you mean the mythical secret treasure that's said to call souls back?
This clearly suggests that there's potentially a way to bring Rachel back, and since she's obviously still not alive at this point in the present day, the player might assume that this hidden treasure will be obtainable at some point. And the astute player might consider that Locke is hoping to find this hidden treasure someday during his treasure hunting travels.
The Super NES translation changes this weird guy's text entirely. In response to Locke's question about finding a way to bring Rachel back, he says:
If you could call her back… …she'd come back!
That really doesn't say much and is clearly not what the original script said. Players aren't given a hint that some hidden, soul-returning treasure exists, and some of Locke's potential backstory goes missing. And it's pretty clear that the fan translation is simply a rephrasing of the faulty Super NES translation.
---
There's more to this issue, though. In the Japanese script, a man in the very next town offhandedly mentions "a hidden treasure that can revive souls" and how there's a rumor that it's in the imperial capital: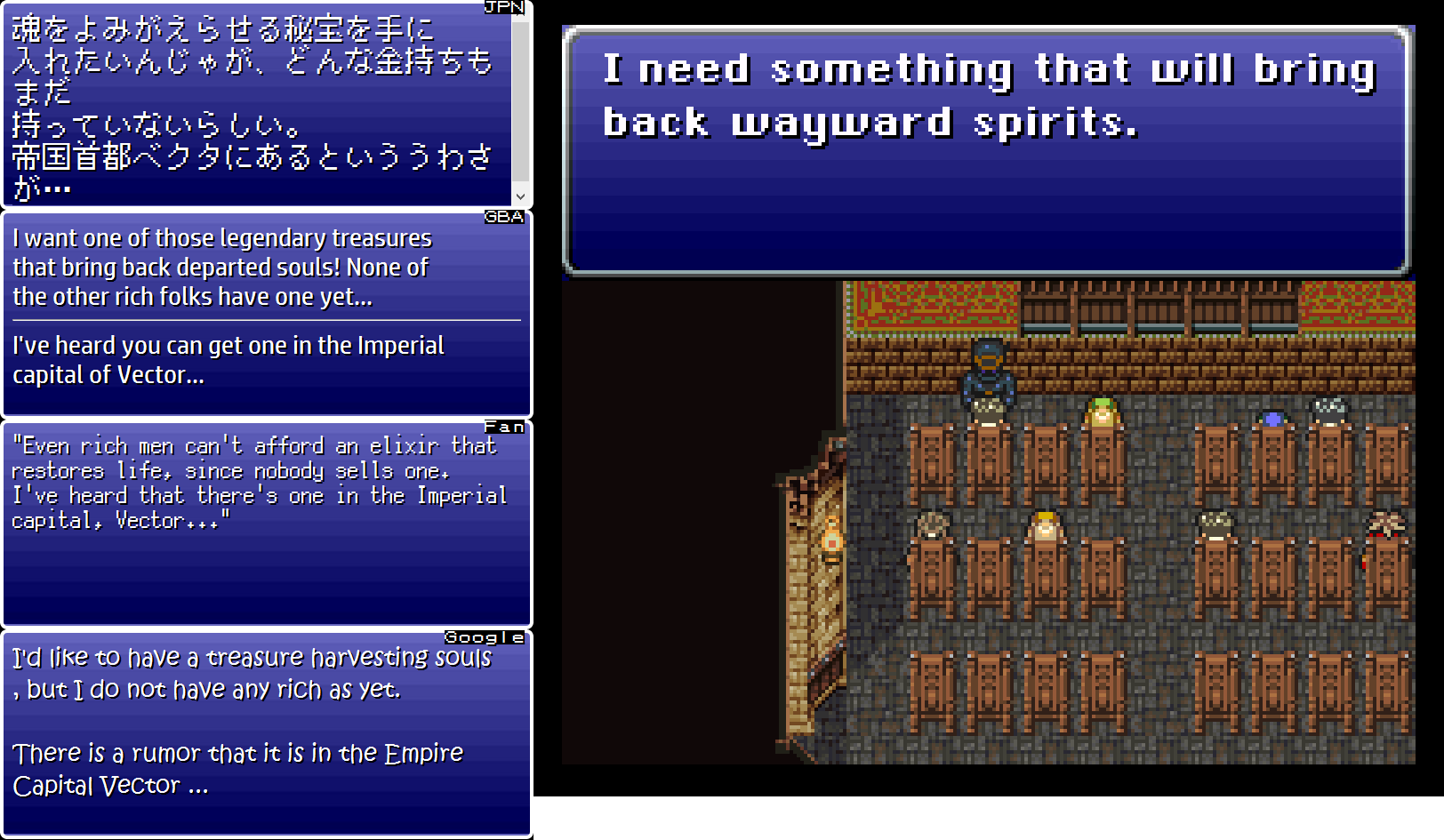 This information, so soon after the first hint in the previous town, tells the player that there's almost definitely going to be a way for Locke to finally revive Rachel.
Unfortunately, this exact information isn't found in the Super NES translation. This line is rephrased just enough that the connection to Rachel is murkier, while the connection with the weird old man's hint is lost entirely. I don't think I connected this Super NES line with the whole Rachel thing until after at least one or two playthroughs of the game, in fact.
Also, similar to the earlier Kohlingen foreshadowing of how Terra changes in the World of Ruin, this Kohlingen/Jidoor "hidden treasure of revival" talk also sets up what Locke will eventually be doing too. I never really noticed that before.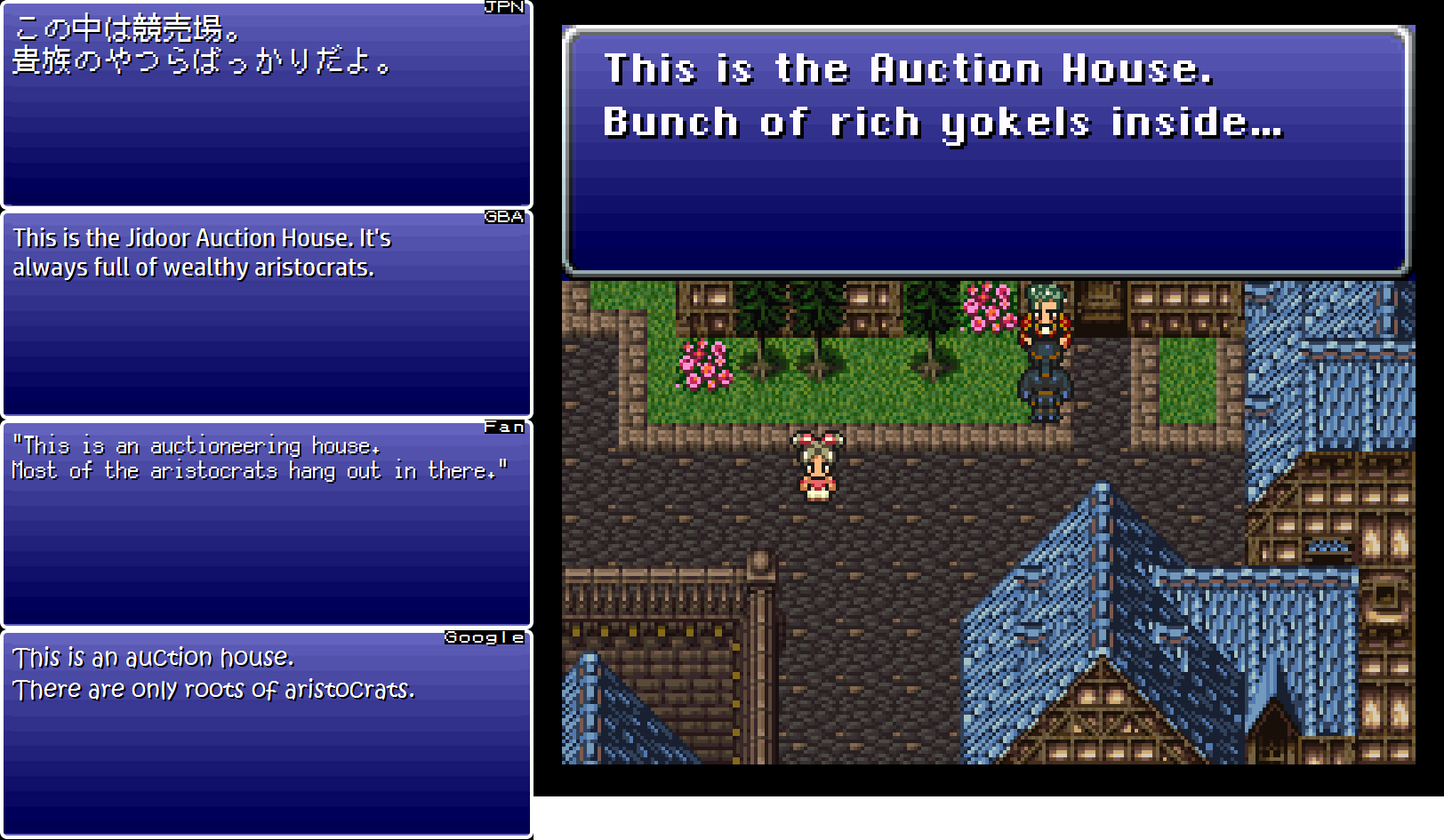 In Japanese, this guy says something like, "Inside here is the auction house. It's filled with a bunch of aristocrats."
The Super NES translation says something slightly different: instead of "aristocrats", it says "rich yokels". But as Poe pointed out during the stream, this doesn't make sense – the word "yokel" refers to unsophisticated rural people. So "rich yokels" is a strange phrase that suggests everyone inside is a member of the Beverly Hillbillies TV show or something.
During the stream, this reminded me of the Japanese version of the
Beverly Hillbillies
song – check it out
here
!
The people inside the auction house are clearly not unsophisticated rural people, though, so the Super NES translator was either trying to make a joke that didn't quite work, or didn't really understand what "yokel" means in English. Based on past experiences, my bet is on the latter.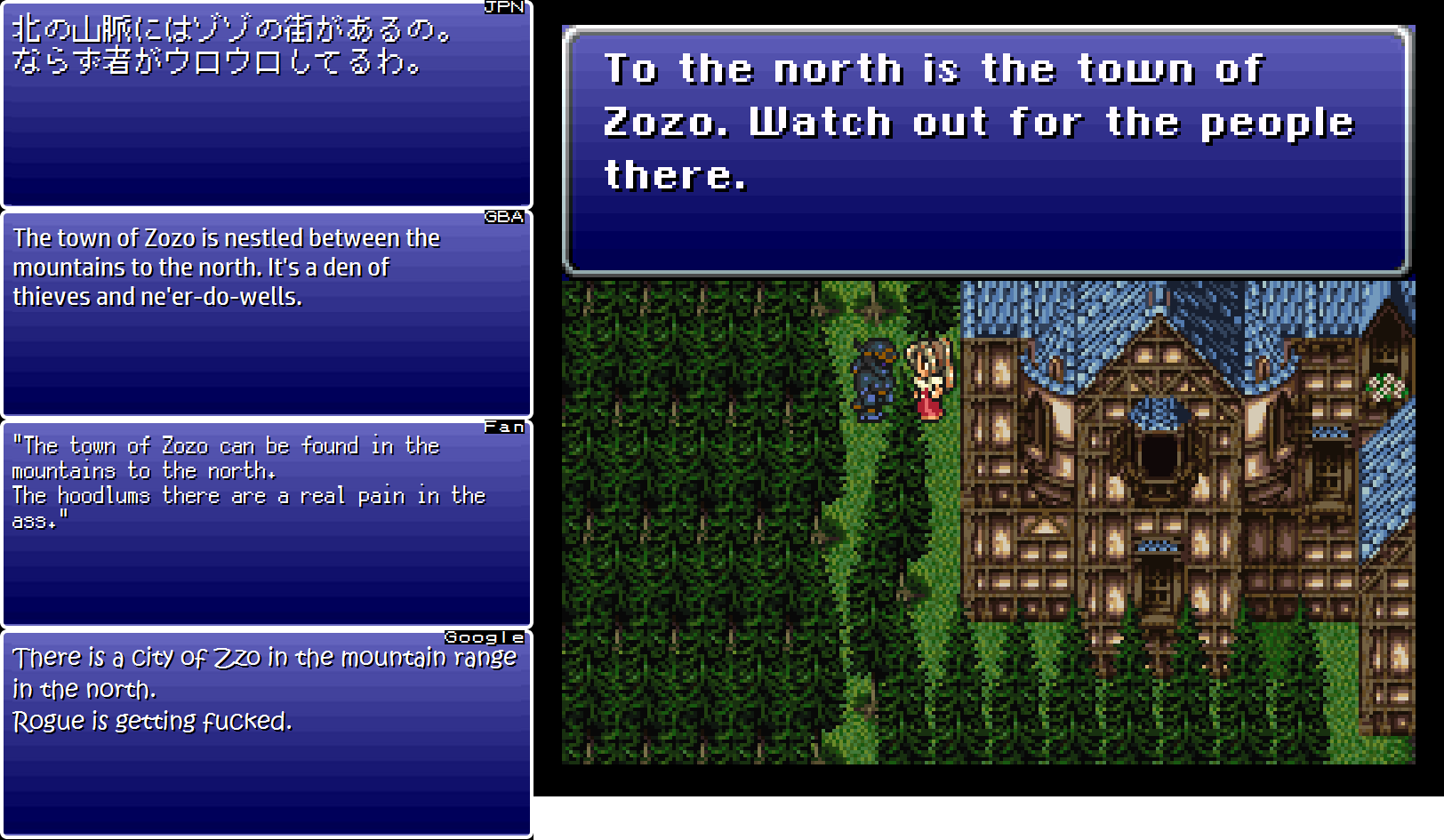 The Google translation goes off the rails with this line. The "rogue" part makes sense, as ならず者 (narazumono, "scoundrel, thug, a person up to no good") appears in the original Japanese text. I'm not quite sure how Google turned ウロウロ (uro uro, "hanging around") into the F word though.
We lucked out and managed to see one of Shadow's secret dreams during this stream. In this one, the Japanese text says something like:
Billy: Clyde… How dare you kill me… your partner…
It's time for you… to join me…
C'mon, Clyde…
The Super NES translation mangles this translation into something completely different, partly because of Nintendo's content policy regarding the word "kill" at the time. The new line really changes the scene and even gives the false impression that he's asking players to search the world to find him. I bet this confused many players and sent some on pointless searches for hours and hours.
We also see that his name was changed from "Billy" – a name you'd probably expect from a Wild West outlaw – to "Baram". I'm not sure why this change was made or why "Baram" was chosen specifically.
The GBA translation fixes this entire line and puts it in line with the original text. Except he's still called "Baram".
The fan translation gets this line so wrong that it's impressive.
On a side note, I don't think I've ever met any other Clydes in real life – it seems to be a pretty rare name these days. There's Clyde Drexler, Clyde Tombaugh, and uhh… maybe someone else? I dunno, but back in the day I was really glad to see another Clyde in one of my favorite games. And the fact that he's super-cool made it even better!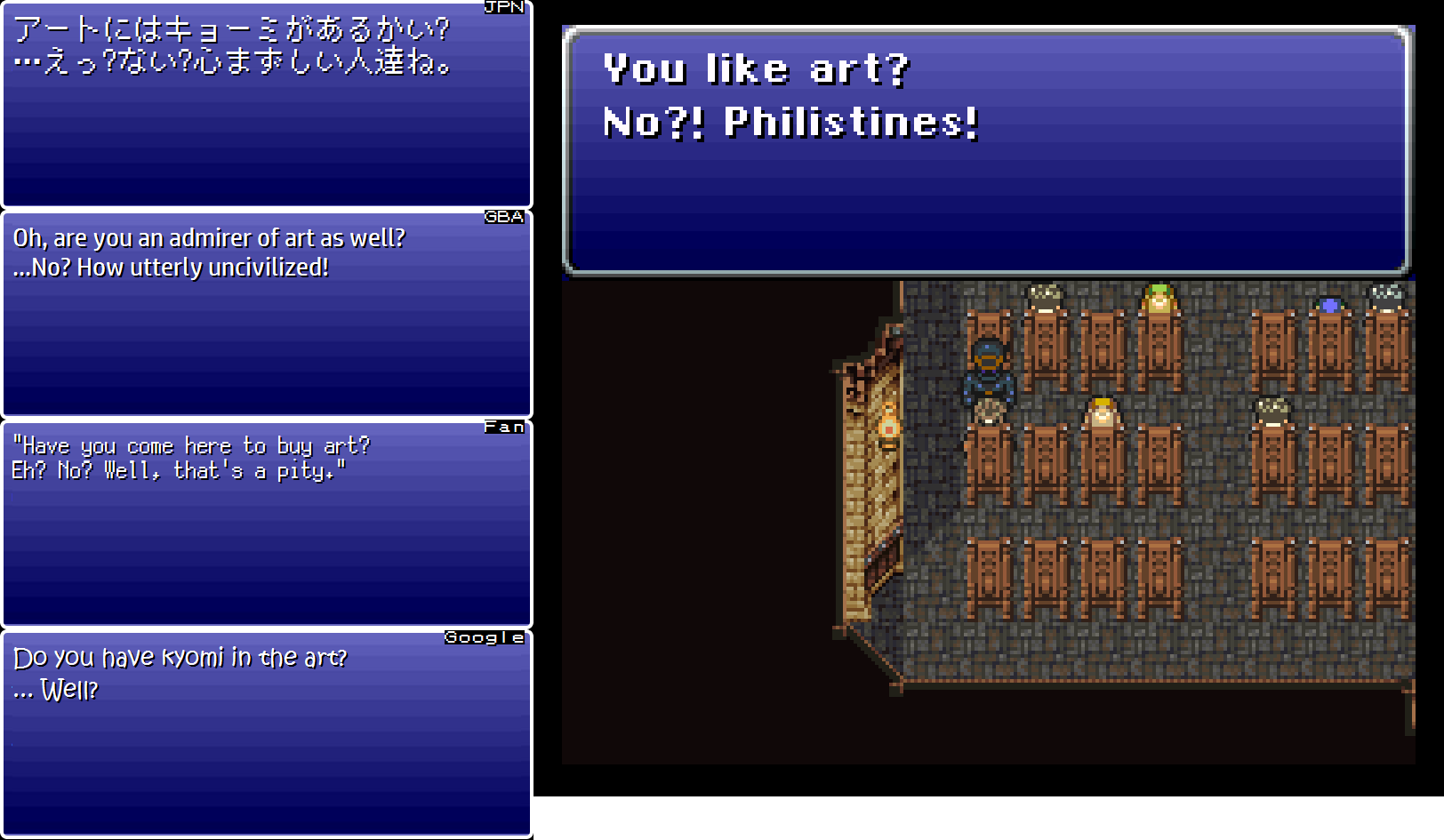 In Japanese, one of the rich snobs in the auction house insults the heroes and calls them "narrow-minded" for having no interest in art.
In the Super NES translation, it feels like this line was condensed down to be as short as possible. The insult was also changed to "Philistines!". Back when I first played the game, I didn't fully understand this word, but from context it was generally clear that it meant something like "unsophisticated". Here's what it means, incidentally: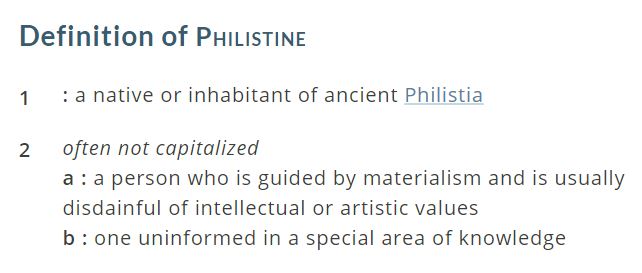 Since the term technically references a group of people from real-life history, it seems weird to see it appear in this fictional world. The GBA translator felt the same way and replaced the "Philistines" reference with "How utterly uncivilized!". The fan translation gets the line wrong.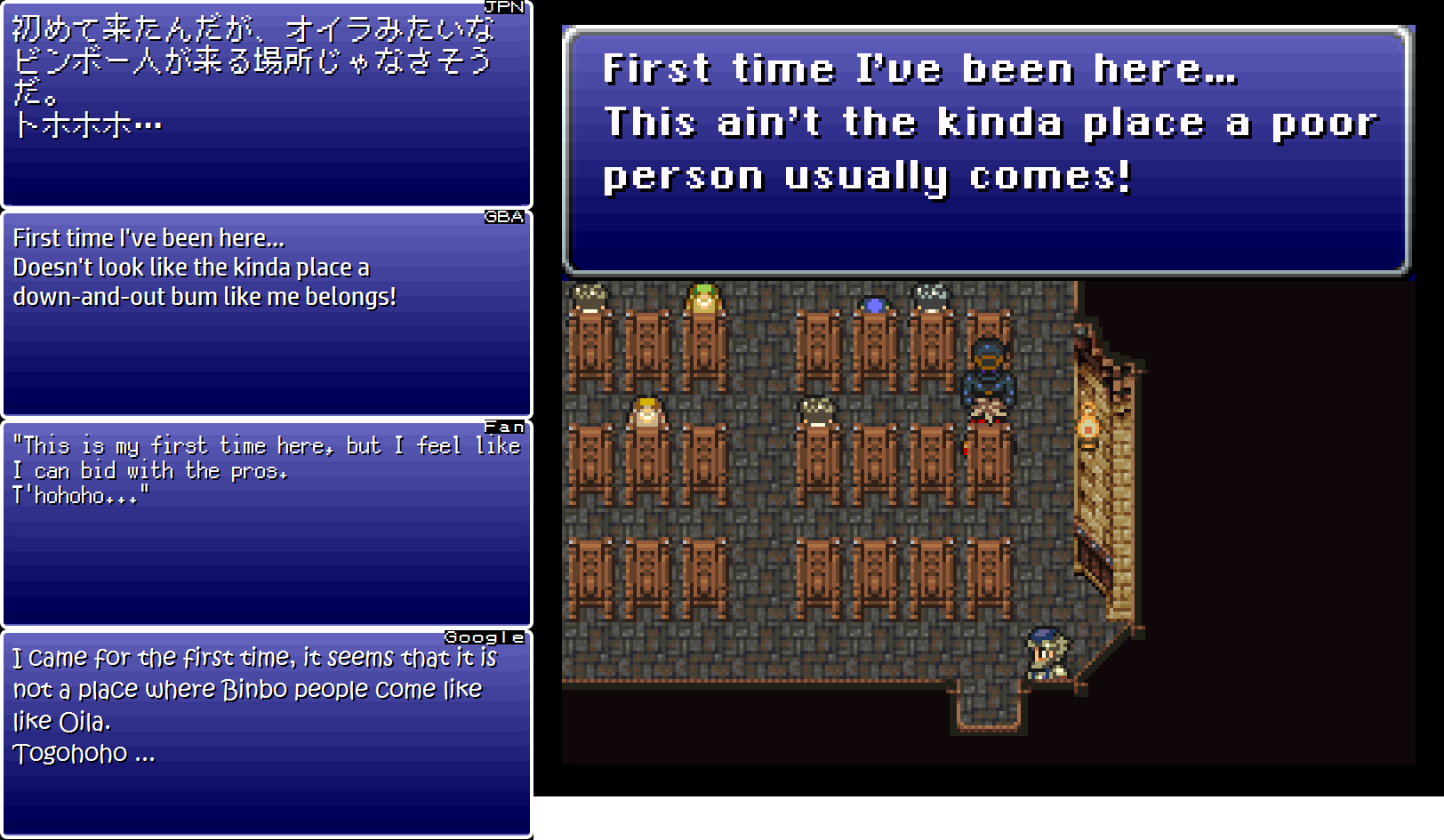 The auction house is full of rich, snobby people, but one lower class ruffian is hanging out by himself. In Japanese, he says: "This is my first time here, but it doesn't look like it's the sort of place for a poor person like me. Tohohoho…"
The Super NES and GBA translations are pretty close to the original text, but we see that the fan translation gets the line really wrong.
More interesting to me, though, is that the "tohohoho" part is missing in the official translations but was mostly kept intact in the fan translation.
The Japanese phrase tohoho is something akin to "boo-hoo" or "*sigh*" in English, and shouldn't be left as-is, however. So in this regard, everyone sort of gets it wrong, although I partly wonder if the GBA translator left it out purposely and not accidentally. Meanwhile, poor Google just changes the sound altogether.
Also, as I mention in the stream, this character uses the pronoun oira to refer to himself. In this context it suggests an unsophisticated bumpkin-like quality, but it can evoke other images in other situations. I've been slowly working on a giant article about all the different Japanese pronouns, and Final Fantasy VI has been a treasure trove of helpful examples for it!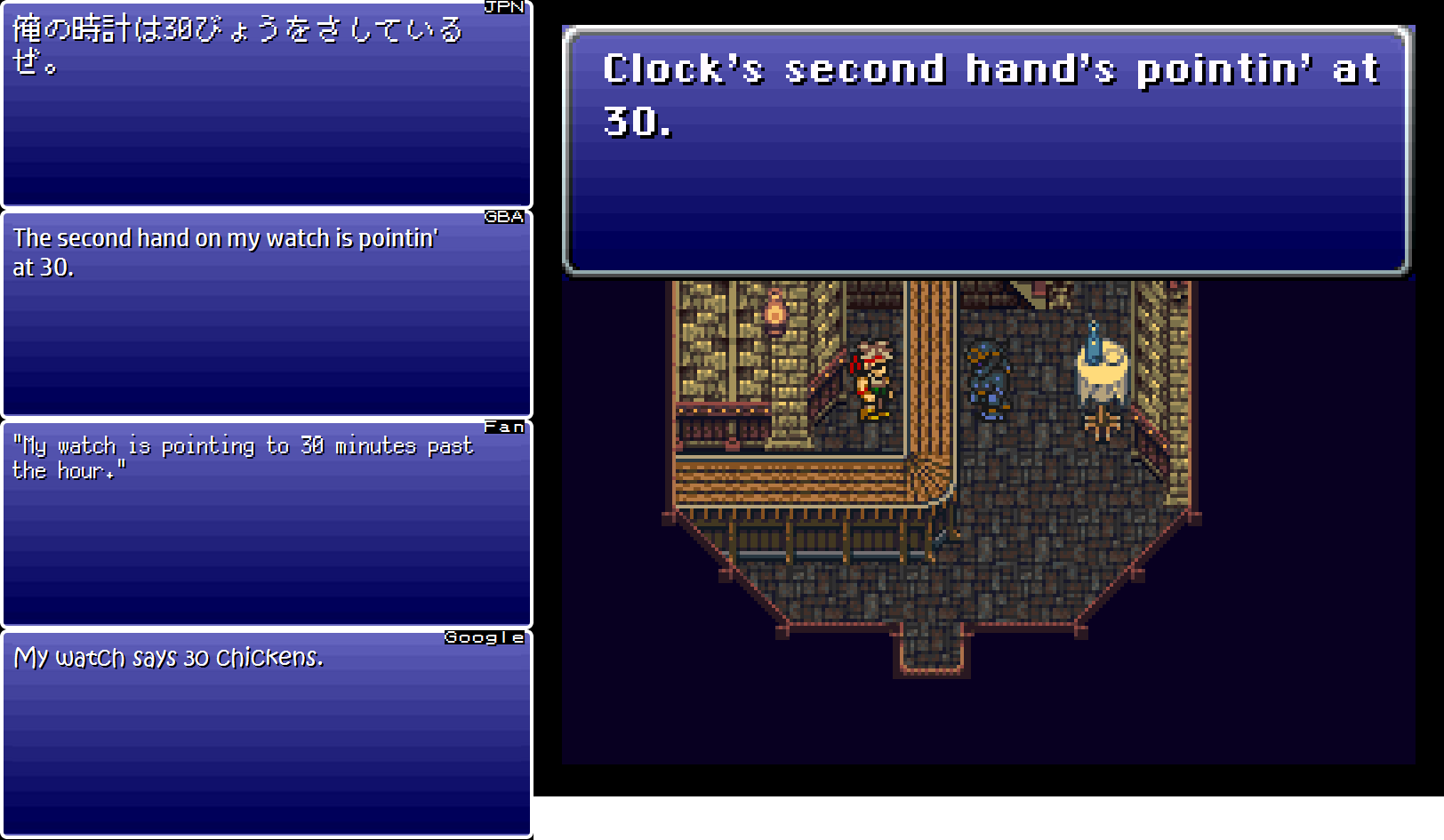 The town of Zozo is full of liars (which makes this place a lot like Moonside now that I think about it), so when they start giving you clues about a clock-related puzzle, you have to pay extra close attention.
This particular clue refers to the clock's second hand, as in the hand that points to the seconds of time. But the fan translation gets the clue wrong and refers to the minute hand instead.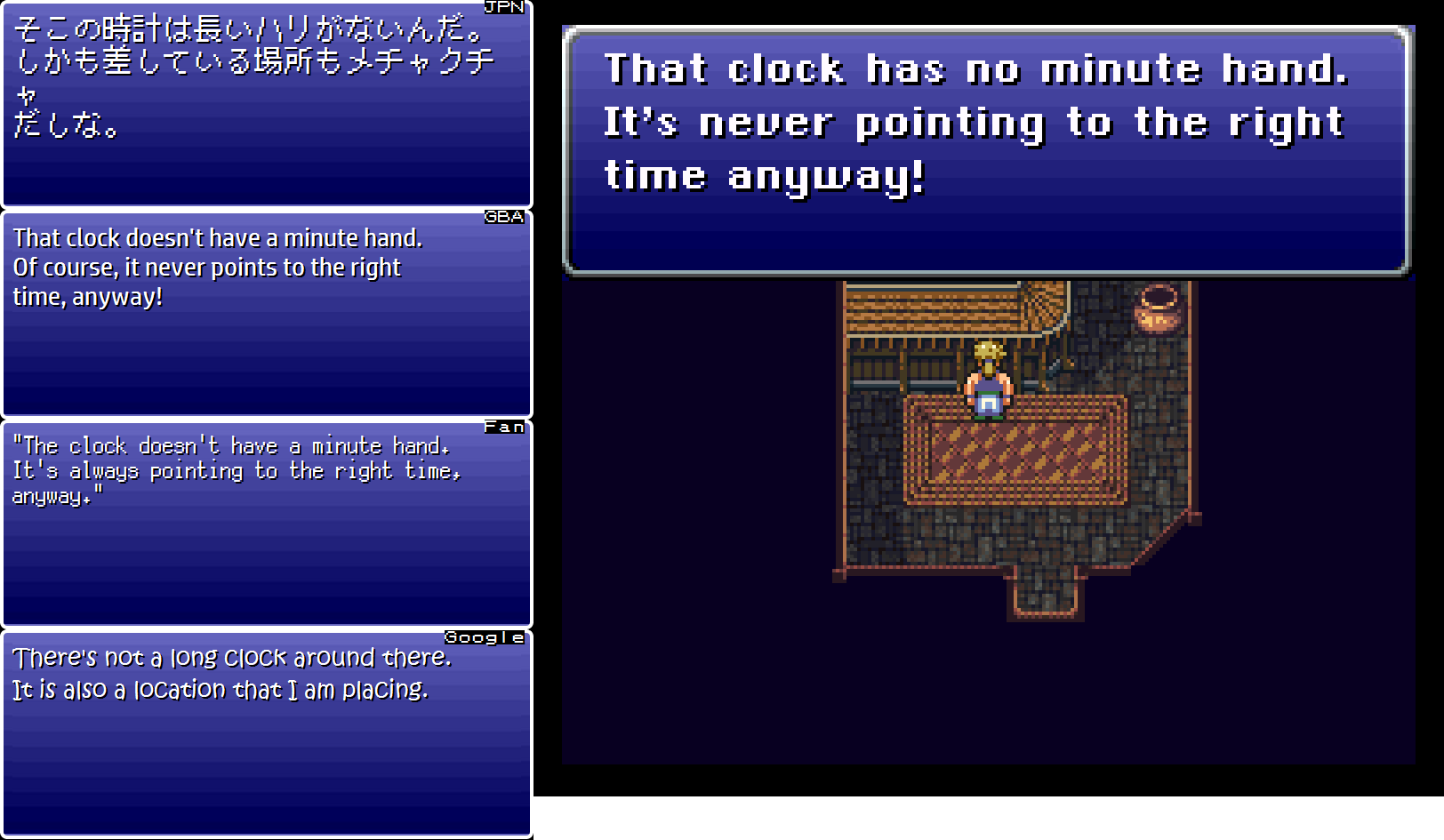 This second clue mentions that the clock never points to the right time… but the fan translation completely reverses that hint and says it always points to the right time.
Both of these instances result in mistranslated puzzle clues. Given the nature of the puzzle, I assume these mistakes probably don't matter. Plus most fan translation players will be longtime fans who already know the answer to the puzzle. But mistranslating gameplay clues is one of the worst mistakes a game translator can commit.
Also, it goes without saying that with puzzle hints like this, you probably can't rely on machine translations at this point in time. Unless you know how to convert chickens to seconds.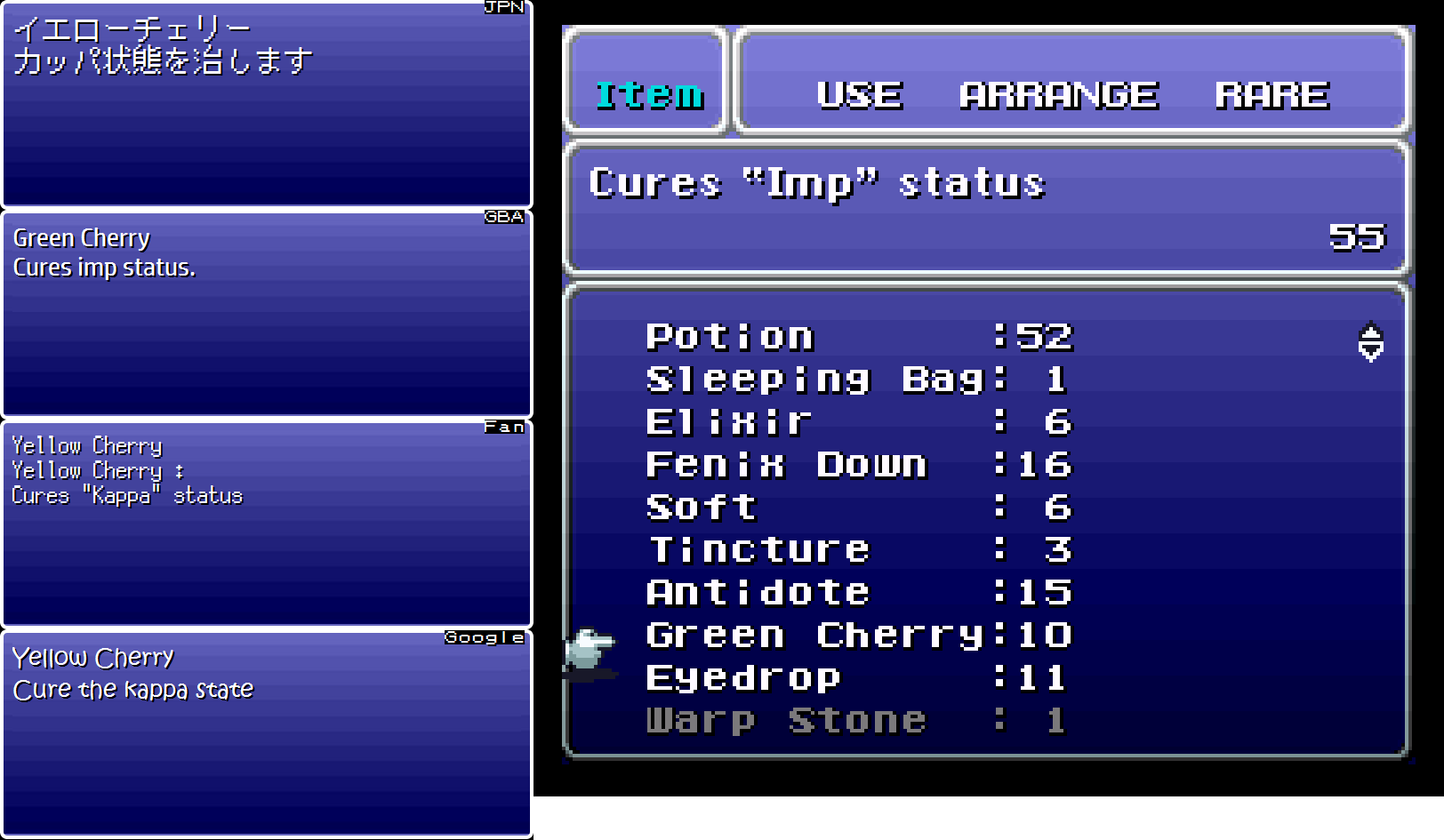 Back in Day 1 or 2 I pointed out that the "Yellow Cherry" item was renamed the "Green Cherry" in the official translations. I wasn't sure why the change was made, but I also wasn't even sure why the original item was called a yellow cherry in the first place. Regardless of the name change, though, the item still cures the kappa/imp status ailment.
Well, I decided to look into it and the answer immediately popped out after a single search, but it takes some explaining.
First, a Japanese sake (rice wine) company called "Kizakura" has been around for about 60 years. It's had commercials since the beginning of television in Japan, and its mascot is the kappa. The Kizakura kappa commercials also feature an old, catchy jingle that's very kappa-tastic:
Kizakura does different marketing these days, but from what I can tell, the animated kappa commercials were especially famous in the 70s and 80s.
So why bring all this up? It's because kizakura means "yellow cherry" in Japanese, referring to cherry trees and/or cherry blossoms. And because this connection between kappas and the "yellow cherry" name has been in Japanese pop culture for so long, it's ripe for referencing in other media – like in a game, in this instance.
The timing of the commercials' popularity also explains why the developers were familiar with Kizakura kappas while the reference was lost on the younger target audience. During my research, I noticed a few instances of "Oh! So that's why it's called 'Yellow Cherry'!" from Japanese fans. Now we know too!