This is part of my ongoing series in which I compare four translations of Final Fantasy VI with the original Japanese script. For project details and my translation notes from Day 1, see here.
In this segment, we finally get to meet Gau, see how Cyan's goofy side is handled in multiple translations, and then hit some heavy story stuff before the big showdown.
Just like with Day 4, we wound up with a ton of translation notes, more than I can feasibly write about here, so I've whittled things down to around 15 topics to cover here for now.
Video Archive
Notes
I've listed some of the translation highlights from this section of the game below, but I cover many, many more things during the actual stream. So if you want to see more than what's listed here, check out the video above.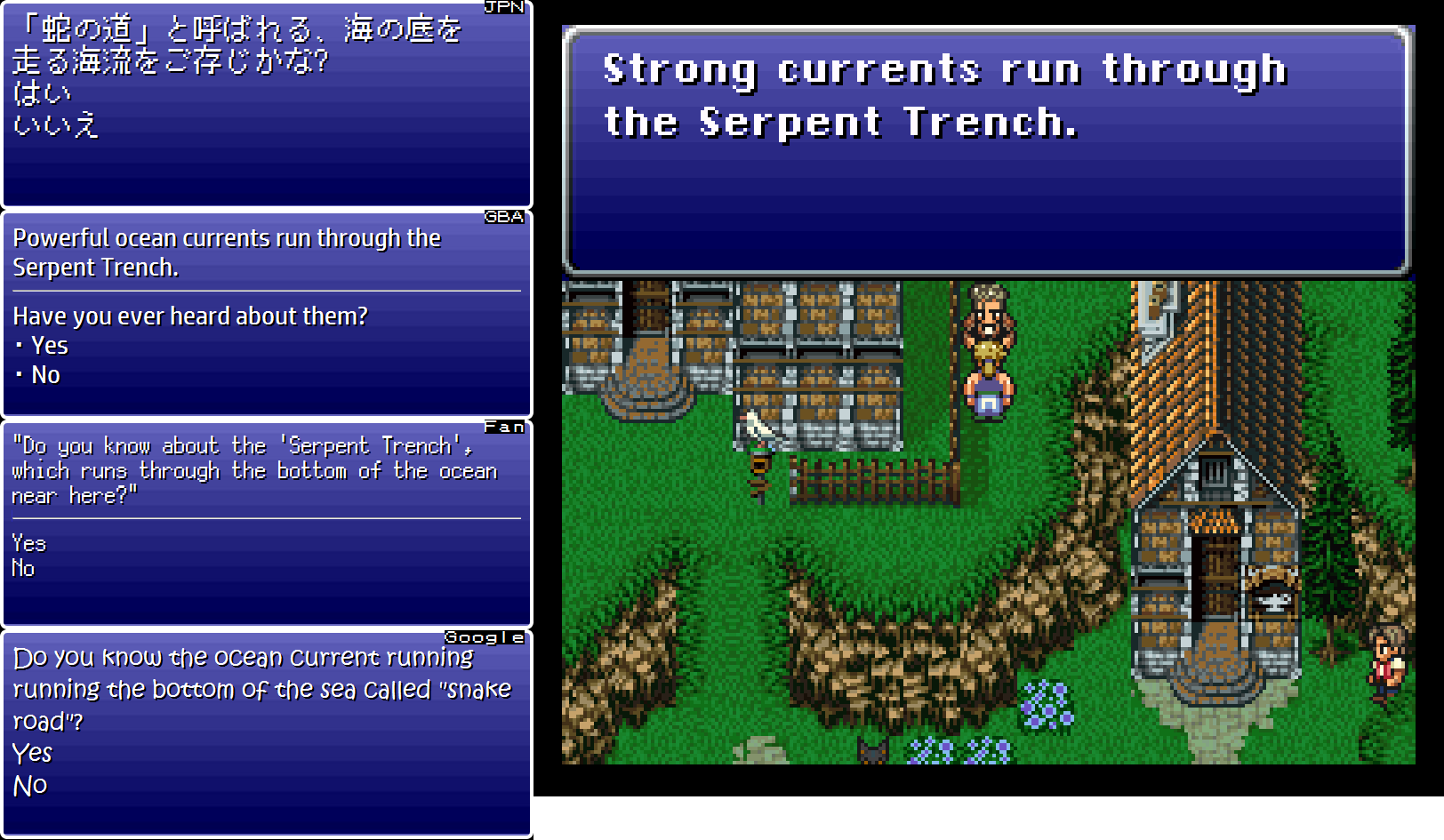 Some people mention an underwater current/path called the "Serpent Trench" in the Super NES translation. In Japanese, the name is 蛇の道 (hebi no michi), which literally means something like "Snake Road" or "Snake Path".
For some reason I vaguely associate this underwater snake-themed path with the Devil's Road in Final Fantasy IV, but upon closer inspection I can't see why I have that mental association, besides the fact that they're both special ways of crossing oceans.
Chatters in the stream mentioned that the Dragon Ball series has a road that goes by the same name in Japanese, and that it's translated as "Snake Way" in English:
This got people wondering if the name might be based on some sort of mythology or something else. I'm not really sure myself – the only thing that comes to mind is a Japanese proverb: 蛇の道は蛇 (ja no michi wa hebi), which roughly means "it takes a snake to understand the way of a snake". For more details on this proverb, see here.
Other than this snake proverb, nothing else comes to mind. But if you happen to have more info or know of any other instances of this word in Japanese entertainment, let me know.
Incidentally, one official Japanese guide translates the name into English as "Snake Deep":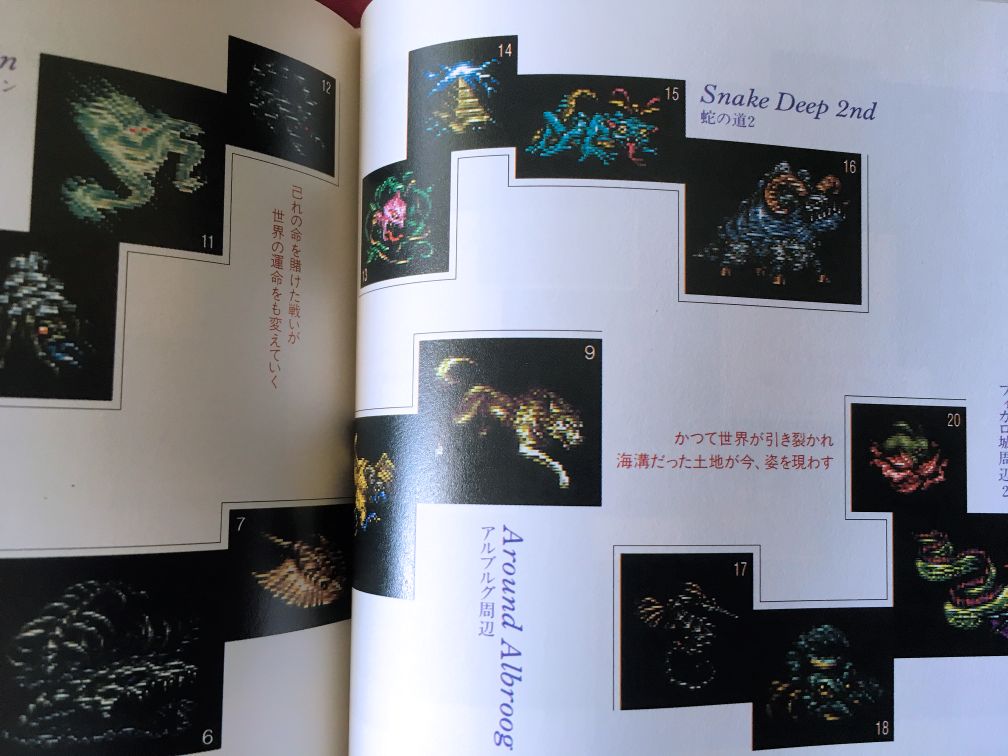 There's an NPC girl in Mobliz who plays a part in the story later. In Japanese, she's known as カタリーナ (katarīna), which can be written out in English as "Catarina, "Katarina", "Catalina", and other variations.
In the Super NES translation, we first see her name as "Katrin", but elsewhere she's labeled as "Katarin". So which name is it supposed to be?
The GBA translation follows the Super NES translation but cleans up the inconsistency problem by going with "Katarin" everywhere. The fan translation and machine translation go with "Catalina".
Also, although it's not a very big issue, note the usage of ellipses in each version in the second screenshot above. I'm somehow always fascinated by how punctuation gets handled by different translators from different times.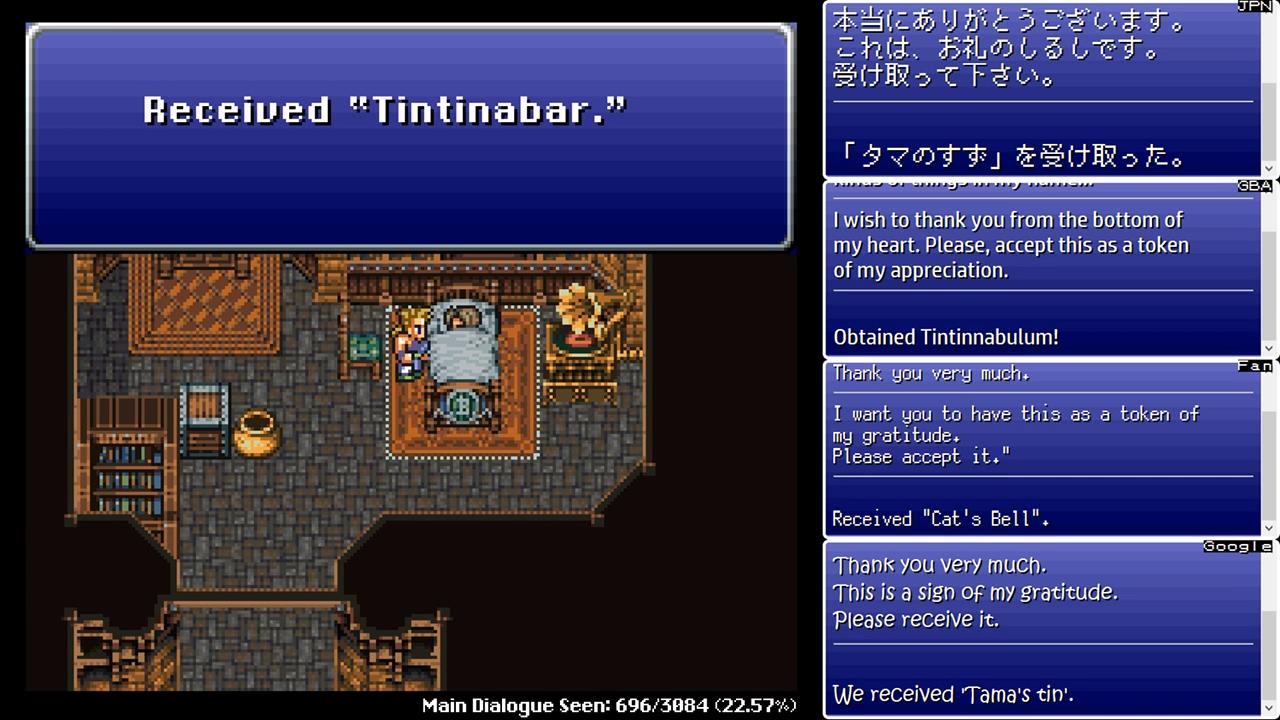 After doing a letter-mailing side quest, you can get a special accessory that restores a little bit of HP with every step you take.
In the Super NES translation, this item is known as a "Tintinabar". I never knew what this word was, where it came from, or what it was supposed to signify. I was even more confused when I learned that it's called the "Tama Bell" in Japanese. The "bell" part in the name is specifically the little jingly kind of bell, and "Tama" is a stereotypical cat name in Japan, which is why the fan translation goes with "Cat's Bell".
The GBA translation appears to pull from the Super NES translation but changes the name to "Tintinnabulum". This is equally as mysterious to me, but viewers in the stream chat looked it up for me – apparently it's a type of bell mounted on a pole that's meant to indicate a church's link with the Pope. So there's the bell connection.
Still, it's surprising to me that the Super NES translation would use such a fancy bell-related word here. I assume the name changed to "Tintinabar" due to name length restrictions, but I can't help but wonder how it came about to begin with. Everything I've read has indicated that the Super NES translator had insanely tight deadlines and barely enough time to research simple Japanese words like "dinosaur". So how'd this get in there? My best guess at the moment is that the translator saw the "bell" in the name, looked up "bell" in a thesaurus, and found the "Tintinnabulum" word there.
I don't have a print thesaurus to check anymore, but out of curiosity I checked an online thesaurus and "tintinnabulum" indeed pops up in the top results: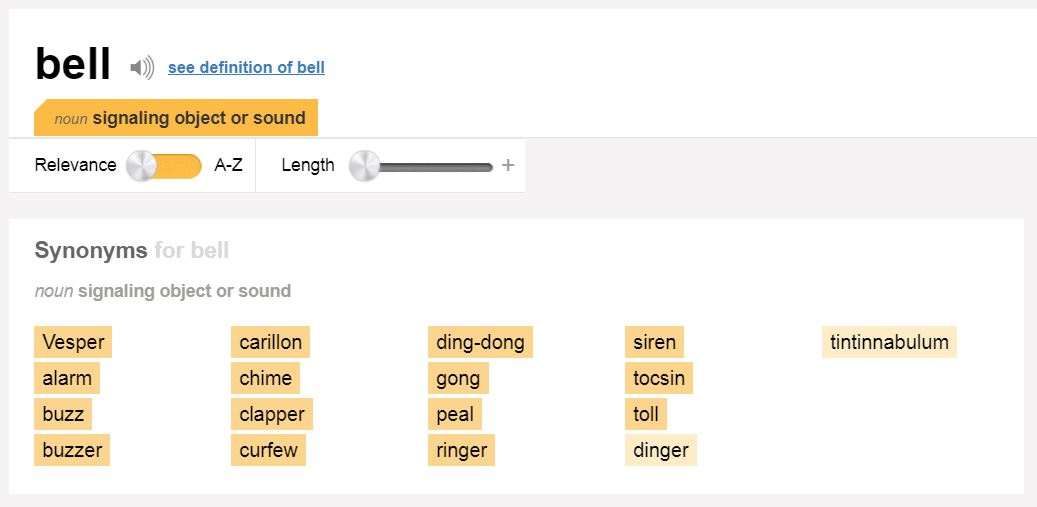 Translators are stereotyped as poring through dictionaries, but they also spend a lot of time going through thesauruses to get inspiration for names and to find just the right word for a specific situation. I spend a significant amount of time on thesaurus sites myself, so I feel it's not outside the realm of possibility here. Or, of course, maybe the translator was simply familiar with the "tintinnabulum" word to begin with.
A new character named Gau shows up and joins the party. He's a kid who's been surviving on his own in the wild for years, so he doesn't speak like a normal person.
In Japanese, he often just shouts, "Gau! Gau!" whenever he wants to say something. In the Super NES translation, this is changed to things like "Uwaooo~!!" to sound more animal-like, I guess. The GBA translation follows this pattern as well.
But at some point in the translation, this change from "Gau!" to "Uwaooo!" stops happening – he goes back to the original style of saying "Gau! Gau!". My guess is that some scenes got extra attention post-translation and got edited a bit, including some instances of "Gau!". But not every instance of "Gau!" got this extra attention, so those neglected ones remained unchanged.
On a side note, I included the "~" character in a few non-standard lines in the MOTHER 3 fan translation, like when a cow is talking, a frog gets possessed, or when a ghost is singing. A few people reported these as typos and insisted I shouldn't have included the "~" since we don't use it in English. But here it is in the official Super NES and GBA translations of Final Fantasy VI. So if you're ever unsure about something like this, don't let the punctuation patrol hold you back!
One aspect of Cyan's samurai speech style is that he ends many of his sentences with でござる (de gozaru), which is an archaic word for "to be", "is", "are", "am", and other such things. It's not the kind of word you use in normal, everyday Japanese speech – it'd be like if a Japanese student visited America and started talking like a medieval knight or cowboy or something. It'd be amusing at first but get weird and annoying quickly.
Anyway, Gau hears Cyan say de gozaru a lot and pokes fun at it by saying gozaru over and over. Eventually, for comical reasons, he starts calling Sabin by the name "Gozaru". In response, Sabin always says stuff like, "No, he's Gozaru, not me!".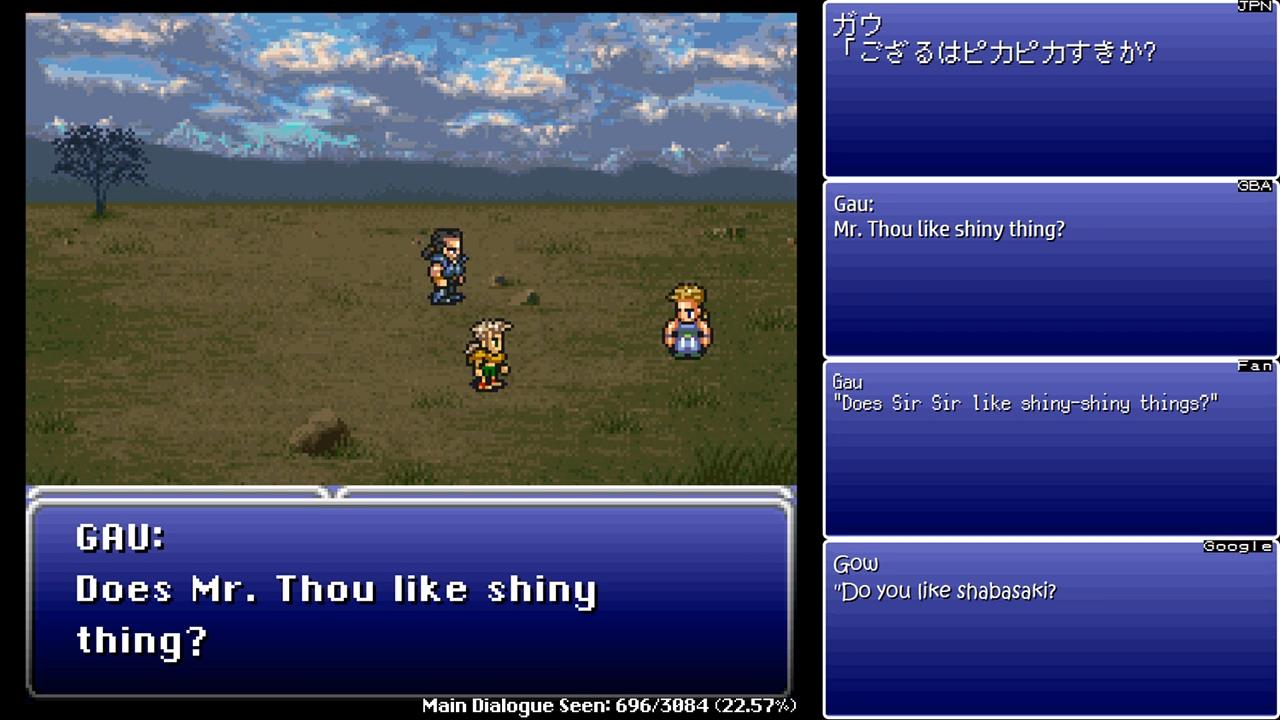 To make this work in English, the Super NES translator relied on the English word "thou", which is an archaic word for the pronoun "you". Cyan's English text in this scene was filled with the word "thou" so that Gau could respond to it in the same way he responds in Japanese. Except now Gau repeats "Thou!" a lot and then eventually calls Sabin "Mr. Thou".
I feel that this is a good example of localization in action – there would've been no feasible way to convey this same content in a straightforward "literal" translation that focuses only on individual words. But by lightly changing things around and rephrasing things to preserve the intent of the original line, this scene remained as comical and memorable for English-speaking players as it was for Japanese players.
The GBA translation keeps the famous "Mr. Thou" localization choice intact. The machine translation really struggles with the scene, going so far as to shout "Bastards! Bastards!" for some unknown reason.
The fan translator has so far struggled with Cyan's speech style, which was confirmed by one member of the fan translation team in the stream chat earlier. By this point, though, it's clear the fan translation script is simply replacing each instance of de gozaru with the word "sir". As a result of this choice, there's no "thou" or "Mr. Thou" stuff going on in the fan translation – Gau instead ends up calling Sabin "Sir Sir".
---
On a separate note, whenever there's a scene in Japanese entertainment in which someone references another person's unique speech pattern, it's common for English translations to suddenly magnify whatever equivalent speech pattern they've been given in English. And then, once the scene is over, those magnified speech patterns get dialed back down to the point that they sometimes become unnoticeable again.
If that's a little hard to understand, this scene is a good example. The English translation requires Cyan to speak oddly here, so he suddenly starts using "thou" a lot more than he has before. After the scene ends, his speech quirks get toned down until his "thou"s and such are nearly gone. After that, he sounds only marginally different from other characters until his speech pattern gets the spotlight again.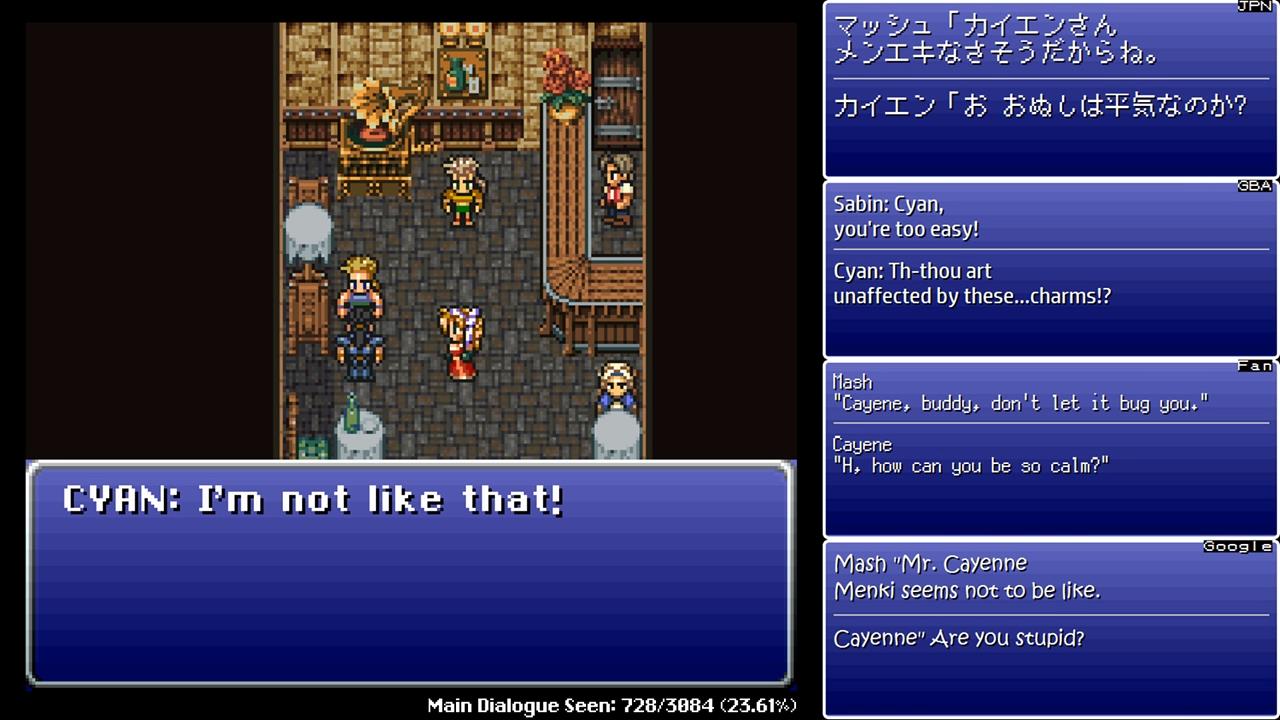 When I stop to think about it, I think this phenomenon is partly why more modern Final Fantasy translations feel different. They take characters' speech patterns into account and strive to keep those characters in character at all times. It might sound easy, but when you're dealing with dozens of characters across 50 to 100 hours of story, as well as DLC and such, it's gotta be a taxing task!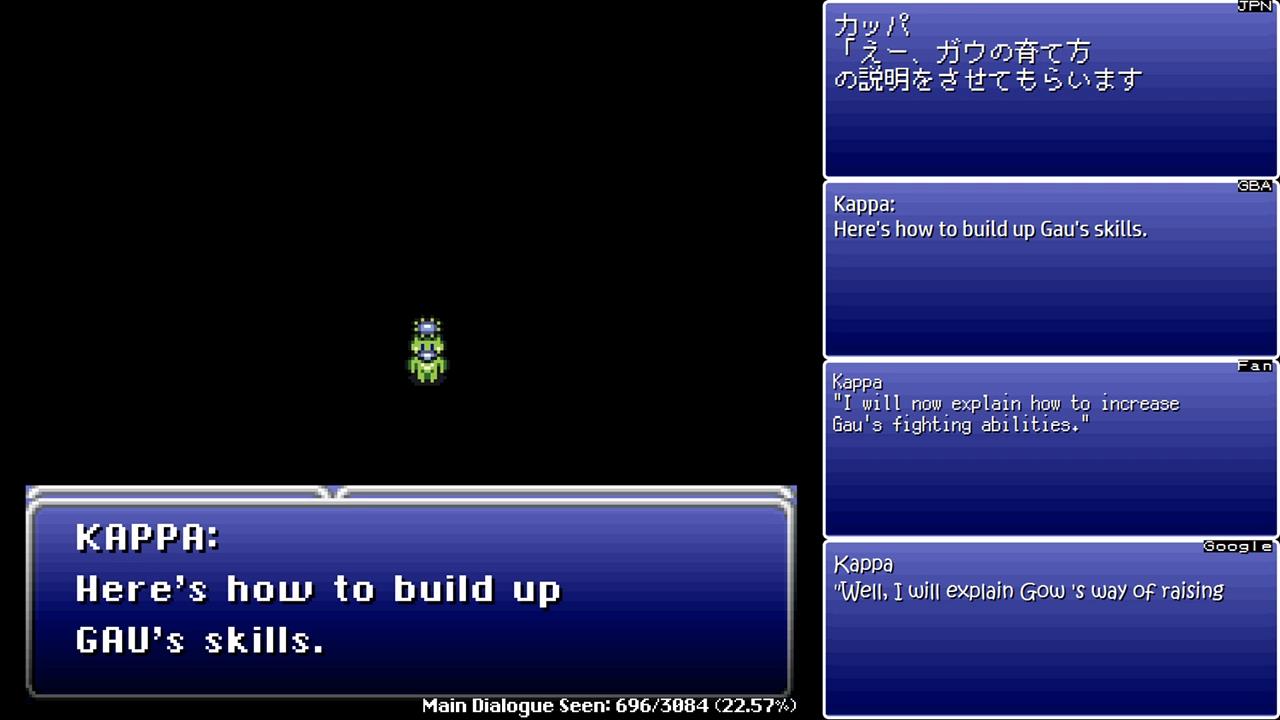 The "Kappa" status effect in the original Japanese game was famously renamed the "Imp" status effect in the Super NES translation, presumably because audiences outside of Japan wouldn't have been familiar with Japanese kappa at the time. The GBA translation also keeps this iconic "Imp" change intact.
Oddly, I never noticed or must've forgotten that one of the "Imp" characters in the game is labeled as "Kappa" during a short scene after Gau joins the party. My theory is that it's a leftover from a rough draft of the translation, when "Kappa" was still present everywhere, but got missed when the "Imp" change was made.
Whatever the case, the GBA translation also identifies this character as "Kappa".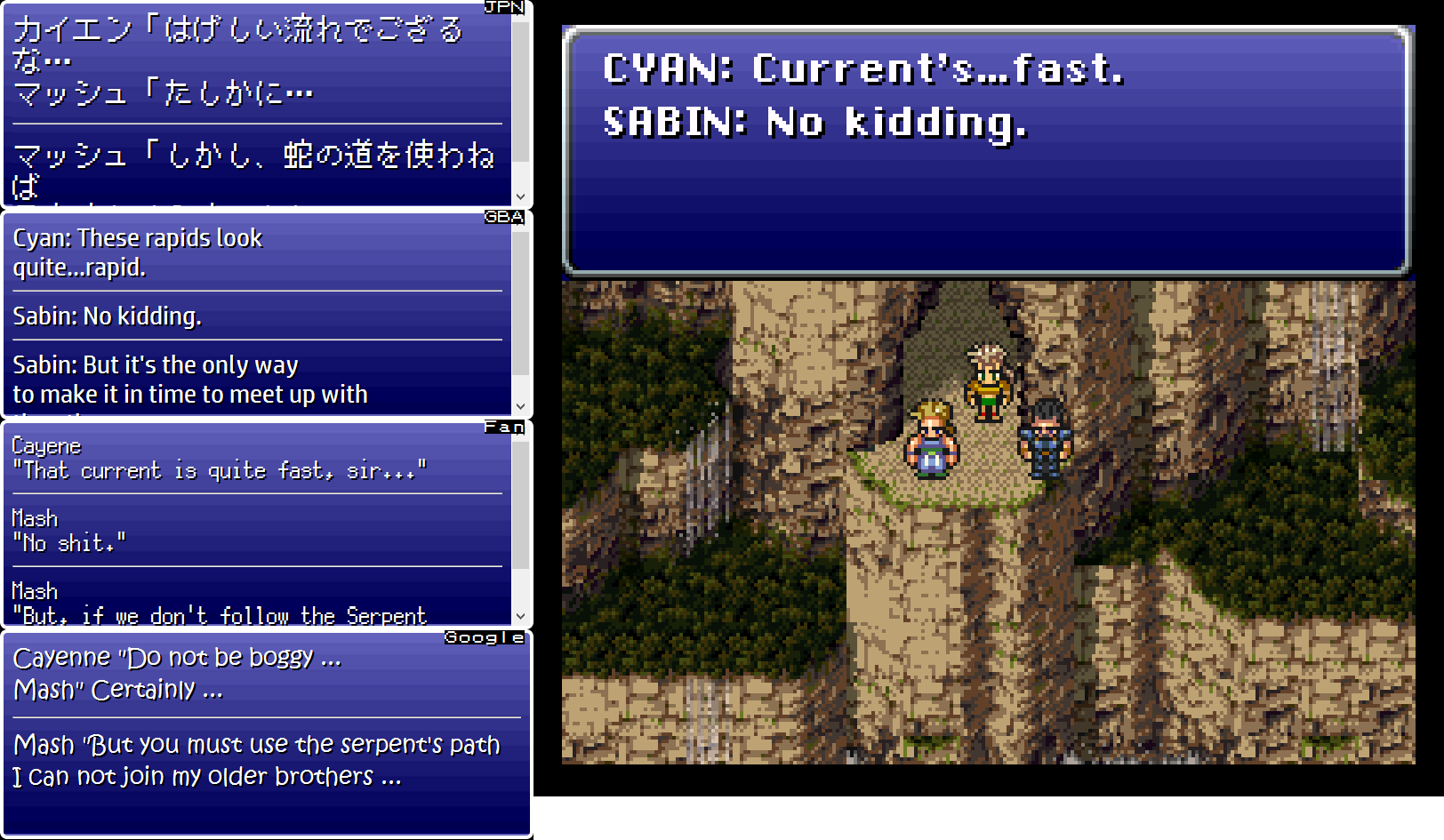 Cyan, Sabin, and Gau decide to jump into the underwater Serpent Trench in order to eventually reach Narshe. Just before they jump in, Cyan mentions that the water current looks very strong. In the GBA translation, this ordinary statement was turned into a small joke: "These rapids look quite… rapid."
Sabin responds with a straightforward statement of agreement in Japanese. For some reason, he's suddenly swearing in the fan translation: "No shit."
In the city of Nikeah, there's a woman dressed in a fancy gown in the pub/cafe. If you talk to her at this point in the game, she'll try to flirt with Cyan.
In Japanese, she asks Cyan, "How about having a drink with me?". As we've seen before, Nintendo prohibited alcohol references in the Super NES translation, so this line was changed to "How 'bout joining me?"
Cyan overreacts and scolds the woman. She isn't about to give up, though, so she tells Cyan not to be such a party-pooper. Then, in Japanese, she says, "Here, have a peek at my cleavage."
Again, Nintendo prohibited this sort of sexual content back in the day, so this line became "Geez, don't blow an artery, baby!" in the Super NES translation. That strict policy had loosened by the time the GBA version was released, so the GBA translation puts the breast talk back into the script, but in a more creative way than the original text: "Hey, do you like these? I call this one Humpty, and this one Dumpty."
I wonder if this Humpty Dumpty solution would've passed Nintendo's checks during the Super NES era. After all, you could argue she's not referring to anything specifically – maybe she's talking about her shoes or some puppets she has. I'd love to find the guys at NOA who made the call on this sort of stuff in the 1990s and ask them about this.
Anyway, after the woman offers her cleavage up for display, Cyan reacts in Japanese with "C-c-c-c-cleavage?!". This became "B…baby?!" in the Super NES translation, in response to the lady's previous line.
---
As we can see, a whole bunch of mature content was clearly removed from the Super NES translation of this scene, so you would think that the fan translation guys would set their sights on this stuff and proudly uncensor it. Here are some quotes from the fan translation's readme file, in fact:
Hence the goal of this release: To demonstrate to the English speaking folks how this translation should have been done. Hopefully the players will be able to enjoy this game like its meant to be enjoyed.
[…]I happened across Sky Render's Domain and a hack to repair some of FF VI US's censored, bullshitted, and otherwise massacared translation.
With all of this in mind, it's extremely strange to see that the alcohol and sex talk remains censored in this scene. Let's take a look at the first three lines:
| | | |
| --- | --- | --- |
| Basic translation | Super NES translation | Fan translation |
| Dancer: Hey there, stud. How about having a drink with me? Tee-hee. | Dancer: Yoo hoo! You handsome thing. How 'bout joining me? Tee hee! | Dancer: Hey, pops. Care to have some fun with me? Come on! |
| Cayenne: Wh-wh-what…?! Such debauchery! Cease this at once! | Cyan: H…how dare you… you licentious howler! | Cayene: W,w,w,w,w,why you slut! Get your hands off of me! |
| Dancer: Oh, don't be such a square. Let's have some fun. Here, have a peek at my cleavage. | Dancer: Geez, don't blow an artery, baby! | Dancer: Stop being so stiff. You'll enjoy it. Promise, boyfriend. |
The unusual translation choices in the fan translation lead me to believe that the translator didn't fully understand the text in this scene (somehow "cleavage" became "boyfriend") and/or that the fan translator chose to use the Super NES translation as a base and just rephrase things slightly: "joining me" became "have some fun with me", and "baby" became "boyfriend".
This rephrasing thing isn't necessarily out of the ordinary for fan translations, though – the famous J2e fan translation of Final Fantasy IV was largely just a rephrasing of the official Super NES translation, for example.
Anyway, this is all to say that fan translations can have good intentions yet completely miss the goal they're aiming for… without anyone else ever noticing for years.
Don't worry, I'm gonna tear apart some of my own early fan translations someday too, and that's when I'll really get my claws out!
Back in Day 1 we saw that Narshe is spelled "Narche" in the fan translation. My theory was that it probably appeared as "Narche" in a Japanese strategy guide or some other secondary material – and that indeed appears to be the case. The fan translator also left a note about it in the readme file:
Some names in the translation might provoke a few raised eyebrows. […] Another one is the town of Narche, which is pronounced "narshay". It's spelled the way it is because it was originally meant to have a French feel to it.
Anyway, as I surmised, it's indeed spelled "Narche" in one of the official Japanese guides. But it's also spelled "Nalsh" in another official guide that's part of the same set:
As I've mentioned previously, Japanese guides and secondary merchandise can be useful for trying to determine how Japanese names should be spelled in English. But this sort of conflicting name problem is very common with Japanese guides and merchandise, so as a translator you slowly build up an extra sense of when such English spellings can be trusted and when they should be considered unsafe to use as-is. Translator street-smarts, basically.
With all that said, the fan translation's use of "Narche" seems perfectly reasonable to me. Both "Narshe" and "Narche" are acceptable spellings, but I somehow feel "Narche" would've caused even more pronunciation confusion.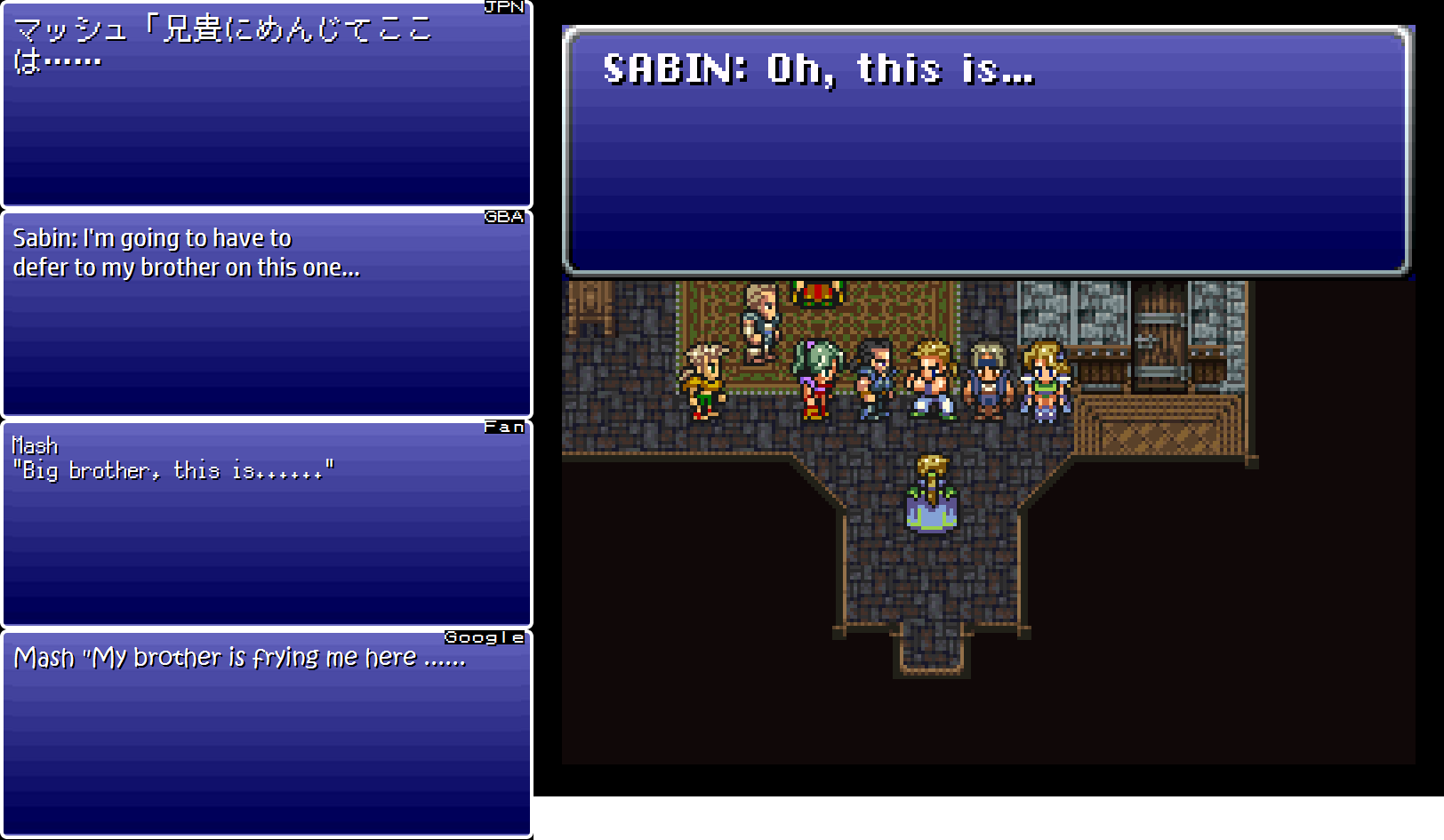 The separated party members finally reunite in Narshe just as the Empire is about to attack. During a strategy meeting, Sabin has a strange line in the Super NES translation that has caused confusion for decades. For some reason, out of nowhere, he interrupts a conversation and says, "Oh, this is…".
I wrote about this line in detail in this old article. Someone in the comments noticed that the text "Oh, this is…" also appears just moments before this line, so it's very likely that there was a bug that caused Sabin to repeat the line here.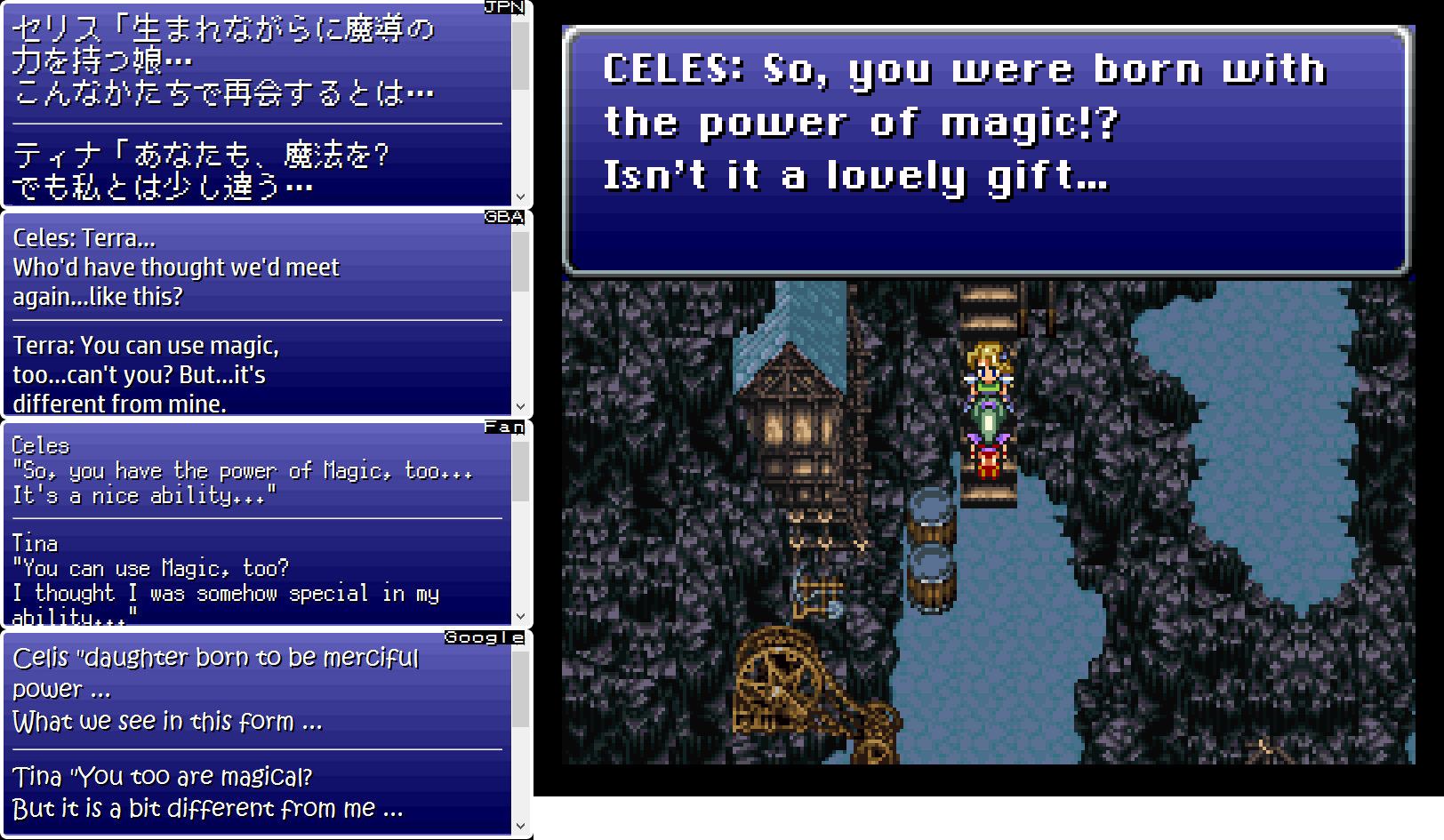 In the Japanese script, Celes clearly knows Terra – she even mentions that she never expected them to meet again in a situation like this. The Super NES translation changes this entirely and replaces it with something else that indicates the two have never met before until now.
It's also clear in the Japanese version that Celes already knows that Terra can use magic, yet the replacement line in the Super NES translation ends up suggesting the exact opposite.
Basically, some backstory got messed up in the Super NES translation, but the GBA translation fixes it. The fan translation is based off of the flawed Super NES translation, just rephrased.
Something I brought up during the Day 1 stream is that some of my old Japanese magazines include a pre-release image of a different Esper – the one that turns out to be Terra's father – in the block of ice at the beginning of the game. Here's a look at it: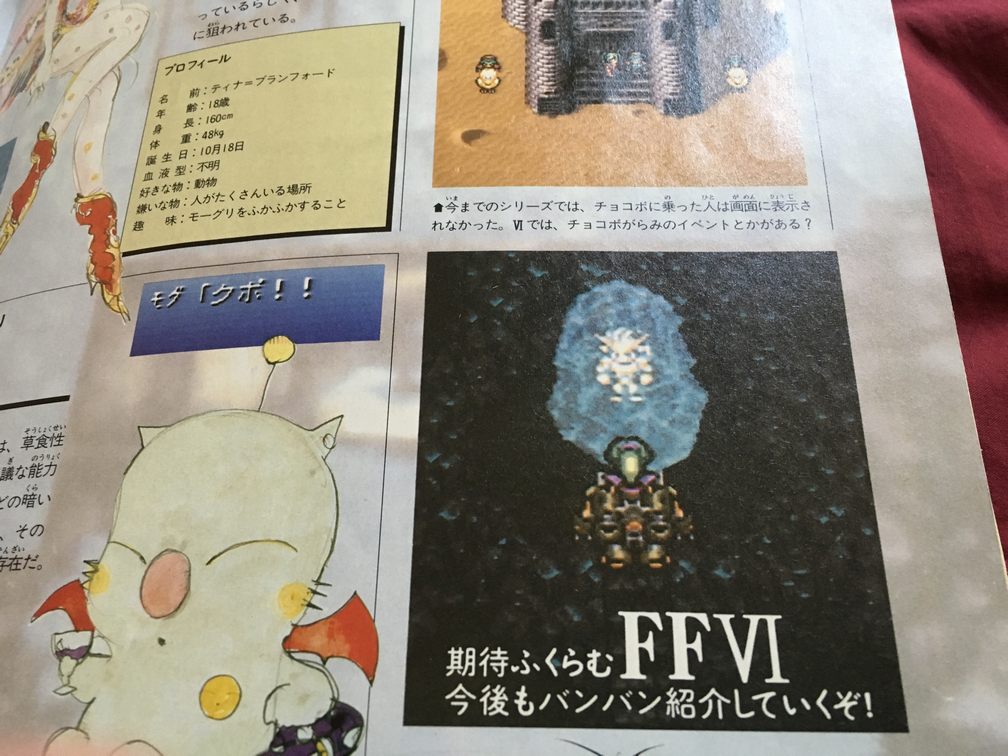 That's from the December 10, 1993 issue of Marukatsu Super Famicom. About a month later, in the January 21, 1994 issue, the Esper was switched to what's in the final version. One of the image captions in the magazine even notes that it changed in such a short time.
Speaking of which, I actually posted some scans, PDFs, and beta screenshot comparisons
here
a while back. Check it out!
I bring this up because I have a weird theory that I thought up just now, while typing this article. It takes a little explaining though.
In this key scene, Terra finally comes face to face with the frozen Esper again. At one point, Terra says in the Super NES translation, "Huh? W……what's going on……?"
This part (and a similar part in the introduction) always felt kind of odd to me, and it turns out that in Japanese she actually says something like, "Huh? What did you just say…?" or "Huh? Did you say something…?". Basically, it's implied that she's hearing some sort of voice. Presumably, this is why she starts talking back to the Esper and asks it questions immediately afterward.
The Super NES text makes kind of a big change here for no real reason, so I wonder if the Japanese line is a leftover from when Terra's father was in the ice – after all, it'd make more sense story-wise for him to try talk to Terra. But, because the change to the Tritoch Esper was so last-minute, this Japanese scene didn't get updated.
If this was the case, then it might explain why the Super NES translation changes the line entirely – even if there wasn't time to fix the line in the Japanese release, there was still plenty of time to fix the line before the translation's release. And this is possibly why the frozen Esper no longer talks to Terra in this scene in the Super NES translation and the GBA translation.
Of course, this is all kinds of guesswork that I'm not even sure about. But if a beta version of the Japanese game ever gets out, I'd definitely want to check out this frozen Esper stuff!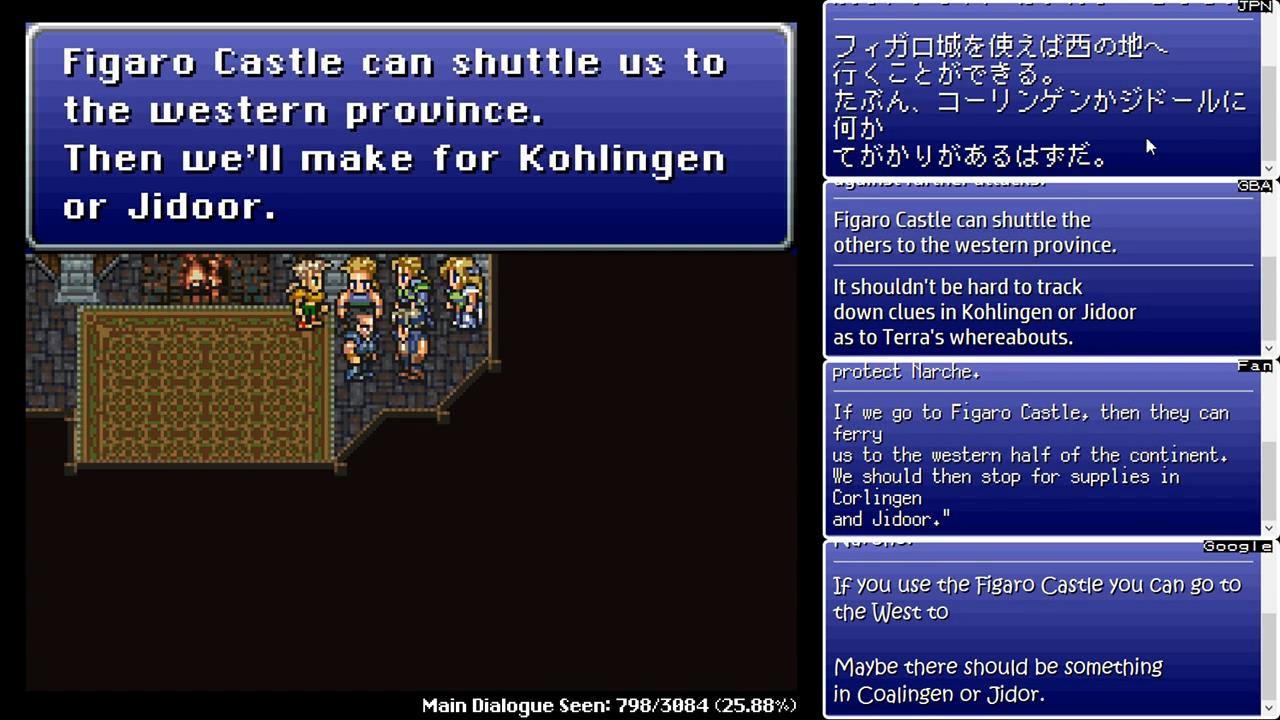 Terra transforms into some sort of berserk creature and flies off to the west. The heroes discuss what they should do next and how to find Terra.
In Japanese, Edgar says: "We should be able to find clues about her whereabouts in Kohlingen or Jidoor."
In the Super NES translation, the purpose for visiting Kohlingen or Jidoor is dropped – the player is told where to go next, but not why exactly. Maybe it was an oversight or maybe the translator felt that players already understood why, although though these town names have never been mentioned before.
The GBA translation fixes this potential mistake, but the fan translation goes the other direction and messes up the purpose of visiting Kohlingen and Jidoor even more than the Super NES translation. In the fan version, players are asked to visit these towns to stock up on supplies, not to search for Terra.
Ultimately, this issue doesn't matter too much – you pretty much just go where the game takes you. But it's always nice to have a proper goal pushing you forward too.